Serial Investor, Ultimate Side Hustler, Real Estate Coach Tim Hong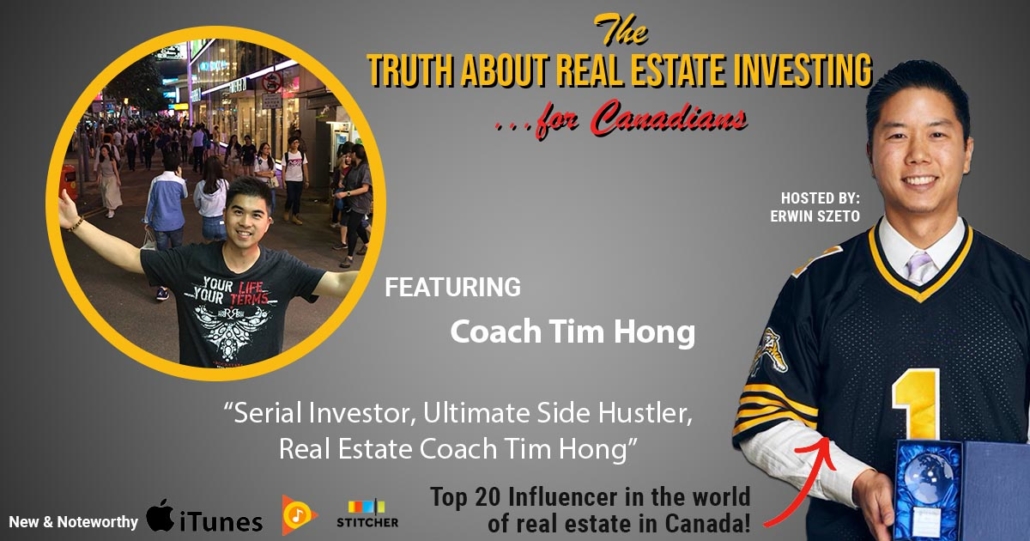 Happy belated mothers' day and shout out to the dads pulling double duty!
My own mom came to Canada on a student VISA when she was 17 with my dad to finish High School at Jarvis Collegiate in downtown Toronto, a really bad area back then as they didn't have parents here to give them guidance. 
My earliest memories are of living in Scarborough, Ontario in a small 1.5 storey house, again in a bad neighbourhood near a bunch of government housing.
I'll never forget the day my brother's classmate ripped his Optimus Prime Transformer toy out of his hands after school. He had brought the toy for show and tell. The Principal wouldn't do anything about it because it was done off school property.  
This was a house my parents could only afford with THREE mortgages with interest rates in the teens.  To make ends meet while my dad was finishing university, mom operated an unofficial bed and breakfast out of our home.  She would rent out rooms in our home to friends of friends and make them breakfast in the morning.  The original AirBnb. 
Only now that I'm a parent trying to do right by my kids, getting them to eat their vegetables, not waste food, cleaning up after them (mind you I have a full time nanny), do I fully appreciate what mom did in raising us at a much younger age, with a lot less resources then Cherry and I have. 
I was 12 years older than my mom when we had our daughter, I owned a house plus a couple investment properties and a successful, award winning Realtor business.
I have much to be grateful for with the mom I got so thank you mom and again, happy Mother's Day to all the wealth hacking moms.
Update on the Cherry vs. Erwin stock hacking competition or rather lack of competition. Cherry eked out $1,600 USD victory.  That's how much she beat me by, not her one week return.  I had a low four figure week, a great week but yeah. The score is now 8-0.
Because business for both of us is slower with less appointments we are partaking in what I call Corona trading which just means I am trading a couple hours per day, more than we normally would to take advantage of the current market conditions. 
We won't stay at this pace forever, but it's great to have this added source of cash flow.  And this is cash flow, the returns I'm sharing are realized gains and are cash.
Serial Investor, Ultimate Side Hustler, Real Estate Coach Tim Hong
On the real estate front, can we stand down the red alert on real estate?
Not to say challenges are not ahead, but much more is known now about the problems we as real estate investors face compared to two months ago, pre-march break.
Commercial is a sore spot, both residential and non residential.  Student rentals will be a challenge as McGill and UBC announced many classes will be online.  What that means for our student tenants remains to be seen as many programs require labs, group work, in hospital rotations, etc…
For tenants who are looking to rent something, the timing couldn't be much better.  Same for those who have cash and credit to buy.  There will always be opportunities for some, so take advantage while you can. 
For example, I have a family member looking to sell a starter home in the suburbs and buy a bigger condo downtown Toronto.  The timing could not be better.  Again, opportunity will always come to those who know where to find it.
Speaking of chasing opportunities, we have a legit wealth hacker as our guest on this week's show – Tim Hong.
Tim house hacked his first home, a 2+1 bedroom condo by renting out 1+1 bedrooms to students as his first taste of investing in real estate.
Then he did rent to owns, bought an apartment building, invested in student rentals, then got licensed in real estate. Now Tim coaches investors, started a property management business, had a tenant offer non monetary rent compensation (I'll let Tim explain that), and Tim has been trading foreign exchange currencies for 5+ years. 
How's that for a wealth hacker? I've also convinced Tim to do some stock hacking with his TFSA's 😊.  If there is an efficient means to make income, Tim is into it.
Tim is also a coach on my team at IWIN Real Estate and has been with me since I can't remember, maybe 2012? It's been a long time and without further ado, I give you Tim Hong.
To Listen:

To Follow Up With Tim Hong:
Instagram: @_timhong_
Free book on real estate: www.timhong.ca/book
www.kitchenersoldlist.com

www.hamiltonsoldlist.com
NO MORE Confusion
After all the Youtube videos, books, and forum posts, you're probably still left with questions. Starting in real estate is a tricky thing.
Frustrated beginners often ask how a legal basement suite conversion actually works. Most of the time we can only give general answers. But now, we get to dive in.
At this in-depth, free class you'll learn how to take your first steps as a real estate investor.
Nothing is held back. Everything from analyzing basement suite conversion deals, to renting out your first property at a profit, and even how to refinance and do it all again!
More secrets you'll uncover are:
Profiting in a HOT market…

Municipal bylaws to watch out for…

Mortgage terms that favour refinancing…

AND one barely used tactic for higher appraisals…
If you're frustrated, unsure of how to get started, this is for you.
 Sign up now for the Invitation List and be one of the first to get an invite to the next class.
Sponsored by:
Infinity Wealth Investment Network – would you like to know how our investors returned 341.8% on positive cash flowing real estate over the last five years? On average, that was 68.4% per year, just imagine what winning in real estate could do for you. If you would like to know how we did it, ask us how by calling 289-288-5019 or email us at meaghan@infinitywealth.ca. Don't delay, the top markets we focus in are trending upward in price, so you can pay today's price or tomorrow's price.
Till next time, just do it because I believe in you.
Erwin
Hamilton, St. Catharines and Toronto Land Development, Real Estate Investor, and soon to be builder.
W: erwinszeto.com
FB: https://www.facebook.com/erwin.szeto
IG: https://www.instagram.com/erwinszeto/

https://www.truthaboutrealestateinvesting.ca/wp-content/uploads/2020/05/Coach-Tim-Hong.jpg
630
1200
Erwin Szeto
https://www.truthaboutrealestateinvesting.ca/wp-content/uploads/2017/06/TruthRectangleLogo.png
Erwin Szeto
2020-05-15 15:34:04
2020-05-15 15:34:05
Serial Investor, Ultimate Side Hustler, Real Estate Coach Tim Hong