Buying Ugly Commercial Buildings, a Combined 300,000 Square Feet, Renovating on Speculation and Changing Hamilton with Steve Kulakowsky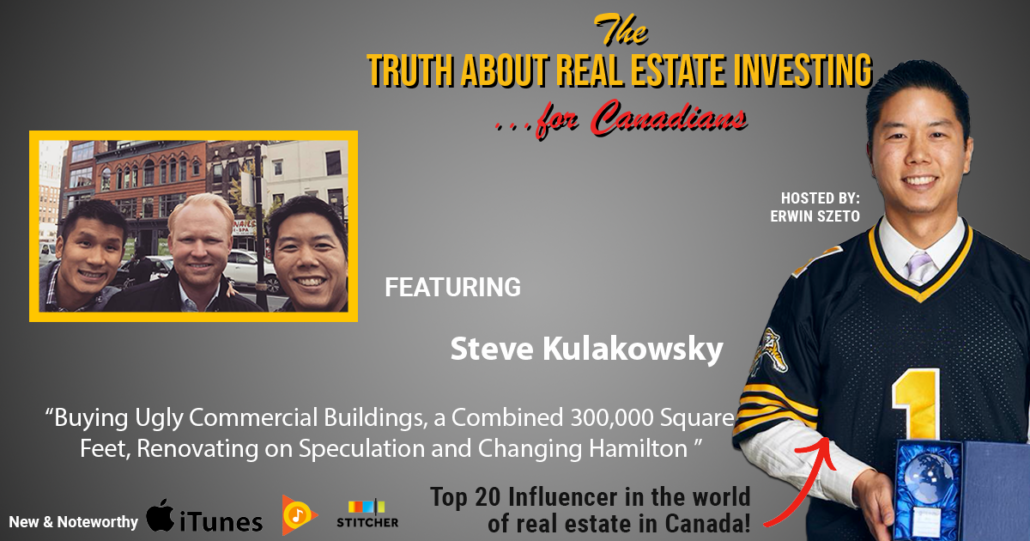 I separated my rib just three weeks ago at a Brazilian Jiu Jitsu tournament and this past Friday I was back golfing indoors, taking full swings. My core strength is not as good as it used to be but it felt good being able to swing as hard as I wanted pain free. I'm also back doing gymnastic movements at Crossfit pain free. The only time I now feel the injury is when doing burpees when my sore rib touches the floor but it's barely noticeable.
My point is, I've had enough people call me insane for fighting other adults and ending up hurt, but what's the worse thing that could happen? I lost and lost badly yes, I got hurt, but I'm OK.
So the worst case happened, time goes on, and I'm fine and getting ready for my next competitions. 🙂 Am I insane? I know I'm definitely different, and back to investing, what is the worst case investing in real estate? If you do just a little education, get a little good advice, buy a good property in a top ten town, you're going to be fine. Worst case, you learn from your mistakes on the next one.
Or if you like giving 110% like I do to ensure more predictable results, hire a great coach and surround yourself with successful investors. If you're looking for a place to meet successful investors, then come to the next Infinity Wealth Investment Network (iWIN for short) meeting where I've assembled a large number of the most successful investors I know. Many have been on this podcast and are killing it. The super cool part is the investor community I know enjoys giving back so if you're newer, that's totally cool. You are more than welcome. Go to www.infinitywealth.ca for more information.
That brings us to this week's guest, Steve Kulakowsky. He's one of our few returning guests and if you don't know him, that's OK. He's pretty much the youngest and hottest developer in Hamilton with numerous massive, mid rise, commercial real estate. He owns retail and office space with a little residential. Steve buys them ugly and renovates them into beautiful, interesting rental spaces. Check out their instagram, it's commercial real estate porn https://www.instagram.com/coreurbaninc/ including nine of the hottest restaurants in Hamilton.
Buying Ugly Commercial Buildings, a Combined 300,000 Square Feet, Renovating on Speculation and Changing Hamilton with Steve Kulakowsky
Before our interview, I invited Steve to lunch at a fabulous restaurant on King William St, and they just so happen to be one of Steve's tenants. I also invited Luke Wywrot, who is building a 30 storey apartment building around the corner, as Luke and Steve have never met before. Luke will be by the show when's he's less busy. We had an awesome lunch, I was the old guy among the three of us. Lots of ideas were shared on advanced real estate topics, and that's what cool about so many investors I know. Many are open to sharing how-to.
Just like this episode, Steve shares what motivates him, tips and strategies to attract commercial tenants, a Field of Dreams strategy in a market with double digit commercial vacancy and low rents, going from residential to commercial, and on and on. Hopefully we can get Steve to give a talk at the April iWIN Meeting.
To follow Steve:
Instagram: https://www.instagram.com/coreurbaninc/
Website: http://www.coreurban.ca/
If you'd like an introduction to Steve and you're a friend, please let me know.
If you need a friend defined please read How To Win Friends and Influence People by Dale Carnegi
If you enjoyed the show and would like to learn more about investing in real estate, then you do not want to miss my Top 10 Tips On Real Estate. It's FREE to Download!!
I've interviewed many of the leading authorities in real estate, including Best Selling Authors like Julie Broad, Don R Campbell, Russell Westcott, and Tom Karadza. My super star investors include folks who acquire two properties per month or have transacted on over 100 properties. I have learned a thing or two in my own investing and distilled it down to 10, you-can-not-ignore, tips if you want to be a successful investor.
To download the report go to www.truthaboutrealestateinvesting.ca/book
Sponsored by:

TitanInvestmentRealEstate.com – would you like to know how our investors returned 341.8% on positive cash flowing real estate over the last five years? On average, that was 68.4% per year, just imagine what winning in real estate could do for you. If you would like to know how we did it, ask us how by calling 289-288-5019 or email us at admin@mrhamilton.ca. Don't delay, the top markets we focus in are trending upward in price, so you can pay today's price or tomorrow's price.
Till next time, just do it because I believe in you.
Erwin
Hamilton, St. Catharines, Toronto, Land Development, soon to be builder and Real Estate Investor
W: erwinzeto.com
FB: https://www.facebook.com/erwin.szeto
IG: https://www.instagram.com/erwinszeto/
https://www.truthaboutrealestateinvesting.ca/wp-content/uploads/2019/01/Steve-K.png
630
1200
Erwin Szeto
https://www.truthaboutrealestateinvesting.ca/wp-content/uploads/2017/06/TruthRectangleLogo.png
Erwin Szeto
2019-02-04 22:28:26
2019-02-07 02:54:54
Buying Ugly Commercial Buildings, a Combined 300,000 Square Feet, Renovating on Speculation and Changing Hamilton with Steve Kulakowsky