How to Lose Weight, Gain Muscle, Be a Beast with My Crossfit Coach Daniel Thiessen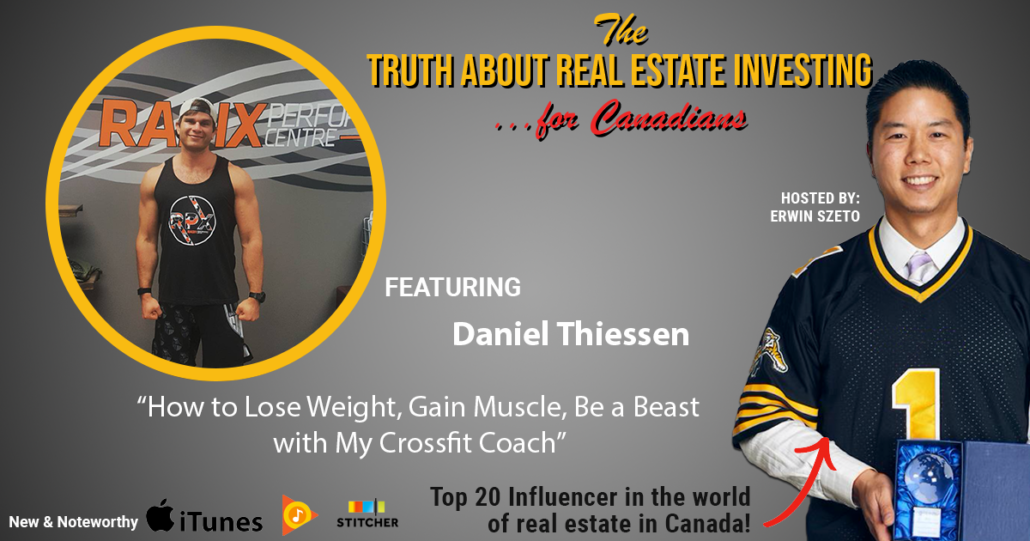 I bought a house two weeks ago and inspected it last week. From the pictures and description of the house, I estimated $100,000 to get the house rent-ready. Sadly, my renovation estimate was accurate at just under $100k. I'll allow myself a pat on the back for sadly being right about a lot of money going out the door. I bought it without conditions too, which I do not recommend. Please don't do what I do. You'll hear in a future podcast episode how Cherry, my wife, is not too pleased that we didn't have an inspection condition and I didn't even see the house!
With the location being so close to a hospital and university, I'll see what my options for a furnished executive style rental are, as I'd like to avoid future by-law issues with AirBnb and student rentals.
This deal wouldn't have been possible without my fellow investor friends who all happened to have been on this podcast: Aaron Moore, Susan White, and Ryan Carr. They each inspire me of what's possible. Aaron provided me the most tactical advice and answered my panicked phone calls. Susan too.
This is the ugliest house I've bought in a while, but what I've learned is the uglier the house, often the better the deal is. And it's great to have friends you can call in a panic.
Speaking of real estate friends, you can meet them too at the next Infinity Wealth Investment Network (or iWIN for short) on February 28th. We have confirmed our location at The Vue where the Royal Woodbine Golf and Country Club hosts events. If you've ever been to a wedding at a nice golf course, that's what this place looks like, and it's located just east of Pearson Airport.  
Our speakers are best selling author, and former Vice President of the Real Estate Investment Network, and founder of the Raising Capital Academy, Russell Westcott, where he is doing something completely different.  Investors are invited to submit videos for Russell and I to review and choose from. Then on Feb 28th, Russell will coach this lucky individual LIVE. Russell is the Joint Venture Jedi, so let's put his teaching skills to the test!
People rave about Denise and Stuart's presentation on RRSP investing and they are here all the way from the Nation's capital in Ottawa to share.
Plus interest rate and financing update from Butler Mortgages, and rent and resale price updates from the League of Extraordinary Real Estate Professionals.
Tickets are available at www.infinitywealth.ca, we sold over 100 tickets in a week and just released another 50 now that we have our venue locked down, so please don't wait and buy your tickets today. Our last waitlist was 71 people….
How to Lose Weight, Gain Muscle, Be a Beast with My Crossfit Coach Daniel Thiessen
On to this week's guest who is NOT a real estate investor but a remarkable human being nonetheless. Not all lessons are learned in the world of investing, and my conversation with Dan Thiessen, owner of RAdix Performance Centre in Oakville, Ontario, my Crossfit gym, has parallels to the business/investing world.
You want to be elite? The path is quite similar in athletics when compared to investing, and Dan is an elite athlete. He's grown up playing sports at the triple A level, he's competed at the provincial and national level in different sports, fast forward to today, he can handstand walk for 100 feet and lift a 280 lbs barbell from the floor to over his head in one movement.   
In this episode, Dan has advice for how to get started and many best practices to maintain health, fitness and performance. The perfect thing to listen to right now if you're suffering from the winter blahs and need motivation.
Personally, I'm near the best shape of my life. The best was a few months ago before my November holidays, but I can still beat up any previous version of myself.  
To follow Dan:
Web: https://radixperformance.com/
Instagram: https://www.instagram.com/radixgym
If you enjoyed the show and would like to learn more about investing in real estate then you do not want to miss my Top 10 Tips On Real Estate. It's FREE to Download!!
I've interviewed many of the leading authorities in real estate, including Best Selling Authors like Julie Broad, Don R Campbell, Russell Westcott, and Tom Karadza. My super star investors include folks who acquire two properties per month or have transacted on over 100 properties. I have learned a thing or two in my own investing and distilled it down to 10, you-can-not-ignore, tips if you want to be a successful investor.
To download the report go to www.truthaboutrealestateinvesting.ca/book
Sponsored by:

TitanInvestmentRealEstate.com – would you like to know how our investors returned 341.8% on positive cash flowing real estate over the last five years? On average, that was 68.4% per year, just imagine what winning in real estate could do for you. If you would like to know how we did it, ask us how by calling 289-288-5019 or email us at admin@mrhamilton.ca. Don't delay, the top markets we focus in are trending upward in price, so you can pay today's price or tomorrow's price.
Till next time, just do it because I believe in you.
Erwin
Hamilton, St. Catharines, Toronto, Land Development, soon to be builder and Real Estate Investor
W: erwinzeto.com
FB: https://www.facebook.com/erwin.szeto
IG: https://www.instagram.com/erwinszeto/
https://www.truthaboutrealestateinvesting.ca/wp-content/uploads/2019/02/Daniel-Thiessen.png
630
1200
Erwin Szeto
https://www.truthaboutrealestateinvesting.ca/wp-content/uploads/2017/06/TruthRectangleLogo.png
Erwin Szeto
2019-02-11 19:57:26
2019-02-11 19:57:28
How to Lose Weight, Gain Muscle, Be a Beast with My Crossfit Coach Daniel Thiessen