How To Build a Portfolio of Over 200 Properties and Lessons Learned Surviving An Economic Downturn with Jared Hope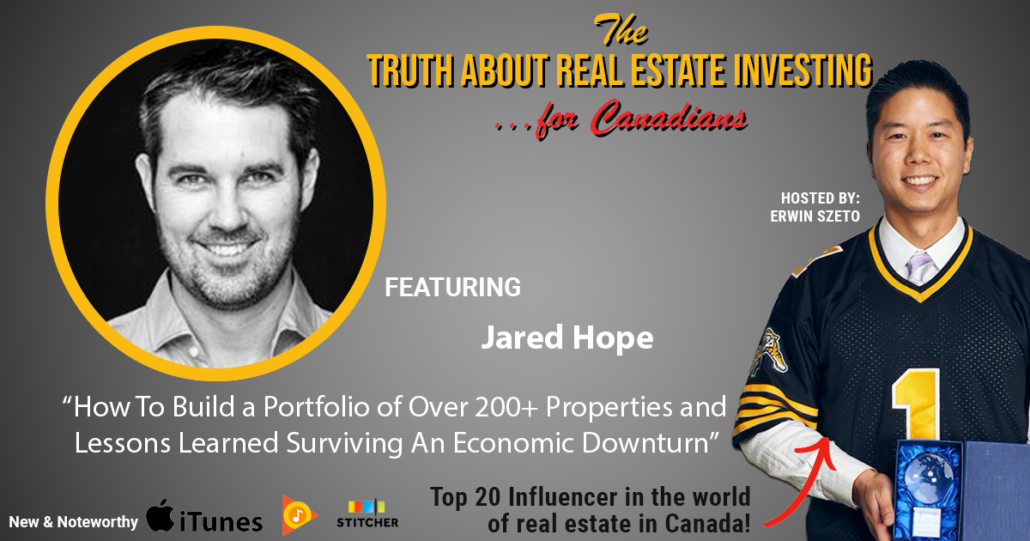 Hello Investors!!
Are you surviving the snow, ice and cold?  What better time than now to get away to Florida, no? This time next year I plan on go back stateside for the 10X Growth Conference as I just got back and it was awesome.  Here are my 🚨Top 3 takeaways from the first day and a half at #10xgrowthcon .
View this post on Instagram
📐1. More attention to digital assets, specifically websites, thanks to how tos by @tailopez. Check out his website if you want a great example.
🌟📈2. Scaling up is actually a way to reduce competition. Many have yet to learn the skills or raise the capital to do so, so scale up.
🎥3. Share more via video what I'm doing to help clients, members of #iWIN and, most importantly, my charity the @hamiltonbasketbrigade, because this isn't about me. It's about providing 1,000 families each year their best holiday ever.
Bonus takeaway: Likes are votes in a democracy, if this video helps you, please like. 🙏🙏🙏
How To Build a Portfolio of Over 200 Properties and Lessons Learned Surviving An Economic Downturn with Jared Hope
This week's guest is excellent, as always. He's a coach, a real estate business owner with property management and home construction businesses with 18 staff, and he's transacted on over 200 properties since 2003. His name is Jared Hope of Tilt Property Group and he's seen it all, from boom, to bust and 18.5% vacancy rates in the Alberta real estate market.
Jared even shares the moment where he almost lost it all to bankruptcy, having to rely on a stranger to pay for his family's grocery bill.
Listeners, especially those in Ontario and BC, we've been on a very good run since 2008. There will be a downturn and Jared is here to share lessons on where he went wrong in the early days building a massive portfolio, what he would do different to insulate himself from six figure cash calls, and what experts to listen to… I have five pages of notes and know I would have 10X that if I were listening and not interviewing.
Enough from me, I give you Jared Hope.
How to Connect with Jared:
We're already discussing to have Jared as our May speaker at iWIN. Stay tuned!
Web: https://www.tiltgroup.ca/
Facebook: https://www.facebook.com/pg/tiltgroup
Twitter: @thejaredhope and @tiltproperties
If you enjoyed the show and would like to learn more about investing in real estate then you do not want to miss my Top 10 Tips On Real Estate. It's FREE to Download!!
I've interviewed many of the leading authorities in real estate, including Best Selling Authors like Julie Broad, Don R Campbell, Russell Westcott, and Tom Karadza. My super star investors include folks who acquire two properties per month or have transacted on over 100 properties. I have learned a thing or two in my own investing and distilled it down to 10, you-can-not-ignore, tips if you want to be a successful investor.
To download the report go to www.truthaboutrealestateinvesting.ca/book
Sponsored by:

TitanInvestmentRealEstate.com – would you like to know how our investors returned 341.8% on positive cash flowing real estate over the last five years? On average, that was 68.4% per year, just imagine what winning in real estate could do for you. If you would like to know how we did it, ask us how by calling 289-288-5019 or email us at admin@mrhamilton.ca. Don't delay, the top markets we focus in are trending upward in price, so you can pay today's price or tomorrow's price.
Till next time, just do it because I believe in you.
Erwin
Hamilton, St. Catharines, Toronto, Land Development, soon to be builder and Real Estate Investor
W: erwinzeto.com
FB: https://www.facebook.com/erwin.szeto
IG: https://www.instagram.com/erwinszeto/
https://www.truthaboutrealestateinvesting.ca/wp-content/uploads/2019/02/Jared-Hope.png
630
1200
Erwin Szeto
https://www.truthaboutrealestateinvesting.ca/wp-content/uploads/2017/06/TruthRectangleLogo.png
Erwin Szeto
2019-02-19 17:41:15
2019-02-19 17:41:17
How To Build a Portfolio of Over 200 Properties and Lessons Learned Surviving An Economic Downturn with Jared Hope