Are You Starting Out As An Investor and Thinking About Getting Your Real Estate License?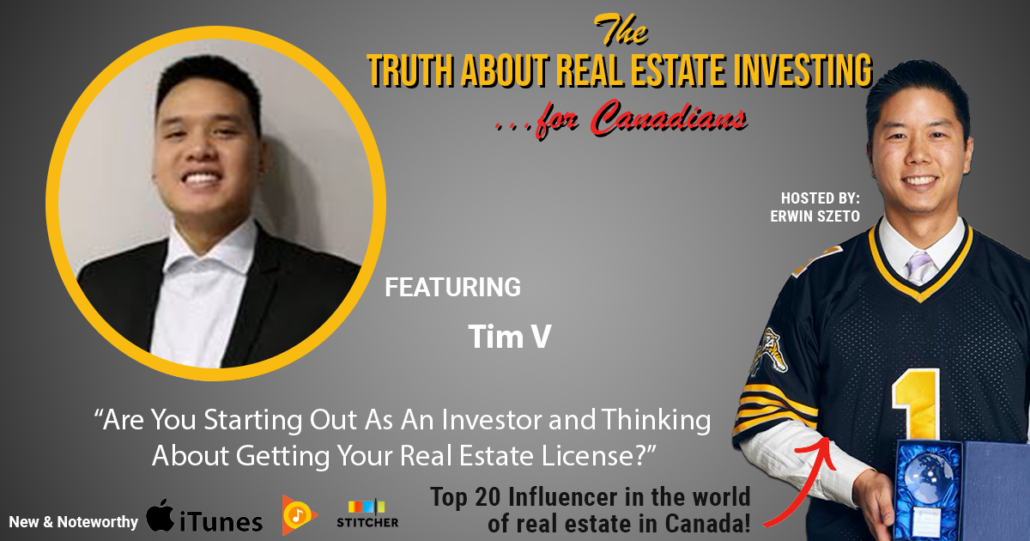 New record: 24 years old, first time buyer, went firm on an investment property and we couldn't be more proud.
His name is Joe and we'll be having Joe on Facebook live for iWIN members and we will share the recording for the podcast and on YouTube.
The number one regret of real estate investors is they wish they started sooner.  
Note this is Joe's first property ever. We do have other investors who bought investment property at 24, but they already owned their homes.
Mark my words here and now, Joe will be a future real estate millionaire and, if he chooses, a multi-millionaire, and iWIN members will be here to support him.
If you want to meet Joe and learn about his duplex-ing strategy (with the help of Andy Tran and Coach Tammy DiTomaso), stuff we teach all the time at monthly iWIN meetings, then come check us out, assuming we have not yet sold out.
Registration and tickets here: https://www.infinitywealth.ca/events
The Vue
195 Galaxy Blvd
Etobicoke, ON M9W 6R7
Thursday, 28 February 2019
6:30 PM – 10:00 PM EST

In other news, I went to the casino on Saturday and came out on top!!
After the sold-out real estate development tour in St. Catharines on Saturday, a couple of us played hooky and went to Fallsview Casino.
Gambling stresses me out. I don't know what it is, but I get so stressed and I don't enjoy it, but I'm happy to enjoy an adult beverage or three while watching my friends play.  Plus, I'm extremely risk averse. I prefer my money making me money, rather than losing money. That is the number rule in Warren Buffet's playbook after all.
Our group of five lost a combined $1,800, or an average of $360 per person. Since I didn't gamble, the average loss is really $450. Tammy Ditomaso, who's on my team, broke even, so really the losses were $600 on average.
That's not even a tax deductible expense!! Patooey!!
Since our team had their wallets handed back to them empty, I picked up the tab at dinner. And since dinner was with a group of clients, that would qualify as tax deductible client entertainment.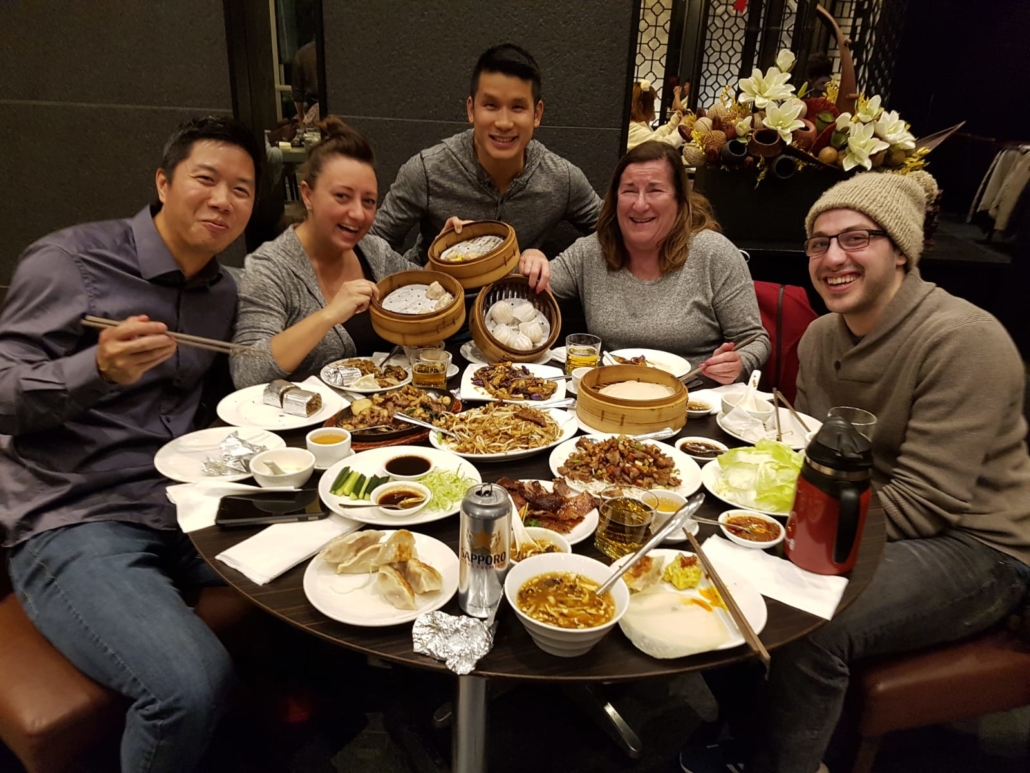 The day was super fun, hosting 40 investors to tour an actual development. There were no sore losers from the Casino, and who doesn't like a decadent Chinese dinner, complete with Peking duck?
Next time though, consider investing your money in hard assets or a small business for yourself, which leads up to this week's guest, Tim.
Are You Starting Out As An Investor and Thinking About Getting Your Real Estate License?

I get this question a lot from recent graduates and folks switching careers. "I want to be an investors, should I become a Realtor?"
I get it so often, I invited a young gentleman named Tim to ask me his questions, and record it so I may share this for anyone in the same boat as Tim.
For those wanting to get a real estate license to get access to the data available to Realtors, over 50% of agents do 0-1 transactions per year. Don't you think you could hire one as your assistant to send you reports and the data you need? That would be considerably less expensive than the hundreds of study hours needed to obtain your license, plus the couple thousand dollars per year in fees to maintain your license.
Food for thought and by the way, don't listen to me for career advice or legal advice. These are merely my two cents on the subject.
Secondly, I learned in the methods of business, to not follow one's passions. The market does not care if you're passionate about real estate. I got my real estate license back in 2010 because there was a gap in the market. There was no one focused on guiding investors in Hamilton at the time. I was part of a fair-sized investor network and investors there were demanding the same.
I am a Hamilton investor, I was good at it. I'm a pretty good Realtor too, hence the awards you can see behind me. There was demand and no one was supplying the service to fill such demand. That's how I made the business decision. If you're looking to practice as a Realtor, I suggest a similar approach to evaluating the supply, demand, and competition in your target market. A great place to start would be like I did, becoming a member of group of like-minded real estate investors like my own group, the Infinity Wealth Investment Network. The iWIN group meets on Feb 28th and four weeks later on March 28th. If you want to be a investor, I can't recommend enough that you spend time around local, successful investors.
If you want to take an even deeper dive into our Freedom 45 program, we can create for you a business plan that can truly give you time and freedom to do other things you love.
If that interests you, come to the next iWIN event! You can register here: https://www.infinitywealth.ca/events
If you're looking for a get rich quick scheme, this isn't for you.  Building wealth is a marathon, not a sprint, and playing for the long-term takes a lot of the risks out of investing. No different than the Casino, but I despise risks to my money.
If you're looking for a "work hard and build an awesome portfolio" scheme, then I'm your man!
Enough from me, I give you Tim, a 23 year old recent graduate with a Psychology degree, $40,000 of student debt, and big aspirations for what's next.
Books I recommend:
How to Win Friends and Influence People by Dale Carnegie (I can immediately tell when people contacting me, asking questions, asking for my time, if they've read this book or not)
Maximum Achievement by Brian Tracy
Psychology of Achievement by Brian Tracy
Rich Dad Poor Dad by Robert Kiyosaki
Renos to Riches by Ian Szabo
If you enjoyed the show and would like to learn more about investing in real estate then you do not want to miss my Top 10 Tips On Real Estate. It's FREE to Download!!
I've interviewed many of the leading authorities in real estate, including Best Selling Authors like Julie Broad, Don R Campbell, Russell Westcott, and Tom Karadza. My super star investors include folks who acquire two properties per month or have transacted on over 100 properties. I have learned a thing or two in my own investing and distilled it down to 10, you-can-not-ignore, tips if you want to be a successful investor.
To download the report go to www.truthaboutrealestateinvesting.ca/book
Sponsored by:

TitanInvestmentRealEstate.com – would you like to know how our investors returned 341.8% on positive cash flowing real estate over the last five years? On average, that was 68.4% per year, just imagine what winning in real estate could do for you. If you would like to know how we did it, ask us how by calling 289-288-5019 or email us at admin@mrhamilton.ca. Don't delay, the top markets we focus in are trending upward in price, so you can pay today's price or tomorrow's price.
Till next time, just do it because I believe in you.
Erwin
Hamilton, St. Catharines, Toronto, Land Development, soon to be builder and Real Estate Investor
W: erwinzeto.com
FB: https://www.facebook.com/erwin.szeto
IG: https://www.instagram.com/erwinszeto/
https://www.truthaboutrealestateinvesting.ca/wp-content/uploads/2019/02/Tim-V.png
630
1200
Erwin Szeto
https://www.truthaboutrealestateinvesting.ca/wp-content/uploads/2017/06/TruthRectangleLogo.png
Erwin Szeto
2019-02-26 23:02:52
2021-03-10 14:34:16
Are You Starting Out As An Investor and Thinking About Getting Your Real Estate License?