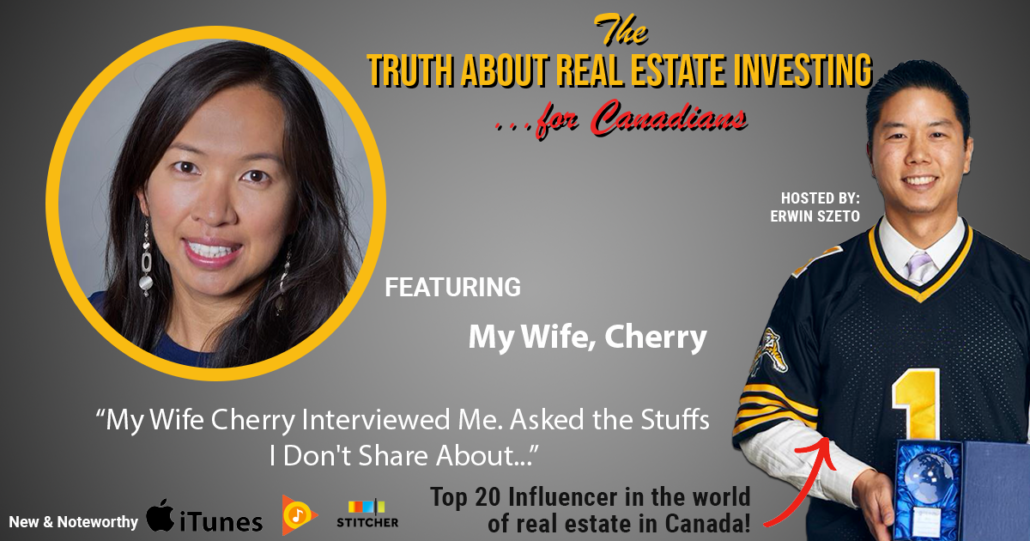 What can I say? As any of you regular listeners know, I'm far from normal… but you know what I've learnt about spending time around successful people?  We're all sort of crazy.
Anyway, Cherry had a glass of wine, a shot of tequila, loosened up, and felt like asking me whatever she wanted.
If you still trust me afterwards to help you build your wealth through real estate, I'll be at the next monthly #iWIN meeting on March 28th.
At our last event, we had two of the nicest people in Stuart and Denise MacPherson come all the way from Ottawa to share how to raise money with RSP's. We also had master of raising capital, Russell Westcott, in the house answering your toughest questions on the subject.
Russell walks the walk too, having raised 7 figures just last week. That's capital, not mortgage money, as some people on the social media are including in their definition of other people's money. We only bring the best of the best guest speakers to #iWIN and Russell qualifies as the best selling co-author of Real Estate Joint Ventures: The Canadian Investors' Guide to Raising Money and Getting Deals Done.
These are the things you CAN'T learn in a book or podcast . . . These are the things we bring to the table for our Freedom 45 people. My goal for our clients is not to teach them more stuff… it's to make them more wealth. Anyway, if you've had an interest in real estate, let me know. I've got a killer Freedom by 45 blueprint.
Don't worry if you're over age 45 or close to 45, our blueprint works for anyone looking to make more money and build wealth. Even if you think it's too late for you, we can help you help your children and grandchildren in building more wealth.
Our next Infinity Wealth Investment Network, or iWIN for short, meeting is here in Toronto on March 28th. If you'd like to come, you have to act fast as these events sell out.
You can grab your ticket here: https://www.eventbrite.ca/e/iwin-march-meeting-with-susan-white-livermore-tickets-57126023474
But before that, we have our Kitchener-Waterloo Street Smart Tour this Saturday on March 9th with Tim Hong! You can find out more information and grab your FREE ticket here: https://www.eventbrite.ca/e/iwin-kitchener-waterloo-investment-tour-march-9-tickets-57141131663
Without further ado, I give you my lovely wife, Cherry Chan of www.realestatetaxtips.ca, asking me crazy questions.
Show notes:
Cherry on the web
To register for iWIN's monthly meetings
Russell Westcott's best selling book
Erwin on the web
If you enjoyed the show and would like to learn more about investing in real estate then you do not want to miss my Top 10 Tips On Real Estate. It's FREE to Download!!
I've interviewed many of the leading authorities in real estate, including Best Selling Authors like Julie Broad, Don R Campbell, Russell Westcott, and Tom Karadza. My super star investors include folks who acquire two properties per month or have transacted on over 100 properties. I have learned a thing or two in my own investing and distilled it down to 10, you-can-not-ignore, tips if you want to be a successful investor.
To download the report go to www.truthaboutrealestateinvesting.ca/book
Sponsored by:

TitanInvestmentRealEstate.com – would you like to know how our investors returned 341.8% on positive cash flowing real estate over the last five years? On average, that was 68.4% per year, just imagine what winning in real estate could do for you. If you would like to know how we did it, ask us how by calling 289-288-5019 or email us at admin@mrhamilton.ca. Don't delay, the top markets we focus in are trending upward in price, so you can pay today's price or tomorrow's price.
Till next time, just do it because I believe in you.
Erwin
Hamilton, St. Catharines, Toronto, Land Development, soon to be builder and Real Estate Investor
W: erwinzeto.com
FB: https://www.facebook.com/erwin.szeto
IG: https://www.instagram.com/erwinszeto/
https://www.truthaboutrealestateinvesting.ca/wp-content/uploads/2019/02/Cherry.png
630
1200
Erwin Szeto
https://www.truthaboutrealestateinvesting.ca/wp-content/uploads/2017/06/TruthRectangleLogo.png
Erwin Szeto
2019-03-04 20:33:52
2019-03-04 20:33:53
My Wife Cherry Interviewed Me. Asked About the Stuff I Don't Share...