Cryptocurrency Expert, Grandfather of Ethereum, Dmitry Buterin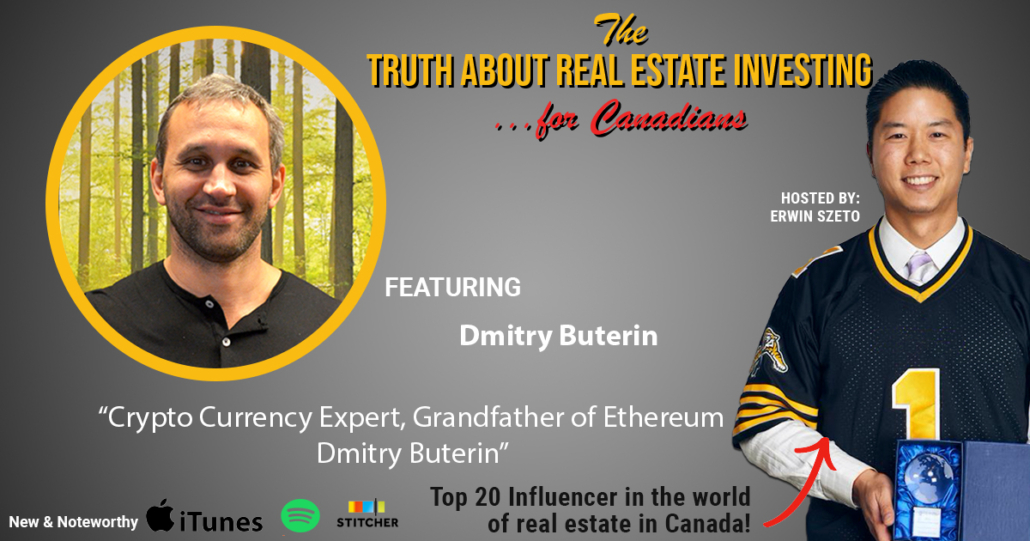 Hello, my fellow Wealth Hackers!
This past weekend was our first in-person real estate meetup in the new office since restrictions were lifted.  We will continue to do Zoom meetings as I know some are still more comfortable being virtual, and some of our clients are living in their cottages up north these days.
 

 

View this post on Instagram

 
Some of the takeaways were regarding fake news in real estate. For example, the one million-plus vacant homes in Canada when Census Canada actually uses the term unoccupied homes, including non-primary residences like cottages and student rentals. Yet politicians and media lump in cottages and student rentals as being vacant…
The real estate market is a complete seller's market, but we are finally seeing more new listings come onto the market.
Our friends from Lendcity Mortgages, Scott Dillingham and Gillian Irving, joined us to let us know what they're seeing in the mortgage markets, e.g. investors with bigger portfolios are switching from residential to commercial mortgages for refinancing or that next investment property.  Appraisals have generally kept up with purchase prices except when a buyer completely overpays.  
Then everyone's favourite Real Estate Accountant, my valentine Cherry Chan, shared a very complicated topic on saving capital gains.  First off, capital gains is way better, 100% better than personal income gains for tax purposes.  It's one of the few tax benefits we Canadians have; hence, investing in real estate and stocks is ideal for the middle and long term.  For our clients, we will make the recordings available to you.
It was so great to see like-minded individuals in person again, and I can't wait to do it all again on March 26th. 
Recently, a group of 7 figure business owners asked me to present on the best practices of portfolio diversification, which I did. I received great feedback, so I'll deliver that on March 26th. 
Of course, no financial planner will agree with what I'm going to share, but then I've been a part of helping everyday, middle-class Canadians with five or six-figure net worth grow to a couple million dollars in net worth.
Also, with the affordability challenges of housing in big cities, the smaller cities outside the GTA have benefited greatly… So, we will be sharing about investment opportunities east of the GTA in Belleville, Ontario which has been garnering significant attention from my Oshawa investor friends for its affordability and cash flow opportunity.  On Saturday, March 26th, we will be covering the city from an economic fundamentals perspective.  You don't want to miss it.
As I mentioned earlier, I'm no financial planner, but one of my real estate clients I coached to buy their first student rental in 2011 in the low 300's that cash flowed beautifully, along with a few others I helped them with.  Well, just last week, we helped them sell it for just over $1 million as part of their retirement plan as they are quitting their job next month to focus more on living and travelling.  The proceeds of the sale will fund their retirement and bankroll a larger stock hacking account to create cash flow.
Conservative Napkin math, assuming 20% downpayment and 20% for renovations, the return on investment is about 4 times for a conservative 37% return per year before figuring for mortgage pay down and cash flow. Add those in, and we're in the high 40s.
This news of our client retiring made my month! My team and I enjoy nothing more than helping people and if you too would like to learn the best practices on investing in real estate and give yourself financial peace in the future, then check us out at any of our upcoming events: meetups, free training, street smart tours. You can register for them here: www.infinitywealth.ca/events.
Cryptocurrency Expert, Grandfather of Ethereum, Dmitry Buterin
On to this week's show which I'm really excited to share with you…
I always want to bring my 16-17 listeners the best of the best, but you see, just like real estate, there are also many crypto experts out there. 
So many have asked to come on this show to promote their book, course or coaching. But something didn't sit right with me. Maybe it's me being too picky or analysis paralysis but being patient often does pay off.
A more recent, good friend of mine is close personal friends with Dmitry Buterin, a super successful tech entrepreneur in his own right, having exited his last tech company for millions of dollars in his early 40's. 
If you've spent time in the cryptocurrency space, you'll recognize Dmitry's last name Buterin as it's the same as Vitalik Buterin, the 28-year-old Billionaire from Toronto and founder of Ethereum.  Ethereum is 2nd in market capitalization to only Bitcoin, and then Ethereum is four times the market cap of third-place Tether.
Dmitry has a particularly fascinating story… He grew up during the fall of the Soviet Union; yes he's Russian, so I asked his perspective of living under communism and comparing it to today's Canada.
I asked Dmitry about raising kids, investing in general and, of course, cryptocurrencies, and my favourite part, how Dmitry's perspective on life changed after selling his business.
As always, when booking guests for this show, I look for interesting stories and stories from folks on the other side of the hustle and bustle.  What do they do with their time and money; It always fascinates me, and hopefully, you enjoy this episode as much as I did producing it.
Finally, as we are talking about risky investments…
DISCLAIMER FROM Erwin Szeto: I am not an investment adviser, neither is Dmitry Buterin. All opinions are mine alone. Or theirs. There are risks involved in placing any investment in securities, Bitcoin, cryptocurrencies, or anything. None of the information presented herein is intended to form the basis of any offer or recommendation or have any regard to the investment objectives, financial situation, or needs of any specific person, including you, my dear listener or reader. Everything you're going to hear is for informational entertainment purposes only.
Please enjoy the show!
SPONSORS: This episode is brought to you by me; we don't have sponsors. I only share with you services owned by my wife Cherry and me.  Real estate investing is a staple in my life that allows me to build wealth. More importantly, it has allowed me to achieve financial peace about the future, knowing our retirement is taken care of and my kids will afford a home when they grow up.  
If you too are interested in my systematic strategy to implement the #1 investment strategy, the same one pretty much all my guests are doing themselves, then visit www.infinitywealth.ca/events and register for our next FREE Online Training Class.  We will be back in person once legally allowed, but we are 100% virtual for now.
There's no need to reinvent the wheel. We have our system down pat. Again that's  www.infinitywealth.ca/events, and register for the FREE Online Training Class.
This episode is also brought to you www.stockhackeracademy.ca, where everyday real estate investors learn the best practices in stock investing to earn cash flow in about 15-30 mins per day from their mobile phones. 
After real estate, Stock Hacking is the next best hustle, as you've heard from many past guests on this show. Last year, we shared 31 trades among our students. 30 were profitable for an over 96% success rate!
I will be giving free demonstrations online, similar to the one I gave my kid cousin, a full-time musician who made a 50% return in 2021.  
Past, of course, does not predict the future but if you'd like a free demonstration, go to www.stockhackeracademy.ca in the top right click FREE Demo. I'll have special attendee bonuses at the demonstration that we do not advertise publicly.
Don't delay; Stock Hacking is what I consider the future of side hustles with real estate so unaffordable for many.
We're hiring!
Just a friendly reminder that we are hiring more investment Realtors who want a full-time challenge to help our clients, regular everyday people, mostly from the GTA, invest in the top investment towns west of the GTA. 
This is for driven folks who want to multiply their current incomes.
APPLY HERE: https://www.infinitywealth.ca/hiring

HELP US OUT!
Please help us reach new listeners on iTunes by leaving us a rating and review!
UPCOMING EVENTS
You are the average of the five people you spend the most time with! Build connections with empire builders and trailblazers at our iWIN events.
BEFORE YOU GO…
If you're interested in being a successful real estate investor like those who have been featured on this podcast and our hundreds of successful clients please let us know.
It is our honour to give back and educate others on how we build cash flowing real estate portfolios using all the best practices shared on this podcast, from the lessons of our hundreds of clients and of course our own experience in owning investment real estate.
If you didn't know already, we pride ourselves on being the best of the best real estate coaches, having the best property managers, contractors, handy people, cleaners, lawyers, accountants, everyone you need on your power team and we're happy to share them with our clients to ensure your success. 
New investor or seasoned veteran investor, we can help anyone by providing our award winning coaching services and this isn't all talk.
We have been awarded Realtor of the Year to Investors in 2015 by the Real Estate Investment Network, 2016 by the Canadian Real Estate Wealth Magazine and again in 2017 because no one told the judges no one is supposed to win the award twice but on merit, our peers deemed us as the best.  In 2018, we again won the same award by the Real Estate Investment Network.
Hopefully being the most decorated team of Realtors in Ontario will make you consider us for your first or next real estate investment.  Even if you don't invest in our areas, there's a good chance I know who would be ideal for you. 
I've been around for a while, some Realtors are talented at servicing investors there are many with great ethics.  The intersection of the two, talent and ethics is limited to a handful in each city or town.
Only work with the best is what my father always taught me.  If you're interested, drop us an email at iwin@infinitywealth.ca.
I hope to meet you at one of our meetups soon.
Again that's iwin@infinitywealth.ca
Sponsored by:
Infinity Wealth Investment Network – would you like to know how our investors returned 341.8% on positive cash flowing real estate over the last five years? On average, that was 68.4% per year.
Just imagine what winning in real estate could do for you.
If you would like to know how we did it, ask us how by calling 289-288-5019 or email us at iwin@infinitywealth.ca.
Don't delay, the top markets we focus in are trending upward in price, so you can pay today's price or tomorrow's price.
Till next time, just do it because I believe in you.
Erwin
Hamilton, St. Catharines and Toronto Land Development, Real Estate Investor, and soon to be builder.
W: erwinszeto.com
FB: https://www.facebook.com/erwin.szeto
IG: https://www.instagram.com/erwinszeto/
https://www.truthaboutrealestateinvesting.ca/wp-content/uploads/2022/02/Dmitry-Buterin.jpg
630
1200
Erwin Szeto
https://www.truthaboutrealestateinvesting.ca/wp-content/uploads/2017/06/TruthRectangleLogo.png
Erwin Szeto
2022-02-21 15:20:51
2022-02-21 15:25:56
Cryptocurrency Expert, Grandfather of Ethereum, Dmitry Buterin