32 Power of Sales, Legal Market Update With Lawyer Saurabh Singhal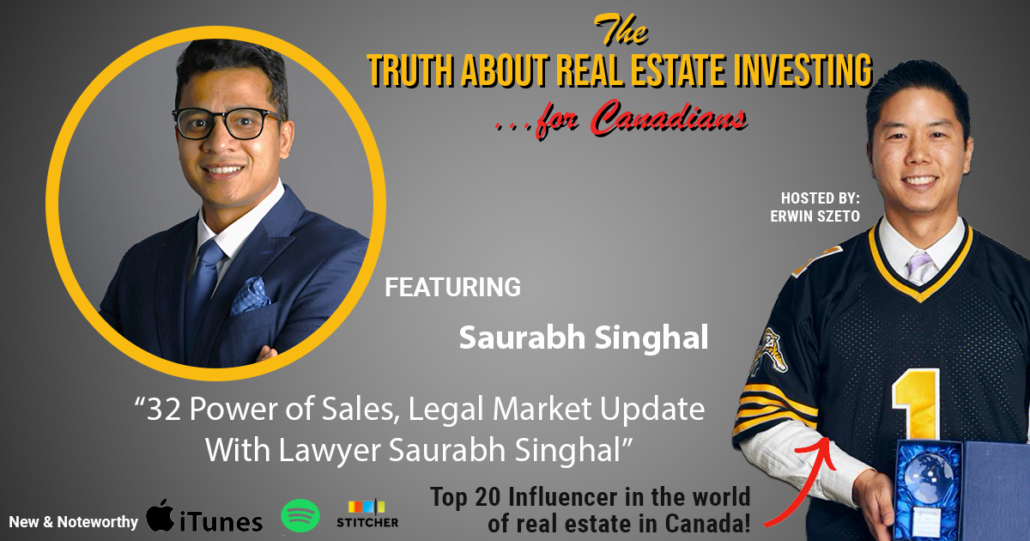 Thank you to the listeners who took that next step to reach out and connect.
I wish I could be a superhero like Batman or Superman and help people the way they do, but I can't, so the closest thing I have to a superpower is my ability to give real estate investing advice for active and passive opportunities.
View this post on Instagram
I'm always looking for ways to improve in my search to be better in all areas of life. E.g. I'm learning more about intermittent fasting even though I've been doing it on and off for 4-5 years, but I don't have much understanding of how it works.
Hence I was listening to a podcast with Dr. Jason Fung, a University of Toronto-trained Medical Doctor who's successfully "prescribed" intermittent fasting to obese patients to solve diabetes.
For my family's martial arts journey, we're switching BJJ clubs back to my old club as the instruction is so much better.
We had our first class on Saturday, and the neat thing about martial arts is the belt system which tells you one's technical knowledge and practical skills within the art.
I wish we had these in real estate investing….
The kids' class we led by three brown belts, so folks with around 7-10 years or more experience.
During a takedowns drill, the adults with blue and purple belts, so roughly 2-7 years of experience, were invited to supervise the kids to keep them safe as getting thrown to the matted floor can be dangerous.
Compare that to the club we are leaving, which has 1-2 purple belts responsible for a class the same size.
Quality of coaching matters; hence we're making the switch effective immediately even though we have over a month left on the old membership.
In real estate investing, there have been all these new coaching organizations within the last 2-5 years, and with their popularity, the founders had to hire more coaches to handle all the students they've recruited.
Folks with 1-3 years experience, some with no personal experience owning investment properties.
That may be fine for some but no thanks for me.
With so many good options out there who've been through a couple of real estate cycles, I choose coaches and investments who've demonstrated more technical knowledge and practical skills for over a decade.
My kids feel the same.
I asked them which club they preferred and why. Both want to switch because their fellow students are more serious because the instructors are better.
It doesn't hurt that making the switch will also save Cherry and me money. Quality and money saving. It doesn't get better than that!
Speaking of quality and money saving, Cherry and I will be hosting a networking meetup, our March iWIN event, on Saturday, March 25th, for the first time ever in Whitby, Ontario, followed by a tour of an income property or two in Oshawa followed by a mastermind lunch with like-minded investors!!
Cherry will share what you need to know about tax filing in 2023. I'll share an economic and GTA market update, and coach Steve Phillips on my team will be sharing best practices on investing in the Durham to Kingston regions.
Cash flow is harder than ever to come by, so you do not want to miss this opportunity to meet up for our first time ever in Whitby, Ontario, on Saturday, March 25th.
If the demand is there, we may make this a regular occurrence.
The cost is nominal, and all profits go to charity to outfit school children with warm winter clothes!
The tour of potential income properties in Oshawa will be highly educational, where we will share professional investor tactics and financial analysis.
If you're new to investing, you do not want to miss the opportunity to learn and to buy for value on this dip in the housing market.
We'll release details in about a week; space is limited for both the meetup and tour, so for now, save the date, Saturday, March 25th!
You'll be the first to receive the details if you're on my email newsletter.
If you are not, go to www.truthaboutrealestateinvesting.ca, enter your name and email to join and stay updated.
32 Power of Sales, Legal Market Update With Lawyer Saurabh Singhal
On to this week's show!
Today we have my friend Saurabh Singhal, a real estate lawyer and litigation specialist out of Mississauga, Ontario.
Saurabh services some of our clients and many more investors from the general public, so he sees firsthand the financial difficulties that speculators and private lenders have put themselves into.
Saurabh is working on 32 files for power of sale, meaning the borrower is in default, and the lender is forcing sale to repay the debt. We also discuss lessons from many 2nd mortgages gone bad.
To my 17 listeners, please do extra due diligence when vetting partnerships and private lending.
There are exit scams going on where gurus are looking to raise capital while already bankrupt or approaching bankruptcy.
At the same time, fear is high, and the time to be greedy is good timing.
As always, I prefer investing in assets I control in the markets where I'm an expert and recommend my clients do the same.
If these 32 investors in power of sale had followed my advice, this could have been avoided.
All they had to do was listen to this podcast which is available for free…
Unfortunately, they didn't, and it will be my clients looking to buy distressed properties like we already are.
Feel free to reach out if you enjoy working with professional service providers such as my team, and we can get you investing like a professional.
All we charge is Realtor commission which is paid by the sellers anyways.
Saurabh Singhal is a returning guest of the show. In the previous episode, we did cover his journey to move his family to Canada and transition from a crown prosecutor in India to becoming a Canadian lawyer.
I recommend checking it out, as the story is an inspirational one.
Please enjoy the show!
This episode is brought to you by me! We don't have sponsors for this show. I only share with you services owned by my wife Cherry and me. Real estate investing is a staple in my life and allowed me to build wealth and, more importantly, achieve financial peace about the future, knowing our retirement is taken care of and my kids will be able to afford a home when they grow up. If you, too, are interested in my systematic strategy to implement the #1 investment strategy, the same one pretty much all my guests are doing themselves, then go visit www.infinitywealth.ca/events and register for our next FREE Online Training Class. We will be back in person once legally allowed to do so, but for now, we are 100% virtual.
No need for you to reinvent the wheel; we have our system down pat. Again that's www.infinitywealth.ca/events and register for the FREE Online Training Class.
To Listen:
Audio Transcript
**Transcripts are auto-generated.
Erwin
Hello, welcome to the truth about real estate investing show for Canadians. My name is Erwin Seto. And thank you to listeners who took that next step to reach out and connect. I wish I could be that superhero like Batman or Superman, who I've grown up idolising and help people the way they do, but I can't. So the closest thing I have to superpower is my ability to give real estate investing advice for both active and passive in the opportunities, I'm always looking for ways to improve in my search to be better in all areas of life. For example, I'm learning more about intermittent fasting, even though I've been doing so on and off for about four, four and a half years. But I don't know how much understanding how it works. And so I'm listening to a podcast with Dr. Jason Fong, who is a proper medical doctor and University of Toronto trained medical doctor who has successfully prescribed intermittent fasting to obese patients of his to solve diabetes. I post the link to the podcast specific podcasts in my show notes. Of course, you know, don't do any of this without professional help. I've been doing this under the supervision of my naturopath for my family's martial arts journey, we're switching Brazilian jujitsu clubs, back to previous club we belong to as the instruction there is so much better. I wasn't happy with what my kids are going my kids classes at the current club that they're in. So I reached out to our old club, our club, unfortunately, they got the they had to close down during the pandemic. Because as you can imagine, Brazilian jujitsu is not too fast. It's not to social distance friendly, they only recently opened up, they're not very public about it. So I had to call I had to call the owner. And to find out what's up, he invited us for a trial class to come back and try it out which we had this past Saturday. And the nice thing about martial arts is the belt system. I think most of you are aware white belts in jujitsu, it's white, and then blue, purple, brown and the black, black. Of course, I think if you're really, really incredible, you can get a black belt in 10 years, likely it takes way longer, right, you got to be a prizeman especially gifted or have a lot of free time on their hands to take a lot of classes feel the black belt within 10 years. Anyways, we had a first class back in this past weekend on Saturday. And again, the nice thing with the belt system is well belts are awarded based on technical knowledge and practical skill within the ark. I so wish they had these in real estate investing. I'll get back to that point. The kids, the kids class was led by three brown belts. So folks with seven to 10 years or more experience during a takedown drill. So the kids are, you know, they're throwing another kid to the ground. For that drill, the leaders of the class invited the other adults onto the mat, adults that were also trained a blue belt and two purple belts. So that's between two to seven years experience, respectively, roughly, they were invited to come on the mat to supervise the kids in smaller groups in order to make sure that they're safe, because you know, getting thrown down to match can be dangerous. So they're trying to you know, have some pretty smart people and helping the kids there's about 18 kids who are generally pretty new to the sport, make sure that it's safe. Now, when you compare that to the club that we're leaving, they'd have a similar class size about 18 Kids roughly around there and only one or two purple belts from the same class and you're in the for the same class size. So to me, the instructor, so the level of the level of instruction, they don't have the same level of experience. And there's a lot fewer of them. So, you know, to me, quality of coaching matters. So we're making the switch Effective immediately, even though we're going to leave behind over a month of unused, unused membership. Now in real estate investing, there are all these new coaching organisations out there, like during the front up a bunch started to the higher profile ones are very quiet, which leads me to believe that they're probably closing doors are about to already have. So just an observation is when the founders opened up these coaching organisations during this bull run of real estate, all the hype, they were actually able to recruit a lot of students. And then they had to hire more coaches in order to handle to provide more one on one attention to all these new students like hundreds of students. And for my from what I have my observation, some of these organisations, they were hired coaches with like one or three years experience, and some of them had literally have no personal experience only investment properties. Some of them are transparent about it, which is cool. All right. I love transparency. If you're new to this, there's nothing wrong with transparency. All right, be honest people, let's rock being honest errors. So having a coach like that may be fine for some people. Personally, that's not for me, especially considering what their folks are paying for these level of services when there's so many good options out there. For Real Estate coaches who have been through multiple real estate cycles. I would choose that instead of you know, I would choose coaches or programmes are investments that have demonstrated technical knowledge and practical skill over a few decades, a decade or more. That makes sense to me, right? My kids feel the same way. I asked them which club they preferred. And why both of our kids and their 79 years old, they both felt that they wanted to switch, because their fellow students are more serious because the instructors are honestly better. So it doesn't hurt making the switch as well, because switching will actually save us money. So we're gonna get better quality instruction, and we're gonna save money, it honestly doesn't get better than that. So speaking of quality and money saving, sharing, I will be hosting a networking meetup. And this will be our March I went event on Saturday, March 25, for the first time ever in Whitby, Ontario, followed by a street smart tour of an income property or two in Oshawa, followed by a mastermind lunch with like minded investors. So obviously, we're starting the morning probably started at nine ish, we're probably have lunch around one ish, something like that chair was sharing what you absolutely need to know about tax filing and 2023. There's a lot changes this year. And I've spoken to some real pro investors folks with like 50 properties, and even even they're not aware of all these changes that are happening. And some of them come with like some significant penalties or like five or $10,000. Anyways, so terribly sharing updates on that, I'll be sharing a short economic and GTA market update, because I need to get more time to coach Dave Phillips, who's on my team and we sharing what he's honest with us sharing is much, much more important in my opinion, because I'll be sharing best practices on investing in the Durham to Kingston regions, cash flow is harder to get than ever. So you honestly don't want to miss this opportunity to meet up for again, this is our first time ever in Whitby, Ontario, Saturday, March 25. If the demand is there, we will make this more regular occurrence. The cost is nominal. And also all the profits will go to charity to outfit school children with more winter clothing. Our tour of conditional income properties will be in Asheville, and this will be a highly educational where we will share we will share professional investor tactics and the financial analysis that goes with it. If you're new to investing, and you do not want to miss this opportunity to learn in a group environment, there's no pressure honestly, there's no pressure for anyone who works with us. And also honestly, if you want to buy for value, this is kind of the time to do it. As the housing market has dipped significantly. We'll release details in about a week's time. Space is limited for both the meetup and the tour. The tour we're going to cap at about 30 people. Our last tour in Hamilton sold out in the first week. Again, we kept them on a 30 It was honestly excellent feedback was over the top. Some folks are saying you know it's so nice to do a meet up on site inside an income property because most meetups out there, they just talk theory and present numbers. They don't actually show you what a deal actually looks like. So again, see the date Saturday morning, March 25. After this week's show today, we have my friends, Rob single, who is a real estate lawyer and litigation specialists out of Mississauga, Ontario Sourabh services, some of our clients, but he also has a whole lot more investor clients from the general public. So he's seeing firsthand the financial difficulties that speculators and private lenders have put themselves into improper borrowers. Well, simply, here's the number that shocked me. So Rob is his office is a lawyer of one he's got two clerks is an officer one. And he himself is working on 32 files for power of sale. Power Cell means that the borrower is in default, the borrower's default, the lender, which can be a bank, you know, like your, you know, your base Street banks, and the bank or the lender is forcing sale of the property, the house or whatever it is to repay the debt. That is enormous number. And that's from one lawyer, we also discuss lessons from the many second mortgages out there that have gone bad. And also, again, he's giving him basically a lawyer update on what he's seeing on the streets. And unfortunately, many people who have unfortunately speculated on reconstruction are having a really difficult time. So to my 17, listeners, please do extra due diligence out there when vetting partnerships and private lending and any investment opportunity. And then public service announcement. I am observing exit scams going on where gurus are so called real estate experts, they're raising capital, but it's not going on raising capital. But some of these folks are already bankrupt or approaching approaching bankruptcy. So I don't know what reason they're raising capital for, and how what means they have an order to repay those investments to their investors, when the writing's on the wall, that they're in massive, massive financial trouble. So 17 listeners, please avoid these trashed Strophic investments. At the same time, fear is extremely high. And actually, it's a little different for me, because I'm on the street and talking to investors regularly. It certainly seems like the smart money is feeling pretty greedy right now. And I can't disagree with them.
Erwin
I believe the timing is actually pretty good for the spring market. As always, my preference Chairman as preference is to invest in assets that we control personally, or within our corporation. And I only invest in markets where I am an expert, and I recommend my clients do the same. So that's what I recommend to my clients to each their own. At these 32 investors going through power sell right now where to fold my advice, or even just listen to this podcast, this likely could have all been avoided. And this podcast is free. So please feel free to share it to those you care about. Unfortunately, these folks didn't. And honestly, it'll be my clients looking to buy these distressed properties, like we already are doing right now. So if you do enjoy working with professional service providers, such as such as my team myself, we can get you invested in like a professional. And all we charge is the realtor commission, which is paid for by the seller anyways. And yeah, so Sora our guest is a returning guests. So in the previous episode, we did cover his journey to move his family from India to Canada. While in India, he was a crown prosecutor. So he represented the government, the country, the people while prosecuting bad guys. To become now a Canadian lawyer. I recommend checking out that previous episode as it's really an inspirational one. And it should definitely motivate a lot of people to connect with Zarrab. His website is www single dash law that ca that's si ng ajl dash law, le w.ca. And his email is lawyers at single dash law dots. Yeah, please enjoy the show. Hi, sir.
Saurabh
Hi, everyone. How are you?
Erwin
I'm excellent. What's keeping you busy these days? A
Saurabh
lot of legal advice. A lot of ways. Okay,
Erwin
today is February 10. My guess is we're still early stages in terms of financial challenges around homeownership carrying carrying costs. Yeah, so yeah, we're just jumping right into it. So what are you seeing in terms of what clients are bringing forth
Saurabh
okay. So there are like mix like it is problem from everywhere, some people are not able to afford the mortgage they want to sell it I will sell them I will turn them as for sale so they're forced to sell their property and I have a lot of private investors who have invested in the property they have given private mortgages and the obviously the borrowers or the homeowners they are not able to keep up with the payments regular payments. So the private investors want to take the steps of power of sale, I always advise them you know, it is better to take these like the big step of power of sale only if you have the equity in the property. But you know, homeowners I think some of the homeowners are smart enough they know that the the person who is the investor who is sitting in second and third place won't be getting any equity given in this market. So that is another issue that I'm dealing with in my office and the lot of pre construction advice like the people who have booked their pre construction houses and the it is up and ready for delivery now builders are insisting that you should close and they are asking for extensions builders are not budging off just in case you know they can like It's like Unreal the expectation of the new homebuyers are unreal they are asking for six seven months of extension which is like no one will give them right but we just have to follow their instructions the clients instruction we write a letter to a builder and yeah it's obviously it's like it's in a soft language because it's okay no nothing doing
Erwin
bills to pay right we have contractors pay for
Saurabh
you know and it's an unreasonable like the financing was never the condition it was at the time when you entered into the contract I I always explain to my clients that at the time when you entered into the contract you might have apprehended all these situations that yes, you will be able to afford this kind of house like the if they bought for 2 million 3 million house or let's say 1.1 million also. So they might have done all the calculations based on those calculations only they might have entered into the contract. But as you know if anything goes sideways everyone blames their real estate agents, mortgage agents and uh no, we were not properly advised. We didn't know the there will be eight eight rate height hikes by the Bank of Canada. So we didn't knew that the bank you know, bank will appraise the property at a much lower value. So they won't be able to qualify for the mortgage. I have a lot of things a lot of things for them to consider but this is like I talked to myself if I'm I'm an investor I should you know, be ready for all these situations and especially you should have proper knowledge that what is going to happen in 345 years down the line you cannot I know it is like everyone likes to think that everyone thinks that AI will do them if the market is going up. Everyone thinks that yes, it will keep going up and up and up. But real estate market just like another market is fluctuating especially in in Ghana that we have seen recently. So yeah, these things are keeping me busy. A lot and a lot of other things. It's still early
Erwin
days. How busy are you are you like at your limit? It's or
Saurabh
the like, honestly, like, since our real estate practice has like, gone really down the transactions that we did in last year had it's almost own 60% down from my my law firm alone. And this is what I'm hearing from all of my real estate, lawyers, friends, that he has the practices down. There is there's so close
Erwin
to closings. Yeah. Not closing because they're asking for extension extensions. Yeah, they're just less sales last year as well. Yes. But your litigation, businesses,
Saurabh
litigation, most of most of them are when you know, they want to directly see what the situation does not add up. Most of them, I try to set a like in at the initial because it's, it's very expensive to go to the code to. So if the person who is not able to give their mortgage in time they if they are not able to make the mortgage payments, or they're going to afford the litigation, right. It's an expensive step that anyone should enter. And for the private investors to earlier, what I remember is if there was equity in the property, even the lawyers were after the borrowers like after the private investors, if the to you know, initiate the power of sale process, because they can recover their fees from the equity. But now, since there is no equity in the property left, if the lawyers will initiate the power of sale, they have like, where are they going to recover their bills from? They can they can, you know, add it up, they can get a default judgement against the borrowers. But ultimately, like there is nothing that is coming to the lawyers directly. cash in hand is not coming from the equity.
Erwin
So what are the expenses someone must go through to initiate a power sale? I don't know, I don't actually, I'm gonna guess there's not a lot of private lenders and listen to this show, because I've been very, very against the strategy. Just because the worst case to me is too much for me to bear. That's why personally, I had personal private land. And also, I don't have access to really good deals. I'm well aware that there's really good deals for private lands, I generally don't have access to it, because I'm just not that space. So like, you know, you find a really good deal is probably a good investment. For most people. Most of the time. I personally don't think private lending is a good investment. And now we're seeing it come true. And doesn't mean I'm smart or anything. I've been saying this for years. I'm finally right. Lots of people have made lots of money along the way. Yes, you know, even a broken clock is right twice a day. That's me right now on the on the broken watch. But again, I don't think most people understand what the process is like and what it costs to actually go to Power sale and see there is sufficient equity to make sense for a private lender to go power sale, what is the process and ballpark costs?
Saurabh
Okay, so it depends on when if the defendant the borrower, let's say if the private lender is sitting at the first place, I will still say that yes, if the market is has gone, like it depends on how much he has invested in the property, the one sitting at first place is always secured, right. So if the borrower does not object, or does not challenge the power of sale process, and does not make it more expensive, ultimately, it is going to come from the borrower's pocket only, it depends from this stage to say if it is a simple process, you're looking somewhere between 15 to $20,000, regardless. And you wouldn't believe I have 15 to
Erwin
20k, if not contested, if not centres,
Saurabh
legal fees and the steps everything. And I have seen some case laws where the the only money that was to be recovered was $15,000 15,000 only, and the male client was sitting at the second place. But the borrower was challenging each and every step of the mortgage and the cost went to 55,000. Court granted $55,000 to be paid to the second lender. So the 15,000 that the borrower might have paid right away, it increased to 55,000 just because of the litigation, right. So it worries
Erwin
senior this settle. Yes. And we're dealing with human beings here, especially if this is our home, they may not be so be willing to let go of the property. But they
Saurabh
have to understand if they have borrowed the money at the time. Maybe because maybe to increase their lifestyle or to buy another property. God knows for what reason, then everything comes with the consequences. And if you contest if you keep contesting and contesting no without having any reasonable basis, then it is just going to increase the cost which is going to be recovered from the homeowners itself.
Erwin
And then correct me if I'm wrong. Like if you're in second or third position. I have friends who had to do this they had to pay they had to take over the payments for the mortgages that were ahead of them. That's so if you're the second mortgage, you have to make payments of the first now right so that they don't go to Power sale.
Saurabh
Ah, that's correct. So it could be a lot of money. It is it is a lot of money. So I don't mind working parents are big. And otherwise also, let's say if they are not able to keep up like if they do not want to pay the first mortgage default of second mortgage itself could be the default on the first mortgage itself. So it depends how the mortgage is construed, is structured. So most of the mortgages are structured that they should not be secondary financing permitted at the time of closing,
Erwin
which is pretty much always.
Saurabh
But everyone does that. Once the deal is closed bank is not going to pull the parcel bank is not going to look into your parcel register your title to the property, what you're doing with the title as far as you're paying the mortgages on time. But as the moment you obtain second mortgage or third mortgage, and you make default on those mortgage payments, it could constitute automatic default on the first or second mortgage to Oh, so it is it is one of the terms in the mortgage, that any any default on the second or third mortgage could be caused automatically constitute the default. On the first one. So the first mortgages second or third mortgage. Yeah, all of them have right to take the action for power of sale. Right.
Erwin
So the first mortgage generally has the right to just ignore the other mortgages.
Saurabh
Yes, yes.
Erwin
They can trigger power. Right. Yeah. So in theory, they could trigger power sell themselves. And even if there is equity for the second or third mortgages, right, they could be out right. Now a lot of risk in private lending.
Saurabh
Yes, it is. It is full of risk. And I recently like I cannot, it's not specific to a case. But what happened with the properties? There is a property whose value came at $4 million at the time last year in 2020. I think we did it in February 2020. No, sorry, August 2021. And based on that, there was loan to value of 80%, or 80%. And my client gave $350,000 as a third mortgage. Okay. So what happened is that obviously, the borrowers defaulted. The first mortgages with the B lender, they did not initiate any power of sale process, yet, are the second mortgages with these with some other private lender. And the third, my client was sitting on the third position, not since the default occurred for second and third, it constituted the automatic default for the first one, and first one triggered the power of sale process. In the meantime, the borrowers managed to sell the property, okay, and means they entered into the agreement of purchase and sale. And they were trying to pay off the creditors, but there was no equity in the property because the property's value fairly substantial, came substantially down. So instead of $350,000, they were offering my client to take $55,000 for their investment in total. So this is how you can you lose the equity in the property. So the first and second gets the full, and the remaining remaining money should go to the third party, but
Erwin
that's how it worked for 30 years. Do you remember the terms of the third? What was the loan? The value? What kind of rates they got?
Saurabh
Yes, so it was like around I'm saying that, you know, at the time, when we structured the mortgage, it was still at the at 90%. I think 90% They went up to 90% loans. And yeah, there was an the property was valued at 4.1 or 4.2 million at that time. And at the time, when they entered into the agreement of purchase and sale, it's worth 3.4 million. So it's six 700 million down, there is hardly any 600,000 down, and there's hardly any equity in the property.
Erwin
And then just from my experience, I study, you know, I've been around long enough to see housing corrections. It's always the high end market that that bears the most volatility. And it's the what drops the most and it's the most illiquid of the investments of properties and properties, not just investments. I would never have touched that if I was gonna line that up put on a starter home. Right,
Saurabh
right. I don't know if you remember from our our last podcast or when I told you that many people they just like to they do not like to invest in stocks. They just like to invest in their like their money in the in the private lending because they have the sense of security that our money is secured against the property. But these kinds of situations are classic example where you know, the Your Money is not as secured as you think it is.
Erwin
I fucked up my kid my kids have a kids book from Ray Dalio to kids book on principles. Don't forget about investing. And I flipped it open, just have a quick look. And the first page that I read was about how most people's understanding of investing is their own context. Like, for example, we've only been like, prior to this correction. 12 years we've been in a bull run both real estate and stocks. So if that's the only context, then that's what they think is gonna keep going happening going forward going forward, that it's just gonna, everything doesn't keep going up stocks, real estate, it's all just gonna keep going up again, 12 year bull run since the financial crisis, right, for those who never studied, crashes, corrections, right? I have a job, I have all this fear. I'm not perfect. You know, I wish the whole marine world forbid, reverses, we could have sold everything a year ago. And if he didn't put everything in fixed mortgages, we did some hedges, like we're not far from perfect. But like myself, my clients are not in the same positions that you're talking about. Oh, that's crazy. And you're saying they all blame everyone else.
Saurabh
Yeah, they're all blaming real estate agents, mortgage brokers, some some of them came to me, I said, See, I never advise you to invest. I'm not your mortgage advisor. I'm so sorry. I never introduced you to the borrower's. It's I what I did is I just secured your investment, that was my job as a as a counsel. So yeah, and we did that. So nothing, nothing more than if your paperwork is good, and that they cannot touch you. Because if anything goes wrong, if you your job is to want them initially like but they say, if the clients are like, most of the clients come to you, and they said we know what we are doing. And we just want you to do this. So if your client is client is giving you instruction, as the lawyer Your job is to follow their instructions within the purview of the of the law. So
Erwin
it's interesting, the conversation around like, duty of care. So for example, I spoke to an investor who had lent money on a cottage build in Muskoka. So the investor bought a piece of land borrowing money for the construction of the cottage. Right. So to me, very risky, right? Right. The investor was like lent money. And she told me she needed that money back for tuition. Right. But the product is in limbo. Because the the investor has since gone bankrupt. The mortgage broker didn't ask, like when you need the money back, right? Again, I don't know where the duty of care is. In my opinion, a lot of people do not get paid enough to be providing full like to be acting as a full advisor provide complete duty of care D like a financial advisor night, right. You know, for for most lawyers and most mortgage folks, you're there's to process. Right, right. There's not a time or money in the day to be able to go through someone's No, right, because they're getting their mortgage people not securities, securities advisory minutes. Great. So I asked her Do you want to ask when you needed the money back? Said No. But my thinking was like what are you doing investing in a build a builds always have delays. So I think
Saurabh
she'll get our money back on so yeah, and cost also increased with the bills, you know, it's not like, you cannot have a certain cause that yes, you will complete the project. It always increases you don't know. Yeah,
Erwin
I think she was doing like 10% Right. That was her interest rate early. So I think she'll it'll be it should probably be like a year delay to get her money back if everything goes well. But again, like I think people people don't understand this just do their own due diligence. I would say there's a good number of people who were not qualified to do proper due diligence. That's right.
Saurabh
Most of them like I do not obviously it's not personal opinion. But you know when it comes when we look at the deal closely, I see that most of the people most of the good so called good people who are working behind the deal they did not did their due diligence at all the some some of the private investors they didn't even visit the property right. Now they come to me and they say hey, we never visited the property we don't know where it exists is it CX it exists illegally it is there right? There is no title fraud that has happened in any of your investment but you should have done your due diligence properly. You should if you want to invest, you have to be careful in stocks what I see is if they still have the option that okay they will they can make I'm not a stock as specialist I already told you but what I can see is there is no rush to sell the stock if they have the money in there so they can just wait and
Erwin
usually it's not common where people borrow to buy stocks, right.
Saurabh
So with this real estate transactions, if you are doing private investing of specially of the sky, you have that you indirect risk of losing your investment, like if the value of the property goes down, which has happened in so many so many circumplex deals,
Erwin
I actually refer recording, we are discussing how, if you private land, you can only lose your investment, you can only lose them out your land, you can technically lose more, because at least there's probably additional costs. That's it. There's no There's no like infinite losses. Does he still have to imagine there's some paperwork still to complete? And you imagine the lawyer to close it off, eventually, you know, my mortgage is worth nothing. Can we close this off? Right? So yeah, it's not pretty, but like at least silver lining, maybe maybe silver lining is the investor, they're losing beyond their investment, they're liable for any other additional losses. That's right. And legal fees from the lenders, especially the first if it's a bank, or B lender, they're coming after you for further legal costs as well.
Saurabh
That's right. And some of the investors are women, it is like shocking to note that some of the investors what they did, they use their HELOC or line of credit. They took that money out on interest from the bank, let's say for 7% and they were lending the money at 12%. So just for that 5%, you know, a profit for the for the whole year, they were they're risking so much. And now they're like, since they do not have money they have to pay the pay back the bank's money.
Erwin
You mentioned preconstruction issues. Do you know the mix between like apartment building condo versus houses? Just roughly?
Saurabh
And no, most of my clients, you know, they, they are the ones who have who have bought the hot Lake houses in comparison to the condos. So they are just asking for the extension because the bank has obviously appraised the value of the president at a much lower value.
Erwin
Are the appraisals at least reasonable for market? Are they even more conservative,
Saurabh
if we will look at it today's markets even at the time with pre con, what I see is that, you know, at the time when you enter into the contract, the or cost is like, I'm not sure I'm not a specialist in that again, in this field again. But what I've heard is that before there was a time when the pre construction was we're able to give you some profits because they were available at a lower cost at the time when you entered contract. But now what I've seen is that let's say you entered into a contract in 2018. And the property will be delivered to you on in 2020. So the builder will structure the contract in such a way that they will price it for 2020 or 2021. And now since the market has gone down in 2021, or 2022, just fine. For instance, the appraisal is already like much lower value. So you're following what I'm trying to explain.
Erwin
I've been reading about in the news is like before we're recording we're talking about the lawyer gentleman, I think it was name was. So my context isn't as probably as good as yours is out. I don't know a lot of people who buy pre construction, but it's for anyone who hasn't seen it. There's an article that came out the week of early February in Toronto Star where a lawyer from Brampton have bought two pre construction homes from Madami. in Oakville, he signed for over 2.4 for each of them. He's committed to almost $5 million worth of real estate. And he put down $800,000 But he's saying that the appraisals are like one well, no sorry that Mattamy the builder is now selling the exact same house for 1.8 1.2 1.9. Right, because that's what's market that's not its market now. Right. And you know, builders are businesses they need to sell to pay their bills keep cashflow going, so they're gonna sell for market
Saurabh
so I'm not sure like I'm again you know, without being fat specific urban. What they're trying to do is they're trying to convey to the builder or to the community that you know, since the builder is selling it at a much lower value. So there is a frustration of contract, right? They're trying to frustrate the contract but the test is is not easy to do. There's so many steps that you have to prove for the frustration of the contract. I have seen cases like if we do a lot of legal research and some of some word I've came across is that if you have entered into the contract, if you were properly represented in builder's contract you know there is always a clause that you should get it reviewed by a lawyer and you have entered it you know with full confidence you have taken in meaning aware the season so if you have entered into a contract, you should honour the contract no matter what. This is how they are structured, if
Erwin
it's how the world works, yes.
Saurabh
I'm there unless you can prove above and beyond like the frustration in one of my matters that I personally you know, handled. My client was leasing the property And they took some loan from the bank, this small business loan from the bank, they fail to pay the bank's money back bank sued them for the amount I told them initially that yes bank you are it since you were the personal guarantor. So you will be liable to pay this much amount. But they wanted me to contest the motion, as I mentioned earlier, that we as lawyers, we just we can advise our clients in their best interest. But if they instruct us otherwise, we have to follow their instructions. So they want to contest even though they wonder if they want to contest they said that, and the crown that they were taking is that since the COVID hit the market, they were not able to open their business, I will not name the business, what kind of business they were into. But yes, the they had like facts to support that, yes, COVID could have impacted their business and they were not able to function properly. They were not able to open it fully. God says no nothing doing. If you will take this objection, then you know that we will open it will open the floodgates and everyone will come to us. And we'll say that here's the contract is frustrated because we could not operate during the code. And it was during the COVID. So when the court is not ready to accept the year reasonability for COVID, which was declared as pandemic, then can you imagine that they will exert the harvest. So means they end up losing and they had to pay the other side's costs too. In addition to paying my costs, they have to pay the other side's costs. plus whatever the amount of data the bank was entitled.
Erwin
Investors are not backstopped. You can't expect the government. Justin Trudeau Bank of Canada builders to backstop investors. Right. Right. That's just not how it works.
Saurabh
It will stop.
Erwin
Right? Who would work? Right? So you were the contractor? Oh, they don't wanna close on the house. So you're not getting paid? Like more contractors show up to work? No. Like, no one's long bear that risk. That's right. But that's but some Yeah. So quick question. A quick question is what happens then if someone who bought pre construction cannot close? Okay, what happens?
Saurabh
So in my view, if the builder ends up builder has to take the reasonable steps to list the property at the same mark value. And if they end up selling at a lower price, then they can come after you they can forfeit the deposit. And they can come after you for the differential amount.
Erwin
Okay, so sounds very similar to a regular retail transaction. Yeah. If a buyer goes firm, and does not close, right, the seller can go after them for damages. That's, it sounds very familiar. Yes. Okay. But in the pre con buyers can't just walk away with a lockbox and deposit being No, no, no, no, they're still liable
Saurabh
is once we have entered into the contract, you have to perform the contract. Like I keep telling this to the client like to have to each of my clients, so don't don't come to me for advice and don't keep telling them come to lawyer before entering into a contract not after entering into a contract. Right.
Erwin
I certainly want to bring up earlier was a lot of people didn't want to pay for advice. We see it in our businesses here, for example, but we'll we'll offer pay consultations, we actually get a lot of resistance saying, Oh, I can talk to my financial planner at the bank. There's no charge there for advice, right. They don't understand that they're really paying for it to their, to their mutual fund fees. Right. But yeah, just a general apprehensions or paying for advice. So this is the challenges people will run into. Yes, you don't pay for advice, you don't get advice, you don't get quality advice. Right. Right. Because I've been you know, I've been telling me something listeners, I don't private lending, which I I believe that's the correct thing for most people most of the time, there are great opportunities out there. Again, I don't get to see them because I'm not active in that space. But it sounds like there's a lot of folks who
Saurabh
for some people even even if they have like private lending at the first place or when it's not about the they're sitting they are always on second or third place. But the market is such that even if there's private lending i Okay, I'll give you a very good example I'll give you two example. So one of my client private lending the money for two months only he was sitting at the first place okay? the borrower's bought the property in let's say in in southern Ontario somewhere and the profile was good the borrower was like they were the whole family is on title everyone's was everyone was making money. And the I think the mortgage brokers did good due diligence this time and the private lenders agreed to lend the money for two months only. And they had their own project they were constructing their own house I think custom made house somewhere in inoculum. Just I'm just giving an example. And they thought that okay, the money is sitting in my account, you know, let's make some good commitment fee. Let's we'll try As 10% commitment we have to lend 800,000 We'll charge some let's say 10% or 5% commitment fee and interest let's say 10% per annum for two months, we will make we'll end up making 50 60,000 And you know, I need the money after two months after two three months, I'll get the money back I'll put that into my construction project I'll complete it sounds very good, you know, cheesy deal. So enamoured the first place the loan to value 75 person the borrower's are putting 25% How have low it can go profile is good, they will keep making the mortgage payments, it did not happen that way. So what happened after two months since the interest was already deducted, after two three months, the borrower said nothing doing we do not have money, do whatever you want. The mortgage brokers, you know, try to arrange another financing. And by the time I think it was in August, September, and the Bank of Canada started increasing the prices again and again, and they were not getting qualified from the from the bank from first lender, so they could not pay my clients more interest payments for at least like let's say 345 months, okay, my clients was very gentle in the beginning he said okay, I do not want to, you know, initiate power of sale, let them give some more time, I do not want family to be out of their house, they said that he was being very generous. And finally in around like November, or December last year, they instructed me to initiate power of sale process. So when I sent out the notice of sale, I sent out the demand letter, I got the claim issued. Now they are defending the claim. Okay, so it's almost a year has gone. And during that period, the private lender himself has to take money from the from private lending from other private lender to complete his construction project. And he was not getting interest from his previous investment to so now they are defending the I think countersuing they're making a third party claim against the mortgage broker, the lawyer involved in the file. Can you imagine how long it will go in the code?
Erwin
The problem be easy either no, because all the documents they signed probably cover the mortgage.
Saurabh
Yeah, but it'll like if they have the problem is that you know, when the at the time when it comes to prove like it takes too much time, it takes too much time, and you're getting like I don't know, like, if you will try to get a date from the court. For long motions, these are called Long motions, those who do litigation, they will understand the difference between long motions and short motions because these kinds of issues can be resolved in long versions only by way of summary judgement that too, if you have a strong case, you're getting a date of February 2024 That is the earliest date that you're getting. So two months investment
Erwin
as cache lentilles we've been borrowing from a HELOC to lend where they still have carrying costs and the money that lends Oh my
Saurabh
eventually they will end up you know, recovering but if the property itself will not be having that much equity and the borrower's they're living for free right now. Like from seven eight months or living for free. I think the borrowers might be thinking that okay, we have invested let's say 200,000 in the house. And for almost a year and a half we are living like we were supposed to pay 6000 per month towards the interest I'm just giving you a rough estimate. So in a year we would have paid $72,000 So out of our $200,000 72,000 we already recovered and things remaining we will use up the money what they can do at the most the lender can have a judgement against the borrowers and you know garnish their wages that is another issue I have seen some people start doing cash jobs to avoid Notice of Garnishment also what can you do
Erwin
so people are changing up their employment right to be working under the table so they can avoid
Saurabh
condition and that the most you can only garnish 20%
Erwin
So it's funny because real estate investors often playing like boat like the worst case scenario was with the with real estate investors non payment of rent. Right? Right maybe for drags on for months. Right that that doesn't sound so bad compared to this. Yeah, but like a private lender on bad.
Saurabh
Yeah. And for LTB also, if you will see like, I don't know, it's like too much score delays or like what I want to mention here is that go delay should also be kept in mind while you invest like if it's not that you are going through the code is sitting there just to entertain your application that 1000s of applications of your kind. So when you invest you have to factor in the code delays and cost as well. and make a wise decision that okay, how many in how much time I'll be able to if anything goes out how much in how much time I'll be able to recover this money from? You shouldn't have that background. I'm saying that but most of the investors, especially private lenders do not. Especially I'll not say unsophisticated because they know what they are doing. But they do not. Like,
Erwin
it's like, I know how to play chess and all the pieces move, right? I can't beat anyone who's any good. I probably categorise a lot of live the general public there are pieces move, right? Can you you know, when can you win on a consistent basis? If you can't sit out? Right, because essentially, you're betting? Yeah, nevermind. I would not put money on a chess game, like betting on myself. It's the same idea, right? Like, do you really know what you're doing? Do you really know how to qualify a private land deal? Right?
Saurabh
And the moment you advise this, you know, what happens? I'll tell you like, I don't know I'm, uh, maybe I'm, I'm digging too much. And but your show is about truth about real estate investing, right? Most of the time, what I've seen if a lawyer tries to educate the investor that okay, do you know what you're doing this and that. So investor will right away call the mortgage agent more?
Erwin
Yep. What kind of lawyer
Saurabh
you have referred me. So
Erwin
as your wonderful point, because this industry is a bunch of capitalists, they will go they will want to use people who provide the least path of resistance. Right? So classic example is, I won't use Realtors mentioned realtors, a lot of realtors will use their favourite home inspector. Right. Right. Who, you know, they may have like an unspoken relationship. I know. Right? Maybe I'm probably going to offer mortgages. It's the mortgage agent who gets paid a commission on on putting together a private deal. private lending private borrow, right? We'll want a lawyer who doesn't ask them any questions. That's to make sure the deal goes through. That's right. That's just dumb. I think I'm naturally pessimistic. I'm naturally cautious. So for example, I'd use one if I'm going to do something like this, I'd want to use my own lawyer. Right. Right. You know, I've even had a client do this to me, if she would not use any my recommendations for home inspectors. She got her own. Right, right. Just because she heard she heard like, don't use the realtors home inspectors, which I completely appreciate. Right? Actually, I think she ended up using mine anyways. And she was she was completely happy. But again, my point is like, yeah, like do your own due diligence, like use your own, you don't have to use who people recommend you use. Right? Well, I don't think everyone understands that, though.
Saurabh
No, and I don't think most of the lawyers in Assam, most are not commenting upon anyone. But some people, like some offices, they do not meet with their clients, they do not advise them properly. And if anything goes, like the the example that I just mentioned, if the lawyer who has not if the lawyer, they are trying to sue the borrowers in the private investment that's gone wrong. And they're making a third party claim against the lawyer as well, who represented them in a deal and whose job was to explain the papers, market papers get designed identification, if they have not done the paperwork, well, then they could be
Erwin
but difficult to prove is right. Actually, I have a good example, I spoke to an investor who was referred to a mortgage agent, who recommended that she take a home equity line of credit on her home, to invest in a development to invest in a syndicated mortgage, or with a developer. I don't think she understood. So again, do your own due diligence, she did sign the paperwork, that likely said like the mortgage is getting getting paid for making the referral to the development project, right. But like you can see, this is like, this is obvious potential for conflict of interest. You're telling someone to get a mortgage on their home, so that you can get paid to for them to invest in the development of syndicated mortgage, highly risky. And of course, you know, I'm talking to this investor reached out because the deal fell apart. Developer went to bankruptcy, she probably won't see that money again, because again, syndicated mortgage, you know, you're you're well behind everybody else that needs to be paid is right. And she's got to pay hundreds of the 1000s of dollars that she put into it, and she's got pay the interest on it. And that money is gone. Right. And she's wanting to sue us she even complained to Ontario excuse No, she did go to Ontario School District case Michigan to complain and not this girl. Margaret does a different group that for complaints from working in industry. Both said you signed the paperwork, right? Yeah, that's right. Even though like the standoff. Yes. So she still wants to talk to a lawyer. fleurs gotta tell her the same you don't think we can fight Your chances of winning are limited, right?
Saurabh
Because once you sign the paperwork fine print, you know, this country has been wanting you since since beginning and you're fine prints are fine prints. Yeah, if you sign them you and every professional does that, like every professional gets the paper signed? It's that it's just, you know, some some do it principally Correct? Some don't do them ethically correct, some just, you know, get slides in and get it signed. So, it depends. And I will not blame the professionals. I mean, honestly, like, you me, we both are professionals also, sometimes, you know, clients are at the time and they want to do something, they are in different minds that come to you with a different mindset, they want to do it no matter what you will advise them, they have to do it sometimes, like you cannot change their decision, only then they offer you to do like only then they are coming to you directly, right? Otherwise, mortgage broker or any real estate agent or any light is not going to client and they don't know how much money they've got. No one knows that. So they're not going specific to each client that to each and every client and advising them, hey, I have got a deal. Do you want to invest? No, the first approach is always from the client,
Erwin
the novice mistake I see often made is that the client will evaluate whatever deal is put in front of them. The sad thing is whatever is put in front of us often whatever's in the best interest of what we're putting in front of you. Right. And so what I often I often say this, my clients, my context is everything. So my opinion, you need a lot of context, you need to see many deals, right, right across whatever, even if it's accurate, like we always talked about active investing, you know, I think it's healthy to look at 100 houses so that you know what the top 20% looks like. And no different than passive investing, look at 100 passive investment opportunities. And now you'll have context to see what top 20% looks at right now look for the top 20% of the top 20%, you're in the top 4%, you're probably looking at a pretty good investment at that point. Versus again, back to what I said with the novice, they often just look well, it's presented in front of them, and then try to try to vet that. versus, you know, someone asked me about an American investment. Right. And I told I shared with him my due diligence was I've had to set up some sort of a US corporation to be an invest in it already too much work. Right. Right. That's, it's too expensive, right? Already too much work. And also with the top exchange rates not favourable right now to be investing in the US in my opinion. Right. So that's not a stop there, versus the novice will just continue to do what was put in front of them. That's good, which to me is not an efficient use of time. And whereas they should be looking for other investments. Yeah.
Saurabh
And how many professionals do you think you know, have that kind of, like patience, I will use the word patience, because you need a lot of patience to you know, rightly guide your client and the resistance to you know, to not fall for anything, like keeping their self interest aside, and, you know, thinking in the best interest of the client, how many how many professionals within? If they did most of them, like, most of them, like thing, okay, client has come to me, he has money, he or she has money. My job is to you know, just get it invested, ASAP. Take my commission.
Erwin
And you know,
Saurabh
how many people do you think really, you know, invested time with the client and, you know, sit and guide them properly? What can be done? What should be doing, looking at their profile, how much cash flow they have, like, who who does all that? I'm not coming across, like, too many people who do this due diligence, right?
Erwin
Again, it's often a capitalist or a capitalist. So I've had so many requests for financial planners. So just even in my own research for financial planners, the challenge is, even if say that, dear ones, make a lot of money. And so for example, I found a friend of mine, a client of mine refer hers, but he won't work with you unless you have a million dollars to place with them. Right? Right. Who has that? Right? You want quality? You want a quality financial advisor? That's not available to most people, right? Because again, this is capitalism. He's going to do what gives him the worst higher highest return for his time. That's great. Right? And, you know, likely him and I have different values in terms of like, different investment philosophies. So then it's not even effective for me, right. So yeah, difficult, difficult. Not easy. Yeah, I was even getting into with a financial adviser on one of my social media. Her point was that real estate is not everything. And then I commented, I've never seen so many successful real estate investors just within my own context, but my own clientele and I network with seven figure entrepreneurs regularly. I see the blood sweat and tears that they put in their family puts into those businesses, and too many times my client has a side how Selling real estate investors just buy and hold real estate investor has greater net worth than them as a side hustle. Right?
Saurabh
So it's about proper diet and guidance, I will say guidance and advice,
Erwin
proper guidance. And again, I have a lot of context. I'm very, I'm very lucky that way. And I'm not saying like, don't be an entrepreneur, I have some tech friends who've made a lot of money, like eight figure net worth type, folks. Right. So I'm not saying don't, it's just, it does take a special person to be able to be that successful. Right. Right. versus, you know, I have clients who didn't pass high school and have, you know, 568 figure net worth I know, right, as a real estate investor. Yeah. All right. So it's just, it's just easier. It's much easier business to be in. Again, that's my that's my understanding. But yeah, everyone else to understand the different. Yeah, well, so. So the question I want to ask you earlier was, where do you think we are, in terms of I don't know what a better term is. I'm thinking it's early in terms of like power of sales, financial challenges. I don't think it'd be that bad. Because the unemployment rate, the unemployment number just came out this morning for January 150,000 new jobs in Canada, unemployment is like 5%, or just below 5%. So it's a historic low. So for major recession, housing correction, we need joblessness that don't have it at all.
Saurabh
There's no joblessness, again, the problem people are facing right now, like from my limited knowledge and skill is that most of the people who who are paycheck to paycheck right, they have their set amount for each and every expense in the household. So they have their set mortgage payments, they know how much to spend for grocery they have budget for everything. Now, due to this rate hike if the mortgage payment itself is consuming whole of their salary, whom do you blame? How are they going to keep up and the mortgage is coming up for renewal bank is knocking on the door bank is right outside Hey, your module is coming up for renewal you have to get the refinance your golden period of fixed of 2% is over. Now, this is what we are offering, we have to reassess your file we have to see whether you will be qualifying for the suit the clients are facing real problem and keeping up their mortgage payments. I had a client whom I recently closed for and at the time they there was a thing, it was a four month closing time in the APS. At the time when they entered into the contract they were promised that the mortgage payments won't exceed 2700 or $800 per month.
Erwin
This is a fixed rate mortgage fixed rate mortgage.
Saurabh
And at the by the time they close the property they came to my office and I think they were not making too much money honestly their household income total was 5500 something dollars total per month. Yeah
Erwin
5500 per month. Yeah.
Saurabh
And when by the time they came to my office I went over the mortgage documents with them. I explained them that yeah, this is what their mortgage payment will be. And it was when I pointed out to 43,040 $340 They were like What the hell is this? They literally cried in my office they were calling everywhere and the mortgage and stuff it seemed like it was a day before closing or two days before closing I received the mortgage instructions. So they were like I can't explain you how much shot the whole family was into because they were saying if we're going to pay 4400 in mortgage how we are going to make our ends meet so this is another problem that I've seen on the right wasn't held for them in this situations that is what my question is in this situation whom do you blame? The mortgage agent won't bother because they'll say the bank has done this. They were calling the mortgage and constantly they won't pick up the call next is the closing are you gonna do I'm I'm like I sat with them for two hours and tried to explain them that what could go wrong if they choose not to close the house. So ultimately they had no other option but to offer the mortgage rates that were you know it was because they said oh we never looked at mortgage and called us yesterday only sir and they told us okay everything is good. Just sign his sign and we just signed everything and then when we came to you this is the first and we are seeing the fate of what will you do? This is a real problem.
Erwin
That sucks the mortgage for people handed you the bag
Saurabh
and they have two sons and it was to come out like it is like that I was taken aback I was thinking like this can happen with anyone. They had a set budget for everything and now the if the mortgage payment itself is like 4340 or $4,400 they both make 55 $5,400 Where are they going to go then? You Are they going to bring the rest of the money? So many things
Erwin
that mean less noises make as much money as possible now, multiple streams.
Saurabh
Now cash flow, you should have good cash flow to support you know, if you want to list. I know most of you know, people there are people who don't even care how much how much their mortgage payment, but they have other businesses then but we are talking about real problem, like not everyone is rich enough to afford the mortgage. And you know, Gary the property, most of the people that we deal with on daily basis, they have these real problems. So either
Erwin
why I've always grey here because I where I have these worries from my own family, my kids? Well, I've taken action. For any of our listeners, I have I bought a house for each kid, before they are one years old. That's their RSP real estate saving plan. Right? Because, you know, if this was my child, I could wipe out that mortgage. Right, right, to very limited effect to my net worth. And this is by design. Since I've made that I've been planning like this for a long time. Yes. So I encourage everyone out today take as much action as possible. Yes. Yeah. Because like you're saying there's always power sales are coming.
Saurabh
Yes. And there I read an article there will be 1000s more in March and April and thing, which isn't even
Erwin
that much. 1000s, more like 1000s It's a province of what 14 million 30 million. We have, like the our province gains like 400,000 new people for the number and all I know the people who always quote immigration numbers like awesome, not we don't just have immigration, we have visas, largely international visa students. So we have some are over 800,000 new folks in Canada, who all need housing. So yeah, and we don't have massive unemployment, we're missing the other shoe for a massive housing correction. It really sounds like this, these next few months will be the bottom of the market, in my opinion, for what I look at, for what I look at, for investment grade property. So versus you know, we've talked about much pain in the pre construction market. But you know, I have a friend who's looking for home for himself. I'm like, I cannot look at these. Right. I even told him like if you're on anatomy, and I'll come with you. I'm just a real estate geek. Right. I want to I want to see what the listing for. Because Because specific, some contacts, Ajit, the lawyer and the article insurance article, his properties are in Oakville at the Madami build. So I want to go see those properties myself. See what they're what they're selling for what the markets like. But yeah, there's opportunity for those who were discerning investors, right, people who know people who put in the work to get good jobs, like yourself, like yourself and your wife, you guys busted your ass is to become professionals. Not just once, but twice. Right? You do the second time and you came into Canada, right? busted your ass is to have good jobs. So like, you know, there's opportunity for folks who have good income, good credit and save some money. Right? Right. So yeah, while there's,
Saurabh
but it takes time, you know, especially like, I know, this country, this land is full of opportunities. And there is no one should complain that they're not making an affair. But everyone is like it takes time, or even for new immigrants to come in and settle and, you know, yeah, we are talking about the people who are settled here who are doing investments from like, 20 years, 15 years, that is a totally different story. But most of the people who are coming in, they are new immigrants at this point of time, and they I remember when I rented the apartment or the basement, the rent was only $1,100. And now Yeah, and I think in five to $600 we were able to do the groceries for the whole month. And now you've seen the prices, rented servers for the same same apartments 2000 minimum, and the grocery bill is 1000. And how much is the increase in the wages
Erwin
norburn Norm mark up wages, which is why people need to hedge.
Saurabh
Those are the real issues now. Yeah.
Erwin
So we were talking about issues. There's certain issues that are important.
Saurabh
It's she has a very big first world country issue. Yeah. So many of them.
Erwin
So congratulations. I'm seeing you since so congratulations. You're now Canadian.
Saurabh
Thank you all right. Again,
Erwin
you know you can you know, vote and be pissed off with our politics. It's just that the rest of us but yeah, we truly have firstworldproblems your your daughter what was wrong with the donut tomorrow? So I should leave at the name. I was wrong. The donut
Saurabh
Yes. I was talking to my wife the other day we were we were in drive thru and we asked for a donut. I don't know whether it was the one that has a creamy layer on it. Boston Cream, okay. Okay. Yeah, so the cream was little bit of it's still silly. And she was like, all over the daddy, they did not mean my donut drop at this and that and you know, I don't want no and she was like, I can see the stress on her face. And I was like, you know, is this a? Is this really a problem? Is this real worth? Like? I told her that one and this is not a serious problem and like it is okay. It is okay, you should accept these imperfections. But No, Daddy, you know, I'm upset about this. And I said, look at this case, I was talking to my wife and I told her god, look at these kids, what kind of problems they have in their life, like this small issues are bringing stress in their life, remember our childhood, like back home, you know, in our country, what is happening around the world. So the point here is that, you know, we should not get we should first of all, we should be fortunate enough that these countries especially Ontario, and Canada, does not have like earthquakes and flood problem, you know, the beach, the other part of the world is facing a forest forest fires and learning. So there's a lot a lot of opportunities and a lot to do in like you. There's lots and lots of things to do. And you should consider yourself lucky that you do not have to face what all we have faced our parents have faced back home. Those were real serious problems,
Erwin
or your kids were like the flooding that happened last year in India, Pakistan and Bangladesh,
Saurabh
the moment that you you show them anything, they will say that is the reason I do not want to go to India. Because they think even though we are from different part of India, but the moment they see those things on TV, they think that you know it is happening everywhere. And this is how the country is
Erwin
for listener, several 1000 people died just last year, late summer.
Saurabh
It was around August, September,
Erwin
massive flooding India that went through India, Pakistan, Bangladesh, and India alone probably lost 1000s of people he is a died as blood. Right. horrible effects of climate change, and probably poverty as well, because folks are forced to live in these areas that are flood prone. Right. Right. We don't have these issues here in Ghana. No, nothing. Right. Our biggest problem in Toronto around poverty is that we don't have winter around shelters for the poor. That's our that's our greatest problem. Right? It is a problem. But nothing on the level of 1000s of people die. No, nothing like that. Nothing it cannot be. Right. So yeah, I'm beyond grateful to be Canadian. Yeah. Those are third world problems are a real problem. Right?
Saurabh
Yeah. Just like the earthquake happened. I think a week ago. Yeah. Syria, Syria, Turkey. Yeah, killing 1000s of people's
Erwin
apartment buildings completely falling over. And just what I've read is that they hadn't had an earthquake in like, 105 years. So I can be wrong. But that's just what I read in the paper in the news. Like, they didn't know, like, how much of a risk is if it didn't happen for five years? Right. So incredibly sad, and karma loss of life. Crazy. Thank God, we don't have these issues here. I don't even guess you didn't tell your kids about that either. Sorry, we were time. Thank you so much for being so generous, giving us an update on what you're seeing in the market. Any final words? You want to share anything without me asking about leading you towards this?
Saurabh
Okay, so I since you know, the focus of this conversation today was the private lending, I will say, so my message is that, you know, if you're interested in private lending, if you still feel that, yes, it is a secured investment, then you do your due diligence, look at the profile of the borrower, just don't look at the property only look at the profile of the borrower, just, you know, look at the circumstances, you know, why why they need the money, and then make an informed decision and have the right people by your side, rather than someone just advising you, Hey, you, you have money, want to invest? And here's the deal, go.
Erwin
Right, right, because in general terms, you know, very people, Warren Buffett, quote, be fearful when others are greedy. So I've been very fearful, everyone was greedy. But now it's very the markets very fearful. So now the time to me makes much more sense today with the new appraisals that have come down significantly from over the last four months. So that's at least to me, on a safer environment we lending right.
Saurabh
And people who have entered into the contract or who have, like, fail to close the Properties and and they just think they think that the the deposit will, it says that the deposit that the vendors can forfeit No, it's not just a deposit, it's the differential amount to be liable for any loss liable for the losses, legal fees, everything.
Erwin
And builders are not allowing any delays. Because they have bills to pay to write. We don't blame them. Yeah. This is business. Yes. For anyone doesn't understand that. Like, it's like, seriously, if builders had the backstop people's financial problems, who would be a builder? Nobody, right. Already. landlords don't want to backstop tenants. Right for proper reason. Right. So yeah. So again, thanks so much for doing this. Thank you. Congratulations, you do you enjoy tea for becoming Canadian. Thank
Saurabh
you so much, everyone.
Erwin
Before you go, if you're interested in learning more about an alternative means of cash flowing like hundreds of other real estate investors have already, then sign up for my newsletter and you'll learn of the next free demonstration webinar I'll be delivering on the subject of stock hacking. It's much improved demonstration over the one that I gave to my cousin chubby at Thanksgiving dinner in 2019. He now averages 1% cash flow per week, and he's a musician by trade. As a real estate investor myself, I got into real estate for the cash flow. But with the rising costs to operate a rental business, it's just not the same as it was five to 10 years ago when I started there are forget that cash flow reduces your risk. The more you have, the more lumps you can absorb. And if you have none, or limited cash flow, you're going to be paying out of your pocket like it did on a recent basement flood at my student rental in St. Catharines. Ontario. If you're interested in learning more, but it's true for free for my newsletter at www dot truth about real estate investing.ca. Enter your name and email address on the right side. We'll include in the newsletter when we announce our next free stock hacker demonstration. Find out for yourself but so many real estate investors are doing to diversify and increase our cash flow. And if you can't tell I love teaching and sharing this stuff.

To Follow Saurabh:
Website: https://www.singhal-law.ca/
Email: lawyers@singhal-law.ca/
HELP US OUT!
Please help us reach new listeners on iTunes by leaving us a rating and review!
UPCOMING EVENTS
You are the average of the five people you spend the most time with! Build connections with empire builders and trailblazers at our iWIN events.
BEFORE YOU GO…
If you're interested in being a successful real estate investor like those who have been featured on this podcast and our hundreds of successful clients please let us know.
It is our honour to give back and educate others on how we build cash flowing real estate portfolios using all the best practices shared on this podcast, from the lessons of our hundreds of clients and of course our own experience in owning investment real estate.
If you didn't know already, we pride ourselves on being the best of the best real estate coaches, having the best property managers, contractors, handy people, cleaners, lawyers, accountants, everyone you need on your power team and we're happy to share them with our clients to ensure your success.
New investor or seasoned veteran investor, we can help anyone by providing our award winning coaching services and this isn't all talk.
We have been awarded Realtor of the Year to Investors in 2015 by the Real Estate Investment Network, 2016 by the Canadian Real Estate Wealth Magazine and again in 2017 because no one told the judges no one is supposed to win the award twice but on merit, our peers deemed us as the best. In 2018, we again won the same award by the Real Estate Investment Network.
Hopefully being the most decorated team of Realtors in Ontario will make you consider us for your first or next real estate investment. Even if you don't invest in our areas, there's a good chance I know who would be ideal for you.
I've been around for a while, some Realtors are talented at servicing investors there are many with great ethics. The intersection of the two, talent and ethics is limited to a handful in each city or town.
Only work with the best is what my father always taught me. If you're interested, drop us an email at iwin@infinitywealth.ca.
I hope to meet you at one of our meetups soon.
Again that's iwin@infinitywealth.ca
Sponsored by:
Infinity Wealth Investment Network – would you like to know how our investors returned 341.8% on positive cash flowing real estate over the last five years? On average, that was 68.4% per year.
Just imagine what winning in real estate could do for you.
If you would like to know how we did it, ask us how by calling 289-288-5019 or email us at iwin@infinitywealth.ca.
Don't delay, the top markets we focus in are trending upward in price, so you can pay today's price or tomorrow's price.
Till next time, just do it because I believe in you.
Erwin
Hamilton, St. Catharines and Toronto Land Development, Real Estate Investor, and soon to be builder.
W: erwinszeto.com
FB: https://www.facebook.com/erwin.szeto
IG: https://www.instagram.com/erwinszeto/
https://www.truthaboutrealestateinvesting.ca/wp-content/uploads/2023/02/Saurabh-Singhal.jpg
630
1200
Erwin Szeto
https://www.truthaboutrealestateinvesting.ca/wp-content/uploads/2017/06/TruthRectangleLogo.png
Erwin Szeto
2023-02-28 18:27:53
2023-06-16 17:06:42
32 Power of Sales, Legal Market Update With Lawyer Saurabh Singhal