10 Bed Rooming House, Microsuite Triplex Conversion, Land Banking in Belize With Melissa Dupuis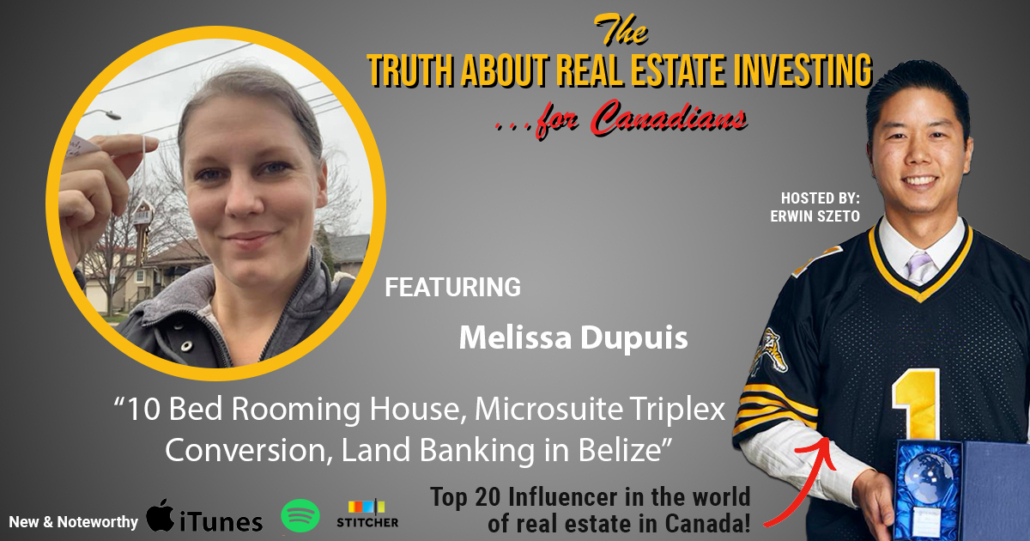 This week's guest asked me a question while we were slumming it at Whole Foods for lunch.
I had two packages of wild salmon sushi, while Melissa had cod with two sides. Cost $45 and no tip.
Melissa asked when I realized the power of the Smith Maneuver, the tax benefit where interest expenses incurred on borrowed funds from my home equity line of credit for the purposes of investment are tax deductible.
I'm not an Accountant, so please do seek professional advice.
View this post on Instagram
In my journey, I took Accounting in High School plus more Accounting courses each during my four years of university.
I actually considered becoming an accountant as their wages as a new graduate are quite good in case anyone wants career advice.
Also, as part of business school, we studied investment banking, and commercial banking, as I considered becoming one of those too.
My point is I've studied debt and equity financing and studied businesses that did both successfully and in failure, resulting in bankruptcy.
It's partly my business training and conservative nature that has led me to follow a real estate investment strategy of land-based, positive cash flow income properties of the most in-demand, liquid category…
And to not over-leverage as we've put down 35% on our most recent purchases and maintain a low loan-to-value on our portfolio.
Academically, I understood the power of leverage.
But it wasn't until I read 'Rich Dad Poor Dad' by Robert Kiyosaki and my girlfriend at the time took action and bought an income property that I witnessed first-hand the theory being put to practice.
And then, seeing how well our real estate portfolio performed during the financial crisis: we had next to no vacancy, and with any turnover, rents went up Vs. my stock portfolio got whacked like everyone else's in 2008.
At that moment, I decided to invest more heavily in my real estate education, including business and economics.
Through all this research and practice, I decided we would only use debt to invest in real estate we control and cash flows and not for anything else.
There just isn't another asset class with so much data supporting investing in real estate in Ontario's golden horseshoe.
Between inflation caused by central banks, supply constraints of land and building homes, excessive demand from immigration, and the shrinking number of occupants per home requiring more homes….
This is awful news for tenants and anyone who doesn't own a house, and the writing is on the wall for real estate investors about where housing prices are going.
So yeah, we will continue to invest in real estate using debt.
But I'm no financial advisor; please seek professional advice.
I just have 45 self-made millionaire clients for whom we've helped purchase investment properties, and we are looking for a couple hundred more.
We do have 30 investors joining us for an educational tour of our clients' small multi-family conversion projects: duplex and triplex, this coming Saturday in Hamilton.
All proceeds go to the Hamilton Basket Brigade to provide warm winter clothing to poor school children in Hamilton.
Unfortunately, it's sold out, BUT we are happy to announce our next event, the iWIN monthly meeting, on Saturday, March 25th!
I will be giving an economic and market update….
Coach Stephen Phillips of HGTV fame from my team will be sharing tactical advice on how to invest in the Durham Region, including Belleville and Kingston…
AND being tax season, everyone's favourite real estate Accountant Cherry Chan is making herself available to educate us on the most important tax implications we must get right this tax season to avoid thousands of dollars, fines, and tax savings.
The meeting will be followed by a tour of properties in Oshawa and a networking lunch!!
How exciting is that?!?!
Stay tuned for details, space is limited, and you don't want to miss this event!
10 Bed Rooming House, Microsuite Triplex Conversion, Land Banking in Belize With Melissa Dupuis
On to this week's show!
We have something a little different, a real estate investor with a lot of heart in Melissa Dupuis.
We rarely have investors on this show who target those on social assistance, but Melissa has with her renovated, repositioned 10-bedroom rooming house.
As we don't have many rooming house investors on this show, we spend some time on the subject in terms of numbers, target tenants, regulations, and of course, the numbers: $525k on the buy and after fully renovated, $6,000 plus per month in rent.
Melissa is a truly sophisticated investor as she's an avid student and action taker in converting underutilized properties, as she's currently converting a triplex into a fourplex to improve cash flow in this rising interest rate environment.
As always, real estate investing is a team sport; Melissa has engaged in hiring a coach and a mentor. Melissa details how she found them and how they worked out.
Melissa is also a Property Manager and owner of Athena Property Management Inc, servicing the Niagara Region, Hamilton, and she's also a land banker in Belize.
Please enjoy the show!
This episode is brought to you by me! We don't have sponsors for this show. I only share with you services owned by my wife Cherry and me. Real estate investing is a staple in my life and allowed me to build wealth and, more importantly, achieve financial peace about the future, knowing our retirement is taken care of and my kids will be able to afford a home when they grow up. If you, too, are interested in my systematic strategy to implement the #1 investment strategy, the same one pretty much all my guests are doing themselves, then go visit www.infinitywealth.ca/events and register for our next FREE Online Training Class. We will be back in person once legally allowed to do so, but for now, we are 100% virtual.
No need for you to reinvent the wheel; we have our system down pat. Again that's www.infinitywealth.ca/events and register for the FREE Online Training Class.
To Listen:
Audio Transcript
**Transcripts are auto-generated.
Erwin
Hello, welcome to another episode of The Truth about real estate investing show the little tiny podcasts for real estate investors in Canada that could. We are currently ranked number 81 and items in the business category, something that is still astounding to me. Anyways, my name is Erwin Szeto. I'm the host, producer of the show. I do my own bookings, so apologies in advance. Wow, it is a Canadian show, so I will apologise just as much as any Canadian does. Anyways, this week's guest actually asked me while we were slumming it a whole foods for lunch. And I've mentioned it for a couple of weeks. Now, with the gratuity being added on to almost every single bill at restaurants I've been going for more takeout but preferably healthy takeout. So we were Melissa Dupree and I are at Whole Foods For lunch, I had two packages of wild salmon sushi, almost head cod with two sides costs was $45. With no no tip. Alyssa asked me when did I realise the power of the Smith manoeuvre, which is the tax benefit when interest expense is incurred on borrowed funds. In my example, from my home equity line, or from other rental properties, when they're being used for investment purposes are tax deductible. I'm not an accountant. So please do seek professional advice. In my journey. I personally took accounting through high school and each year my four years in university, I actually considered becoming an accountant, as a new graduate are quite good in case anyone was looking for career advice. Also, as part of business school, we studied investment banking, commercial banking, as I considered while being one of those as well. My point is, I've studied debt and equity financing and studied businesses who did so successfully using debt and equity both successfully and in failure, resulting in bankruptcy. It's partly my business training and conservative nature, which has led me to become a real estate investor, because it's based on land, which is an incredibly hard asset in short supply, and positive cash flow into properties, which is, you know, no different than Buffett's philosophy that assets had to make money in order to pique investment. And also, our properties are in incredible demand. And also, they're quite liquid, they're the most liquid of real estate investments in the real estate properties, and to not over leverage, as we actually have been putting down 35% on our most recent purchases to maintain a loan the value of but this isn't really our choice. It's been imposed on us by our lenders. But yeah, our portfolio is pretty low leverage compared to what's being promoted out there. Literally one of my clients, let me know that he was at an event where the promise, the pitch of the coaching programme was to for grass, fast growth through high leverage, I can't disagree more. And the proof is in the pudding, as we see several investors now who are now bankrupt, or going bankrupt. Anyways, academically, I've understood the power of leverage. But it wasn't till Rich Dad, reading Rich Dad, Poor Dad by Robert Kiyosaki that I understood how to apply it in business, in this case, income properties. And at the time, I remember when I was 25 years old, my girlfriend was doing better than I was, and that she was actually taking action and buying income property. So from there, I get to witness firsthand how to use the power of leverage via debt in order to build up a real estate portfolio. And then again, through the financial crisis, the economic crash of 2008 as mine as a real estate investor, back then, we actually had no vacancy in our portfolio, fiving and properties, five rental properties. And whenever we had turnover, it rents actually went up versus my stock portfolio at the time, I was pretty green stock investor at the time, even though even though I thought I was better in as educated, a little bit educated on the subject, but a little education doesn't go very far. It was at that moment, I decided to invest more heavily into my real estate education, including business and economics. I happen to teach economics for years in my university as well. It's through all the research and practice, I decided we would only use debt to invest in real estate that we control and that cash flows and not for anything else. It's just my level of risk tolerance. And as far as I can my journey, there just isn't another asset class was so much data that supports investing in real estate in the Golden Horseshoe of Ontario, between inflation caused by central banks. When that stops, please let me know. supply constraints on land and building housing, the excessive demand from immigration, a shrinking number of occupants per home, requiring more homes to be built. This is all really bad news for tenants and anyone who doesn't own a house. The writing is on the wall for real estate investors where housing prices are going. So yeah, we will continue to invest in real estate using debt. But I'm not a financial advisor. Please seek professional advice. I just have 75 Millionaire Real Estate clients who are self made from buying from investing in income properties. So I don't count there. principle residences. So again, we have 45 at the time self made millionaire clients and we're looking for more, a couple 100 More preferably. There's honestly nothing more in life that I enjoy. Then seeing my client successful, we do have in speaking of future clients, we have 30 investors joining us for an educational tour of our clients, small multifamily conversion projects duplex and triplex. this coming Saturday in Hamilton, Ontario all proceeds going to the Hamilton brass brigade to provide warm winter clothing to poor schoolchildren in Hamilton. Unfortunately, it's sold out but we are happy to announce our first ever I have an event coming up Saturday March 25. I will be giving an economic and market update. The feedback on YouTube was incredibly positive as for folks asking for more updates for myself. Coach Steven Phillips of HGTV famous for my team will be sharing tactical advice on how to invest in the Durham region including Belleville and Kingston and being tax season. Luckily, we were able to steal cherry away from her tax season duties. For anyone who doesn't know Sherry is likely the favourite real estate accountant in our industry, and she's making herself available on this day Saturday, March 25. To educate us on the most important tax implications we must actually get right this tax season to avoid 1000s of dollars in fines and gather some tax savings. The meeting will be followed by tour properties in Oshawa, and a networking lunch. How exciting is that? So stay tuned for details. Again, our February tour sold out pretty quickly sold out in a week. So space is limited for this event and germ that we're doing as well. Saturday March 25. We'll be releasing details shortly. You do not want to miss this event. onto this week's show. We have something a little different a real estate investor with a lot of heart and Melissa Dupree we rarely have investors on the show who target those on social assistance but the everyday tenant but Melissa has with her renovated repositioned 10 bedroom, rooming house legal rooming house, we don't have any rooming house investors on the show. So we do spend some time on the subject in terms of numbers to tenants regulations, and of course the numbers. For example, this property this 10 bedroom house, Melissa paid 545,004 on the buy in then after it will be after being fully renovated. It should rent for close to 6600 in rent per month. Unless it is truly a sophisticated investor and she's an avid student and action taker. She has several other properties as well. She does some flips, she does duplex conversions, and she says she's doing a triplex conversion right now she's running one of her duplexes into a triplex. So she details that the decision making process, the costs and the rents how much rents will go up what kind of permits you need to go through all sorts of things as specific to this property she need to improve cash flow, because we are in a rising interest rate environment. As always, real estate is a team sport, unless it has engaged in hiring a coach. And she also has a mentor, shout to Christian so she details how she found them and how it's worked out. You probably won't pay attention to this part unless this did a good job of obtaining some very quality advice, professionals. And then the mentor is free. So for free quality, mentorship is worth its weight in gold winners. Let's there's also a property manager and owner of Athena Property Management Inc, servicing the Niagara region in Hamilton. She's also a land banker in the country of Belize to follow Melissa you can find her at a Tina PMI calm and you can search Athena property management on Instagram and Facebook. Please enjoy the show. Hey, Melissa, what's keeping you busy these days?
Melissa
Hi, Erwin. Hi, everything. I'm in property management. So
Erwin
you do do a lot.
Melissa
That's crazy. We have a lot to cover today. Yeah, I'm looking forward to seeing how things go here. I would like to forward
Erwin
no one listens to this show anyways. So one thing that stands out in your investing that to me is I call it a socialised real estate investing. Again, I've seen a lot of investing. I don't know many people that target not target but people who operate for example, what I would categorise as socialised real estate investing. Can you elaborate on like your, for example, you have a legal rooming house? Can you explain what illegal rooming houses?
Melissa
Yeah, so rooming houses, generally speaking, are probably a lot more popular in the Toronto area but where this one is in Niagara legal ones are much harder to come by and are often trap houses to boot. So this is a legal rooming house. It's in the city of welland. It has a special zoning designation that the city created for that. So when I purchased it, there were actually a few investors that were interested in the property as well too, but because they couldn't, you know, build another, you know, secondary unit on the property, things like that. There were some restrictions. That wasn't appealing to everyone. So for me, I just looked at it as at the time it was rented to a group of female international students who are quite lovely, but the previous owner had maintained when he had to, but there's definitely some room for improvement in the common areas and things that I saw that I could do with it. So my intention in purchasing It was that there are a lot of people, particularly with the cost of housing right now who been wanting to live independently, but don't want the hassle of outright dealing with a roommate or can't afford an entire place on their own self contained. And so I felt that there's some opportunity with that to expand who we were renting to there. And to also provide a quality homes. So so that's what we've done. And I've owned it for probably about a year, a year and a half coming upon. And during that time, we've done some improvements, we've allowed natural turnover to take its course, we did let all of the ladies that lived in the home know that a transition will be coming in terms of Hoover renting to so if that meant that they no longer felt it was suitable for them, they had time to look for another place. If they wanted to stay. Of course, they were welcome to do so. We just want them to know because it had been all ladies up to that point. So some wanted that right. So so there's been some natural turnover. And we have had a handful of different people in some that are on fixed income, social assistance, so could be receiving a disability payment along those lines. Others who are, I would say most of the people in the home actually currently are working. And they're working a more entry level type of jobs. But they like the community that comes with living in a rooming house. So so I really just wanted to focus, particularly with that acquisition was on building a community home. I have some other ideas on what I wanted to do with the place. But of course it all costs money and take some time. So we'll see how that comes together in the coming months.
Erwin
For a realist. Let me introduce to Anna another time. She has numerous rooming houses to
Melissa
Lady but she's doing it for senior seniors. Yes, yes. I actually went back and tracked down that podcast and watch. It was very interesting.
Erwin
Did you reach out to her? Nope. She's lovely. She's great. Okay, can we paint a better picture of what this house looks like? So what year was it built? How big is it?
Melissa
I want to say this built in probably around the 40s or so. Can after time I got a little fuzzy on the details. It has one kitchen on the main floor. It's two levels. It has 123456 rooms on the main floor has five on the upper. There's a bathroom. So there's 11 rooms. There's two bathrooms in the house. One? Yeah, yeah. So there's no actual. So at one point full baths, is
Erwin
it no no patterns, nothing, just two full bathrooms.
Melissa
So once a full bathroom one has a shower, sink and a toilet. Okay, so So we did some renovation work in that bathroom to start. There's a bit of finished work in it. But it was previously done, probably not to any code that was acceptable. So we address that
Erwin
common investment properties. Yes, yes, yes, not acceptable for our level understand is BS.
Melissa
So the basement itself is not really conducive to using it for anything other than function, we'll call it sold or sold can't really do much not in probably not even storage at the age of the home. So we've really focused on removing all the items that were down there and getting rid of them. And just continuing some cleanup work in there. There was previously a 12th room on the upper floor that at some point the fire department had recorded that become another exit. So there's actually a space there where we're going to make that a little bit of a sitting area with a couch and whatnot so that not everyone needs to be in the room all the time. Some of the rooms are smaller, they're eight by 10. Some are quite large, because they used to be double rooms. So So we're working on proving that as a common space, we've put on new flooring throughout vinyl plank, it was previously laminate and not in great shape. So that's really improved the look of it. And the kitchen itself, there is a sink and a stove. And that's it for a living rooms. So what we did is we actually just, we're just finishing up a second cooking area with just a cooktop and another double sink. So there's actually two spots in the kitchen for people to cook at. So now that we've got that one in place, then we're going to actually demo the other side because it's not in great shape, put some new cupboards in there and new sink and then improve some of the storage area in the kitchen so that people don't have to keep their food stuff in their rooms, which is what they're currently doing so and that in turn, hopefully would give them more space within their room. And they have a secure spot to put it outside of the room. And, you know, help us just access some functionality. So we're doing that. Another thing we actually did two was an electrical upgrade. So the existing panel on the place was a commander, which apparently is old and no longer good. So the electrician replaced that and they also put 15 or 20 amp plugs in every single room as well so that if someone wants to have a mini fridge in the room or run something that draws a bit more power in the room that can do so. Because currently there were I think 1234 fridges and five fridges and common areas, right it's a lot of fridges to be running the big fridges and so again we're just looking on reducing that giving people spots in the rooms to have a mini fridge have what they need in there improving the storage and the kitchen and other cooking area in there as well too. And we'll want to do some extra work on the grounds and in the summertime as well.
Erwin
Okay, The Screen Share what you paid for the property. That was,
Erwin
right. No, it's not how you prepared? I
Melissa
did. I did. So we purchased that for 525,000. What's your renovation budget, I don't want to say I didn't have a budget, it's not that I don't have a budget, it's that we just been managing things as we can go here. So so far, we must,
Erwin
must add a ballpark when you when you bought it. Yeah, I
Melissa
earmarked about 15 to 20,000, figuring we'll see what we can accomplish within this. And then take it as it goes, expected a bit of a learning curve as well, too. So for example, when we took over management, the property, all the residents were responsible for cleaning common areas. And that's okay for day to day. But in terms of the deeper cleaning, when you have community living, not everyone wants to take responsibility for that, particularly. So we actually bring in a cleaning service. So we wanted to factor in that there were some things that we need to do in terms of repair and fixing it, but also that there might be some additional costs or things that we think would be best on an ongoing basis for expenses to the property, I don't want to over commit to it. So and the rooms we just been doing as we go. So I mean, you put some new flooring, you repair the walls, you paint it, we upgrade the furniture, so it might be 1500 or so per room. 2000 per room to do that. And that just depends on when the rooms become available. So
Erwin
it's an interesting property that you describe the way that you the way you took it over. I'm shocked that such a busy property would have laminate floors, for example. And that's a pro tip like vinyl plank, extremely now common in many circles, including even even new condo developments that are doing vinyl plank because it's normal, and inexpensive. It looks great.
Melissa
Yeah, it is. It's easy to put in, we did remove the laminate underneath. Because I said this has been there forever. And If water does get under it could cause up right. So so we removed that remove that. And it's just what a difference flooring makes right? It's amazing.
Erwin
Yeah, and I think that covers such a large area, it makes such a big impression. It really
Melissa
does. It really does. And I think that the residents that are there like to see that we are making improvements to the home and to the common area. And they enjoy that that like knowing that the landlord's gonna take care of those things. So, so that's good. And we do what we can I mean, there's no mistaking that this is an older house, that there are some things like, I don't know that it was necessarily purpose built for this. So when you go into a purpose built place, it's caters to people who are in rooms or have their private bathrooms. That's one thing. But that's not this, it will never be that. But it's just more of a what's reasonable. What can we do to make this comfortable, enjoyable. In the summertime, I actually want to put a new compost on the outside, so that all the organic waste can just go into that. And then if someone's interested in intending to a garden out there, they'll have compost to be able to do it. And again, foster a little bit more of the community peace, there is a like a drellich garage in the back that that it needs to be torn down. It's not really harming anyone where it is right now. But it is on the list in to do that. At some point. I have no idea what that's going to cost. So we just kind of put the focus on the house itself. Let's address the things that we need to there. And then we'll we'll go from there. Yeah, it's been good. It's been good. It's had its pain points. But I mean, it was new, it was a completely new and different style of housing that I'd never managed before. Right. But it's good. It's settled down.
Erwin
So what kind of fireproof requirements, for example, that are required for operating a rooming house.
Melissa
So we we have to get a course of fire inspection done every year, which we do in the summer, we bring in a company to do that. They just they have all the smoke detectors, they have alarms, we have emergency lighting, fire rated doors, and each door door closers. You know fire rated hardware. So that's the extent of it. Pretty standard stuff, I would say
Erwin
standard for you. I'm pretty sure most real estate investors are not familiar unless they have a rooming house or an apartment building or at least a commercial property since our commercial office property. That's fair. Actually, no, we don't have to do fire inspections. We don't have us we don't have a stove here.
Melissa
Generally speaking, anything that's got a few rental units or more does require an annual fire system testing and an inspection. And there's usually some other requirements throughout the year as well, too. But that for that type of thing is pretty common. So we do them for a few properties. So that's why I say it's standard.
Erwin
How much is that per year? The first inspection? I think it was a few 100 bucks. Yeah, so nothing
Melissa
wasn't huge. And we do maintain a, an alarm monitoring system as well to I think that's around $56 a month so that if the alarm is triggered in the house, then the monitoring system actually calls whoever we designate for them to call determine if there's actually an emergency and kind of go from there,
Erwin
right? Or does this or does it go to 911? Or does that go straight to fire department?
Melissa
It goes to the monitoring system who takes the call and says there's been an alert on the fire alarm system and can someone check on it? Most of the time, it's nothing.
Erwin
And this is required by who requires us which government body
Melissa
you're required by the government by the fire department does like that. It's monitored and the insurance company could very well record I forget now,
Erwin
right? It's trying to explain to the listener that there's many more requirements for rooming houses. For example, you said your doors are fire rated In this every bedroom, yes. self closing?
Melissa
No, the doors are not self closing unless they are. So where are the self closing doors located we have our entry door into the property. There's a little vestibule and then there's a the entry door into that house itself. So that one has a self closer on it. The one to the kitchen, there's two doors off the kitchen, those have soft closers on them as well, too. And I think everything else is free open and close.
Erwin
Sprinkler system. Smoke alarms. Smoke alarms. Yeah. Every bedroom interconnected. No, not all of them. Is the the visual impaired ones do the blind, you know? No, no, there's no visually impaired. You're gonna be blinded by these things. Yeah,
Melissa
they're quite bright. I remember one time attending calling me they're going off and like we could see it coming down the street. It was strobing out across the street. I'm like, that's really bright. Like they're doing their job. But wow.
Erwin
Yeah, don't get it. Like if you're deaf. Like the strobes are like blinding. You can't see either. Great.
Melissa
Yeah, so thankfully, we don't have to deal with those ones. But it's. Yeah,
Erwin
yeah. And if you can hear now you're deaf? I'm sure it's yeah, for all in the name of safety. And also, again, you mentioned these are rare, like, in my experience, the Hampton for example, these are usually in very busy areas. Yeah, generally very busy areas on a highly very busy streets are near very busy streets, like the ones I can think of are like New York on concession road and Hamilton, for example. So again, it's a very busy road, usually accessible by public transit. That seems to be the commonality among these things, specifically rooming houses, a common use of rooming houses, I find it's like, for example, as a student rentals, but those are not necessarily legal.
Melissa
That's true. That's true. And we don't really largely deal in student rentals, per se, um, sometimes we rent to people who are students, but that's not our primary.
Erwin
Okay? No, I want to ask you why that why the decision to shift from international students can destinies are not your college students, why this isn't a shift from students to non
Melissa
students. To not students, I just really felt that this house honestly could serve our community better, and that there's plenty of people out there who want to rent to students, and I will let them do that. Again, some of our residents, there are still students, many of them are employed, maybe they've finished school at some point, and they're working or they're working and going to school and, and some are on social assistance. And it's a bit of a motley crew. But you know, it kind of it's not that we haven't had our problems. If anyone following my social media, they'll see that I had to personally inject someone the other day, and that was an entertaining Friday night. But those kinds of problems are actually pretty rare. For me,
Erwin
why the injection, so there's like a button that throws them out the window,
Melissa
smoking in the building. Oh, my God, seriously? Yeah.
Erwin
There's a fire alarm in your in your room. There's smoke on
Melissa
the battery? Yeah. Well, that's good.
Erwin
That's very good for fire safe. So
Melissa
I called for a police escort to remove her some property because she was not agreeing on my assessment of what we should be doing next, shall we say? And there was a little bit of yelling back and forth. And I just I wasn't willing to tolerate that in the residence. You know, when you put other people's safety at risk. And you knowingly blatantly do so I had actually stopped in there at that time to have a conversation with her. She was supposed to move out in a week anyways. She was supposed to move out in a week anyways,
Erwin
or at least was terminating. So you didn't have to go through like filing with the board or anything like that?
Melissa
Well, no. So in this one, no. So so she's moving on a few days, she had given some attitude to some of our staff on the phone. She was supposed to stand on February the third you know, said hey, you know, there's gonna be a prorated rent amount for those days. No, there's effing not was quite rude, hung up the phone and so on. Okay, I'm just gonna pop in there and just see if I can have a conversation with her. And, and there was, I mean, the kitchen smelled like an ashtray. So I was really happy with that. And it was quite obviously coming from her room. So we had a bit of conversation is like, what are you doing smoking in here, I stopped have a talk with you. You were rude for our staff. So on top of that clear, no smoking policy, you just simply can't. And so she was quite rude. And I gave it back to her at the end of the day, quite frankly, and told her to pack her stuff and get out. And she said I couldn't make her and I said, Yes, I can. I'm calling for your escort right now. And so I called for the police. And they came and they did remove her from the property. They asked if I would be willing to extend, let her stay for a few days, give her more time. And I'm not necessarily saying that it felt good to throw someone out, essentially on the street instantaneously and say figure it out. Good luck, but it's the consequences of her own actions. And given that she was smoking in the home, and there's a house full of other people who are now exposed to that and kind of other things that had been had been brought to my attention. At that point. It just said we're at the end of the road here. You know, you knew and you violated the rules. And that's it. So she put everyone else to risk. Yep. And then I did have a conversation with one of the residents after that as well, too. I stopped in to check on how the kitchen renovations were coming along. And she said, Oh, yeah, that was kind of happening before. And I said, Please, you guys are all very agreeable and peaceful here. But when there's a problem like that, let us know right away, please. So I can address it. Because you know, we will not subject you to dealing with things like this. And after this woman was removed from the home, I then sent out a communication to everyone I can broadcast out to everyone, and basically to ensure that the front door was locked when they left, and that if she came back on the premises, to let me know, right away, and that apologising for them having to deal with that. Right. So. So that's good. And everyone's quite happy. It was dealt with, but I said, I can't deal with something
Erwin
I don't know about right. Mental health issue, you think, you know,
Melissa
I'm not really sure. But at that point, it didn't really matter. I guess she was able to arrange for a ride for someone to pick her up and off, she went. So
Erwin
challenging. Questions. My natural question is, how do rooming houses fit under residential tenancy? Yeah, they're covered under the party. So she had full rights as any other tenant, and she did not
Melissa
because one of my adult children does live on site. Oh, so they share a common area.
Erwin
So your property does not fall under RTA then?
Melissa
Not this one. Yeah. So and I think that's actually a common misconception is that many people do think that if you rent to students that they have to move at the end of the term, or though if you rent but or if you rent by the rooms, that you have this ability to do what I had to do in that case, and that is not the case. They are protected by the RTA. So we have in this case, a rental contract that sets out very clearly that number one, you understand that this is a private contract and rental agreement that you're not covered by the RTA, you don't have those protections. And here are the rules of the house that we have to follow. Here's the circumstances under which you know, a person gives notice to move out that we can eject you immediately, essentially at our discretion if we feel that there's a need for and things like that. And then and then that's what the sign is the rental agreement. So yeah, so I had that I had that ability. And I think that probably makes me also a little more liberal now and who we accept, because most people they just want a home, they want somewhere to live. And if they're respectful, then we're respectful. And everyone's all good. Right. But if they're not, then I have the ability to just remember them.
Erwin
Right. So this is not a traditional roaming. You have a lot of protection for your thoughts
Melissa
not know some of the some of the residents have been there before that child moved in. So they do have protections in our team. Okay, but new people coming in, currently do not
Erwin
so fascinating, okay. Because my experience with the police in Tennessee usually isn't good. What did you to explain to police this so that they would come? Because usually they won't come up the scene is tribunal issues.
Melissa
So I called them explain to them the issue. And I just said that we have a resident and occupant here, who does not want to leave I want to remove from the property. And there's not protection RTA. And so they took that call, and the officer that they sent out, essentially needed to verify that what I was telling him was true, because how many landlords will say, Oh, no, I live on site. They just keep a room there. But they don't actually live there. Right. And unfortunately, that's what makes it even harder, because the police will get sued. If they eject someone that they are they don't have the right to do so. And they do so they're quite cautious. In my experience. They're quite cautious and making sure that you can prove that there is that relationship that that person does live there that they do, in fact live there permanently, and that they've been there before that tenant moved in. So
Erwin
all of that Yes. Just what paperwork are they you have to go into the room?
Melissa
They actually want to speak with them. Oh, God, it didn't matter what paperwork I showed them. Of course, he also wanted to speak with them. Oh, so So they did so. And it was just brief. Yeah. Great here. Awesome. And then they he carried out?
Erwin
That's great. Yeah, to do their job. Yeah. Yeah. Funny man just even did their job.
Melissa
Yeah, you know, I've been in situations where they, they've questioned what I was able to provide them. And I don't think that they were wrong in doing so. But my hands are tied at that point. Unless you can produce what they're asking for then the risk that they take is great, too. So they just simply won't. So,
Erwin
super cool. Your child is in the property? Do they have a responsibility? Do they get subsidised rent? Or the the Super? Super?
Melissa
No, I don't give them any special responsibility.
Erwin
Anything you rent and every year, I
Melissa
mean, they're an independent person who lives on their own. And this happens to be what they can afford, and they get treated. I'll say largely like anyone else. You know what, I don't have any problems with them, which is which is wonderful and
Erwin
good tenant, good. Yeah. Yeah, they
Melissa
are here. We can't always guarantee your kids are the tenants. We want them to be either but, but but they're lovely. They're good. And I don't put the pressure on them to do things like report back to me and stuff like that, because I don't want them to feel potentially ostracised within the home either. Right? So they just kind of live there and carry on like anyone else.
Erwin
Fascinating. Okay. So if you can go back to numbers up A 525 for it. Yeah. What does the room rent for?
Melissa
It depends on the size. So
Erwin
are the ranges and pay in pay. The you mentioned earlier like eight by 10 is a smaller? Yeah, so
Melissa
that was around the 425 mark. And then there were actually sharing rooms where two girls would each live in one room and pay their own rent. And that was 275 or so per person. So what we've actually done, so essentially, you would have this large bedroom, where it previously had two, two beds in it. And then you have like a smaller room connected to it. And that's where they will have their desks. So when one of those rooms became vacant, we pulled everything out of there. And we actually, so we put new flooring in there, and we put in a supplied a couch and a coffee table and an air exchanger in the window, it's on a boiler system, so you don't have air circulation, like Forster furnace. So we supplied that and then they had like a personal living room area. And then we've put a double bed in the area where the desks used to be. So now they almost have like a small bedroom off of that. So they have a bedroom and a private living area. So that when we rented for 850 all inclusive, and, and that seems to be I think competitive in the market there. We do have to keep in mind, the rents are only gonna stretch so far given there are only two bathrooms in the home. And there's not a lot of common area aside from the kitchen really in that little sitting area I referred to. So you know, some rooms in LA say nicer homes mean more geared towards students are probably rent for at least that, but from where we are there. So that actually greatly improved it, I have to do something. I mean, the home did need some repairs. And the rents have to go up to offset the cost of that, like this doesn't come for free. It's significant work that I had to do. Electrical work is expensive. My electrician is wonderful. But if he cost money, right, put his kids through college. So
Erwin
what you're saying he had to upgrade every button, every room, that's a levelling, the living rooms, upgrade was everything else and
Melissa
the host panel itself, right. So I think important, unnecessary work. But that has to come from somewhere. So we're able to do that. And that way we don't have to deal so much with the sharing room. There are currently still three rooms that are considered sharing rooms. But again, with natural turnover, we
Erwin
will then have legacy tenants. Yes, right. Right. Okay. Yeah, students.
Melissa
Some are I mean, I don't have a tonne of information on them because we inherited them, right. And that's pretty typical. When you inherit 10s. You don't always have the same place them yourself. We got that they were all international students. Okay. That's the information we got. So, but yeah, but again, they're all good. They're all lovely. So we're not trying to move anyone along any faster and they want to go
Erwin
there. My experience has been pretty good with international students in terms of like, they're they're nice. They're not trouble. I just find that them. My experience has been they're messy.
Melissa
I don't find them to be that bad. Like we've been another tiny
Erwin
partly because we gave him a pretty big house. Yeah. So you know, you have a big house. You have a lot of money. You seem to fill it. Yeah, they feel that Jana use whatever. $300 shoes, brand new bicycles. You don't see that this house, right? No, no, just a demographic like your property which attract different than mine. And we'll get to that actually. Definitely one. Yeah. So how much do you think you spend on rentals so far?
Melissa
Oh, geez. I didn't write that number down. ballpark. It's probably around the 20,000. Mark, I would say, Wow, I
Erwin
think I would have spent an electrician alone.
Melissa
I don't think he was that much. Like he was cost, buddy. I don't think it was. I think it was around there.
Erwin
That's a good electrician. I don't want to share that name.
Melissa
He doesn't work for the general public. He works for me. Well, he works for himself. But he'll do work for me.
Erwin
So what do you do the total rent is for the building.
Melissa
So right now currently, we're at about, so we're just under $4,500 in rent right now. But we have three rooms that are vacant. So the one that I just had to reject someone, another one that's ready for rent and up for rent, and then a third that needs a bit of a refresh on it. So when it's fully occupied, probably be around 5500 100 to 6k. I think I estimated that at least with the current with some of the current tenants there. So when some of the current tenants do turnover and those rents are a little bit higher, they're probably be around the 6600 a month or so Mark?
Erwin
Oh, Jays are pretty impressive numbers. Is everyone inclusive? Yeah, everyone's inclusive
Melissa
and the Internet right now that it does include the internet always. Yeah, like a commercial package, but just a regular internet package.
Erwin
I don't know, for loving people.
Melissa
I don't know. No one's complained to me. So it's okay. So we need that to run our security system, or our alarm system I mentioned for monitoring. So we did that. And they just we could run the code and neocon there's no issues Not that I've heard.
Erwin
Nice. Yeah, I included internet once and they displayed I got like mail from like, I don't know who gave me some email but like our kids were downloading like Game of Thrones. Okay, so I got some sort of copyright infringement letter letter in the mail from, from our internet provider,
Melissa
it's been pretty quiet. I'm not usually a fan of providing internet and given the choice in most places to say don't do it. But sometimes it makes sense. And in a place where you have the guy who was like this, to me, it's, it's every single person that we're gonna hook up their own internet. That's a little match. It's 11 rooms. Right. So
Erwin
you must have a strong internet provider. Yeah. To have no complaints. That's impressive. Yeah, I only got complaints for our instrumentals. For example, we let the kids do it themselves. Okay. Yeah. And then just like, for example, like, there's always support needed, internet goes down. We don't want them to contact us to contact the internet service provider, contact them directly. And they'll do that if it's your accounts. Right. So and also, we just don't want to include last utilities, just for our own for our own sanity.
Melissa
Yeah. And then this one, I mean, we kind of have to be inclusive. And so we opted to include them. And it's been fine. I mean, right now, the cap rate when I purchased them when I projected it out. So if we were at the full rents that has the potential. And with the expenses, I figured the cap rate would probably run those six and a half 7%, which is really good. With the rates having gone up, of course, this is a commercial mortgage. Right. So it's not your typical residential mortgage. So the costs that come with getting commercial mortgage, commercial appraisal 2500 to $3,000, you have loan reviews that need to happen. The rates generally a little bit higher. It was Libero credit union that actually funded this property. Yeah, so and they've been good to deal with. But of course, it was a variable rate mortgage. And so the numbers don't look as good on that right now. But it's not something that we can manage and withstand, you know, these things happen in real estate. So
Erwin
what kind of terms like 30%? Down? What kind of variable? Is it? Did they have any sort of discount from Prime,
Melissa
little fuzzy on that now, it was 25 to 30%, down that I had to put
Erwin
right, which is difficult commercial you to put more money down then than anything residential fine.
Melissa
It was fine. Yep. So I went through a broker on that one who was able to source it, they did a great job with it, because of the number of properties that we own, it's not your traditional aggregate funding and get pre approved and whatnot. Right? Everything's a case by case basis. So it was actually really great that this was a commercial mortgage, because they looked at the viability of the property itself. So they looked at it when I bought it and said, this actually looks good, we will lend on this. So that's wonderful. I really want to make sure that the property is positioned well, that when I do have to renew that loan, that they will look at it and still feel the same way. Because because the costs of borrowing have gone up. So I'm still confident in the viability of the property. I think that again, we've we've learned and how to manage some things that are pointed out by residents to us, like we tried to listen to them, and give us as much as we can to what, what they're asking for so. So that's good, and also foster the fact that they're all adults, and they also need to take responsibility for maintaining things and caring for the property and that kind of thing. So you know, I'm not a babysitter. So um, so it's been good, it's been good. It's definitely for them to have a different management style that was in there before. It takes time to get used to, but we're doing it
Erwin
right here. They gotta be happy. It's a bit of pain with a disruption, we come from the renovations. But
Melissa
again, no one no one, there's a complainer. No one's complaining about that. They just, we just let them know, Hey, we're gonna be doing some work in here. When we're heavy around exam time, we do just say, Hey, you like what there was a period where we said, we're not doing any renovations right now, because we're recognised some of you on our exams, and maybe in meetings and stuff like that. But then, you know, hey, you're gonna expect we're going to be on site, you're going to see this and no one's complaining.
Erwin
Are you looking at more add more of these type of properties to your portfolio?
Melissa
I don't know if I will look to add, like from our legal rooming house, it was something that I looked at at the time, and that, hey, I think I can do something great with this. But there's just simply not a lot of them around. I've been in some of the other. I call them rooming houses in the area. They have come up for sale, but they are not in the kind of shape I think I want to contend with. So I just I don't know, my answer is I don't know or see. Maybe for listeners
Erwin
benefit. Please understand Melissa's property is not like most rooming houses. The rooming houses I see. It's usually pretty tired. There's always people on the front porch smoking or drinking. This is my observation. And I'm saying that that's true of all of them. Then they're doing that during working hours. Right. Again, that's I'm not saying that's for all of them. But that's just what I observation because I know my neighbourhoods. I know where the rooming houses are. Yep. Right Good. Well, again, just like you, we've looked at purchasing them. So it's something that I had to study. Fascinating. So okay, what's what's the makeup the rest of your portfolio? That's in Canada for now.
Melissa
I feel like I've got a little bit of everything. I've got single family home. They've got a townhouse condo, there's a condo in Montreal. There's a couple of smaller multi unit buildings as well to some in varying stages of permanent renovation. I actually just got a permanent approval on one property so I can now go ahead was actually splitting one unit into two And so I'm super excited about that it's been a long time coming. And yeah, so more on the smaller side. And as I've learned and grown as an investor, that's been significant and important, because every time I would acquire a property, I would do something more, do something bigger or take on more work with it. So I, I would learn through that myself, which is great. And then again, our tenants that rent it are more of the everyday type of person. So some are working professionals, of course, but it's yeah, just kind of more the everyman type of type of property, you know, families and like people live here, right? They live in these homes. So that's worked really well. And I and I've been I've enjoyed it. So we have a number. Now there are a couple in downtown St. Catharines. As well, too, that we are stages of permit application with that we haven't submitted to yet consulting with engineering H fac, but really just looking to create more value and add more density to those units, which is really appealing for a number of reasons. And it will also change what our portfolio looks like. Because now again, we're adding like different types of buildings to it. So like they're both zoned as commercial. So how you go about and apply and do things is different. And I'm learning all along the way. I'm leaning on my investor friends for questions, and they've been generous with their time and helping me figure some of the stuff out that I need to know. And, and so that'll change how it looks like in terms of where it's going. I of course International and we can talk about that we'll get there, we'll get there. Multifamily in general is something that I just think it's the way things are going with the cost of housing and the affordability for the people that are going to live them particularly in our area. So I do see more of that.
Erwin
And then what are you looking for in terms of property of these usually beaten up? Or you're just or somebody needs work? How much work? And where do you draw the line?
Melissa
Where do you draw the line? That's a good question. For example, I
Erwin
generally won't touch anything with a busted foundation. That's pretty much the only line I draw,
Melissa
I would say, yeah, so something was a was a poor foundation, I would say no, I mean, but I've I've purchased the place that had no running water. And we couldn't figure out why we'd call a plumber and deal with that, right? Like the water doesn't turn on. We're not sure what happened here. So at the meat of the main at the water, the water wasn't on in the house. And there was no conclusive way to determine why that was the case. And the owner was not very forthcoming with anything either. He's hiding stuff. And so I said, Well, I guess we're just going to see what's involved here. We'll just we'll get a plumber out and get them to deal with it. And it turned out to be a minor issue actually. So I don't know why they couldn't just unless there was something along the connection somewhere that was something was leaking. I think what I think happened is that at some point, a pipe burst frozen. And the he just said, Screw it. I'm not even tracing this through the lines and shut everything down. The place was empty for months and months. It was actually really rewarding to be able to bring that back onto the market for someone to live in.
Erwin
Was this a pretty messed up house?
Melissa
No, I wouldn't say it was messed up. There was some older laminate probably right maybe the original kitchen there was some new carpet in some of the areas which I ripped all out has fun. He's like why are you taking out new carpet it's it's ugly. It needs to come out. It wants to take them for long in a rental we we renovated the upstairs bathroom so that was new and put new vinyl plank flooring throughout the trim in this place, you know the old wooden style trim like the white stuff that you see in older homes. So I had throughout I actually received it all a darker colour was just a really dark brown something a little bit more current in terms of the colour, which took forever but I just thought I wanted to keep the character in the home and we finished the loft area as well to it been previously unfinished. So it's like whole bonus living space and then we put it on the market. It's it's been good.
Erwin
Okay, tell us about this more recent deal. What kind of properties? How many units more recent deal? Which one? The one you're talking about now that the frozen pipe and flooded?
Melissa
Oh, yeah. So not so that one was I picked up that up probably a couple years ago now. Okay. Yep. So the most recent one actually, acquisition wise I think would have been the rooming house.
Erwin
Okay. Yeah. Yeah. It's funny because as you talk I hear like Christian skillful go out to you. Christians amazing. Yeah. You mentioned you've leveraged investor friends. So this is something I find is often missed in our circles is like people don't know how to leverage investor friends. Like for example, I get you know, I get random questions all the time. I don't mind taking a question or two. It's just I find there's a lot of people that do not know and who did not read the book How to Win Friends Influence People, right? Listen or something listeners, if you haven't read it, please read it. It will change all your relationship building skills. How do you get Christians here quite successful and wealthy, it doesn't need to take doesn't need to help people as you get into to help you.
Melissa
Um, I would say that, like in general, let's talk about Christian for a second and this is really funny if he watches this, but a Christian is the kind of person who wants to help people. And we I'm trying to think of where we where did we meet? We met at some conference. So I'll back it up just a little bit in terms of the networking piece. As an investor, you're kind of a lone wolf, you're out there doing your things. People talk about networking. We see more on social media now. But that's probably more of a recent thing up until a couple years ago. So my daughter is she's about to turn four. So when I went on Matt leave with my daughter was the first time I started attending real estate events. And just going out there, I literally drive to Cambridge, I would drive to Ottawa, by myself, and just go and attend these things and just kind of make friends. And I've always been like that, in general, but specifically dealing with a real estate focus. And that's how I started meeting people. Now that I'm pretty sure that's how I met Christian as well, too, when we, we actually did end up working together on a committee, we were looking at putting together a lobbying group for landlords. And so myself, Christian, Elizabeth Kelly, Tony Miller, we spent a fair bit of time together just working through that as like a concept, and then it ended up not going forward, which is okay. But we developed a friendship through that as well, too. And then we've kept in touch. And, you know, I try really hard, especially when we know, those who are doing things, doing things, well doing things, right. They're also quite busy, their time is valuable. So I try to make it a habit of not imposing on people's time, and just kind of reaching out like, you know, hey, I've got a question Is this something you can help with, you know, when would be good for you, instead of just assuming everyone's available at my beck and call, because that's not really the case. And I just think it's a mutual respect back and forth. So I'd like to think I helped Christian on some things, and he definitely helps me so.
Erwin
So he's your mentor, then he's not your paid coach or anything like that? No, although
Melissa
he does offer coaching selectively. And again, something he does, because he wants to, but I would think that anyone fortunate enough to be in that programme is going to really learn a lot.
Erwin
In same thing with Elizabeth Kelly.
Melissa
Yeah, I love Elizabeth, I actually did engage Elizabeth for coaching. So after we had gone through that lobbying group thing, we kept in touch. And for me, I wanted to make sure there's a lot of people out there that call themselves coaches, or just their coaches, and I'm just not really sure what they have to substantiate that. So I spent some time just watching Elizabeth, seeing how she does things. She's got a wealth of experience. And I wanted to make sure that I was going to learn from someone who was compatible with me in terms of a working relationship, but also hadn't knew more than I did. Right. I can Google with the best thumb. But at some point, you hit a bit of a wall. Honestly, I need someone with experience. And we talk about you know, someone making time for you that sometimes it means you have to pay for their time. And I'm perfectly okay with that. So I engage Elizabeth for coaching, she really helped me a lot shortcut my learning on a lot of things. So I could figure out what were some new things maybe I want to try and do and strategies and whatnot. And she has been continually supportive of everything that I've done long since I've exited that programme as well, too. And that's good. Yeah, yeah, she's she's just a good quality person.
Erwin
I spoke to someone recently where someone who hired hired a coach ran to massive financial difficulty based on the coaching they received, and the coach would no longer support them because their term is over. So it looks like you got lucky. Yeah, you're Googling skills worked in terms of your reference checking?
Melissa
Yeah, it's it's due diligence with everything, including coaches. Right. And, but I speak highly of both of them, because I think they're both have a lot of integrity in what they do, how they run their business, their coaching, it's great. And I know that I can, I've benefited from that. So another person, surely what but yeah,
Erwin
yeah, fantastic. Are you working with partners as well, on your current portfolio on your current properties?
Melissa
Not really, you know, a bit on the international stuff that we talked about, but no,
Erwin
I don't either. So
Melissa
I wouldn't say it's something I intentionally did. But over time, it did become intentional. And I just at the end of the day, I have to answer to myself. And that's, that's enough for me, if things aren't going right, and sometimes things don't go right, I can make all the decisions step in handle it. And I just simply don't have to worry about another person in the mix. So I just real estate investing can be difficult enough. It's not as easy as I think some people do think it's easy what you see on Instagram or HGTV. It is not, it is not. And we've all seen those shows, but I just felt that people are messy as well, too. And I just didn't really want that added complication to it. I have done some partnerships. So I did a partner a partnership on a flip that I did, and and that went well. And it was fine. It was great. But it was a short term. It was a short term situation, right. And I needed to make sure as well too, because when it came to the funding, and it was private funding for it, although we had a partnership on the deal, I was personally guaranteeing that mortgage so I need to make sure that I also have the decision making when it comes to selling this place. Because I don't need my financial position dictated by another person who maybe starts getting we'll say frustrated or how they see things are going in the money thing. I just need to be able to make a decision. It's a business and I can act in that manner. I don't get emotionally attached to something so I just really felt that it wasn't necessarily right for me. And that's okay. I've been good with that. doesn't mean that I don't have 100 properties. Now I don't. I don't, I'm not trying to keep up with anybody, right? I don't feel this need to collect properties and in doing so collect all these relationships with people that are completely outside of my control of what can happen. So, yeah, it was just the mess factor. I figured not.
Erwin
Yeah, I need to check on some of those other folks that I know who had 100 Plus properties. There's like two folks, I know, it really regretted. Not just because of all those relationships, but that like, I don't think they made money. I think they might have lost money. And then imagine that having 100 property portfolio and losing money.
Melissa
I mean, I have a much smaller one. And it's losing money as well, too, right? I mean, that's something I think a lot of investors are dealing with right now. They're dealing with rising interest rates, variable rate mortgages, and managing the cash flow on that and feeling a lot of pain. To me, like the only way to really work through that is generating more income and doing it in an ethical way. Right, you can just start telling your tenants, you know, pay more arm selling and kind of bully tactics. I understand sometimes that's the reality, but we don't we don't employ those tactics ourselves. So my intention was never to sell anything in our portfolio for the foreseeable future. So really, I'm just looking at what are options, I have to increase income, which is where some maybe some renovations come in, increasing, you know, the value of a place how much rent it brings in and that kind of thing. So that's so that's really good. But again, I can make all those decisions. However, I want to for better or for worse, myself, because I don't have another person I need to factor it. Right. So for me, that's just that's just my preference.
Erwin
Do you use an example existing property that you're doing to increase income? Yeah, so
Melissa
actually have as an assistant triplex in Welling and we are. So there's a one bedroom unit that became vacant a year and a half ago, which is quite some time, we ended up having to go through a committee of adjustments to get approval on a variance on parking prior to getting our permit approval. And that was a process that takes some time. And I didn't want to put anyone in the property during that time. Because firstly, I didn't want to displace them later. And second, even if they're in agreement and say, That's okay, it fits my timeline, when the push comes to shove, it probably does it and you have a problem.
Erwin
And are happy with those situations
Melissa
now, so it wasn't supposed to take a year and a half, but it did. And, you know, again, it is what it is. So now we've got permit approval, and we're going to split that unit into two, I'll call them micro units, their bachelors support 250 200 A square 260 Square Foot each. And so it can be quite small. But for me, again, I did small, it is small, it is small. So rooming house, but we're gonna do what we can in terms of functionality. And again, that type of unit is intentional. On my end, we have people who even are working or are on a fixed income and and that could be anyone from social systems to retirees. I mean, that could be you know, just anyone in that demographic or someone who just really wants to keep their housing costs low. And I mean, you pay more than one I would rent these out for you pay more than that to live in a motel room because you can't find access to housing, we have such a shortage of this type of housing. So so I'm really looking forward to it. And on top of that, it's really going to improve the cash flow for the property. Right. So something that currently is cashflow negative, because of the interest rates and whatnot that are there in play once this renovation is done will now be at least maintaining itself if not cashflow
Erwin
positive, love it. So yeah, so triplex or four Plex triplex four Plex,
Melissa
yep. And it's within the existing envelope of the building. I did explore a little bit having the carriage house in the back, but it's still a little bit of a newer concept. And well, and I think some people are doing it for I can't remember who but it's new enough that I just felt that especially with the neighbour that I have, who's a little difficult, and vehemently opposed my application committee to even get this done. I just didn't think that was a good fit for this property
Erwin
of so Oh, the NIMBYs Yeah, I think that let me so at some point will be will be considered socially unacceptable. At some point.
Melissa
This is the same person who this this neighbour, he called me an absentee landlord on our first meeting. It was a really great, let's super well, well, in the same breath admittedly has rental properties elsewhere. I'm like, sorry. Yeah. Are you an absentee landlord? They're like, what's your problem? But he's always got a problem. So just protect yourself interest? Yeah, it's okay. It's fine. So what is naturally
Erwin
what what is what an MBA is they're just protecting their own looking for their self interests. You know,
Melissa
we can cry about the cost of housing, but at the end of the day, what are you doing to generate more of it to bring the cost down? Right, so I know what I'm doing.
Erwin
Well, there are two. They're just opposing yours.
Melissa
Yeah. Yeah. So anyways,
Erwin
literally not in my neighbor's yard, but yeah, pretty close, you know? That's wonderful. What's gonna cost you two, to convert the one unit to two.
Melissa
I'll peg it around the 100,000 or So Mark, depending on some variables. It's got to be around there because we're gonna have to take up the line Coming into the house, we have to increase the size of that. But we are going to
Erwin
sorry is that hydrogen or water that will be water, right water. So
Melissa
so the line that's coming in currently isn't isn't big enough. So we'll need to do that, we'll need of course, run all the stuff inside, there's going to be some fire requirements that we're going to have to meet. Where are going to, I want to have both of the rental units separately metered on hydro. Currently, it is separately metered and all the units in the building. So I want to continue that. So at least a person can have their own hydro and be responsible for managing that. So I'll do that. And then it's going to be the cosmetic stuff inside and buying appliances and things like time so so even though the units are smaller, there's some things that are just going to cost a certain amount because they're going to cost and then the rest is subject to what we do how we finish things. But with the space being so small, I think it'll be pretty manageable.
Erwin
And there's a bathroom to the kitchen and bathroom. Yeah, so
Melissa
in the kitchen. So they'll have they'll have a bathroom. The bathroom will have I believe shower only they will have ensuite laundry,
Erwin
Pretty sweet deal. Yeah. And then when you begin generate in terms of rental income, what started what was the rent? What was what would market rent be for that single unit? If you'd left it as is,
Melissa
if I'd left it I just as I say probably 11 to 1200 plus hydro? And then what are you thinking get going forward? For a self contained? Even though it's a bachelor unit? With ensuite laundry, I would say probably around 1000 A month should be doable.
Erwin
Oh, you're almost doubling, doubling your rental income from one.
Melissa
Yeah, so it like for some people, that is not going to work for them, the space is going to be too small. But I think that there are so many more that it will. And I want to unnecessarily even if I could probably try and push it beyond that I'm okay with it being more on the affordable range to have a better pick of tenants, of course, which is always important. And I mean, the math will still work. Right. So unfortunately will be under rent control because it's an existing space for a rental unit. But but we'll see. I mean, I'll reevaluate it at the time. That's what I pegged it at. I think that's reasonable, you know, to expect including the laundry in there and with everything being brand new. And I mean, we'll see if it ends up being a little bit less, okay, if it's a little bit more great, just but I think it'll be worth money I got to put into it for sure. There has to be a factor we can't ignore that. I can talk about being community focused all I want the end of the day, the dollars do still have to make sense. So there's no question of that. I think that too many people not paying close enough attention to it. And at times I've been guilty, but that's how they really get themselves into trouble. And now when we have a you know, right and rising rates, managing costs, you have very limited levers you can pull to address that, right? You guys have your financing and renovation. So I currently have access to a line of credit that I would use to do that. So again, I'm looking at how am I going to fund this now, but then what are my options going to be when I go and say, Okay, I want to refinance this place and clear that line of credit? Am I gonna be able to do so? And the answer is, I don't know. And I don't know, necessarily just in the context of this property, it's going to add the value to the property itself, but in the context of my portfolio, and what a lender is going to look at that question is going to be up in the air until we hit D Day, right? There's no question about that. So that's also why I've been pretty cautious about some of the other things that I'm that I'm doing. And you know, I'm not, I want to make sure I have the funding I need to do the project I want to do. And if I can't pull that money back out, I need to be prepared for that. It's still gonna be okay. Right. Right. So that's how I'm doing it.
Erwin
I love this. I love this conversation, because like you're trying to cover all your bases. Like it's, it's pretty much a no brainer investment, spend 100 to double your rental income.
Melissa
I mean, even if,
Erwin
sorry, just one more thought we don't know how it's gonna reappraise.
Melissa
No, no, not 100%. I don't know. And I don't know what the lender sentiment is going to be with a real estate investor, given all the defaults, I'm sure that are happening right now in the market. So that that's kind of a thing. Even at five miscalculated that at the start, again, I have a rough idea of what these renovations will will cost because I've been involved in quite a few of them at this point. But But I don't know 100% No, I couldn't firm up my coats with people because I knew I was going to that committee process and the courts would have changed because of material change costs and things like that anyways, so even if I've, if I've underestimated that right now, let's say it's 126 140,000. still makes sense. Right? If I can get it done cheaper, wonderful. But if I don't, I've got that leeway. And that was really important to me when I was kind of embarking on the project. That was before the rates and everything changed even right. So
Erwin
one thing I've noticed among my clients and even my friend self, if you've run into financial, any sort of trouble with her no portfolio, I find often to sign one property will alleviate almost everything. You're the same. It sounds like you've cautioned this, you've grown your discerningly from your portfolio. I've had,
Melissa
I've definitely learned a lot along the way to again, I started out thinking I knew certain things and then I look back I'm like, Oh, well, Melissa, you really learned some things on that one, right. I was speaking with another investor on this the other day that some people might feel that maybe they failed somehow they need to Who if they need to or want to sell a rental property to alleviate that pressure? And I think we need to take that weight off of ourselves and just say, No, you're not a failure. Even if it's your only property, you're not a failure, if you're mitigating a situation that you need to mitigate, that's called being an adult, right? You need to do that. So I mean, I have a number of properties. And I've had this conversation with my husband as well, too. And he doesn't really get involved in the real estate. That's just kind of my thing. And he lets me do whatever be a cowboy. So but you know, he kind of said the same thing. I wanted to just sell a property. And we could do that. And I think that people who need to consider that should not feel bad about it. We have tenants that live in these properties, I'm not really looking to potentially put someone in a situation where they could be displaced. And it was never my intention to sell so much. So my first goal is, can I mitigate this from a cash flow perspective? What can I do to generate the income to make it still make sense for me, but at some point, you know, that comes into the equation is maybe we need to sell something to kind of offset and address this over here, and stabilise everything from a cash flow perspective. And that's okay, too.
Erwin
Yeah, is your HELOC is probably over 6%. I'm guessing. Yeah, something like that. Right. So if so, if you sell one property, you're gonna be saving 6% 6% or more, that's pretty attractive. So I think it was wrong to consider selling off one of their properties or two of their properties, whenever you know, you'd have a pickle.
Melissa
No. And it's really just sitting down and looking at what are my options available? What's my current situation? What's my picture? What does my cash flow look like? Have I properly assessed what that cashflow looks do? I have in here, capital expenses and maintenance and property management and vacancy cost? And all those things once they're kind of built in? When you look at your true cash flow? If you say, Wow, this is this is really not working, it's not gonna work long term, you have to have a plan and that could be selling a property. And I think that that's okay, like, give people permission to do that. There's nothing wrong with it. Absolutely. It's just this mindset of I gotta get more more, more, more, more. More. It's not necessarily better, right?
Erwin
I'm working me more problems. So yeah, you run into them, especially since you're managing, yes, you're managing both the renovations, you're basically sounds like you're on your own doctrinal contractor, in some cases, and you manage your own properties. And you have a pm company as a property management company as well. Yes, I'm a glutton for punishment. Yeah, we'll get into that. I know you like to read. I love to read. I'm currently reading confidence game. Have you heard of that? One? No. Friend of mine who works at Google recommended it. Okay. Yeah. So it actually actually recommend everyone in our community read it, because it's more pertinent for some of these times than ever. Because, again, my friend at Google is also a real estate investor. And he's been burned by a con person who was a coach, right? And just in our own exchanges, I'll say, you know, it's like, that's, that's crazy, that this person burns you, they seem so confident, I have like zero confidence. I've been at this for a while. I have extensive track record, both my portfolio and my clients portfolios, yet I still like I'm still learning every day. So I said to him, like, I have very little confidence. I'm a white belt immersed, I see all these influencers, who are massively confident, but what people don't realise behind the scenes is all that some of them are crumbling, right, their businesses are crumbling, their portfolios are crumbling, their coaching clients are crumbling. So this is actually it's actually quite well documented all throughout history. It was certainly one that, you know, in our DiCaprio attachment if you can, yes, right. Like, there's quite a few instances of people like that character. Were just con people. And the commonality between all of them was their con people, which is actually short for confidence. They were all incredibly confident in convinced everyone, they were aeroplane pilots, surgeons, university professors, like that, that'd be the same person. Right? And they have multiple partners in terms of like spouses, just crazy. Absolutely crazy. I can do it. Because I might remember my brain would melt, right to be able to basically be a pathological liar. Right? To like, yeah, let me operate on this person. Like to assume that kind of risk level, and all these people are watching you, like, and then we now my point is, we see it now in the real estate community as well, when you see con people, not necessarily evil, but they're incredibly confident. And then where they fail is often they're so confident in themselves, they don't see their blind spots. Right? Versus your approach is you're looking for blind spots.
Melissa
I'm always trying to and and I think so my background is coming from finance to I worked in bank for a long time and consulting with investing. I was, you know, licenced to do so. So, I've got a long history of working with other people's money, and helping them make decisions that work for them. I wouldn't say telling them what's good for them, but helping them make those decisions that are going to work for them because it's not for me to dictate how someone handles their finances. If they wanted my help. Then we could talk through what were their priorities and what were the best things to do. So I think that that's really extended into the real estate piece. It's also Extending the property management piece is that, you know, if there's something that I haven't done before, or something that I'm not 100% Sure on, I will disclose that I'm okay saying, Hey, I don't know, or I haven't done this or if we're willing to do this together, just know that there's probably going to be some learning spots on it. And then you make the decision whether that works for you or not, I would rather do that then. The whole fake it till you make it with other people's money and properties. I'm just not okay with. Right. I'm just not okay with it. And, you know, I'm sure that there's times where some people may instead of going with us go with another person, because they have that type of confidence you're talking about, but I'm not sure that it really serves them. Well. I mean, it's okay. And and maybe it does, maybe it works out well for them. But I just I'm okay, admitting where I need? I don't know. Right. And I think we need to see more of that as well, too. And I will see
Erwin
it when we sell these power sales tomorrow. Yeah, all those
Melissa
power sales are going to happen. I mean, I've I've sat.
Erwin
Overall, we're gonna all find out what the sellers are doing with social media and internet. So he's a trace back where they are they don't. They were trained by?
Melissa
Yeah, I mean, my advice to those people, if there is to get to get ahead of that, and start making your moves now and kind of improving things and taking better steps forward, because it's going to come out. Right, it's going to come out,
Erwin
a gentleman was telling me on the weekend, he had sold, I think, seven or 12 packs or something to somebody all who bought it in told me who bought it like did you check them? Like did you reference checking, they know, like, Okay, what's her name, or my Facebook app type in their name. And my social media is and know exactly where their friends are? Who would train them. So I warned them, this may not go through. So just be ready for it. Here's why you did all that, like, people post all this on social media. Google, Google. Mark Zuckerberg tracked it all for you. Right. So yeah, be careful, because there's challenges out there. And so yeah, he think before it is he's checking to make sure his deposits good.
Melissa
I mean, I've had that, yeah, I use a real estate agent for every single one of my sales and most of my buys and the bias that I do, even if they're private, I still hold my real estate agent through because usually, it's something that, hey, this is a flip, and I'm gonna need you to sell this after you see what I'm seeing. And I value the real estate agents I work with, because they bring something to the table for me, do they get paid? Yes, they do. But just because the markets, you know, things are selling very well. Or like, it's just not so easy to have all the knowledge and experience real to give you so I'm a big fan of working with one and I do so myself. And yeah, it's a little bit of due diligence really goes a long way. And when deals go sideways, I guess that was kind of the point I was getting a deal if the deal goes sideways, and something needs to be negotiated or handled. And real estate like something's always going sideways. There's something that's coming up with every property, there's a problem. There's a negotiation issue, there's always something and just you need to be prepared expected to handle it. But you know, are you working with qualified buyers as well, too. It's something that I've also run into quite a bit, I put an offer on a place that's a private buy, that comes along with just so you know, I'm a legitimate person who can actually fund with this deal. They want to know that there's a wholesaler and when I'm selling a place, if it's a flip, you know, do these people seem like they can realistically actually close on this? Right? So it's important to keep that in mind for sure.
Erwin
You don't want to be selling to a wholesaler.
Melissa
I don't even care if I sell to a wholesaler per se, it just needs to be someone that can actually close on the deal if that's the case, right? I mean, what they do is that once they own it is up to them, right? Just my real
Erwin
estate investing is like for example, we have one client who's going to be suing the person who bought from a wholesaler it's gonna be like 300 grand in losses. Wow. Right. So and then we have another case I can't go into too much detail but there is a non disclosure, material material non disclosure and also wholesale deal. We advise the client to buy it they still did and then the first stop working in the middle of this winter Okay, so the frozen pipe burst. Oh no. It was supposed to close is supposed to close in two days. Oh, no. Right and so, so when you're going to difficult properties you need to understand buyer beware, especially if agents aren't involved in our experience. If it's wholesale we're having way more difficulty with the properties we had one client buy wholesale property sold and disclose a major foundation issue right is behind drywall so no one see it is under attack behind drywall. It looks like it my I'm always I always think the worst. I think we hit it.
Melissa
I had well, I mean on top of wholesale I mean I've purchased from a wholesaler and the property had issues and we will we knew this right you know, it was quite apparent that there had been a problem with the property and and that was okay we go in you know, dealing with that. I call it like my flip flip flop. This one ended up being a flop because what As it turned out is that and the seller did not, I'm going to say that I would think it's likely the seller did not disclose it to the wholesaler, I don't know questions. Either way the information did make it, it will make its way to me. But right before we were about to list this property for sale, we get a letter from the city that there's an open permit on the property. And not just any permit, there's an engineering component to it, where they wanted to inspect kind of the framing of the front and look at the foundation. And after all my investigation and kind of where it should go out. At the end of the day, what I think happened is that they put in a claim with their insurance company, the adjuster came out, they got this big quote, to do all this work, which quite frankly, were very minor items and inspection points as it turned out. But once that permit is open, you have no choice but the closing, they took their money for the settlement, sold the house. And then I was left to deal with it. Normal title. So title insurance generally covers things like this, you have to do a specific search with the city for things like bylaw complaints and stuff like that. And a lot of lawyers probably don't do that. Some I've specifically asked for it. But I would find it as a normal course that doesn't get done. Would that have found this? Yes, it would have title insurance has been a bit of a nightmare to deal with. And the latest is because I no longer own the property. Now it's not a valid claim. So I'm gonna have to go back and look through all that see, but I had to hold this property for a year to deal with this issue for app, right. And a property that while I brought it back to life, and significantly improved it from a cosmetic standpoint, dealt with some of the bones, the place that needed to be dealt with, was supposed to turn a profit, of course, and there's an expectation of profit on it. I think I've gotten 900 bucks in the bank, after all said and done. So I'm fortunate that I'm not in a position where some people are upside down underwater losing money. But I think that's also again, a reflection of just being prudent. And it was me that was dealing with that not me and a partner. Yeah, imagine you had a partner, that would have been a whole different kind of pressure and situation. So yeah, anyways,
Erwin
a lesson learned in my experience, like, if it's wholesale, actually due diligence. Yeah. Acts were like double the due diligence you would normally do for any sort of property.
Melissa
I mean, you know, I would say I would say it's probably fair, I do think that they disclosed, most if not everything that they had there, I look at him. And I don't want to say that I think that they held anything back, I look back again, what did I learn from this, I learned that when I walk into a property like that, there's some extra things I should be doing every time without question. And if I had done so, I could have resolved this a lot sooner than I did, and possibly, you know, seen some of the profit that it was looking to get, right. So I have to look to myself as well to every real estate deal that I do I have a responsibility to make sure certain things happen, because I can't always trust that other people are going to or that they're looking at it from my perspective. Right. So yeah, so all sunshine and rainbows is it? It's not it's not a shirt. It's not maybe it doesn't Mexico.
Erwin
I thought I was gonna say Belize, Belize to an American. There's good things about Belize while you're while you're there.
Melissa
Belize is beautiful. It's a lovely country.
Erwin
Yeah, you stupid divers that way in Belize. No.
Melissa
Definitely not what you're going to Belize or I'm scared of a lot. I'm scared of heights. I'm scared of open water. Okay, I'm scared of swimming. I'm scared of all these things. But I'll still like do stuff. So like to be in a place like Belize. I'm just like, there's so many scary things, but I go on. I just try to enjoy it anyways. I'm definitely not a scuba diver though. I've
Erwin
never wildlife and there's gonna be poisonous snakes and stuff and probably giant spiders. Like it's just it's Caribbean like that's yeah, you know, when you don't have winters that kill stuff and stuff lives and grows bigger and get more aggressive. Like
Melissa
when I was there one time I did swim with sharks. Sharks. Yeah. So for all those things I'm scared of I still just try and experience life anyway. So it was pretty cool.
Erwin
So what's the plan? What believes you buying for recreation, you buying everything bees are just vacation property for yourself.
Melissa
So right now land purchases and purchase. So I mean, so Belize has a population of about 400,000 people. And where I've been buying is on ambergris key and there's about 14,000 people give or take live on the island, I double check just to kind of make sure just to give some context of the size of this place. So on ambergris key San Pedro is the town and that's where they have their little airport that you can fly into. And there's an area called secret beach and so secret beaches where I've purchased some lots. And then north ambergris key is actually where I've purchased the beach as well, too. So it's it's all land purchases, and the island is it's an island. Well, it's a key but it's an island and it's still going to be developing over time. For example, in the secret beach area, everyone's office solar, you know, there's no hydro lines running there yet. Oh, boy. We hope that that will come in the future but people are still building and there are people who are living there and some are renting their places out and that's lovely and you I think the future looks super bright for the area. But right now it's land purchases, I've looked at purchasing actually built properties there. But I just found that the price point for me to do that didn't really fit was what I would need to put out. And also in conjunction with some of the other things I have going on, like my projects that need to be funded, because you have to cash by right so you better be ready to leave your cash there and let it do what it's going to do. So the land, the land that I own is land banked right, it doesn't earn me any income. So there's only so much that we can do. The prospect of any building on it is probably probably years away, could be a couple of could be a few could be several depending on which lot we're talking about. But it's definitely a wonderful community, I absolutely, I've actually bought land there before I even visited release during COVID. I just bought land into a country I've never been in. So that was different. But when I actually got to go there, it was like, you know, when you travel places, and they just feel like home. That's what I felt like I really, really thoroughly enjoyed it. So then we bought some more. And that's where the beachfront came in to do us agents
Erwin
and lawyers and all this, like, how is your land secure.
Melissa
So there was a title company that we use that did all the searches, and they made sure that we needed to have a survey done on the land and things like that. So there are agents that are there that you can work with as well, too, it is important to make sure that you're getting the title that you think you're getting, and that the person who's selling it to you is actually able to sell to you and everything works super slow and believes as well, too. So it takes months and months to close on stuff. And so it was just really kind of getting to know I have a friend that's down there that had some contacts as well, too. So getting to meet some of those people to me, I've been dealing with like through email and over the phone but title closing like they have to you have to stop at your professional someplace. I would say that it's the regulations are a little bit different than they are here in Canada, like here a lawyer's got to deal with that. Whereas there I don't think that necessarily need to be a lawyer.
Erwin
per se, less stringent right? Regulations.
Melissa
Yeah, yeah. So you just want to make sure like was anything that you're looking at who you're dealing with?
Erwin
What's the plan? Do you plan on building you plan to selling them off or build one for yourself and sell the rest of the profit
Melissa
will probably eventually build it? I just don't know yet. I'm not really sure what I'm going to do. And it may sound strange to buy land and not really have a plan to develop it. But the price point in going with these some of these was so low that it didn't matter. Right? I really looked at it as what's the worst that can happen. And I didn't really feel that it was gonna be that bad. If that did. So now the value of the land is increased. Maybe it'll make sense to sell it. Maybe we'll sit on it longer let everything develop around it. Maybe we'll build on it and rent it out.
Erwin
We'll see. What does the lock go for?
Melissa
In the area that I've purchased in? I think most of the lots are in the sorority, I'll say 25 to 35,000. us some could be more depending on where they're located in proximity to the water. Of course, the ones that we purchase got a fair bit cheaper than that they're worth definitely worth at least that for now. Which is great. So
Erwin
So I mean, I think you've already looked into what it would take to build it. Imagine building there's different than here as well.
Melissa
Yeah, it's it's different. And because you're out on the key, they have to barge everything out. So it's actually pretty expensive. And then you have to you have to think okay, am I building something that needs to go down to the bedrock is going to have a concrete block foundation with rebar? And am I going to build something that's going to be a wood structure? Like there's a lot of variables when it comes to building because you have to think of where you are right? You're not really in the hurricane belt but they like they had one that was potentially headed their way several weeks ago and I mean, is your house gonna be there after that you don't build there the same way that you do here. So So I want to say I think estimates were in at around 150 us a square foot if I'm not mistaken. I'd have to go back and dig up my notes on that one, maybe even a bit more for concrete. Right? So I mean, you just times out by off even a 500 square foot casita and all of a sudden you're like well, that's a little chunk of money I gotta put out right so it's gonna make sense
Erwin
maybe just wait till the 3d printing in Belize 3d printed house yeah. Well, you build it on concrete like well, you know what the worry about the hurricane well, you still don't worry about your roof but at least they're stressed the structure we find
Melissa
Oh, you have to have like cistern out there and your solar panels and stuff so just things I don't really know anything about right? Let it's just a matter
Erwin
of like imagining septic too. Yeah,
Melissa
I think so. Yeah. Okay,
Erwin
so folks cistern is for your fresh water for drinking. Well, the service the house in general,
Melissa
it's up some houses out there, collect rainwater and they filter it through and then they use that right so it's actually to me pretty economical living it's pretty cool. I just,
Erwin
well, you're off grid.
Melissa
Yeah, you're off credit. That's exactly it. That's exactly and it's just a matter of for me. I own the land. What am I going to do with it? At some point I will build one we're going to build not sure probably have some small houses on that one. And then the beachfront again we will see I it's right near it's The new Margaritaville that was just put in there. So I think that
Erwin
with also the commercial restaurant, the franchise, Margaritaville, yeah,
Melissa
it's like a whole resort there. And so with that will also come some commercial infrastructure such as a dock out and stuff like that. So so I'm interested to see how that goes and how that might drive our development of that land that we have. It's close by
Erwin
into this little cash unit, not HELOC money. Nothing's just cash. No, no, just
Melissa
cash. Savings it often spent it.
Erwin
No. Is there any cost of service in the land property taxes, anything?
Melissa
Property taxes and maybe a couple 100 bucks a year? Very, very nominal. Yeah. Aside from that, there's nothing there's nothing there. Right? Nothing to service. So
Erwin
well, here. Even if you have land, you didn't present any property?
Melissa
And you do. It's just not as much there. Yeah, very cool.
Erwin
And then can we show that your property management company? Sure. what's called
Melissa
a senior property management, your property management? Yeah. So Athena property management, and we're in the Niagara and the Hamilton area
Erwin
where you take on rooming houses, student rentals. Where do you draw the line?
Melissa
Where do I draw the line? That's a good question. So property management companies can manage a wide variety of things. Some are just bigger buildings, only some will do smaller stuff, some will do a mix of stuff. We are in the smaller building to like Dennis single family home. And it kind of works for us. But I managed another rooming house. Maybe. I mean, I'm okay with challenges. It doesn't doesn't faze me, you know, we were willing to take on complicated cases. And we regularly do because people just don't want to deal with the problem anymore. And so that's what property management steps in to do. Right? It's specifically targeted student housing. To me, I feel that's a little bit of a niche market. And it's not something that we're currently in. Could we do it at some point? Maybe. But
Erwin
yeah, it is niche pets on mastery over Instagram, saying that their property manager screwed them. Granted, their properties are not in good areas. So my my reply back to him was, in my experience, most property managers will not take on properties and bad areas. So I do stuck with what flow?
Melissa
Yeah, I have. So if you're familiar with St. Catharines, and the Queen Street area, super problematic. It's actually where our offices, it's right smack in the middle of things on Queen Street, and we manage some properties in that area. And they are challenging for a number of reasons. And, and that's okay, again, is everyone going to do that? No, they just want things to run fairly smoothly, or they want to be dealing with kind of maybe more quality or higher end stuff. And that tends to come with them. But again, I just kind of don't deal with everybody, everyday people and sometimes that includes low income areas, sometimes it includes problematic neighbourhoods, it's okay, we just we deal with what comes?
Erwin
How do you ensure that you get paid both your fee and also for maintenance or repairs or renovations.
Melissa
So how we run things, and this is probably an important spot to stick on here. Because property managers themselves are not regulated. If you manage condos, like the condo itself, there's the condo authority, but property managers have no regulating body. Right? So it's also going to be as a result different from one to the other and how they run their business. Yeah, everyone's different. Everyone's different, how I do it is we collect the rent from the tenants, our fees are paid out of that any maintenance that's been incurred has been paid out of that, and then we forward the net on to the owner. I do it that way, for a couple of reasons. I always know where the tenants stand in terms of the rent. So if I have to deal with a problem, I know early on that there is in fact a problem. It keeps our records very clear, and allows us to better service tenants. And it does. You know, of course, make sure any receivables and stuff like that are paid. So that's, I would say an extra bonus of that. I think all the other stuff definitely comes first. And it's just helpful for how we run our business. Fantastic. Yeah.
Erwin
We're way over time. The only social media you want to really want to share or a book that you have.
Melissa
I didn't write any books, I just read them. So social media, I seen a property management is for the business. We're on Instagram and Facebook, Facebook will have most of like listings and stuff that come up, Instagram still working on how that social media strategy looks. So I'm a little lazy with it. I do some better posting. But for myself, it's eat sleep, real estate repeat. So I like to post I'll post stuff on things that are going on the properties, food that I'm eating, when I'm travelling, that kind of thing. It's something that I might find that's helpful for people and whatever. It's my personal Instagram so
Erwin
amazing. And I'll have this on the show notes because you're gonna send this off to me. Melissa, thanks for my service. Thank you so much for coming in and sharing what's going on. Thank you. You are definitely way more social invested than last time. No.
Melissa
Thank you. I appreciate you having me here.
Erwin
Before you go if you're interested in learning more about the An alternative means of cash flowing by hundreds of other real estate investors have already, then sign up for my newsletter and you'll learn of the next free demonstration webinar I'll be delivering on the subject of stock hacking. It's much improved demonstration over the one that I gave to my cousin chubby at Thanksgiving dinner in 2019. He now averages 1% cash flow per week, and he's a musician by trade. As a real estate investor myself, I got into real estate for the cash flow, but with the rising costs to operate a rental business, it's just not the same as it was five to 10 years ago when I started there are forget the cash flow reduces your risk. The more you have, the more lumps you can absorb. And if you have none, or limited cash flow, you're going to be paying out your pocket like I did on a recent basement flood at my student rental in St. Catharines, Ontario. If you're interested in learning more and register for free for my newsletter at www dot truth about real estate investing.ca. Enter your name and email address on the right side. We'll include in the newsletter when we announce our next free stock hacker demonstration. Find out for yourself what so many real estate investors are doing to diversify and increase our cash flow. And if you can't tell I love teaching and sharing this stuff.

To Follow Melissa:
IG: @eatsleeprealestaterepeat @athenapropertymanagement
FB: https://www.facebook.com/athenapropertymanagementinc
HELP US OUT!
Please help us reach new listeners on iTunes by leaving us a rating and review!
UPCOMING EVENTS
You are the average of the five people you spend the most time with! Build connections with empire builders and trailblazers at our iWIN events.
BEFORE YOU GO…
If you're interested in being a successful real estate investor like those who have been featured on this podcast and our hundreds of successful clients please let us know.
It is our honour to give back and educate others on how we build cash flowing real estate portfolios using all the best practices shared on this podcast, from the lessons of our hundreds of clients and of course our own experience in owning investment real estate.
If you didn't know already, we pride ourselves on being the best of the best real estate coaches, having the best property managers, contractors, handy people, cleaners, lawyers, accountants, everyone you need on your power team and we're happy to share them with our clients to ensure your success.
New investor or seasoned veteran investor, we can help anyone by providing our award winning coaching services and this isn't all talk.
We have been awarded Realtor of the Year to Investors in 2015 by the Real Estate Investment Network, 2016 by the Canadian Real Estate Wealth Magazine and again in 2017 because no one told the judges no one is supposed to win the award twice but on merit, our peers deemed us as the best. In 2018, we again won the same award by the Real Estate Investment Network.
Hopefully being the most decorated team of Realtors in Ontario will make you consider us for your first or next real estate investment. Even if you don't invest in our areas, there's a good chance I know who would be ideal for you.
I've been around for a while, some Realtors are talented at servicing investors there are many with great ethics. The intersection of the two, talent and ethics is limited to a handful in each city or town.
Only work with the best is what my father always taught me. If you're interested, drop us an email at iwin@infinitywealth.ca.
I hope to meet you at one of our meetups soon.
Again that's iwin@infinitywealth.ca
Sponsored by:
Infinity Wealth Investment Network – would you like to know how our investors returned 341.8% on positive cash flowing real estate over the last five years? On average, that was 68.4% per year.
Just imagine what winning in real estate could do for you.
If you would like to know how we did it, ask us how by calling 289-288-5019 or email us at iwin@infinitywealth.ca.
Don't delay, the top markets we focus in are trending upward in price, so you can pay today's price or tomorrow's price.
Till next time, just do it because I believe in you.
Erwin
Hamilton, St. Catharines and Toronto Land Development, Real Estate Investor, and soon to be builder.
W: erwinszeto.com
FB: https://www.facebook.com/erwin.szeto
IG: https://www.instagram.com/erwinszeto/
https://www.truthaboutrealestateinvesting.ca/wp-content/uploads/2023/02/Melissa-Dupuis.jpg
630
1200
Erwin Szeto
https://www.truthaboutrealestateinvesting.ca/wp-content/uploads/2017/06/TruthRectangleLogo.png
Erwin Szeto
2023-02-22 21:54:34
2023-06-16 17:07:09
10 Bed Rooming House, Microsuite Triplex Conversion, Land Banking in Belize With Melissa Dupuis