30+ Year Mortgage Veteran is Angry. Very Angry! And Why With Ron Butler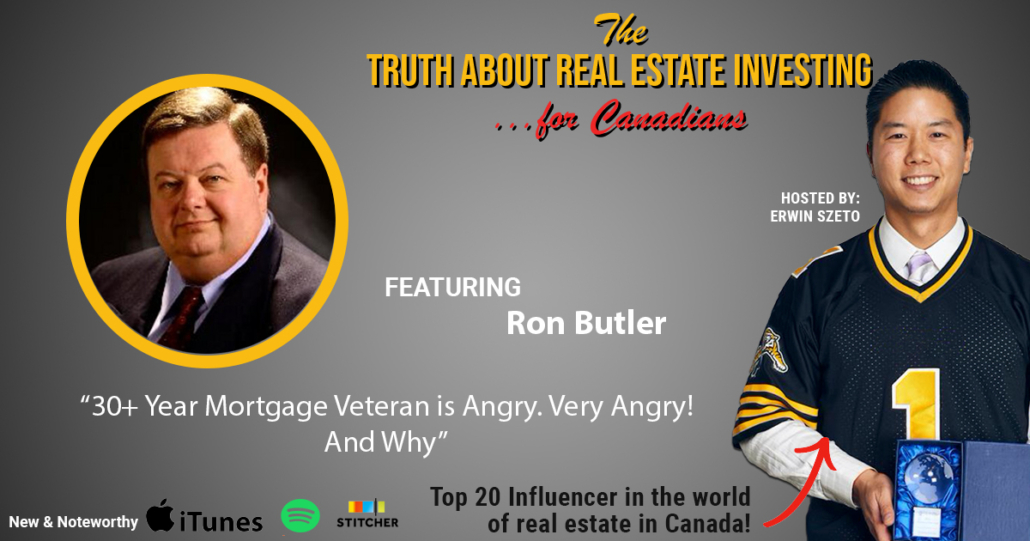 If you follow the real estate news in Canada on paid and free sources as much as I do, then you will have already heard of my guest this week, Ron Butler, who started in the Mortgage Brokering business just after the housing crash happened in the late 1980s and his company Butler Mortgage is one of the largest Mortgage Brokerages in Canada.
Ron is known as the Angry Mortgage guy. His podcast is literally called Angry Mortgage, where he rips on all the things wrong about real estate in Canada on both his podcast and to his 56,000 Twitter followers, where he has no filter, so I'll warn you now: there is some adult language not appropriate for the young ones during our episode. 
Ron is also a regular expert who is regularly interviewed on pretty much all the major mainstream news outlets. 
He's here today to give you an insider's view on why this current housing market is different than the crash of the late 80s, who's actually buying real estate today, advice to young people who don't have rich parents, how he called my strategy of buying houses for my kids a sickness and ridiculous.
But before we get to Ron, I hope you're all having a great summer and getting ready for an opportunistic fall/winter!  For buyers, this will be as good as it gets before rates peak and the rhetoric from the Bank of Canada is paused and rate cuts.
For sellers, the smart, motivated, those who cannot hold on for the next year or two while rates are higher.  They will successfully exit or be stuck holding the bag until spring.
I'll be sharing more of my research, what our clients and I are investing in, including the stocks I'm buying on the cheap if there's interest at the September iWIN Meeting Tuesday night, September 19th, for those interested in the truth about what successful, everyday investors are doing with their investments.  
We have a big-time developer sharing how they can still make money in this market, how folks can participate in the development and building of preconstruction without having to take possession of a property because personally, I wouldn't want to own, rent out, pay out of my pocket massive negative cash flow.
I'd rather make money alongside the developer and only risk my investment. Unfortunately, some preconstruction investors do not realize they can lose more than their investment if the property drops more in value than their deposit.
If you're already on our email newsletter, you'll see we've already announced the event and how to register. If you'd like to be on our email newsletter like the over 10,000+ iWinningest investors in Canada are already receiving to gain that information advantage, go to www.truthaboutrealestateinvesting.ca to stay connected, and be informed as a sophisticated investor should.
There's a right way to use leverage and a wrong way, and if you don't believe me, you can hear it from the biggest real estate bear I know personally in this week's guest, the Angry Mortgage Broker, 30+ year mortgage veteran Ron Butler.
Again, a warning: the language used by Ron to express his opinions is not appropriate for those easily offended, nor children, and they are Ron's opinions, not mine nor that of any of my businesses.  
If you do offend easily, please skip this episode. 
Twitter/X: https://twitter.com/ronmortgageguy
Website: https://www.butlermortgage.ca/
Podcast: https://www.youtube.com/channel/UC8vl-_vvvf7VZcxKPJ-v-Xg
In seeking any truth, getting opinions from several expert sources is ideal. 
Please enjoy the show.
This episode is brought to you by me! We don't have sponsors for this show. I only share with you services owned by my wife Cherry and me.  Real estate investing is a staple in my life and allowed me to build wealth and, more importantly, achieve financial peace about the future, knowing our retirement is taken care of and my kids will be able to afford a home when they grow up.  If you, too, are interested in my systematic strategy to implement the #1 investment strategy, the same one pretty much all my guests are doing themselves, then go visit www.infinitywealth.ca/events and register for our next FREE Online Training Class.  We will be back in person once legally allowed to do so, but for now, we are 100% virtual.
No need for you to reinvent the wheel; we have our system down pat. Again that's  www.infinitywealth.ca/events and register for the FREE Online Training Class.
To Listen:
Audio Transcript
**Transcripts are auto-generated.
Erwin  
Hello and welcome to the truth about real estate investing show. I am your host Erwin Szeto. And if you follow our real estate news as much as I do, as in both paid and free resources, then you've likely already heard of my guest, Ron Butler, who started in the mortgage brokering business just after the housing crash that happened in the late 80s. And his business the portlet mortgages is one of the largest mortgage brokerages in Canada. Every year I followed them during the top 10. Ron is also known as the angry mortgage guy, his podcast literally called Angry mortgage, where he rips on all things, he shares his upset opinions on all things wrong about real estate and the scams that go on out there. And he's not a fan of Airbnb, and on both his podcasts and to his 51,000 or so Twitter followers. He has no filter. So I'll warn you now, there is some adult language in this episode not appropriate for the young ones. During this episode, the volume gets a little high as well. So again, this is probably not appropriate for anyone that gets offended easily. Brian is though, however, a regular expert who is regularly interviewed on pretty much every major mainstream news outlet, all the ones you've heard of, you know, Toronto Star, CTV News, both in print and on TV. He's here today to give you an insider's view onto why this current housing market is different than the crash of late 1980s, who's actually buying real estate today. advice for young people who don't have rich parents, how he called my strategy of buying houses for my kids, a sickness and ridiculous, not so much my strategy more of how the market favours those who buy houses for their kids. And it's only available to people who Yeah, before we get strong, though, I do hope you're all getting having a great summer and getting ready for what will be an opportunistic fall in winter. For Buyers. This will be as good as it gets before the rates peak and the rhetoric from the Bank of Canada as well as pause and rate cuts. For sellers, the smart motivated, assuming you cannot hang on for the next year or two while rates are higher. This will be the period that successful sellers exit, or else they'll be stuck holding the bag until at least the spring, I'll be sharing more of my research what our clients are doing when I'm investing in including the stocks I'm buying, if there's interest in hearing about stocks, but this is all going on at the September I'm meeting Tuesday night, September 19. For those interested in the truth about what successful everyday investors are doing with their investments. I've been coaching clients since about 2010. So I have quite a bit of experience. I have over a decade experience of coaching successful real estate investors. So we're gonna be sharing what they're up to. We also have a big time developer joining us as their desk speaker. And they're gonna be sharing how they still make money in this market, how folks you can participate in development in building a pre construction condos, passively condos and houses without having to take possession of the property because personally, I've been doing this for quite a few years now. I personally wouldn't want to own anything pre construction single family, because I don't want to rent it out. I don't want those tenants, I don't want massive negative cash flow. I'd rather just make money alongside the developer, where the only risk is my investment. Unfortunately, some pre construction investors did not realise they can lose more than their investment property drops more in value than their deposit. If you're already on our email newsletter, you'll see we've already announced the event and how to register if you'd like to be on our email newsletter and join over 10,000 plus of the Iowa shiniest investors in Canada who are already receiving our email to get information advantage. Go to www dot truth about real estate investing. Enter your name and email on the right side to stay connected. Be informed like a sophisticated investor should. Again that's WWW dot truth about real estate investing.ca There's a right way to use leverage in real estate investing and a wrong way. If you don't believe me, you can hear from the biggest real estate bear I personally know in this week's guest the angry mortgage broker. Again, he's a 30 plus year mortgage veteran Ron Butler, again a warning about language Ron's gonna express his opinions without filter. He's been in the business for 30 years and he's is a lot older than I am. So again, his language is of that generation. So make sure you don't have any children listening to this with you in the car or at home. These are Ron's opinions and not mine nor his opinions reflect anything for my businesses or my wife's businesses. If you do offend easily, please skip this episode. Go back one if you missed our AI episode with Nicolas Nang, that's an incredible episode where we took the language extremely, no worse than PG. Alright. So in seeking the truth, getting opinions from several expert sources is ideal in my opinion. If you don't like what Ron has to say, you can let him know directly. You can go to his Twitter, Braun, the mortgage guy, Twitter ex whatever it's called these days, the websites still Twitter so I'm still calling it Twitter. Wrong mortgage guy. That's his handle on Twitter. The website for boat mortgage you is simply www dot Petland mortgage.ca. He's got a podcast again, anger mortgage is quite popular. Gets a couple 1000 downloads within just a few days. Again, please enjoy the show. Hi, Ron, what's keeping you busy these days? Oh, well,
Ron  
there's just so much shit going on in the mortgage world that it just never ends. I mean literally never answered, we probably haven't seen this much volatility and rates in the last 12 months probably haven't seen them in the previous 12 years. So let's that keeps you busy.
Erwin  
And how long you've been in the real estate in the in the mortgage market mortgage business
Ron  
28 or 29, depending on the month, but yeah, longtime loaning years, 28 years at least Yeah. So hang on,
Erwin  
you're around during some terrible times like the late 80s?
Ron  
No, it's sort of just missed that because it's 2023. So what you're thinking about is 8990. So I just missed it. But yeah, I was very aware of it. Because when I joined the business, that sort of 1989 9090 crash, was all anybody talked about? They just talked about that all the time. So a lot of familiarity with it, for sure.
Erwin  
Any comparison between now and then? No? None? None,
Ron  
virtually none. Virtually none, except for the big spike in rates. I mean, theoretically, the rate spike was much higher, the rate spike in 1989 90 was only about 2.25%. This is obviously massively more, but the world is really really different. All you could get back then is 25 year amortisation. variable rates didn't allow a year, you know, the interest to go up, but not the payment. That's it's really different. It's just really, really different. Don't get me wrong. History doesn't repeat itself. But history rhymes a bit. Okay, so there's some similarities. But I would tell you, and here's the biggest difference. The biggest difference is not the dead cat bounce we had after a year, like we have that sudden, things jump back to life. In March, April, May of this year for you. Activity bounced unit sales bounced prices jumped in the month of May in the GTA, we think prices went up 4% In one month. Okay. None of that happened in 1990 after 1990 When the big drop happened booked 20 26% for single family and and low rise. And about 35% for condominiums, like high rise condominiums. After that price drop, prices just sort of dribbled down like one or two 3% a year maybe and then you know, and then flat, but there was no price recovery for five and a half years. None. Zero, it was just flat as piss on a plate. Okay, if something is bad for five years, right, there's capitulation, you know, like, people have tried to hang on by their fingertips for two or three years, when you're four happened in the prices, nothing happened with the prices, they just gave up and sold. So that was really a five year drought, a five year desert. And there was a tonne of price capitulation in southwestern Ontario.
Erwin  
So what's the difference between that and no,
Ron  
lots of difference. Back then there was no such thing as foreign ownership of real estate. There was a little bit in Vancouver, the beginnings of the Hong Kong transition from the Brits to China, it was just getting going. So there's money from Hong Kong coming into Vancouver, but there was sweet FA, big foreign money, like we've had in Toronto and Vancouver for the last 15 years. Right.
Erwin  
So for the listeners benefit, you know, I myself and Chinese Canadian, so I you know, I saw a lot of it when I remember being in high school. I graduated high school in 1998. I saw, like my own eyes like more and more Chinese Canadians coming. For those who don't know, Hong Kong is the British colony under British rule. And then it was handed back to China in 2000. So slowly, but surely, people were leaving Hong Kong to avoid communism.
Ron  
Oh, but that's not what happened in the last 15 years and the last 15 years, the phenomenon we've observed is not simply Chinese, it's also from Iran, from the Middle East. Actually some rich people from Africa who stole their country's money have come here, okay. You know, we've had this vast influx of people who gained permanent residents or gained citizenship. So they're Canadians. Forget about the foreign buyers ban that's all bullshit okay? It's just an inconvenience and it actually it actually hurt multifamily building for all things psychosis typical of the federal government they just screwed it up since day one like to just Oh, is that is that a problem? Oh, we didn't know we didn't know that. We were texting out all the German people who like to put money into purpose built renting we really need sorry, we missed I guess we'll have to fix it like, sweet Jesus, why don't you just ask people who actually know how shit works in real estate before you bring out laws. But anyway, cut to the chase, the real chase of this thing is that there's a tremendous number of people who became Canadian citizens quite correctly, mainly through student visas that converted after they finished, they got their degree, they converted to PR or citizenship, that they typically maintain their Chinese or, you know, Middle Eastern passports as well. But the money could then be pushed from China, sadly, from Iran, or from all over the Gulf, or from Africa, or from India, or from wherever the money could be pushed from parents, or we're still they're still running businesses making money, push the money out to Canada, as a safe haven for their money. Because in many of these places, they don't really trust the government, certainly not in China know and trust their government, really, unless you're a party member, even then you'll sometimes but you push money out to buy Canadian real estate, it's just a safety deposit box for your money. That's all. And that's why we have empty homes taxes in Vancouver, Toronto, is because these people from the Middle East and China and Iran, they didn't even care, they couldn't care, let's just leave it empty. We don't care. It's just a safety deposit box. It's just our money is safe, our asset is safe. We'd like real estate we always have and it probably will grow in value. And we'd like it. So that did not exist in 1990. Oh, God, no, not a bit. Okay.
Erwin  
So is what they're doing illegal or is that they're able to they're doing this by the government. It's totally
Ron  
legal. The stuff from Iran is not legal. But you know, they they basically they sift the money out of it ran. So all those huge mansions in Richmond Hill, where you can't explain what the people do. They work and they do and they don't like six houses. So that money is sifted illegally because Iran's a sanction country, that money is sifted out of Iran illegally through the Gulf. So they move it say into Qatar. And then they move it to the Jersey Isles. And then they move it to a little bank in Schenectady, New York. And then they finally move it to 70 C or BMO or RBC, or TD or whoever else. But they they sort of cleaned the money from Iran. And then they buy houses with their relatives who are here who have PR cards or Canadian citizens, they go ahead and buy them buy the real estate here. Again, it's just like a safety deposit box. It's like, in other words, the people who are in charge it around who are stealing from their own people like the generals, the Colonel's, the mullahs, the people, the clerics who run the country, they steal from their own people, they steal the energy money, they steal every direction, they steal the money. But they're worried someday, that they came to power through revolution. They're worried that someday the people of Iran will get tired of stealing and kick them all out. So they want a safe place to go. So they moved the money offshore. Okay, the money coming out of Iran is illegal. But once it's in Canada, and once the bank's compliance department is signed off on it, you know, the people who are Canadian citizens that are pure card holders who are buying the property, there's nothing illegal about it whatsoever, nothing zero. Okay. What I'm saying is that it's fundamentally different than you know, what happened in this, what's been going on in Canada up until the last 20 years. It's just a different scenario. Let's suck for everybody
Erwin  
that's struggling to buy a house or rent a place.
Ron  
It's one of the things that suck. I mean, there's a bunch of stuff that sucks. I mean, it sucks that Airbnb runs illegal hotels with no penalty, right? I mean, that sucks, too. That didn't exist 30 years ago, and there's no such thing as Airbnb, it's very recent. And, of course, when Airbnb came out, it promised that it would allow you to rent a room in your house, we're just going to try to improve on your household income. But that was bullshit. That was complete bullshit. What we really want you to do is buy tonnes of tiny condos and turn them into illegal hotel rooms and rent them over the weekend or rent them to sex workers. Nothing wrong with that, by the way, but rent them out just on a sort of a high profit basis. And you're going to deprive all long term renters of those properties. So that was a bad thing. And let's be really, really honest. The zero interest rate programme of incredibly low rates really did the most harm. And that's just all on on government, all over the world, all over the industrialised world. That's on them. I guess we're gonna see industrialising or, let's say the West, it's it happened in Europe. It happened and as states happened here, happen in Australia, New Zealand, ultra low interest rates and COVID hit and so the interest rates are really low. In 2019, central bankers started scratching their heads saying, Well, it's been a long time since 2008 2000. Non when there actually was a crisis, interest rates are still low 10 years later for Christ's sakes. And we got to start raising them. So they started raising interest rates in 2019. And sure enough, boom, 2020, there's COVID. Well, interest rates used to be really though, now they're gonna go to zero, we're going to take primary down to a quarter of 1%, which is effectively zero. And we've watched what happens since. So it's just as night follows day. So there's a number of different impacts that have my criticism of all this is always the same. It's identically the same criticism every week on Twitter, all the time on Tik Tok. In the angry mortgage podcast, my bitches almost the same. In 25 years ago, the average selling price of a home in Ontario and British Columbia, it actually ended up in British Columbia. But Ontario, for all in all of Ontario, the average selling price of a home was very close between two and a half to three times average family income. That's what it was. Those were the relationship ratios. Back 25 years ago, you had a chance to buy a house if you're an average income earner. Because it's two and a half to three times what's the cost of the house. Today, it's between eight and 10 times. So you're screwed. You're just totally screwed. Average people just starting out, unless they receive a massive parental gift. It's just not really possible for them to have any rational hope of homeownership. 10 times income doesn't work, right? It just doesn't work, particularly these interest rates. It really doesn't work. So that's my whole thesis of what's wrong with house prices in Ontario, and in British
Erwin  
Columbia. Ron, you tweeted that a couple weeks ago, I replied to it. We changed a little bit along a bit. You mentioned something about you when you went back and looked at your files on who was actually getting mortgages. I want you to complete the thought the story. I think you mentioned that there was top 2% income earners that were getting mortgages. It was top
Ron  
2% income earners, or recipients of lavish gifts or clearly recipients of overseas transfer. So there was no produce manager at longos. It was no longer in the group of people who were buying houses unless they were 60. And they bought you know they were downsizing. Okay, so a first time homebuyers. There is unless there's foreign transfer, or massive parental gift, or they are in this top two and a half 3% of income earners. There's no first time homebuyer who can buy a single detached house, probably in Ontario unless you're going to some remote corner of nowhere next to Hudson Bay, like Mike Moffat, Professor Mike Moffat produces a lot of great housing data and he or he also agglomerates a lot of great housing data. And his report last week showed that of all the 24 cities in Ontario 24 cities, large and small in Ontario. There were absolutely no starter homes to be purchased. There's no starter home as that ratio of average income to average price to get people started on the property ladder. And they didn't exist. 24 there was zero. There was zero cities. In British Columbia there was zero cities that have nine because their prices are very high. Also on the interior British again, if you want to go to 100 Mile House or you want to go to you know, Fort St. John, in British Columbia, you'll probably find a starter home. Okay. But in all major urban centres in British Columbia, it's zero. There's zero starter homes available for first time homebuyers.
Erwin  
And then Mike, I believe he quantified it I believe he said I think he said the bottom 10 percentile is when he first started home. That's a nice way of quantifying is when I started buying houses. You know, we could buy three bedroom bungalows and Hamilton mountain for 200,000 or less. Absolutely. We call that a starter home.
Ron  
It is a starter home. It's absolutely starter home and family can live there quite comfortably. It's a starter home absent loveliness. Yes. Yes. Which does not exist. That doesn't exist for affordability. Though that price that price on that home does not exist unless actually even if it burnt down the lots probably worth 440. Okay, so you know, there you go. So Braun
Erwin  
million dollar question. What do you do today? Like, I'm sure you get these questions all the time. Like, what if you're not a top 3% income earner? Actually before I even go into that? Can you ballpark when a lavish gift is 50,000 100,000? I
Ron  
don't know. Hundreds of hundreds of valid hundreds of 1000s Like three or 400,000 is a lavish gift because that is an adequate gift to get. Okay, well, what's the average price of a low rise in the GTA,
Erwin  
what's the average price? Depends on the neighbourhood. But you know what neighbourhood is it in, like a townhouse an old feels like 1.1
Ron  
townhouse local could be 1.7. Okay. Yeah, that's
Erwin  
a big one. That's a big one. Yeah. Like,
Ron  
like a townhouse in Oshawa. It's a million bucks. 908 75. Okay, so you need huge, huge gifts or huge foreign transfer to buy a home. I mean, that's the by law rights don't know what's a starter condo? 485 square foot dog crates in the sky. Downtown Toronto. Little bit less in the in the suburbs. But actually the suburbs are catching up in price. But dark Creek condos, tiny condos downtown by 40. Does that sound right to you?
Erwin  
Yeah. For small Yeah. Yeah. Okay.
Ron  
So if we just use a simple metric of four and a half times income, which is high, that's us. That's a stretch, right? Simple metric of four and a half times income. You got a family income well over $100,000 to get that to work, right. And then you got condo fees and property tax in there and the condo fees on an older building, you get a bigger unit, but still the condo fees always go up. So let's just sum it up. It ain't affordable. It ain't affordable for people who have a combined income of 100 105,000.
Erwin  
So when you talk to people today, I'm sure I know you're not a financial advisor. But I know people inquire all the time but what they should do.
Ron  
There's always the same theory. So Twitter moved to Regina move to Lethbridge Alberta, which I've been to Lethbridge is nice but I've been to Regina I spent a month in Regina one weekend. You know, you can move there's places to go. There's no place to go in southwestern Ontario. We saw a semi in London is a particularly nice semi is very, very nice. Very close to it right in the university district. So for 1.4 million. Okay. We're all familiar with the incredible jump in prices and small town small city Ontario. Like, can you imagine that a house in Paris, Ontario, Paris, Ontario, not fucking Paris, France. Okay. It's Paris, Ontario, would sell for 800 grand, like ordinary, big decent sized lot like 55 foot frontage. 20 803,000 square foot home. Paris, Ontario over 800 grand. Like it's crazy. Okay. Okay.
Erwin  
We do have a listing there for a million dollars. So it's a 3500 square feet. So yeah, rah, rah, Paris, Ontario.
Ron  
I got news for you. I've been to Paris, Ontario. And I've been to Paris, France. And Paris branches shit tonne better the bears on dairy. Okay, another Roberts on theory out. But like, Holy Jesus, you got a million dollar listing? You know, let's face facts. If we just sum it up in an easy way. To the point that makes no sense. It makes no sense. Not like a mansion on four acres. Okay, like it's, it's a house inside of Ontario for million bucks. In a subdivision does not make sense. Okay, that doesn't
Erwin  
make sense. I don't think affordable does make sense.
Ron  
Oh, no. Everything makes sense in Cincinnati, and in Tallahassee, Florida. And then outside of Denver, and in Albuquerque. And in almost all of Texas. You can buy a Houston is a huge city is an absolutely huge city dynamic city. tonnes of sports teams, tonnes of entertainment, great food scene, believe it or not in Houston, whether it's a little muggy, you have access to the coast, it's right there. You can just go down to the vacation place on the weekend. Have a great time. And big 4000 square foot home on three quarters of an acre in a very nice neighbourhood. all decked out five bedrooms finished basement Theatre in the basement. Little putting green on the place and the pool and cabana outdoor kitchen maybe a tennis court 569 Yeah, no bullshit. No bullshit. None. Okay, that same house in Cincinnati in a beautiful suburb of Cincinnati. And since then it's a real place. Okay. Like it's the headquarters of one of the biggest companies in the world Procter and Gamble. Okay. real place. That same house gorgeous, huge. All the amenities, great neighbourhoods, safe neighbourhood. Beautiful, huge lot. half an acre a quarter acre. Cincinnati, Ohio, 49 us, not everywhere. Don't say this everywhere. Shit, okay. It's just us, Australia, New Zealand, Britain, because it's like an English disease. And five cities in the US five cities to us a very expensive homes. But here's something very different. If you drive one hour away from downtown Toronto, you're in Barrie, right. Right. That's where we are. Yeah. So what's the house price it was a detached 2800 square foot house on a decent sized lot. So For embarrassing. Imagine 1,000,009 5960. Okay, if you drive one hour away from Trump's Hotel in Manhattan, you drive up, you drive cross bridge, you go into upstate New York for only one hour, you just drive for one hour, same as Barry. You're probably in a place called Fishkill, New York. Okay. And the price of again, the say, a gorgeous home. What was it the same home 2200 square feet, good size, lot safe neighbourhoods, a small town though. Sometimes we bury, I forgot stuff there. There's a, you know, there's stores and restaurants and everything you want. But that's about 444 69. Okay, we got to get this idea out of our heads that this is normal, we have to get the idea out of our heads that it's normal, what we have here in southwestern Ontario, and in British Columbia, it's not normal, this is not normal. Okay.
Erwin  
So what's your advice to young people is to find some morals,
Ron  
if they want to get a green card, try to get a job at an international company and move to Houston, or move to Cincinnati, or move to Savannah, Georgia, or just move. I mean, if you're in your 20s, and you got transferable skills, get hooked up with a large corporation that has business that carries on business in the United States, and convince them to move you. That's a good idea.
Erwin  
And you're giving this advice to clients?
Ron  
Sure, why not? I'm old, I don't need the business anymore. Okay. Oh, if you're a mortgage broker, here's thing about being a mortgage broker, if you're a mortgage broker, people come to you with something to do, right? Something to do, they come to you and say, I bought this house, I got renewal coming up, I need to refinance, I need this, I need that they come to you with something to do that you have to execute. Okay, that's what mortgage brokers are here for, will do a pre approval. Sure, we will happy to we will do it, it ain't easy. Obviously, you probably gonna need a couple of CO signers. But you we're not really doing planning for people. I mean, people come to us with a finished thing that they need us to execute the best possible radon, and get the very best deal and do it efficiently and effectively. Okay. When we get it, it's there to be done. So, if I want to tell people that I know or I want to put out into the universe, you know, southwestern Ontario, that if you're a highly skilled young person in their mid to late 20s, that unless you're really got enormous family ties to Southwestern Ontario, and I realise a lot of us do, but you should think about getting away. I mean, because at this moment in time, a million dollars in Paris, Ontario doesn't make sense. That's it. Sorry. I'm not trying to beat up your listing, but it doesn't make any sense.
Erwin  
And then follow you for complimentary opinion. And I don't think I mentioned it, but I've been following your career for a while. Because you are the contrarian opinion, I guess you can call it as long as I've known you, mostly through your Sunday is that you've been more bearish on real estate you felt right. So we're gonna go hide I've
Ron  
been relentlessly wrong. You know, I thought that real estate was bound to have come up. It's way back in 2010 2009 2010. I thought these prices are going wild and there's going to be trouble. I was preposterous ly ridiculously and utterly wrong. Just literally an idiot. Okay, that totally wrong. Absolutely wrong. But today, I'm right about one thing they ever write about is that for normal, average income writers in their 20s trying to start out without a sizable printing gift on average incomes. I don't know how this is affordable. I just don't know that. I don't know about how it's affordable to be in southwestern Ontario. I mean, maybe you're lucky you find a townhouse in so far, the reaches of welland, for like 650 somehow try to pull it off. But that's hard. That's really hard. It's hard. I should be so hard. You know, we, we have a vibrant economy. We have vast numbers of people coming here. It's one of the greatest countries in the world. It's a mecca for diversity. It's a mecca for tolerance. And it's a mecca for diverse cultures getting along together very well. And it's a great place. I love this country, okay. To recommend for somebody to leave is painful. But if you're a person who makes like $60,000 a year each, you have $120,000 your income and you have, you know, your parents both rented their whole lives. All your parents rented their whole lives. I don't know what's going to happen to you know, how are you going to? If you have a dream of having a couple of kids, two or three kids and living in your own home? I don't know. What do you think? Is it possible?
Erwin  
That within a lot of help, I was getting In the example of no help, no help, I have no idea why your parents need to do I need to do I?
Ron  
I mean, you no need to do I don't have any idea either.
Erwin  
So. So back in 2014, the year my daughter was born, I bought her a house, just because I had all these fears that real estate market might go crazy. Anyone to real estate get ghosts get so far away from her that she wouldn't be like, like you're talking about people today, like who's make 60 grand? And it's worked out. What do you tell it to someone who has available means to purchase an income property? I'm sure you have investors that come to you and ask you what to do.
Ron  
Yeah, they only come to Dave, when people see me on will read my stuff on Twitter or see my stuff on tick tock or see my stuff on social media. They say, Oh, you know, stay the fuck away from that guy. I mean, this guy's poison for investors. Okay. I don't I don't I don't I don't hate investors. We it's not me. I retweet your stuff all the time. If we want to have some housing stock of low rise available for rent, I guess we need investors. Right. I mean, that's just reality. You have to have them. But the truth is, for a child to you know, be on title of a home. I guess you have to do it in trust, right?
Erwin  
No, I made their mark on there and our names, we'll we'll sell them to them at the appropriate time. And they'll have a massive tax bill.
Ron  
It really isn't your kid's house. I mean, it's just a rental house of yours. Okay. All right. Technically, no, I I've earmarked that for them, though. So the idea that there is a that people would buy homes for their newborn children is ridiculous. It's an illustration of a sickness in our society. You know, I don't mind the idea of people making money on rentals. I'm happy that they are. But you and I both know that their true story of rentals is price appreciation. mean, why else? Would anyone buy a pre construction condo for 2200 square foot? If they didn't expect price appreciation? Is there any chance that that rent will work out cashflow positive and 20 $2,200 per square foot?
Erwin  
I never understood the the investment model since buying pre construction cost more than buying something that existed already.
Ron  
You could make by the way, I you know, I was around when when they first met the crests. Okay. So, you know, I would listen to the classes talk about things that made so much sense, when they said Your goal is to provide housing, rental housing rental accommodation for a family, who will pay the rent on time, who will take good care of the property, who will show pride that they're there, because they've got their kids there with them that they would want to be a member of that community. And that the key concept here is that over the course of 20 years, they would pay off your mortgage, that's the value of your investment for on a leveraged basis, someone else would pay the mortgage off, while at the same time maintaining the property in decent shape, you'd have to do some of the major repairs and improvements. But the whole concept is at the end of 20 years, you will have paid for properties that are just generating returns for you. Okay. And that's a simplistic but compelling story that anyone can believe it. When it's devolved down to is we're gonna grab your house, we're going to we're going to put deposits on a low rise, townhouse. They're going to build it, maybe he'll pretend to move in for a year. We don't know. But the idea is to flip it after a year, take advantage of crooked property, you know, capital gains approach by pretending that your address and then you make 300 grand tax free and on to the next. Okay.
Erwin  
Tax evasion.
Ron  
Yeah, I used to think it doesn't happen.
Erwin  
Oh, no, no, it happens. Okay. I'm not naive.
Ron  
What I'm telling you is, is that like from the base case, when I first met Nick and Tom, and by the way, Nick and Tom don't ever recommend this tax, house bullshit, they're completely opposed to it, okay. To this day, but my point to you is that they had a compelling story about buying investment properties, that also accomplished a social good. And today, when you flip on, you know, realtors tiktoks, it's about it's either buy now or you're doomed forever. Or it's, yeah, we're gonna buy this place. We're going to pretend you moved in as new construction and townhouse. You're gonna pretend you're living in it for a year. And then you're going to care to treat it as if you're your permanent residence. Because you're gonna leave your wife and your existing home and then we're gonna have you ever been to that home, you're gonna pretend you're separated, or do all this stuff, you're gonna flip that house and make 300 grand tax free is the greatest thing. That's it. Everybody says that. I know. You don't say that. Okay, but that's being said today, right? I mean, certainly been said for the last three years a lot, okay. Or a version of it, that it's just all capital appreciation, and rapid, rapid capital appreciation. So we've got all the way from Nick and Tom, thinking about having a long term plan long term, like 1520 year plan to pay off a mortgage in your latter years, you'll have pure cash income from that property, you'll have an asset that's paid for. And you're also doing a community good by providing low rise rental accommodation to people who need it. Okay? This is literally a perfect scenario, that only does good for everybody. Versus we're going to flip this thing. And because we need it to go up 15% Quickly,
Erwin  
just to breakeven,
Ron  
price way up, okay. That's the total 180 degree switch, we've
Erwin  
made the attraction of fast money without being a landlord. And yeah, literally, I've seen agents pitch that model where it's your job is just to sign for the preconstruction, whatever. And the your exit is to sign it, not close on it. Absolutely. And then some people buy like a couple
Ron  
more, some people buy a dozen, but you know, I didn't have any of those. But that that happens
Erwin  
to you, now that they needed to close or any of these folks who bought a couple, or one or two, even now coming to you know,
Ron  
when a major projects ready to close, whether it's a big high rise condo is ready to close or big townhouse complexes ready to close? Because they all close it or, you know, in about the same four week period, right? In a condo, they all closed the same day. So yeah, we will today we will get people coming to us and said, basically, they come to us and say, What can I do? Oh, we gotta get a private mortgage. Because most of those people were interested in just flipping by assignment. They never today, I would say, fully 50% of those people have no means to close. They don't have any ability close. They end up having to find some kind of private methodology. By the way, this is this is an occasional thing. There's a lot of these people have a lot of money, who buy these pre con condos, and they're able to close with cash. I mean, they got money. As simple as that a lot of its offshore, they got money, okay. And some people just rich because they've been doing it for 12 years, and they've got a stack of money available. Because in an environment where you have zero interest rates for a long time, and incredible appreciation, let's face it, we can pick a four year period four and a half year period, probably where the price of houses doubled. I would say we could go to North Ajax, Pickering, Durham, North Durham, and probably in between 2018 and 2021 2017 2021. Those properties doubled in price. Absolutely fascinating double in price. You saw a few of those your you got some money, right. But my problem is not with people making money. You have a little bit problems with people making money and not paying tax. I got some problems with that. But my problem is this strange level of affordability that we have created in two of the biggest provinces in this country. And I don't think it's good for people. I don't think it's good for people in their late 20s and 30s. I don't think it's good for them. I don't I don't think I think it's bad.
Erwin  
So how do we fix it?
Ron  
Well, hopefully the right way is there I have a solution. By the way, it just systems to stop prices from going up. I don't need prices to go down and not a doomsayer that we need to see crash and real estate crash in real estate. It's hard for our banking system harmful or society harmful for millions of people. We don't need that. But, you know, if government's goal instead of their if government's goal is to have their stupid bullshit of we need to fall, we're going to create affordable housing. Which who knows what the hell that means? I mean, I got no clue what nobody knows, because we don't have any affordable housing. So just say our goal is have government's goal at all levels. Be we must stop house prices from going up for a while for five years for seven years. For eight years. We have to stop it. We have to stop it so wages can catch on. Is that a bad thing? Would that be harming people? I don't think so. I don't think it'd be harmful for homeowners, landlords or anybody. I don't think it would hurt anybody
Erwin  
or suck for those condo speculators. But yes,
Ron  
let's call it goes kind of smugglers fuck themselves. I couldn't care less what are the lower I speculators? They can all put themselves okay, if something goes wrong for them. I don't care. Okay. If you're buying on spec and your plan is to have the market enrich you. It goes wrong, you should be prepared to take that punishment. Okay, because that's pure spec. So, I'm talking about for ordinary people who live in this country who want to have a family. There's a good reason why people don't have kids now, right? There's a good reason why he talked to 21 also say, Well, I don't know if I'll ever have a child. So all that, because it's not affordable, it's not manageable and don't want to bring them up in a 400 square foot. Dark race. In the ice towers, there have been that ice condo downtown. I haven't. Ice is great. Like, it's not really a typical family building. If on the average Thursday and Friday night, about 40 or 50 of the units are being Airbnb to sex workers. That's a strange, you know, you don't want to have your like your six year old in the elevator, you know, a very scantily clad person going down the elevator with you. Okay. What can I tell you? It's, it's not ideal. So, nothing wrong with those people. They're good. They're good for the economy. They're good people complaining but
Erwin  
as long as they pay their tax,
Ron  
when you dream about the perfect scenario for your children. I don't think that's what you dream up. Right, a foreign earned a score of five certificado. Right.
Erwin  
So Ron, looking forward. He made the point that but the good thing about investors is, well, foreign buyers aren't allowed to buy property. How are international students supposed to be able to buy property they have to rent? So thank God, they have someone to rent from. But that's not what I'm trying to go with. I'm trying to go with now. Like, does this problem to fixed
Ron  
no sign of it happening soon? Ever? Think I have the answer that, you know, that might actually require civil unrest? Like I don't I don't understand again, like,
Erwin  
Oh, good point, civil unrest? I'm not sure I'm surprised people are more pissed off.
Ron  
Well, you know, Canadians, it's a wonderful country, there's a lot going for it. We're a peaceful people. There is always a breaking point, right? There's just a point where people say Enough of this bullshit, you know, and either people, a lot of people will leave, or there will be a push on politicians to take to do real things instead of being liars. I think sooner or later, something's got to give. You know, you can't be born in this country raised in this country educated here, seek out a new job. You're 20 years old, you're married, you want to have a family, and you have no clue how you're going to afford a $900,000 Anything. Okay, you just don't have any idea. You had a great tweet.
Erwin  
I thought the other day about, like, part of the sigma things is broken is that all levels of government don't work together?
Ron  
No, no, it's, they're crazy. And but the other, there's a combination of two things it you know, the fence control, immigration, and crazily enough the fence control who goes where, like, if you're in Ontario, if you're the Ontario Minister of Immigration, or people come into the country, or the skills minister or the minister who tries to get stuff in education side, if you're the minister who tries to get you know, skilled labour go on the labour and skills minister, if there's 400, and if there's 400,000 People come to Ontario, from as new Canadians, you want to get to pick the occupation of 40,000 of them. And if you need a lot of W's and nurses like, which we do, but we do need, we do need them badly. Okay. And medical technicians, you run out of room for carpenters and drywallers. Okay. And that's a crazy thing. He doesn't have any control over it. 10%, but somebody gets, that's a long list, the Feds control monetary policy through the Bank of Canada. They control taxation, they control they control the mortgage rules, the Department of Finance and CMHC. The feds control all that the municipalities control what's actually approved to build on a particular place. So the City of Toronto zones, everything to say that well, you can build up to on every single family lot, you can build up to four units. But wait, we're not going to approve any of them. You know, when you put up it's gonna take 20 months, you got to put them in for approval to build a four Plex there, tear the whole place down, build a four Plex could take 28 months and we're probably going to turn it down at the end. Okay. Because the neighbours will complain about building a four Plex there.
Erwin  
Is we run quick. Is there just quick story we're friends of mine are trying to convert a single family home 3000 square feet into four units. And the difference in development charge between going triplex or four Plex is $90,000.
Ron  
Yeah, 31% of the cost of all new builds goes to government today. Think about that. 31% 31 cents on every dollar of new build sales in southwestern Ontario goes to government was some level of government or another. Okay.
Erwin  
So there should be money for social housing.
Ron  
Okay, and the red tape and luck so we got the municipalities pretending that they want to have more housing but not really, no matter what policies they put in, somebody still puts up a you know, it's like 17 old old geezers go out and say we don't want this thing here. Okay. And it gets slowed down. Like there's a million stories that's takes forever red tapes crazy here. They decided to build a new St. Lawrence Market on one side right? If you're aware of St. Lawrence Market, there's the old market. There's the other place was just like a flea market. They decided they want to build a building there. They started to dig. They found some arrowheads. They had to stop for a year and a half to do an archaeological survey of the whole place. They found plates, like old plates. They actually the arrowheads were actually not from any First Nations people, they were actually just soldiers have collected them, like colonial soldiers have collected them like, but they stopped for a year and a half to do an archaeological survey. That's absolutely batshit crazy. Okay, at an expense. Look, the list is long, we got the province, the province is in charge of development, the province is in charge of the highways, the provinces is in charge of where to build in Ontario, where to build new subdivisions. They move at a snail's pace, no matter what they tell you. Oh, yeah, we're gonna do this Greenbelt, blah, blah, blah, we're gonna get busy red tape. Well, nothing has been cut yet. So a little cut off like this, then, okay, nothing's happening. So we have all these levels of government don't work together, have their own agendas. Most of the proposals are theatre, just bullshit. Or they say they're going to start something and then they turn it over to the bureaucracy, which takes a year and a half to study who to bring in to do the study. Okay. That's ridiculous. So that's what we got in Canada, post us off with one great story. And builder was had been building on one side of the border in Niagara on the Lake, he built a bunch of custom homes it was starting to drag on like, it was so hard to get permits or to do anything, so much red tape. And his realtor said, Look, I got a buddy on the other side across the river, they're like, You got to see it. You can look over and see New York. Okay, so I got a buddy on this other who's got a couple of properties up for sale, old places need to be torn down. All a guy says I'm not even a US citizen, and just just go like, this is gonna work. So they went looked out. He said, Yeah, this is what's the cost? Wow, that is like one quarter of the price. That is one quarter the price to buy the whole property knocked down. So but I can't do it. Because I'm not actually I'm not America. So let's go to town hall and just see what they have to say. Walked through the town hall explained the situation said I'm a Canadian. But you know what the guy said the head of the little planning group there in that little town hall said, he said, Well, let's try to find a way to figure it out. I'm here to make it easy for you. All right. Like who the fuck in Ontario ever said that and Office of Planning Office in the history of the world? And so far, okay. Like, like, it's just different. It's
Erwin  
so close. They're open for business.
Ron  
Yeah, open for business. So we're not really open for business. But in the States, they legitimately are the guy said, Well, you know, we've got a couple, I can introduce you to a lawyer in this town. And we can see if we can figure this out how you can do it. And he'll excuse knows about how to get how to get foreigners to build properties here. And we don't care if you're foreign or not, because our premises are dirt cheap. Anyway, I'm here to try to figure out a way to help you because our economy is very slow here and our house prices are very low. So we would like to create some economic activity.
Erwin  
We'd love some investment. We'd love some foreign investment.
Ron  
Well, because the the you know, the a big house on that side of the river might not overlook the river, but a big house on that side of the river. And from Niagara on the Lake is probably 289,000. So you can't do anything. You're not trying to get a cone and they're their population is shrinking in that part of Western New York. So that's where it goes. Anyway, great podcast. Thank you. Thank you for having me. I really appreciate it.
Erwin  
Thanks so much for doing this.
Ron  
Best of luck. Best of luck with all your endeavours sorry. Thank you, Ron. Thank you
Erwin  
before you go if you're interested in learning more about an alternative means of cash flowing like hundreds of other real estate investors have already signed up for my newsletter. Find out for yourself what so many real estate investors are doing to diversify and increase our cash flow. And if you can't tell I love teaching and sharing this stuff.

HELP US OUT!
Please help us reach new listeners on iTunes by leaving us a rating and review!
UPCOMING EVENTS
You are the average of the five people you spend the most time with! Build connections with empire builders and trailblazers at our iWIN events.
BEFORE YOU GO…
If you're interested in being a successful real estate investor like those who have been featured on this podcast and our hundreds of successful clients please let us know.
It is our honour to give back and educate others on how we build cash flowing real estate portfolios using all the best practices shared on this podcast, from the lessons of our hundreds of clients and of course our own experience in owning investment real estate.
If you didn't know already, we pride ourselves on being the best of the best real estate coaches, having the best property managers, contractors, handy people, cleaners, lawyers, accountants, everyone you need on your power team and we're happy to share them with our clients to ensure your success. 
New investor or seasoned veteran investor, we can help anyone by providing our award winning coaching services and this isn't all talk.
We have been awarded Realtor of the Year to Investors in 2015 by the Real Estate Investment Network, 2016 by the Canadian Real Estate Wealth Magazine and again in 2017 because no one told the judges no one is supposed to win the award twice but on merit, our peers deemed us as the best.  In 2018, we again won the same award by the Real Estate Investment Network.
Hopefully being the most decorated team of Realtors in Ontario will make you consider us for your first or next real estate investment.  Even if you don't invest in our areas, there's a good chance I know who would be ideal for you. 
I've been around for a while, some Realtors are talented at servicing investors there are many with great ethics.  The intersection of the two, talent and ethics is limited to a handful in each city or town.
Only work with the best is what my father always taught me.  If you're interested, drop us an email at iwin@infinitywealth.ca.
I hope to meet you at one of our meetups soon.
Again that's iwin@infinitywealth.ca
Sponsored by:
Infinity Wealth Investment Network – would you like to know how our investors returned 341.8% on positive cash flowing real estate over the last five years? On average, that was 68.4% per year.
Just imagine what winning in real estate could do for you.
If you would like to know how we did it, ask us how by calling 289-288-5019 or email us at iwin@infinitywealth.ca.
Don't delay, the top markets we focus in are trending upward in price, so you can pay today's price or tomorrow's price.
Till next time, just do it because I believe in you.
Erwin
Hamilton, St. Catharines and Toronto Land Development, Real Estate Investor, and soon to be builder.
W: erwinszeto.com
FB: https://www.facebook.com/erwin.szeto
IG: https://www.instagram.com/erwinszeto/
https://www.truthaboutrealestateinvesting.ca/wp-content/uploads/2023/08/Ron-Butler.jpg
630
1200
Erwin Szeto
https://www.truthaboutrealestateinvesting.ca/wp-content/uploads/2017/06/TruthRectangleLogo.png
Erwin Szeto
2023-08-28 18:55:28
2023-08-28 18:55:32
30+ Year Mortgage Veteran is Angry. Very Angry! And Why With Ron Butler