What's A Better Investment? Building an NHL Franchise or $100's of Millions of Real Estate With Bruce M Firestone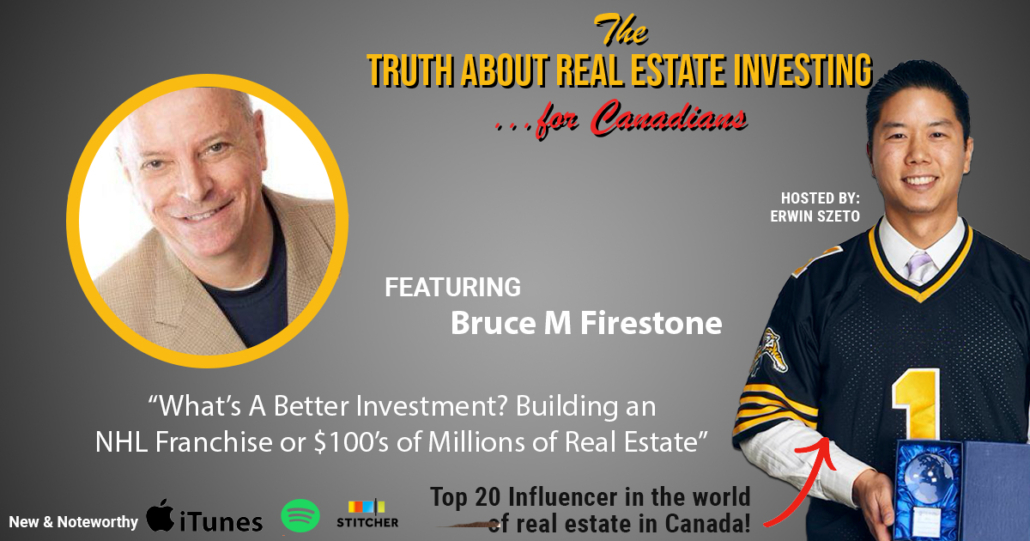 We have a special treat today in my new friend Bruce Firestone, a 2nd generation commercial real estate investor/developer, so he's super successful and experienced. 
He's built thousands of homes, dozens of office buildings and shopping plazas. 
Bruce is best known for founding Ottawa's NHL franchise, the Ottawa Senators, building their arena, former Chairman and part-owner of the CFL Ottawa Red Blacks, so he's kind of a legend in the Ottawa community. He's even a member of Ottawa's Sports Hall of Fame.
But before we get to Bruce, what a fascinating real estate market to be in. Entry-level, vacant or owner-occupied properties make up the bulk of transactions these days.  
Tenanted properties are scaring away buyers these days.  I'm hearing this from my team and my old-school investor specialist Realtor friends in Barrie, Oshawa, and downtown.
Everyday buyer investors are taking the summer off. Investor sellers, there are more listings than every of quality turnkey properties, but if they're tenanted, they're sitting for now.  The market changes quickly, and I'm anticipating a busy September and October, but much depends on what the Bank of Canada does. 
The bond market anticipates a 29% chance the rates will be higher than 0.25% in September and a 71% chance in December we will be 0.25% higher than today.  
Whenever that increase happens, we'll be at the peak; those already in pain will feel even more, and the rhetoric from the Bank of Canada will pivot to say they are pausing rate increases. We'll see the overall market shift in favour of sellers.
I've had conversations with some of our listing clients, we have to sell this fall, or we may be holding till the spring.  The nice part is my clients' properties, all houses on land rent for $3,000-$4,400. Some are plus utilities, so they generate significantly more rent than a single-family home or condo, which greatly helps cash flow and weather this storm.
Contrastingly, preconstruction is brutal, and prices are down around 20% or more. Some buyers are fire selling, giving up their deposits or returning units to the builder. The builder, in turn, sells the unit for 20% less than what the original buyer paid, so those looking to sell via assignment are competing with the builder when it's bad enough to be competing with all the other assignment sellers. 
Investing in real estate is tough enough when well-researched and done professionally with skills and sufficient capital. When folks skip steps, are not educated, take their eye off cash flow and speculate… that worked since the early 90s but not today. 
Many who invested in single-family homes between 2020 to 2022 are hurting, having never researched the highest and best-use strategies in affordable markets that actually cash flow.
Sadly, many who made mistakes got bad advice from television, influencers, condo salespeople and novice coaches. 
I hope you, my 17 listeners, are getting educated and networking with actual successful real estate investors.
If you're looking for quality at a great value, I am biassed, obviously, but our online iWIN Meetings and in-person, inside-the-property iWIN MasterMind Tours are outstanding.  At our Tuesday, September 19th meeting, my team and I will share the latest in the market at a high level and street level with sale prices, renovation budgets, rents and the best neighbourhoods to invest in, where our clients are investing.  
Plus, we have a special guest in one of the larger developers in Ontario.  Cherry and I invest in their projects, and we've been provided exceptional, passive returns.
The following Saturday, September 23rd, we will be hosting the iWIN MasterMind Tour in the Niagara Region, which in my opinion, has a big upside thanks to the recent correction, new hospital investment, and the government is not investor friendly YET.  
When they do pivot as they'll need to do in this housing crisis, there will be a flood of investment, but the sophisticated investor should get ahead of the rush.  Do not do what everyone else is doing.  If we wanted to do what everyone else was doing, we'd be buying pre-construction condos and mutual funds and not getting rich.
To register, if you're receiving my emails, you're good to go and will be informed when events are announced; if you're not receiving my emails, then you're missing out on what 10,000+ of the iWinningest investors are doing to get that information advantage by being on my email list. 
Simply go to www.truthaboutrealestateinvesting.ca, add your name and email address on the right side, and you're good to go.
Information is power. The information we've shared with our 45-something, self-made real estate millionaire clients is even better. I hope to see you at a future event!
On a personal investing front, I'm often asked what we are buying during this housing market correction.  The answer is, sadly, nothing. 
We're just holding, happy with our portfolio, and bought a new business, an Accounting Practice based in Ottawa. Still, they have no physical office as all the staff and Accountants work virtually all across Canada.
We closed a month ago, and Cherry is, as you can imagine, really busy with the transition while I'm the supportive husband in the background running around, driving the kids to their camps and extracurricular activities. 
I will share more about the new business that cost more than our house next episode, but I wanted to buy this fourplex; Cherry wanted this new business, and you know who won.
What's A Better Investment? Building an NHL Franchise or $100's of Millions of Real Estate With Bruce M Firestone
On to this week's show!
The Ottawa Senators recently dominated the hockey headlines as it's been reported they sold for around $1 billion US.  
While Bruce M Firestone is no longer the owner, I'm sure he's proud that what he started has ballooned to massive success.  Imagine if the Sens had kept future hall of famer defenceman Zdeno Chara, then the Sens, like every NHL team, would have a Stanley Cup before the Leafs, but I digress.
As mentioned, Bruce has built 1000s of homes, dozens of commercial plazas and office buildings.
For fun and to give back, Bruce was an entrepreneur-in-residence at the University of Ottawa's Business School, Telfer School of Management.  Per his Wikipedia, Bruce was a university professor as he does have his Master's in Engineering and a Ph.D. in Urban Economics.
Bruce now focuses more on coaching real estate investors as he finds the work really rewarding, so he's here today to share the journey of his super successful career, how to be a successful leader/CEO, how he overcame much opposition to building an NHL arena on farmland, what his everyday investor coaching clients are doing to create cash flow in their portfolios.  
The industrial land, co-sharing, and garden shed workshop strategy is fascinating.  That's all on one property, by the way. Pay particular attention to that part, as that same real estate startup is now for sale for a couple of million dollars.
Please enjoy the show.
This episode is brought to you by me! We don't have sponsors for this show. I only share with you services owned by my wife Cherry and me.  Real estate investing is a staple in my life and allowed me to build wealth and, more importantly, achieve financial peace about the future, knowing our retirement is taken care of and my kids will be able to afford a home when they grow up.  If you, too, are interested in my systematic strategy to implement the #1 investment strategy, the same one pretty much all my guests are doing themselves, then go visit www.infinitywealth.ca/events and register for our next FREE Online Training Class.  We will be back in person once legally allowed to do so, but for now, we are 100% virtual.
No need for you to reinvent the wheel; we have our system down pat. Again that's  www.infinitywealth.ca/events and register for the FREE Online Training Class.
To Listen:
Audio Transcript
**Transcripts are auto-generated.

Erwin  
Hello everyone, welcome to the truth about real estate investing show. My name is Erwin Szeto host and producer and whatever else there is to the show. I am a full time realtor Of The Year Two investors than investing since 2005. done alright, we have a large number of successful clients that we have over 350 clients, we've helped them amass somewhere around $280 million worth of real estate. And among our clientele, we have about over 45 self made millionaire real estate investor clients. So those are investments that excludes their principal residences. We have a special treat for you today in my new friend Bruce Firestone. He's a second generation commercial real estate investor developer. He's very successful and extremely experienced. He's built 1000s of homes, dozens of office buildings and shopping plazas. Bruce is best known for the founding of Ottawa as NHL franchise the Ottawa Senators are mortal enemies of Toronto fans were mortal enemies with everyone who's who was more successful than us. Yeah, whatever.
Erwin  
He had to build their arena as well. He's former chairman and part owner of the CFL Ottawa now call the RedBlacks. They were called the Roughriders. Back then, which was kind of weird because we had two teams out of like nine teams that were all called Rough Riders. He's kind of a legend in the Ottawa community. He's even a member of Ottawa, US Sports Hall of Fame. Before we get to Bruce, what a fascinating real estate market to be a part of, it really depends on people's situation, if they bought right if they hold that have a lot of cash. You know, it really depends on what situation they're in, quick update the entry level vacant or owner occupied properties. They make up the bulk of transactions these days. I think I mentioned last week visiting a friend of mine, there across the street neighbour that request trust scrubbing. This was in Georgetown, Ontario. So that's north Milton. Think exactly part of the GTA anyways, they're across the street from them, was asking 1.6 million for a four bedroom house backing onto Metro space, and it's sold for 1.7 million. So it's over $100,000 over mark over asking in 30 days, so there's still a lot of business going on. So it's not dead for everyone. tenanted properties these days are scaring away buyers. I'm hearing all this all of this from my own team. And I reached out to my old school investor specialists realtor friends in Barrie, Oshawa in downtown Toronto, everyone's basically having the same experience that we are here. Now in real estate. Every day buyer investors are taking the summer off. Investor sellers, there's more of them than ever, even of quality turnkey properties. But if they are tenanted they're likely sitting for now, unless they're priced appropriately, let's do the best deal out there. They're like they're sitting. The market changes quickly though. And also I'm talking about like, I'm recording this August 18. Right, we're in the middle of the summer, interest rates are high. So I like to get higher pitch on that in the second. Half the market changes quickly. And I'm anticipating a busy September October, as investors returned from vacation, they're gonna see all the great deals available. sellers who can't afford to hang on, they're gonna be selling, but much depends on what the Bank of Canada does. The bond market anticipates right now, based on what the bond market's doing, they're anticipating a 29% chance that rates will be higher by point two 5% in September, and a 71% chance that the overnight interest rate by the Bank of Canada will be higher in December. So it's either going to come in September, or it's gonna come in December or a month after that. But the market overall does expect there to be rates to be higher 25% higher than it is today. And then after that, that that should be the peak based on the bond markets doing those already. Many are already feeling the pain. And they'll feel even more as rates go up. But expect the rhetoric from the Bank of Canada to pivot as they'll start saying, like, we're now expecting the pause. And they may even start alluding to the eventual rate cut, which we're just right now expected to be late 2024. And then once that happens, once the rhetoric changes, and you'll see more buyers into the market, I've had conversations with some of our listing clients. Listing clients means like their clients who have properties listed for sale, the conversations are all around. But if their plan is to sell then really needs to happen this fall, it has happened September or October, or else there's a chance that they're holding that property to the spring. So, you know, Terry and I are holding all of our rental properties. So we can hold this whether or not other people can hold. The nice part about my clients properties is that they're all houses, as in house. It's not a condo, and they're on land. They're not up in the sky. They're on land, as they are typically rented somewhere between 3000 to $4,400 a month somewhere plus utilities, so they generate significantly more rent than say a single family home would or let alone a condo And that really helps cash flow and weathering the storm. On the flip side, for those who were of the more preconstruction persuasion is just brutal out there, prices are down 20% or more depending on where depending on what some buyers are fire selling, giving up their deposits, which can be 15 to 20% or lower in returning the units to the builder for giving up in forgoing also the deposit which can be 15 20%. The builders then in turn, can go sell that property to the open market. I literally have a friend that mentioned that shared it with me the other day. That's exactly what they did. They they bought a property directly from the builder for truly much what the buyer while the previous buyer walked away from less about 20%. So yeah, so this is really bad news for anyone who's trying to sell via the assignment market. As FYI, they are competing with the builder. And it's it's already bad enough to be competing with the number of assignment sellers out there. investing in real estate is tough enough when researched and done professionally with skill and sufficient capital. But when folks skip steps or they're not educated properly, they take their eye off cashflow, and speculate that words worked for a really long time, like since the like early 90s. But not in today's market. Many of you invested in single family homes between the years 2020 and 2022. Are they're really hurting if they never properly researched what what the highest and best use strategies were or how to actually like find ROI and balancing cashflow and markets that are more affordable, where you actually can find cashflow using strategies that cashflow. Well, they're feeling the pain right now, what's sad is that many of them made mistakes. Unfortunately, they got really bad advice from watching television or false influencers and condo salespeople, you know, follow salespeople that are doing their job, their job is to sell condos, you have to understand what their motivations are. And there's a lot no novice coaches out there. I think it's difficult to call yourself a real estate coach when you have like less than two years experience as an investor yourself and having no previous coaching client experience. Anyways, I hope for you and my 17 listeners, that you're getting educated and networking with actual successful real estate investors. So if you're looking for great quality and great value, I am biassed, obviously. But our online, I run meetings in our in person inside the property, our mastermind tours are simply outstanding. That's the feedback we continue to get. That's why they all have their all traffic quite heavily. We get hundreds of people register for our island mastermind, are in meetings, which are all online. And our in person tours, they all sell out there we sell out at our Tuesday, September 19 meeting, which is a virtual IP meeting, my team and I will be sharing the latest in the market. From a high level like a macro economic level and also at a street level update with sale prices for specifically two properties that we that we target for investment purposes, what kind of renovation budgets, we're seeing the rents that we're getting, and also, of course, the best neighbourhoods to invest in. And these just happen to be when we get all this client from information from working with our clients. Plus, we have a special guest and one of the larger developers in Ontario, cherry and I invest in their projects directly. And we've been provided exceptional passive returns. So you don't want to miss this. The following Saturday, September 23, we will be hosting the island mastermind tour in the Niagara region. Niagara region, in my opinion has big upside thanks to the recent correction, new investment in a hospital that's supposed to open up pretty soon, I think. And the government there currently is not investor friendly. But when they do pivot as they'll need to do can because we're currently in a housing crisis. I'm willing to bet that we're going to have different leadership at the federal level in probably about two years time. And so you'll see a lot more pressure coming from higher levels of governments on municipalities to be more investor friendly. Because, yeah, we're in in a housing crisis. So allow the private market to do something about it. And when they do, when they do pivot, you'll see a whole flood of investment. But as a sophisticated investor should do, you should get ahead of the rush. At least get ahead on the education part, not do what everyone else is doing. If you wanted to do what everyone else was doing, maybe buying pre construction condos and mutual funds and not getting rich. To register. If you're receiving my emails, you are good to go. You will be informed of when we have events when we announce new podcast episodes when we have new deals available. If you're not receiving my emails, then you're missing out on over what 10,000 plus of the eye winningest investors are doing out there in Canada because they'll have an information advantage by being on my email list. If you would like to become to have a better information advantage simply go to www dot truth about real estate investing.ca Again, it's www dot truth about real estate investing.ca enter name and email address on the right side and you're good to go. Information is power. information was shared with our 45 plus something self made real estate The Millionaire investor clients is even better up to see at a future event. On a personal investing front, I'm often asked what are we currently buying during this housing market correction? The answer is sadly, nothing. We're holding our residential rental properties. We're happy with our portfolio the size that it is. And we've actually got our capital and our time and our our bandwidth kind of tied up as we bought a new business, which is an accounting practice. It's sort of based out of Ottawa, but they actually have no physical office. The owners are located in Ottawa, all the staff and the accountants they all work virtually across Canada. We closed the deal about a month ago. Cherry is as you can imagine, really busy but the transition while I'm being that supportive husband in the background, running around and driving the kids that our camps and extracurricular activities. I'll share more about the new business that costs us more than our house. Hence, you can appreciate why we can't I can't get my four Plex had loved to still be able to buy that four Plex, but when the decision came down to four Plex or buying a new business, well, you can guess who won on to this week's show. The Ottawa Senators recently dominated the hockey headlines as has been reported they sold for around $1 billion US dollars. US dollar so sold for over a billion Canadian that's safe to say well, Bruce and Firestone is no longer the owner of the Ottawa Senators. I'm sure he's proud of what he started that has since ballooned into a massive financial commercial success. Imagine that the SENS had kept the future Hall of Famer defenseman Zdeno Chara, are you the fans know exactly who he is because he beat the crap out of us every time we were in the playoffs. But anyways,
Erwin  
if the sands have kept them, they probably would have hoisted the Stanley Cup by now and well before the leafs. But I digress. As I mentioned before, Bruce has built a 1000s of homes, dozens of commercial plazas and office buildings. For fun and to give back to the community. Bruce was the entrepreneur in residence at the University of Ottawa Business School. Telfer School of Management, prepares Wikipedia. Yeah, Bruce has a Wikipedia profile. Unlike almost all my other guests, Bruce was a university professor and as he does have his master's in engineering and PhD in urban economics, Bruce now focuses more on coaching real estate investors today these days as he finds the work really rewarding. So he's here today to share the journey of his own super successful career. He has some tips on how to be a successful leader or CEO, how he overcame much opposition to build an NHL arena on farmland, what his everyday investor coaching clients are doing to create extra cash flow in their portfolios. There's one particular commercial, industrial land, co sharing garden shed workshop strategy that is particularly fascinating. understand all those words fit into one property. Pay particular part two attention to that that investment strategy that I just mentioned, as the property is actually now for sale for several millions of dollars. So yeah, from startup, blue collar investor. Now he's going to be a multimillionaire. To connect with Bruce, you can find his information on his website, www dot Bruce M, the letter M. Bruce M. firestone.com. Please enjoy the show. Hello, Bruce, what's keeping you busy these days?
Bruce  
Well, or when I'm so glad to be on your show. And I've heard so much about you. And when I got to know you a little bit, I realised how much you've accomplished in such a short period of time. These days. I'm focused mostly on coaching and consulting work. I coached about 2500 people in the States and Canada, a few overseas because mostly in the States and Canada. And I got into it about a decade ago. And I'll tell you a little story. My dad before he passed away, everyone said, you know people should never retire. What are you gonna do sit around watch TV all day, that would be terrible. And I hate golf. So I'm not going to go. I gotta go. And so I was getting ready to retire from the University of Ottawa where I was the entrepreneur in residence, I was turning 60. And I wasn't sure what I was going to do next. So I actually hired a life coach and she she was fantastic. I worked with her for a number of months. And towards the end of that period, she got to know me better. She said, you know, Bruce, I think he'd make a good coach. You know, you build 1000s of homes, dozens of office buildings and shopping plazas. I built an arena, you know, where they call it the Canadian Tire centre where the Ottawa Senators play, you know, I've got some education and background in real estate, you know, so she said, why don't you do real estate investment and business coaching? Well, I kind of liked that idea. You know, for my third act of my life, and when I hear a good idea or whether it's mine or not, doesn't matter. Within a day or two, I probably had a primitive website up and I you know, I had you know, Bruce Firestone real estate investment and business coach, you know, call me if you, email me reach out If you need some help, and about 2500 people over the last decade, you know, not all one on one, but some of its one on one one on to some, you know, times groups of 2040 5060 70, that kind of number. And I've super, super enjoyed it. And when I got into the coaching thing or whatnot, I was wondering where I could make a contribution. You know, if you have a real estate portfolio, and you're thinking about reducing costs somehow, I don't know improving insulation, you know, reducing your energy costs, I wouldn't be the right coach for that. So what I did instead was I said, I'm going to focus on the revenue side of this business, because not a whole lot has been done on the revenue side of the business, in terms of real estate anyway, in the last 30 years, or maybe longer. So I've been focused very heavily for a decade doing research and work and experimenting with what I call animation, not Disney Animation, but animation, which is adding new revenue streams to real estate projects, new and, and old. And it's been a tremendous ride. And we we've changed cap rates, and we moved them up and we've changed lives. And I'll give you a quick example, if I may, please. Yes. All right. So my wife and I own a triplex, we own some real estate and one of them is a triplex. And this young woman Her name is Maya came to see me and she wanted to rent an apartment, she was a single mom, she's a yoga instructor, and she had one child, a lovely young woman in her mid 30s, I think, when I looked at her earnings, she was making about $42,000 a year as a yoga instructor back then. And you know, I said to her, my, it's just not enough money, you know, half of your your earnings are gonna go in rent, you still have to pay for food, and you know, free clothing and whatever else you need for your kid. So I said, I probably can't rent anything to you. It's just I wouldn't be doing you a favour. And then I thought about it for another few seconds. And I said, Oh, my God, you want to come in the backyard with me? Or something I want to show you and she she said, Sure. So we go in the backyard. And we had this about 850 square foot detached garage in the backyard. And it was quite nice. You know, it was big, it had high ceilings, it was insulated, had electricity at a heat. And I said to her that we went through it. I said, Maya, do you think you could run your own yoga studio? And she said, I don't know. I said, you probably would make more money doing that than just working for somebody else, you know, you know what my students call A J. OB, they don't call it a job they call a journey of the broke. And I learned that for my students. And so I said, maybe you could consider that. And then if you were making decent money, then you know, maybe you could afford to pay more rent. So what I did was we rented her the workshop, and she set up her own yoga studio, this would have been 2017. So about six years ago now. And sure enough, the next year, you know, she cleared over $100,000, which is a big change in her personal circumstances. So we rented the workshop to her and an apartment. It was a one bedroom apartment, but still. And so you know, you know, Mr. Rich Dad, Poor Dad, Robert Kiyosaki, right? He says, your houses or your apartment is a liability because it takes money out of your jeans and your job or whatever you have, you know, a duplex or whatever it might be in real estate terms is an investment because hopefully it put some money in your jeans. But if you think about it, am I had a workshop, which was the asset and she had the apartment, which is the liability, you put those two together in a live work condition. Then I said, Well, this is great. And then I guess I've got my real estate licence. So I'm armed a dangerous. You know, I realised you can search MLS in Canada, the United States for detached garages. So a lot of my clients that people I'm coaching now they're looking for properties that already have or can have a detached garage in the back. And they're doing this live work condition, which is very popular. And I don't have to tell you or any of your listeners or viewers, there's been an explosion in side hustles I think millions, maybe even 10s of millions of people in in the States and Canada have side hustles. And so if you can provide kind of a live work situation. That's a powerful combination. That's a form of animation. And it also happens to drive up our cap rate up a little bit.
Erwin  
To agree with you more our own clients are we're feverishly looking for detached two car garages with a with a healthy parking pad underneath it. And because we're converting them into apartments,
Bruce  
yeah, you got it then I mean, you don't need any coaching for me.
Erwin  
But what's interesting is you have like, bring decades of real estate experience on enormous scales. Like I can't even wrap my head around building a hockey arena. meant at NHL standards.
Bruce  
That's you know, it was easier than you might think. Okay, sure. Because even back then Even back then this is now 25 or 30 years ago, even back then, or when I was thinking about animation, and we did some things with the Canadian Tire centre back then was called the Palladium. But if you've got five or $6 million a year, we'll change it to, you know, the Zeto arena, if you want to name it, but back then when we were designing the palladium, what we did was we wanted to really optimise the revenue potential. So we did some things that really made a difference. And I'll give you some examples. What we did with the building was we took the Canadian Tire centre, the plating, and we put half of it in the ground. So when you walk up to the plate, and it's more human scale, so from a architectural point of view, and from an urban form point of view, it's kind of a little bit more human scale. But that means it's not like Rocky, if you remember rocky running up the steps, right or at the Philadelphia spectrum back in the day, you know, where you have to go up, you know, I don't know, 50 steps or more to reach the front door, you can put the front door basically at a grade you can roll right in. By doing that, you have what's called a double loaded condition, which means you can have stores that face the inside restaurants, merchandise, you know, bars, nightclubs, whatever that face the insides when the arena is live, you know, people on the inside can approach that store. But on the days when it's dark, you know, they have doors to the outside a window in the world, so to speak. And so they have far, far more volume, right. So the the retail operations are all around the Canadian Tire Centre at grade, they're double loaded. And so they're busy, not just when there's a game on or concert, they're busy also all the time that they're open. You know, that was sort of one thing. And I think we were one of the first arenas maybe to do that. Or maybe we were the first I don't, I'm not sure, but we were among the first. And we did some other very simple things. Like for example, I talked to our architect, his name was genome Zeti, who had done the palace of Auburn Hills in Detroit for the Detroit Pistons. And I talked to him about architectural signage. And what I mean by that is I wanted you know, because he was a genius. I mean, he was brilliant. I asked him, Where do we put signs? You know, like, if you have a score clock, you put a sign next to it, right? So it draws the eye. And I remember getting a call a few years after the Palladium open from Tony divaris, who was running what was then called the Mighty Ducks of Anaheim. We all get NHL reports, and we share them amongst the owners and staff. And Tony calls me up and says how was it possible that the little Ottawa Senators in a small town like Ottawa, you know, are outperforming the Mighty Ducks of Anaheim, in probably the richest County, the United States Orange County. And, you know, we were outperforming them in many ways, and signage was one of them. So I said, Look, Tony, why don't you send your crew up here and spend a few weeks with us and we'll show you what we've done. And we did some other things too, which I can claim no credit for whatsoever. But Gino was Eddie was walking around, went on his first assignment to build an arena or stadium he had not done that before. And this was with the owners of the Detroit Pistons. And he went to the Joe Louis Arena in Detroit and he looks up and he sees you know those sweets, you know, the private sweets that you see in so many stadiums today? Well, he says why are the people who are paying the most money the furthest away from the ice or the court? And the the owners of the piston said, Well, I don't know us always the way it's been done. And the reason they hire you like this, I think ruin you like new stuff. The reason they hired Gino was because he had never designed an arena or stadium before. They didn't want to go to people who had already done it because then they would get what was already done. They wanted the owners wanted something different. So
Erwin  
fresh, a fresh set of eyes, someone with no context, someone know exactly
Bruce  
what it was. He immediately pulled out his sketchbook and great architects carry sketchbooks with them everywhere. I mean, yes, computers and tablets and everything else is fantastic. But the sketchbook is still a really important part of what say somebody like Mr. Resetti would do, pulls out his sketchbook and he says, What if we had a ring of sweets, 12 rows from the court or the ice and another row, you know, maybe 2426 seats up from the ice and a final row at the top. And what he did with that was he completely reinvented the stadium and the arena design business because what we did, for example, here in Ottawa was we had 142 Private suites that we leased to 142 Different companies, you know, Royal Bank of Canada, you know, bail Canada, I mean, the people who have resources, and you know, they would pay, I don't know $200,000 a year plus food and beverage and anything else but they would have a lease of $200,000 a year say and if you multiply that I gotta use my calculator. But if if you multiply 140 times 200 times 10 years those were the 10 year leases, it means you have like $284 million in committed monthly recurring right revenues. You know, CMR is the holy grail of any business technology service, real estate doesn't matter, committed monthly recurring revenues. So if you have $284 million of committed revenues, just from those suites, you can finance a lot of building.
Erwin  
I see. Got it. So if you can demonstrate that you can generate so much revenue.
Bruce  
It's much easier to go to a lender and say, Well, yeah, by the way, you're not really financing. Bruce, you know, my credit score, maybe it's seven or 800. I don't know, your financing the Royal Bank of Canada, Bell Canada and a bunch of other Rogers communication, you know, and they go, Oh, this is great. Where do we get get? Can we give you the check now?
Erwin  
Was that what it was like? No, it was that easy to get money. Gets us the show is about truth about real estate investing. And a consistent message from developers, like you have a extensive development experience. consistent message right here from developers and even see in the media is how much how expensive it is to develop. Versus in the States, for example, reading your Wikipedia that you face is significant resistance just to build the arena.
Bruce  
Yeah. First point. I mean, we talked about the arena in the second, but I'll give you an example. One of the young men I coach in North Carolina, had to do a rezoning to get one of his projects unlocked. And he went to the town north. And he calls me up and said, Look, I'm here in town, and they want me to file an application. And I said, I hear you. I think it was a zoom call. I said, you know, in Canada, most cities and towns when you apply for a rezoning, it can take one or two years, it can cost several $100,000 To do a rezoning when you add up all the studies and fees. What are you facing down there? He said 500 bucks, and it will take six weeks. Okay. Yeah, they just I mean, so what I'm getting at is, in many parts of the United States, not all I mean, there's their towns that where it's very, very tough to do a project, Portland, Seattle, Boston, there's towns that have just processed just as that as we have in most cities in Canada, but there are many, many, many towns in the United States where you file a minimal fee. The town does most of the work themselves, the planners do it. They show up in front of Council. It's a very informal kind of process, and they approve your project a few weeks after you've applied if you're in Canada, projects can take a decade to get through the process. And if you want to know why we're not producing enough affordable housing and not enough industrial space, that's why
Erwin  
let's go to the winner phrase as an example. Like how, how long did it take from the beginning of the process to actually shovels getting in the ground.
Bruce  
So we bought the site. We bought 600 acres of land in Canada, which is the west end of Ottawa, and we needed about 100 acres for the building itself. We applied for a rezoning. And it was approved by the city of Canada, which doesn't exist anymore. It's not just Ottawa but it was approved by the City of Ottawa and the regional Miss pouty of Ottawa Carleton. In votes, I think about 25 to one, I think there was one counsellor who was not not in favour, but the rest were so it was quite a strong vote. I met with the premier of the province of Ontario at the time, his name was David Peterson. He was a liberal Premier, I don't belong to any political party, you know, I never have. And so I met with Mr. Peterson and he, you know, I asked him for for three things. One, I said, we have to build a new interchange, Mr. Peterson on the major highway in Ottawa, which is called the Queen's where the highway 417. And I said that it'll be about a $35 million cost. I think that's something that the province should do, because the day after interchange is completed, you know, whoever builds it, they have to give it to the province. So I can't finance that, right. Be like me putting a mortgage on your house or when you probably wouldn't be too happy with me. So he said, Well, okay, that's one what's number two? I said number two is we're going to go down to Palm Beach in December. This is December of 1990. And we're going to tell the NHL all kinds of great things about me and about the City of Ottawa and how much we love hockey and about the province of Ontario and Mr. Premier, I'd like you to come with us said okay. You said I'm not going to agree to anything until here, all three of your requests. I said I understand. So the first one was the interchange. The second one was coming down to Palm Beach and in December Palm Beach has better weather than Ottawa or Toronto. So I thought he might enjoy that and we would use his company on in the presentation. The third thing I asked him, as I said, we expect to go through the process of like in Ontario, you go through a municipal process, but then there's the provincial process as well which is separate and different or can be and I said I'm not asking For any shortcuts at all, we'll do all the studies that are required and we'll go through all the hoops. I'm just asking the government of Ontario and the various ministries to give it a priority. I said the Palladium is Ottawa Carleton, Ottawa was sort of Honda motorcar plan. It means as much to Ottawa as getting a new automotive plant, you know, in southern Ontario. I mean, it's it's important for us and I think for our community, but those are the three asks, and right away, David was, you know, he never smoked in public, but he was smoking in his office, right. And he was smoking cigarettes. And he said, You got a deal. But that was great. And my one of my attorneys was there with me, Jerry Dennison. We took a note, and we exchanged notes. Then what happened was, I think in the fall of 1990, Mr. Peterson, called an election two and a half years early, oh, boy, no premier has ever done that before. And I can tell you, if the province of Ontario lasts another 200 years, no buddy will ever do.
Erwin  
So a year and a half into his term, he caught an election. He did,
Bruce  
and two and a half years early, and the people of Ontario punished him and his party. They were very high in the polls. But as soon as he called the election, they dropped like a stone. And the NDP under Mr. Ray, Bob Ray came to power I think they had 34% of the votes. So between the NDP, the liberals and the conservatives, it broke down perfectly, so that the NDP could become the first and maybe the only time the government of Ontario. And so Mr. Ray had, I don't know 10 910 11 NPPs from the Hamilton Wentworth area. And when we applied for a franchise, there were a bunch of cities competing. Ottawa, Tampa, Hamilton, the walk Seattle, Portland. Yeah, the two that were successful was Tampa and Ottawa. But Hamilton was one of them. Applying it, Mr. Ray met with his Hamilton caucus, what can I do for you, because he had one MPP, one lonely MPP in Ottawa, like nine or 10, or 11. In Hamilton, they said, Put the, you know, spoken in the wheels of the Auto franchise, and oppose the construction of the Palladium. So that's what happened. And so we went through a 13 and a half week Ontario Municipal Board hearing against our own provincial government. And, you know, when the franchises were granted to Firestone and Ottawa, and Phil Esposito and Tampa, I remember getting a call from Phil Esposito, he said, a famous Hall of Famer in the National Hockey League. And he said, Bruce, if you got to hear how I came back to Tampa, I got a call from the governor of the state of Florida congratulating us, what can we do to help make a new arena happen and all this cool stuff? How was your research? Not quite the same, Phil, we got a lawsuit from our government.
Erwin  
That really accelerated Hamilton's ability to get an NHL franchise.
Bruce  
Not at all. You know, what is really, really ironic about it is we did go through a 13 and a half week hearing, I was on the stand being cross examined for three and a half girl and days. And we want to do it at this age. But I was much younger than of course. And what's really ironic about it is I am a great supporter of having nine NHL teams, Canadian teams in the NHL, I would like to see that team in Hamilton, I'd like to see one return to Quebec City. And I been a supporter for 30 years. And it's much much smarter. I thought for Mr. Ray, and for Ron Joyce, who was representing Hamilton to build bridges to me, because I'm inside the tent. If you understand what I mean, let's say you had a private golf course. And I wanted to be a member, you know, if I knew somebody that was close to you, or when, and he or she spoke highly of me, maybe you would consider me as a manager,
Erwin  
right? rising tide raises all ships, right?
Bruce  
I would think so. So I just thought it was very petty and cost us millions of dollars, legal fees, and planning fees, millions. And you're able to laugh about it now. Well, it's 30 years ago. Now, what are you going to do? If you're going to be an entrepreneur you are and you would know this? You have to have a short memory.
Erwin  
So I don't know how to ask this. But dharma centres are in the news a lot lately. You know, like Ryan Ryan Reynolds was it wasn't part of the bid process. A lot of other celebrities were part of that process. Yeah. What can you comment on? You know, we're discussing before we're recording it recently sold for just over a billion, like, what do you think about that? Is you exited? you've exited quite a few years ago?
Bruce  
Yeah. Well, I actually did a little spreadsheet. You know, we bought our franchise for 50 million US dollars, and we paid for it in 1991 and went to about a billion this year. 2023. So that's about a 10% compounded interest over that time. And you know, 10% is The compound is pretty good number. You know what Albert Einstein said about compound interest, right? It's the most powerful force in the universe. I don't know if that's true, but it's powerful. So So it went from 50 million to a billion in professional sports franchises. A billion dollars is considered to start a franchise, like the Washington commander's just sold in the NFL. Just Sold for six or a little over $6 billion. I mean, so a billion is a starter franchise. It's like training wheels.
Erwin  
I don't know if it wasn't the most fun journey either. Have at least fan so it's painful. I can't imagine what it was like for you.
Bruce  
Oh, well, wait a second. If you're a Leafs fan, I can help you out with that. When was the last time the Leafs won the Stanley Cup?
Erwin  
That's what was it the 40s 60s 1967
Bruce  
before I was born, yeah. Wait a second. When was the last time the Ottawa Senators won the Stanley Cup? I know. I know. Yeah. 819 27. So when Lee fans and I sympathise, I'm not kidding, Toronto has the best fans in my opinion in the league. And I love Audible fans. They're great. But Toronto fans are with their team. They travel with their team their back that team, they bleed blue, they don't have red. In their veins, they bleed blue. One of my son in laws is a passionate belief fan. And we're rivalling with my grandmother where there she wears a Sans hat or leaves. But all kidding aside, audible fans have waited
Erwin  
even longer. Can you comment on what you thought about the sale? Was it worth it?
Bruce  
I think it's excellent. One of the things that I've said many times, I don't know Michael andlauer, who is the prospective new owner, personally, but I know many people who have talked to him and know him well. And they speak very, very highly of him. And there are only probably three responsibilities that an owner really has. The first one is to set goals. The new owner of Las Vegas, Golden Knights said that he would want his team to challenge and win a Stanley Cup within six years. And they won the Stanley Cup this year. In their sixth year he set that goal. When I acquired the expansion franchise, the SENS I set goals. The first year I wanted to get 22 or more points. That's not very many points. But the reason I set it at 22. And we ended up with 24 is because the worst ever team was the Washington Capitals, I think in 19, early 70s. Anyway, who got 21, I didn't want to be the worst ever team and we got 24. So we avoided that. The other thing is I said we will make the playoffs within five years. And in our fifth year, we did. And I said we will challenge for a Stanley Cup in seven to 12 years, which we did, we got to the finals, and we challenged with a cup. Unfortunately, we did not win it. Great team, you had a wonderful team, they opportunities I thought to win. And unfortunately, they were unable to do it. So setting goals. I mean, whether you're the CEO of Facebook, or Google or whatever, you know, set goals is very important. So that's number one, job number two is to have a very, very close relationship with the fans, not just with the fans, but the business community, the sponsors, the political community, and by political I mean the small political community. That is a very, very important function. And I'm sure Michael will have an excellent relationship with the fans and the greater community. Because the living beating heart of an owner in the building every day, or almost every day is very, very important. All right. So that relationship is crucial. And the other thing, which certainly the Golden Knights have demonstrated abundantly, clearly, is to have little or no tolerance for poor performance. This is a cutthroat business. When it comes to competing on the ice off the ice, the owners of major league sports teams, most of them cooperate very, very, very well with each other, whether it's off the ice or off the court off the pitch off the field. But when it comes to competition on the field, every owner will lie to you. They'll say oh, yeah, you got to take everyone off my hands. You know, we're giving MJ even though he's got one leg. He's gonna be your best player
Erwin  
I saw Moneyball. I saw Moneyball. For listener, pets movie.
Bruce  
Yeah. Yeah, it was great. But off the ice, they will cooperate. But the Golden Knights and American owners generally are tougher. Americans generally are tougher in technology and in real estate and banking services. They're tough business men and tough business women. They're a no nonsense they will not accept poor performance. In Canada, we tend to be a kinder gentler version of our American cousins. And that might serve you quite well in some respects. But in a professional sports, not so much.
Erwin  
The number three was a little tolerance for us. You mentioned there's three responsibilities for an owner.
Bruce  
The third one was has no very little tolerance if not a tolerance for poor performance, whether it's a coach or general manager, a train or a ticket taker, somebody serving you the beer, a player, I mean, there's no loyalty at all. They want performance, and they want it now.
Erwin  
So as you're just as we were talking about the three responsibilities, I was actually already in the real estate world, would you say these responsibilities are in your real estate world in terms of your brokerage or portfolio, your developments? I'm guessing it's something similar? Well,
Bruce  
the real estate world today is very, very difficult. I mean, we're going through a time where interest rates have doubled, or even tripled, where we're coming through a pandemic, where lumber prices, I think, doubled or tripled, supply chains were disrupted. You know, I'm doing a little bit of development manager work, basically, for friends of mine. And to keep me busy. I'm helping a local vet veterinarian, build a small 5400 square foot clinic a property you already own. So we're into the third year now trying to get our site plan approval. So that's really big. Yeah, I won't bore you with all the details, because we'd be here for a couple hours. But, you know, you know what a critical path schedule is, right? Yeah, well, you cannot build a critical path schedule, when on the construction side, your supply chain is bumped up, you just can't. We've got a number of buildings, my wife and I are developing couple of downtown. And you know, you can't get your HVAC system functioning, because you're waiting for deliveries from China or the United States. And they say, Yeah, it'll be there in six weeks. And then, you know, three months later, you're still waiting, what are you gonna do, you can't open your building, without heavy ventilation and air conditioning system. So
Erwin  
sorry, purchase deposit their failures is a critical path critical path has actually caused people in our community to go bankrupt, like, for example, like flippers, right, under percent, they couldn't finish on time, for whatever reason, Labour like not being their materials not showing up on time. And then they ran out of cash. You know,
Bruce  
I've had many, many, many people ask me to coach them in the typical flippers, and I refuse that I will not do because everybody flips until they flop and almost everybody fails. So I'm not interested in that at all. That's not a model that I think has legs. I think the
Erwin  
general thing is like there. In your experience, do you have extensive experience? Is there fast money in real estate? Because that's what people want. That's what people see on HGTV and they want to be a flipper.
Bruce  
Yeah. Oh, my gosh, I'm so glad you brought that up. Or when what do you see on HGTV is wall to wall BS? It is wall to wall BS. You know, I know some of the people who do those shows. And they leave out, for example, the fact that the crew, most of the crew are not paid to do that show, you know, if you and I are doing a project, we're good, we're gonna pay our labour referring to you, because you're such a star. You know, they won't do it for me. And the other thing is, many of the materials are donated. No, it's like, if you were sued on a sports cast, you know, you get a little bit of a, you know, you get a bit of a commercial from it, when they say you know that these guys bought it for 750,000, a put $75,000. And it's now valued at 950. And left out $200,000 Or costs. And also, they show that they did it in five weeks. Well, certainly during the pandemic, and even now, even the most minor renovations taking five months, if not nine months or longer. We did like I said, we brought one historic building back that had fallen on hard times is not a big building three storeys, it was supposed to take a year and a half. And it was about a two and a half million dollar budget for the rental. Well, we're now close to you know, two and a half years into it. We're like at least a million and a half dollars over budget. So it is what it is right? It's becoming very difficult. And going back to your statement about how difficult it is to build not only on time, but also on budget, you know, certainly in Eastern Ontario, it is now costing $600 a square foot to put up a 30 or 40 storey concrete, multi res tower. And when you do the economics on the cap rate, it just isn't working. Comes out maybe you break 4% Maybe. And if you're if your interest rates are six, seven or 8% forget you're gonna lose money gobs of it, so don't do that.
Erwin  
Right, which is what leads us to the conundrum that we're in like builders have stopped stalling continue to grow in terms of population.
Bruce  
Oh my gosh, yeah. Right. Yeah. So what I'm doing is
Erwin  
again, because as a guest you have a lot of context like your second generation investor per your bio, know how accurate it is. Can't believe everything you read on the internet. But have you ever seen it as challenging in real estate in your extensive career. And
Bruce  
after that I did a little walk before we did this, it just clear my head. And I said, I bet you everyone asks me that. So I got a story for you on that too. All right. All right. I got five kids and one of my daughters, but half double. Okay, she paid $345,000 For this nice half double. Sorry, explain what a half double is? Oh, yeah. So you've got a house and it's got two halves. You know how duplexes usually like this house that split down the middle into tiny houses, but it's really a house that split into so she bought half of the half, okay. And she paid $345,000 for it. It was a three bedroom, two and a half baths, single car garage, half double. And when I walked onto the site with with near him, that's her name. I said, Mary, this is the one you've got a bunch is why this one dad, because we've looked at a number together. And guess when you walk down around the back, and the ground sloped away. And down at the back, there was an existing big window, and the door was a walkout condition. You know what that is right. And I said, I mean, it was just a basement. There's nothing there. But I said Miriam, you're gonna buy this because you're going to have the house up here. And you're going to have a one bedroom apartment down here with a walkout condition. The door already exists for the lockout don't already exist. Got it. It was a walkout basement condition is that this is the one you're going to buy her. And so she did. She put in $5,000 in the bank of mom and dad put in 120,000. She puts her hands on her little hips. And she says to me, yeah, but it's still 5050. Right that. And I said
Erwin  
to her, she was the American tough negotiator.
Bruce  
I'm gonna get into trouble. But I said, Miriam, that's girl arithmetic. And she burst out laughing. And I said, don't worry about that. I said, we're joint tenants that we show up as owners as joint tenants, which means that after I pass away, and her mother passes away, we're simply deleted from land titles, you're going to end up owning 100% of it. So don't worry about that. Oh, she's on 100 presented us it? Yes, you will, honey. Yes, it well, I don't lend money to my children, you know that I don't want to have a commercial relationship with my kids. So anyway, what happened was, so she bought it. And for another $80,000, we put in a one bedroom apartment. And she rents that for some some amount of money. So she and her husband and their two children are able to live in our own house after paying for everything, including mortgage and internet and utilities for about six or $700 A month after taking into account the rent. Now that's a pretty good deal. And 2022. So last year, she gets it appraised at $807,000. Up from you know the original price, which was 345. So she calls us Dad, let's sell it, let's sell it. I said, but I mean, in five or six years, it's gone up from whatever, to whatever. I said, Why would you sell me Can you imagine when you're my age, what it will be worth. And when you're young woman she can't ever imagine being 71. You know, that's too hard to imagine. But it's someone that you will be, you know, and as long as I'm on title, and as long as I'm alive, you're not selling? Well, what happened this year is the appraised value of her home dropped by 10%. So it's now valued, I think at about 735 cents down. So now she's upset. But wait, she gets her mortgage renewal after like five years, which was like 2.9% or something like that. They want over 6%. Now she calls me up crying on the phone. And I said Marian, there are many reasons to cry in this life. There are there there are tough times. But this is not one of them. You have two beautiful children husband you love you have a lot to be thankful for the fact that your mortgage rate just doubled is not a reason to cry. We got to figure out how to do it. And she's willing just to hope to facilitate. I said, Wait a second, if your dad teach you to buy high and sell low, no, that we're not doing that. And I tell this to all the people I coach now this is a story that's going to have it's going to grow in and change I'm sure over the years. But I said what we'll do is we'll change the amortisation rate she had a period she had, I think 17 or 18 year amortisation, she wanted to pay it off that we extended that to 30 years to reduce her payments. And we renewed for three years at 6% or whatever. Because she's just gonna have to grin and bear. And then the other thing that happened was the basement apartment became vacant, and she was able to raise the rent from 1200 to $1,600 a month. And in addition to that, she picked up a few more hours at work, so she had a little bit more revenue coming in. She sped out her payments a little bit more and she raised the rent and that's what people are doing because everybody in Real Estate right now is in a box. And you asked a great question. I'm 71 years of age. This is the toughest I've ever seen. And I've been through the recessions in the 70s 80s, early 90s 2008 2009. This is much more difficult. I understand that. But don't try to over look for solutions.
Erwin  
Where do we go from here?
Bruce  
Well, I think animation is one of the things that's really really important. One of the things I'd like to do with Miriam is I'd like to, there's a company here in Can I mention the company's name? Is that okay? As long as you're okay with it? No, I'm fine with it, because I'm giving the plug I suppose. But they're, they do fabulous work. They're called North Country sheds. They're based in a little town called myth, false myths. Smiths falls. Outside Ottawa, right? Yes. Not far north country sheds, okay. It's called North Country sheds. They make these beautiful workshops that are unbelievable. They're like almost style workshops with metal roof that lasts at least 40 years, I've got a few of them and, and some of them are over 40 years of age, and they're still very surface serviceable. And so what I'd like to do is I'd like to put one in the backyard of Miriam's place, as well as a bunch of other properties, and create a live work condition right where you could have, you know, the yoga studio or if you're RMT registered massage therapist, you're a physiotherapist, you're a hairstylist, you're running your nail book, you're running a coaching practice, you're a realtor, whatever. And so North Country sheds builds these things. For under $20,000 like $40 a square foot, you can't build anything for $40 a square foot we talked about a concrete building, you know, 40 storeys high as $600 a square foot all in 40 bucks a square foot you all you have to do is put down the gravel pad, they charge 250 bucks to deliver it, they've delivered as far as Thunder Bay, for goodness sake, I don't know if you know where Thunder Bay is. But
Erwin  
even that's like five hours for you or more, isn't it? Oh my god. Sorry, Thunder Bay is on the list like the left side of the lake, Winnipeg.
Bruce  
I'm trying to Winnipeg. And they probably charge more than 250 bucks to do that. But still, they are fantastic. And so let's say you bought something for $20,000. And you put, you know, maybe a propane heater in there, added the electricity, you can rent that thing, you probably know that you can now put a workshop in your backyard, that's 166 square feet, right without a building permit. So you could probably get 166 square foot, the workshop. And you could probably rent that for probably $650 a month. So if we just multiply 650 times 12, you could probably get about seven or $8,000 in revenues from a building that will probably cost you when you put the heat to it. And electricity probably cost you about 20 or $25,000, including the gravel base. And your cap rate would probably be something like about 20% on that. That's an animation, right? And unfortunately you asked is, in my opinion, real estate is get rich, slow. People always ask me, you know, can you help me get rich fast, Bruce and I always go I'm so glad you asked me that? Because the answer is no. Because if I knew that I would do it for myself. Real Estate just get rich, slow. But one more thing I should have. About 10 years ago when I got into this coaching practice, I did a little bit of research on the 100 richest families in Canada, and 61 out of 100 had all or substantially all of their wealth invested in real estate, almost two thirds and they must know something. And you know real estate has a number of different returns, which I'm sure everybody knows you hope to make some cash flow returns. You hope that it over time it will go up in value and you hope that your tenants will help you pay your mortgage down. So you have three different types of returns. And the wealthiest people in Canada figure that out. They've been doing it in Europe for hundreds of years in England for hundreds of years in Asia and Japan for probably some of them a couple of 1000 years. The Holy Roman Catholic Church has been for at least 2000 years
Erwin  
yeah the the golf course I was playing it last week. I won't name it because I don't think it's accurate. I haven't I haven't fact checked it but I was told that the Western family and Mike Leach and own it and and this is the last year it's an operation it'll be it'll be a construction zone next year starting
Bruce  
Yeah, golf courses are an environmental nightmare. You know you have to put water to it. You have to cut the grass you have to put insecticide fungicides fertiliser, they consume a lot of energy and resources and they pollute our waterways and plus on top of that I hate golf.
Erwin  
However moving on
Bruce  
I'm gonna get some bad email now. All the golfers might wonder my son was a very good golfer he he's gonna kill me if he hears this
Erwin  
And it's actually funny because just to continue on the Gulf vein for just a second, like you're a big hockey fan, like a lot of hockey, law hockey players enjoy hockey as well. Like it seems to be lost skill transfer between the two.
Bruce  
Yeah, there's no question about it. I played lots of hockey as a younger fellow, but I'm no good at golf. So really, that wasn't a very fair statement by me because I'm really bad.
Erwin  
Going back to the bunkie. Now I'm on their website. And this sounds amazing. Fantastic. And you already have clients doing this putting in shop? Oh, yeah,
Bruce  
absolutely. I can tell you that. One of my favourite new business models is to buy some industrial land. If you have sent you a gun for screens, there are one type up another one go to long yards, long yards, just the way it sounds long. yards.com Oh, no. Try calling long yards.ca Okay, let me try that long, long LNG yards. dossier should should be able to see it
Erwin  
should play by the.com. There we go. I think.
Bruce  
I think he does have the.com but maybe something happened. I don't. But anyway, this is a young
Erwin  
hours more than storage. Yeah.
Bruce  
So let me explain. The model is very simple. You buy a piece of industrial land, you cut it up into small yards because every contractor needs a place to put his or her equipment loaders, dozers, trucks, dumpers, whatever, right. You can't park here, but you can start to see what's going on here. So these are small contractors who need a yard. And this is young Chris Long, who's the founder of long yards, right? It's last name is long. And this is this is one of his locations in Canada. He's got a few in the United States as well. So what you do is you Oh, if you want to play that one, how long is it was a minute and 40? Well, we could play that one.
I started long hours because I was a contractor. I didn't have enough space in my house. House. Like a junkyard I had three trailers, tools, equipment everywhere, light bulb went off, Hey, how come there's no storage for the big stuff. We love to offer our clients a high level of service with a lit up facility, text OpenGate cameras read watch everything all the time, a locked in screen in yard. And they always know that their possessions are safely locked away. It just creates such a better environment for your business knowing it's in a professional atmosphere, not at home. From offering loading docks, a small business community that helps each other shared offices, mailboxes, and it's allowed many businesses here scale and seek growth. We're seeing this business expand everywhere through Canada in the States. Most of our colleagues with long as it's our business focus entrepreneurs, real estate investors, they know the cap rates, they know what's involved. You want to know that the money you're putting in is working for you long years, and it was storage. That's what we do. We put their money to work and get you a great return. And we're in control. We're seeing this business, expand everywhere through Canada states. We can take vacant land that's sitting, not doing much and turn it into income producing plan. You buy a piece of property, you throw up some fencing, with a good brand and a good marketing package. We can help your facility get filled up, you're quick to market. If you're interested in long hours as a partner or investor or looking at your own location, please reach out to us at info at longer stock COMM And we'd be happy to work with you.
Erwin  
All right, that was a Chris was me coming on the show for promoting.
Bruce  
But I'll tell you Chris's stuff backstory if that's okay. Herman. I think your listeners and viewers will enjoy it. So Chris came to me when he was a young man, he was a carpenter making $18 An hour and he was a single dad became a single parent when he was still I think, a teenager and he brought up a beautiful young daughter, who's now of course, well into her teen years. This is about a 10 acre industrial site in auto, the one that you just showed. And I say, Chris, you're gonna buy this. I got no money. I said, Well, okay, we'll figure it out. It was a, you know, a difficult time. And, you know, we're in a difficult time, but there's opportunity, even when there's a recession, right, there is opportunity. This particular 10 acre industrial site was owned by a couple of men from Syria. And they had some, you know, some urgent needs I suspect family needs and so I went to them on behalf of Chris as his coach and as his realtor and his case as well. And I said, would you sell this to Chris and would you give him 90% finance you know what seller take back finance.
Erwin  
I'm sure your listeners benefit the seller is providing the financing. Yeah, let's see aren't the bank in this in this case?
Bruce  
They are the bank just with Chris You know, making 80 bucks an hour be hard to go and borrow half a million dollars from a Chartered Bank. Right. So they agreed they wanted to monetize Never Land. So I said, Chris, we got to find you about $50,000 worth of equity to buy this place. And he was doing some work for me on a bunch of Philips and I was adding some micro suites and basement apartments and stuff like that for me. And I said, I'll just give you an advance on the work you're doing anyway. So he was able to put a little bit of capital together and close the deal. And then we borrowed from a private lender, about a million to 1,000,003 to put the gravel down the fence again and all the technology that you saw there, and as fast as he could build those contractor yards, he could lease them. Well, so by that time, he had about 1.6 or 1.7 million invested in it. And we got it reappraised at 3.6 because the cash flow was so strong. If he calls me up super excited. He said, Prince, can you imagine me? You know me a millionaire? I said, Yeah, again. He said, Well, there you go. And now he's living in Florida. He's remarried. He's got a bunch of more kids. And and he's building them all over the state. So it's a great success story. But what I was gonna say is these business models changed, right? That was the original model that Chris used the contractor yards model, but now and you saw in that video there, see cans there. And now there's going to be these workshops that I talked about, and North Country sheds, right. So you put them in there, you rent them to the people who have a yard. So now they have a little office, they have a see, can they have a yard? They're good to go? Sorry, sorry,
Erwin  
let's see can
Bruce  
see containers, right, like, you see, oh, trucks, they're, you know, they're come across on the big ships and shipping containers. And so they come in 20 footers, or 40 footers, and you see them on the rail cars, too, they stack too high.
Erwin  
For listeners benefit, we generally import way more than we export. So we have a lot of sea containers. A lot of extra shipping containers in Canada. Shipping today. Yeah. That's super cool. But but even Yeah, shipping containers, I think, I think they're around like four to 6000 to buy. But that's like that's like stock, there's nothing done to it. You still have?
Bruce  
Yeah, well, let's see, can a shipping container and that's a good way to refer to it. You can get them if you buy them in bulk for three or three and a half 1000 Oh, hell a lot you can do with I mean, you rent them to your clients and make a little bit more money. And then we're gonna do the same thing with the workshops.
Erwin  
This is amazing. And then who's using the workshops, these are small businesses or just people just want to a workshop, like build their model car or whatever.
Bruce  
Let's say you are heating, ventilation and air conditioning guy, okay? You've got all kinds of equipment and inventory, you're going to store it in the yard. You can't put your loader or your dozer or your dumper in your driveway in suburbia, the bylaw officer, the ordinance enforcement officer be knocking on your door within a couple of days, neighbours will complain. So you got you got to have it in the yard. And then you want to have some of the material of the weather, you can rent a sea Canada shipping container and you put material in there and keep it away from the weather. The next thing you're going to ask is, gee, I need an office, right? I've got a couple of maybe I got an admin, I got a bookkeeper, I got an accounts receivable person, where am I going to put those so you have these little North Country sheds, you can just put, uh, you know, on 166 Square feet, if they have, you know, 60 square feet, you can easily put two or three people in there. And if you buy some of the bigger ones that North Country sheds has, you can probably have four or five staff in there. The other thing that we get asked for now a lot is can I move a tiny home in there and live there? Yeah, I was gonna get to that. Well, the answer is so far. No. As you know, cities everywhere are really bogged down by and constrained by some planning rules, which are obscurely difficult. And, you know, I do speeches all over the States and Canada, like I said, a few overseas. I'm not the most popular guy in cities and towns because I recommend they burn their zoning codes. There was a study not by me, but by the University of Chicago, that if the planning rules and the zoning rules were as relaxed as they were in 1965 and 2009, the US economy would be 40% Bigger. That works out to 80,000 US dollars per family per year. That is an unimaginable increase in public welfare before we started this conversation on and recorded and we were talking about you know, Star Trek and and unlimited energy and basically free money. 40% is extraordinary. 40% of all buildings built in Manhattan could not be built today because of their zoning codes. I'm not saying that we should have people living next to an armaments plant because they blow up every muscle on or next to oil refinery. because they light on fire every once a while, or a fireworks battery, you know, I get that or an avatar, or chemical plan. Sometimes they leak and they would kill you. So there there are very good reasons to have zoning rules, but not to prevent, you know, like one of my daughters, she has literally a cabin in the woods a tiny house. And right next to her, maybe 100 feet away, she has her workshop, she runs her own business, very successful fashion business. You know, she has a tiny house and she has a small workshop. Well, there's no reason why we can't have that.
Erwin  
Yeah, it's just yeah, well, we I know why it's NIMBYs don't like them. And then they vote and, and they're motivated. Wow, this is fascinating stuff. Do you know the owners in North Country sheds as well. I do, again, probably want to talk to them.
Bruce  
Just listen, if if, if any of your your friends want to know more about this model, that probably nobody knows this model better than I do reach out to me at anytime you've got my email address, that's the best way to get ahold of me. I'm on that 24/7. So they can reach out to me and I'll be happy to put them in touch with whomever they need. Okay.
Erwin  
Okay. First, we do have a number of listeners. Do you want to share? Should we share your email? Should we just share your website?
Bruce  
share by email, that's fine. You know, I get a lot of email, but I can handle that. And what I can handle is I can have handle a lot of phone calls when you have about 2500 clients. If everybody called me once a day, you can imagine how much work I get done. So I asked people to either text me or, or even better email me, so I don't mind sharing it. It's Bruce at Bruce M. firestone.com. So Bruce had Bruce and you got to put the M in there. Bruce at Bruce and firestone.com. That'll get to me. I mean, I love hearing from people I hear from former students of mine from 20 years ago, many of them very successful. And it's just one of those things that gives me great joy, to be honest. So first,
Erwin  
I want to I want to really go over this workshop, garden shed strategy again. So this is what you're seeing people do successfully in like an area all over all over North America.
Bruce  
Yeah. So all over North America, and many, many jurisdictions not gated communities are. But in many jurisdictions, many cities and towns are the states and Canada, a home based business is legal. Right. So let's say I was a young mom and I had one kid and I had a workshop in the backyard, I could run a small daycare there. In Ontario, they changed the Planning Act to allow workshops or sheds in the backyard, up to 166 square feet without a building permit. And if you're going to build something bigger, you need to go get a building permit, you can do an awful lot with 166 square feet. And of course, like I said, if you need something that's two or 300 square feet, I've got some of that are 850 square feet with a building permit. And they are fantastic. So home based businesses are illegal in most jurisdictions. Again, if you live in a gated community or a condominium, they have a lot of rules. And so condominiums you can't really animate them, or at least not very easily. And gated communities have, you know, homeowners associations, and they have a lot of rules. So probably the lot of the animation ideas that we've talked about on this call, don't apply in those two circumstances. But for everybody else they probably do.
Erwin  
And then try to get into the nitty gritty a little bit. Do these
Bruce  
have washrooms. So in the case of my daughter, for example, what she's got a beautiful little tiny home, it's very small, but she's got the tiny home here, and she's got a workshop here. The workshop has power, heat and air conditioning, but it does not have water, and it does not have a bathroom. But the tiny house does. So she has to go use the bathroom she just wants. So that's why it's a live work condition. And that's why it's a home based business. You got the home and you've got your workshop or your backyard office or whatever, but you need to go the bathroom you just you go to your apartment or your house.
Erwin  
Somewhere you mentioned like you had an early triplex example, we had the laneway garage or get the garage in the back is yeah, it was quite a big one to for these. The workshop shed strategy, do you have a name for this strategy?
Bruce  
I just call it the live work conditioning. Our conditioning is hugely popular. And like I said, and you already knew this, you could search MLS in the States and Canada and filter by for properties that already have backyard garages. And you could convert them into a coach house, a little backyard coach house, but it's very, very inexpensive to create the workshop. And then a coach house is much more expensive, you know, because you got to connect it to the water system and the sewer system and then you know, Coach houses are not cheap. I've just building one now and one of my properties and it's like 330,000 bucks for a two bedroom coach has
Erwin  
for us as I mentioned earlier that we're targeting has was detached garages to car because we're able to do that for you're able to do those conversions for like 110 to 130.
Bruce  
Yeah, well, that's very, very good 110 to 130 is excellent. If you can do that, that'll that'll pay for itself. But if you were to convert it to a workshop, it would be a lot less.
Erwin  
Yes, of course, then which why, which is why? It's the first time I've heard the strategy of sort of, I've heard of the strategy for like Pure Storage, in terms of like offering just really just a storage shed to your tenants for maybe a few 100 bucks.
Bruce  
But I like that strategy, too. But the workshop is one step above. And like I said, we're
Erwin  
in between now we're in between the tiny home and garden suites and distortion.
Bruce  
If you have somebody like baya who's running a very successful yoga studio neighbourhood studio in her backyard and has an apartment, she's likely to stay quite a long time. There's something else you need to you need to know about that.
Erwin  
Being an Ontario lock, you're the one there tends to stay longer.
Bruce  
No, but there's something that you need to know. Are you ready?
Erwin  
Yeah, I'm ready.
Bruce  
I have a legal opinion from a very well respected lawyer on my computer somewhere. When I did that least remote work for the studio in the apartment. We did it as a commercial lease for the backyard workshop with accessory residential. And I was explaining Wait a second, I explained to Maya, I said, Maya, this is a commercial lease, you are paying HST on this. And HST for a building owner is your best friend. But wait a second, it gets more interesting. If it's a commercial lease with accessory residential, it is not covered by the Residential Tenancy Act. And the reason for that is this is a carve out that the Planning Act or the Residential Tenancy Act, excuse me, has created. So let's say Erwin, you and I owned a $300 million industrial building somewhere. And we had an site superintendent department so that he or she, they could look after a building, but then we find out our site superintendent is an alcoholic drug taking fiasco, you can walk in there and escort him or her them off the property and five minutes, because you can't have somebody who's dealing drugs or doing drugs, looking after a $300 million asset that they just, you just can't say for everybody. It's not safe. And it's a bad idea. And it does happen. I've had that situation exactly happened to me, like one of my properties. And because it was considered excessive residential, there's no over holding provision whatsoever. So I said, my, if you do not pay your rent, you know, it will not be a four to six month process and an end 12 For you to you are going to be leaving, I'll give you 15 days. And she said I understand. So I said you've got to be really committed to this because you don't want to be an entrepreneur, unless you're really committed and she was super committed. And she has been super successful. I think this year she'll break 130,000 an income. You know, there's some things that your listeners and viewers will have to learn. And they should get their own legal advice because I'm just a lowly engineer.
Erwin  
Engineer. Sorry, this is I want to keep harping on this on this on his live work condition, dear killing my apologise, naturally need to learn things. Can you
Bruce  
one of the things I don't know you will know new for little over an hour but I really respect the fact that you're drilling down and you're looking for the detail and you want to make things where the people are most successful in business and you know this Erwin is somebody who finds a model maybe this model and they just repeat it's like making sausages you know this the people who make the least and I'm guilty of this make the least amount of money is you do whatever you want. Like I've been Aki guy been a university professor and then a real estate developer a real estate coach, what the hell am I right?
Erwin  
And science fiction author? Apparently? Not apparently you are.
Bruce  
Oh, for sure. First Book was actually made into a short film by the way. No kidding. People been asking me for the other book. I've written any books over at the but the one I wrote about the sands in the National Hockey League. It's called don't back down. They want to turn it into a TV series but I said not until I die. Oh yeah.
Erwin  
You don't want to see it.
Bruce  
I don't. I'll leave that to my kids and grandkids to decide what to do with that.
Erwin  
That's too bad. Last Last sports. Sports stories have been making making Netflix and like the recent movie.
Bruce  
This was the same guys who did Letterkenny I don't know if you know that series.
Erwin  
I'm pretty sure many love fans and hockey fans would like to see it but yeah, okay, sorry. Just go back to the labour condition. Do you have any examples you can share from like the Ottawa area like what it costs to deliver it in what you're getting for rent for for for Workshop? Yeah, I'd
Bruce  
be happy to do that. So my wife and I, we own something called the barndominium.
Erwin  
That's our website.
Bruce  
A lot of the stuff that I do you know, if people say do you have a website and Facebook page, you know, Instagram, Snapchat, just in my smile I built, it's got to be 25 years ago now, one of my friends, he's a developer had this beautiful, beautiful Amish style barn, if you know what I mean, it's huge ceiling height, 30 feet. It looks like a church in some ways. As beautiful and his name was John colletta. He's now passed away. I said to him, because he was going to develop that. So what are you going to do with this bar? And I said, I got to these three young guys, they're gonna come here with a high Oh, knock it down. Said what? Such a beautiful building. Yeah. I said, How much are you paying them to knock it down and take the stuff away? I have about 3500 bucks. I said, How about I bring a crew down myself. And I do it for free. He said, Bruce, are you crazy? That's a lot of people think so. He said you got a deal. So I went with my crew. But we didn't knock it down. What we did was we dismembered it. And we lettered and numbered each piece, right. And I had a property about 12 or 13 kilometres away beautiful property with a lake on it and all kinds of cool stuff. And so we laid down a concrete pad and we rebuilt this thing. And it was really it's huge. It's like 4500 square foot feet with a 330 foot ceiling height. And, and we had a large screen TV in there. And my kids, it was a playpen for my kids. Basically, I had my summer office there, my cottage there, we own the lake, some about 165 acres in total. So we had this beautiful bar, and, you know, large screen, we used to watch the Blue Jays and whatever. And the kids would have sleepovers like for 35 Friends, right? So it's fun. And we can have dances and parties in there. And one of my daughters got married, and their kids have a nasty habit of growing up. And now they do. And so it sat empty for I don't know, 567 years and kids weren't interested anymore. You know, my oldest son's living in Australia with his family and one daughters in Toronto. I mean, you know, they're all over the place. So I said to my, well, what the hell are we gonna do with it, it just sitting there empty. So we decided this was before the pandemic began, based on, you know, my own experience that we would turn it into about 10 workshops that we did. And they range in size from 200 square feet, which is tiny to 400 square feet, 800 square feet, I think the biggest one is 1000. And oh, my God, as fast as we could fit them up. People came and read it, though. I mean, it's incredible. If I had 45,000 square feet instead of 4500. And it's this most wonderful community, we got an old dude in there, he makes cigar box guitars, you know, with a cigar box guitars, he buys these cigar boxes, they're actually it makes guitar, it's a thing. And they're beautiful. And oh my god, they sound beautiful. So he makes cigar box guitars. I've got a young fella His name is Ahmed he is he makes in designs and builds his own kitchen cabinets and bathroom cabinets and instals them very successful woman in there who's a fashion designer, another woman in there who makes handmade soaps and sells them to stores across Canada, the United States. I mean, I got a group in there that trains dogs, actually, they train the owners. But anyway, they do dog training. I mean, we've just got a wonderful group and timber frame are in there a carpenter in there, and we just have a hobbyist in there who's just got more stuff than he knows what to do. So the demand for these workshops was off the charts. And so for a 200 square foot, you know, workshop, we could I think 600 bucks a month, plus a contribution to power plus a contribution to cleaning. Parking is free because we get lots of land. So that works out to, I don't know, 30 or $35 per square foot per year gross plus contribution to power. And we have in our lease because we don't have them separately metre. If one of them has maybe exceptionally has a lot of power needs, then we can raise their we can change their rent. Now the next thing that happened was sure enough, a lot of these people asked whether there's apartments nearby that they could rent, because it's a fabulous community. And unfortunately, there aren't any, but we have rolled a few tiny houses onto our property. And guess what we do they, you know, because we got lots of land 165 acres, they can live on the sites. And they don't pay much for that. But they roll their own tiny homes on the site. If they have one or they go buy one. And they can roll it on our site. They can hook it up to our power and our septic system and our well. I think they pay like 500 bucks plus HST to park and so that's kind of the model. It's very simple, and we just love it. I like visiting them because they're such neat people and they run very successful businesses. Oh, we have we've got a registered massage therapist there, too. She does a RMT work.
Erwin  
How many people do you think you have living on the property now?
Bruce  
Right now. So we've got 10 workshops, and I think four of them are currently living on site. And there's at least one or two more who would like to so I might buy a couple of times. In fact, I actually contracted for a couple more tiny homes with local company, small living company. So we might have two more this year.
Erwin  
Purse had no idea the conversation would go here.
Bruce  
Christian, as Bill Vogel asked me to do it, and I was happy to do it. Your reputation precedes you. You're an amazing individual.
Erwin  
Oh, I appreciate it. You have way more stories than I do.
Bruce  
I'm also about twice your age. So there you go.
Erwin  
Do you have extra time? I know we're over time. Do you have time?
Bruce  
Well, I do have something I have to do at 1230. So I've got you know, eight more minutes or something like that. I got a little bit of coaching. I coached a couple of guys in Long Beach, California, who by the way, are doing this workshop model
Erwin  
Madhavi back, but I do want to ask you about you. So you've been you've probably been exploring AI longer than pretty much anyone else in the real estate community. Yeah. Talk to me about AI.
Bruce  
I wrote a trilogy on it. It's called Quantum entity and quantum entity. There's a trilogy. The first book is we are all one. And the second book is American spring. And the third book is I can't remember. That isn't the title. I can't remember. I just can't remember right now. Let's see. i Oh, yes. The third one is called the successes. It's a trilogy. And it's about a young man looks a lot like you actually. He lives in Toronto. And he's a brilliant mind. He's a physicist. And that's one of the
Erwin  
comparisons and yeah.
Bruce  
Well, he's very handsome. And he's a neat kid. In my mind, he does look a lot like you like the character I had in mind. I mean, I'm watching him on the screen here. He takes what's called the iPhone 40. This was in Britain 10 years ago, right? So he takes the iPhone 40. And he hacks them. And he adds something to them, which is a bit of a surprise. And so what happens is, you get your brand new iPhone 40. From quantum computing Corp, that's his company, cucc, quantum computing Corp, you get your, and the moment you boot it up, this kind of apparition shows up out of phone, it's sort of like, kinda like what Mark Zuckerberg was talking about with the metaverse, but it just sort of pops out of the phone. And if you know what a familiar is a familiar is an animal that becomes very close to a witch or Warlock. But in this case, the quantum entity sort of pops out of the phone in 3d, and bonds with you. And you know, initially they're very primitive creatures, but they learn about, you know, Irwin, or they learn about Bruce or Mary or Betty or whatever. And they become your familiar, they become like your alter ego, when you go to sleep, they can work on your income tax, right? When they go to sleep, they can be editing one of your videos, their quantum computing. And as soon as this happens, he starts to take them to the next level, they become quantum phones. And the one thing that he's basing his theory on which is is a valid theory in physics, is that when you create two particles that are related, no matter how far apart, they get, they are still communicating with each other. So you could have quantum phone here and a quantum phone on Mars. And there would be no time delay between the two of them. Right? And unlike some people like Elon Musk, who believes that AI could be the end of humanity, and it might be these quantum entities, the question will become in the first book question is, at what point does an artificially intelligent creature have human rights? Right? And there's a whole chapter in the book where this question is brought before the Supreme Court of the United States? And have these quantum entities developed intelligence? Are they conscious? And do they should they be protected entities by the US Constitution, or for that matter, the Canadian Constitution? And should they have rights, human rights, and it's my belief that, that we will see intelligent creatures, that they will be mechanical of sorts, and that they will sleep, they will dream, they will fall in love, because the only way to know you're conscious or in love is to be conscious or in love, right? That is the only way we have no other definition that makes any sense. You know, I think therefore I am. That is the only definition of consciousness that we makes any sense the Turing test is is Fine, but it doesn't go far enough. The other way to determine consciousness is early on when you ask yourself a question, just when you're sitting there and thinking, what am I going to do? What am I going to have to eat tonight? Is there a voice inside your head that says, that answers you? The answer is yes. That's consciousness. I think we will see a quantum computing at some point. And we will see artificial intelligence agents, basically, that will exhibit all of the symptoms, if you will, of consciousness and may from that dream, and like I said, sleep and fall in love. And these quantum entities that are in your phone, your iPhone 40, there is a lot of affection between you and your QE is crazy. And that's kind of the beginning of the story.
Erwin  
Back Back to back, we're going back to the Star Trek Next Generation, we know that they'll legally be people because Lieutenant Commander data was ruled as people are life conscious.
Bruce  
I love data. I do. He was my favourite character in that. And I remember fondly him saying, I remember who it was, I think Commander Riker comes in, and he looks at data and data is pouring water, measuring it very carefully into a flask and then boiling it and then doing it again. And commander record says to data, what are you doing? He said, Well, I'm testing this theory that the watch pot never boils. But no matter whether I look at it or not, it is boiling. And exactly the same time my internal chronometer tells me that and command director then says, Turn off your turtle chronometer and try it again. That Riker understood, or the writers understood that that is the beginning of consciousness and, and, and the ability to go beyond pure, you know, binary code.
Erwin  
Are you afraid of AI or, or as locus control? I spoke to a gentleman gentleman he said, look, look that's gonna troll is not within me. So I'm not stressing about it.
Bruce  
Speaking personally, anything can be used in a negative manner, right? I mean, you know, fire of humans, mastery of fire was very, very, very important. But fire was also the precursor of all of all of our metallurgy. Metallurgy led to many things, including guns and cannons, many other things implemented jets that bomb people. So, you know, it's been used in warfare for for a very long time. So, so but I would rather have mastery of fire than be freezing in a cave somewhere in France. So I think AI could be used for very, very nefarious purposes. For example, when this quantum era begins, all passwords are useless. I mean, my QE could read your your bank account while we're doing this. Now, Kiwis have the you know, one thing that Damien Bill who's the young physicist I mentioned, one thing that Damien did for him with his Cuvees is he tried to give them a sense of you know, like the Isaac Asimov rules, right, do no harm basically, I
Erwin  
like the lawns idea that make the robot weak enough that a human can overpower it. First, thanks so much for doing this.
Bruce  
I really enjoyed it. And will you give me a link at some point
Erwin  
I when we release? Yes, well, we will send it to us and
Bruce  
thank you for everything you've done today. I'll see you soon. Thanks.
Erwin  
Before you go if you're interested in learning more about an alternative means of cash flowing like hundreds of other real estate investors have already then sign up for my newsletter. Find out for yourself but so many real estate investors are doing to diversify and increase our cash flow. And if you can't tell I love teaching and sharing this stuff.

To connect with Bruce you can find his information on his website: https://brucemfirestone.com/
HELP US OUT!
Please help us reach new listeners on iTunes by leaving us a rating and review!
UPCOMING EVENTS
You are the average of the five people you spend the most time with! Build connections with empire builders and trailblazers at our iWIN events.
BEFORE YOU GO…
If you're interested in being a successful real estate investor like those who have been featured on this podcast and our hundreds of successful clients please let us know.
It is our honour to give back and educate others on how we build cash flowing real estate portfolios using all the best practices shared on this podcast, from the lessons of our hundreds of clients and of course our own experience in owning investment real estate.
If you didn't know already, we pride ourselves on being the best of the best real estate coaches, having the best property managers, contractors, handy people, cleaners, lawyers, accountants, everyone you need on your power team and we're happy to share them with our clients to ensure your success. 
New investor or seasoned veteran investor, we can help anyone by providing our award winning coaching services and this isn't all talk.
We have been awarded Realtor of the Year to Investors in 2015 by the Real Estate Investment Network, 2016 by the Canadian Real Estate Wealth Magazine and again in 2017 because no one told the judges no one is supposed to win the award twice but on merit, our peers deemed us as the best.  In 2018, we again won the same award by the Real Estate Investment Network.
Hopefully being the most decorated team of Realtors in Ontario will make you consider us for your first or next real estate investment.  Even if you don't invest in our areas, there's a good chance I know who would be ideal for you. 
I've been around for a while, some Realtors are talented at servicing investors there are many with great ethics.  The intersection of the two, talent and ethics is limited to a handful in each city or town.
Only work with the best is what my father always taught me.  If you're interested, drop us an email at iwin@infinitywealth.ca.
I hope to meet you at one of our meetups soon.
Again that's iwin@infinitywealth.ca
Sponsored by:
Infinity Wealth Investment Network – would you like to know how our investors returned 341.8% on positive cash flowing real estate over the last five years? On average, that was 68.4% per year.
Just imagine what winning in real estate could do for you.
If you would like to know how we did it, ask us how by calling 289-288-5019 or email us at iwin@infinitywealth.ca.
Don't delay, the top markets we focus in are trending upward in price, so you can pay today's price or tomorrow's price.
Till next time, just do it because I believe in you.
Erwin
Hamilton, St. Catharines and Toronto Land Development, Real Estate Investor, and soon to be builder.
W: erwinszeto.com
FB: https://www.facebook.com/erwin.szeto
IG: https://www.instagram.com/erwinszeto/
https://www.truthaboutrealestateinvesting.ca/wp-content/uploads/2023/08/Bruce-M-Firestone.jpg
630
1200
Erwin Szeto
https://www.truthaboutrealestateinvesting.ca/wp-content/uploads/2017/06/TruthRectangleLogo.png
Erwin Szeto
2023-08-21 20:57:35
2023-08-21 20:57:38
What's A Better Investment? Building an NHL Franchise or $100's of Millions of Real Estate With Bruce M Firestone