Artificial Intelligence (AI) Impact, and On Real Estate with Nicholas Ning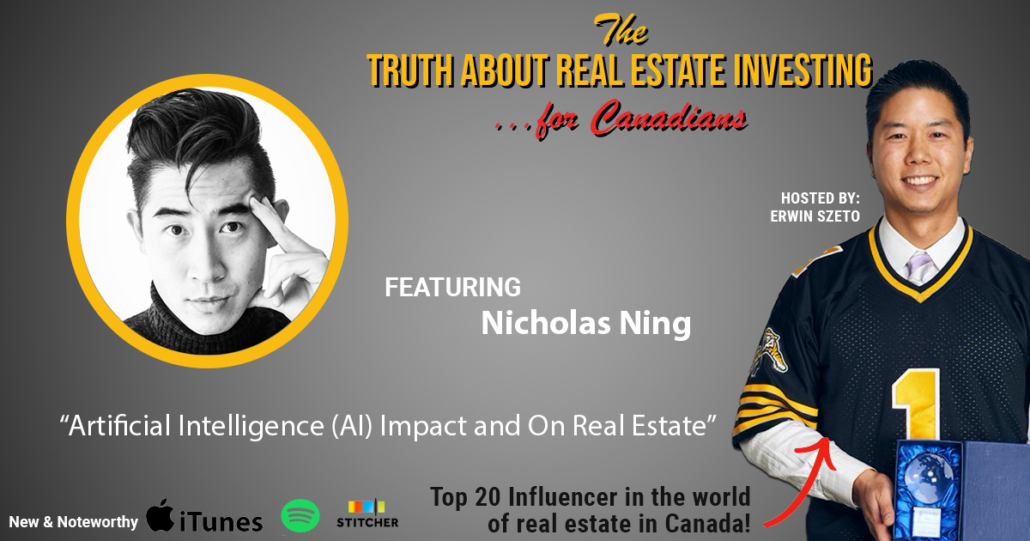 Greetings, fellow investors! 
This is the Truth About Real Estate Investing Show for Canadians, and we have something a wee different today: our guest is an AI – artificial intelligence expert.  
In 15 mins of using a free AI voice cloning generator, Nicholas could clone his own voice and break into his own banking account, beating a $100 million voice security investment made by the bank.  
A week later, Nicholas was on a call with the CEO of one of Canada's big five banks, asking him for advice on what to do with their $100 million investment.
Don't worry; even though we're discussing AI, we will talk more about the implications of AI in real estate, its threats and opportunities as this is a real estate investing show.
 

 

View this post on Instagram

 
Before we get to Nicholas, I've had many portfolio review Zoom calls with clients and listeners of this show.  
The feedback has been excellent; everyone was grateful to have someone as experienced as my coaches and me to bounce ideas off of. 
Whether it was to buy, sell, refinance, find a more aggressive lender, hire a coach, or even stocks and stock options!
It's always nice to make a difference in people's lives, especially in these high-interest rate times, and the market is slowing down for tenanted properties.
When you research what is actually selling, yes, properties are still selling, even pre-construction condos.  
As I read in this Globe and Mail article, Pre-construction condos are still selling, but pricing has to be right, as in below $1,400 per sq ft tho. That's well below the going rate of over $1,600-1,700 and $2,000 near the peak of the market before interest rates started rising.
Entry-level, which means less expensive, more affordable properties, are still in high demand judging by TREEB's July data, but anecdotally, investor buyers are taking the summer off buying.  
That's our experience and the experience being shared by investors sharing with me their properties for sale.
Commercial real estate sales are waaaay off a year ago, with July being down 47% from the previous year, commercial office rents are way down at 13%, and retail rents are even worse, down 26% compared to last July.
With rates high, a small chance of another rate increase this fall and recession looming…. Though recessions don't affect ticket sales to Taylor Swift concerts… Like seriously, six concert dates at the Skydome, a record, approximately 300,000 tickets to be made available and for everyone who pre-registered, they had a 1 in 400 chance to get on the buyers' list.  In-SANE.
Anyways, with cash flow only possible to those with larger down payments, it will be a rough time for income property sellers until we have a rate cut.
And when we do, the crisis for tenants is going to get even worse as it will be mostly those buying to live in buying while evicting tenants.
Short-term, it's crazy times. Long-term, the situation gets worse for property price appreciation with elevated construction costs mostly here to stay, and tenants will bear the worst of the housing crisis.
Our new federal housing minister, the immigration minister under whose watch the immigration numbers ballooned, says reducing immigration is not the answer but instead increasing housing supply and targets.  
I don't know how that happens with high building costs, short labour supply and a healthcare system suffering from all the demand.
So what to do? If I'm a parent, which I am, I'm doing all I can to ensure my kids and grandkids have a place to call home that no one can take from them as in homeownership.
Homeownership with manageable costs, e.g. under 30% of household income for any Canadian, is one of the key requirements to being happy.
Even better is when the tenants pay all the operating costs and mortgage payments for my clients' income properties.  Allow the tenants to pay off those properties, and in 25-30 years, my client will have a mortgage-free and clear-income property that generates thousands in cash flow each month.
We may all need that added cash flow to pay for private health care the way things are going.
At the end of the day, inflation is bad, especially in housing, where it will only get worse.  Make the decision today to get educated and take action.
Each month we offer free, online monthly iWIN Meetings where we share how our clients achieve financial peace through owning income properties and, for a nominal cost, MasterMind tours, on the streets, inside actual and potential income properties that have made our clients millionaires and multi-millionaires as a side hustle.
If you're interested, stay connected with us and sign up for our newsletter along with 10,000+ of Canada's iWinningest real estate investors. Simply enter your name and email on the right-hand side, and you'll be informed of our upcoming events and newly released episodes of this show and show notes.
In the long term, the sophisticated investor holding high-quality assets will win. 
The game of Monopoly is won by owning properties and collecting rent. Those paying rent don't fare as well.  
Make sure to be on the winning side!
Artificial Intelligence (AI) Impact, and On Real Estate with Nicholas Ning
On to this week's show, where we discuss deflation and how to be on the winning side of AI.
Our guest Nicholas Ning likes solving complex problems making them easy to understand, and creating value.  
Over the last ten years, he's worked for Fortune 500 companies on multi-billion dollar projects around the world in strategy, finance, design, and marketing.
He's also been hired by real estate companies and big-time developers to design business models using numerous AI tools to design and market real estate projects, and he's here today to share how we small investors may learn and borrow some of these ideas for our businesses.
Nicholas shares the story of using an AI tool to break into his bank account, what he and the bank's CEO discussed, why the hype in AI is justified, tools he used to build a business, a website to sell furniture in 15 mins for what a traditional Marketing firm would want $35,000 to 60,000 for. 
The moment Nicholas saw the writing on the wall, his day job was at risk to AI, and he resigned.
What he'd be teaching his children (if he had some) to prepare them for the AI revolution and the question we investors are all asking, "Are real estate investors safe from AI?"
Personally, I'm using AI tools quite frequently these days and don't see myself ever going back.  
I can't recommend enough that everyone pays attention to what's going on, and this episode is a great place to start your journey, so feel free to share it with anyone you care about. 
I'm subscribed to Nicholas' free newsletter, and you can find it at https://gptea.beehiiv.com/ and his Ai consulting firm's website www.farpointhq.com.
Please enjoy the show.
This episode is brought to you by me! We don't have sponsors for this show. I only share with you services owned by my wife Cherry and me.  Real estate investing is a staple in my life and allowed me to build wealth and, more importantly, achieve financial peace about the future, knowing our retirement is taken care of and my kids will be able to afford a home when they grow up.  If you, too, are interested in my systematic strategy to implement the #1 investment strategy, the same one pretty much all my guests are doing themselves, then go visit www.infinitywealth.ca/events and register for our next FREE Online Training Class.  We will be back in person once legally allowed to do so, but for now, we are 100% virtual.
No need for you to reinvent the wheel; we have our system down pat. Again that's  www.infinitywealth.ca/events and register for the FREE Online Training Class.
To Listen:
Audio Transcript
**Transcripts are auto-generated.

Erwin  
Greetings, fellow investors. This is the truth about real estate investing show for Canadians. And we definitely we different today that our guest is a AI expert. That's artificial intelligence. In 15 minutes of using a free AI voice cloning generator, Nicholas was able to clone his own voice and break into his own banking account, beating a $100 million voice security investment paid by the bank. Now that's that's Bay Street bank that we can all name $100 million of investment made by just one bank. Can you imagine? Imagine how many much banks around the world have invested in border security software? Anyways, so no surprise. A week later, Nicholas was on the call with the CEO of again, that same bank, one of the big five Canadian banks, asking him for advice on what to do with their $100 million investment in security software. Don't worry, even though we are discussing AI, we will talk more about the implications of AI and real estate, its threats and opportunities, as this isn't a real estate investing show for Canadians. Before we get to Nicholas, I've had many portfolio resume calls with clients and listeners of the show. The feedback has been excellent. No surprise, pat on the back. Everyone has been grateful to have someone as experienced as my coaches and I to bounce ideas off of whether it was to buy or sell or refinance that property or finding a more aggressive lender. I made some introductions for folks to a lot of credit unions, for example. So a lot of people are having challenges getting lenders these days. So credit unions, that's that's our own experience, as well as to going to go to credit unions that everyone knows which one credit unions to use, or have contacts there. But we have questions around like hiring coaches, even stock in stock options, discussions. So very fascinating stuff, always fun to talk to people. And it's always, it's always nice feeling to make a difference in people's lives, especially as a fear is especially higher than ever with high interest rates in the market is really slowing down for the sale of, especially tenants properties. When you dig into the research of what's actually selling. Yeah, properties are still selling out there. Toward real estate market wise, July is actually very similar to February. There are so there's always transactions going on. Even in pre construction condos, I read an article in The Globe and Mail just yesterday, I've included a link in the in the shownotes. Anyways, pre construction condos even still selling but the price has to be in the three and $1,300 per square foot. Anything above 1400 square feet per the article and the Globe and Mail is they're not moving at all. Now understand 13 to $1,400 per square foot. That's well below what the prices were near the peak before interest rates started going up. I was seeing regularly 16 1700 per square foot, even luxury condos at over $2,000 per square foot. So we are well off those numbers. So yeah, deals are to be had for some for some who can also understand the entry level, which means less expensive, more affordable properties for each market, there is still a demand. And that's again, don't believe me go look at Trump's data. So Toronto regional real estate boards, July data it was released about a week ago. But anecdotally, investors are taking the summer off. That's our experience. And the experience has been shared by many investors because I've never had so many people send me their properties for sale. And I've spoken to many of them. Again, many people are a lot quite longer on the days on market compared to the rest of the market. Because again, tenanted properties are not the flavour of the month. commercial sales are way off of last year. Again, going back to Trump's real estate data. July data, commercial sales over July, from 12 months ago are down 47% over 47% from the previous year. That's almost half. Commercial office rents are way down at 13%. Year over year. Even worse, retail rents retail for our retail commercial, retail rents are even worse. They're off, they're down 26% compared to the last this time last year, July. And last year, July was not a good month for the economy for because we are in the middle of all of these interest rate increases, right? Yeah, cuz I don't know who was one of them to jump into the market for the sign a lease in July last year in the middle of you know, a looming recession and raising rates. Yeah, retreat rates are high. And there's a small chance of another rate increase this fall. We'll see. Maybe like a one in six chance. We'll see. We saw a recession looming we've been talking about recession for last two years or so. See the looming arts here. But though the recession still seem to affect a Taylor Swift concert goers, like seriously, folks, Taylor Swift announced six concert dates at the Skydome some I know it's officially the rocker centre and Prometheus the Skydome. That's a record for number of concerts. Approximately 300,000 Tickets will be made available. And for everyone that pre registered, more people read pre pre registered in the word tickets. They had basically a one 400 chance of getting on the buyers list. This.
Nicholas  
Alright, so that's insane.
Erwin  
Anyways, and these tickets I'm going to guess are well over $200 Each even for nosebleeds we'll see, we'll see, this is gonna be fascinating. I did not register, I have no interest in going personally, I'm not gonna spend that kind of money anyways, with cash flow only possible for those who have larger down payments, it's gonna be a rough time for income property sellers. And that includes commercial properties until we see a rate cut until these people can feel more confidence that interest rates are going down. And when we do, the crisis for the housing market for tenants is going to get even worse, mostly those who are buying these days they're buying to live. So if they're buying an income property, they're likely evicting one of the tenants so they can move into for themselves. Really sad times. So short term, it's crazy times long term situation gets way worse, as property prices should should continue to depreciate. But while rates go down, inflation is real and here to stay, such as elevated construction costs that are mostly here to stay. Again, tenants will bear the worst of the housing crisis. Our new federal housing minister who was the Immigration Minister, via the Trudeau cabinet shuffle, and so under his watch, the new federal housing minister, it's under his watch that the immigration numbers ballooned. During his while it was while it was his portfolio, he says reducing immigration is not even the answer. But instead increasing housing supply and targets. Understand like these targets are no one's making them already as is. And you know, we're doomed. I don't know how this happens. I don't know how the new federal Federal Housing Minister will achieve these goals of greater supply with higher building costs and short labour supply and in construction. At that we have a health care system that suffering from all the all the demand on it. So what to do. If I'm a parent, which I am, I'm doing all I can to ensure my kids and grandkids will have a place to go home that no one can take away from them. As in homeownership. Homeownership with manageable costs manageable would be something like under 30% of household income, for any Canadian is a key requirement to being happy in life. If you don't believe me go ask anyone who's stressed about the mortgage payments, they're likely above 30% of their household income. For real estate investors, it's even better when tenants pay all the operating costs and mortgage payments, which is what my clients paying to properties generally do,
Nicholas  
unless they're leveraged. So over leveraged, we allow the tenant to
Erwin  
pay off those properties. And in 20 to 30 years, my client, sir, have a mortgage free, free and clear income property that generates 1000s and cash flow each month, we may all need that cash flow as well for private health care, because the way the healthcare public health care system is going, how it's bursting at the seams, that seems to be the way to go. Private health care, take care of yourselves, or become a doctor. And if you're a doctor, I want to be your friend. Anyways. At the end of the day, inflation is bad, especially in housing, where it will only get worse, make the decision today to get educated and take action. Each month we offer free online monthly IOM meetings where we share what our clients are doing to achieve financial peace through owning high quality income properties. And at the nominal costs we do in person mastermind tours, which are on the street inside actual and potential income properties that have made our clients millionaires and multimillionaires as a side hustle. If you're interested, make sure you're staying connected with us. And sign up for our newsletter along with the 10,000 Plus candidates, I wouldn't use real estate investors. Simply enter your name and email on the right hand side and you'll be informed of our upcoming events and newly released episodes of the show and show notes which are useful, so you don't have to try to write down people's email addresses while you're driving. Anyways, in the long term, the sophisticated investor holding high quality assets will win the game of monopolies won by owning properties and collecting rent. Those who pay rent a monopoly don't fare nearly as well. Make sure you're on the winning side. onto this week's show where we discuss deflation and how to be on the winning side of AI. Our guest Nick listening, like solving complex problems making them easy to understand and creating value. That's why him and I get along. I saw Nicola a wonderful he gave a wonderful presentation at a conference I attended and Victoria BC, just a few months ago. Over the last 10 years, he's worked with Fortune 500 companies on multi billion dollar projects around the world in strategy, finance, design and marketing. He's also been hired by real estate companies, big time developers, likely you would know their name if we sent them but for privacy reasons he can't. He's been hired to design business models to use AI tools, numerous AI tools to design and market Real Estate projects. And he's here today to share how we small investors may do the same. So we're all here to borrow some of these ideas and apply them to our own businesses. Nicholas shares the story of using AI tools to break into his own bank. What him the bank CEO discussed why the hype in AI is justified tools he's used to build business website to sell furniture in 15 minutes When a traditional marketing firm of want 35 to $60,000 for and we're taking like six months, the moment Nicholas saw the writing on the wall that his day job is at risk, and he resigned that risk to AI that is, and he resigned. We make some government jokes about that as well. What he'd be teaching his children, if he had children, what he would be teaching them how he would he would be preparing them for the AI revolution, because jobs of the future are gonna be different. There's no doubt about that. The questions and also answer the question that we also investors are asking our real estate investors say from Ai. I'll let Nicolas answer that. Me personally, I'm using AI tools very frequently. And several times a day, I used it three times I used it I don't know how many times today probably a five times a day already in before it's even three o'clock. As I'm recording this. I can't recommend enough that everyone pay attention to what's going on. This episode is a great place to start your journey. So please feel free to share this episode with anyone you care about. I'm personally subscribed to Nicholas's free newsletter and you can find it at GPT. T isn't isn't a drink tea, a GP t a beehive.com. It's not spelt the easiest. So please just go to show notes. And his AI consulting firms website is Farpoint hq.com. Again, all the links are in the show notes. Please go there. You'll find it at our website, www dot truth about real estate investing.ca. Again, www dot truth about real estate investing.ca. These enjoy the show. Hi, Nicholas, what's keeping you busy these days? The world of AI. That's pretty deep. I follow some people on Twitter and say like, these are the hottest 12 new API's that I discovered this week. 12 a week. I'm still trying to get trying to figure out like mass chats up to do. Like, for example, I write blog posts and like, you know, I haven't done yet. I remember any blog post is 2010 Once a week, so I thought maybe we should ask Chad GPT to proofread it for me still haven't done yet. So this week, it's on my to do is ask you to proofread something I've written we can do it. All the AI
Nicholas  
tools that come out as a completely untenable task, you can't do it. We've tried to do it impossible. What can't you do? What did you do? Sorry, not only like with the pace of model evolution, and then if people on your team who are listening don't know what models are. They're just the back end is that these AIs are trained on. So you know, you have open source models like and they're named after the funniest thing, right? We have llama or if I Kuna, or Falcon. So these are the models that power the API's. So everyone's familiar with GPT. So that's a general transformer. But on top of these models, people are building apps, whether there's specific apps to do things like a chat bot, or, you know, a sock a recommendation or a wine Somalian. These are all apps built on top of like a cheat sheet. And so keeping up with all of these apps, not only for generative text, but generative image generative video, text to speech speech texts, you can't keep up with all of the new apps that come out. The funny thing, though, is, you know, we cover a number of these apps that get released, and we play with a number of them with within our newsletter. And when GPT four came out that week, I think like four to 500 of these apps just got the ball iterated, and then when the new plugins came out, you know, every plugin that was charged up to Gmail extender just gets destroyed, because you don't have the distribution. And as you can see, these models come out you're you're dead.
Erwin  
So it's kind of hard to build a business or model off of existing tech,
Nicholas  
the sands are shifting rapidly. I'll leave it at that.
Erwin  
So we're getting into a little bit of detail earlier than I would like. So can we take a step back, for example, like I was, like, I was talking to Dimitri booter. And for example, he was sharing how it he's never been so excited for what AI is going to do. Can you think of a time in history where we've had, we're looking at such a large, revolutionary, anything that's going to change things? I don't know, you're the expert on this. But it makes me think of like the like the manufacturing revolution, of like being able to manufacture with like machinery and stuff. We're not doing everything by hand. What analogies would you be would you make to what this wave of AI tools is like, compared to human history
Nicholas  
fired?
Erwin  
From at Prometheus, and story fire from the gods.
Nicholas  
Yeah, I think the really interesting kind of these pivotal instances of AI and what makes a totally fundamentally different than, let's say, web, web three, or crypto was almost the ease of it. And if we use crypto as kind of this analogue of the differences between it whenever you talk to someone in crypto or what 3d We talk to you about, like ERC 20, or keys, or let me talk to you about blockchain technology, everyone would glaze over. Nobody wants to talk about that. Right? Like, my mom was like, I'm trying to cook dinner, don't don't talk to me about this. Show anybody, whether it's a kid, your parents, your grandparents, and AI tools like, here, just type in what you're curious about. And the kid could be like, draw me a unicorn on the moon. And then boom, ba would do it. And the grandparents would be like, write me a story that I could talk, tell my grandkids won't be able to do it. So it's got something for everyone. And the ability for it to use NLP natural language processing to just take natural language and give you what you want is a massive step change. It's kind of like probably the printing press, you have this explosion of the diffusion of information. And I think for me, what's always been fundamental is, when I think about massive global problems, like poverty, or inequality, inequity, the only leveller that I can see isn't money, it's education. And when we're able to diffuse massive education across broad swaths of population, that's when we kind of start seeing the elevation of the general populace. It's like when people understand contraception, and you know, the effects that that has on society. Same goes with AI you give every kid in Africa are things like this, their world developing countries laptops, and then these laptops are powered by AI, because you don't have teachers, you don't have as many teachers to the population. So that ratio is totally out of whack. But now you have an AI that's available 24 hours or depending on your availability of electricity, but it's infinitely patient. And it can just educate your population on what they're curious about, whenever they're curious about it. And then so you can just incrementally improve that society. I think that's a definite massive step change.
Erwin  
Even just talking to people, for example, I drive a Tesla, for even just remember having conversations with people about autonomous driving, even autopilot, whatnot. People always have objections, like my cousin who used to race go karts, he says, I can see everything that's angled the mirrors, and I can see everything around me. Right, like, you know, I can do math, what are my odds of beating our calculator? Right. And I feel the same. And but again, there's always resistance because again, people's context needs to catch up to whatever the technology is. And like you're saying, it's growing so quickly, it's really difficult to keep up with.
Nicholas  
But you mentioned earlier, what are some basic things people can like first steps they can do to understand AI? Like to start using it in their daily life? Yeah, for me, it took me about two weeks to totally wean off of Google. So my default now is GPT. I go that up to everything, one of the things you want to keep in the back of your mind is the nature that you use. This new AI technology is fundamentally different than how you used to work for like the last decade or more since Google, because with Google, now, the experience is just awful, because it is riddled with the ads. And all web pages are just SEO optimised to shit. So you're just wading through just tonnes of fluff to try to parse out the bit of information you're looking for. And usually, if it's for work, chances are you're going to find that piece of information, cut and paste that into some document that you're working in. Whether you're taking numbers into Excel or paragraphs into Word and then editing it with AI, it's different. So instead of jumping back and forth, it's conversational. And so when you give it your initial prompt, you shouldn't be prepared to have a conversation with it at length longer than you would on Google. So for example, on Google, let's say your average site time or your average page visit is four seconds, seven seconds, right? IGBTs, like 40 seconds or two minutes or more. So the way that we work, it's fundamentally different. So when we you start to use GPT. And when you start using AI tools, number one would be suspend your disbelief. And this was a this was an interesting insight that I found out with a lot of leaders. So I just presented as a keynote for iOS one candidate conference, and I had a couple of leaders come up to me after the talk, saying, I couldn't believe your images were generated by mid journey. Because as executives and leaders, one of the great commonalities is that you're all curious. For the most part, you're all relatively ahead of the curve on technological advancements. You know, there are many, many, many leaders today that are early adopters of tech, and so on. tonnes of the audience had access to MC journey V one, or V two. And then they did what people do, you know, they typed a prompt in. And then the image looked like it was drawn by their niece, who's in the second grade? And they're like, oh, yeah, you know, it can't drive a car better than me. It can't paint a picture better than me. It can't write copy better than me. And so they dismiss it.
Erwin  
Right snapshot in time. Right, exactly. But then you fast
Nicholas  
forward like eight months, and then boom, the model evolution has outpaced and then now your new outputs on like the one on the 5.1 looks next to real. And this took less than a year. So number one is suspending your disbelief. And setting aside that time to just sit down and probably craft a prompt. It's not like write me a viral LinkedIn post, you need to give it context. And what we're so used to doing is this piece by piece going through Google trying to formulate a holistic view of that answer, versus now we have to give it the context. So we almost have to it can't judge CBT can't read our minds yet. And so we need to give it that context, you are a blank, your task is to blank My goal is to blank. Right? And then formulating that prompt and then having that conversation with it. I would say that's where you start. I think why
Erwin  
I'm naturally interested in this subject is after reading price tomorrow, but read my Jeff booth, who's a Canadian, actually. So you should have this plug in or you do know one builder guy, right? I forget what businesses from but I know more for his book and also because he just a big promotes Bitcoin heavily for the for the practicality of it. My point is that the book is all about how we need deflation to basically save us all. We need technology to cause deflation, and to make everything cheaper, and then hopefully people get upset about that. Because like the iPhone is a perfect example of someone who's deflationary. You know, it's a computer in my pocket. It's a camera does. It's an mp3 player, whatever does all these things. And AI, which is a huge blanket term, it already is very deflationary technology or technology. But I do want to step back, because I think people need to understand how good it is already. Because I believe I saw an article that chat GPT can pass the bar exam, like I believe it already passed a legal school in the States. And more impressively to me, just because I understood better was I believe it passed an MBA programme at Wharton School of Business, which is a top 10 business school in the world. Right. So then I think the way I think of it is, I have access to someone this smart apps on the free version. So for free. I didn't get like entry level legal information for free in seconds. So for example, the disclaimer I have for the show, when I have guests who are offering securitized products, I asked this church BT to write that just legal disclaimer, and then I fit it into 11 art is to read it out for me, so I didn't have to do it. So for anyone doesn't know 11 art like 11 art made the news because it was used to I believe, well, there, the article was saying that 11 art, which is an AI tool was used to the terms deep fake. I'm new to this stuff. I'm old.
Nicholas  
Are you messing up? That was 11 Labs.
Erwin  
Sorry, sorry. Yeah, 11 Labs, sorry, politics, living labs, was used to deep fake Joe Rogan. You're familiar with the story that you share? You tell me what happened, how good these tools already are. So there's a
Nicholas  
lot of like these artificial text to speech or speech to text that's trained on massive amounts of audio data. There's a number of players like the one that you're referring to is a podcast done by pod AI. But that was Steve Jobs being interviewed by Joe Rogan. And the intro sounds like Joe Rogan. And he asks questions like Joe Rogan. But within that interview, funny enough, Steve Jobs was making references to how his trip to India changed how he thinks and how that impacted the direction at Apple. It's like how you'd like you can't make that shit up. Like you can't, someone can't go study the law. I mean, they could but they would need to stay in the life of Steve Jobs. And then almost be like the QE if you ever watched genius where the guy just trails Kanye, but something like that, where it would understand the history of Steve Jobs, and then see from almost like an anthropological view how that experience shaped direction that Apple and be able to draw the through lines of that. So that's very, very, very difficult and that speaks to AIS, reasoning abilities, but from there 11 Labs has done it so you can you can literally go on YouTube and take, let's just say an interview with Tom Hanks And then you just train it on Tom Hanks his voice. And then in five minutes, you can just have a synthetic clone of Tom Hanks saying whatever you want it to say, noise GPT also does that there's an there's a handful of these companies. But yeah, it's wild.
Erwin  
Are you afraid at all? Is this is this is being recorded and put on the internet? Are you afraid at all about what people can do to abuse this looks? First of all, when I tried it myself, after you suggested the use of 11 Labs, I tried it myself. And I was scared, because I get my voices out there on the internet, people can take my voice files and feed it to AI an AI tool and then have any say craziest shit? Are you concerned at
Nicholas  
all? It's not something I look as control. So I have no control. So it doesn't affect me.
Erwin  
Right? Right, just accept that you can control and just like, go on living.
Nicholas  
It's kind of like, you know, people's fear about AIS, and artificial general intelligence and stuff like that there's a handful of people, there's like 100 people on the face of the planet, there's like less than 1000 For sure, that have their literal hands in the formation of the codebase the training sets. I'm not one of those people. And so being afraid of this thing is like, I can do nothing to control it. So I don't worry about it. That being said, though, like, you know, taking precautionary measures not being stupid with it, it also does find a good use case for why there should be new, like even the most basic things, you know, if there are instances where you get a call and you think it's someone maybe there's, you know, like a voice password, that's very obscure. And then so whenever you're getting a call, you can just ask, like, what's our voice password, and it could be as obscure as, like, one of the moons of Jupiter is Titan. And then that would just be like your voice passphrase something like that. It's an or some audio equivalent of a CAPTCHA. But yeah, without those things being in the event, then there's nothing I can do. So I'm not afraid.
Erwin  
Okay, so I'm sorry, I think we need to take a step back. And let's start with, like, what did you go to school for? Like, how did you become an AI expert? Let's start with school.
Nicholas  
Okay, so I will clear something. I want to like set this. I don't like the experts things and it's kind of biassed from every I feel like these massively consolidated windows of hype cycles, whether it's no or NF T's and I've just had so many of these, like so called experts. And every time I'm on LinkedIn, or Twitter or any of these things, like you're using chance up T wrong 99% of population do this. But if you want to be that 1% do this instead. And everyone's a self proclaimed AI expert. Right now, I do not conflate myself with being an expert in this area. Okay, a long winded way. I went to school for engineering. So did double major in business engineering. mechatronic systems engineering.
Erwin  
Your parents must be so proud. Because your location so I'm pretty sure you have Asian parents or major engineering MBA. I'm an Asian parents. So I know I'd be like, just why kids? Sorry, continue. Apologies. Can you clarify engineering, computer civil, chemical?
Nicholas  
No. Mechatronics Systems Engineering is kinda like robotics, and better on the hardware side. As opposed to software. I actually want to be an astronaut. But I have a performative eye condition. So I can't, I'm almost I'm legally blind in my lifetime. So I'm eligible for flight. I can't fly by, you know, if I brush it with my company, and I'll just buy a ticket on this fly up with Elon. That'd be cool. But yeah, from there, I mean, as soon as I was kind of like out of it, and I worked on hybrid motors, which are the stuff on solar arrays solar panels is there's there's a lot of applications for hybrid cars, essentially just think about it. A hybrid run lens like technology called substrates. And the way you think about it is like an Oreo cookie. And so with an Oreo cookie, you have like, two biscuits and a layer of cream with a substrate is so you have two layers of you know, a composite like polymer and glass or you know, something and then on your cream, you have whatever conductive material like silver nano oxide or anything like that, but basically, you're just making like films. So, we worked on that super boring. And then I kind of just came to the realisation that I would never be like a CTO. I've met people in that point. around who are prodigious their ovens is burn hotter than mine I can't function at that level and so I just saw it as if I continue on this course I'm just going to have a very good paying dead end job. And yeah, I left went into fashion. I was a fashion designer I helped on like made to measure and stuff like that worked on Savile Row for a bit worked with like couture houses like Sanya or Tom Ford and Stefano Ricci. Yeah, left that became a chef was a cook for a while, and then went into finance. pivoted into software, I was a director of marketing as a SaaS, CRM company, hardware, I was a consultant, doing strategy work for clients. I've been Derna. And then yeah, saw the writing on the wall with AI, acquit. And here
Erwin  
we are, what was the moment where you saw the writing on the wall with AI?
Nicholas  
I had access to GPT. Two, when it was in closed beta,
Erwin  
what Sorry, what year was it
Nicholas  
20, late 2021. So in the heart of COVID. And with GPT, two, I could get it to just like the realisation that you're having with GPT three, where it can help write legal documents for you. GPT, two, could when I was using it, within consulting, you know, you these companies, whether it's McKinsey or Bain or KPMG, they have armies of analysts, right, or undergrads that come out. And they're doing all of this primary and secondary research. You know, they're doing interviews, they're doing competitive analysis, heuristics analysis on these companies. GPT, two could do that job at almost a better level than most junior analysts. And that was to, were on for now. And so I was looking at that, with an overlay of how far back these models were going, and how quickly they were advancing. I was just making like some rough predictions that based on current trajectory, I think I'm going to be out of a job in nine months, like a model would be good enough to put me out of the job. And so I kind of just saw the writing on the wall, and I quit, and went full time into AI. And yeah, here we are. There's been like a number of pivotal moments within my own journey that have shaped my own insights on workflows and how these things are used in day to day life. That might be contrary to how most people think about it. But they have been very formative in in our own positions and our own structures of how we conduct business, and how we think about the macro landscape, that we can touch on those. But yeah, that's a long winded way of saying what I went to school for.
Erwin  
Did you send some tips to Justin Trudeau? So maybe we can cut down on our McKinsey bill?
Nicholas  
Yeah, we can.
Erwin  
In there's deflation for you. Right? Yeah. And we, as taxpayers, I'm sure we'd all appreciate saving some money. So that was two years ago. And you thought you'd be out of a job in nine months. And that was version two. version four is available now. Right? What does it mean that you got into AI full time to tell us what to do now? Was that bank story part of your being full time in AI? Do you stay to show bank story?
Nicholas  
Yeah, absolutely. So for anyone listening? I'm assuming most of your listeners are Canadians. Yeah. I mean, almost all major banks use this technology. Go ahead. Sorry.
Erwin  
Yeah, the overnight for several listeners are Canadian, and what doesn't every adult have a bank account? And then real estate investors have numerous Sorry, continue.
Nicholas  
Okay, so assuming you're Canadian, I mean, you could be anywhere, and all major banks use this technology, but as part of, you know, a mandate or not, but as part of a bank initiative, they were trying to open channels for accessibility, right, people who might be visually impaired, things like that. They would use voice recognition, as an entry point into accessing your banking services, checking your invoice, you know, I have a lot of credit card, customer support, things like that. So when you call your bank, through your cell phone, and you hit like seven, or something like that, you're going to be met with Welcome to your voice recognition. Please say my voice is my password. And then their software on their end would match your voice against the recorded voice, which I believe they gathered by the central consent form. But you know, when they say this call is being monitored for customer support. And for training purposes. That's what they're doing. Right? So they're recording your voice, and they can use that as training data. So let's say they have right like I don't know how long your calls are with the bank. Let's say you have a really good stressful customers report. Let's just say it's three minutes, but the average might be five. Right? You call them for
Erwin  
every, almost every big corporation does it says that?
Nicholas  
Yeah, I know they have your shit.
Erwin  
Shit. Sorry, continue. I think the listeners are worried going but you have a really good story like this sorry.
Nicholas  
Yeah, they have your they have your voice data. And then they use that to train their own programme to do voice recognition. So then when you call in, they will say, say your voice is my password, or your voice is my voice is my password. So you say that and they match that against the thing. And then it's like, welcome or when your balance is blank, right? So all major banks have this technology. And chances are you were given a thing that you didn't even think about, they just like sent you either like a text message, or on your last call with them. Some Customer Service Representative might have said, you know, we've just opened our new voice recognition system, it makes it easier for you to log in, instead of you having to type in either your paying or your card number, you can just say my voice is my password. And then you will get into your account. So tonnes of people obviously opted in, because they don't think twice. It's just like, when did you read your terms and conditions? Yeah,
Erwin  
can you trust your bank? Generally people generally. Right.
Nicholas  
And so you've enabled this thing. And with currently AI technology, like the one you just mentioned, with 11 Labs, you can take less than a five minute snippet of your voice, create a synthetic clone, and it will blow through your banks, voice recognition systems. So I ran this penetration test against my own bank. And using like a five minute audio clip, I blew through it. This was like a bank Spence north of $100 million. Wondering, yeah,
Erwin  
oh, my god, spend 100 million
Nicholas  
developing this tech. And it's not so much the tech as a, like the procurement the team's time, the consultant, you know, all the little nuances that go into why so many things within company initiatives are bloated. But yeah, it costs a shit tonne of money. Okay, all banks, it's not Canadian, it's us, European, international banks all use this. But current AI technologies, I can just go through and get your banking,
Erwin  
we should probably cut this off because we're giving people ideas, because we have our voice now.
Nicholas  
You do not need to have voice recognition enabled. You can and you should turn that
Erwin  
off. Now someone called you right? You got the attention of some banks,
Nicholas  
I gotta pay attention. Some banks, I got a call. I was at funnily enough, I was at the KPMG AI Summit. And I was getting a call, because there was there was like a senior analyst there who had seen my article writing forward it up and it kept getting forwarded up in the company. And they had like a VP and I also had a CEO of another financial institution call me like, What do you mean, you did this? How did you do this? Do you want me to walk you through how I did
Erwin  
this? And they couldn't figure it out themselves?
Nicholas  
It was yeah, they're just so on apprised of the technologies, it's wild, they have $100
Erwin  
million budget for this. So here's the braket.
Nicholas  
crazy stat right now is over 56%, probably 60%. Now the population hasn't heard about charging at less than 4% of people have used it. And less than 20% of that 12% have used it daily. And then there's a fraction of those people who are proficient. And so like you said, you have this massive deflationary technology at your fingertips. And yet, how many people are really using it to its full capabilities? So yeah, when you think about your lives, and it does make sense, right, as leaders or as CEOs, it's kind of like that spotlight bias, where you know, our lives are the most important things and the complexities of our lives get in the way. No CEO, no C suite, no executive is going to sit down and learn prompt engineering. They're not going to do it. They're not gonna go spend a day straightening AI tools. And so those constraints like, it is not surprising that you're not apprised of the current development of AI technologies and how they can break your current security systems.
Erwin  
But like you said, but like you said, though, like for daily use, I've just like you I've replaced by googling with asking chat GPT because again, just like your experience, will, you know, someone who spent the money to be SEO, or to return their page to the top of the of the search like they're generally a capitalist business, and they have an agenda. The worst example is when I google for a recipe, and then there's a huge story I just want the gradients. And what temperature to Cook says scroll, scroll, slight, slight, slight, slight sleep to get to what I want, right? Like, I get. So like you said, and I think this is where a great use case for everyone is to start using it in their daily lives just to replace the use of Google. And prior to that case, anyone still using Yahoo, to ask your questions, use chatty PT, and it's free. And I have the app on my phone. As soon as you said there was I didn't even know there was the app on the apple, I have an iPhone, so I got I installed that right away. So it's really easy to get in as free apps on the free version and cheap. We'll get to that. I just get so much value out of the out of the free version,
Nicholas  
you're gonna get like 50x at least value other than paid. That'd be game changing for
Erwin  
you. Good lord. It's actually funny. I, I taught him that mistake. I did do some research. I asked Chad, again, the free version I asked it named me the post secondary schools in Kingston, Ontario, because that's just as the students from research. And they gave me two, and then asked, What about Royal Military College, and then it apologised, so my apologies, I missed it. So that's what you get for free and free. But actually, that goes to your point in the presentation that you gave, you still need someone who knows something to be monitoring it. Right, because he gave the analogy that this replaces like a for like a one or two year experienced employee. That's a great example. Because you know, as a business owner, the rule of thumb that we were often given is, if the employee can do 80% of what you can do, that's a good employee. So we still have to be there for like the 24% in order to steer things and monitor. Am I right? Yeah. You mentioned like, a CEO of a big multi billion dollar publicly traded company that we can all name wasn't when I called you got like, a phone call with you. Yeah, right. This is a big deal. But you got to really you really got their attention.
Nicholas  
It does not feel good when initiative, you spend multimillion dollars on many years get blown out by five minutes of
Erwin  
AI trained firing around.
Nicholas  
This is like a kid. Yeah, there's like those 80s movies when you've got like a teenager on, you know, one of the first PCs hacks to nuclear codes kind of moment.
Erwin  
It's like that. It's like a science fiction book where the the child commands the fleet to save humanity. Yeah. And your Ender's Game. This is like Ender's Game. They're not gonna call you Enders. But it was probably like that moment, because the sea was probably 56 years old grey hair, makes a lot of money. Has like 1000s of employees.
Nicholas  
Let me destroy you.
Erwin  
God. Yeah. If anyone hasn't watched the movies, Ender's Game, read the book, like highly recommend those, so I highly recommend it. And actually, the FRP did a pretty good job with the movie, too. I thought they honoured the book low enough at the movie, not perfectly, but the book was better. But yeah. And I'm so naive. They taught me a got me the surprise ending. But yeah, let's move on. Everyone's gonna have that moment. All right, everyone will have that moment where like, they realise like, this is a thing. Right? Again, like you said, like, this is like the printing press, which is, this is enormous. To me, this is bigger than the crypto fat NFT fad. And not that this isn't even a fad. It almost feels like it just because there's like, like the hype cycle is really hot right now. If you don't believe me, then we'll just go look at Microsoft or Google stock right now. Like if they're just flying, like all time. Microsoft's not way all time highs were early in the hype cycle. But this has legs. Yeah, well, in the presentation he gave to me on number three. And if you remember, in the presentation you gave, you mentioned that you're doing marketing work for people already. So I wanted to bring this into something that the listener can appreciate. Right? So for example, you're already helping large companies, like very large companies, build marketing campaigns. For example, the example that you gave was like you built a very nice web page landing page with not much effort. And something you did a loan, which a marketing company were charged a small fortune for to me as well, fortunately, 50 grand to me, that's a small margin. Can you elaborate what the process is like?
Nicholas  
Yeah, absolutely. And I think to take a step back for your listeners, who some of them, whether you're suppliers, or you run companies, you're right about the 80% that can an employee that can take 80% of your job as a good employee, or any of your tasks. When you look at AI capabilities and things like this. One of the cautions that I tell our partners is do not conflate AI with a staples Big Easy button. Yeah button where you just like that was easy. And you click this button and it's done. That's not what AI does. And there are almost catastrophic Dangerous, as you know, current cases have shown the lawyer who got GPT, to cite case precedent for one of the airlines that it was creating an argument for it made it up. But the lawyer would have caught it if he looked. And this is where what AI has really done is it shifted people from content creators to editors, you cannot just type in a prompt and then let it run and submit it. Or you shouldn't. That's just a recipe for disaster. So respect to current workflows. Yes, we deal with enterprise clients across traditional sectors. So one of our top sectors is real estate, we also play heavily in finance and banking and healthcare. So when we look at real estate, a big aspect of that, if you're a developer, is marketing, presentation centres, landing pages, things like this. Our first examples that I did, outside of real estate, that was a good use case for this current application was, there's a mom and dad out of Stockholm, who just makes furniture, right? Imagine that Scandinavian design, very minimalist, well crafted, very warm, like IKEA. Exactly like, imagine you're Huji. Chair, and you have this wonderful piece of furniture, but they can't make websites through shit. And they don't have money. Exactly. Like you said, your small fortune to hire a full time UI, UX developer, web developer, you know? So how do you do it?
Erwin  
So sorry, to see what your context? How much do you think? How much would a firm would have charged these people
Nicholas  
6040 to 60. And they would pitch it with like, I'm going to make you a design system, I'm going to make you your brand guidelines, I'm going to create your web page, but it's going to be optimised for SEO, and blah, blah, blah, blah. And then I'm like, okay, and then you're gonna go back and forth, you're gonna have some of your own opinions, and like, oh, I don't really love this colour. And then you're gonna have a couple of edits back with the firm, it's gonna take you three to six months, right? And then you're going to have interviews, like, what do you imagine your brand to be? What are your attributes, and they're going to try to formulate the image around that. And then you're gonna get a lot
Erwin  
of time in your mind cycles.
Nicholas  
It's not just the money, it's not just the money, it's also the time exactly. And then you're gonna get, you know, a mock up, and then a prototype, and then you're gonna get something in a sandbox. And you're like, okay, cool. Let's launch that. So now with AI, I can get charged PT to write the copy, I can use mid journey to create designs, I can use Vectorizer, to vector the images and to upscale so that they're SVG. So we can, you know, do responsive testing on it. So it can be responsive for both desktop and mobile, and then get UI zard. They have an AI that can just create apps, you can literally just tell it the app and I'll create an app in like 30 seconds. And then you can push all of that to figma. And there's an add on within figma, which is a design programme that converts your designs directly into HTML. And so that whole workflow if you run it correctly, that took me about 12 minutes, and they had a fully functioning Shopify integrated front end Landing Page That Sells a beautiful chair, written with well crafted persuasive copy for five bucks 25 If you include the GPT Pro, that's crazy. And then so let's take that one example for a mom and pop furniture shop, to a real estate company who's doing a multi million dollar development. And what is going to entice people to come to your presentation centre, a beautiful landing page, right now selling this in Coquitlam. You know, own your beautiful, two bedroom suites overlooking part of blah, blah, blah.
Erwin  
Sorry, should I just pause Nicholas, a lot of our listeners are from Ontario. So quick. Listen, them is in British Columbia. policies concerning continue.
Nicholas  
I mean, like, I don't know if there are towers going up in Brampton. But you know, seeing where,
Erwin  
right? In the same housing crisis, you do MVC.
Nicholas  
And all it takes is understanding the basic components behind the landing page, right? And there's like three forward hops, you have your images, that's one component, you have your logo, that's another component, and then your copy. And so all of those things are
Erwin  
all created, right? Like the image like for developer for example, the images, the building doesn't exist. So you have artists renditions? Exactly. Now it's aI written ditions is that the term My mid journey written renditions.
Nicholas  
So one of the things that we're trying to build out, it's not fully fleshed out, but it does work. We're piloting it with a developer right now they gave us like a floorplan, like a schematic, and then we gave it to an AI, and then it's colourized it and created renderings of it. So I don't need nervous anymore. I could have one to double check it, but I don't need it. Oh, my God, that sounds complicated. It's more complicated than you think. But also, like less time that you might think. But here's what
Erwin  
I mean. Like the like for someone to execute that, like a human being to execute that. That sounds complicated.
Nicholas  
Yeah, I'm not actually sure. These are, I think these are the interesting findings that we're discovering with all of our work, because we're sector Gnostics. I'm learning all the nuances within a sector specific workflow that I was never privy to before. Like I never understood how it goes from like, a topological scan to, you know, civil engineer creating this blueprint that goes to an architect or bla bla bla, that goes to this final product, and all the pieces in between, but every little piece of that is an area where AI can intervene today.
Erwin  
So sorry, Nicholas. So just I'm trying to understand what what you're explaining. So you give it a floor plan. And it's going to basically give you an artist's rendition of the finished product. Yes, digitally, is furnish it,
Nicholas  
I guess. I mean, it's this is an exterior facade. But I've also demonstrated that I can just give it a floor plan. And it can create different renderings of any style that you want. So you can give it a floor plan, just like a blank 2300 square foot unit. That's nothing. Right. And then you can prompt the AI to say, you know, render this in mid century, or minimalist, or our Deco. And it'll do it. And so you don't need stagers either.
Erwin  
So like, blog, a lot of investors they have, they have rental properties, and so they have pictures. And then no one likes pictures of a vacant property. Right? Exactly. So can I just use something like a bit journey to input my pictures and ask you to stage it?
Nicholas  
Yes. What's that gonna cost me 10 bucks a month. Cuz
Erwin  
the price I was the market rate is about $100 per picture.
Nicholas  
Okay, yeah, you get two hours of render time, that's going to generate you hundreds of pictures for 10 bucks.
Erwin  
And sorry, for the blisters benefit, the journey is the way to do it.
Nicholas  
There's also like real estate specific, we're developing something proprietary, but open source stuff like you can use and cheered on AI. There's a number of tools that can I can send you a list, you can put them in your show notes that they can they can use today. They're open source or free. You can even upload a picture of a messy apartment, but let's just say that
Erwin  
my house yeah.
Nicholas  
Right, like Cheerios everywhere, milk on the walls, hoarder house, right? Everywhere. You can take a picture of that, upload it, and then you can tell the AI to like render this and you know, simplistic Japanese and kind of thing and we'll do it.
Erwin  
So this is deflationary. And I'm hopefully listeners are paying attention because this will save you money. And if you're posting pictures of your rental property, and the property is not staged digitally, like your mistake, especially when you're saying is $10 a month. Worst. And then you just cut it off. Once you're done, just turn it off after you're done your pictures and then turn it back on when you need to do it again.
Nicholas  
Wow, this is insane. Yeah, it's pretty wild.
Erwin  
How are you gonna go do you to work with the talking about the developer or any other sectors?
Nicholas  
I mean, like this is one of our core thesis is AI will penetrate every sector. And this is why we have structured the firm to be sector agnostic and not Nishan. The degree of penetration of sectors will vary like accounting legal, are gonna get hit really hard. I've already seen getting calls, a tonne of them from legal firms, everything from conveyancing contracting, you know, any I can already be trained on legal contracts and then redline your contracts autonomously. And they'll do a better job than legal assistants, paralegals, things like that today, right now, you know, I can also give you current benchmark tests on AI capabilities, AIS will perform 88% better on core legal tasks. AI has performed 86% Better than doctors in hospital settings. You're right. One of the first instances that we covered was an AI completing an MBA programme at Wharton. But from there, it's also Yeah, surpass tonnes of human standardised testing. So
Erwin  
I think medical I read isn't just Jeff boothbook present tomorrow. AI is already ahead of radiologists. Which is, again like for people who are afraid of AI like we're talking about early detection of cancer and it doesn't need to sleep or 24 hours a day. That's more accurate. and just as important, accurate prediction of cancer so that we're not giving prescribing chemotherapy to someone who doesn't need it. Right, like, so for anyone considering radiology as a career? I think that's like the most extreme case of AI being so much better. But yeah, there is I had chills. I don't know if listeners chills, but I have chills. Because again, like, no one's not been affected by cancer. This is incredibly important for changing our lives. And again, like think for listeners benefit, think downstream, their detection of cancer means better quality of life, for that patient, less huge healthcare costs. Right, you don't need a bed in the hospital. So it's less stress on our on our most limited resources, just generally doctors and nurses. Right. And again, like I think the cost I forget how much it costs to occupy a bed. But you know, again, so general point is deflationary, and better quality of life. If all this stuff works, so we need to cheer this stuff on. Not to be afraid of it. Yeah, it's really dumb on me again, because I'm a nerd. I always think of like, Star Trek is like where we're going to be. In a world where money doesn't matter, because it doesn't matter anymore. There's no scarcity anymore. I don't know how you get there. You get there with the replicator? Yeah, I imagine that thing takes a lot of energy. But right now, energy is expensive. Again, the star, Star Trek geek stuff. But again, we need deflationary pressures, because again, we're like we're all suffering from inflation right now. Yeah. What can you bring us to the food sector and paying too much money for my beef? So you were talking about accounting legal being replace? Sorry, the first thing that popped in my mind was that I've seen some things where this says that you should keep proprietary, do not put proprietary information into chat GPT, for example, like so for example, don't put your private information. So don't give it your cin number is probably a good example. So how would someone actually go about like saying reviewing legal documents, or anything accounting related, so I'm biassed? Obviously, my wife has an accounting firm. So how would someone use AI? To help them help them in their in their daily lives and accounting or legal? And then stay safe? And not feeling anything private?
Nicholas  
Yeah, great question. There's a there's a number of ways around this. So number one is just you know, if you're a sole proprietor, or if you're just a personal account using GPT, just go into your settings today. And then there's literally a button that says data controls, and then you can toggle off chat history. And what this does is your chats will no longer be used for training data. They won't be included in future training sets. This is like the Incognito Mode.
Erwin  
And we can trust it.
Nicholas  
It's as moot as saying like, can we trust Facebook? Right, like, look at all the crap that you posted on Facebook, look at all the, you know, I'm not insinuating anything, but like look at the things that people have potentially sent on Snapchat. The way worse, way worse than like what you are prompting GPT with? And so can we trust it? It's like Snapchat, don't trust
Erwin  
anything on the internet.
Nicholas  
Hey, go to your your tossing up. This is actually you know, we all have to get into this on the call. But this is interesting application of a concept of the Pareto frontier. And the product frontier is a multi objective optimization problem. But it's really interesting. This is also how you like solve the alignment problem. I mean, a quick high level is just like, you have two opposing forces. And neither forces can be maximised because it will break the system. And an example would be within AI. One objective that you want to optimise for is helpfulness. You want an AI to be helpful, right? But if we maximise that objective, then you can ask it like, give me step by step instructions on building a nuke. And it will give it to you because it's maximally helpful, rank the races of the world from worst to best, and it will do it for you. So that is not only helpful, but it's harmful. And so if we optimise on the flip side for harmlessness, that an AI shouldn't harm us, then it would be totally useless. Because if we asked it to anything for it to satisfy a maximum objective of harmlessness, it can't answer, because that is the only way that it can reach that maximum peak. So in both use cases, they're unusable. And so the Pareto frontier is the point at which both points are maximally optimised. But yeah, that point is an interesting one, because this is probably one of the first examples where throughout the entire collective human history, we've operated on trial and error. This is kind of one area where we can really fuck it up. And there's a probable nonzero chance that we'll fuck it up.
Erwin  
It's interesting because I study so Christo some basic philosophies, nothing less sophisticated, like, for example, like the philosophy of charity, or charities been around for a long time. Like you're discovering new things every day. The philosophy behind anything AI is gonna be difficult.
Nicholas  
It's a fun place to work, though, for sure. What are some? Oh, sorry. And just quickly going back to answering your questions. So one is, you know, turning going back to your accounts, so turning on private mode, but two is if you're a company that has an enterprise version of GPT. And so on enterprise, you can remove your company's data from the training sets. And then lastly, it's just like, if you really want to go gung ho with it, we've done it, we've had requests for a couple of companies, and then we're walking them through why and why not, you should do this. But you can have a localised model that just runs locally within your company that's trained on all of your data. And so because it's localised, it's on the cloud, there will be no use on any future future models. So those are the three ways.
Erwin  
For listeners benefit. For usually example, a real example, I was on a call with, again, a bunch of leaders, and one was a software development house. So there, one thing they were doing was they were getting off whatever platform they were using that that's on the cloud says cloud base where all their code is stored. So their code is proprietary. So they're they're switching off to I don't know, what is way over my head. But the point is like, you do not want anything of yours that's proprietary, because that's, that's how a software company makes money is their software. But they've written stuff, that's
Nicholas  
Samsung engineers, who use GPT and put their source code into it.
Erwin  
They got fired, and they got fired. It's like with a Chinese smile.
Nicholas  
And this, like fundamental human heuristics, where we're just lazy, so just like we need to get, you know, we need to push out code by No, we are just users. And like, what's crazy?
Erwin  
And there's no turning back?
Nicholas  
Yeah, there's no Erase Button. There's no undo.
Erwin  
I can recall an email, I think on Gmail. I don't know how accurate it is. So I have a real use case I use for accounting, for example, was my system asked me there was this hotel charge? What should I build? What should what accounting expense category is like, hey, come over here. Come on. Let's pass chat. TPT. And I said travel. Right. So So I said, my assistant like next time as chat TPT. First, if you need to ask me, tell me chat. TBTC travel? I'm like, that makes sense. So at least don't make don't make me try to use mental cycles to figure it out. Just you know, it's a free app. Do you have more complicated examples that people can use in their daily lives for accounting or legal advice.
Nicholas  
And there's a time my advice is, everybody's got 20 bucks. I know, 100% of your listeners have 20 bucks, get the pro in his game changing. And the reason for that is because they've currently changed the UI of it before. When you upgrade, you're going to have two buttons at the top of your screen. One's going to say 3.51 is going to say for 3.5. They used to have these graphics that would show the attributes of the models. And it would just look like if you play video games, your characters have attributes, right? You know, like Aragon that sword Lord is maximised on strength, right, but he's slow as shit. And he's got like medium defence, when they were showing these AI models, it was the same GPT 3.5 is heavily optimised for speed as an attribute, whether it is low on confidence and as low on reasoning. And so when you're using like anything online, like an open source, something you can tell what model it has wrapped within this application based on the speed of the outputs. So if the things just like spitting out outputs, it's running 3.5. So you know, it has low reasoning, for on the other hand, is maximum reasoning, maximum confidence, maximum critical thinking, and on a three on speed. But for higher level tasks that you would not trust them enter GPT three is great for writing like a job description or a reference letter or like a birthday card for mom, I would not use it for legal advice I would use for with being a plugin that has access to the internet to be able to pull recent precedent and make arguments for like, potential legal scenarios. You know, there's a whole gambit around prompt engineering that, you know, we probably don't have time to get into. But yeah, if you're doing anything more complex, I would heavily advise you to use for which is $20 a month, which is 20 bucks a month.
Erwin  
But it'll it'll it'll, you'll get the newest version every time it's released. Yeah, All right. So this is I'm sorry, I can be very childish. I'm currently reading because of the conference because the conference the the one of the speakers mentioned, the author of men are from Mars, Women are from Venus. So I'm actually wondering if I could put in things my wife says to me and as chatty be easy to interpret it translated into Mars language. Probably only 4.0 Wow, this is also fascinating. I wish I could keep you all day because again, I have chills. Nicholas, thank you so much for doing this. Thank you for being so generous with your time where can people follow along? I know you have a newsletter Can you share where people can find our newsletter that best taking people pretty step by step to the basics of AI.
Nicholas  
Our newsletter is written for non technical people are read by people from meta Google Amazon Tesla. That's called GPT t like the drink. So you can just go gpt.ehive.com. And you can check us out there. We've been writing we've covered every major news break from, you know, a deepfake of the Pope, to you know, legal precedents as being said, pastors writing sermons with GPT, everything. We cover, how to write prompts, workflows, everything like that. And if you're looking for AI guidance within your companies, we have a global AI consulting firm. So we advise enterprise clients, if your major banks think your major real estate developers, but that's at Farpoint. So Farpoint hq.com.
Erwin  
And for the listeners benefit of all the links in the show notes, Nicklaus stupid question, our real estate investor safe for me, I
Nicholas  
am a real estate investor safe from Ai. I think, you know, there's more fear than people have. And I think as garland, I understand why, but if we're leaving on anything, it's probably don't be afraid, be prepared. And there are all of the nuances. You don't know it, because it's so innate to you. But there are subtleties within everybody's not only work, but within their own segments and sectors that they've accumulated through the years, whether it's jargon, how to yet do personal deals, were things that I should look out for that, intuitively, I can just feel as is off, people develop spidey senses, and whatever aspect of their work, right. And so musicians can hear when something's off pitch, real estate investors or something can can feel when a piece of land is great, or something like that. Those nuances are things that AI is can't pick up yet. And these are why it's important for you to be editors, what you want to have ai do, AI solves your zero to one problem. The worst part of writing a book report is staring at a blank page. But if you had your topic sentence or your first body written, you're cooking with gas, right, you're off to the races, that's a
Erwin  
30% of the way there is, which is much easier than starting from zero.
Nicholas  
Exactly. And that's what they are allows you to do. So whether you're a real estate investor, or an accountant or think about all of the repetitive tedious things that you hate to do. Or if you're ideating, you know, artistic renderings. And you're having trouble thinking about other ways that this can be presented heavy, I do it. It gets you 80% of the way there. And then you need to rely on your instincts and your accumulated corpus of experience to help guide that final mile. But that's where we're at. Yeah, I wouldn't be afraid
Erwin  
when my staff is a native Spanish speaker. So English is a second language and she was having a problem with the shipping company. She's trying to write an email, she's upset. I said, hear your prayers to chat, GBT asked you to write an email, that you're unhappy with our services? Well, more than 80% of the way there, especially for someone who's speaking English as a second language. Right? So you said something that I'm putting words in your mouth, but you did save them? You had a slide it was really poignant. And, and I think it put a lot of my fears at ease. It said that AAA won't replace you. With someone using AI. Sorry, you remember the slide. I wanted to
Nicholas  
say? You said exactly right. You won't be replaced by AI. You'll be replaced by someone who uses AI. I think don't care what anybody says. We coined that phrase. This was back in like December. And now everybody is hockey in this thing. I wish I had like a royalty or something because I wouldn't need to do this. But yeah, that's exactly it. And it evolves not just from you know, your job. It's your company won't be replaced by in by AI. It will be replaced by another company that uses and leverages AI. It also evolved into nations. You know, when we think about if you closes AI access, those are almost calamitous decisions.
Erwin  
Wait, that's not something they're considering. Right? To
Nicholas  
close, Italy banned GPT. And this is this is why Canada doesn't have barred is because it doesn't comply with GDPR regulations. And so we have all of these data policies, I don't understand why they're in place. But for companies and for for nations to close off an entire populace from this technology is is calamitous and detrimental. In my opinion. Has China done that? Nope. They have. They have. So that's it. Chinese company.
Erwin  
Can you tell him like I don't trust much. But I will say I don't think AI is gonna, you know, actually, I don't know. Who knows. I don't think AI will replace my ability to be a landlord. You know, you people still need a place to live and sleep at night. I agree. Nicholas, any final words you want to share?
Nicholas  
No, I'm good. I mean, if you do want to touch on on kids, and well,
Erwin  
yeah, because before recording I mentioned how Demetri Boudreau and who you know don't want to know personally who's raised a billionaire. He's allowed his kids to play Minecraft and Roblox, Roblox? Obviously, I'm younger kids. Yes, what do you do you have kids? If you had kids, what would they be doing?
Nicholas  
They would be on GBT. But secondly, I would say the dangers is in the parents ability to parent. And as humans, most of the time, we lean towards a path of least resistance. Right? This is why the Tick Tock algorithm works that you can just keep scrolling, don't keep giving you what you want. This is what we have Uber, this is why we have DoorDash. We just want easy we want fast,
Erwin  
because we were overpaying like Amazon's more expensive than alternatives.
Nicholas  
And so as a parent, if we use that heuristic, it's like, it's easier to just talk to a kid in front of an iPad than it is to engage parents consistently. And, you know, I do not make any claim to understand the hardships of being a parent. And so I get it. That being said, though, what you want to teach kids is critical thinking. And this is something that schools do not. Schools are designed in their current infrastructure to standardise and just print employees. Right? If you're going to university, what you're really buying is insurance. Because a good litmus test, how schools really promote themselves is like we have a parent, we have a teacher to student ratio of, you know, X, and X percent of our graduates get placements at these firms or whatever. And that's bullshit. Because a true litmus test would be, I want to see the T fours, I want to see the tax returns of your graduates five years out. And what is your rate of like, wage increase? Because that shows me ROI. If I put a kid through school at 60 grand a year, it's gonna cost me a quarter million dollars of education, they better be making bad and coming out of it. Otherwise, it's a waste. Okay, so I would get kids to use AI, but not have it, like write a book report. I would want them to interact with it, because now you have the collective wisdom, of 1000s of years of our civilization at their fingertips, and they can satisfy their infinite curiosity. You can put this in the show notes. This is a very nerdy article, but there's a problem called the balloon to sigma problem. And it's a study of why there has been an exponential decrease in geniuses. And the study finds that people like Marcus Aurelius, famous stoic philosopher had, like 12 tutors, Charles Darwin has 16 tutors. You know, Einstein had a tutor sounds like this. But as a parent today, it is both financially and time untenable for you to have multiple tutors for your kids. But with AI, your kid can have an infinite amount of tutors. With the balloon to stigma problem discovered was that kids who had tutors performed two standard deviations better than control kids at tests, because it allows kids to be immersed in a subject matter for a prolonged period of time with people with deep expertise on that field, you get the same result with AI. So this is where I would like, you know, you can create personas for kids to engage with, like a coding persona, or a legal one or a German one if they want to learn languages. And now you have all of these tutors at your disposal and kids can just interact with it. You can literally have GPD create lesson plan for your kids. I'm having gptc speak Punjabi.
Erwin  
Let's use this as an example. What's the first prompt?
Nicholas  
I actually have a prompt to write the prompts. I've engineered a prompt to help write me better prompts because that prompt will write better ones that You can engage with and I can, but it would be something like you want to structure it with setting the context first. So who it is that you're going to talk to, you're not talking to an AI, you're talking to an AI that is trained on x, right? So you are a, you know, you're a language coach, or you are a native Punjabi speaker word that is trained in tutoring and helping people blah, blah, blah. Your task is to help me learn Punjabi. My goal is to, I have four weeks, I have eight weeks, you know, you will create a lesson plan for me, I have one hour a day, you will break this up to me in this, this is why I want the more specific you are with AI, the better your outputs are going to be. That's how it started. Right?
Erwin  
And this is the human, partly the human component, you need to know what to ask, or you just asked it to know ask you ask it what I should be asking.
Nicholas  
Yeah, this is, uh, this is one of the questions that the CEO of the bank asked me after our conversation is like, Should we be hiring pump engineers? And my answer is no. Because pumped engineering isn't a job. It's a skill. And it would be as insane as saying, you know, we have Irwin out our job. And his job is a Google engineer. If you want to google anything, you go to Irwin. Like, how stupid is that? Right. And if you think about that cell, everybody knows how to use Excel. But some people know how to use pivot tables and other people don't. And it's going to be the same with AI. Everyone's going to know how to charge PT everyone's gonna know how to write prompts, but some people will just write prompts better than other people. So prompt engineering is a skill. But kids will pick that up quick, because naturally curious because they're naturally curious. That's it. Nicholas again, thanks
Erwin  
so much for doing this I have chills.
Erwin  
Before you go if you're interested in learning more about an alternative means of cash flowing like hundreds of other real estate investors have already then sign up for my newsletter. Find out for yourself but so many real estate investors are doing to diversify and increase our cash flow. And if you can't tell I love teaching and sharing this stuff.

HELP US OUT!
Please help us reach new listeners on iTunes by leaving us a rating and review!
UPCOMING EVENTS
You are the average of the five people you spend the most time with! Build connections with empire builders and trailblazers at our iWIN events.
BEFORE YOU GO…
If you're interested in being a successful real estate investor like those who have been featured on this podcast and our hundreds of successful clients please let us know.
It is our honour to give back and educate others on how we build cash flowing real estate portfolios using all the best practices shared on this podcast, from the lessons of our hundreds of clients and of course our own experience in owning investment real estate.
If you didn't know already, we pride ourselves on being the best of the best real estate coaches, having the best property managers, contractors, handy people, cleaners, lawyers, accountants, everyone you need on your power team and we're happy to share them with our clients to ensure your success. 
New investor or seasoned veteran investor, we can help anyone by providing our award winning coaching services and this isn't all talk.
We have been awarded Realtor of the Year to Investors in 2015 by the Real Estate Investment Network, 2016 by the Canadian Real Estate Wealth Magazine and again in 2017 because no one told the judges no one is supposed to win the award twice but on merit, our peers deemed us as the best.  In 2018, we again won the same award by the Real Estate Investment Network.
Hopefully being the most decorated team of Realtors in Ontario will make you consider us for your first or next real estate investment.  Even if you don't invest in our areas, there's a good chance I know who would be ideal for you. 
I've been around for a while, some Realtors are talented at servicing investors there are many with great ethics.  The intersection of the two, talent and ethics is limited to a handful in each city or town.
Only work with the best is what my father always taught me.  If you're interested, drop us an email at iwin@infinitywealth.ca.
I hope to meet you at one of our meetups soon.
Again that's iwin@infinitywealth.ca
Sponsored by:
Infinity Wealth Investment Network – would you like to know how our investors returned 341.8% on positive cash flowing real estate over the last five years? On average, that was 68.4% per year.
Just imagine what winning in real estate could do for you.
If you would like to know how we did it, ask us how by calling 289-288-5019 or email us at iwin@infinitywealth.ca.
Don't delay, the top markets we focus in are trending upward in price, so you can pay today's price or tomorrow's price.
Till next time, just do it because I believe in you.
Erwin
Hamilton, St. Catharines and Toronto Land Development, Real Estate Investor, and soon to be builder.
W: erwinszeto.com
FB: https://www.facebook.com/erwin.szeto
IG: https://www.instagram.com/erwinszeto/
https://www.truthaboutrealestateinvesting.ca/wp-content/uploads/2023/08/Nicholas-Ning.jpg
630
1200
Erwin Szeto
https://www.truthaboutrealestateinvesting.ca/wp-content/uploads/2017/06/TruthRectangleLogo.png
Erwin Szeto
2023-08-14 20:20:44
2023-08-14 21:31:35
Artificial Intelligence (AI) Impact, and On Real Estate with Nicholas Ning