Recreational Property Investing: Hundreds of ACRES, RV Sites, Even a Golf Course With Darvin Zurfluh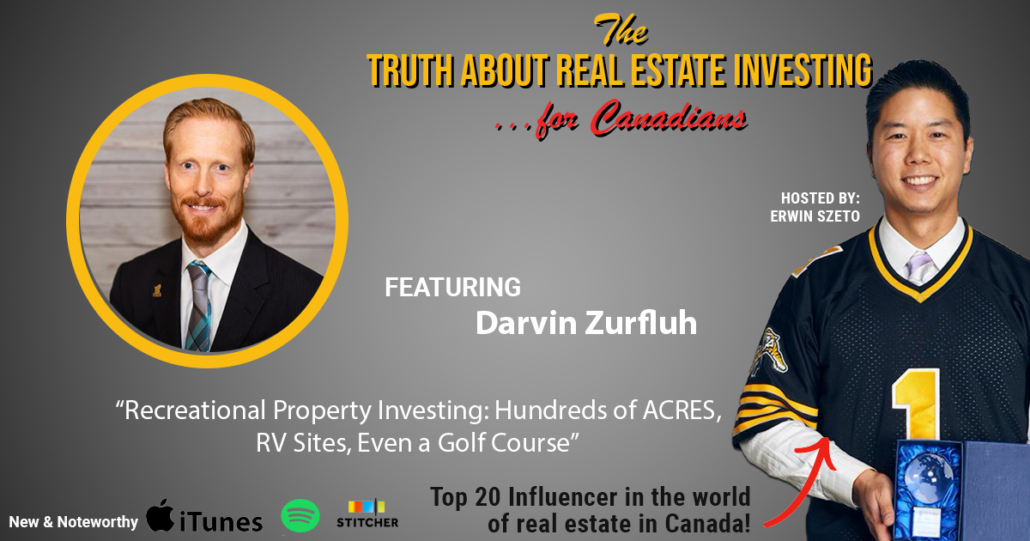 The market is a wild one, with interest rates really high.
While many speculators out there are getting crushed, we checked our numbers: our clients who sold their investment properties in the last six months, after an average hold of 5.2 years, received an average of $313,000 price appreciation alone because they bought, renovated, rented the right way.
View this post on Instagram
The real estate market means many things to many people. Folks with houses on land in bigger markets are just fine. Prices are resilient and are near 2021's peak, while pre-construction and cottages are in a buyers' market.
Both will likely be fine in the mid to long term, but for now, especially if one is vacant, it's going to be painful.
I was speaking to one Airbnb property manager in the Niagara Region who shared with me that more supply has come on the market via new construction owners as they can't cash flow with long-term tenants on a single-family home who have turned to short-term and mid-term rentals.
So short-term rentals for existing investors are not performing as well as they used to.
A friend of mine who's been operating Airbnbs for several years and was able to quit his job from the income 4-5 years ago shared with me his Airbnbs are not performing as well as they did pre-pandemic.
As for long-term rentals, our clients are doing just fine.
They may be vacant a month or two while testing out record-high rent asking prices in markets like Kingston and Hamilton. E.g. Coach Steve Phillips in Kingston shared with me that our client signed for $2,600 for a 3 bedroom, main floor apartment in Kingston, and we have a client asking for $2,500 for a former garage they have since converted into a two-bedroom apartment in Hamilton.
On the other hand, small market and novice landlords appear to be struggling based on my conversations with investors reaching out for portfolio reviews or help.
Small towns far from the GTA, which were the darlings of real estate in the early pandemic, are now correcting.
Is this the new normal?
Long-term, everything will hopefully be fine if they can find tenants. In the short term, we're seeing great turnkey deals and deals in bigger markets.
Why is that important? Bigger cities and turnkey mean lower risk.
One mistake I find new investors make… well, maybe two is they believe what they see on HGTV and think money in real estate is fast and easy, which could not be further from the truth.
The other is more work and effort means more returns.
For example, I mentioned earlier some of our clients are taking profits and paying down debts while rates are high. The best performing property was bought turnkey from a builder.
I sat with the builder to design the house to be the perfect student rental, and it was. That house, and other similar houses, required no renovations and currently get the highest rents in the market.
After a 7-year hold, our client walked away with $489,000 in price appreciation alone. That's nearly half a million dollars in profit from one stream of income.
My point is turnkey; small multifamily can be a viable option, so don't discount it thinking one must buy an ugly property that requires months to years of renovations plus hundreds of thousands of dollars.
As a sophisticated investor, one should look at the variety of options available and make decisions holistically.
I've had several calls with novice investors considering options four hours drive from home, each way. Or out of province. VS. I always tell clients it's not that hard to make money closer to home.
If you can't make money closer to home, what makes folks think they can succeed in a market where they have no contacts or relationships?
It's obviously possible as past guests of this show, but not everyone is willing to put in that full-time effort. Nor do they have a partner/spouse earning six figures at home to pay the bills and put food on the table.
In my experience of having worked with over 350 successful real estate investors, investing within an hour's drive is world-class, profitable and can be done as a side hustle so folks can go back to living their lives.
They didn't do so by investing in pre-construction condos, no flipping, nor higher risk strategies that required private borrowing.
Trendy, fad investing can work. It just seems to take more savvy, deep pockets, risk and effort. When keeping it simple, tried and proven works just fine.
The sad thing is that with housing prices so high, it will only be the rich who can afford deals in the current market and going forward.
Even more sad is this situation will only worsen when the rate cuts begin sometime mid-next year as buyers get off the fence and push this sellers market further into sellers market.
TRREB released their July stats already, and of note, property days on the market is 24, prices held steady from June even with more listings hitting the market, and average prices are above last year's.
In Hamilton, we're up 5.5% year over year. That's a wonderful amount of appreciation because even if you bought a cash-flow-neutral property last year and put down 25%, that's a 22% return!
With interest rates expected to come down sometime mid to late 2024, we should see prices climb, and we'll be sharing how our clients continue to earn world-class returns via online monthly iWIN Meetings and MasterMind Tours, so don't miss out!
The best place to stay informed is our email newsletter, where we let folks know when new episodes are available and the scheduling of our events.
Many of my wealthy friends are taking advantage of the opportunities presented by this market; find out how you can too.
Sign up for our email newsletter at www.truthaboutrealestateinvesting.ca; enter your name and email address on the right side, and you're set to become a well informed, sophisticated investor!
Speaking of simple, tried and proven, Cherry, the kids, and I just returned from a week-long vacation in Muskoka. We didn't stay in a luxurious cottage; we stayed at a family camp at the YMCA on a huge property with lots of greenery, a lakefront, and most importantly, camp councillors and kids programming.
Each day the kids would do all sorts of activities: tree top trekking, wall climbing, canoeing, kayaking, swimming, sailing, nature hikes, arts and crafts, and archery.
As a family, we could participate in those same activities in the afternoons. We did them all. Meals were provided.
Our accommodation was a cabin with ten bunk beds, so very simple accommodations; the same cabin regular overnight campers used, so it had no frills, air conditioning, or bathroom.
We had a blast! I mean, the beds could have been better for my back and sleep, but the kids had a blast.
The camp councillors were amazing; we enjoyed the meals, campfires, and being disconnected from the city.
This was our 2nd visit to the YMCA family camp, our first since the pandemic, and we plan to be back next year. A simple vacation, camping is tried and proven to be fun for kids, and it works 😊
Recreational Property Investing: Hundreds of ACRES, RV Sites, Even a Golf Course With Darvin Zurfluh
On to this week's show!
We have my friend Darvin Zurfluh, who has a huge private equity brokerage called Pinnacle Wealth Brokers.
If you've been around the investor community, you've likely seen them around at events, but today we have the founder of the company joining us from Calgary, Alberta.
If you're not familiar with private equities, well, you need to be as good as private equities is part of the reason you'll hear me say it's better than ever to be rich as the options for investing have never been so good and available.
I was introduced to Darvin when I asked my own Pinnacle Wealth Broker representative Steve Blasiak for a large-scale podcast guest in the recreational investment space since so many of my listeners are interested in AirBnb.
Having been in the investment industry since 1997, starting out at the bank, Darvin has since progressed to owning a couple hundred acres, hundreds of RV sites, cabins, campgrounds, a hotel, and a golf course.
Darvin details the story behind the purchase of the golf course, the analysis, and the value add strategy, which I find particularly fascinating.
This is a fascinating interview into entrepreneurship in the private equity real estate investing space at a large scale that is also available to middle-class investors to participate in passively.
Active or passive investors will appreciate this interview, and if you enjoy it, Darvin has been confirmed as a guest speaker at the online, November 21st, monthly iWIN Meeting.
There Darvin will go into more detail about what private equity investments are, how to start one to raise capital, and the story behind starting his recreational properties investment fund, so make sure you're on our email newsletter like the over 10,000 plus iWinningest investors in Canada at www.truthaboutrealestateinvesting.ca.
As we discuss securitized investments, please enjoy the show and this legal disclaimer as required by the iWIN Legal Department.
If you'd like to learn more about investing with Darvin's company Pinnacle Wealth Brokers:
Steven Blasiak
Dealing Rep – Exempt Market
Pinnacle Wealth Brokers Inc.

7 Kingslea Gardens
Toronto, On M8Y2A7
Phone: 416 464 3085
Steven.Blasiak@PInnacleWealth.ca
Book an appointment with Steve – https://calendly.com/steven-blasiak/30min
Disclaimer:
The information and opinions expressed in this podcast are solely for educational and informational purposes and should not be considered as investment advice. The hosts and guests of this podcast are not licensed financial advisors, brokers, or registered investment advisors, and their comments should not be construed as recommendations or endorsements of any specific investment, security, or strategy.
Investing involves risks, including the possible loss of principal. Before making any investment decision, you should conduct your own research and consult with a licensed financial advisor to determine the suitability of any investment for your specific financial situation and investment goals.
The hosts and guests of this podcast make no representations or warranties as to the accuracy, completeness, or timeliness of any information discussed in this podcast. The podcast is not responsible for any errors or omissions, or for the results obtained from the use of this information.
Listeners are advised to use their own judgement and seek the advice of professionals before acting on any information provided in this podcast. The podcast shall not be liable for any damages, including but not limited to direct, indirect, special, or consequential damages arising out of or related to the use, inability to use, or reliance on any information provided in this podcast.
Please enjoy the show.
This episode is brought to you by me! We don't have sponsors for this show. I only share with you services owned by my wife Cherry and me. Real estate investing is a staple in my life and allowed me to build wealth and, more importantly, achieve financial peace about the future, knowing our retirement is taken care of and my kids will be able to afford a home when they grow up. If you, too, are interested in my systematic strategy to implement the #1 investment strategy, the same one pretty much all my guests are doing themselves, then go visit www.infinitywealth.ca/events and register for our next FREE Online Training Class. We will be back in person once legally allowed to do so, but for now, we are 100% virtual.
No need for you to reinvent the wheel; we have our system down pat. Again that's www.infinitywealth.ca/events and register for the FREE Online Training Class.
To Listen:
Audio Transcript
**Transcripts are auto-generated.

Erwin
Hello, everyone. Welcome to the truth about real estate investing show we have an awesome episode, we're gonna talk about recreational property investing. And we're talking about a couple properties, four or five properties that and to give you an idea of the scale, we're talking about hundreds of acres, hundreds of acres, hundreds of RV sites, even in a hotel and a restaurant in there and a golf course with Darvin Zurfluh, who is the owner and founder of Pinnacle wealth brokers. Before we get to that this is the truth about real estate investing show for Canadians. It is one of the top ranked podcasts on business and investing per iTunes. Since we've been around since 2016. Doing an episode a week. My name is Erwin Szeto, I'm a real estate investor since 2005. And we've been around for a long time podcasts been around a long time I've investing since for nearly two decades, I've coached over 250 clients, and among our clients, we have about 45 self made millionaire investor clients, this market is a wild one with interest rates being really high. And looking like we might have another increase, there's a decent chance maybe one in five chance, it might be higher that we have another rate increase later this fall later this year, while there's many speculators out there who were honestly feeling a lot of pain. And actually, I find that a lot of people are feeling various levels of pain. But it's the speculators who are holding multiple negative cash flow properties that are really feeling it. We checked our own numbers. Our clients are taking profit as well. Our clients have been selling some properties over the last six months. And we checked. So just to give you some averages, the properties our clients are selling, they've held them for an average of 5.2 years. And among those properties, they receive an appreciation price appreciation alone of $313,000. So that's how much in minimum profits they're taking. These are all small multifamily detached homes. Yeah, so they've invested smart invest well, and they're being rewarded with again, on a 5.2 year hold on average, average price appreciation alone is 313,000. Not bad. And we know what they paid for these properties. And because we helped them buy them and they bought and they bought right. The real estate market means many things to many people, folks with houses on land and bigger markets are just fine. For example, detached homes and Treb are actually higher than last this time last year, and the price in July. So Toronto real estate board, Toronto regional Real Estate Board Treb just released our August numbers, sorry, July numbers. And July prices are basically in line with June. So prices are holding, they're being resilient, versus on the other side. But people who are really feeling it, where we see a buyers market is in the pre construction market and cottages. Those are complete buyers market because who has a lot of money sitting aside for a recreational property, a secondary property. And for folks who are in pre construction, I hear the demands from buyers are very high. You know, it was always dangerous in my opinion to be because the pre construction properties I would see that came through my email, the price per square foot was higher than the resale value on that day. So for example, I was seeing pre construction condos, the price per square foot would be $1,600 a square foot versus resale condos were going for like 1200 square foot. So in my opinion, it didn't make sense to rift that much. In general, not condo investor in general, I like more control my properties. But again to buy new versus used it didn't really seem to make sense. Here. It's all these investment options are likely to be fine in the long term, but the long term but you know, if you're vacant, it's gonna be painful, especially when the rate increase and we have a new housing minister, our new federal housing minister was previously responsible for immigration. So I you know, I'm I'm a family I come from immigrants. So I believe in immigration, I believe in control the amount of immigration. I don't know what the number is. But it seems like you know, the fact that we've I remember when Stephen Harper was in government, the number was more like 245,000 immigrants a year. Now we're over half a million. So something may break along the way when you double your immigration anyways. So my point is that long term likely be fine housing market will likely be fine. But again, it's all about weathering the storm. I was speaking to one Airbnb property manager in the Niagara region who shared with me that more supply has come on come online in the market. The new construction owners as they can't cash. They know they can't cashflow. These are single family homes. They're buying but they know they can't cash with long term tenants. So they're choosing to do run an Airbnb. And they're hiring these friends of mine to manage for them. So short term rentals. And I'm hearing from many sources that short term rentals for long time. Airbnb investors are not performing as well as they used to a friend of mine who has been operating Airbnb for several years and was able to quit his job from his Airbnb income four or five years ago. I'll share it with me this his Airbnb ZZ are not performing nearly as well as they did pre pandemic and they are in very ideal vacation areas. That's for long term rentals. Our clients are doing just fine. I was just talking to one of my coaches, our client that has a try plaques that are now rented for just over $7,000 a month. You know, our clients may be vacant for a month or two, while testing record high rents. That's the commonality between my clients that are vacant for a month or two, my last vacancy, which was just two months ago, I had zero vacancy. When my tenant gave me notice, we immediately found a tenant to move in the first of the month. So anyways, the long term rent market is doing fantastic and the markets that we operate in like Kingston and Hamilton, speaking to Coach D Phillips on my team earlier this week, and he shared with me that how in Kingston, his client to sign a tenant for $2,600 for a three bedroom main floor apartment in Kingston, Ontario. And we have a client that just rented out, they're close to signing a lease, and maybe I'll hold on to that number, but they're closest signing a lease for their brand new garden suite. This was the first of probably, it's probably the first garden suite. Well, this is the first time suite to be rented among our clients in Hamilton. So I'll wait until at least a sign to release that number. On the other hand, small market, novice and landlords appear to be struggling based on the conversations I'm having with investors who have been reaching out they've been taking us up on our portfolio review offer. Small towns that are far away from the GTA, which were darlings of real estate in the early pandemic, are not correcting. Is this not new, normal? Long term, everything will hopefully be fine. If they can find tenants. In the short term, we're we put out that request for folks to send in their what they have for sale, because we do have some clients that are looking and writing offers. Still, of course, our clients are being very picky because they can, as you know, there's a lot of motivated sellers out there. So if sellers aren't that motivated, then our clients aren't interested. But my point is that we are seeing some wonderful turnkey deals in bigger markets. So markets work, you know, over 150,000 population. Why is that important? bigger cities, and turnkey a moving ready small multifamily to me means lower risk. I think that means to everybody that means lower risk. One mistake I find new investors make or maybe two mistakes is that they believe that what they see on HGTV that money in real estate is fast and easy, which it isn't. It can be further from the truth. The other is that more work and effort means more returns. For example, I mentioned earlier, some of our clients are taking profits and pay no deaths while rates are high. Well, the best performing property among those was a turnkey property we bought from a builder, I sat with that builder to design a house that would be the perfect student rental. And it was the house was built with safety in mind. We had a lot of building code requirements for duplex built into that property even though we had no second kitchen. Each of the basement bedrooms had egress windows, I had the builder do a lot of fire rated drywall and rocks on safe and sound. So there was a lot of fire separation and ceilings and mutual walls. And that house along with other similar houses that our clients owned, they got the highest rents in the market, and there are no renovations required. It was incredibly turnkey, it was just put up the rent for sign and rented out to students. That client after seven year hold, the client walked away with $489,000 in price appreciation alone 489,000 After seven year hold, that's nearly half a million dollars from just one income stream and then good cash flow and cold good mortgage pay down. My point is that turnkey small multifamily can be a viable option. So don't just count it. And thinking that you have to buy an ugly property that requires months to renovate plus hundreds of 1000s of dollars and renovation budget. And who knows how many permits or zoning change or use change or variances. Again, from my experience our clients experience you can make a lot of money just buying turnkey as a sophisticated investor. One should always look at all the variety of options available to you and make decisions holistically. I've had several calls with novice investors considering investment options as far as like four hours away, or they have to get on a plane. Because the property is out of province versus I tell clients all the time, it's not that hard to make money closer to home. If you can't make money in your own backyard, then what makes you think that someone can be successful in a market where they have no contacts and or no relationships. It's obviously possible past guests of the show have done so. But not everyone is willing to put in that kind of full time effort. Nor do they have a partner or spouse earn six figures to pay the bills and put food on the table. Ember cashflow is important. In my experience, having worked with over 350 successful real estate investors, investing within our drivers is can return world class profits. And it can be done as a side hustle over 9% my clients, they still have their day job. They do real estate investing as a side hustle and they're doing incredibly well with the real estate portfolios. They didn't do so investing in pre construction condos, they don't flip they don't do any sort of these high high effort high risk strategies a provider that require private borrowing. That's speaking to another investor recently who has a very successful Airbnb, but they cannot get a mortgage. They're stuck paying 12% on a private mortgage. So yeah, there's many options. Again, you should be using a spreadsheet to make your decisions Just to understand all your options 20 Fat investing can work, it just seems to take more savvy, the pockets, risk and effort when keeping it simple, tried and proven works just fine. In my experience, at least, the sad thing was with housing is that with prices so high, it's only gonna be the rich are gonna afford deals in the current market and going forward. Even more sad as the situation will only get worse when the rate cuts begins sometime next year, based on what the bond market's doing, because when you see that first rate cut, you're gonna see all the rest of the buyers get off the fence and push this seller's market into a further seller's market. If you don't believe me, it's already sold market. The June Toronto real estate board Charl real regional Real Estate Board, their days on market was 24 days. It took an average of three and a half weeks to sell a property that to me screams seller's market that's also down from 29 days from a year ago, and not a very good market. You know, check out the stats for yourself, you know what to believe me necessarily. And then price wise in Hamilton were up 5.5% Average Price year over year. I understand that's a wonderful amount of appreciation. Because if you bought right, and you cash flow at least neutral if you're at least neutral in cash on cash flow this time last year. And so you put down 25% Right, that works out to a 22% return. That's an incredible return. And again, what do you think is going to happen when interest rates come down as are expected to mid to late 2024. We should see prices climbing. And we're gonna continue sharing how our clients continue to earn world class returns via our online monthly meetings and in person mastermind tours. So don't miss out through mine. Our in person mastermind tours do sell out. We sold out our last one which was in Kitchener, Ontario. We have upcoming ones in Kingston, Ontario. And we'll have one on the west west of the GTA as well you'll either be held in Agra. So the best place to stay informed and be aware of when we have when we host these events is to be on our email newsletter, along with the 10,000 other high winning yes investors in Ontario in Canada. Many of my rich friends are taking advantage of the opportunities presented by this market. So find out how you can to sign up for our email newsletter at www dot truth about real estate investing.ca Let me slow down WWW dot truth about real estate investing.ca Enter your name and email address on the right side and you're set to become a very well informed sophisticated investor. So speaking of simple tried and proven Cherry, the kids and I just returned from a week long vacation in Muskoka. No, we didn't stay at some luxurious cottage, but rather we stayed at a family camp at the YMCA on this huge property that someone some lovely person donated to them to the YMCA 110 years ago, there was lots of greenery, an incredible amount of lakefront and most importantly, the camp counsellors were wonderful as they entertained our our kids via their programming. So each day, our kids would do all sorts of activities, treetop trekking while climbing, canoeing, kayaking, swimming, sailing, nature, walk hikes, arts and crafts, archery, all sorts of fun things that people do at camp. In the afternoons. We could do the same activities as a family. We pretty much did them all.
Erwin
Is it arts and crafts, I usually like a little more excitement meals were provided which so we didn't have to cook and clean our accommodation with a cabin with 10 bunk beds. So very simple accommodation, the same cabin that the overnight that the normal regular overnight campers, kids use. So it's no frills, no air conditioning, no bathroom. The bed was not built for someone my size. We had a blast. The beds could have been better for my back in my sleep, but the kids had a blast. The camp counsellors were amazing. We enjoyed the meals, the campfires and the sick related singing and performances and just being disconnected from technology in the city. Now, this was our second visit to the YMCA family camp, our first since the pandemic and we plan to be there back there next year. A simple vacation. Camping is tried and proven to be fun for kids and it works. Now on to this week's show. We have my friend Darvin zoo flew, who has a huge private equity brokerage, it's actually in terms of the capital raised, they are the largest and they have the largest network of brokers as well as called Pinnacle wealth brokers. If you've been around the investor community, you've been attending events, you've likely seen them around. But today we have the founder of the company joining us from Calgary, Alberta. If you're not familiar with private equities, all you need to be as a good private equity is part of the reason why you hear me say things like today's time is the best time to be rich as the options for investing and never been so good and available. I was introduced to Darwin when I asked my own Pinnacle wealth broker representative, Steve Wozniak, I asked Steve for if you knew anyone who did large scale recreational properties to be a guest on my podcast. That's how we can I got connected with Darwin. We've since become friends because we share so many things in common. His recreational properties are much bigger than mine. And also because I know so many of our listeners are interested in Airbnb and recreational cottage investing, he's been in the investment industry since 1997, when he started up at the bank, and he since progressed to only a couple of 100 acres. Darvin shares how he recently purchased about four or five properties that total several 100 acres, including among those properties, there's hundreds of recreational vehicle RV sites, dozens and dozens of cabins and campgrounds, and there's even a hotel and a golf course in the mix. Darvin details the story behind that purchasing like golf course property, the analysis and the value add strategy that goes into it, which I think I find it particularly fascinating. So I hope you do too. In general, this is a fascinating interview into entrepreneurship in the private equity real estate investing space at a large scale. Again, Pinnacle wealth brokers has raised over a billion dollars in capital, Steve tells me it's closer to like 1.6 or 1.7 website currently says 1.2. It's one of those numbers they offer passive investments to middle class investors to participate in passively active or passive investors will appreciate this interview. And so if you do enjoy it Darvin is our confirmed desk for the online only November 21 monthly Iowan meeting. At that meeting, Darwin will go into more detail and also have slides and whatnot to show us what private investment equity investments are. He'll go into the numbers behind the story and the numbers behind these recreational property purchases, hopefully, including the Golf Course. So if you're on our newsletter that's already received by over 10,000 of either winning US investors in Canada, then you're set if you're not on our email list, newsletter, go to www dot truth about real estate investing.ca and get on our newsletter. As we are discussing securitized investments, please enjoy the show, and the legal disclaimer to follow as required by the island legal department. If you do want to learn more about investing with Darwin's company Pinnacle wealth brokers, Steve lazy acts, who is my own broker at Pinnacle wealth, his contact information is in the show notes. Please enjoy the show. Hi, Darren, what's keeping you busy these days?
Darvin
Quite a lot. Actually. You are busy in the fund investment world focused on real estate. I just got back from a trip to some of our RV resorts. So we had a charity weekend actually this weekend with the Starlight Children's Foundation. So a really fun weekend hosting a bunch of families at all of our resorts. And yes, I just got back from there back in Calgary now in our home base and just just about to head back into the office for the next couple of weeks before we hit the road again.
Erwin
So hang on, you hosted families via the starlight charity at your resorts. Yeah, the
Darvin
Starlight Children's Foundation, if familiar with them. No, I don't know if they're out this way. Yeah, they're quite a large organisation that work, work with hospitals work with sick children, people from all different backgrounds. And we partnered with them to look for maybe children that don't have the opportunity to get out into the county and kind of experience. So we hosted them and their families that are different resorts and just you know provided a food and activities and a bunch of laughter and then ultimately all of our staff at our resorts have had a great time as well. So it was a win win for everybody.
Erwin
Amazing. Yeah. Your kids all this?
Darvin
Yeah. Well, a couple of my kids were a little older, and they were working but yet my youngest son was there working hard, making the resort look good and hosting people on the boat. So my wife is there helping cook and we had a couple other staff at our resort. And then like I said, we were doing, we were doing six different resorts. So that was a great time.
Erwin
Philosophers benefits, how you say Darwin is a bit of a big deal. But we'll get into it, we'll get into it. So backstory is how you got on the show was I asked my friend Steve, our mutual friend, I said, Hey, recreational properties or has a hot item, you know, like, who's the best person who's the best person to speak to recreational properties? You know, a lot of people are talking about short term rentals Airbnb ease, you know, so then he introduced me to you. And yeah, you know, I mentioned before we start recording, you're the only person I know who's who owns a golf course. But yeah, let's let's start from I don't know, how did you start your career? Like, let's start there. What was like your first job out of university?
Darvin
My first job when he seven years ago working for one of the big banks, and my second job was working for one of the other big banks and then and then my third job going into work for one of the largest insurance companies. So yeah, I started my entire adult life working with investments and ultimately in the financial industry and my early years were kind of a training ground and took all the courses that I could take and tried to move my way up within the ranks and he'll eventually went more independent and got into the business owner side of things, which was kind of what my aspirations can always worse. Since going to business school, that was my goal. So, yeah, I learned a lot about with banks and how they operate. And you know, how they make money and how they tell their advisors, you know, these are the different investments that make us make us the money. And this is your report card on how well how well you're doing for making the bank money. Ultimately, I wanted to find other investments and other ways for people to make money than just what what the bank was providing. So I ended up moving more into the independent channel where I had a little more say, a little more choice than just searching for these investments or slogan at Pinnacle wealth has been, you know, continually seeking unique opportunities to find how to create wealth for investors. And by doing it on our own, and having our own team of people that look for these great opportunities, we have the freedom to choose what we believe is best not necessarily what a big corporation feels that we shouldn't be pushing on investors. You know, that was that was the beginning of my career, though the banking world and looking at all the different products that the bank had. And then, you know, taking courses through the Securities Institute, and, and, you know, the fellow of the Canadian Securities Institute, and more I learned about investing in the public markets. The more I realised, though, this is not something that you can predict. And it doesn't really matter how good I get, I have no, there's no ceiling here where I can say, now I've know what I'm doing. And I can really make a tonne of money for myself and investors. Because really, the more I knew, the more I realise, I'll never know, like, right, like Warren Buffett, you know, he's by a great company that Hold on, don't try and trade stuff, don't think that you can beat the market because Because ultimately, you can't. And so that was less challenging for me than when I realised I can't become a guru in space. So that's where I started to lean more towards the real estate side of things. Because I do think you can control you can control your own market a little bit better, you can predict where the markets going without it turning on a dime. Whereas in the public markets, it turns earlier, or an earlier, you know, before we hear about something happening in the public markets, the big money's already moved out of it. Right. Like it's it's happening so fast now. And it's so sophisticated, that there's there's really no no fun in it, right? There's no because he can't You can't beat it. So yeah, coming into the private world and investing in private companies became my focus. The private companies don't have that turning on a dime, you know, the news comes out and all of a sudden the share price as a as a massive change. Normally, the the valuations are dependent on what, what's the income being generated for the company? What's the outlook for growth in the company, and what's the sector look like? And so, back to more normal investment fundamentals in the private side, and more specifically, in the real estate side, like I said, there's a little bit more predictability. And I really, like hard assets. And so, you know, going into into the private side, we focused pretty heavily on hard assets. Just, you know, for reasons that you know, and I'm sure most of the listeners really liked about real estate.
Erwin
So that's my fault. Darren, thank you. So a good friend of mine was he worked for one of the big banks as a financial advisor. His clientele was like, I think 3 million and up and assets under management. So like he was decent, and one of his including he had a major real estate influencer client as well. Like, I mean, he says it's private, obviously. And so I go I go, you're like, Oh, that's awesome. What kind of cool stuff can you offer? I'm like private stuff like stuff I can't get. It's like nothing. No private equity options, everything that you know, like 10 million assets under management guy, I can get all access to the same stuff. And it's all you know, all stuff people are note were aware of GICs mutual funds ETFs like what do you guys do different than so what what was your experience like? Was there many hard asset options or real estate options for not working for public financial institutions?
Darvin
Nothing at all back then. Yeah, like bank
Erwin
offers I can buy gold from my bank but it's really expensive. The fees they charge are ridiculous.
Darvin
Yeah, there's no options it was it was actually quite disappointing in what you can provide to clients so having to look for something something different you know, they're they've missed out I think they missed out in a big way over the last 20 years. I think they realised that and today I think they're still trying to figure out how do they do it? How do they get into space and so there's there's going to be a slow change over the number of years but right now the options are still very limited. That's how I protect the wealth. Did
Erwin
you did you buy it? Did you start it? Yeah, I
Darvin
found it a pinnacle wealth. So like, like you were saying, the way it came to be founded was was Most by by accident, but when you talk about how you ask a broker, like, can you invest in real estate invest in private, there was no option. So I started doing that for my clients when I left the bank and the insurance company was looking for these private options as an independent, you know, and as a business owner didn't intend to have brokers at the time, I just want to be able to offer Publix and privates to my client base. And what I found was a lot of my new clients were actually financial planners that worked at the banks, or they worked at a large mutual fund broker. And I'm like, why you guys, my guys buying your RSPs for me like it just like it just really clicked when I was driving on the road from a road trip, signing up a bunch of clients on flow through shares, you know, because flow through has a very short window of season when you get in to get your tax deductions. But again, most of these clients, again, were financial planners, they understood these investments, they couldn't sell them to themselves. And ultimately, some of them were asking, Hey, can I work with you? Can I do what you do. And so ultimately, we had a broker network being formed. And back in 2009, we were raided by fast 50 Girls number one fast 50 growth company in Alberta, and, you know, continued on that path, and did some rebranding and ultimately went national with Pinnacle wealth brokers, in 2010. And it was a unique time in the marketplace, with regulations and a lot a lot of regulation changes kind of came into place. Because our regulators province by province, we're seeing the demand and the change for for private investments and what they call
Erwin
Jarvan. You're having to be regulated under every province are regulated under that sounds like a pain in the butt versus like versus a single regulator. Wait, because I believe in the States is just one regulator. There's one one national.
Darvin
That's right, one, one national regulator. So yeah, it's something that's a little disjointed in Canada having our provinces of 10 different provinces that pinnacle wealth brokers is regulated.
Erwin
Felt like a lot more expensive, unnecessary. I obviously have to do it. They write the rules. So
Darvin
our compliance department is their biggest department because you go from one insurance regulator, Canada, they do their routine reviews, and then the next province comes they all have the responsibility to oversee the activities happening in their province. And
Erwin
the clients budget must be millions.
Darvin
It's expensive, it is expensive. The cost of doing business for sure.
Erwin
Right. So not because it's not a business you start overnight.
Darvin
No know, it takes time to build for sure. And it's not it's not the easiest business to be in for sure.
Erwin
So how I got introduced to pinnacle, I don't think Brian Paulus was mine that I share was, this was years ago, so a friend of mine, Brian pulis, of course, investments, he was one that introduced me to pinnacle, because he was telling me how he wanted to be on the on the best, you wanted to work with the best. And that's how he ended up with you guys. I know and I heard it was long process. You guys are just from what I hear you guys are not you guys are quite picky. The diligence period is long, like a couple of years. But yeah, but that's that's how I got it for sure. There's just the pinnacle. And that was like, a long time ago.
Darvin
Yeah, Brian and Poulos been one of the the REITs that we've been raising money for for for many years now. And, you know, they've they've done very well and been a successful investment for us as as most of our REITs have been. But we do get approached quite often. And so we do have to have a very detailed selection process that our corporate finance team goes through from, you know, the finance side, the legal side, the client side, and salability what's unique about them and let them sell in a portfolio. So
Erwin
because what I've heard is, you know, if you want to be bigger, raising capital is either a full time job for yourself, and that's several others, or you can work with someone like Pinnacle wealth. So can you can you explain to listener what Pinnacle wealth brokers does?
Darvin
Yeah, we we bring private investment opportunities to market to the retail channel across Canada. And we'd look at, we try to look at a wide variety of investments so that people are properly diversified. We have dealing reps and all the provinces in Canada are the main provinces. And so we're coast to coast and those DNA reps are financial advisors, really advising on private investments. In Quebec, they're also able to become mutual fund licence if they wish. And some of them are life insurance licence and so really there and they refer to portfolio managers on the public side, if they if they're not offering that themselves. And so we're a portfolio manager as well. So there's different register duration categories, but we offer public investments. But our niche is really just bringing these private opportunities to market helping get the offering memorandums created, so that we can go raise capital in client manner. And then ultimately we we stay up to date on the investments that we're raising capital for, and, and work with them if on the financial side and monitor the investments as as they grow. And, and ultimately, we see the benefit of them growing and becoming successful. investments like century and we brought to market through a company that we had acquired when they were new. And they're they're one of the largest REITs private REITs in Canada today and 2.6 billion, I think they're gathered a few different funds. Now it's adds up to about $6 billion. Right.
Erwin
So that because the is it, the president or the owner, he has a wonderful newsletter. So for listeners, like if you're interested in geeking, out on what someone consumes and thinks about real estate, who made that who manages 6 billion? Check it out, check out his newsletter. And so Pentacles quite large. Are you not like your national? I can't imagine many EMTs or national? Yeah, we
Darvin
I think we, we have more dealing reps. So more presence than anyone in Canada where we have about 7078 Dealing reps, from coast to coast right now raised about 1.3 billion in retail dollars into the exempt market products that we offer. And like I said, we're growing growing on that side. And I'm also trying to reach out to the financial advisor network, they said the work in the public companies and then just show them like as part of our goal in the next five years to really show them that they can have access to because they can come and offer what we have to offer and what they can still offer what they have to offer so they can properly diversify their clients. Yes, proper diversification,
Erwin
I think the key word there. And so for the newer listeners, or the smaller investors, from what I see is when when say like an apartment building investor wants to scale up. Generally, capital is their biggest issue, assuming but most of them are quite talented at finding good deals. But you know, you kind of need to focus on one thing, most of them seem to most will go to someone like you to try to raise the capital for them. So who so I imagine you get a lot of people asking you to do their capital raising for them? What do you think it is, like 10 to one, like asked to actually get on your shelf as an offering hundreds of one?
Darvin
Yeah, I know, we used to track that a little bit better. It's about one a day that approaches us. And lots of those don't even have an offer. Yeah, they just have an idea. Some of them have a full operating memorandum already done. But we want to make changes. But yeah, we only had six to eight new kind of offerings, or maybe less than that maybe less than six offerings a year. Now. The ratio is certainly very, very challenging for an issuer to try and get onto the show got to have a track record, you got to really have a strong team behind you. You got to have really good corporate governance, and you got to be in the right sector, you got to be offering something unique, can't just be raising capital so that you can buy something to grow for yourself. It has to be like how do you really provide extra opportunity for investors to provide that above average? So we're looking, you know, and we look at risk adjusted return like So ultimately, that's what it's about, like if the risk can be higher return for investors has to be hired to
Erwin
sadly, I find the understanding of risk adjusted returns is lost on many people. Like for example, I've seen like promissory notes for like 17% So unsecured loans for 17%. And then like, you know, the credit your credit card will want like 20 to 30% for that same kind of security risk that you're taking on? Why would you give it away for 17%? Anyways, moving on. So how many products can you give us like a high level of number, give us listener a high level understanding of like, what kind of products you guys offer opportunity offer? Because I talked to Steve and it's like it's currently varied. You're telling about like you have some like you have some like music one as well.
Darvin
Yeah, we look for something like unique opportunities to increase wealth, right? That's our mandate. And so a lot of stuff you'll see will be a little bit different than what you find. So Steve mentioned music royalty fund. So through ICM, they they have the investment business and they have a REIT but they also accumulate the music royalty for I brought some talented people together to buy, you buy songs that have a long standing track record of being played and you get a royalty. When those songs are played, it goes into back to the owner of the of the song, what we like about it is it's very diverse, it's not correlated with your stocks or bonds or your real estate. And so, you know, just a very unique opportunity that provides a consistent return as the song could stop being played. Right? You look at the the friends soundtrack, or whatever that was on the TV show Friends, wherever that one went up for sale. And as long as it keeps getting played the there's there's royalties coming back.
Erwin
And so that's why you have ownership in the friend zone.
Darvin
We didn't know our fund didn't buy that one. But people have like, they have different kinds of songs that you can buy, I thought that one went for like $300,000. And then you kind of own the royalty. So it's not not super expensive. The goal for the for this music royalty fund is, is to buy ones that they believe will continue to be played, right or have an increased amount of what they're being placed. So
Erwin
I'm trying to time it, I would sell it for the seasons, the series is over.
Darvin
Yeah, there's a lot that goes into into their business, for sure. And the key again, good, great management team with that, understand what they're doing and understand the business and very prudent on the financial side. It's easy to get excited about something but you got to make sure it makes long term financial success.
Erwin
And you mentioned you have Centurion which is incredibly boring apartment buildings. 6 billion, just apartment buildings.
Darvin
Yeah, but some of the very best managers in the space. Right? So they've provided us double digit returns, you know, for a long time now. So last years,
Erwin
we my mom's invested in the the carwash fund.
Darvin
Yeah. We thought, well, what's the unique aspect where you can get into real estate, but maybe they can generate a little bit better return than than typical real estate? And so carwash, you have the business side, you got the real estate side. So we liked that asset class, and that was probably closer 2015. When we got into that, then after that it was storage facilities like can you consolidate or build storage facilities where there's high demand, so that was nationwide that started doing it. And closer to that in Vancouver, you know, instead of going by cheap land where the storage is spread out, they thought, let's go more vertical, and be more walkable and closer in proximity because there was high demand for that. So that's just one other real estate kind of asset class. We have stuff. It's not real estate at all. We built a fund we called Pinnacle institutional access fund, and it's access to Blackrock as a money manager. And so they they invest into private companies that are much larger scale than other companies, you would see on the pinnacle wealth brokers shelf. So they're investing in the United States and Europe and Asia. And so the only way that is one of the funds that is very unique to us, we chose not to use their real estate funds do we have lots of real estate, but they're, they're buying secondaries funds, funds in private companies that may be large investors need liquidity, so they might need to sell the private fund that they got into your five years ago. And so now they sell a pool of private investments and our institutional blackbrook fund those managers of Blackrock to money, largest money managers in the world, decide which ones they want to get into it and get out. So that performs very well. It makes up a good chunk of my registered plan portfolio than then. Yeah, we have lots of different kinds of unique opportunities that don't without being out, but it gives you kind of a general scope of like, what we do a pinnacle wealth brokers.
Erwin
That's why when I explained to someone new to the space, I say, you know, this is the way I explain it, is the analogy I use is it's like a mortgage broker who has access to many different types of mortgages and lending products. You guys are a broker of different investment opportunities in the private equity space.
Darvin
As writer. Yeah, we exactly. That's a really good way to explain what we do. Your job is to quarterback which we think is best for the client. And including diversify you can one can diversify across many funds. You don't put all your eggs in one basket, that that's key. Choose whatever, right? Yeah, you said it before, right? Diversification is key and it's easy for anybody else. losses, investors might favour a sector, right? We might favour apartment buildings. And maybe you win on apartment buildings, or you have one on them, but you don't know what the future holds. And that's why financial planners always tell you to diversify. And that's the job of our brokers is to make sure what's an investment, what's in your investment portfolio is suitable for you. Your timeframe matches your risk tolerance, and the diversified, you know, over concentrated just into one sector.
Erwin
And I believe my mom's returns on Polish was 14%. Last year, so she's quite happy with that. Predict the future. This is not financial advice. Don't sue anyone. Now, I want to ask about your own personal investing. Because if we started off the show, we're talking about like recreational property. Yeah, please like, like you were talking about Warren Buffett, for example, like Warren Buffett, of course, correct. So along the way, like 10 years ago, did you ever think of you buying recreational property?
Darvin
For me, like I have been in like, I've always had a bought a cottage at a young age, I grew up what are the competition water skier, and so our family was always on the lake. And so I like that space, we have a recreational property for 15 years in Honduras. And, and so I think a lot about it, I think both the pros and the cons. And ultimately, when I had some money coming back from some of our exit market products, I needed to deploy, redeploy. And I wanted to think of something that I can hold for the long term, like, what do I really believe in? What sector can I just, you know, have a 10 plus year time horizon that I can invest in. And ultimately, we thought the campground space hasn't really been touched by big investors. So what you've seen happen with apartment buildings, or even office space has already happened in this space yet. And we happen to be living in Alberta, and we spend our time in British Columbia, those are the two best places in North America to invest in this space. So I made an investment with my own money to try it on the first fund, I call it and it worked out really well. And so we thought, well, let's see if we can replicate this and do some other properties and start inviting investors in. So I although invested in all the properties that we have. There's only two that was kind of myself and my business partner. That is just us. And now we're doing a fund that is for everybody.
Erwin
So before we're recording, I mentioned that I think it's I think it's the right thing to do is to cut your teeth, your own money, if we will you and your business partner. But yeah, he was he was active on this, too. He has needed each other. I think it's I think it's the appropriate thing to do your own teeth with your own with your own money before going to use other people's money to invest, especially especially when it's something that hasn't been done before. That's how I was going with my next question. My next question is actually can you speak from your own experience the importance of using recreational property? Because like, you know, you went from, you know, university to owning a national nationwide poker network. I'm sure it wasn't easy. didn't happen overnight. Wasn't a four hour workweek wasn't
Darvin
read the book, loved it. Great concept. But yeah, getting down to 40 Hour Workweek still still a goal. So yeah, how did they get to recreational space is your question.
Erwin
Like, what's your experience? Like? How important is recreational space to your to yourself? Because again, like your journey has not been easy. I'm sure there was your business building. You know, you had a startup. All right. I'm sure that's stressful. If you have four kids, or kids, or kids yeah. Busy, busy.
Darvin
Yeah, so I guess you know, from my family aspect, getting into the recreational space seemed like a good way to start finding balance. You know, it's one of the slogans we use the pinnacle lifestyle, it's, you know, finding balance. Getting out of the desk, for me was a big thing, spent a long days in front of a computer and eventually that catches up with your knees, your back your neck, you know, either your forearms, your typing. And so, health and fitness. I grew up being more athletic than I found myself as an adult because it wasn't getting out enough. Playing enough sports. And so yeah, but this I realised that's when you're happy too is like after a workout usually feel better, right? After going to play hockey with your friends or going to do any kind of sport. You feel good getting out in nature. One of the things that really astounded me was an article that came out when we're starting the pinnacle lifestyles as doctors now prescribing prescriptions to go for a walk in the park and it's like, wow, that sounds so crazy. And the more you read into into nature, the more healing you realise that it does for you, and so in some cases, it can replace entities depressants, but ultimately it does. It does make you feel good releases endorphins to be out in nature and just hear the creek, the water running through the creek and the birds chirping. And just to get outside hiking and walking in the park is really good. So for me, it was a feel good thing. It was healthy for me looking for what's healthier for me in the future. And, and how do you help others, we know that there's a big problem with technology really consuming our time and our minds, especially kids. And that was a concern for me and my kids was, was seeing how these, you know, these all these new apps really have their attention and, and their mood, right their mood after spending time not to pick on anyone but Tiktok or Instagram or something for a couple hours, their moods not the same. Right? As you go you play baseball with your kids, and they see what their mood is after it's just a night and day difference. And so I have a pretty big passion now of trying to encourage people just to get out and and to be more active and live that lifestyle. So yeah, it's a bit of a feel good investment for sure.
Erwin
This is I love where this conversation is going. Because I find many real estate investors. Like, you know, I never grew up thinking I wanted to be a landlord. And so what I find a lot investors are new and veteran, as they're always trying to figure they're trying to figure out where can they find their passion within real estate. And then you're a living example that you're doing exactly that. Right, you find your passion. So tell us more about about I don't know, maybe the first two projects you got you started doing with recreational wise. Yeah,
Darvin
well, we always look at investment fundamentals. I mean, we're an investment brokerage, we looked at 1000s of opportunities. And so the one stat that came out that really, that Tom brought, to me who's my business partner, was there's 20, recreational vehicles or RVs, for every place to plug an RV into in British Columbia, and an 18 RVs for every place to plug an RV into in Alberta, then you go into Ontario, and it's more like six to one, you know, and a lot of United States a lot lower. So it's just a it's out of balance. There's not enough RVs especially service derbies, there's some dry land count more dryland counting, probably than a lot of places where people can go that they don't need any services. And so there is counting opportunities, but we know where the trends going. People want electricity, right? People want running water and services. So we look at that as a very solid investment fundamental to base our location of business on right because with real estate, its location, location, location. So when we get asked why we're not in all these other places, I just go back to the number one fundamental that made me want to start this business and then we looked at it from from different angles, like how do we do better than what an average campground owner gets? Are they getting a cap or a 10 cap on their investment where you know, apartments or maybe going down and cap rates so you know, there is there is opportunity to take a campground and increase the revenues, I think we're well over 40% in the first year of of our operational campgrounds that already have to service RV sites in there, and being able to increase the revenues from it. So there's there's lots of little things you can do as a company to be strategic to get more customers coming and take advantage of off season. Take a business it's actually profitable in two months of the year because we're in Canada, right like they these campgrounds make their money in July and August. You might have a long weekend or September long weekend, but you don't make money typically in those months. And so from an investment side we go in and say is this something we can make money in and more than two months going forward. And so we're looking for those ones like fishing resorts, while April May are really good fishing months in September and October really good fishing months, but they're also on beautiful lakes. So you know, white lake fishing, we have a fishing Resort at White Lake and the shoe shops in British Columbia where it's top 10 Rainbow Trout fishing lake and so it gets a much longer season and it's just a great investment with consistent cash flow and people are spending more on fishing so we upgraded our old owners residents and making a fishing lodge and we'd like to keep evolving that into into providing more services to people that maybe want to have fishing guides the future so we're not there yet, but we are seeing boats
Erwin
I mean Oh that sounds awesome. I need a fishing guide. I don't know anything. Yeah. I don't like putting a worm on my hook. Hook beaver
Darvin
fishing is a really cool thing. Again, it's not a sport that's getting your your your endorphins out as much as as most sport but when someone gets a like this weekend with the Starlight Children's foundation we had a few kids to catch a fish for the first time in their life. You know, some of these kids are 1617 years old, you know a smile on their face is just priceless is a fun sport for people of all ages. And you know, something that I've grown to like more and more I did a lot when I was young and I hadn't done it much less
Erwin
you know, I can recall every memory of fishing with my kids. I'm sure you created some amazing memories with across your six resorts for those poor children.
Darvin
Yeah, yeah, I mean they did they all had a good time. We got some positive reviews from I think all families, but even just our regular campers right like just it's just one smile at a time right? That's our goal for our staff and all the different resorts help great smiles.
Erwin
So for the listeners benefit like me my benefit to how do you describe like six out of six resorts? Like how many campgrounds is that? How many RV? Do you can you host like how do you quantify that for somebody just so they can understand the scale?
Darvin
Yeah, well, they're all vary greatly in size. And so we have where I have my cabin and I bought it more just because it's where I want it to be. It's very small 1.4 acre campground 20 RV sites, five other cabins to rent out. And
Erwin
that alone is pretty big for somebody. Five cabins 1.4 acre 20 RV sites. Okay, that's that's, that's more than the mouthful. Okay, so that's one.
Darvin
We have one in Edson which is the first one that I bought with Tom and it was 143 fully serviced RV sites. We got a privately we got a couple suites like condo style suites and and a cabin on that one. And we have like 100 acres of expansion room. So we'll keep building RV sites on properties like that. We have the Golf Resort Kokanee springs and coot nice, and that one is 432 acres. So it didn't have any RV sites. We bought it and then we put on RV sites. So we just were just launching like I said beginning of June like 36 RV sites for for rent and then 26 RV sites for sale and we have nine new cabin lots that we've constructed on that property.
Erwin
I'm sorry other cabins for gonna be for like Airbnb or your hotel or
Darvin
it'll be the it'll be ownership. So if somebody wants to have their own cabin for ownership, and then Pinnacle lifestyles actually has a management company and it's through our same investment fund that we manage will rent those out. So if you want to rent yours out, we'll do all that work for them. We'll advertise that we provide the cleaning and come in and get them rent ready for everybody in between customers. Amazing. And then going on to other resources may have Revelstoke and Sitka moose. Guests we have about 180 sites and our Revelstoke campground and I think it's 86 sites and the second most campground we have gold that I did, that's not one of our six campgrounds because it's just it's 200 acres of riverfront property that's not developed yet. So it's nice beautiful treed property actually on the Columbia River on both sides of the Columbia River and it actually owns on both sides of the way a bit Creek so there's kind of a where two rivers can join we own all around this, this beautiful junction of of two gorgeous rivers. So again, fly fishing and, and the trails ATV trails and stuff from there are quite wonderful. One of the tights it's right across the road from the staging area for sweaters and snowmobilers. So again, it's one of those places that we can make a 12 month of the year season, close to the ski hill and golden and but beautiful summer and winter and fall and spring destination release. So that one we'll put on a few 100 RV sites like we will with the coconut springs golfers or we'll put a few on like three or 400 on each of those properties. So yeah, that kind of gives you an idea of the size of the properties but the investment horizon continually being able to develop more lots in a resort that is already popular and attractive, and then allowing people to either rent or allowing them to buy. We have both options. And I think we're the probably the only unique company that does this in North America where you can come in and you can kind of do both can have multiple properties. So you can move around from from different locations if you wish. We were allowing people to invest, invest in a fund that owns all of these different resorts and we do have three different funds that own those ones that I mentioned. Fund three is the one we're on now and everything going forward will be in this political lifestyle. It's been three, but they own the management company so they own the rental revenues. They only golf course they'll note we have a 62 room hotel that's at that golf resort so they would own that And then so they get the they get the fees from the restaurant revenues, we have a marina at the White Lake fishing resort. So they would own part of the marina and the boat rentals and the gas, the only it's only gas station on the lake. And so there's multiple streams of income and what we have as one different investment, one investment, very unique Pinnacle wealth brokers to invest into the sector. And it's a sector that I don't think many people have in their in their investment portfolio, and it happens to be RRSP eligible. So, you know, if you want to buy with a TFSA, these are your registered plans, you can do that as well.
Erwin
I mean, that was a mouthful. How much? How much did it cost to acquire all these properties? And over what period of time? Like, you know, one of them is one of those a personal property or cabin, unlike all the other ones that were bought strictly investment purposes?
Darvin
Yeah, cool me the exact numbers, but we're in for about 17 million on on the equity on these properties. Yeah,
Erwin
over what period of time over the last three years. Okay, so on average of 6 million to deploying in every every year.
Darvin
And that's the reason we went to full investment offering for accredited investors to allow accredited investors to get in. But in order to, to get the velocity of building all the amenities and campsites and the cabin sites that we want, does require for a fairly high amount of equity. And then so we also use some debt, but we're very low leverage and this time of higher interest rates. So we prefer equity for sure in this space.
Erwin
So I can speak to the listener, like you've said, You've dropped many golden nuggets. Like for example, you mentioned you're trying to extend beyond just the summer season because like, generally for Airbnb, this candidate generally Airbnb, for example. Most all our friends, even my own experience was the summer killed, Christmas killed, but then maybe Thanksgiving. But you know that there's a lot more to the year than that. So you mentioned snowmobiles, if that's the property snowmobile near SamMobile trails that will be popular emission fish, and that's a new one for me is is hearing about like the fishing opportunities within for that property, make it more marketable as well it gets more rentals because I literally have friends who rent the entire winters. And like Muskoka, for example, to some old dealers, when normally you get nothing else like if you're not if you're a three season cottage, then you don't get that business. But if you do, then if that's available, right, every
Darvin
property we have actually is close to fishing and every property has close to snowmobiling. And and I think all of them are not that far. It's it would be the farthest from a ski hill right from a world class like ski destination in Revelstoke. We're in the city of Revelstoke. And it's the tallest vertical of any mountain in North America, right golden has one of the most popular ski hills and we got three that are about an hour drive from the Kokanee springs destinations, they're all
Erwin
ski so now, if you're unsure, you're in Blue Mountain, you're telling
Darvin
ya know, four of our properties are kind of in the Rocky Mountain area. So we're, you know, golden being the heart of the national parks, you can go in all directions and find a national park within the Rocky Mountains and golden. And so from that standpoint, you see people coming from eastern Canada, you see people coming from Asia, you see people coming from Europe, because they want to go to the Rocky Mountains and they want to want to own a piece of that right. And so I think in the future, we're gonna see a lot more people wanting to own, you know, in the national park close to the National Parks you can't own in a national park like bath is the closest beautiful mountain destination for us in Calgary but you got to drive paths down and then you can go to Lake Louise and then Golden's next so it's one of the closer destinations we can actually have ownership to these
Erwin
kinds of properties. Are you seeing much action from Americans in Kokanee we're
Darvin
starting to see them come back again for the Golf Resort. They through COVID that had slowed down a little bit but also increased in people that were more local. That didn't have to travel as far so we're seeing that we're seeing and Revelstoke for sure we just have tourists because a lot of our properties around there and Highway One, you know Revelstoke and sick of moose and, and white lakes off highway one so you get a lot of people coming from the United States and also from Europe. A lot of people come from Europe and rent your campervan and they'll stop it all these properties along the way between Vancouver and Calgary it's a very public route if I don't have a snowmobile can I rent one from you? Yeah, we don't rent them but with knowing soon we work close with a company called stomping ground and so they do they do a TV show actually and they've done that filmed the TV show at all of our different resorts. And they're big snowmobilers in ATV years and so they have all the fun toys and equipment and so I think it's As part of their future will be opportunities to to get into solo deals and they do so. Yeah, that's awesome. Pancho Yeah? Oh,
Erwin
can you share the story of the how? Just for someone cuz I'm sure for the listener this sounds all massive it is because of this big. Can you share the story of how you bought the the golf course in Kokanee? Like what was the story behind that? How much can you share?
Darvin
Yeah, that's that's good question that's unique. It's a Golf Resort, it's been there for well over 50 years very mature trees in just a gorgeous property. It had different owners over the past and like most golf courses, would you build a golf course very expensive. And then you got to build a customer base, that's hard. All the golf courses that we've really looked at, they've had a history of running out of money, because they spend so much money on building it developing it, and then they bring in new investors or a new group buys it. And then you know, that usually happens two or three times when a developer is being established. So I, I've always wanted to stay away from golf courses. But this one was quite special and unique. The last owner group, and this was nine different investors. And they'd been in it for about 30 years, and Done, done a great job with the resort itself. Like it's nice as golf course that I've golf that like it's just absolutely beautiful. They were all successful business owners in different regards. So you know, some real estate, some not real estate, some oil and gas, and they put a lot of money into this Golf Resort. And they're all retired and that in that age, I think the youngest was 72 or 73. And, you know, the oldest was was well into their 80s. So it was just time for them to move on. They actually approached us because they said you know what this resort needs, it needs Pinnacle lifestyles, and it needs our unique 30s It needs cabin they wanted to create, it actually had the vision that we're rolling out for Kokanee springs. And so you can see some beautiful pictures. Kochi springs.com, or Pinnacle lifestyles.ca. But it's, it's a gorgeous resort that just needed more people. It's in the Kootenays, which is crossed from Nelson on that lake, the Kootenay Lake, beautiful lake again for fishing and boating, but six hour drive from Calgary a little bit more than that from Vancouver. And so in order to make the golf course really successful, we need people to come and stay longer. And to make the resorts successful, we need to be more than a golf resort. So we are building a small private lake on the Golf Resort. So people could swim and paddleboard and it'd be right in front of our restaurant and bar where we can play music. And, you know, Pinnacle lifestyle is all about creating community. So we want to bring the people in from their cabins and their v's and get them out and then do fun activities. And we already have a beach just like that with the privately gather Edson property and get weekends going in our hot summer days. And it's just it creates that community where they're making new best friends and adults are doing the same thing. And being kids again. So they ultimately their vision sold us on like you right, this is this is a golf course I would consider it takes time to build that community. They have a long standing customer base, we come golf one or two or three times a year. But we want to figure out how to get them to stay there longer and how to increase the population in the area with 400 acres. We've got lots of room to develop on. So that's a bit of the backstory to like, how we came about that that one resort.
Erwin
I was talking to a friend of mine this morning about she she's considering selling her house in Muskoka. And I was saying, you know, with climate change the way it's not the direction it's going is, you know, for example, I just saw a bunch of my friends just get back from Florida, because they do not want to be in Florida for the summer. Because it's it's already uncomfortably hot there. Right? And with climate change, they imagined swing and keep getting warmer southern states, even northern US states and I imagine more and more than will come to Canada, especially with the strength of the dollar, just to avoid the heat.
Darvin
Yeah. I agree. And that's another aspect of this space, right is that it gets people out into nature where they if you're conscious about the environment, we're super conscious about the environment and our resorts and use top tier septic systems because we're not usually connected to city sewer conscious about the amount of water we use, but Cocconi springs itself is an inland rainforest, kind of only one of its kind in North America, is that that area around Kokanee and it's people are attracted to that because they realise the amount of nature in there is increased like it's a crazy amount of wildlife that you see, but it also just feels good to be in that slash rainforest type of a zone. So yeah, but I totally agree with that. lot of people will be coming, coming north and coming to beautiful nature properties right in the Rocky Mountains being one of them or like Muskoka. Those are popular places. And I think in the long term, those are going to climb up in value more than your typical city destination.
Erwin
Hopefully, you guys have a whole host of investor events or something that discounted rates for investors.
Darvin
We knew Yeah, investors get discounts so we have a concierge service, we'll help them provide their tours to our different destinations. So yeah, and our big investors kind of get a golf for life that cocaine springs and but we do we do various investments online for people to see what's provided in the lifestyle has been
Erwin
amazing. Yeah, so that's how you buy golf. I met need to share how much you paid for the golf
Darvin
course. Yeah, you bet. It's in our offering documents. So we we actually had I think was 11 point 4 million somewhere around there was the the actual tax assessment on it, but we only paid 5.4 million for the property. And the old owners did roll in 1.4 million. So we had to write a check for $4 million for for this property. And like I said, we got 62 room hotel, as well as the golf course and, and some other sweets and lots of equipment and golf carts and stuff that we're seeing in the restaurant. Lots of extra acres to develop on. So fantastic buy. When you look at value investment there.
Erwin
My timing might be off, but like golf course you bought it late pandemic, am I right?
Darvin
Yeah, we bought it. Our possession date, I think was October, coming up on two years. Now, this year will be two years. So yeah, that would be the later middle pandemic.
Erwin
Alright, so but at that point, like golf was on fire. Was there multiple offers, like was it a competition? Well, there was
Darvin
there was lots of other people looking at it. And with different views of what they wanted to do with it, there would have been probably higher bidding on it if it had been like six closer to a mean centre. And that's part of the reason why the price was was more favourable, but the owners also wanted to deal with us because they like the vision of where we were going to take it, they really care about this property and the whole neighbourhood around there because like I said, they spent last three years there, their friends are there. And they've been there, the biggest employer now were the biggest employer kind of that area. So it was important for them to see that area thrive and create more employment and so I believe they could have gone a little more selling it to somebody else, but I think they you know, they made a good decision and in partnering with
Erwin
which is your favourite property?
Darvin
Yeah, that's a that's a tough one. Like I said, coconut has been the place that the nicest golfers that have ever golf that they feel like you're in a different world when you're there, you're it's a total slow down laid back kind of community and rain forest that, you know, so it's I think that is my favourite place just to be where my cabin is. And the second moose area, it's houseboat capital, Canada, I grew up is like waterskiing. And so that's my favourite Lake is where I'm Mara Lake, which is similar to White Lake, they're close to each other. So those are my favourite lakes for sure. So I'm torn between the two. Like a good question. I like to spend time at both those destinations.
Erwin
How does someone get to the golf course you mentioned, it's far from our major centre.
Darvin
You can fly into Creston. And it's an hour drive from from Creston, British Columbia. So questions fairly close to the US border. So it is fairly so. And so that would be your nearest airport that you can fly into? Well, what else do you look for
Erwin
when you got into this? This sector real estate, you mentioned that the complete imbalance in the demand, the number of RVs out there in places they can plug in one of the one of the things were you looking for, in terms of how to make money in the sector,
Darvin
real estate in general location, right was big. So one of our other themes is just buying in World Class destinations. So there's a lot of campgrounds out there, which campgrounds are going to do better if campgrounds aren't doing well, you know, I think you got to be one of the nicer campgrounds, it's got to be very beautiful. And it's got to be accessible. And so like I said, Highway One is where a lot of our properties are, because it's super accessible. But we look into like in the future where do people want to be and where will value go up and we think boating as well Harvey's, the amount of sales from our V's the amount of sales for boats have been on a pretty steady incline. And and so having lakefront access was another big thing that we looked for, and also having marinas because you can imagine the in today's day and age how hard it is to go get a marina approved or how to get harder just to get any development approved on the Lake Park gas station. They find a way So we're not, we're not looking to buy stuff like that, where we have to go get approvals. We avoid that, right? That's one of the things just stay away from because it's pretty bureaucratic world out there when it comes to getting those kinds of approvals. And it could take years, you could spend millions of dollars, and you could never get there. And so we want stuff that has approvals or in like the golden situation where we're golden property is, there is no zoning on there yet. And there's so there's no, there's no body overseeing or restricting what we can do. And so we have the ability to develop a new campground just the way we want it. Based on today's market demand, we're looking at doing geodesic domes, just to create the buzz and getting people out there, right above the river and then continuing with the fly fishing that they do off in the river. But we can do that because there's no restrictions. So we would avoid it if there was a need to get get a rezone on a property because that can be difficult to do.
Erwin
I want to ask as a lot of beginners and like even veterans, they're always looking for partnerships. Now I can tell you how to build their teams. So you came from a finance background, your company raises money for living. Who else did you need on your team to make this happen?
Darvin
On the wealth broker side, like to raise
Erwin
no on this record on this portfolio of six vacation recreational properties, you're not doing this on your own?
Darvin
Yeah, well, we have 25 full time staff that run like the headquarters and oversee everything from we need people in charge of marketing, we need people in charge of sales, we have a planning officer, we have a development officer. So you know, we have obviously a fairly large accounting team because we're reading books for lots of different companies and destinations. So you know, there's there's human resource manager. So there's quite a quite a large team that oversees all you can imagine we have a lot more staff in the summertime, we get busy, so you're well over 100 100 people kind of running the resorts. So we started with the top, you know, getting a board of directors together that had experience in these areas, especially in development in real estate. And and that had capital and ran different businesses. So that's the kind of the mature group has been through multiple recessions. And they know like how to plant and how to get through all different kinds of market environments. And then from the board level, we looked at the executive level. And again, people that can operate people that have the pisser vinegar to go out and actually the passion to work that the hours that it takes to work because it's not, it's not a business that runs itself, I haven't found that yet, in any of the businesses that we've looked at, and it's something that we're building, we're not buying to operate what was there, we're buying to take it to a totally new level. So every property we buy, it's got development on it, and it's got more marketing, we're bringing in more customers. And so buying or building the team is critical. And Pete finding the people with the passion to to run and operate, lots of times we get lucky because we buy a resort that has people that just love it and they don't ever want to do anything else. And so we get to keep that the on site staff that are there and we've gotten really lucky with that and a couple of our resorts we have human resources to go out there and find people that are passionate about that to bring in all the different roles we need for seasonal stuff.
Erwin
Now what about your business partner Tom? What What What's his job in this and what is his experience or background?
Darvin
All right, he's good he's a very talented young man that does Master's in real estate so he his background, I would say is a combination of of real estate and investment banker so he's worked for big investment banking shops, small investment banking shops, when you're doing the different kinds of investment that we're doing, you need that talent of somebody he was my head of corporate finance at Pinnacle wealth brokers. So he spent a couple years looking at all these different private investments and learning what makes them successful where are the risks and and what to avoid and so very talented man with a with a really bright mind and and understands that the numbers sides so he's really trying to make this work as an investment and he does oversee the development and the operational team and he's always making sure that the numbers make sense for everybody from an investment standpoint.
Erwin
You mentioned numbers and where risk where the risk is like before recording I mentioned like there's there's investors going belly up over leveraged likely variable mortgages and rates have gone against them. I think guys mediate know how do you manage your risk?
Darvin
Yeah, we mitigate risk. With a debt level. That's that's our biggest thing like we we will never go over 60% loan to value but in general, we're we're under like around a 40% loan to value and we want to keep that lower during times of uncertainty. And so we can because we have an investment dealer, like one of the biggest risks is like we start spending money on development. And if you don't finish the development, you don't have renter's, you don't have your customers coming in yet. And so we see that as a big risk in real estate. And we avoid that by being able to raise money, because we're an investment dealer. So if we need more capital, we can raise more equity, we don't believe we're going to run out of the equity needed, but we also are avoiding too much leverage, especially because interest rates are higher. So the lower the interest rate, the more we'd be willing to do and will slide up the mountain leverage, as we're putting in a whole bunch of new RV sites with intention that we're only gonna put in what we think we can sell over the next 12 months. So that means that leverage is going to drop back down again, in the short term, we're not leveraged over the long term, and our model has under 40%. Leverage.
Erwin
And correct me if I'm wrong, when you're raising capital, you're raising equity. It's not debt that you're paying interest on.
Darvin
That's right. We're raising equity only. Yeah, yeah, we do have we do have some financing and BDC finance, but two, we have a private lenders, finance been three that we hope to move over to some some, like bank financing next year. And so there's debt that way, but we're not raising capital for the debt side.
Erwin
You mentioned that you're you mentioned that everything that you touch has approvals, for example, already. So that's a that's a risk that novice investors miss out on is that its path of least resistance would be the beyond side with whatever government wants all levels. How is government for you that like fed municipal, provincial? Are they on board with what you're doing?
Darvin
I think they, they want it right. They want what we want as far as like getting people outdoors and when you're creating jobs. You're definitely creating jobs, a lot of jobs, and a lot of environmentally friendly development. But I can't say I mean, they have a process to follow. So when you're dealing at a municipal level, they have to they have to check all the boxes like they do for anybody, whether they like them or they don't like them, it's the same process. And, you know, we found with our Revelstoke project to be really slow in getting the ability to build a cellar are a lot and we get it, it's just we waited a year and a half to kind of get the answer that we wanted and that was just just their process that they go through and they get opinions from everybody and and ultimately we got full support. So yeah, we were not stuck on anything on that level. Like I said, we were not asking for a lot we're not asking for rezoning or we don't need rezoning and second was we are asking for it. We don't need it. We get it it's even better for the project. But we don't buy somewhere where we we need it because that would be that would be too risky for our investment mandate.
Erwin
Firemen this has been a blast. I learned a lot. Oh, my lesson learned a lot. For anyone interested in following along or learning more about Pinnacle wealth, or these recreational funds, where can I get more information,
Darvin
you can go to Pinnacle lifestyles.ca Pinnacle wealth.ca for other options that we have at Pinnacle wealth brokers, my emails, Durban at Pinnacle wealth.ca var vi n at Pinnacle wealth.ca
Erwin
The internet is forever.
Darvin
Give out a cell phone number of my my branch managers, your friend who introduced me to use Glazier. He's one of our dealing representatives that if you're looking at investing into a fund, he'd be happy to talk to you direct and I think he gave permission that hey, if you're interested in the call so Steve, please Yaxha 416-464-3085 It is email Steve lazier get Pinnacle wealth.ca.
Erwin
And for listening, I'll have this on the show notes. So don't worry if you're driving or cooking or I don't know what else people deal with and listen to podcasts sleeping already and thanks so much for doing this. I understand. I know you're really busy got like $1.3 billion to manage and six properties of hundreds of acres to develop.
Darvin
there and I appreciate the opportunity to be on your show and get in front of all your listeners. So yeah, appreciate it. And hope everyone has a great day.
Erwin
And ah, sorry, I've had to always ask my guests like any final thoughts you want to share?
Darvin
I just I thought it was super, super interesting. I love your podcast and I am starting to listen to it now. Especially your your Mexican fishermen one that you had sent me. I'll be thinking because yeah, that's That's again like you knew that that was a connection that I'd have. It's like a think about how to get to what you want in your life and be able to do what you want to do and it's not always about money. It's about being able to do what you want to do. So Chase the dollar raise a dime. The cool thing about like folks our age, just because we're not at your level, but many of us who have been around for like 10 years like they're all now having the Mexican fishermen conversation because they have enough now to for for now super retirement but a pretty good retirement. Yeah, yeah, exactly. Thanks, Sundar for doing this and I gotta run. Okay, thanks everyone have a great day
Erwin
before you go if you're interested in learning more about an alternative means of cash flowing like hundreds of other real estate investors have already, then sign up for my newsletter. Find out for yourself what so many real estate investors are doing to diversify and increase our cash flow. And if you can't tell me I love teaching and sharing this stuff.

HELP US OUT!
Please help us reach new listeners on iTunes by leaving us a rating and review!
UPCOMING EVENTS
You are the average of the five people you spend the most time with! Build connections with empire builders and trailblazers at our iWIN events.
BEFORE YOU GO…
If you're interested in being a successful real estate investor like those who have been featured on this podcast and our hundreds of successful clients please let us know.
It is our honour to give back and educate others on how we build cash flowing real estate portfolios using all the best practices shared on this podcast, from the lessons of our hundreds of clients and of course our own experience in owning investment real estate.
If you didn't know already, we pride ourselves on being the best of the best real estate coaches, having the best property managers, contractors, handy people, cleaners, lawyers, accountants, everyone you need on your power team and we're happy to share them with our clients to ensure your success.
New investor or seasoned veteran investor, we can help anyone by providing our award winning coaching services and this isn't all talk.
We have been awarded Realtor of the Year to Investors in 2015 by the Real Estate Investment Network, 2016 by the Canadian Real Estate Wealth Magazine and again in 2017 because no one told the judges no one is supposed to win the award twice but on merit, our peers deemed us as the best. In 2018, we again won the same award by the Real Estate Investment Network.
Hopefully being the most decorated team of Realtors in Ontario will make you consider us for your first or next real estate investment. Even if you don't invest in our areas, there's a good chance I know who would be ideal for you.
I've been around for a while, some Realtors are talented at servicing investors there are many with great ethics. The intersection of the two, talent and ethics is limited to a handful in each city or town.
Only work with the best is what my father always taught me. If you're interested, drop us an email at iwin@infinitywealth.ca.
I hope to meet you at one of our meetups soon.
Again that's iwin@infinitywealth.ca
Sponsored by:
Infinity Wealth Investment Network – would you like to know how our investors returned 341.8% on positive cash flowing real estate over the last five years? On average, that was 68.4% per year.
Just imagine what winning in real estate could do for you.
If you would like to know how we did it, ask us how by calling 289-288-5019 or email us at iwin@infinitywealth.ca.
Don't delay, the top markets we focus in are trending upward in price, so you can pay today's price or tomorrow's price.
Till next time, just do it because I believe in you.
Erwin
Hamilton, St. Catharines and Toronto Land Development, Real Estate Investor, and soon to be builder.
W: erwinszeto.com
FB: https://www.facebook.com/erwin.szeto
IG: https://www.instagram.com/erwinszeto/
https://www.truthaboutrealestateinvesting.ca/wp-content/uploads/2023/08/Darvin-Zurfluh.jpg
630
1200
Erwin Szeto
https://www.truthaboutrealestateinvesting.ca/wp-content/uploads/2017/06/TruthRectangleLogo.png
Erwin Szeto
2023-08-10 19:15:59
2023-08-10 23:17:21
Recreational Property Investing: Hundreds of ACRES, RV Sites, Even a Golf Course With Darvin Zurfluh