From Sales Exec to Debt-Free Living: Tim JP Collins' Journey to $100k Passive Cash Flow and a Simpler Life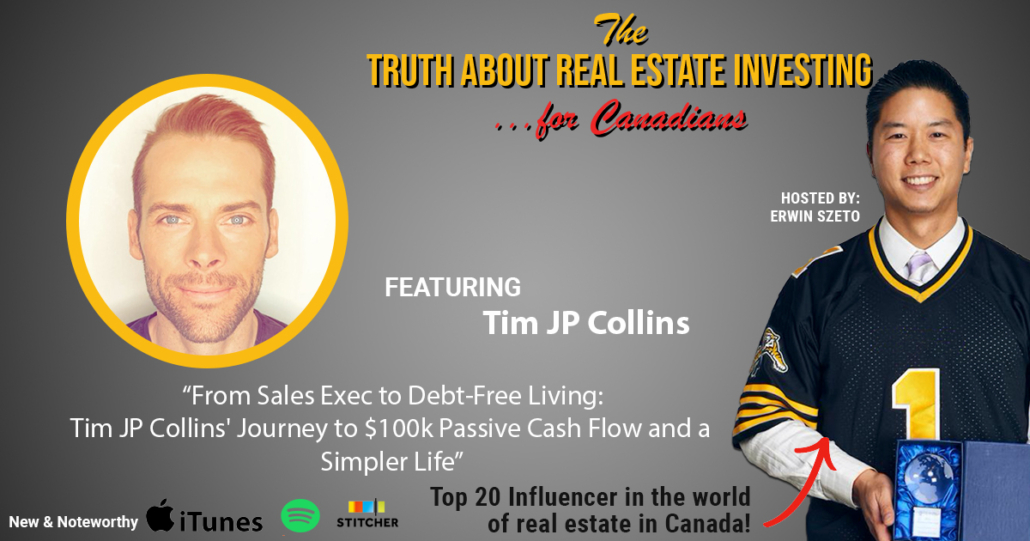 On Sundays, we're often entertaining friends and family as Canadians do: BBQ and pool parties 🏊
As I find it fun, I like to research, plan, then smoke huge cuts of cheaper meat since steak is so darn expensive. 
Last weekend, I smoked a seven-pound pork belly – only $25, on Cherry's pellet smoker for eight hours. I've been posting about this hobby on my social media.
 

 

View this post on Instagram

 
The strategy is low cooking temperature for a long period of time. I do my research by watching YouTube videos of competition-level chefs and restaurant owners. They don't give away their recipes, so I ask ChatGPT for rubs and bbq sauce recipes.  
I like my BBQ the way I like my investments. Boring, world-class returns and client satisfaction. Our guests, Cherry and the kids, loved it.
I served the pork belly burnt end style by tossing cubed cuts in homemade bbq sauce that I allowed to set by putting the goods back in the smoker.  We served the pork belly with ramen and some boiled Chinese broccoli, and it was awesome.
Next time, I lost a bet and owed a friend a fancy steak dinner, but I negotiated a Wagyu smoked brisket instead, which will save me a lot of money, so let's see how well I handle some world-class meat :).  I'll be sure to post pictures on my social media for those who enjoy following along.
Thank goodness there are world-class experts teaching on YouTube, or I'd be lost.  FYI, this show, The Truth About Real Estate Investing for Canadians, is also on YouTube, and I'm honoured that our followers and clients also achieve world-class results in their portfolios.
On the real estate front, with all the fear and negativity around real estate and interest rates, I do what I always do: I look at the data.
So I had my team pull for me the numbers for our last six months and what the results were for our clients who sold their income property. 
For context, with our clients, we focus on buying with the long-term in mind; we look for value and value add strategies which often means university student rentals and legal basement apartment conversions. 
When the timing is appropriate, many take out equity when their mortgage terms expire and get bigger mortgages made possible due to optimised rents.
With Rates higher than many expected, many having used home equity, some refinanced properties are negative cash flowing hence some are choosing to deleverage, take profits, and pay down debts.  I was curious as to how much money they were making.
For my analysis, I removed any property that was their primary residence and when we were not involved in the purchase. I only wanted properties we coached clients to acquire and helped them sell for maximum returns.
For simplicity, I assumed a 30% investment to cover the 20% down payment, closing and renovation costs, and a safe assumption that the rents covered all the operating expenses, so I'm assuming zero cash flow, leaving out mortgage paydown and disposition costs for simplicity and to be conservative.
The return on price appreciation alone was $313,000 or 280% ROI on an average hold of 5.2 years. That's a straight average of 53.8% return on investment per year.  
Past, of course, does not predict the future; I doubt prices rise as fast as they did again during the pandemic, but my vision here at iWIN Real Estate was to always provide our clients with exceptional returns at an exceptional value. To set the standard for investment performance and client satisfaction.
280% return over 5.2 years. I believe we have accomplished that. As a side hustle.  
So when the market is feeling the pain of high-interest rates, my team of coaches and I sleep very well, knowing our clients' portfolios have performed at world-class levels. 
We've invested through the financial crisis, the correction of 2017, and a pandemic, and we'll survive this high-interest rate and thrive when the rate cuts happen whenever they happen.
Conversations with my clients are in stark contrast to the single-family home, pre-construction investors who reach out to us for advice.  
Their investments should be fine in the long-term if they can survive this high-interest rate environment, but unlikely they sleep as well as night, nor do their investments perform as well as my clients do.
We specialise in investing in small multi-family conversions real estate that's on the ground, in high-demand areas, targeting the upper 20% of the market. We attract better tenants that way, our investment returns are phenomenal, and the strategy is systematic and repeatable.
The market has shifted. It's still a seller's market for high-quality, turnkey income properties. The relative advantage for buyers will not last long. 
We know rate cuts are coming, just not when but we know what's going to happen when it does: buyers will get off the fence and return to buying as they did in the Spring when everyone thought the Bank of Canada would pause the rate increases.
We are recommending to all our clients between 1 and 100 properties a complimentary portfolio review to check on their cash flow situation and equity with one of my coaches to make sure their money is working as hard as it can for you and be well positioned for the next up swing when the rate cuts happen.  
For you, our loyal listener, I recommend the same in that you book a portfolio review with one of my coaches.
The harder your investments work for you, the less hard you have to work. If you're interested, email us at iWIN@infinitywealth.ca and ask for a portfolio review.  
I would suggest booking us if you need a 2nd opinion on an income property you're about to buy as well. I spoke to an investor yesterday who just went firm on a conversion project but doesn't have all his ducks in order, and his renovation budget is way too low.
The market we are in right now, I've never seen so many legal, turnkey properties available. Several of you emailed or DM'd me really great properties you are selling.
 Why take on a major renovation project when the numbers would be the same for a turnkey property?  Plus, the town the investor bought in has a lot of vacancies for such a small town.
I had a call with another listener who asked my opinion of her converting her recently purchased turnkey, century home duplex into a triplex because her friend with a fiveplex said it was a good idea.  
I told her adding a garden suite would be cost-effective at around $200-$300,000 vs renovating inside the existing, over 100-year-old house that could cost over $500,000 and get less rent than my garden suite strategy.
Why accept vacancy, renovation, and less return on investment when better, less risk and grief options exist?  This is why experience matters.
Anyways, iwin@infinitywealth.ca for a well-timed portfolio review, cash flow & equity check or a 2nd set of eyes.
From Sales Exec to Debt-Free Living: Tim JP Collins' Journey to $100k Passive Cash Flow and a Simpler Life
On to this week's show!
Tim JP Collins is an old friend of ten years or so, one of our most successful clients and has achieved the cash flow goal almost every new investor has when we first meet with them – $100,000 or more passive cash flow per year, so they can vacation more, not worry about money, retire their spouse, etc.
Tim is back on the show to update us on his journey from high paid, high-stress Tech Sales Executive to being debt free, with over $10k cash flow per month from his stock portfolio, and being a full Realtor on his terms at REAL Broker.
Ever since I've known Tim, he's done things differently…
He invested in himself heavily by hiring a coach, getting educated, taking massive action, buying student rentals, several with joint venture partners.  
As a Realtor at REAL Broker, it's just him and his admin assistant. No team, no plans to build a team, so less moving parts and people to manage.  Tim likes making money and keeping his life simple, which I think we all want more of in our lives.
He's a father of three boys, a husband, debt-free living in lovely Nanaimo, BC, a Brazilian Jiu Jitsu white belt and has much to teach us all.
If you enjoy the show, you'll want to tune in when Tim is our guest speaker at our Tuesday, October 17th iWIN Meeting. 7:30 pm EST. 
I've asked Tim to present on how he built his 7 figure bankroll in real estate and what he now invests in to generate that $10,000+ cash flow per month. 
 He'll also share his experience belonging to REAL Broker, including saving money on commission splits and their revenue-sharing program. 
So save the date! 7:30 pm EST, October 17th iWIN Meeting. Online only, as Tim will be joining from Nanaimo, BC. Got to love technology!
Please enjoy the show.
This episode is brought to you by me! We don't have sponsors for this show. I only share with you services owned by my wife Cherry and me.  Real estate investing is a staple in my life and allowed me to build wealth and, more importantly, achieve financial peace about the future, knowing our retirement is taken care of and my kids will be able to afford a home when they grow up.  If you, too, are interested in my systematic strategy to implement the #1 investment strategy, the same one pretty much all my guests are doing themselves, then go visit www.infinitywealth.ca/events and register for our next FREE Online Training Class.  We will be back in person once legally allowed to do so, but for now, we are 100% virtual.
No need for you to reinvent the wheel; we have our system down pat. Again that's  www.infinitywealth.ca/events and register for the FREE Online Training Class.
To Listen:
Audio Transcript
**Transcripts are auto-generated.

Erwin  
Greetings, everyone. Welcome to the truth about real estate investing show. My name is Erwin Szeto and we are well over 300 episodes this podcasts been running since 2016. It is one of the oldest real estate investment focused podcasts out there. And for Canadians specifically for Canadians. And on Sundays, Cherry and I and my wife are often entertaining friends and family as teens do it this summer. So we barbecue and we host pool parties, and they don't just barbecue I have this weird thing that I like to do. I like to research plan and then smoke huge cuts of cheaper cuts of meat. I specifically say cheaper cuts of meat because a big involve notice steak is really expensive. So instead I prefer to, you know, not expect so for example, last weekend, I smoked a seven pound pork belly. That's right seven pounds, it's quite large, and that only cost $25 from Costco. And I smoked it on. Cherry owns a pellet smoker that I bought her from Costco that she lets me use. I smoked pork belly for eight hours. And I've been posting about this hobby though, for the last couple weeks on my social media. The strategy is low cooking temperature for a long period of time. I want to smoke at 25 to 25 to 250 degrees Fahrenheit. I do my research by watching YouTube videos. I watch videos from competition level chefs and restaurant owners. And but unfortunately they don't give away the recipes for like sauces, rubs and all the details of what they're doing. So actually, I think of a chat GPT to inquire for recipes for rubs and barbecue sauces. I like my barbecue the way I like my investments like the boring world class returns client satisfaction. Yeah, our guests and cheering the kids love it. They love the food today, but a cook so it's very rewarding. We actually serve the pork belly burnt end style if you're familiar, which means you toss the candidate button cubes, and I tossed it in homemade barbecue sauce that I made. Again, I got the recipe from my church UBT that allowed that barbecue sauce is set by putting putting everything back into the smoker for like over an hour. We served that pork belly with ramen and some boiled Chinese Broccoli. Yeah, dinner was awesome. For next time, I actually lost a bet over golf. So I owed a friend fancy steak dinner. But I negotiated instead a WAG who smoked brisket instead, which will actually save me a lot of money. FYI, wagyu is like the hot most expensive beef out there other than Kobe. So even though this piece of me is gonna cost me like triple triple what a regular of what a triple A Ontario, Ontario triple A equivalent beef would cost. Yeah, it's gonna cost me triple. But that's still going to be less money than going to the steak restaurant that my friend suggested.
Erwin  
So I'm gonna stay low on money, which I love to do. I love saving money, love eating well, and yeah, we'll see how I handle some world class meat. I'm sure I'll post pictures on my social media for those who enjoy following along. And yeah, folks enjoy. I checked your likes and comments on my house. I smoked meat barbecuing posts that I do my real estate stuffs. So yeah, thank goodness, the results have been world class. And thank God that was world class teachers and experts teaching on YouTube, otherwise I'd be lost. FYI, this show the truth about real estate investing. We do have our own YouTube channel, we post shorter clips there. And I'm honoured that our followers and our clients achieve world class results in their real estate portfolios, which is actually where my real expertise is. Anyways, on the real estate front, with all the fear and negativity around the real estate market and interest rates actually funds this fact of the day. I pulled stats for the June stats for two markets that we operate in one in Kingston, Ontario, one in Hamilton, Ontario. And if you actually look at the June stats, they all still scream seller's market. Of course, there's differences between pre construction condos and cottages versus a high quality turnkey, small multifamily that our clients are always looking for the market for both. It's extremely different, but prices are stable are going up. And the sales volume is pretty consistent with a year ago. So again, from what I've seen the stats it still looks to be very much a seller's market. Hamilton, for example, less than 20 days on market, less than two months of inventory on the market. I bet still all scream seller's market, there's so I had my team pulled me the numbers, our own numbers for the last six months, I wanted to know what our clients how much money they were making when they sold their income property. So for context, we have our clients with our clients we focus on buying long term in mind, we look for value when we buy we use value add strategies, which often means conversions into student rentals or legal basement apartment and conversions. Now we're doing more garden suites when the timing is appropriate. Our clients take equity out of their properties. Typically when the mortgages expire when the original mortgage expires, they get bigger mortgages, which is made possible by having optimised rents so with rates have been currently higher than expected going up faster than they would have expected. Many of our clients use Pretty much all of our clients use home equity lines of credit to finance these properties. So now some of the portfolio is negative cash flowing. Hence we some of our clients have chose to D leverage, which means selling an income property or to taking profits and paying down debts. So I was actually curious to see how much our clients were making, how much money were they walking away with. So for my analysis, I removed any property that was a primary residence, any property that where we were not involved in the purchase, there's a massive difference between the returns between clients who use this for their purchase and clients who did not a massive difference, like hundreds of 1000s of dollars. Anyways, I digress, I only want to properties for this analysis where we coached the client to acquire the property and where we helped them sell the property for maximum returns. For simplicity, I assumed a 30% investment rate to cover the 20% down payment, closing costs and any registered renovation costs. And for a safe assumption, the rents covered all the operating expenses. So I'm assuming for the simple analysis, quick and dirty analysis, and assuming zero cash flow, and I've left out any mortgage pay down, which would easily cover any sort of disposition costs, realtor fees, legal costs, closing costs, in general, for simplicity, and keep to be conservative as well. So the return on appreciation alone for these properties that our clients sold over the last six months, the average was $313,000 $313,000, which works out to be about a assuming that 30% investment rate to an 80% return on investment on an average hold of 5.2 years. So our clients held those properties. Once they're selling they've sold in the last six months, they've held those properties an average of 5.2 years, the average per year, the straight average per year, works at the 53.8 or turn on investment paths. Of course, it's not predict the future. The data again comes from our own clients again, because their own clients, we know exactly what they paid for the property. And we know exactly what they sold them for. Yes, I doubt prices will ever rise as fast as again as it did during the pandemic. But my vision here that when real estate has always been to provide our clients with exceptional returns at exceptional value. Right? My team and I we are licenced realtors. And that's how we get paid. And then we don't charge beyond that. So our coaching services are included in our realtor commissions. Yeah, we're here to set the standard for investment performance and client satisfaction, I think deserves repeating 280% return over 5.2 years, that works at a $313,000 per property our clients sold, I believe I've accomplished our vision and the short sets and the small sample and understand also that these clients are doing this as a side hustle. Right? Again, I don't think we can return the same return do the same performance going forward. But I still plan on our clients having exceptional world class results. When the market is feeling the pain of high interest rates. My team of coaches and I we sleep very well, knowing our clients portfolios performed at World Class levels. You know, we have in myself, we've invested to the financial crisis of 2010 2008, as I should pretty easy, the housing correction of 2017, which wasn't that bad, a pandemic, which was pretty ugly early on. And then we made a lot of money after that. And we'll survive these high interest rates and then thrive when the rate cuts high eventually happen. We know they're going to happen. We just don't know when I'm going to conversation to my clients. So knowing what's new now, you can understand why conversations with my clients are in stark contrast to the folks who request meetings with us that we are meeting for the first time who invested in single family homes or pre construction investors, especially if they bought after 2020 When they reach out to us for advice. Yeah, they're in a very different situation than my clientele are. Their investments should be fine in the long term, if they can survive these high interest rate environment, you know, and to survive. That means you know, work overtime, get a second job drive Uber if you have to survive, right, but yeah, unlikely they sleep as well as my clients do, because their investments are I think you can guess if you bought after 2020 and you bought pre construction or single family, there's basically no way you can cashflow unless you are heavily cash unless you put down humongous amounts of cash. I think someone messaged me, I think I think he's still low. Someone messaged me on a webinar delivered saying that you need to be like 40% Down payment in cash in order to cash flow condo. I actually think that number is probably higher. Anyways, we specialise here on real estate investing in small multifamily conversions that's on the ground, and we invest on land based real estate in demand areas and we target the upper 20% of the market. We attract better tenants that way. And our investment returns are phenomenal strategies systematic and repeatable the way I like it, I call it boring. I know it's not boring for folks who are new to real estate, but to me, it's systematic, therefore boring. Now understand the market has shifted. It's still a seller's market. It's for anyone who's holding a high quality turnkey income property that's rented at market rates. But we're currently at a relative advantage for buyers, but it won't last long. Now we know rate returns are coming. We just thought we don't know when it's gonna happen. But when it does, you better believe buyers will get off the fence and return to buying like like they did in the spring, the spring of this year in March, April in May, because that was back when everyone thought the Bank of Canada would pause the right rate increases. Now, what do you think they're going to do? And what do you think buyers will do? What do you think the buyer market will do when there's cut? Right? We were recommending to all of our clients between we who have between one and 100 properties, are offering them a portfolio review to check their cash flow situation and their equity list conducted by one of my coaches to make sure that the money is working hard for them as it could be. And also to be well have a portfolio is well positioned for the next upswing. When those rate cuts do happen for you, our loyal listener, I recommend you do the same, it is the summer so we're less busy, we have more capacity to take take on a couple more calls. And yeah, if you're interested, if your investments can be working harder for you. Because understand if your investments are working hard for you, that means you can work less hard. Or we can retire sooner or retire more comfortably. Or you could just live more comfortably. So if you're interested in just email us at iWin at infinity wealth.ca My email address is always in the shownotes as well. And just ask for a portfolio review. I suggest booking us if you need a second opinion on an income property that you're about to buy as well. I spoke to an investor just yesterday, who went firm on a conversion project. They doesn't have all those ducks in order. He's new to this. He's a novice and his renovation budget expectations is way too low, like 30 $60,000 too low based on my experience. Now, I don't know what and understand I'm pretty experienced
Erwin  
versus this industry is not the market that we're in right now. I've never seen so many legal turnkey properties available. Several of you have emailed me or DM me your great properties that you're selling. So based on where the market is right now, why would anyone take on a major renovation project when the numbers would be exactly the same or better for turnkey property? Appreciate that turnkey property means no vacancy and no renovation risk. Right. Plus the town that this gentleman bought in has a lot of vacancies and it's a small town so as a lot of vacancies in a small town. So per capita, they have an extreme number of vacancies. I had a call with another listener who asked my opinion on her converting her recently purchased turnkey, sentry home duplex. She wants to she's getting quotes on converting into a triplex because her friend with a five Plex said it was a good idea. I told her that any garden suite would be more cost effective because that's around two to $300,000 versus her renovation. Her renovation plans to renovate the insight of an existing over 100 year old house what costs probably over 500,000 and take two years to do. Also on the performance side as an investment it would likely get less rent to do her Tropics immersion the way she was thinking we'd get less rent than my gardens be strategy. So why except vacancy, renovation risk less return on investment when better less risk and grief options exist? This is why experience matters. Like I said I win at infinity wealth.ca Just email in if you'd like a well timed because the timing is perfect for this now. for Portfolio Review cash flow equity check off our second set of eyes. on to this week's show. Tim JP Collins is an all friend of mine but for close to 10 years or more. He's one of our more successful clients and has achieved a cashflow goal, the cashflow goal that almost every new investor has an income when they first meet with us $100,000 or more in passive cash flow per year so that they can vacation more not worry about money, retire their spouse, give more to charity almost just get things. It's great goal to have, unfortunately, not many people get there. So yeah, I always think it's a good thing to like this is perfect leverage learn from someone who's done it. So Tim is back on the show to update us on his journey from his when I first met him, he was making a lot of money. But he had a very high stress tech sales executive job where he was commuting over an hour each way. And some kind of dangerous leak is you know, you live in Canada, you know, commuting over and driving over an hour and these Winters is not the safest thing to do. But So Tim's actually now 10 years later, is now living debt free. He has zero significant debt to his name or companies like zero debt. He's earning over 10,000 cash flow per month from his stock portfolio. And he's also a full time realtor on his terms. You'll hear from Tim, he runs a great business. And he's he's a real broker as well, just for you to know. Ever since I've known Tim he's done things differently. He's invested himself heavily by hiring a coach getting educated, taking massive action buying stuff, many student rentals with us. Several of them had joint venture partners. He is a REALTOR at the real broker. And it's just him and his immune system. He has no team no other team he has no plans to build a team as he prefers having less moving parts and less people to manage. Tim likes making money in keeping his life simple, which I think we all want more of in our lives. He's a father of three boys. He's a husband, Stephanie is debt free living in the lovely Nanaimo BC is a Brazilian jujitsu white belt and as much more to teach us so if you do enjoy the show, you want to tune in when Tim is our guest speaker at our Tuesday, October 17. to our meeting 7:30pm Eastern Standard Time, Tim will be zooming in only from the Nymo. I've asked him to present on how he built his some bigger bankroll from his real estate. And now how he's investing that seven figure bankroll to generate him that 10,000 plus cash flow per month, he'll be going into more detail on how he does it also be sharing his experience belonging to real broker, including how he saves money on his commission splits and their revenue sharing plan. So again, save the date 7:30pm. Eastern Standard Time, October 17. When meeting online only because yeah, Tim is not flying to Oakville from an IMO for this. He'll be joining us live on Zoom. One has to love technology. Please enjoy the show. Hi, Tim, what's keeping you busy these days?
Tim  
Hi, Wayne, how are you? Nice to see you again. Lots of things keep me busy. I started learning Spanish in November last year. Which I can talk a bit more about not in Spanish. Probably not quite ready for that yet publicly. But yeah,
Erwin  
but we can do in Japanese because you were practising that and you're just back. You just got back from Japan too. So
Tim  
yeah, my wife speaks Japanese, not me. But I was there. Yeah, I was there. I was good at eating the food. Qualified in that but yeah, having Yeah. So Bill on a nice trip. Got another trip coming up going to Spain in the summertime and England visit family. Real Estate Market has been pretty active in a traditional sort of spring way. So nice to see some action picking up they're continuing to follow the passive investing style of dividend paying ETFs which is which is pretty passive. So I don't really do a lot with that. But yeah, lots of stuff going on. And as I mentioned before we started recording I started doing jujitsu. I'm clearly a bit late to the game with this, but I started doing jujitsu about five weeks ago, six weeks ago, I saw you know, I just thought if like Mark Zuckerberg can do it. I really do. Uses Yeah, he did his first competition. Yeah. And one.
Erwin  
Yeah. Yeah. be kidding me. No. One. Yeah, one.
Tim  
I'm pretty sure he won. Yeah. No, gay. I think he was doing no gay. Yeah.
Erwin  
Even still, he won anything. That's amazing.
Tim  
Yeah. All right. So it's extremely unfair. For those of you who haven't done jiu jitsu before, it's extremely uncomfortable. It feels like jumping into a swimming pool without knowing how to swim and getting smothered at the same time, progressively day by day, week by week and get more used to it. So it's very humbling, as you know, getting if you're usually used to like being successful or winning at things, and I probably have like a reasonable sporting capability than most things. With this particular one. You just get beaten again and again, when you start because irrespective of being bigger or stronger, it doesn't necessarily help you in a sport. It's designed to give people an equal playing field irrespective of size. Right.
Erwin  
So it's interesting, I was just listening to podcasts, which really just recounting a book, biographies, specifically Elan, Elan, and the author of the podcast horses who read the book and talking about he's just talking about how what how much he admires. Elance tolerance for pain and suffering. Right and jujitsu will teach you pain and suffering. Yeah, not not tat, not bad pay Malik, injury, pain, but and also being a real estate investor or business owner, teach you a lot more about pain suffering than probably a job will. Actually, I probably, I'm probably getting ahead of myself, because you can speak to that. As your corporate job, even though you were an executive making big money still brought you levels of pain and suffering.
Tim  
Yeah, it was interesting. That part of my life, you know, which I've talked about publicly before, in terms of like it turning into stress and panic attacks, and all that sort of thing. Talked a lot about that. But But yeah, I just thought suffering was kind of part of the process. In that case, it was almost like a low level, I think in the corporate world, because you've got a job and you're getting paid weekly, bi weekly, or monthly, or wherever you get paid. The pain isn't enough for you to change, which sounds weird, but it's like a low level drum of discontent. And like, you know, do I really want to spend eight to 10 hours in an office and have to travel and commute to and from work and but then, you know, they keep dropping money in your bank every couple of weeks, and it's a decent amount of money. And you're like, This is alright, and people tell you, you're doing well. And you get Pat's on the back and they print you new business cards with fancy titles. Like yeah, this is this is alright. It'll be painful. But I think in the entrepreneurial world, when you have pain, it's like more significant because it's just you. So if you lose a deal or lose a client, or your business struggles, then it's potentially more catastrophic than if you have a bad day in the office or lose a client and you work for a big company, then you probably just go back tomorrow and carry on so although there's pain In that case, it took two decades of cumulative pain in order for me to change something about that situation because it wasn't sort of very progressive. Until one day I snapped and just couldn't take it anymore, right? But if you'd asked me like, a year before that, how's it going? I would say it's great. Everything's fine. That was the start of interest in time for me before I then went off and did student rental stuff. Right.
Erwin  
So sorry, yeah, I was gonna ask you at what point were you like? Because when I met you, you were going full send real estate investing? Yeah. At what point when? Because I'm guessing the the job dissatisfaction or the pain and suffering, whatever you want to call it was was what triggered the investment journey?
Tim  
Yeah, for sure. So I kind of like sat in my corporate job and thought, I can't do this anymore. Like I physically can't do any more or have the will to carry on going in the office. And so I was thinking of, how can I replace my income using the knowledge I have, or sweat equity or working or whatever I can do to try and get a leg up. And, yeah, that time I came across you and your famous sessions used to run in Oakville, which were amazing. And a few other people in the kind of real estate space in this thought, yeah, I feel like I can make these numbers work, I could still qualify for some mortgages while I was employed, so I was very conscious of like, I need to sort of squeeze all the juice out of this lemon before I leave the lemon behind
Erwin  
your credit limit your credit ability, mortgage credibility, lemon.
Tim  
Yeah. So I had to, like, get all that done, which, again, through some sort of good advice, but that's why I was so gung ho about investing was I was like, I need to do this in order to escape this other pain in my life. It wasn't, I wasn't like, Oh, this is something nice to do. Maybe on the weekends. I was like, No, this is for me. I'm doing it. I'm all in. Let's go. And then real estate investing has its own pain. But it's different. Different kinds of pain,
Erwin  
different kinds of pain. Yeah, I joke with people like I didn't grow up wanting to be a landlord.
Tim  
No, no, I was just, it's funny. I was having a Spanish lesson the other day, and we're learning about Cucaracha, which are cockroaches, which reminded me of a time when I owned a house in Hamilton and I went walked in one day. And the students had left bags of rubbish in the middle of the floor, and it was leaking out some kind of weird oil stuff. And I saw cockroaches in the house. And I was like, Oh, my God, I've never seen was this take a picture of it. And suddenly the worst cockroach, you've obviously got, you're in a humid country, or you've got lots of rubbish around as they must be the garbage all over the place. So yeah, things like that made me think like, and I had this conversation with the students and I was like, Look, all this garbage needs to go out on the specific days. Now I have to hire a cleaning lady and abatement company to come and get rid of the cockroaches. So make sure the kitchen the carpet is all gone. Take all your food out of the cupboards and the fridge because we're going to clean everything out with bleach and get rid of all this stuff. Anyway, I came back famously came back like on the weekend as agreed to do the cleanup and all the food was still in the cupboards with open packages spilling into the cupboard shelves, and all the food was still in the fridge. So I grabbed you know, the cleaning lady I'd hired for the day and loads of Bin Bin liners and I just emptied all the food into the bins and went and put it in the truck to take it to the dump. And probably like 90% of the way through this process. Some of the students came out and like, what are you doing? That's my food. And I was like I told you, like cockroaches gonna take care of this. So anyway, no exterminator
Erwin  
can no exterminator is that good that they can get rid of the cockroaches? When there's food? Yeah, they were like desperately
Tim  
upset. I threw their feet away. And I was like I told you, like, I've got to do this. And there's times like that, where it's just like, oh, this is hard. And then based on good market timing of buying houses in 2010 or 2011, whenever we were getting super active, fast forward 10 years and you're like, wow, buying a house for 270 grand a block away from Mohawk College. Turns out that was a good deal. Should have bought 10 of them. Should have bought more of them. But another 10 years. Yeah, exactly. But anyway, we used to talk about it then we used to say, you know, as Warren Buffett said the best time to buy a house was the years ago and the next best time is today. We used to say that in 2010. And it's still true and probably always will be but
Erwin  
I'm just pausing there I actually just I I've been looking at I've been I've been wasting time wasting time looking at charts and whatnot. I like I was looking at the money supply chart that was 10 year chart. So I thought no money supply in Canada's doubled in 10 years. So went back and checked where we were kind of overpaying for properties 10 years ago. So we're in the two phase These St. Catherine's are low 200. So yeah, like stuff we bought back then have tripled? Yeah. So it's been okay.
Tim  
Yeah, it's been okay. But you can see people, if you find somebody who's like, pretty diligently, hard working for a period of time and patient, you can make a lot of money. I think like, it's kind of like investing in stocks. I remember buying Apple shares, which is one of the few companies that just continues to do well, right. I remember buying Apple shares when the first iPhone came out, which I think was 2007, both iPhone came out. And I was like, hearing all this buzz about it in the news. And I was like, Blackberry was popular, then I love BlackBerry as a product. And I thought, but this other thing is just a screen. It's gonna play videos, it's way cooler, Steve Jobs doing these big announcements. So I went and bought some apple shirts. And then a year later, or two years, or whatever it was, they doubled in price, so I sold them for double your money. Great, right now, since then they've gone up like, I don't know how many times 1,000x. But yeah, it's just always that way. It's always that trade off of like, you know, do you take profits now? Or do you wait? Long, long term, and real estate is one of the one of the cool things that it's pretty hard to mess it up over a long enough time horizon, you have like, short term issues that we've gone through this inflationary period and high interest rates. And so prices went from an all time high, then dropped 15%, maybe in some areas. But we also know that like, at a macro level, there's not enough houses in Canada, family, people want to live here. And that's a big problem to solve a long term problem to solve, you know, it's still people can still do well with it. It's just, you know, where do you want to park your parking money, right. But yeah, that was that student rental period was was very difficult, but because of the bounty that it created years later, I look back on that with fondness and think, Well, you know, all of the problems I had, and all the student issues I had, and crazy stories that you and I share and talk about, it was worth it. You know, now, if the market had gone down for 10 years in a row, and they were all underwater, and you could now buy those places for 150 grand and it wouldn't be quite as fun to talk about.
Erwin  
Think about my daughter's house, for example, I've only had, there's only I don't do service calls, right? But there's one time I couldn't get anyone to my property. There's a windstorm. The awning over the front door had blown off, but it's aluminium. It's heavy. My tenant has four kids, four young kids, anyone to take care of. So I went took care of it. And I wouldn't have it's weekend afternoon. Didn't want to go but someone's gotta go. So it took about two hours my time. Yeah. But then for them when you do the math, you know, hourly rates, all that matters, right? You know, you know, like that property makes me a couple $1,000 a month. It took two hours my time. So yeah, yeah, we always want to get back. None of us want to do this. But none of us want to go through pain and suffering. And the nuisance and time away from families. But the money the wealth that we get out of it makes it worthwhile. Yeah. Like to say,
Tim  
yeah, they still believe the same thing. I believe them, which was like if you're listening to this podcast, and you're new to investing, or you want to get into investing, and you're like how, you know, bows are more expensive. Now how do I do it, things are changeable. There's always opportunities. And there's always people doing it. I think one of the big things I was so excited about was that there was resources, like the weekend session you ran in Oakville, which I think most of the time was free or was $5 to get in or something ridiculous to then be in a room of 20 or 30 or 50 people who were all doing the things that you wanted to do. And you could network with them and say, Hey, who's your property manager, who's your painter, who's your contractor, and build this, this kind of book of contacts and then start to do things with these people. That's how you do it, you start to build relationships with people who are having success, maybe you can tag along with them for a day or follow them around for a bit or offer some free service for some mentorship or something. But there's lots of ways to get started. And you don't necessarily need any money or resources to start building knowledge. There's tonnes of books to read this podcast now to listen to which we didn't really have in as much abundance back
Erwin  
then. But yeah, but I tend to learn. Yeah,
Tim  
exactly. And it's now now I've gone through the same evolution with like, you know, dividend paying stocks and trying to understand how that works. Now I'm doing it with some of the stuff we might talk about later on in terms of as a realtor working with a company that also gives me a passive income stream. So I'm always like interested in things where I can learn more and grow and if I did start and do it all again, I will go back to like You know, for me, it's kind of like how do you generate large amounts of capital to then deploy into things which can pay you passive amounts of income or dividends or royalties or something forever, right? Create a big amount of money as quick as you can invest it, and then chill. That's always been like pretty good model. Right? I was listening to Derek servers, the entrepreneur or former entrepreneur, and now he writes books and does other things. But he famously sold his company CD Baby for 20 million. Yeah,
Erwin  
that's awesome. On Tim Ferriss podcast, yeah, there's
Tim  
a recent Tim Ferriss one, which is amazing. But he always talks about, he talks about this concept of like, you read a book by Felix Dennis, I think the guy's name is who started Dennis publishing. But this guy basically said, like, in his book, how to get rich, if I could do all again, I would just put have made as much money as I could, by the time I was 35, and then stopped, basically, and then put it into something else. Because in his words, he's like, people who get very wealthy and then just try and keep trying to get more and more like squirrels putting nuts in a tree, the the nuts are, like, overflowing out of the tree. And you when is enough, enough, right? I think people struggle with that. And he had a good analogy, which was like, if you give a very thirsty man, a glass of water, you know, it will fill his whole face will light up, it'll start to hydrate itself, you give him a second glass of water. And you'll probably really appreciate that, and as much as the first one, but on his hundreds glass of water that you give him, he probably won't care anymore, because he's no longer thirsty. Like, he doesn't need it. And it's just too much. So creating wealth comm in his analogy is a bit like that. It's like, why is it necessary to continue trading your time for money? And that's a good question to ask. Right? So I love all these different ways of like, how can you invest some time to create something which pays you back, even when you're not doing it anymore? That's really, all I think about as it relates to the business world is leveraging time into returns.
Erwin  
So that's what I find interesting about your story. And because again, we've known each other for a really long time is it this way, like having you on the show is that you can, especially for the newer investor, you can share your journey so they can understand like what you went through? And so you were you were looking for ways to replace your income. But if I recall correctly, even though, how many properties did you get up to
the peak, maybe like 12, or 13.
Erwin  
Alright, so a good number of properties, student rentals, so lots of rent money coming in. And then but even though when you've left your executive position at a tech company, you can transition to another tech company, is that right? And in the middle of there was a there was a move across the country as well.
Tim  
Yeah, so I left a position on my tech company. Yeah, that was, you know, I was well, like there and it was fine. But I just couldn't do it anymore. I couldn't do the commute the time was too much. And they were very kind. Interestingly, when I left I said, like, you know, I don't want to work here anymore, too stressful. And they said, well, we'll keep me we can keep you on as a advisor of sorts for for some time, and keep paying you. And I was like, Oh, that's cool. So if any of any of the companies that I'd signed up, for instance, wanted to ask for advice or contacts I'd developed then I could keep the MP for a while. So I always try and impart that bit of knowledge to people who have potentially been had long, 10 years at companies doesn't have to be a tech company could be a bank, or somewhere else to say that like, now more than ever, particularly in the advent of like COVID, and remote work and stuff. It doesn't have to be a binary like I work here or I quit situation, you have a lot of possibility, and with the most leverage of being prepared to walk away, right? Whoever needs it more is basically has less control. But you can these days walk into your boss or CEO and say, Look, I only want to work four days a week, or I'm going to work from home on Mondays and Fridays, or I'm never coming to the office again, you still want to keep me or in my case, I said I don't want to work here anymore. But if you want to, if you want to keep my phone number and give it to people who just want to ask advice for things, and they may keep paying me for another six months, and I'll do a gradual exit kind of thing. So lots of flexible ways to transition out of traditional employment. If you want to do more real estate investing, for instance, with something else, maybe you negotiate with your employer to work four days a week and you can work a couple days a week on building your next thing. People are always surprised when they ask difficult questions that they might get a positive response particularly if you're a good employee, you've done well and you're valued because people don't want to lose valuable people. So and in my case, I will never do that you can never work from home you can never alright, I'm leaving. All right now you can work from home. And you know, so people change when when the cards are on the table, but I left that and started doing the real estate invest at the same time sharing some of my story around stress and anxiety and started that sort of podcast endeavour. And that's when I moved to Vancouver Island where I am now, because I just came out to an IMO and sort of sort of mountains and oceans. And I was like, I could live anywhere in this country, it'd be fun to live somewhere else for a bit, moved out here, sold off some of the student rentals eventually sold all of them, but sold them off kind of gradually over time for tax reasons to not get smashed with massive tax bills. And then,
Erwin  
in just thrown in there, you kind of nailed the timing.
Tim  
Yeah, well, the timing was was fortuitous. And I'm grateful for that. But it's kind of like, if we bought around 2010, then I did like five year commitments or mortgages, and then renew most of them for another five years. And so over the last few years, it's been like, you know, chipping away at, let things go and selling them off. Which has been good, because the market was probably at a high when I did that. Yeah. And I found a little local technology company in the town, I'm in here, which was doing website design for realtors, and Google ads. And so technology and real estate, and I was like, this is kind of cool. This is like two of the things I have experienced. And I went to work for them as the sales director and worked for them for a few years. And through that journey, learn a lot about lead generation and turning in cold internet traffic into real estate clients, helping people buy and sell homes, which had been a consumer of in the past. And anyway, I was I had this epiphany one day, I was at this conference, and I was sat around this dining table, and it's very fancy steak restaurant. And the guy opposite me he's like, Yeah, I just ordered the new Ferrari. Fill in the blank. And the other guy's like, oh, I went with a Maserati with the gold trim with diamonds on it, or something. I don't know what they were saying. But when I started thinking, my job is like, pretty well, paying, but not in the same league as these guys. And I feel like I could do more. So I just decided, like, I'm gonna give it a go and try and be a realtor. So I left. This was a route right in the midst of COVID. So when I actually got my real estate licence, you couldn't do any business. It was it was April 2020, or whatever it was, yeah, there's nothing happened. Nobody was even showing houses, it was just dead. So I just spent all that time training and learning and attending online zoom trainings, and learning about sales and reading books and all that kind of stuff. So the when the market did reopen, I was like, fully prepared to go. And in my first full year, I think I did 50 transactions. Most of which, from cold internet traffic, Facebook leads, Facebook ads, Google leads, stuff like that implementing the things I've been teaching people and doing it, which is,
Erwin  
which is a lot. Yeah. A top performer, a top performer does like 30.
Tim  
Yeah, so I did, I did that and thought, yeah, this is kind of cool. So that's been my most recent sort of labour of love in terms of learning something and really honing the skills around it. Yeah. And it's kind of like, I like the speed of it. Because I now work from home all the time. I'm working for a broker called Real broker, which is like one of these virtual brokerages, they don't necessarily have too many physical offices, but they have like an online, a very strong online presence. And it's perfect for me, I get to work from home, sit every morning and do my three or four hours of cold calls and text messages and emails and how I generate business, basically. And then afternoons I'll do showings or coffee meetings and stuff like that. But
Erwin  
Tim, I'm sorry, apologies, one party there, we will get to talk about real broker I just want to touch on because I want to I want the listener to understand like you have a lot of passive income things going on. Right? Is that because I imagined that allowed you, like gave you a lot of confidence and comfort and freedom to be able to leave your second tech career? Yeah. So can you touch on that? So like, so what did you do with the proceeds from the sale of all your properties?
Tim  
Yeah, so I started looking at well, through some basically through inspiration from your stuff, like looking at, I learned about derivatives, the fancy word for options trading, you know, spend some time reading, trying to decipher Lilo's book on selling naked puts and spread the credit spreads and all these types of things, which was very interesting. But through that lens of options trading, I also then realised there's actually like products out there, which kind of do the hard work for you because options trading in and of itself is quite like it's very technical. To a layman. The very technical thing to do. You can get things important, important wrong quite easily. You could lose money you could buy instead of sell and all these intricate things. So I spent a year learning as I've fully understood it, but through that, through that journey, like a lot of things in life I came up with cross these ETF products, which are basically like ETFs, which hold companies in the s&p 500, or the NASDAQ, and they sell covered calls against indexes, in some cases, or in some cases they sell, they sell covered calls against them, one of the newer ones for instances is a Tesla ETF or Tesla seem DTF. And they sell covered calls and puts against Tesla stock, and then they pay a dividend off the back of that. So they're doing the work for you. It didn't work for you, and you pay a management fee for it. But the yield, if you will, the amount they pay out is net of the management fee. So you can kind of start to say, well, right, if I put in like 100 grand into this, how much could I expect to gain in terms of income. So if you've got 100 grand, and you can get 10 grand a year in dividend income, and then you start to look at that monthly, and you're like, okay, so and just build up that methodology. And then there's sort of like, you want to have sector diversity. So obviously, US banks, for instance, recently have got absolutely hammered. So, you know, following Warren Buffett's advice, I've been buying US Bank ETFs pretty aggressively that year and lows or something. But there's funds which hold just US banks, and they sell covered calls against US banks, and then they pay a dividend off the basis of that. So there's, you know, Canadian financials, there's energy, there's tech ones, there's gold ones that are all over the place, and you can build a portfolio around these, which is basically pretty set it and forget it, like once you've bought them.
Erwin  
It's quite diversified. And yeah, just to clarify, folks, nonetheless, this is a conservative financial advice. Yeah, this is what Tim is doing.
Tim  
If I do, yeah, and I've done, you know, been doing that and trying to sort of find a good fit for me in terms of risk tolerance, I don't really want to lose my money anymore. Not that I ever did. But I'm kind of definitely in a sort of medium risk profile, where I'm, you know, a lot of these, because of the way the markets been going down and sideways for a long time. A lot of the yields on these products are, let's say in the range of like eight to 12%. And we know that the rule of seven means that if you get a 10% return, then your money doubles every seven years. So if you start with 100 grand today, and you get a 10% return, you don't touch it, you just keep compound, reinvesting those returns, and after seven years, you'll double your money. So you've got a million dollars, or $2 million, and so on, so forth. So yeah, that's really all I look at every month. With these types of funds, you can either set it up on a drip, which is I think that stands for direct reinvestment programme, which essentially means that you get paid out your dividend money, let's say 100 bucks, and I will take the 100 bucks and buy as many more shares in the same company as it can. And so that's the kind of set it and forget it mentality, I do more of like a manual drip. So I get paid out the cash at this moment in time, it's about 10 grand, give or take a month, sometimes 12 grand a month. And I'll take that cash in my account. And I'll look at like where I think the opportunity is in the market. And I'll buy more shares in those companies.
Erwin  
So just him just just quickly to summarise for the for the listeners benefit, again, because I know your I know your journey better than most. Because you divested your portfolio, you have a large nest egg. And you've reinvested a lot of it into these ETFs. Yeah, and yeah, you're generating between 10 and 12 grand a month, which is I would say, for many, many people that come to me for the first time, that certain rule. So you you've kind of have what they want. Yeah,
Tim  
that was my goal for a long time was I was like fucking to get 10 grand a month, then that would be where I want to be, you know,
Erwin  
it's kind of like you're not a landlord anymore.
So I don't know, no one calls you
Erwin  
don't have your phone.
Tim  
Does anybody in the house I live in? I don't I don't have any loans of any kind don't have any credit card debt. I don't have a car loan. Nothing. That was my goal was to have zero on the on the debt side.
Erwin  
How's your leisure mental health compared to the past?
Tim  
Yeah, I mean, much better in terms of, you know, having been inspired by things like the four hour work we, and these types of like, time and money and location freedom scenarios, I always just wanted to have the ability to be to be free and not and to be able to do work for money but not have to do it and be able to pay the bills, even if I didn't do that and live somewhere but not feel like I have to be tied to that particular location forever that I could move to a different area or or do something different. So that's kind of like what I've been working towards and you know, there's lots of things in my life which aren't easy and and still still doable. Sometimes, but that one is one, which I've been able to like, you know, I'm very like conscious of the fortuitous timing of that whole series of events of buying properties when I did, and then exit. And when I did, but I didn't buy a lottery ticket, I worked my butt off for years and years and years, you know, working with joint venture partners and finding properties and cleaning up people's, you know, classes and plunging toilets, and doing all sorts of stuff. And it just worked out, you know, based on what was good timing, and I was good at. So I just did as much as I could, until it wasn't necessary anymore. But yeah, now I like the fact that people talk about real estate investing is like passive, it's not passive at all. Because you still have to, like, even if you're not managing your property, you still have to manage the property manager, you still got to pay the property tax, and the bills come in, and you gotta log on and pay the gas and the electricity and stuff like that. It's not really passive. And you still think about it, it's still, you know, go back to like, my favourite lines from the Fight Club movie, which is what you own owns you. So if you own by businesses, or 20 houses, or those are all like taking up mental real estate, in your mind, wherever you own, whether you manage them or not, they do. And now I have this, like portfolio of ETFs, that takes up that takes up mental space, because I think about like, if I, you know, glance across CNBC, and it's all red, I'm like, Oh, shit, do I need to look at my holdings and make sure everything's okay. Because they're pretty boring things and do well in sideways or down markets. Most of the time, it's a non event, but, you know, there's no free lunch with anything, right? It's just like, what's the way to minimise the most mental drag? And, and just be able to enjoy your life?
Erwin  
I guess you're less mental drag more than 99% of Canadians? Yeah. I mean, and you choose to work when you choose to work. So that creates, obviously some mental drag, but you're compensated? Well,
Tim  
yeah, to see. But there's, there's also like, I don't feel bad anymore about saying like, that particular project isn't for me, or, you know, I'm not going to drive from where I live for three hours to show house. Like, it's just something where I can just refer it or saying, you know, not my cup of tea, and I'm kind of more of a believer on like, have, you know, a bunch of clients and just take really good care of the clients I've got, and integrate some new ones into it, but not try and be all things to all people. Because that comes at my own cost that's trying to be everywhere, right. So yeah, I think financial peace of mind is really cool to have. But it's kind of like anything else, you climb that mountain and you look around, you're like, still have some other things to work on in my life, you know, relationships, and, you know, spending lots of time with kids and all the other things which are very important. So. But yeah, I think the investing journey has been one for me, where I've just been gradually trying to minimise the drag and get, as, you know, as close as possible to like just now where I'm at, where I invest in things, which are like, very steady, they provide good returns, there's enough money in the account that it generates a decent income. And that's cool. You know, that's, I don't know how I can get much more streamlined around that. Because it's, you know, it's about as safe as I think as I can get and still get a decent return from it.
Erwin  
Yeah, I'm pretty sure most would like your return. Real estate for growth, and then this passive investing for income, which is the kind of income that almost everyone got into real estate wanting? Yeah. So let's talk about, let's talk about being a real estate agent. Because many listeners of the show, either work with one r1 It's funny, I had a reunion, target reunion golf thing last last week, and I was like, going through everyone like, wow, everyone became a realtor. Let's talk about it. Let's talk about it's talking about why you chose to place who you are, and what your experience is like with it.
Tim  
In terms of becoming a realtor, I feel like I felt like there was a niche for something different. Having been a consumer real estate agent services, I found that I had some like really good experiences and some not I don't know if I had any really bad experiences, but I just had some like non event experiences working with you. For instance, I got like this amazing, like, added value. Beyond being having a realtor. I kind of had somebody as a coach who would make suggestions. There's nothing worse than working with a professional way you like tell me what you think. And they're like, I don't know. Like, what do you want to do? Like I like helping people with some opinion or some guidance. So that is really useful.
Erwin  
Always remember how when you Your potential JV partners wanted to be introduced to me. Do it.
Tim  
Don't do that. You can't speak to the man behind the curtain. The Wizard of Oz. But yeah, I think that and then other experiences I have with realtors in different places where, you know, the transaction would be over. I never hear from them again. That was the end. And I thought that was a wasted opportunity because I thought, well, you knew you, you knew me well enough that you could follow me up once every six months and say, How's it going? You want to buy another house? I'll probably Yeah, if you find the right kind of house I'd probably am interested in I did that many times. But yeah, I just found that the service side was lacking with some of the other realtors I came across. And I just thought I could think I could do a good job of this. And when I was working on my other company, I came across this sales methodology called ninja selling. And I saw the the gentleman who started ninja selling his name escapes me at the moment, but he was on stage speaking at an event I
Erwin  
was on, mostly Larry Kendall, Larry Kendall,
Tim  
I saw Larry Kendall speaking
Erwin  
at an event. Sorry, for the listener, I have the book in my hand.
Tim  
Just selling if you're a realtor, it's basically what I follow. But I saw Larry Kendall speak, and I just was like, I wasn't a real theme. I had this amazing insight. He's standing on stage and basically saying, like, if you just take care of the people you already have, you don't need any more. You don't need to go and get more people just take exceptionally good care of the people who you've already signed up as clients, phone them up, remember their birthdays, ask them how it's going and send them text messages, and all these different follow up methodologies that he's got. And I was just like, I imagine if you just got like, 100 clients and just took really good care of them. You'd be successful forever.
Erwin  
Just for the listeners benefit Larry Kendall, the author of ninja selling, recommend the book for anyone who's in sales or business development. I believe he's in the Hall of Fame for his state. Not for real estate, but for business. Yeah, that's that's an incredible accomplishment. Sorry.
Tim  
Yeah. And he's very nice, very nice guy as well. But yeah, I just thought that was like, I don't know what that blew my mind. It probably blew my mind because I was working for a company that did lead generation. So all we did was like Facebook ads and Google ads and people would like Googly would come in, you phoned them up. They're interested in selling my house. Move on to the next one. It's like, there's transactional relationships that
Erwin  
people will have this treadmill of always, yeah,
Tim  
never ending. And the pole. Yeah, he was just like, No, he's thrown up the phone and Babu your cell, how to last year and go out for a cup of tea and ask him how his family is and build real relationships with real people. And you'll be you know, I just got an accepted offer on a property yesterday. And since I haven't only been in real estate for three years, I've already helped this couple, sell their original house, then they bought another house they rented it sold that one enable a condo, now they're selling their condos, I've done like five transactions in three years with the same people. And yeah, I told him all the time, and I liked them. They're friends, I'm interested in their lives, I keep in touch with them. And that's just become part of the practice. And so yeah, that was kind of where I saw an opportunity. And then the other thing kind of leading on to talk a bit about real broker. But when I looked at like, the traditional real estate brokerage model, and when I started interviewing with companies to work for I looked at sort of REMAX and Rola page and all these different companies, and I know lots of great people at all these different places. And I know also know that the model in terms of what I'm doing isn't for everybody. If you love being in an office and high fiving and having pizza lunches and water cooler and chat and stuff, then traditional brokerages are really good for building that community in real life, right? For me, I've been in that corporate world for so long, I didn't, I couldn't think of anything worse than going into an office. And also I just find that I'm like, easily distracted by people who are walking by my desk and Stein drove by conversation. So I thought, right, I want to I want low cost fees, I want to be able to work remotely and run my own business. So anyway, I'm with real broker, which is currently the fastest growing real estate brokerage in North America. And people have you I've heard people use the analogy before the traditional brokerages are a bit like Blockbuster and real brokers a bit like Netflix in that it's everything's streamed to you so we have this go I've got this cool app on my iPhone and also I can use it on the desktop but it shows me like when am I getting paid commission and where my transactions are in the mix and how many deals I've done this year and I can look all the any of the resources and do all my transaction management and everything through one central place, which is so cool. compared to having to do lots of manual paperwork or different different locations for stuff. And so, yeah, that was kind of like my rationale for going that route was maximum flexibility. The fees are also kind of industry wise pretty aggressive. So it's an 8515 split. For those of you in the know 85% of the money goes to the agent 15% to the brokerage. And then once you hit $12,000 in company contributions, which is about 80 grand in total commission, you don't, you don't pay anything anymore. So I really like that aggressive.
Erwin  
Just just for the listeners benefit the that's that's the the 12,000 company corporate contribution, and which we call a cap and the industry has extremely low.
Tim  
Yeah, yeah. And so they've gone down this route of having this model where it's like 8515, split over 12k cap, if you will, no monthly fees is just very streamline that if you're, if you're at like a traditional brokerage, you might pay like 1520 grand just to have like a desk space and just to be there, in addition to paying caps and other things. So it's it's definitely like,
Erwin  
I'm sorry, for listeners benefit. Most places don't have caps. So
yeah, you just keep paying forever.
Erwin  
That's the truth. That's the best selling. You know, I've been around for a while I've done my research. Yeah, you've been around for a bit, you know, many people even you know, many realtors. Research. Yeah,
Tim  
hundreds. Yeah, many of my clients when my last company were like, either in real life realtors, both in Canada and the United States, predominantly, the top agents and teams in North America. And they will have different models. And sometimes if you're a luxury Realtor in Beverly Hills than working for the agency, or Sotheby's or something that's going to be important. The name carries huge amount of gravitas and is going to be very important.
Erwin  
Important. Yeah.
Tim  
That being said, these types of companies are attracting a lot of people. Because people are realising that the bloatware, the unnecessary peripherals of a real estate business are now important. It's very collaborative. This way, it's online. And a lot of these people are creative in terms of creating content and video and stuff. So that's what I tried to meet. But, you know, putting into our overall compensation, the one of the biggest attractions for me is that they also have a passive income model. Right? So me with my passive income, ETF II as on somebody said, Oh, you can also earn passive income. I was like, really? Tell me more. So that was the passive income opportunity is another reason that I selected this brokerage to work with you. Can
Erwin  
you elaborate on that? How does the passive income model work on a real broker? Yeah, so
Tim  
essentially, that cap, we were talking about that 12k annual cap. If you basically, if you bring somebody onto the business, this is how it works. So instead of them advertising through like sponsoring sports arenas, or lots of online ads, and all that kind of stuff, all these different ways of advertising.
Erwin  
Recruiters make like, a lot. More commission.
Tim  
Yeah. So it's just a word of mouth model, right. So they, on the basis that good people, no good people. So as soon as I started working with them, I was like, Who do I know this in real estate, and I like, and then I phoned them up and say, I got this cool opportunity, you should check it out. For that effort on my part of introducing people in my network into real broker, they pay me, which is cool. So out of that $12,000 annual contribution, instead of, you know, throwing a bunch of that into advertising. They just pay you as the agent for bringing somebody else on. And it's really cool. So if somebody you know, I can tell you the actual numbers, so you know, but if I bring on somebody, and they contribute their 12k, which is, which is pretty normal than $4,000 out that 12k gets paid to me. So if you introduce 10 people to the business, you could get 40 grand a year coming to you paid monthly as transactions happen for just bringing your friends to the business. They don't lose any money, they don't pay any more money, it doesn't affect them. It only comes out to the company, dollar side, if you will. But yeah, already haven't only been there for a little while I already you know, I get emails once a month and I get an email saying hey, you this month you're getting 1500 bucks, because so and so that you brought on as done a couple of deals, and it will be in your bank tomorrow kind of thing. And I'm like, wow, this is fun. It's like another you know, in addition to like building my business, I get to like, work with more of my friends and and all the rest of it and build this other little passive income stream. And because of everything I've done historically with regards to training agents around lead generation and my old job, I like building this kind of virtual group of you People who are interested in learning more and getting better at their job and sharing ideas, basically. So yeah, it's been good so far.
Erwin  
Now, what are the kind of real training resources are available to, to new agents or old agents?
Tim  
Yeah, so a lot of online stuff. So, obviously, being a virtual brokerage, if you will, every day, there's like, hours and hours of different training with some of the top agents in Canada in the US. And they'll be talking about lead generation, or generating referrals or how to stage the perfect open house, I have a create amazing listing videos, just a term that we use workplace in terms of a way to communicate on the back end. But there's just tonnes of training every day, like more training that you could take every day on a variety of different topics. And then there's kind of like beyond that, there's a sort of informal network of like, people that I speak to who I know, inside the brokerage, and if I need help with something, I give them a call and, and off we go, in addition to the traditional, you know, I have a broker, I have a managing broker, if I need help with a paperwork, I've phoned them up and say, Hey, how do I do this? I've never done before, and he helps me out. But yeah, tonnes of training, a variety of like virtual events, and in person, annual conference type events as well. But yeah, I would say for anybody who wants to be remote, but connected, it's kind of perfect, because I love being on a zoom call, sat home, looking out my window, I'm looking at the Pacific Ocean right now, you can't see this, but I can have the Strait of Georgia, and I'm in my happy place. You know, like, that's, that's where I want to be. And if I believe in the business I'm in, and I'm happy to share it, and I get compensated for that, then, as far as long as that's a true win, win, right?
Erwin  
Question, do you is there much value you think in networking with other agents that on a any sort of basis, because again, like you've known, you've known many through your, through your past career.
Tim  
I read this book once called Delivering Happiness, which is about the guy who started that company called Zappos. He's no longer with us, unfortunately. But the company Zappos was eventually acquired by Amazon, but they were delivering shoes online, and they would take like, tremendous efforts to get the perfect shoes and deliver them fast and deliver them fast everybody else and exceptional customer service. I read something in his book, which struck me massively as a business person, but specifically as a realtor. And it said that, I don't know what if it was a big point in the book or not. But he basically said, like, we treat everybody like our customers, we treat everybody like our customers. So we treat our partners, our business partners, our suppliers, our employees, our competition, we treat everybody like our customers, and give them exceptional service. And so I took that to heart and I thought, hang on a minute, all of the other agents in my local market and beyond, are my customers. Right. And I, you know, speaking openly, and candidly, I found that some realtors I come across weren't very friendly. They've been doing it for a while, I send an offer and kind of get this very short response. And I was like, why aren't people nicer? I don't understand. But anyway, read the book. And I was like, I'm gonna be nice, because these people are all my customers. So now, when I communicate with other realtors, I always make a point of like, sending nice emails and giving good feedback and sending them videos and congratulating them and engaging in a really communicative way. Because guess what, when I show up to their listing with the offer for one of my buyer clients, I want them to think Tim's great is easy to work with. It's friendly. He goes above and beyond, if possible, you know, if all things being equal, I'm going to try and choose his offer because he's great to work with. Right, all things being equal. So that's the way that I operate. And so when I meet realtors in other geographies and other places, I have the same approach. They're my customers, I want to be nice to them. I want to follow up with them and build relationships with them because then when they get referrals, the people who live in my town want to move to my town, or if they decide in the future, you know what I've been fill in the blank brokerage for 10 years and I'm not getting much value from it. And I want to join one of these cool virtual brokerages. Maybe I'll give him a call and I can join his group and and understand a bit more about it. So that was like a key sort of core lesson for me to internalise around treating people exceptionally well in the business.
Erwin  
Sure. It's not like a cultural thing. You can only do that in BC. It's kind of tough here on the GTA.
Tim  
I think you can do it anywhere. Somebody's got to lead. Somebody's got to lead the way. But no, it's like yeah, I mean, you know, I find that like sometimes people gravitate towards The, the environment you become part of it's easy to send short messages and everything be very like brief. And we use a system where we're asking if something's available, people just write a V AI l question mark availe. Question mark? Like, is my listing available right back? Yes, it's still available. But just like the pleasantries around, like, Hey, how's your day going? You know, congratulations on your recent thing, or whatever. It's just, you don't have to, like make everything super basic and robotic transactionally you can add your personality and be different, and people will recognise that and that may be as part of my English upbringing to two with sort of politeness, but, but nothing is important to do. So, yeah,
Erwin  
I know what you mean. Like, I listed one of our own properties recently and the buying agent, he disappeared for a little bit more. No, we, like just stuff was slow to happen. I said everything okay. Versus like, even like, you know, some people just get mad. Yeah. I don't know what happened. So I'm just like, is everything okay? And he said, you know, we took my dad to the hospital surgery, you know, probably hard stuff like serious stuff. Yeah. But, you know, I like people. I'm empathetic. And so like, every week, I've asked them, How's your dad? Yeah. That's it. Even just even just as part of a regular discussion around like, you know, whenever, like, Go, how's your financing going? Or when you come from inspection, though? How's your dad doing?
Tim  
Yeah, because you realise that in relationships, the relationship deepens by people sharing vulnerabilities about themselves. And those being reciprocated, if not reciprocated, at least listened to and heard, but that's the human real human connection point. You know, if you're talking to somebody and you're not learning things about them, then it premiums You're talking too much.
Erwin  
That's not me on this podcast, and I barely talk.
Yeah, you're very good interviewer.
Erwin  
I just naturally curious because there's like, there's way more I don't know that. I know. So definitely jujitsu. Like actually, this is a good analogy. One of the black belts, I used to train under, you know, three straight black belt. Right? I think you said, I know. 50% of jujitsu. Yeah, like, Oh, boy. Am I too straight white belt? I don't know what I am. Like, I don't probably don't know. 98%, then.
Tim  
Yeah, it's scary from my point of view. But you know, more than somebody like I a good example. For me, it was like after a month of doing it, and a brand new, never been before white belt walked in the door. It's 20 year old kid. And he borrows a ghee from behind the counter and gets on the mats and starts warming up and stuff. And then the instructor said, Tim, can you go with this guy said, Yeah, sure. Effortlessly, I could hold him off. While he's running circles around me huffing and puffing and sweating and trying to jump over my knees and get into some kind of position. I was just like, wow, this is a great demonstration that even after a month of very basic rudimentary skill, learning stuff around protecting yourself, you're already like miles apart somebody who's never done it before. So then you extrapolate that over 10 years, the average time they say it takes to get a black belt is maybe 10 to 12 years,
Erwin  
if you're diligent, of currently diligent, yeah, of course, somebody's
Tim  
gonna, like, be able to do whatever they want with you, if you're brand new, and they've been learning those skills for that long, it's just a whole different, like, a different language, you know, so and
Erwin  
I think it's a great analogy for many things, including, like, you know, that's kind of the point of the show is, it's a leverage point for many. If you're new to investing or new to being a realtor, here's Tim's experience.
Tim  
And I was saying to you, before we started recording, but whenever possible, I like to roll, I like to spar with the people who are black belts, or brown belts, they beat me so easily. But for me, I'm kind of like, learning, I feel like I'm learning at a faster rate, because I'm, I see what they're doing. I see the movies they're making. And I just arrive I can last a little bit longer each time. And that's for me, that's very analogous to anything in business terms, like find people who are already doing it, and doing it successfully, and try and get some exposure to that, you know, train, don't please them find people often say, Can I pick your brain? That's the worst term learn to man, don't ever ask anybody, if you can pick their brain for some way you can add value, or, you know, add support services and get some exposure to that, then that's, that's the way to do it. You know, if somebody when I was doing my stuff, some somebody come along and said, Hey, can I just come and chat to you for the day and I'll help you carry stuff. And really, yeah, it's cool, you know, chat and do things. And there's lots of people who are at your events who could have asked that type of question to somebody was a little bit further down the path and then so there's approach correctly. There's always ways to learn more. And I think, you know, as we used to talk about, and Julie Broad who was one One of the, my real estate coaches by the start was kind of like, yeah, that's the missing ingredient was always action. And I took that to heart as well and realise that like you can learn as much as you want about, it's kind of like jujitsu, right, you can watch YouTube videos and be a big UFC fan and do all these things and to actually put on a game or not, and get on the mat, and start like, physically rolling with another human, you don't know anything, you don't even take an action, you're not gonna develop skills is the same thing with investing until you go and look at houses and make offers and win or lose, and buy a house and screen tenants and do renovations and try and fix things up yourself, you know, you you can't learn by. So you just try and learn as much as you can to give yourself a reasonable amount of protection, and then get going dive in.
Erwin  
And then again, as I reiterate, you know, many people who start out come to me and say they want to make like six figures cash flow. So and actually made the mistake of speaking to a gentleman from who's investing in London, who is buying five plexes. But it doesn't, it doesn't have a lot of cash. So he's gonna be highly leverage, you know, interest rates will allow you to have much cash flow. And in, you've been taking courses and so his goal was to make 10,000 a month. So six weeks make over 100 grand a year in cash flow. And I said, I don't know anyone who's done it, and I forgot about yourself. So just like, just like Tim said, I've always said to someone who has what you want, go learn from them. So and they don't have a nest, they don't necessarily bother you. Just listen to the show. That you mind, right? We're gonna leave your cell phone number to get simply your cell phone number.
Tim  
Yeah. My cell phone number you're gonna read out right now?
Erwin  
No, you're gonna read mine.
Tim  
My email address is Tim at Tim Collins dot see a demo at Tim collins.ca. So if you have any questions, then you can email me about any of the stuff I talked about having to share.
Erwin  
So good. And that'll be in the show notes again, of course, folks, always, as always, say you're open to having conversations about anything if you're interested in seeing it to seeing Hi, because I know many people will ask when you're on the show, I heard many people reached out to say like, That's awesome, man. Yeah,
Tim  
yeah. I'm always happy just to if you want to ask about like, you know, you're in trouble about passive income investing in jujitsu. If you're a realtor, and you're interested in real broker, then obviously, that's a big focus of mine at the moment. So we can talk about that.
Erwin  
And just just to just to highlight the part about, like, for realtors, like, again, like, I know, I know what the fees are not a lot of people are paying. And many people had a really tough flight last 12 months. I spoke to one person, because they're working in luxury. Last year, their sales were down 70%. Yeah. Right. And then if your fees were still high. Yeah. And if you have to spend a lot of money. No, they don't scale. No, no, there's a whole bunch of fees that do not scale. There's just fixed. Yeah, I haven't heard of something cheaper. So yeah. There's cheaper if you're doing nothing.
Tim  
Yeah, I would say like, you know, price is one thing, but I think there's a lot of other beneficial stuff going on as well. But it's certainly nice to be lean in terms of these wise so that you can either not have to work as much or put more money towards growing your business or just have more money to put towards your passive investing portfolio. For instance, in my case, yeah.
Erwin  
Awesome. Alright, Tim, as we're as we're over time, as you do any final thoughts you'd like to share with the audience? No,
Tim  
I think that's it. I mean, I think like anything I think it's just like all these things. It's you got to get started and start somewhere and resources like this a great wherever you can find to get going on your journey. Find other people are doing it and ask questions.
Erwin  
Ask them again. Tim at Tim collins.ca. Yes, Collins. That's two L's and an S. Thanks very much. Thanks, Tim. Thanks so much for doing this. Sorry about the construction noise in the background.
Tim  
Love it. Thanks, my friend. Appreciate you. The
Erwin  
before you go, if you're interested in learning more about an alternative means of cash flowing by hundreds of other real estate investors have already then sign up for my newsletter. Find out for yourself what so many real estate investors are doing to diversify and increase our cash flow. And if you can't tell I love teaching and sharing this stuff.

To follow Tim JP Collins:
Instagram: https://www.instagram.com/timjpcollins/?hl=en
LinkedIn: https://www.linkedin.com/in/timjpcollins/?originalSubdomain=ca
Facebook: https://www.facebook.com/timjpcollins/
HELP US OUT!
Please help us reach new listeners on iTunes by leaving us a rating and review!
UPCOMING EVENTS
You are the average of the five people you spend the most time with! Build connections with empire builders and trailblazers at our iWIN events.
BEFORE YOU GO…
If you're interested in being a successful real estate investor like those who have been featured on this podcast and our hundreds of successful clients please let us know.
It is our honour to give back and educate others on how we build cash flowing real estate portfolios using all the best practices shared on this podcast, from the lessons of our hundreds of clients and of course our own experience in owning investment real estate.
If you didn't know already, we pride ourselves on being the best of the best real estate coaches, having the best property managers, contractors, handy people, cleaners, lawyers, accountants, everyone you need on your power team and we're happy to share them with our clients to ensure your success. 
New investor or seasoned veteran investor, we can help anyone by providing our award winning coaching services and this isn't all talk.
We have been awarded Realtor of the Year to Investors in 2015 by the Real Estate Investment Network, 2016 by the Canadian Real Estate Wealth Magazine and again in 2017 because no one told the judges no one is supposed to win the award twice but on merit, our peers deemed us as the best.  In 2018, we again won the same award by the Real Estate Investment Network.
Hopefully being the most decorated team of Realtors in Ontario will make you consider us for your first or next real estate investment.  Even if you don't invest in our areas, there's a good chance I know who would be ideal for you. 
I've been around for a while, some Realtors are talented at servicing investors there are many with great ethics.  The intersection of the two, talent and ethics is limited to a handful in each city or town.
Only work with the best is what my father always taught me.  If you're interested, drop us an email at iwin@infinitywealth.ca.
I hope to meet you at one of our meetups soon.
Again that's iwin@infinitywealth.ca
Sponsored by:
Infinity Wealth Investment Network – would you like to know how our investors returned 341.8% on positive cash flowing real estate over the last five years? On average, that was 68.4% per year.
Just imagine what winning in real estate could do for you.
If you would like to know how we did it, ask us how by calling 289-288-5019 or email us at iwin@infinitywealth.ca.
Don't delay, the top markets we focus in are trending upward in price, so you can pay today's price or tomorrow's price.
Till next time, just do it because I believe in you.
Erwin
Hamilton, St. Catharines and Toronto Land Development, Real Estate Investor, and soon to be builder.
W: erwinszeto.com
FB: https://www.facebook.com/erwin.szeto
IG: https://www.instagram.com/erwinszeto/
https://www.truthaboutrealestateinvesting.ca/wp-content/uploads/2023/07/Tim-JP-Collins.jpg
630
1200
Erwin Szeto
https://www.truthaboutrealestateinvesting.ca/wp-content/uploads/2017/06/TruthRectangleLogo.png
Erwin Szeto
2023-07-31 19:14:15
2023-07-31 20:05:06
From Sales Exec to Debt-Free Living: Tim JP Collins' Journey to $100k Passive Cash Flow and a Simpler Life