USS Concert and Capital Gains Exemption On Rental Property
Hello Halton, Toronto, Hamilton, Brantford, St. Catharines, Niagara, Welland, Thorold real estate investors!!!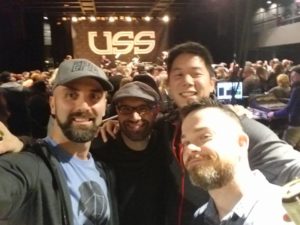 Who doesn't like live music, especially when they put on THE BEST live performance. My credo is, life is all about experiences. I recommend you catch USS if they're ever playing a gig near you. At the show in Hamilton, I had a great time with my friends Mike Gillespie, St Catharines investor extraordinaire; John Roumanis, Hamilton investor of $600,000 in 6 Years fame; and Steve.
Here is a youtube video of one of their lives shows: https://www.youtube.com/watch?v=TT3KZIE27xo
With life being so short and everyone being so busy, I find my social circle continually distills down to just awesome people who are also successful in business, which makes for great conversations. So keeping with living your real estate investor's life of health, wealth, family and fun; for those who enjoy having fun along side successful real estate investors, a group of us including: Andy Tran (second suite guy), Charles Wah (land developer guy), James Maggs (10 property guy), Roger Auger (property management guy), Zach Twose (contractor guy), John Roumanis ($600k in 6 years guy), me (Chinese guy); we are planning a social get together of fun and adult beverages at Dave and Busters in Oakville, which is basically Chucky Cheese for adults. Since there is no Halton REI Meeting for December, we figured we'd put out an open invite to everyone for an Xmas social. No tickets or passes, just pay your own way.
---
Capital Gains Exemption On Rental Property
Welcome ladies and gentlemen investors across the greatest country in the world. My name is Erwin Szeto, aka Mr. Hamilton, and I bring you the Truth About Real Estate Investing show for Canadians, where it is my job to bring you experts in the world of investing. We will learn from their experience, pick out the lessons, tips and tricks, and figure out what makes them tick so you too can replicate their success to enhance your real estate investor's life of health, wealth, friends, family and fun.
This week we have something different, like we do every week! In last week's episode, Ryan Carr and I were stumped on the principle residence capital gains exemption Ryan is entitled to after he recently sold his current principle residence. This area of real estate tax is not well known, and I didn't have the answer, so I did what any investor would do: walk down the hall to my wife's office and ask her. It just so happens I'm married to the Cherry Chan of www.realestatetaxtips.ca, who this month was published in the CPA Magazine, where she goes on to educate Chartered Professional Accountants on taxation of investment real estate.
So, I walked back to my office, called my wife, clicked record, and asked her how to properly maximize one's returns by declaring a rental property as one's principle residence, along with some additional difficult follow-up questions. I hope you all enjoy this as I know how difficult it is to find answers to these very specific questions, without paying Accounting fees. As always, everyone's situation is different, so do please contact your professional Chartered Accountant specializing in real estate investments.
To Listen:
On iTunes: https://itunes.apple.com/ca/podcast/truth-about-real-estate-investing…/id1100488294
Google Play: http://goo.gl/CAM5Mn
On Stitcher: http://www.stitcher.com/s?fid=87335&refid=stpr
Download as an MP3 by right clicking here and choosing "save as"
To reach out to Cherry:
website: www.realestatetaxtips.ca
Facebook: https://www.facebook.com/CCCPA/
Till next time, just do it, I believe in you.
Erwin
Hamilton, St. Catharines, Toronto Real Estate, Land Development Investor
https://www.truthaboutrealestateinvesting.ca/wp-content/uploads/2017/07/18449475_10158549454035461_1207943974771760110_o-1.jpg
2048
1536
truthaboutrealestateinvesting_urdkth
https://www.truthaboutrealestateinvesting.ca/wp-content/uploads/2017/06/TruthRectangleLogo.png
truthaboutrealestateinvesting_urdkth
2017-11-15 16:33:38
2017-11-15 18:30:31
USS Concert and Capital Gains Exemption On Rental Property