How To Prepare for the Housing Crash
Hello Halton, Toronto, Hamilton, Brantford, St. Catharines, Niagara, Welland, Thorold real estate investors!!!
What a terrific weekend for Canadian sports!! My Saturday started with spectating a Brazilian Jiu Jitsu tournament to support my teammates from 
http://www.mnunesbjj.com/
 who were competing.  I'm still a beginner at the sport, so I was there to be a cheerleader and to experience a competition as a spectator before I sign up to fight in 2018.  Yup, I'm committed to competing at least once and I'll take a pragmatic approach to training in the sport, by working on both my strength/conditioning and my diet, as I'll need to lose weight to ensure I'll be the largest competitor in my weight class. Just like my real estate, I prefer to have every advantage in my favour. When I turn 40 I will be the youngest in the Seniors, 40 years old and above, division :D. 
Speaking of having every advantage, my clients hired me to sell their flip property, a gorgeous 2,600 square foot house on one acre.  To best present the property we recruited the best stager and the best photographer to do a "Truetour" video, so you feel like you're there. We also had drone pictures taken to properly capture what a lovely property this flip is. Check it out here: 
http://virtualviewing.ca/mm16b/4078-aberdeen-rd-beamsville-u/
Saturday night was the return of the all-time-greatest in combat sports, Georges St. Pierre, who won the Middleweight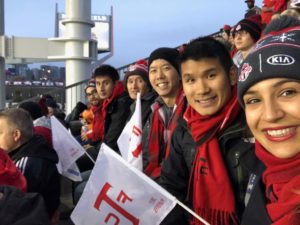 Championship in shocking form.  You can't tell from the picture but we were all jumping up and down when Georges connected with that short left hook.  We were so loud we woke up Cherry. 😛
In attendance were some of my investor friends: Mike Iuliano, Andy Tran, Charles Wah and Mary Clements.  Can you tell I enjoy mixing business and pleasure? Makes for more interesting conversations, and they're all great company.  Special thanks to Mike for bring nacho ingredients from his garden for some of the best nachos I've ever had.  It made a great night even better.
Sunday was the TFC Eastern playoffs semi final. The second leg was a crazy game. Toronto had all the best scoring chances in the 1st half then gave up trying on offence in the 2nd half. There were a million penalty cards handed out, the crowd was all over the ref, including beers being thrown in his direction. We lost the game, but move on to the eastern final due to away goals tie breaker. Can't wait for that game! TFC TFC!!! #COYR
---
What You Can Do Now To Prepare for the Correction
This week we have something different. We have a returning guest in Ryan Carr, because him and I were masterminding two weeks ago and he was explaining to me how he is bearish on the market. We both agree a correction is coming, or we may have already hit bottom based on some of the headlines, but Ryan is believing the correction will be worse than I expect. With doomsayers, the strategy is obvious, sell all your real estate and rent. Not many people put their money where their mouth is like MP Garth Turner, who called for a correction in 2008. We all know where the market has gone since then though. He may have been incorrect, but at least he practiced what he preached.
That brings us to Ryan Carr. He's back on the show to share with all of us how he's preparing for a steep correction in the short term. The show is the Truth About Real Estate Investing, and I want to bring you a variety of opinions and experts so you too may maximize your financial success, have kids that graduate university debt-free, support your favourite church and charities, etc… Ryan is a bright young man investing in 20 properties in the last 2 years, and his only formal training is in mechanics.
So without further ado, I give you, Ryan Carr.
To Listen:
To reach out to Ryan:
Vertical split tour Nov 18, 10am! Register directly w/ Ryan
Ryan's article on shed investing:
Till next time, just do it, I believe in you.
Erwin
Hamilton, St. Catharines, Toronto Real Estate, Land Development Investor
https://www.truthaboutrealestateinvesting.ca/wp-content/uploads/2017/10/18891830_445046252533054_1552040894912030707_o.jpg
1157
1157
truthaboutrealestateinvesting_urdkth
https://www.truthaboutrealestateinvesting.ca/wp-content/uploads/2017/06/TruthRectangleLogo.png
truthaboutrealestateinvesting_urdkth
2017-11-09 22:55:43
2017-11-10 17:10:57
How To Prepare for the Housing Crash