Ten Houses, Financial Peace, in Only Eight Years with Evelyn Lamarsh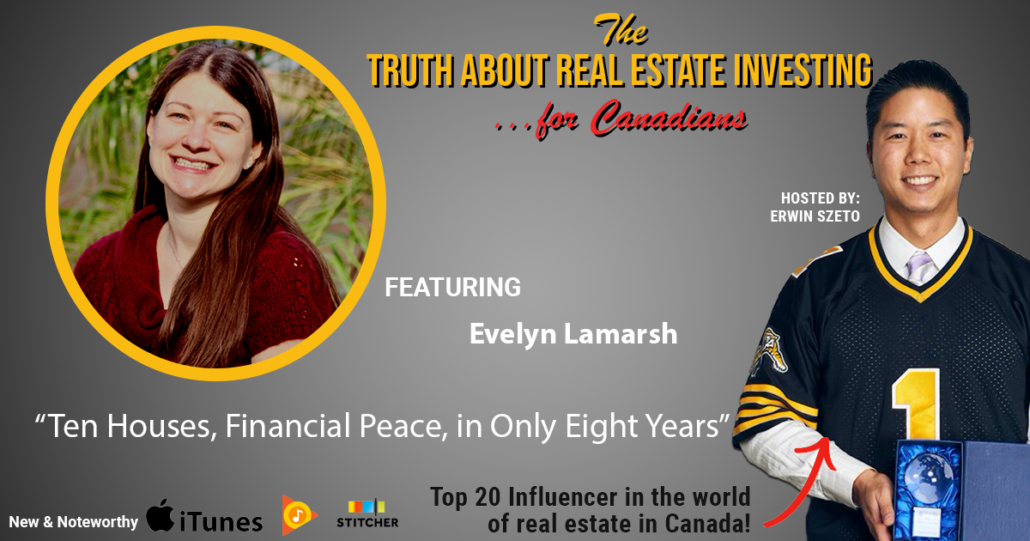 How goes your balancing act with life, work, investing and charity?
Last week, we definitely pushed our limits to the edge. My wife and I are parents to a three and five year old, Cherry is in her final stretch for tax season doing Accounting for over 100 local real estate investors, our charity (for which Cherry is VP of Finance and I am President) had one of our three major events this past weekend, fulfilling the wish lists of 32 of Hamilton's poorest families.
Thank you to all our donors and volunteers.  If you see my post on Instagram, you'll see Batman and Thor, God of Thunder, were in attendance to spread some cheer.
On top of all of that, we closed on our newest investment property on Thursday, and it's one of the worst closings I've ever seen. Mostly our own fault, and the general difficulty of the lending market and lots of learning lessons.
The biggest lesson here is to start your financing process earlier than we did. Most of you are on the ball, as you have your financing in order before conditions are lifted. We did not have a financing condition, so we let that deadline slip a bit too far. I do, however, want to thank Butler Mortgages, specifically Dave and Michelle, as they bore the brunt of our challenges, but got it done.
Also, I'd like to thank Crystal at CAP Law for getting our deal closed and doing an excellent job coordinating with the sellers' lawyers.
Real estate investing can be all things: easy, challenging, fun, challenging, rewarding, challenging – yet worth it.
Tonight is game 7 of my hockey team, the Toronto Maple Leafs vs. Boston. It's also my favourite team, the Toronto Raptors, game 5 of their playoff series. But guess what I'll be doing? I'll be in Hamilton with a wet/dry shop vacuum to get the water out of the basement at our newest property.
This is one of the realities of investing, the best deals are often houses with challenges. This one, the basement is known to leak, but it's a very easy fix by rerouting the downspout away from the foundation. I've already done that, but now I need to get the rain water out of the basement to prevent mold growth in our unfinished basement. I've always wanted to own a shop vacuum anyways, and I'll be home in time to watch the remain two thirds of the game.
If you don't like doing any work on your properties that's totally OK. I was just way too slow in booking my handyman to do this job and, again, I've always wanted a shop vacuum. 🙂
Ten Houses, Financial Peace, in Only Eight Years with Evelyn Lamarsh
Speaking of investing being challenging and worth it, that brings us to this week's guest Evelyn Lamarsh, our client since she was 26 years old when we met in 2011. Fast forward to today, she is one of those few investors with 10 properties and living in financial peace.
Evelyn and husband Mike are living the dream. Evelyn has her dream job, Mike retired from his job in his early 30's, they have two young children they get to spend lots of time with, and they just bought a 30 foot boat to spend family time on and entertain friends and family. A boat paid for by their investments.
Financial peace and living the dream are indeed possible with some early hustle as explained by our client and more importantly friend, Evelyn Lamarsh.

To follow up with Evelyn:
You will find Evelyn at iWIN events and;
On Facebook: https://www.facebook.com/evelyn.difrancesco
If you enjoyed the show and would like to learn more about investing in real estate then you do not want to miss my Top 10 Tips On Real Estate. It's FREE to Download!!
I've interviewed many of the leading authorities in real estate, including Best Selling Authors like Julie Broad, Don R Campbell, Russell Westcott, and Tom Karadza. My super star investors include folks who acquire two properties per month or have transacted on over 100 properties. I have learned a thing or two in my own investing and distilled it down to 10, you-can-not-ignore, tips if you want to be a successful investor.
To download the report go to www.truthaboutrealestateinvesting.ca/book
Sponsored by:

TitanInvestmentRealEstate.com – would you like to know how our investors returned 341.8% on positive cash flowing real estate over the last five years? On average, that was 68.4% per year, just imagine what winning in real estate could do for you. If you would like to know how we did it, ask us how by calling 289-288-5019 or email us at admin@mrhamilton.ca. Don't delay, the top markets we focus in are trending upward in price, so you can pay today's price or tomorrow's price.
Till next time, just do it because I believe in you.
Erwin
Hamilton, St. Catharines, Toronto, Land Development, soon to be builder and Real Estate Investor
W: erwinzeto.com
FB: https://www.facebook.com/erwin.szeto
IG: https://www.instagram.com/erwinszeto/
[/av_textblock]

https://www.truthaboutrealestateinvesting.ca/wp-content/uploads/2019/04/Evelyn-Lamarsh.png
630
1200
Erwin Szeto
https://www.truthaboutrealestateinvesting.ca/wp-content/uploads/2017/06/TruthRectangleLogo.png
Erwin Szeto
2019-04-29 15:12:53
2019-04-29 15:49:23
Ten Houses, Financial Peace, in Only Eight Years with Evelyn Lamarsh