Quitting Corporate, Pension, and 4 Properties at 24 Years Old With YouTuber Griffin Milks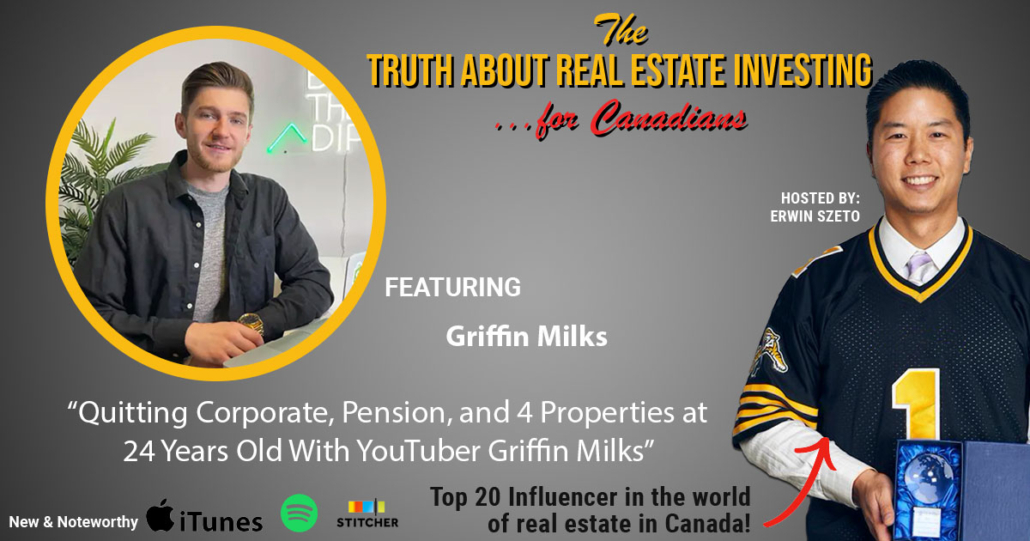 Do your friends invest?
Most of the friends I spend time with these days are serious investors.  Many of them are my clients of Stock Hacker Academy and iWIN Real Estate.
I also meet once a month with some super elite real estate investors like Susan White, Rachel Oliver, Aaron Moore, Ryan Carr, etc. This past week, we had a more social meeting than our regular formal business updates and reviews meetings.
After lunch, we had some jet skis booked. Unfortunately, two jet skis were damaged and unavailable, so we were short jet skis for the group. Then, the operator let me rent her personal jet ski. From there, we cruised the shoreline of Lake Simcoe from Friday Harbour to almost Barrie.
The rental jet skis topped out at 60 km/hr.  The owner's jet ski went over 80km/hr, which is fun and scary at the same time :). Cruising at 40 km/hr is plenty of fun with the sun and wind in our faces while observing the beautiful mansions that back onto the lake.
We got caught up on the important stuff: family, health and business (funny enough, not one mention of Leafs or Blue Jays, lol).
I lobbied a certain wholesaler in the group to send me deals in Hamilton if they come available :). I lobbied another to allow me to invest in their project.
Our mastermind group has been together for seven years. I was invited to join four years ago, and there is no cost to join the group. 
For those who've been around masterminds, it's almost unheard of for groups to stay together this long. I'm grateful for the group, the friendship and the investment opportunities.
Also super awesome was we did a group guided meditation sitting by the water. My friend Rachel used a phone app for guided meditation, and we sat in silence for around 15 mins.
One of the questions asked was about what your gifts are. I had some ideas to jot down, so I opened my eyes, grabbed my phone to make notes of who to call. 
Yes, I broke the meditation, but after putting my phone down, an eagle flew by right in front of us, only 30 meters away.  Maybe it's a sign I'm on the right path to start a fund, but we'll see.
Unfortunately, my friends who meditated properly missed out on seeing the eagle.
Quitting Corporate, Pension, and 4 Properties at 24 Years Old With YouTuber Griffin Milks
This week we have YouTuber, real estate and stock investor Griffin Milks on the show.
At 24 years old, anyone would have said he was set for life with a government job that came with a pension. His whole family works for the government, but he quit to focus on real estate and creating videos.  
For me, it's quite refreshing to meet such a young go-getter.
On this show, Griffin shares his numbers on small multis in Gatineau, books he recommends, favourite stocks, and advice to beginners. 
Please enjoy the show.
We're hiring!
Just a friendly reminder that we are hiring more investment Realtors who want a full-time challenge to help our clients, regular everyday people, mostly from the GTA, invest in the top investment towns west of the GTA. 
This is for driven folks who want to multiply their current incomes a couple of times as James and Tammy have.
APPLY HERE: https://www.infinitywealth.ca/hiring

To Follow Griffin Milks:
Youtube: https://www.youtube.com/c/GriffinMilks
HELP US OUT!
Please help us reach new listeners on iTunes by leaving us a rating and review!
UPCOMING EVENTS
You are the average of the five people you spend the most time with! Build connections with empire builders and trailblazers at our iWIN events.
BEFORE YOU GO…
If you're interested in being a successful real estate investor like those who have been featured on this podcast and our hundreds of successful clients please let us know.
It is our honour to give back and educate others on how we build cash flowing real estate portfolios using all the best practices shared on this podcast, from the lessons of our hundreds of clients and of course our own experience in owning investment real estate.
If you didn't know already, we pride ourselves on being the best of the best real estate coaches, having the best property managers, contractors, handy people, cleaners, lawyers, accountants, everyone you need on your power team and we're happy to share them with our clients to ensure your success. 
New investor or seasoned veteran investor, we can help anyone by providing our award winning coaching services and this isn't all talk.
We have been awarded Realtor of the Year to Investors in 2015 by the Real Estate Investment Network, 2016 by the Canadian Real Estate Wealth Magazine and again in 2017 because no one told the judges no one is supposed to win the award twice but on merit, our peers deemed us as the best.  In 2018, we again won the same award by the Real Estate Investment Network.
Hopefully being the most decorated team of Realtors in Ontario will make you consider us for your first or next real estate investment.  Even if you don't invest in our areas, there's a good chance I know who would be ideal for you. 
I've been around for a while, some Realtors are talented at servicing investors there are many with great ethics.  The intersection of the two, talent and ethics is limited to a handful in each city or town.
Only work with the best is what my father always taught me.  If you're interested, drop us an email at iwin@infinitywealth.ca.
I hope to meet you at one of our meetups soon.
Again that's iwin@infinitywealth.ca
NO MORE Confusion
After all the Youtube videos, books, and forum posts, you're probably still left with questions. Starting in real estate is a tricky thing.
Frustrated beginners often ask how a legal basement suite conversion actually works. Most of the time we can only give general answers. But now, we get to dive in.
At this in-depth, free class you'll learn how to take your first steps as a real estate investor.
Nothing is held back. Everything from analyzing basement suite conversion deals, to renting out your first property at a profit, and even how to refinance and do it all again!
More secrets you'll uncover are:
Profiting in a HOT market…
Municipal bylaws to watch out for…
Mortgage terms that favour refinancing…
AND one barely used tactic for higher appraisals…
If you're frustrated, unsure of how to get started, this is for you.
 Sign up now for the Invitation List and be one of the first to get an invite to the next class.
Sponsored by:
Infinity Wealth Investment Network – would you like to know how our investors returned 341.8% on positive cash flowing real estate over the last five years? On average, that was 68.4% per year.
Just imagine what winning in real estate could do for you.
If you would like to know how we did it, ask us how by calling 289-288-5019 or email us at meaghan@infinitywealth.ca.
Don't delay, the top markets we focus in are trending upward in price, so you can pay today's price or tomorrow's price.
Till next time, just do it because I believe in you.
Erwin
Hamilton, St. Catharines and Toronto Land Development, Real Estate Investor, and soon to be builder.
W: erwinszeto.com
FB: https://www.facebook.com/erwin.szeto
IG: https://www.instagram.com/erwinszeto/
https://www.truthaboutrealestateinvesting.ca/wp-content/uploads/2021/08/Griffin-Milks.jpg
630
1200
Erwin Szeto
https://www.truthaboutrealestateinvesting.ca/wp-content/uploads/2017/06/TruthRectangleLogo.png
Erwin Szeto
2021-08-30 13:57:10
2021-08-30 14:45:57
Quitting Corporate, Pension, and 4 Properties at 24 Years Old With YouTuber Griffin Milks