From Homeless and 150lbs overweight to the #1 Business Coach & Iron Man Triathlete Mary-Anne Gillespie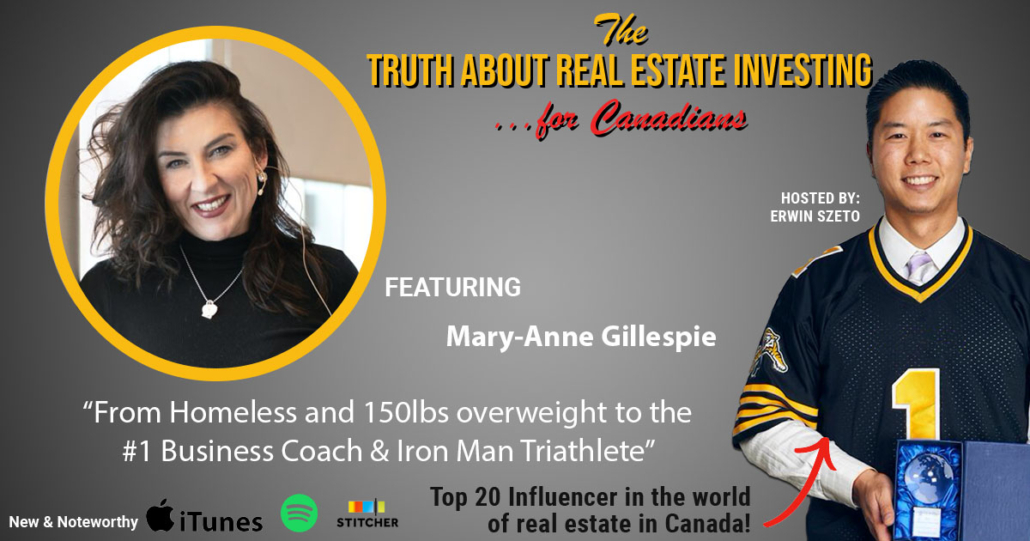 Yay, it's election time!
When we get back to normal, my prediction is that once CERB ends shortly after the election, more folks will have to return to work and students over the age of 12 will return to school/university. 
Whatever folks are returning to will require almost everyone to be vaccinated against covid. 
Important side note: Pfizer received full approval from the FDA in the US, so all this talk about experimental drugs should subside.
Once we hit super high vaccination rates, hospitalizations should fall dramatically since the vaccinated make up a tiny percentage of the most important metric in the pandemic (hospitalizations, ICU). 
Then restrictions will drop, and masking will be a matter of personal preference. This is just my prediction and NOT a political statement.
Back to the election, I've read over each party's platform on real estate. 
The Conservatives' plan is better than the NDP and Liberals.  However, the big miss is that municipalities, the regions, towns and cities, control zoning and bylaws. This means they control what the developers can build.
If massive change is to happen, we need more housing supply, preferably from the private sector since our government runs big enough deficits.
I've travelled a lot in Asia and what do their cities all have in common?
Any major hub for people, be it transit or a shopping mall, are often combined and have a condo built on top of it and are surrounded by high-rise condos.
It's great for walkability to be within a 15-minute walk and elevator down to shop and eat.  It's incredible; I've experienced this first hand staying with Cherry's parents in Hong Kong.
But what do I know? I'm not a politician.
Anyways, more has to be done to impose federal and provincial values of increasing housing supply at the municipal level. 
This, of course, would be unpopular for voters because who do you think voted the anti-development municipal leaders into office?
It is what it is, and Cherry and I will continue to control what we can control, teaching you all about the best practices for building wealth.
Do you know what I tell people who I haven't spoken to for a while when they ask me, "how have you been?"
My answer is like any real estate investor or stock market investor; we have nothing to complain about.  
The real estate market is up over 30% from this time last year. My stock hacking allowed me to cash flow almost $2,000 this week while I was on vacation and exhausted from having golf four times in five days.
Life is good, and I hope the same is true for you too. 
If it isn't, then I can't recommend enough that you become a real estate investor and or a stock hacker. The former for building wealth, the latter for cash flow.
We offer free training for both: investortraining.ca and stockhackeracademy.ca.  
As folks get vaccinated and restrictions reduced, we'll host more and more meetings in person.
Speaking of in-person, we are back to in-person iWIN meetings Saturday morning, September 11th. 
My team and I will share the latest real estate market prices as seen on the streets, rents, and best practices when selling an investment property.  
We had numerous clients sell recently to take massive profits, and we have stories to share.
The highly in-demand Cherry Chan of Real Estate Tax Tips will also be on hand to share best practices for bookkeeping, some vital to operating any business, including real estate.
If you're receiving our emails, then you'll be receiving the invites to register. We hope to see you in the real world soon!
From Homeless and 150lbs overweight to the #1 Business Coach & Iron Man Triathlete Mary-Anne Gillespie
On to this week's guest, my very own coach for the last seven years, Mary-Anne Gillespie. 
She's a business coach, a Realtor, a real estate investor, a cancer survivor, orphaned and homeless at the age of 16, and more recently and insanely, an Iron Man Triathlete. 
An Iron Man Triathlon is a mere 2.4 mile open water swim, 112 mile bike ride, and a marathon run of 26 miles. 
She trained and completed her first race in the middle of a pandemic at altitude in the US without her team, spouse, or anyone.
I hope you enjoy the show!
We're hiring!
Just a friendly reminder that we are hiring more investment Realtors who want a full-time challenge to help our clients, regular everyday people, mostly from the GTA, invest in the top investment towns west of the GTA. 
This is for driven folks who want to multiply their current incomes a couple of times as James and Tammy have.
APPLY HERE: https://www.infinitywealth.ca/hiring

To Follow Mary-Anne Gillespie:
Web: https://www.yourgamechanger.ca/game-changer-program
Web: http://www.redapplecoaching.ca/about-me/
Instagram: https://www.instagram.com/maryanne.gillespie_coach/?hl=en
HELP US OUT!
Please help us reach new listeners on iTunes by leaving us a rating and review!
UPCOMING EVENTS
You are the average of the five people you spend the most time with! Build connections with empire builders and trailblazers at our iWIN events.
BEFORE YOU GO…
If you're interested in being a successful real estate investor like those who have been featured on this podcast and our hundreds of successful clients please let us know.
It is our honour to give back and educate others on how we build cash flowing real estate portfolios using all the best practices shared on this podcast, from the lessons of our hundreds of clients and of course our own experience in owning investment real estate.
If you didn't know already, we pride ourselves on being the best of the best real estate coaches, having the best property managers, contractors, handy people, cleaners, lawyers, accountants, everyone you need on your power team and we're happy to share them with our clients to ensure your success. 
New investor or seasoned veteran investor, we can help anyone by providing our award winning coaching services and this isn't all talk.
We have been awarded Realtor of the Year to Investors in 2015 by the Real Estate Investment Network, 2016 by the Canadian Real Estate Wealth Magazine and again in 2017 because no one told the judges no one is supposed to win the award twice but on merit, our peers deemed us as the best.  In 2018, we again won the same award by the Real Estate Investment Network.
Hopefully being the most decorated team of Realtors in Ontario will make you consider us for your first or next real estate investment.  Even if you don't invest in our areas, there's a good chance I know who would be ideal for you. 
I've been around for a while, some Realtors are talented at servicing investors there are many with great ethics.  The intersection of the two, talent and ethics is limited to a handful in each city or town.
Only work with the best is what my father always taught me.  If you're interested, drop us an email at iwin@infinitywealth.ca.
I hope to meet you at one of our meetups soon.
Again that's iwin@infinitywealth.ca
NO MORE Confusion
After all the Youtube videos, books, and forum posts, you're probably still left with questions. Starting in real estate is a tricky thing.
Frustrated beginners often ask how a legal basement suite conversion actually works. Most of the time we can only give general answers. But now, we get to dive in.
At this in-depth, free class you'll learn how to take your first steps as a real estate investor.
Nothing is held back. Everything from analyzing basement suite conversion deals, to renting out your first property at a profit, and even how to refinance and do it all again!
More secrets you'll uncover are:
Profiting in a HOT market…
Municipal bylaws to watch out for…
Mortgage terms that favour refinancing…
AND one barely used tactic for higher appraisals…
If you're frustrated, unsure of how to get started, this is for you.
 Sign up now for the Invitation List and be one of the first to get an invite to the next class.
Sponsored by:
Infinity Wealth Investment Network – would you like to know how our investors returned 341.8% on positive cash flowing real estate over the last five years? On average, that was 68.4% per year.
Just imagine what winning in real estate could do for you.
If you would like to know how we did it, ask us how by calling 289-288-5019 or email us at meaghan@infinitywealth.ca.
Don't delay, the top markets we focus in are trending upward in price, so you can pay today's price or tomorrow's price.
Till next time, just do it because I believe in you.
Erwin
Hamilton, St. Catharines and Toronto Land Development, Real Estate Investor, and soon to be builder.
W: erwinszeto.com
FB: https://www.facebook.com/erwin.szeto
IG: https://www.instagram.com/erwinszeto/
https://www.truthaboutrealestateinvesting.ca/wp-content/uploads/2021/09/Mary-Anne-Gillespie.jpg
630
1200
Erwin Szeto
https://www.truthaboutrealestateinvesting.ca/wp-content/uploads/2017/06/TruthRectangleLogo.png
Erwin Szeto
2021-09-06 18:29:00
2021-09-06 18:29:03
From Homeless and 150lbs overweight to the #1 Business Coach & Iron Man Triathlete Mary-Anne Gillespie