Property Management During Covid19 with Spotted Properties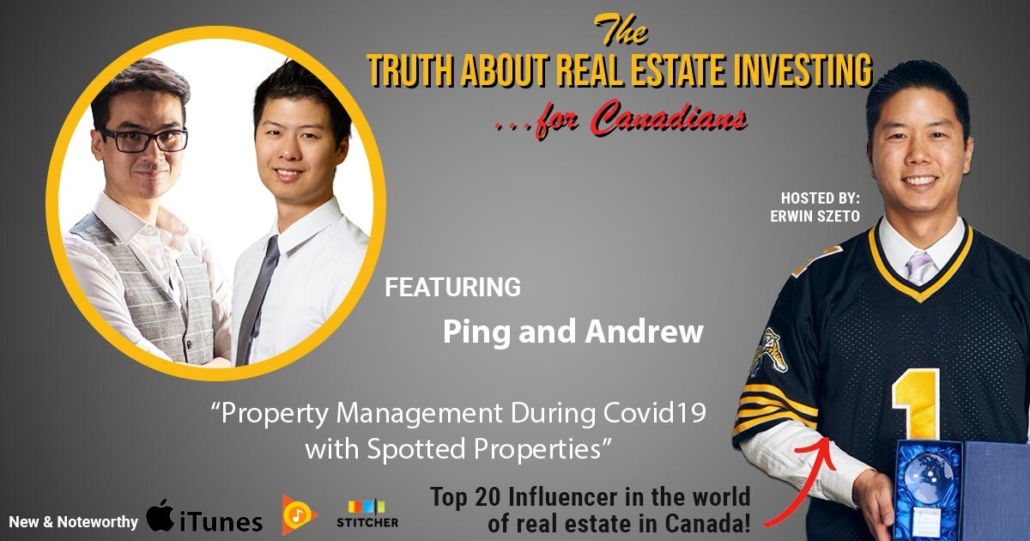 I'm losing count of how many of these Covid19, urgent episodes we are doing.
These are historic times and as such we are doubling our podcast volume so you, our listeners, get all the important information when you need it most. 
This episode was recorded April 2nd and things are a moving target. I've seen rumblings of government packages for students and commercial tenants and we will make sure to update you all when we know.
Quick announcement, hopefully when you listen to this the opportunity hasn't passed, but the all new Stock Hacker Academy 2.0 intro course, in partnership with best selling author Lee Lowell, the Godfather of Stock Hacking will be helping us teach all willing wealth hackers how to maximize return on investment after the stock market has crashed.
I've been waiting 12 years for the opportunity that will present itself in just a few weeks to invest in the stock market at the bottom, and Cherry and I want you all to benefit from the same opportunity.
Be strategic and take advantage of this once a cycle opportunity. Again, the last one was 12 years ago and this one may be an ever better opportunity.  For details go to https://www.stockhackeracademy.ca/specialoffer note that discounted pricing ends April 23rd.
Property Management During Covid19 with Spotted Properties
This episode is with my friends, Ping and Andrew of Spotted Properties Property Management in Hamilton Ontario. 
They are good guys, here to share how they are managing their tenants across their 600 – 800 door portfolio. They have a unique perspective and they manage quite a few student rentals as well. 
Download the letter they sent out to tenants here.
Spotted Properties Letter to Tenants
All you need to do to make sure you get these episodes and resources we are sharing, you can sign up using the form at the top right of this page.
To Listen:

To connect with Ping and Andrew: 
Property Management 
Website – https://spottedproperties.ca/
Contact – 905 527 3333
Office – 42 Royal Ave, Hamilton ON. L8S 2C4
Social Media:
The Professional Landlord
Youtube Channel – https://www.youtube.com/channel/UC-RmcgiP86k8HYYir8RH0_A
instagram – https://www.instagram.com/landlord.pro/
facebook – https://www.facebook.com/The-Professional-Landlord-100158611649859/
NO MORE Confusion
After all the Youtube videos, books, and forum posts, you're probably still left with questions. Starting in real estate is a tricky thing.
Frustrated beginners often ask how a legal basement suite conversion actually works. Most of the time we can only give general answers. But now, we get to dive in.
At this in-depth, free class you'll learn how to take your first steps as a real estate investor.
Nothing is held back. Everything from analyzing basement suite conversion deals, to renting out your first property at a profit, and even how to refinance and do it all again!
More secrets you'll uncover are:
Profiting in a HOT market…

Municipal bylaws to watch out for…

Mortgage terms that favour refinancing…

AND one barely used tactic for higher appraisals…
If you're frustrated, unsure of how to get started, this is for you.
 Sign up now for the Invitation List and be one of the first to get an invite to the next class.
Sponsored by:
Infinity Wealth Investment Network – would you like to know how our investors returned 341.8% on positive cash flowing real estate over the last five years? On average, that was 68.4% per year, just imagine what winning in real estate could do for you. If you would like to know how we did it, ask us how by calling 289-288-5019 or email us at meaghan@infinitywealth.ca. Don't delay, the top markets we focus in are trending upward in price, so you can pay today's price or tomorrow's price.
Till next time, just do it because I believe in you.
Erwin
Hamilton, St. Catharines and Toronto Land Development, Real Estate Investor, and soon to be builder.
W: erwinszeto.com
FB: https://www.facebook.com/erwin.szeto
IG: https://www.instagram.com/erwinszeto/

https://www.truthaboutrealestateinvesting.ca/wp-content/uploads/2020/04/Ping-anqd-Andrew.jpg
630
1200
Erwin Szeto
https://www.truthaboutrealestateinvesting.ca/wp-content/uploads/2017/06/TruthRectangleLogo.png
Erwin Szeto
2020-04-22 16:42:06
2020-04-22 16:42:08
Property Management During Covid19 with Spotted Properties