Power Couple Erika & Jay – How to Buy 20 Properties in Two Years
Hello Everyone Investing in Real Estate!!
I'm on my own this week with the kids for six whole days!!  My wife, Cherry Chan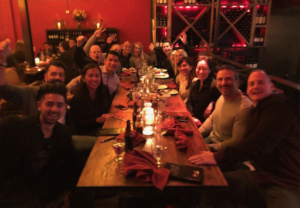 of 
www.realestatetaxtips.ca
, is in San Dieg at Traffic and Conversion. My kids are ages 4 and 2, so they have infinite energy and tend to argue, fight and cry. But they're sometimes really cute and hugging them makes it all worth it!
Usually, my kids prefer their mom way more than me. The best part of the increased 1-on-2 time is that, with mom gone, I feel like I've been promoted to the starting lineup, making my parenting job a lot easier! – LOL
As much as I'd like to be in San Diego, next to the ocean under a warm sun, I'm limiting my conferences this year. I have been to enough in the last few years, and I'm tired of looking at the binders and packages I came home with post-conference, not having touched them since. Instead, I'm putting my head down and implementing what I've been taught vs. looking for the next best thing.
Hopefully those of you on the fence for your first investment property or next investment property are feeling the same. Enough with the theory and education. It's time for action. Knowledge without action is a wasted investment.
FYI – we are starting to see more inventory come available and we are getting interest from our door knocking efforts to find deals without multiple offers, so do reach out to your coach ASAP.  My sources tell me to expect tightening credit come summer, so if you're concerned about financing I would refinance and acquire property ASAP. I'm doing the same.
Speaking of taking action, coach Erika just bought her 21st property and her and her husband, Jay, are the guests of this week's episode of the Truth About Real Estate Investing.
---
How Brand New Investors Acquired 20 Properties in just 2 years w/ Power Couple Erika and Jay
Erika and Jay (and new born baby, Owen, who was on hand for the recording) have been investing since 2014. They invest in Hamilton, St Catharines and Niagara Falls in Rent-To-Owns, buy and holds, basement apartments, joint ventures – they do it all. Currently, their portfolio consists of 20 houses with a focus on generating cashflow. Erika's success led to her being nominated as Rising Star of the Year by the Canadian Real Estate Wealth Magazine in 2017. Prior to becoming a Realtor, Erika's corporate world experience involved working as a biologist at an engineering firm, where she worked on project management, environmental assessments, and negotiating permits for various types of commercial development. Her experience has definitely helped Erika in building her portfolio and coaching investors on how to navigate the process that is real estate. She is incredibly passionate about helping investors obtain the same success that she enjoys, which is why she was the perfect fit on my own team of coaches for real estate investors. Jay also recently obtained his real estate license, and will be supporting Erika along with his own pursuits.
So without further ado, I give you power couple Erika Spencer and Jay Shaw.
To reach out to Erika and Jay:
https://www.truthaboutrealestateinvesting.ca/wp-content/uploads/2018/02/Erika-surprise-party.jpg
720
960
Erwin Szeto
https://www.truthaboutrealestateinvesting.ca/wp-content/uploads/2017/06/TruthRectangleLogo.png
Erwin Szeto
2018-02-28 18:19:18
2018-03-05 16:13:08
Power Couple Erika & Jay – How to Buy 20 Properties in Two Years