Police Officer Dave Knight Says You Have The Right, No, A Duty To Build Your Wealth
Congratulations Toronto and Canada, we are the champions!! We did it!!
History was made, so I may have taken more liberties than I normally do in my conservative, boring life. I like boring. I like being at home and going to bed early, and I'm glad life can finally get back to normal with less late nights and stress replaced by more family time, more sleep, more martials arts and Crossfit. Life isn't always boring though, I'm getting a new car next week, my challenge to my mastermind group was to CN Tower Edgewalk (that's walking around the outside of CN Tower at 1,168 feet high or 116 storeys). Nothing beats a low risk thrill for team building, followed by a mastermind lunch in the 360 Restaurant for blue sky dreaming ideas of wealth hacking.
Speaking of Wealth Hacking, while I scroll through the pictures on my phone from the last week, its been busy:
Our AirBnb is rocking – a single family home we would normally rent for $2,000/mo has booked $4,600 on AirBnb for June only. We are 77% booked, so we can definitely break $5,000. I'm preparing a presentation right now actually, for iWIN members tomorrow night, to share how we arrived at this point with all the automation, apps, technology, hardware etc… as I didn't lift a finger.
Cherry and I attend an Entrepreneur Bootcamp for two whole days and I have many takeaways around apps, scheduling, and scaling businesses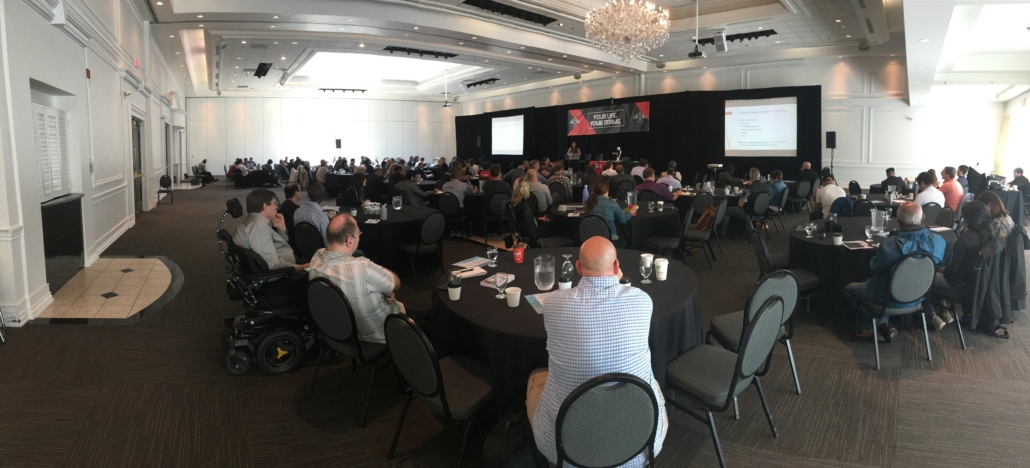 Sadly, I missed a few hours of the 2nd day, as we were out late the night before celebrating history as our Toronto Raptors won the championship. We sent a video of apology to our hosts as we were cheers-ing tequila shots. They understand. This is history and life is all about experiences. We didn't get in till the sun was coming up and I won't be doing that again for a while.
Saturday was another loaded day, as the kids had the day off from Chinese School and I was teaching my oldest to ride a bigger bike.  It's really interesting to practice influence skills on a five year old. She resisted and wanted her old bike but she's a champ and now only wants her new bike.
From there it was my clients' open house of their new build, two semi detached houses, each with basement apartments. I'll have Steve Ford, one of the investors on this project, on this podcast shortly to explain the ins and outs of new construction. He's a project manager for a major builder and an expert in construction. As always, we will bring you experts on this show. There is nothing wrong with just starting out, but those starting out should not be offering coaching services. Just saying.

For some background on these new builds, my clients bought two houses: one a single family, the other a duplex, severed the backyards and built two more houses, each with a basement suite. Each new build is rented for $3,400 plus utilities and over $10,000 in rent for these now-seven units. This is next level investing, so stay tuned for Steve Ford!
This episode is brought to you by iWIN's Wealth Hacker Conference:
On November 9th, 2019 at the Toronto Congress Center, we will be sharing the best secrets of the rich including:
Six figure income, 15 mins per day, options trading from your phone
Earning income like the bank passively, better returns and more stable than the stock market by private lending
Investing in real estate: apartment buildings, raising capital, AirBnb, student rentals, accessory apartments, land development
And so much more as we confirm more Wealth Hacker experts who do, no theory BS
Tickets are on sale now at: www.wealthhacker.ca and don't delay, prices are going up and if you want VIP, we only have 100 of them and they will sell out first.
www.wealthhacker.ca if you're interested in the best side hustle and income replacement opportunities.
November 9th we have the rich and successful sharing their secrets on how they became rich and successful. You don't want to miss this event.
Police Officer Dave Knight Says You Have The Right, No, A Duty To Build Your Wealth
On to this week's show!
Officer Dave Knight is a friend, an investor, client of ours, fellow podcaster of the First Responder Wealth Network spreading the word how even for those with a pension, people need more. Especially for those who risk their personal safety everyday to protect all of us.
Dave is also a big fan and student of Grant Cardone, having taken some of his masterminds and apartment building investing mastery classes, delivered by Grant himself. Dave also has insights into Grant's strategy and lessons as to what goes into his over $1 billion dollar assets under management portfolio. This was totally not what I expected.
Have a listen, buy a timmies for a first responder when you see them in line, and I proudly give you officer Dave Knight.
To Listen:

To connect with Dave:
Web & ebook: https://www.911wealthnetwork.com/freebook
Email Address: info@911wealthnetwork.com
If you enjoyed the show and would like to learn more about investing in real estate then you do not want to miss my Top 10 Tips On Real Estate. It's FREE to Download!!
I've interviewed many of the leading authorities in real estate, including Best Selling Authors like Julie Broad, Don R Campbell, Russell Westcott, and Tom Karadza. My super star investors include folks who acquire two properties per month or have transacted on over 100 properties. I have learned a thing or two in my own investing and distilled it down to 10, you-can-not-ignore, tips if you want to be a successful investor.
To download the report go to www.truthaboutrealestateinvesting.ca/book
Sponsored by:

TitanInvestmentRealEstate.com – would you like to know how our investors returned 341.8% on positive cash flowing real estate over the last five years? On average, that was 68.4% per year, just imagine what winning in real estate could do for you. If you would like to know how we did it, ask us how by calling 289-288-5019 or email us at admin@mrhamilton.ca. Don't delay, the top markets we focus in are trending upward in price, so you can pay today's price or tomorrow's price.
Till next time, just do it because I believe in you.
Erwin
Hamilton, St. Catharines, Toronto, Land Development, soon to be builder and Real Estate Investor
W: erwinzeto.com
FB: https://www.facebook.com/erwin.szeto
IG: https://www.instagram.com/erwinszeto/

https://www.truthaboutrealestateinvesting.ca/wp-content/uploads/2019/06/Dave-Knight.png
630
1200
Erwin Szeto
https://www.truthaboutrealestateinvesting.ca/wp-content/uploads/2017/06/TruthRectangleLogo.png
Erwin Szeto
2019-06-21 20:39:00
2019-06-24 20:43:42
Police Officer Dave Knight Says You Have The Right, No, A Duty To Build Your Wealth