Increasing rent $1,000 w/ Middle Term Rentals; Student Rentals, Trampoline Park, Mother of Four w/ Gillian Irving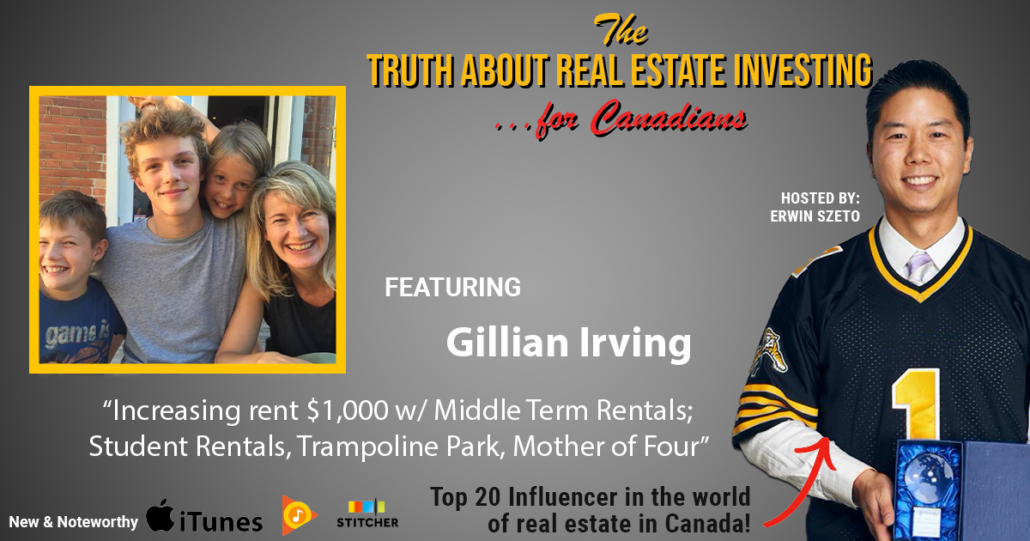 Do you golf?
I used to think golf was an inefficient use of time and poor exercise. I used to think of golf like fishing, or darts. It's a great hobby to do with friends. But my investor friends more and more have convinced me golf is great for networking and meeting fellow entrepreneurs, so I bought a set of clubs and am giving it a go.
View this post on Instagram
🏌️‍♂️But I suck at golf. Even with a few mulligans, I shot at 139 including at 76 on the back nine at the lovely Hamilton Golf and Country Club this past Friday. Thank you to Charles Wah for inviting me out.
I suck at many things, golf especially as I only golf 18 holes once per year, but now I want to learn so I set aside time to practice. I took a lesson and will take even more.
Trying new things is a challenge and as a teacher of #investinginrealestate I can draw parallels on the most direct path to success:
1️⃣ do it with friends: I'm golfing with friends who happen to be successful entrepreneurs, including my wife. This makes the experience and journey that much more fun. Tomorrow I'm golfing with a successful stock investor who sells options and owns 60 units of investment real estate. His name is Omar and he's teaching me to trade and he will be one of our speakers at the Wealth Hacker Conference in Toronto on November 9th.  Omar made $500,000 in 2018 from utilizing a little known strategy, and has made a living doing so for over a decade.
2️⃣ take lessons: you don't know what you don't know, so take advice from a professional that has a track record of successfully coaching others to success.  Almost every investor I meet wants cash flow and that's pretty much impossible to do where they live, so they are relying on local experts to guide them to the correct investment decisions.
3️⃣ don't be afraid to try new things. Five or ten years from now will look back and laugh at how you started from the bottom, now you're here. None of my multimillionaire clients expected to be here so fast in five-seven years. The next five-ten years will go by no matter what, how you spend them, or rather invest in them, is what will matter most. With excellent guidance and coaching, you can really minimize your mistakes and maximize your returns.
Reach out if you don't know how to get started, as I may suck at golf but few others have a system and team of coaches that produces #realestatemillionaires like we do.
This episode is brought to you by iWIN's Wealth Hacker Conference:
On November 9th, 2019 at the Toronto Congress Center, we will be sharing the best secrets of the rich including:
10X mindset

Six figure income, 15 mins per day, options trading from your phone

Earning income like the bank passively, better returns and more stable than the stock market by private lending

Investing in real estate: apartment buildings, raising capital, AirBnb, student rentals, accessory apartments, land development

And so much more as we confirm more Wealth Hacker experts who do, no theory BS
Tickets are on sale now at: www.wealthhacker.ca and don't delay, prices are going up and if you want VIP, we only have 100 of them and they will sell out first.
Increasing rent $1,000 w/ Middle Term Rentals; Student Rentals, Trampoline Park, Mother of Four w/ Gillian Irving
On to this week's show! Mother of Real Estate, Gillian Irving, is an old friend, client, mother of four who had life pretty good yet decided to go next level, hire a real estate coach, and buy a bunch of houses focusing mainly on student rentals. She also started her own successful 36,000 square foot trampoline park, she's had her own TV show on Rogers, and Gillian shares the story of our first meeting and how she bought a property that same day. It's been a cash flow gem and nearly doubled in price in less than five years. It goes to show Gillian's preparation for action!!
Gillian was also kind enough to share her worst investment story in a large syndicated mortgage that included losses for her and those close to her.  That is the Truth About Real Estate, not all investments are winners, this show is about sharing lessons, including from losses, so you may win in all of your investments.
To Listen:

To connect with Gillian:
Website: http://investinstudentrentals.com/
Training course: http://www.mothersofrealestate.com/
Facebook: https://www.facebook.com/gillian.irving.79
Skyzone Trampoline Park: https://www.skyzone.com/ca-whitby
If you enjoyed the show and would like to learn more about investing in real estate then you do not want to miss my Top 10 Tips On Real Estate. It's FREE to Download!!
I've interviewed many of the leading authorities in real estate, including Best Selling Authors like Julie Broad, Don R Campbell, Russell Westcott, and Tom Karadza. My super star investors include folks who acquire two properties per month or have transacted on over 100 properties. I have learned a thing or two in my own investing and distilled it down to 10, you-can-not-ignore, tips if you want to be a successful investor.
To download the report go to www.truthaboutrealestateinvesting.ca/book
Sponsored by:

TitanInvestmentRealEstate.com – would you like to know how our investors returned 341.8% on positive cash flowing real estate over the last five years? On average, that was 68.4% per year, just imagine what winning in real estate could do for you. If you would like to know how we did it, ask us how by calling 289-288-5019 or email us at admin@mrhamilton.ca. Don't delay, the top markets we focus in are trending upward in price, so you can pay today's price or tomorrow's price.
Till next time, just do it because I believe in you.
Erwin
Hamilton, St. Catharines, Toronto, Land Development, soon to be builder and Real Estate Investor
W: erwinzeto.com
FB: https://www.facebook.com/erwin.szeto
IG: https://www.instagram.com/erwinszeto/

https://www.truthaboutrealestateinvesting.ca/wp-content/uploads/2019/06/Gillian-Irving.png
630
1200
Erwin Szeto
https://www.truthaboutrealestateinvesting.ca/wp-content/uploads/2017/06/TruthRectangleLogo.png
Erwin Szeto
2019-06-30 14:53:25
2019-06-30 14:53:27
Increasing rent $1,000 w/ Middle Term Rentals; Student Rentals, Trampoline Park, Mother of Four w/ Gillian Irving