7-8 Figure Commercial Developments with Shane Melanson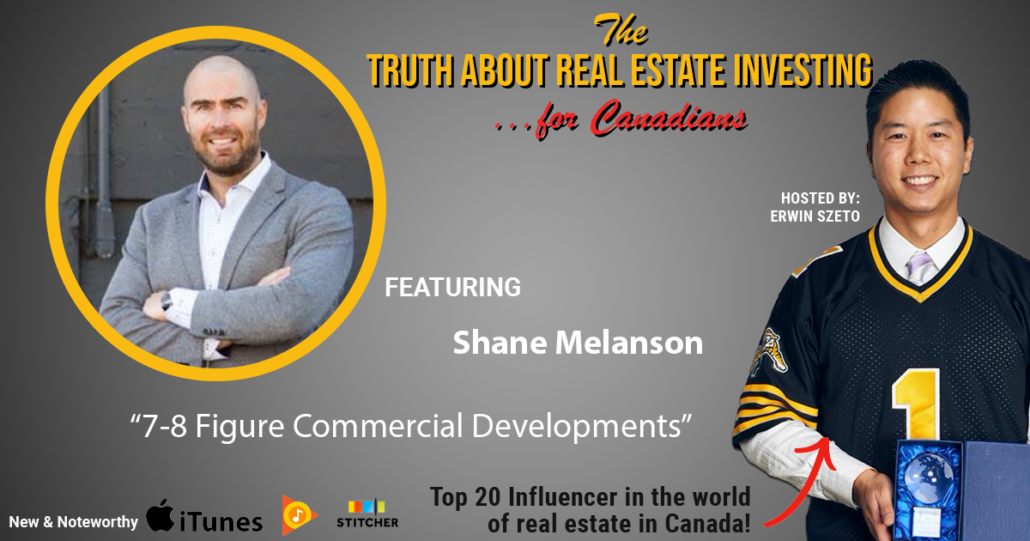 Happy Canada Day and hope you had a great long weekend as the summer kicks off!!
Are your summer BBQ's like mine? We had a bunch of friends and family over Sunday and Monday and the conversation was about the Leafs, Raptors, and of course real estate, but it wasn't initiated by me!! It seems more and more real estate is becoming a more and more popular asset class. Note these are friends and family, not from my real estate world, but what surprised me was how bullish everyone was thinking. The worst from the spring of 2017 Housing Fairness Plan correction is past us and my friends and family are all looking to increase their real estate for either where they live or for investment.
I'm hoping it's the right decision. My wife and I are having one ugly property renovated and we recently had one of our existing rental houses switch to AirBnb. I'll detail some of our own investing in a separate episode, or else this one will be a really long one.
On a sad note, as the child of Chinese immigrants from Hong Kong, the civil unrest and protests back home are the worst it's been from my recollection. Yet another reminder how grateful my family is to live in the greatest country in the world. Canada is not perfect by any means, but look at our freedoms, low crime, opportunity, clean environment and quality education system. It's good to call this place home and to own property here. Is it any surprise Canada remains a top destination for immigration?? Immigration to Canada looks to stay strong. If you have developer friends like I do, developing is getting more restrictive and more expensive, which puts upward pressure on housing prices.
Owning property or more appropriately, positive cash flow income properties whichever way your prefer: Airbnb, basement suited houses, apartment buildings, developing land, student rentals.  It's all great and area dependent. For the Wealth Hacker, I can't recommend enough that you learn about each strategy to have the skills and knowledge to make a decision. For example, one investor I know switched up his strategy from student rental to AirBnb back to student rental as the service levels required for AirBnb proved to be too much for this investor.  
Wealth Hacking update on my part, I am committed to learn how to sell stock options. I've ignored my friend Omar Khan for too long, who's been encouraging me to learn and implement the strategy he's used for over ten years to earn himself six figures selling stock options on blue chip stocks that pay dividends. This isn't a get rich quick thing and Omar is going to show me how, after he's already taught over 50 of his friends how to, including my electrician. Omar and I have the same electrician, he re-wired the upstairs of my house that I'm AirBnb'ing. Our electrician has made around six figures in the last 18 months using this little known strategy. There are books on this strategy e.g. "Get Rich With Options" by Lee Lowell, but no different than any subject you plan on mastering, some hands on learning with ongoing coaching from an expert goes a long way.
Omar is our keynote speaker at our next iWIN members' meeting as a warm up for the big stage at iWIN's Wealth Hacker Conference on Nov 9th, for which you can get your tickets at wealthhacker.ca.  This is an all day event bringing together all the greatest wealth hackers I know who have taken the shortest path to financial success: investing in real estate with other people's money for 100+ properties, Airbnb, stock options with Omar, making money like the bank, start a small business from zero to $100,000 and from $100,000 to $500,000.
Everything I've learned on my entrepreneurial and investor journey, the best subject matter experts, the best lessons from my own investing and business building. We are bringing you all my bests for one day, November 9th, including the most in demand business trainer in the world in Grant Cardone in Toronto. The networking alone is worth the price of admission. My friend Susan White did multiple joint venture real estate deals from people she met in the VIP at a similar event. It was an event similar to the Wealth Hacker Conference that was the catalyst for myself to go from amateur to professional Wealth Hacker. This will arm you with the tools to take a shorter and faster path to financial freedom. Tickets at WealthHacker.ca 
7-8 Figure Commercial Developments with Shane Melanson
On to this week's guest!
For those with sights on bigger projects, Shane Melanson does exactly that! Shane started like many investors do with single family homes, did a few flips, progressed to commercial real estate including trailer parks, developing industrial condos, and retail plazas.
Other than tackling these very large and complex 7-8 figure projects, we discuss Shane's path to becoming a commercial expert. He's here to share what triggered his investing, his career path before his first commercial investment, and the mentorship he received along the way. 
Also fascinating is how Shane structures joint venture investments with these large-scale, capital-intensive projects and % splits via general partner and limited partnerships. Have a listen!
To Listen:

To connect with Shane:
Website: http://shanemelanson.com
Podcast (iTunes): https://podcasts.apple.com/us/podcast/the-investing-advantage-podcast/id1465519313
Stitcher: https://www.stitcher.com/podcast/shane-melanson/the-investing-advantage?refid=asa
Shane's book: https://www.clubsyndication.com/book1
If you enjoyed the show and would like to learn more about investing in real estate then you do not want to miss my Top 10 Tips On Real Estate. It's FREE to Download!!
I've interviewed many of the leading authorities in real estate, including Best Selling Authors like Julie Broad, Don R Campbell, Russell Westcott, and Tom Karadza. My super star investors include folks who acquire two properties per month or have transacted on over 100 properties. I have learned a thing or two in my own investing and distilled it down to 10, you-can-not-ignore, tips if you want to be a successful investor.
To download the report go to www.truthaboutrealestateinvesting.ca/book
Sponsored by:

TitanInvestmentRealEstate.com – would you like to know how our investors returned 341.8% on positive cash flowing real estate over the last five years? On average, that was 68.4% per year, just imagine what winning in real estate could do for you. If you would like to know how we did it, ask us how by calling 289-288-5019 or email us at admin@mrhamilton.ca. Don't delay, the top markets we focus in are trending upward in price, so you can pay today's price or tomorrow's price.
Till next time, just do it because I believe in you.
Erwin
Hamilton, St. Catharines, Toronto, Land Development, soon to be builder and Real Estate Investor
W: erwinzeto.com
FB: https://www.facebook.com/erwin.szeto
IG: https://www.instagram.com/erwinszeto/

https://www.truthaboutrealestateinvesting.ca/wp-content/uploads/2019/07/Shane-Melanson.png
630
1200
Erwin Szeto
https://www.truthaboutrealestateinvesting.ca/wp-content/uploads/2017/06/TruthRectangleLogo.png
Erwin Szeto
2019-07-05 18:17:20
2019-07-05 18:17:22
7-8 Figure Commercial Developments with Shane Melanson