How Three Guys Learnt From Each Other Over Beers In The Garage To Achieve Financial Independence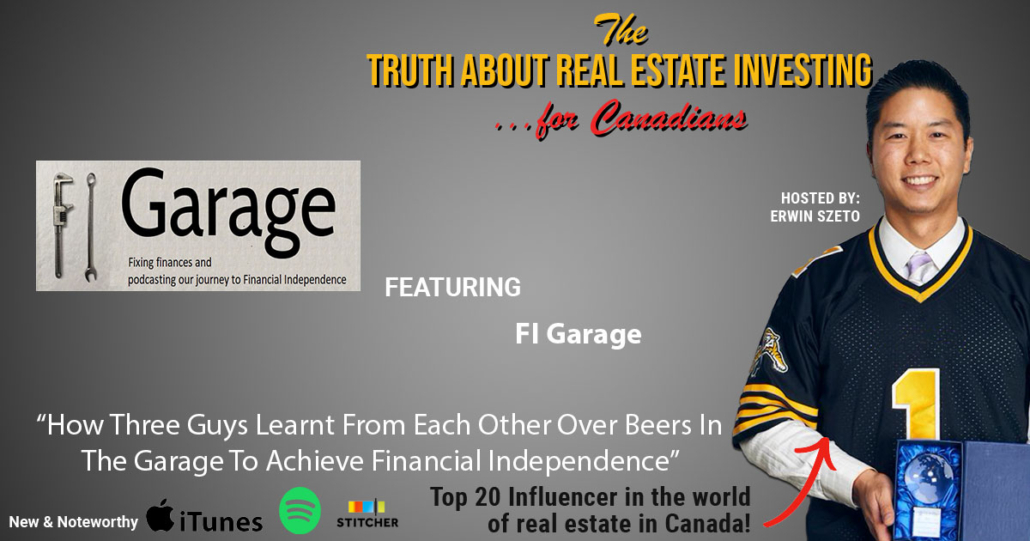 Welcome to the Erwin Szeto show, where we discuss the Truths about Real Estate Investing. 
Here, we bring you repeatable, systematic methods to invest by successful action takers like today's guests from the FI Garage (FI is short for financial independence) who are already semi-retired and living off the proceeds of their investments.
Before we get to this week's guests, I'd like to thank those who have left reviews, mainly on Apple iTunes. Also, thank you to everyone who messaged me with kind words. 
With it being the holidays, I've been asked what I'd like for Christmas. From you, the 16 listeners, nothing makes me happier than 5-star reviews, so the internet gods do their algorithm thing and make this show more visible to more everyday Canadians searching for practical means to reach financial independence.
I've written it down as a goal for 2022 – To grow from 16 listeners to 22 in honour of the year 2022. That's a growth of 37.5%, which seems impossible, but many of our real estate portfolios did the same in the last year. Who knew that was possible?!
Speaking of everyday Canadians searching for financial independence, one of my old childhood friends called me this week to tell me about the revised ROI new projection on a real estate project he got into on my recommendation. I'm also in the same project. 
We're both investing in a private equity housing development project north of the greater Toronto area, between Newmarket and Orangeville. The builder is Fengate, and they are big time. 
This is one of their best projects ever, so our results are well above average. Our revised ROI over a 9.5 year period is 819%! We've been in since 2015, so the payout is in 2025.
My friend regrets not putting in more money, but I did the math in my head and said, "your return is over $400,000. That has to be enough to put your two kids through university. So I think you owe me dinner, scratch that, a round of golf at Wooden Sticks." 
My friend told me another project is coming up northeast of the GTA that he'll be investing in. Cherry and I will invest in it too. 
If you too are interested, simply email us at iWIN@infinitywealth.ca asking about private equity real estate developments and my team, and I will point you in the right direction.
I personally only invest in two private equity funds. One is multifamily apartment buildings; the other is, as I just mentioned, real estate developments in Ontario. They're the best I've found, and I use them as a baseline to compare all opportunities that come my way.
All I ask in return for my recommendations is a round of golf… Hahaha, I'm just kidding; a five-star review with what you've learnt from this show and telling your friends about the show is thanks enough.  
On to this week's show!
How Three Guys Learnt From Each Other Over Beers In The Garage To Achieve Financial Independence
We have two regular guys; one is a mechanic while the other is a soon-to-be-retired Accountant. They are the hosts of the Financial Independence Garage Podcast. 
They're both under 50 and have a lot of financial security thanks to their multiple income streams, beyond real estate and frugal lifestyles.
On this show, they share how they've achieved financial independence from work, sharing details of their real estate investments, including out-of-province investments, private lending, Stock Hacking, crypto, fractional real estate via Addy Invest.  They both also share lessons from investments that did not go to plan.
Quick disclaimer: We consume adult beverages containing alcohol in this episode. If that doesn't tell you none of what we discuss is licensed financial advice, I don't think anything will.  We are only sharing our experiences, and past, of course, does not predict the future. Unless it's real estate which always goes up.  I'm only kidding; it only goes up most of the time 😉
Please enjoy the show!
We're hiring!
Just a friendly reminder that we are hiring more investment Realtors who want a full-time challenge to help our clients, regular everyday people, mostly from the GTA, invest in the top investment towns west of the GTA. 
This is for driven folks who want to multiply their current incomes.
APPLY HERE: https://www.infinitywealth.ca/hiring

Where to Follow FI Garage:
Twitter: https://twitter.com/FI_Garage, https://twitter.com/FIGarage_Mech, https://twitter.com/FIGarage_Acct
Web: https://figarage.ca/
FB: https://www.facebook.com/FinancialIndependanceGarage
HELP US OUT!
Please help us reach new listeners on iTunes by leaving us a rating and review!
UPCOMING EVENTS
You are the average of the five people you spend the most time with! Build connections with empire builders and trailblazers at our iWIN events.
BEFORE YOU GO…
If you're interested in being a successful real estate investor like those who have been featured on this podcast and our hundreds of successful clients please let us know.
It is our honour to give back and educate others on how we build cash flowing real estate portfolios using all the best practices shared on this podcast, from the lessons of our hundreds of clients and of course our own experience in owning investment real estate.
If you didn't know already, we pride ourselves on being the best of the best real estate coaches, having the best property managers, contractors, handy people, cleaners, lawyers, accountants, everyone you need on your power team and we're happy to share them with our clients to ensure your success. 
New investor or seasoned veteran investor, we can help anyone by providing our award winning coaching services and this isn't all talk.
We have been awarded Realtor of the Year to Investors in 2015 by the Real Estate Investment Network, 2016 by the Canadian Real Estate Wealth Magazine and again in 2017 because no one told the judges no one is supposed to win the award twice but on merit, our peers deemed us as the best.  In 2018, we again won the same award by the Real Estate Investment Network.
Hopefully being the most decorated team of Realtors in Ontario will make you consider us for your first or next real estate investment.  Even if you don't invest in our areas, there's a good chance I know who would be ideal for you. 
I've been around for a while, some Realtors are talented at servicing investors there are many with great ethics.  The intersection of the two, talent and ethics is limited to a handful in each city or town.
Only work with the best is what my father always taught me.  If you're interested, drop us an email at iwin@infinitywealth.ca.
I hope to meet you at one of our meetups soon.
Again that's iwin@infinitywealth.ca
Sponsored by:
Infinity Wealth Investment Network – would you like to know how our investors returned 341.8% on positive cash flowing real estate over the last five years? On average, that was 68.4% per year.
Just imagine what winning in real estate could do for you.
If you would like to know how we did it, ask us how by calling 289-288-5019 or email us at iwin@infinitywealth.ca.
Don't delay, the top markets we focus in are trending upward in price, so you can pay today's price or tomorrow's price.
Till next time, just do it because I believe in you.
Erwin
Hamilton, St. Catharines and Toronto Land Development, Real Estate Investor, and soon to be builder.
W: erwinszeto.com
FB: https://www.facebook.com/erwin.szeto
IG: https://www.instagram.com/erwinszeto/
https://www.truthaboutrealestateinvesting.ca/wp-content/uploads/2021/12/FI-Garage.jpg
630
1200
Erwin Szeto
https://www.truthaboutrealestateinvesting.ca/wp-content/uploads/2017/06/TruthRectangleLogo.png
Erwin Szeto
2021-12-22 01:46:26
2021-12-22 16:23:36
How Three Guys Learnt From Each Other Over Beers In The Garage To Achieve Financial Independence