Mortgages for Incorporated Properties With Andre Matos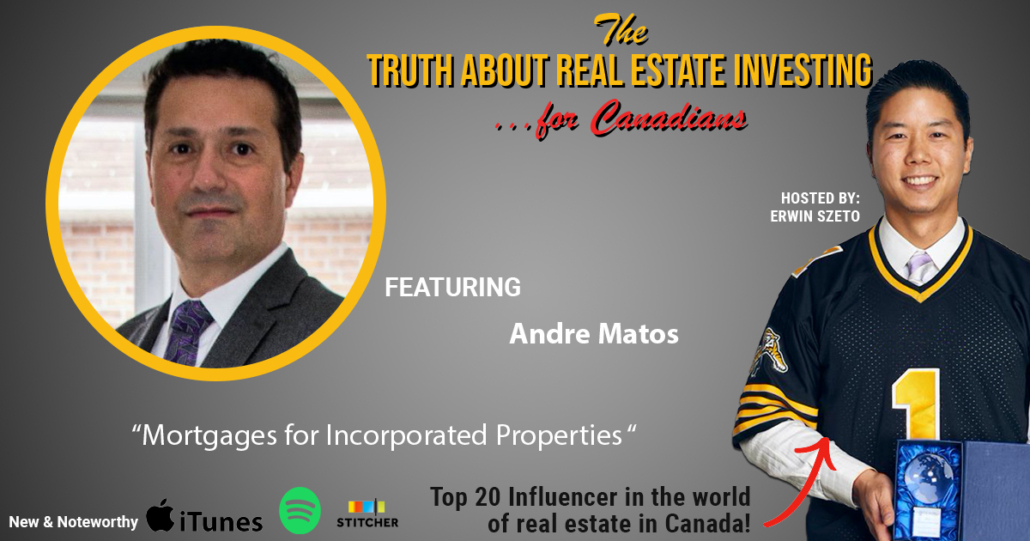 Happy New Year, everyone!!!
For Cherry and I, 2021 was a great year. I'll do a year in review show soon where Cherry and I share what worked and didn't in 2021.  We're not special, but we have experience owning a couple of seven-figure businesses and an eight-figure real estate portfolio.
We just returned from a four-day ski trip from Hidden Valley in Huntsville, ON, and it was pretty awesome!
 

 

View this post on Instagram

 
We like Hidden Valley because it's small, which is great for the kids and Cherry as they're learning. It's also a bit further than the better ski hills, so the lineups for the chair lift are almost non-existent.
The kids and Cherry got lessons every day for four days because that's what beginners should do. Beginners who don't, well, if you've seen beginners at a ski hill, it's not pretty.
One afternoon it was -7° 🥶. I might be afraid of the cold more than some, but my policy is no exposed skin when it's that cold. 
I observed a bunch of beginners in rental equipment; they at least wore helmets but no goggles and no gloves! Yup, bare hands holding ski poles. But they were wearing Canada Goose jackets.
As my kid passed one of them, they panicked like they had seen a ghost and fell over. My kids had been in ski camp for the last four days, so they have very good control, and are comfortable skiing in close proximity.  The new guy, unfortunately not so much. 
I saw another family with their pants tucked into their ski boots with their kids. As soon as they pushed off the chalet to the chair lift, the entire family fell over. One ever resorted to trying to sit on her skis as if they were a toboggan.  She didn't realize the skis have built-in brake technology.
Like anything new that comes with risk (physical or financial), I can't recommend enough one take a lesson.
Cherry and I offer free training both for real estate investing and Stock Hacking. Simply go to www.iwinrealestate.ca or www.stockhackeracademy.ca.
We helped many hard-working Canadians create six and seven-figure side hustles… most of them busy parents and day jobs without ever having to fix a toilet or talk to tenants.
Register today to be invited to the next free training session!
On the investing front, we just signed a tenant for our only vacancy. We are renting out the main floor for $2,200 + hydro and basement for $1,800. That's $4,000 per month or $48,000 per year on a legal duplex we paid in the low 800's this past summer.  A property we purchased off one of our flipper clients.
This fill took longer than expected as the property manager didn't have as keen an eye as I do for small details. For example, some painting was left unfinished during the renovation. The front door also needed painting. The over-the-range microwave was not installed due to a missing part. 
When showing the property, the property manager would promise prospective tenants everything would be fixed before they move in.
I'm not that patient… And because  I have to pay to finish the reno sooner or later, I'd prefer sooner if that means the vacancy is filled faster.  So, I sent my best handyman, who's also my most expensive and responsive, to get it done.  What do you know, the vacancy filled the week after!
This is why my preference is to invest within an hour's drive so I may personally inspect stuff once in a while.
On to this week's show!!
Mortgages for Incorporated Properties With Andre Matos
During the pandemic, I picked up a new hobby, golf, because back then, you couldn't see your friends or clients unless it was on a golf course.
From there, I was hooked! I personally enjoy mixing business with pleasure; playing golf, networking and doing business 🏌️🤑
One day while having dinner and drinks after golf, I had an in-depth conversation with Andre Matos. Andre is a Home Financing Advisor at Scotia Bank and a Stock Hacker Academy alumni.  
He explained the mortgage products available only directly from Scotia… including mortgages on property owned inside a corporation.
This was news to me, and I told my wife, Cherry, about it right away as we own 11 of our 12 properties inside a corporation. 
If you're wondering if you should incorporate your investment properties, Cherry, my wife of www.realestatetaxtips.ca offers a report called "7 Questions to Ask Yourself When Deciding to Incorporate". Get it here: https://realestatetaxtips.ca/7questionsreport/
Andre is a serious real estate investor; hence he has several mortgages in a corporation with Scotia Bank. He's also a Stock Hacker. As you can tell from the accent, he's an immigrant from Brazil, and he's passionate about sharing practical advice and his experience with anyone who will listen. 
As always, this show is about experience sharing. I get nothing in return from Andre nor Scotia for having him on the show.  Nothing we discuss today is financial advice. For professional financial advice, see a financial advisor 😊
Please enjoy the show!
We're hiring!
Just a friendly reminder that we are hiring more investment Realtors who want a full-time challenge to help our clients, regular everyday people, mostly from the GTA, invest in the top investment towns west of the GTA. 
This is for driven folks who want to multiply their current incomes.
APPLY HERE: https://www.infinitywealth.ca/hiring

To Connect with Andre Matos:
LinkedIn: https://www.linkedin.com/in/andrelmmatos/
Email: andre.matos@scotiabank.com
Web: https://hfa.scotiabank.com/en/index.html?name=amatos
IG: https://www.instagram.com/andrematos.hfa/
HELP US OUT!
Please help us reach new listeners on iTunes by leaving us a rating and review!
UPCOMING EVENTS
You are the average of the five people you spend the most time with! Build connections with empire builders and trailblazers at our iWIN events.
BEFORE YOU GO…
If you're interested in being a successful real estate investor like those who have been featured on this podcast and our hundreds of successful clients please let us know.
It is our honour to give back and educate others on how we build cash flowing real estate portfolios using all the best practices shared on this podcast, from the lessons of our hundreds of clients and of course our own experience in owning investment real estate.
If you didn't know already, we pride ourselves on being the best of the best real estate coaches, having the best property managers, contractors, handy people, cleaners, lawyers, accountants, everyone you need on your power team and we're happy to share them with our clients to ensure your success. 
New investor or seasoned veteran investor, we can help anyone by providing our award winning coaching services and this isn't all talk.
We have been awarded Realtor of the Year to Investors in 2015 by the Real Estate Investment Network, 2016 by the Canadian Real Estate Wealth Magazine and again in 2017 because no one told the judges no one is supposed to win the award twice but on merit, our peers deemed us as the best.  In 2018, we again won the same award by the Real Estate Investment Network.
Hopefully being the most decorated team of Realtors in Ontario will make you consider us for your first or next real estate investment.  Even if you don't invest in our areas, there's a good chance I know who would be ideal for you. 
I've been around for a while, some Realtors are talented at servicing investors there are many with great ethics.  The intersection of the two, talent and ethics is limited to a handful in each city or town.
Only work with the best is what my father always taught me.  If you're interested, drop us an email at iwin@infinitywealth.ca.
I hope to meet you at one of our meetups soon.
Again that's iwin@infinitywealth.ca
Sponsored by:
Infinity Wealth Investment Network – would you like to know how our investors returned 341.8% on positive cash flowing real estate over the last five years? On average, that was 68.4% per year.
Just imagine what winning in real estate could do for you.
If you would like to know how we did it, ask us how by calling 289-288-5019 or email us at iwin@infinitywealth.ca.
Don't delay, the top markets we focus in are trending upward in price, so you can pay today's price or tomorrow's price.
Till next time, just do it because I believe in you.
Erwin
Hamilton, St. Catharines and Toronto Land Development, Real Estate Investor, and soon to be builder.
W: erwinszeto.com
FB: https://www.facebook.com/erwin.szeto
IG: https://www.instagram.com/erwinszeto/
https://www.truthaboutrealestateinvesting.ca/wp-content/uploads/2022/01/Andre-Matos.jpg
630
1200
Erwin Szeto
https://www.truthaboutrealestateinvesting.ca/wp-content/uploads/2017/06/TruthRectangleLogo.png
Erwin Szeto
2022-01-04 16:12:28
2022-01-04 16:12:31
Mortgages for Incorporated Properties With Andre Matos