Big Fines, Student Rentals, and Stock Hacking with Ron Esteban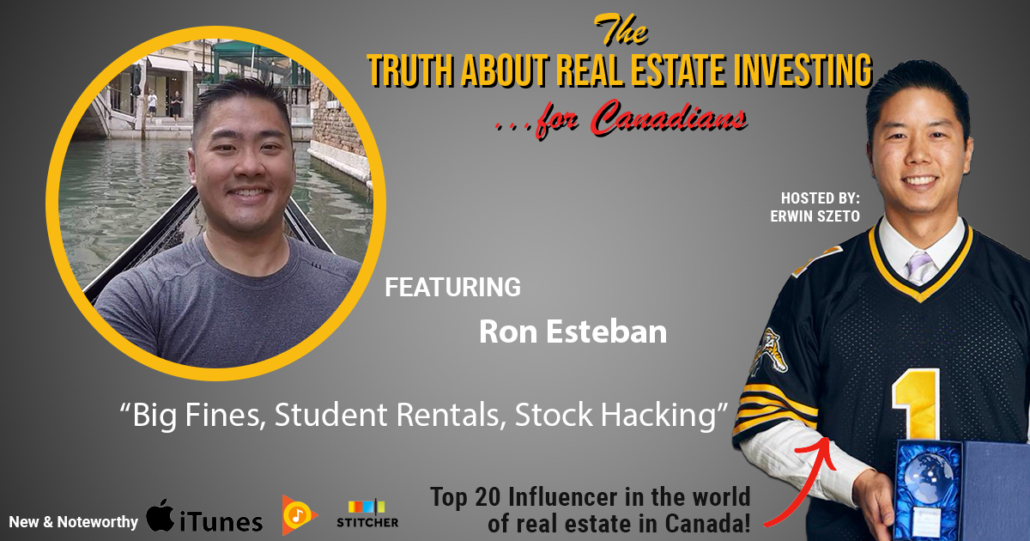 Hello fellow wealth hackers!
I hope you are enjoying your summer!!
It's a good thing these covid times are during the summer so local businesses like restaurants can operate on patios to at least earn some income and keep the economy going. 
For most of you Canadians, you're ahead of us in Ontario for re-opening. We do miss our live and in person meetups with our clients, but for business, we're in no hurry as we're busy, if anything we wish this sellers market would slow down so we can help our investor clients acquire more property.
But for our investors taking profits and exiting, this has been wonderful.  We will wait and see what Phase 3 looks like before we host even small meetups in the office again.
This past weekend, unfortunately, we had a basement flood. Thankfully our student tenants were home to call my property manager at 1 AM so he was able to go over and do what he could.
View this post on Instagram
That was Saturday morning, by 11am, I was there to have a look and talk to my tenants with a $50 gift card for each student, plus one for my property manager Terry. 
The water had since drained but it went over an inch high so a bunch of drywall, trim, doors, flooring, etc… will have to be replaced.  Our tenants are younger so they asked if our insurance covers their belongings. It doesn't because that's what tenant insurance is for. 
Here's your friendly reminder to require your tenants to have tenant insurance.
We had a flood which sucks, but we have a client who's basement tenant improperly disposed of a cigarette and caused a fire so the main floor tenant with a new baby is now without a home at no fault of their own. 
Thankfully, the basement tenant has insurance as the home's insurance will likely go after the person who caused the fire.  Unfortunately the main floor tenant does not and will have to come out of pocket for a hotel or AirBnb till they find a new home.
Speaking of AirBnb, I had a friend who specializes in AirBnb asking me about Stock Hacking.
He was saying he didn't want to invest and learn something new as he makes so much money running AirBnb's. I shared how in my experience, multiple streams of income is the winning formula.  We have small businesses, a portfolio of cash flowing real estate, and both Cherry and I do Stock Hacking.
My deductible for the flood is $5,000.  Well, I made over $5,000 USD this week already from stock hacking, so while it sucks to have an expense of $5,000, I can afford it. 
A reminder to have a buffer and why having multiple streams of income is best.  The opposite is true as well, I'll have a crappy day or week in the stock market and am grateful for my real estate.  No one is better than the other. Having both in my experience is the ideal.
Thank goodness my insurance specific for investment properties covers sewer back up.  Now this is twice it's saved my bacon.  You may want to check if your policy includes it too.
Quick Stock Hacker update of Cherry vs. Erwin. 
She beat me again last week so I think it's 12-4 in Cherry's favour.  On the plus side, we combined for a five figure week in USD cash flow.  Sorry for repeating this so many times, but I'm grateful to have learned this skill and that Cherry is willing to trade as well.
Also interesting in our real estate world is we had another tenant have a disagreement with her housemates so they want to break the lease. 
To some that's terrible news. To us, this property generates the least rental income so it's our chance to improve that by renting it to students. 
We have that option or we could sell it in this complete sellers market we are in right now.  This house we own with a JV and have some of our own money in it, so the return could be better if we owned it 100% or had zero capital invested in the deal.  Or we may just sell it and turn it into a pool 🙂
For the longest time, Cherry and I have wanted a pool for the kids to enjoy and to entertain our friends and family.  In my experience, the best way to pay for luxury items is to have our assets pay for it, so here we go, our investment and returns will now become a pool.  An investment that was born out of a home equity line of credit over six years ago.
Compare that to what friends I have who used their home equity line of credit to pay for a pool.  To each their own, I just have a lot of future plans for early retirement and helping my kids pay for their education and a home.
Speaking of education, I was talking to one of my neighbours about how their daughter wants to be a dentist. 
They have RESP's to cover some of the undergraduate tuition, but she didn't know tuition costs for dental school. I've googled it before so I was the bearer of bad news as I've seen it at 40,000 per year.  I don't think anyone saves that much nor wants to be saddled with that kind of debt.
On to this week's show!! 
Big Fines, Student Rentals, and Stock Hacking with Ron Esteban
We have my friend, Ron Esteban on. He considers himself an average investor and not a big shot, but he's got a couple properties. What is super cool is he's teaching students how to invest in both real estate and stock options.
That's right, Ron is a teacher with one of those big fat teacher pensions we're all jealous of. He received some great advice to invest in real estate from an unlikely source.  Ron made some mistakes early on which lead him to meeting me around eight years ago and we've been friends ever since.
On this episode, Ron shares how he got started, how being part of a community helped his investments, and a more recent "life changing" means of investing. On top of all that, he just got married and is about to become a new dad!
Ron also shares what he's teaching his students.  Parents, pay attention to this part in case you're trying to get your kids interested in investing.
To Listen:

To Follow Ron:
Twitter – @RonEsteban113
Instagram – @ron.est.113
Facebook – Ron Esteban
NO MORE Confusion
After all the Youtube videos, books, and forum posts, you're probably still left with questions. Starting in real estate is a tricky thing.
Frustrated beginners often ask how a legal basement suite conversion actually works. Most of the time we can only give general answers. But now, we get to dive in.
At this in-depth, free class you'll learn how to take your first steps as a real estate investor.
Nothing is held back. Everything from analyzing basement suite conversion deals, to renting out your first property at a profit, and even how to refinance and do it all again!
More secrets you'll uncover are:
Profiting in a HOT market…

Municipal bylaws to watch out for…

Mortgage terms that favour refinancing…

AND one barely used tactic for higher appraisals…
If you're frustrated, unsure of how to get started, this is for you.
 Sign up now for the Invitation List and be one of the first to get an invite to the next class.
Sponsored by:
Infinity Wealth Investment Network – would you like to know how our investors returned 341.8% on positive cash flowing real estate over the last five years? On average, that was 68.4% per year, just imagine what winning in real estate could do for you. If you would like to know how we did it, ask us how by calling 289-288-5019 or email us at meaghan@infinitywealth.ca. Don't delay, the top markets we focus in are trending upward in price, so you can pay today's price or tomorrow's price.
Till next time, just do it because I believe in you.
Erwin
Hamilton, St. Catharines and Toronto Land Development, Real Estate Investor, and soon to be builder.
W: erwinszeto.com
FB: https://www.facebook.com/erwin.szeto
IG: https://www.instagram.com/erwinszeto/

https://www.truthaboutrealestateinvesting.ca/wp-content/uploads/2020/07/Ron-Esteban.jpg
630
1200
Erwin Szeto
https://www.truthaboutrealestateinvesting.ca/wp-content/uploads/2017/06/TruthRectangleLogo.png
Erwin Szeto
2020-07-17 15:48:46
2020-07-17 15:48:48
Big Fines, Student Rentals, and Stock Hacking with Ron Esteban