7 Canadian Advantages; Fully Furnished, Middle Term Rentals, New Construction in Edmonton, Alberta with Best Selling Co-Author Russell Westcott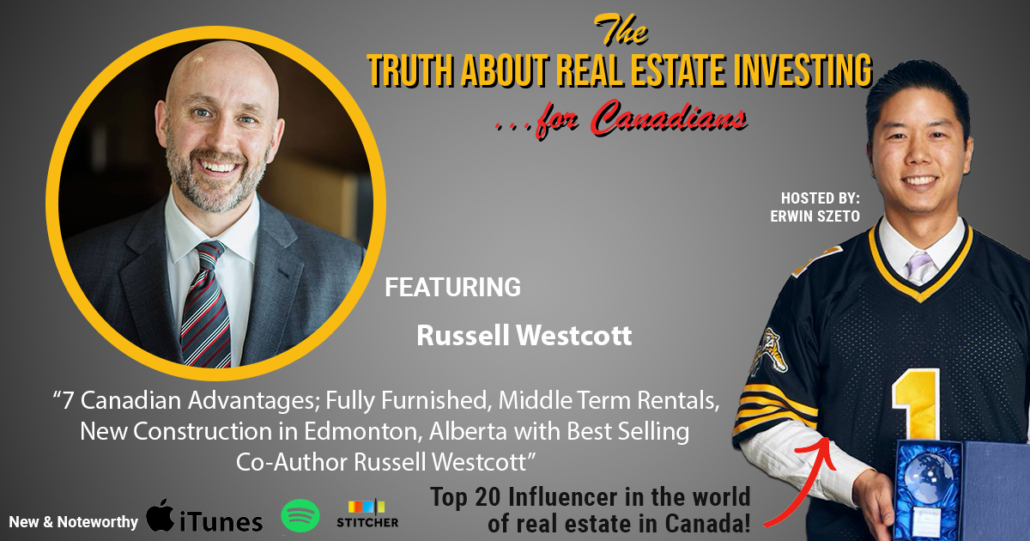 We're back from vacationing in Vancouver, and we have bigger news!
Cherry and I are expecting…  Expecting a come together on November 12th, 2022, for the Wealth Hacker Conference. Woo Woo!! 
After the success of our first conference in November 2019 and several postponements, we're finally back, ready to 10X for the conference of the year for investors and entrepreneurs alike!! 
We have expert speakers on business building, real estate, stocks, cryptocurrency, etc., who will be sharing their secrets to success during a one-day, all-day, live and in-person event. 
There won't be an online option, just good old fashion networking and, for many of you, a homecoming to see all your friends from all the investor organizations: REIN, Keyspire, Rock Star, Legacy/Rich Dad, iWIN, Stock Hacker; we're all cool people, and we are inclusive like that!
Our Keynote speaker has built a life resume to be proud of: 
He is the co-founder of Marquis Jet, one of the largest private jet card companies in the world and sold it to Warren Buffet

He's a partner in Zico Coconut Water; I've bought it myself at Costco and later sold the company to Coca-Cola. 

Jesse has won an Emmy

He runs 100-mile ultramarathons in his spare time

He is married to billionairess Sara Blakely, the founder of Spanx, and they have four children together.
Jesse, for fun, hired former Navy SEAL David Goggins to train him for 31 days which he details in the hilarious NYT best-selling book "Living With A SEAL."
We have a promotion on ticket prices; it's currently early bird pricing, so 50% off! That's the best deal you're going to see, ever. 
Go to www.wealthhacker.ca for details. Offer ends Friday, June 10th, so don't delay and avoid disappointment or worse, FOMO as attendees in 2019 declared the Wealth Hacker Conference the best conference they'd ever attended.
7 Canadian Advantages; Fully Furnished, Middle Term Rentals, New Construction in Edmonton, Alberta with Best Selling Co-Author Russell Westcott
We have an old friend, best-selling co-author of Joint Venture Secrets, former Vice President of the Real Estate Investment Network, and real estate coach extraordinaire Russell Westcott!
Russell is here today to share the 7 advantages Canada has over the rest of the world.
Russell has owned over 100 investment properties through the years. He also shares how he's pivoted to adding middle-term rentals to his investment portfolio and shares the numbers and why he's buying new construction houses to suit his strategy.
Whenever a best-selling co-author is sharing how they're investing their own money, I'm listening, so make sure to take notes! 
As always, it's an honour to welcome back my old friend Russell Westcott!
Please enjoy the show!
This episode is brought to you by me! We don't have sponsors for this show, I only share with you services owned by my wife Cherry and I.  Real estate investing is a staple in my life and allowed me to build wealth and more importantly, achieve financial peace about the future knowing our retirement is taken care of and my kids will be able to afford a home when they grow up.  If you too are interested in my systematic strategy to implement the #1 investment strategy, the same one pretty much all my guests are doing themselves, then go visit www.infinitywealth.ca/events and register for our next FREE Online Training Class.  We will be back in person once legally allowed to do so but for now we are 100% virtual.
No need for you to reinvent the wheel, we have our system down pat. Again that's  www.infinitywealth.ca/events and register for the FREE Online Training Class.
This episode is also brought to you www.stockhackeracademy.ca where everyday real estate investors learn the best practices in stock investing to earn cash flow in about 15-30 mins per day from their mobile phones. After real estate, Stock Hacking is the next best hustle as you've heard from many past guests on this show. Among our students last year, 31 trades were shared with them. 30 were profitable for an over 96% success rate and 12% return on capital. I will be giving free demonstrations online, very similar to the one I gave my kid cousin, a full time musician and he just made 50% return in 2021.  Past of course does not predict the future but if you'd like a free demonstration go to www.stockhackeracademy.ca in the top right, click FREE Demo.  At the demonstration I'll have special bonuses. We do not advertise publicly for all my favourite listeners and I only have two more demos to give in the next few weeks.
Don't delay www.stockhackeracademy.ca, what I consider the future of side hustles with real estate so unaffordable for many.
We're hiring!
Just a friendly reminder that we are hiring more investment Realtors who want a full-time challenge to help our clients, regular everyday people, mostly from the GTA, invest in the top investment towns west of the GTA. 
This is for driven folks who want to multiply their current incomes.
APPLY HERE: https://www.infinitywealth.ca/hiring
To Listen:
Audio Transcript
Erwin  
Hello everyone welcome to another episode The Truth About Real Estate Investing Show. My name is Erwin Szeto and we are back from vacation from Vancouver. Cherry and I, we missed me made it about the kids for the first time to Vancouver but we have bigger news Cherry and I are expecting. We're expecting a coming together on November 12 2022 for the wealth hacker conference. After the success of our first conference in November 2018 in after a lot of postponements for who knows what reason, we're finally back and ready to 10X for the conference of the year for investors and entrepreneurs alike. We have extra speakers on business building real estate investing stocks, like literally people who've retired from investing in stocks, cryptocurrency etc. Who will all be there sharing their secrets to success during a one day all day live and in person event, there won't be an online person does good old fashioned networking, handshakes, being face to face rubbing elbows with like minded investors, like yourself all 17 of you listeners, for some of you who have been around a little bit longer, and who've been sick of not going out and stuff for many of you this will be a homecoming to see your friends from all the investor organisations of the Real Estate Investment Network Key spire Rockstar legacy/Rich Dad IWIN and stock hacker. They're all cool people and we're inclusive like that. So everyone's invited and pretty much everyone's gonna be there. So hopefully you'll be there too. 
Our keynote speaker has built a life resume to be proud of. He is the co founder of Marquis Jet, one of the largest private jet card companies in the world and sold it to Warren Buffett. He was a partner in Zico, coconut water, I've bought the product myself at Costco lovely. He later sold the company to Coca Cola. Jessie has won an Emmy. Yes, he's an Emmy Award winning rapper. He runs 100 mile marathons. They're called ultra marathons. You know, 26 Miles is not enough. 100 Miles is better, almost four times better runs those in his spare time and he's married to billionaires, Sara Blakely, the founder of Spanx, and in their four children together. I mentioned Jesse again life resume. For fun, he hired a former Navy SEAL. David Goggins, one of the most fitness men in the world to train him for 31 days. David lift with Jesse, and Sarah, in the book, New York Times bestselling book, Living with a seal, Jessie details the experience of having David Goggins live with you and train you personally privately. It's both inspiring and insane and hilarious. If you do the audiobook, like I did wear headphones, a lot of the words are not safe for the office environment or young yours is David Goggins? Of course not. We are currently running a promotion on ticket prices. It's currently early bird pricing. So it's 50% off, it's half price right now. And that's the best deal you're ever going to see ever. So for tickets and information, go to www dot wealth. hacker.ca. Again, that's www dot wealth hacker.ca. For more details offer ends Friday, June 10. Don't delay, avoid disappointment or worse FOMO as attendees in 2019 declared the wealth hacker conference, the best conference I've ever been to now we're gonna 10x That. 
Erwin  
Onto this week's show. We have old friend who 10X's his real estate investing, Best Selling Author of joint venture secrets former vice president of the Real Estate Investment Network, real estate coach extraordinaire Russell Westcott. Russell is here today to share with us the seven advantages Canada has over the rest of the world, which will lead us to, you know, economic prosperity, important thing to have, when we live and invest here. Russell has owned over 100 investment properties through the years and he's here to share how he's pivoted to add middle term rentals into his investment portfolio and share the numbers why he's buying new construction houses to suit his strategy. Anytime a best selling co author sharing how they're investing their own money. I'm listening and taking notes so highly recommend all do the same. As always, it's an honour to welcome back my old friend Russell less time, please enjoy the show. 
Erwin  
Hello, Russell.
Russell  
Erwin, how are you my friend? Good to see you brother.
Erwin  
Like I said before we're recording this. It's just like scrambling to get stuff done before I come visit you. Because that's the loan reason I want to Vancouver.
Russell  
Oh my goodness, it was I went to a live networking events to go now. And I walked in and I honestly I didn't know how to there's people here we all look like what do we do? Are you real? Are you real? It's like it was like it was it was awesome. It was great to connect and have some wonderful conversations and shake people's hands again. And it was it was fantastic. And I'm looking forward to seeing you and you and your lovely wife out here.
Erwin  
Getting a cup and my kids. It's more of a family trip. So it's not we're not we're doing very limited business on this trip.
Russell  
Have you changed your mind about golf? 
Erwin  
I can't bring my clubs and yeah, this kid focus. 
Russell  
You can rent clubs. 
Erwin  
I know but maybe when the kids are older than we can golf but this is a more of A family vacation where above all, and…
Russell  
The reason I ask is I don't golf anymore. And I need I need an excuse to be able to go out and golf winds all the way here from Toronto, I have to go golf and twist my arm.
Erwin  
When you're out this way, I know that this way I can, I'll try to convince one of my Hamilton friends that to the US golf. They're nice, guys.
Russell  
I look forward to look forward. So first of all, Ervin Thank you, and I'm honoured to be able to speak to your 17 and 17 listeners and try to share shed some light on some things that are going on. And, you know, maybe do a little song and a dance and you know, wherever, wherever you want this conversation to go, I'm just honoured, and I value our friendship, and I value everything you've always provided to myself and my family. So just wanted to thank you before we get started.
Erwin  
Thank you, Russell, and thank you for coming on the show. As always, we focus on quality on the show above all else.
Russell  
Oh, well, I better hang up now.
Erwin  
You know, you have a best selling author behind you. Can you bring him on? Can you find me someone who has done more than the 100 properties that you know anyone.
Russell  
However, I probably have made more mistakes, and I've done success. And you know, I'm always open to share everything. And sometimes the failure and the mistakes are the better teacher than you know, only hitting homeruns and bottom of the ninth Grand Slams right, you learn more from the missteps than you do from any of the successes that you will ever do. And I keep telling my lovely wife, I go if that's the case, holy moly, I've worked there's something big coming for us down the pipe here.
Erwin  
You bring up a great point, but also at least leads me to something else and current correction that we're in I don't even know if you guys even feel it at all in Alberta. But we're here in Ontario, we're down in most markets are down around 15% Depends, it varies depending on what the asset is. But for the stuff that I look at for investment grade, we're probably down around 15%. So we're probably pushed back to like December November of last year. But what saves all of us is We've always focused on positive cash flow. Now how important it has it been for you that your portfolio positive cash flow from the beginning, like over a decade ago?
Russell  
You know, to the point where people would sit there go Ross, you're such a broken record, you keep talking about what the income that the acid generates is one of the most important things the price is not that important, but you have to have enough income to support the asset and people just eventually become Charlie Brown's teacher Wah wah wah wah. All right. Interesting is so succinctly answer question out in Alberta we're not really seeing anything at the moment is matter finally have a lot of even with interest rates going up nothing that we we see. We see a little slowdown in sales instead of it being you know, record sale, it's still it's like plus 4% sales or it's it's flat to a year ago type thing. It's nothing, nothing going down. And as a matter of fact, I'm actually welcoming it because I'm seeing what's happening and my business partner and I were just sitting there go we it was unsustainable, what was happening for the last couple months. So it just gives us a little bit of a pause to actually fill the tank up with some more good assets again, and the numbers are better than ever like to be brutally honest. I'm you know, and I know this might sound really bad if a tenant is listening to this, but we're raising our rents significantly, like significantly.
Erwin  
There's been no inflation so you shouldn't you shouldn't raise your rents because there's been no inflation at all.
Russell  
But here's the thing or when in my personal opinion out in Alberta, we're so under rented compared to other markets like I'm renting a house like a full brand new spankin house for like $2,000 a month in the fourth largest city in the country. It's renting for 2000 bucks. I have conversations with people that are renting condos out your neck of the woods for $2,400 for 6600 square feet. I'm renting 2000 square feet for 2000 bucks dollar square foot sounds fair. And then especially when you factor in the incomes that the people make in the province they make significantly more in income and they keep more because the taxes are less right they don't have PSD as just a starting point. So they can afford to pay more like we were just negotiating hominin Han and we were raising our rents 175 bucks a month across many of our properties. So going from 2000 to say let's say 2175 and even the markets a little bit higher than that. For rentals. We're getting you know back in the good old days of you put an ad up and you get 150 phone calls we're starting to get those again out in Edmonton area now every product is a little different. Every market little different you know older deferred maintenance properties don't get that they'll get like 1000 bucks for rent and brand new stuff attracts really higher quality tenant we'll get an image anywhere between 2020 400.
Erwin  
Russell appreciate the we have to talk in broad strokes when we when we when we when we first introduced this type of subject. And now can you drill down a bit more Listen to what you're focusing on these days. Before we were recording, you mentioned mid, I don't know there's a term for it. I call it middle term rentals, middle term rentals. So not short term, not long term.
Russell  
Well, there's two things. So essentially, there's three thrusts that I'm doing within my real estate portfolio. And it all focuses around new construction, like brand new properties, high quality properties, designing them with the builder, designing from the ground up, building them getting put my fingerprint, put my, our team's blueprint on it, and just design really high quality stuff that people want. Okay, Alberta, and I believe Canada is positioned, and we can talk maybe later about this, but I think Canada is positioned to be a world leader on the marketplace out there right now. And within Canada, I believe Alberta is the greatest opportunity for the next decade. That's my personal belief based upon what I see. And I see markets across the country. So what I'm now doing is I'm starting to pivot my portfolio, when I get a new house built, we're adding like $20,000, you know, I just, that's a rough number to the to the purchase price. And we're fully furnishing them. And we're going to rent them out as fully furnished suite at proper, fully furnished houses, duplexes, even maybe an apartment condo, if it makes sense, right. So we're going to start putting a furniture package in there, we're going to start attracting insurance, displacement insurance claims we're going to attract corporate housing, we're going to attract up seniors housing, we're going to attract in between if there's maybe something in between maybe an Airbnb, but I don't want to go to that level, right. So the add a little bit to the purchase price, you get fully, fully furnished. Now rents go on those places, let's say they were 2200 for a straight rental rents go into like the $4,500 a month range, give or take, maybe they more than more than double, right when you start doing furnished properties, insurance claims, corporate housings, all those kinds of things, you're attracting people that instead of going to staying in a hotel for six months, they're gonna live in a nice townhome that they will have everything, all the amenities there. And we're we're building these townhomes for 300 to 350. Right. So you're getting let's say you're getting a property, a townhome, a nice Townhome. And here's the beautiful thing, if you can really do it, and you can really do it, you get eight of them, you build eight of them for under 3 million bucks. Okay. And then you use structs strategically and they're all They're freehold. There's no condo fees on those, and you strategically put maybe two of them as corporate housing, two of them as insurance claims. And then the rest are straight rentals. And you get your rents anywhere from two grand up to $4,500 across the board with no with no condo fees. And then you hang on to that eight unit building, if you will, for for better part of, you know, five to 10 years. And then you slowly over time, start strata titling it and selling them off individually is one unit at a time, right? You buy by the yard, sell by the foot, eventually. So essentially, you know, and I'm talking about in price points that, you know, two and a half to $3 million dollars and you can get a six to eight unit townhome project all in and some people are sitting there going, I'm looking out my neighbourhood we're I live all around this area. And she's a house one house is 1.6 to $2.2 million, just for a house.
Erwin  
A tear down, right? No.
Russell  
So, so almost for the same price like and I guarantee a house in our neighbourhood would probably rent for, let's call it four grand at the most it would rent for four grand. Okay, let's say you get an eight unit condo or eight unit townhome project, you're looking at eight times and let's just put it an average terms. Let's say it's 2500 bucks. I know if I can get more. That's $20,000 a month, right? So I don't have to be a rocket surgeon to figure out what that's something that generates $20,000 A month would probably have a greater chance of cash flow and then something that generated $4,000 a month.
Erwin  
You have to be a rocket surgeon that can land the rocket right? That's right. But then you can then you can figure this out to compare rockets to shuttles. Sorry, no more than going with this.
Russell  
I hear you I hear Elon right. Now Elon is now what he's in that one name category. Right? Like, you know, Madonna and you know, things like that. He's one name right.
Erwin  
That's an actual name that which is kind of cool, too. So sorry, I asked him questions for the townhomes. Can you sweep the basements?
Russell  
I've seen people do that? Again? I don't I don't for a couple of things is number one is in my personal opinion your stuff and way too many people too small of a space pick. What Here, what you're typically doing with that is you have to take out the deep the attached garage and turn that into a suite. So what you do is you lose parking. Now what I want to do is I want to have a good experience, I want a parking in the garage in the garage, I want a parking on the apron leading up to the garage. And then I also want street parking. So if you take out that parking that inside parking, you lose at least four to six parking spots, and you have a bad tenant experience with people, you will always forever be fighting an uphill battle of parking with things and that's one of the biggest complaints people have tenants have is they have lack of parking, and they can't park in front of their place that they have to walk and they have to go all this way around and stuff like that. So just design it. And in my opinion for that extra $1,000 For the one bedroom basement suite, I'd much rather have parking and charge more for the for the full place stronger,
Erwin  
You likely have less drama between tasks.
Russell  
Absolutely kind of complaint No, no, don't get me wrong on a on a house like a freestanding single family house, I do put suites in them. Because we have a detached garage where you have, you can put two cars in the garage and put two cars on the apron. And you have and we always buy corner lots is what our primary model is. And you can probably park like four or five cars around the around the perimeter of the property. So on a single family property, I go suites all day long, but not on a attached semi or townhome or something like that. I just don't worry, this is also new construction. Now I know lots of people that are doing it, I really I know lots of people that are doing it. And they potentially are doing well. It's just not for me, I would much rather have a better tenant experience than to just squeeze every dollar out of the lemon if you will, right come to us. 
Erwin  
We have enough formulas I'll show I try to squeeze every dollar and cents. 
Russell  
Where I'm investing, we don't have to, to be honest, you can you know you can for when you're buying those for 300,000, you can you don't have to squeeze every nickel and dime and get the basement rented and rent by the room. You don't have to do it. But if you're if you're paying 700 to 900 for the same thing, you gotta get all that arose. You just just don't work.
Erwin  
And I take this opportunity to make a jab about politics.
Russell  
No, so I'm not going to make any jokes about politics, they know I'm gonna make the trade do it. They do enough of that on their own, so that I don't have to make a joke about it. 
Erwin  
Okay, so tell me if you've heard this one before. So the NDP party for the province of Ontario, their platform includes to remove all rental increases, including in between tenants when tenants turn on themselves over. So a new level a brand new level of rent control I've never seen before. So then I'm sure I'm confident that they've planned that they would also control all the costs. So my costs would be the same for maintenance as what the previous landlord paid as well. And then we can make this work. So we're all it's win, win, win, win win. Everyone's going to win in this.
Russell  
And we're talking about Kathleen Wynne win win win wins. Oh, sorry, sorry.
Erwin  
She lost very badly the last election.
Russell  
I don't even know where to start with.
Erwin  
This ended right there. Like there's nothing to talk about. How is it even feasible?
Russell  
Here's something for people to consider. Now. I'm gonna mention a book reference. I'm gonna mention a fairly obscure book. And it's like it's long, and I haven't even read it all I did actually just started and I I'm familiar with it. I've listened to summaries of it. If you ever read Atlas Shrugged by Ayn Rand, the premise of the story is Atlas, the Greek god who carries the weight of the world on his shoulders, if you will. And then the whole concept of the book is what would happen if Atlas Shrugged, and did not carry the weight of the world on his shoulders. And it was a whole story around what would happen to society, if the people that are producing the people that are creating the results, the entrepreneurs, the people that are are taking the risks, the people that are producing all the goods and services for everyone else? What would happen if that that group of people shrugged and decided that it just ain't worth it anymore? Now, just imagine, take that analogy to the Ontario housing market. If you as a landlord, why would you take all that risk on if you cannot change your rents and in charge what you need to do to make a little bit of a profit to be able to help your future? You would just sit there and shrug and say, No, thank you. It's not for me. I'll go to Florida. I will go to Alberta. I'll go elsewhere that what do you think is going to happen to the rental stock, it will probably be absorbed by government. And then government has a really good track record of having good housing, don't they? I don't think people understand sarcasm. Right.
Erwin  
I've seen it personally. I've seen government run housing. In Hamilton, for example, there's lots of houses that are boarded up because they don't have the money to maintain them.
Russell  
 So I just The only caution is I know I know the Government of Ontario is not listening to your podcast, they should they should be one of the 17 that listen, there's no right or wrong captain, like, okay, good. They just need to be careful that they don't dis incentivize the producers, the people that are taking the risks and what is the incentive for somebody to to take risk is that person needs to make profit, they really do so that they can then hire people then then they can get to spend money down at Home Depot that then they can hire the handyman, the cleaners, the property managers, the appraisers, the mortgage brokers, the realtors, all those kinds of things. And they can employ and have that money keep circulating. If they're not incentivized to do that. They'll just say, No, thanks, I'll try something else. And then what happens when you lose when you lose all your listeners who are landlords and rental housing providers, once you lose them, man, I'd turn the lights out. And then the last person that leaves sorry to be graphic.
Erwin  
We are 1% vacancy rate and most in most towns around the GTA. So imagine if all the renters love the landlord sold? Because definitely be selling a lot a chunk of my portfolio but if the NDP ever.
Russell  
A lot of people are well, it's a lot of people doing that already. Over the past couple years, you had people that you've interviewed on your show that have sold property sold part of their portfolio and divested into other markets. So I don't know if you've ever been one, the US being another one, right?
Erwin  
I actually think Alberta would be getting even more. I only found on the weekend that the government in New Brunswick passed rent control business for one year. But a lot of I knew a lot of people that went to New Brunswick, because they didn't have rent control. And good value. I don't know, if it's a lot cheaper than every year.
Russell  
Thinkable disbursement second, or one or two scenarios that I just sometimes I shake my head, and I'm not trying to be piling on or anything is named me one other business. And this is truly a business we treat this as a rental housing provider, we treat it like a business, name me one other business, where you are capped at what you can charge your customers, there's not too many, if there is I could be wrong when somebody please comment down below of a business like that. Right. So that's number one. And the other thing that baffles me, especially in Ontario, is if a tenant stops paying you, in my opinion, that's sorry if this is really going really out there. But that in my opinion, that's theft in some respects, and you have no rights to recoup or recover, or it takes you years to be able to do that. And that person could literally be there for years before you can actually get them out. And then what you have to eventually do Erwin, is you have to reward their bad behaviour by paying them money to leave your word. them.
Erwin  
I have no time for listening to this. No.
Russell  
I'm sorry to say that. Graphic and it's so here's the thing
Erwin  
That's true. Just to verify, yes, that is true. I know many people who pay tenants to leave even though they owe them money.
Russell  
Yeah. So you just rewarded them for for bad behaviour.
Erwin  
And I'm gonna post on Facebook and tell all their friends.
Russell  
And yeah, and then. So, up until recently in Ontario, and I'm not piling on Ontario, many investors and rental housing providers turned they said, Okay, I can live with this, because I've been looking at the appreciation. Wow, I just made, I made 150,000 bucks over the last year I made $200,000, you can turn a little bit of a blind eye, and you could just you can tolerate that a little bit. Now, just imagine if the market soften, it slowed. And you were not able to get your, you know, double digit appreciations. And you had to rely on the cash flows. How do you now think about your rental portfolio now? Would you rethink what you're doing? And I had those. I had that for many years in Alberta, where we had, you know, we had a softening of the marketplace. Now I'm not saying this is going to happen in any other place. But we had a softening in the marketplace. Rents actually went down and we were unable to raise the rents we had an outflow of people, we had to kind of just grin and bear it. We had no appreciation for a decade. Right? So negative, it was negative in many respects. Right? So guys, and gals, if you are in Ontario is by all means you need to have the cash flow to absorb the ups and downs over if you have a slowdown in the marketplace. Now I'm a firm believer and there's still some really good underpinnings that are going on out there that will keep the market high. People are moving in costs and red tape you have, you know, places to grow act where you actually can't build. It's a very desirable place for people to come there's going to be some underpinnings that will keep it from a catastrophic drop.
Erwin  
Are local unions as well. i I only heard this I haven't read it myself yet. But I believe that the unions want a 50% wage increase as well. So that will just increase the cost of build thing here in Ontario will 100%.
Russell  
And there's all the red tape and all the government interventions and all the fingers in the pie and the land transfer taxes and all those are getting more expensive. Oh, absolutely. So it's going to keep the price high. But the one thing you have to be very mindful of is, and this is something I questioned all the time.
Erwin  
Is having Scooby is questioning too. Yeah.
Russell  
Do you mind if I go a little second? Now that the boss is back.
Erwin  
The peanut gallery was not impressed what you're sharing.
Russell  
He was starting to get a little restless there. So where was I going? I was I was talking about that. Oh, underpinnings, yeah, the underpinnings zone inflation. 100. But here's the one thing I have an eye view where I live out in the Lower Mainland of BC, very similar to many of the markets, you guys have an Ontario and I sit here and two things. We have three kids 2422 and 19. And two of them really want to leave home. They really do and go where they're at. And but here's the thing, they have downpayment. Oh, between between Karina and I, and money in the bank and grandparents and stuff like that. They have downpayment, okay. But here's the thing, a townhome in this area and a condo in this area are 700 to 900 to a million dollars.
Erwin  
That's a good deal.
Russell  
My son just got a job with the city of Coquitlam. And he's making probably 30 bucks an hour, which is pretty good. Like, really, that's pretty decent. But he's sitting there and they're running the numbers in between he and his girlfriend, they're gone. How are we supposed to, you know, even if we had $100,000 downpayment to put in, maybe even two, they can find they go how are we going to make a payment on $700,000 mortgage? Right, but their income, so they're gonna have to probably double up and have friends and live with a whole bunch of things and do what they have to do. Or our son and our daughter are seriously looking at moving to Alberta. I really to a different marketplace. Right, you're gonna let them so far away. I know. crean crane will have to once grandbabies come crane will sit there and go no, though. Either, we're going to be moving to with them or we they have to move back home. But here's the thing is, you know, Marcus's job was with the city of Coquitlam. Right. And so it really can't do that remotely, he has to be there. So, but he's getting some skill that he could transfer that somewhere else. So what I'm where I'm really trying to go to is, the question I have is who are going to be the first time homebuyers to get into the market to have people then move up the property ladder to buy the next place to buy the next place to then go buy the single family homes and then just keep trading up. If you have an entire generation that just can't afford to get into the marketplace, it's going to it's going to cause some pain. But the other thing on the other side is how many parents are like me with three kids still living at home two that want to move out eventually, there's probably a large cohort of millennials that want to get out and actually do want to own but they just can't afford it right now. So there's going to be that's another point I'm trying to make, because that's going to be another underpinning to the demand future demand for Canadian housing. And then when you start factoring in the immigration numbers, and you start factoring in or just going, Oh, I heard it was 1.5 million over the next say, three or four years or something like that, like it was ridiculous.
Erwin  
It's creeping over 100 for 450. A year is what.
Russell  
But nobody has done any in my personal opinion. Nobody's done any planning. So here's the analogy that I've used the other day.
Erwin  
You and I have done some planning.
Russell  
Well, yes. 100%. But but..
Erwin  
Likely done some planning.
Russell  
Yes. Yeah. That's why we want rental housing to provide stock for those people. But here's the analogy I would use. And maybe this is on a grand political side is let's say you have you're having a house party, right? And you've got food, and rations, and you got a beautiful house. You have lots of lots of room in your house like lots, right? But you're only planning for 30 people to come over. So you got the food and the drink and everything for 30 people. But all of a sudden now somebody goes out in advance bytes 160 people to come in? What's going to happen? What do you think is going to happen at your house party, everybody's gonna have to only have one little hoity toity, or something like that. You're gonna have to share drinks or something like that.
Erwin  
Like our city does not promote happiness.
Russell  
It doesn't. So, you know, we sit here and we as a country, we have what the world wants. We really do. And there's seven things I believe that Canada has in abundance and it's almost an A an embarrassment of riches. And we're embarrassed to actually utilise it to the world to this climate.
Erwin  
Especially in this world right now.
Russell  
No, it's like Canada is in the world. Like take it in from a world perspective in my opinion, Canada The should be a world leader. It should be a world leader in economics. It should be a world leader in social policy. It should be a world leader and a safe haven for people to come to. It's a world leader in hockey. Right. So even though the leafs don't know how to get past the first round, that's right. That's, it's a world leader and and and double doubles and coffee. 
Erwin  
Right? So, assumption Yes.
Russell  
It's good. Also Slurpee consumption too, right? Seriously? Okay. It is an absolute world leader and I'm actually working on a video and a presentation that's called it's called this the seven things that Canada has to offer the world. Okay, sorry. Here we go to the seven again. Yeah. Do you would you mind if I do, would you give me a little runway, please? Sure. Okay, so guys, if you're if you're listening to this pen and paper, pen and paper time, there are seven things that Canada has this room.
Erwin  
For listeners' benefit. I always have pen and paper when my guests are here. So I know some of you guys are folks are driving so. Okay. Okay. Otherwise, if you're not driving, if you're actually you're all doing something else I know you are.
Russell  
Knowing your knowing your 17 listeners, urban, every one of them is on the treadmill or on a cycle or do it they're working out right now. They're sitting there lifting weights, and everybody's healthy and fit. Right, exactly. So the good news is with all seven of these things, they all start with the letter F. Okay. So to make it simple, because I'm from Saskatchewan, I want things simple, and I want to be able to remember them. Okay, so I'm going to list all seven of them first, and then we'll come back and we'll touch on a couple of them. So the seven things and they all begin with letter F is fuel, food, fertiliser, forestry, freshwater, future, and friendly. So those are the seven things that Canada has to offer the world now if you want we can start at the bottom and go back up. Do you need me to repeat those for your urban? Yeah, I missed one. fertiliser forestry, freshwater future tech and friendly Valley culture. Right. I missed the future. Yep. So I can start there's really Canada in one hand is branding themselves a little bit as a tech provide a tech hub, Calgary is doing phenomenally attracting good tech talent. Ontario, Toronto is an absolute tech hub as well with things.
Erwin  
 So said after that, though, what we're going to have serious challenges if we don't improve our housing affordability issues.
Russell  
Right. That's that but then that goes to a couple other things that we talked about before. So that's the future the friendly of the seven F's is Canada's Canadian values, right? We have, we have values, we have friendly people, we have an immigration policy that will welcome people in, right, we have a health care, we have all those kinds of wonderful things, we have amazing family values, right. And Canada is seen in a world market should be seen as a safe haven, and a friendly place to come to it really is where Canadians are friendly, right? That's the future is the tech freshwater. Don't have to say that too much. Man, you're you're you probably look out your window and see a big giant lake out there. And we got we got abundance of fresh water. And we haven't even talked about what freshwater is in the north. Just imagine, you know, let's let's take for example. It's let's talk about, say India, right and places like that. They're trying to be an emerging market and they're sitting there going well, we have no fresh water, where we get the water from to do all this kind of stuff. California, absolute California, we have an embarrassment of riches with that humbled forestry, right, we have some of the largest forests in the world, you know that and I'm not saying go knock down and cut every tree out in the boreal forest and stuff like that. But if you have a really good forestry plan where you cut down trees and you keep replanting, and replenishing, we have something that we can provide all the housing requirements, the sticks, if you're well to do that, the next expense is fertiliser, fertiliser and food I would talk to those two would probably be together is like here's, here's what baffles me sometimes, and I'm sorry if I'm getting fired up here. So we have in the prairies, we have some of the largest world class potash mines in the world. And we take the potash from there, and we ship it all the way across the world to other places to take the potash and turn it into fertiliser. And then they ship it back to put the fertiliser on your grass that was seven miles away from where they actually got the potash from originally. Right. We have an opportunity I believe to like one of the things that they're talking about with food production is because of fertiliser if you think of what's going on in Ukraine and Russia, and that there's some of the largest fertiliser producers in the world. They use Canadian potash to do all that. Right? Just imagine if we actually took care of our own itch and we actually produced our own fertiliser here, right that you could use that fertiliser to then put onto the crops to then grow your own food here. Now one of the things that I'm seeing is there's a lot of, you know, a trend towards taking crops and turning it into biofuels and other things like that like that we need the food producing to be able to feed our country to feed North America to feed that feeder people. Right. And then that's enough feed our cars. Exactly. And then after that, the last one is fuel and energy, which is a really hot button in Canada. But we have a world class, environmentally conscious energy sector in this country that rivals anywhere in the world. But honest to goodness, we don't do anything with it. For example, when was the last time we actually had some hydroelectric produced? Right? We have a Site C dam going up in northern British Columbia. But where's the next one? What's the next thing go on? If everybody's moving to Tesla's and everybody's moving to electric vehicles, and everybody's getting an incentive, I saw this wonderful accountant that put this amazing video out and how you can get like a $30,000 incentive to go buy your electric vehicle. If everybody's going that right road? Where's the electric coming from? Right? Why do we not have more hydro electric wire? Do we not know, this might be a hot button for people? But why do we not explore our nuclear energy, things have changed so much in the nuclear industry, of creating power, we have the space in the north to create this we have the uranium, we can probably have more power and electrical up the wazoo than we will ever need with any of that kind of stuff. And that doesn't even count of what we have as in within our oil and gas industry as well. And you need safe and reliable, inexpensive source of energy to create new sources of energy. Right? So I think Canada is sitting on an absolute goldmine that they're afraid to properly use it now. Don't get me wrong, I'm not here to sit there and go just rape and pillage the land and sell everything off and stuff like that. but honest to goodness, we have we have the brainpower here we have the technology, we have the engineers, we have the schools, the McGill's all these schools that just provide amazing technology innovations. And we have the resources. Right, if you sit there and said that all the stuff that I just listed off and seven things, if you said that to another country, and let's say the country started with a letter C and ended with the letter A, and then numbers a hyena in between there, if you said, China, you had all these things at your disposal to use, don't just sit there and go home man, what we can do with all of that to go nine levels? Absolutely, they would be an absolute Vegas, they would be a juggernaut of an economic superpower of what they would do that and not even counting the rare earth minerals, minerals of lithiums. And all that kind of stuff. It's like, I'm sorry, if I'm fired up. But I'm a Canadian, and I'm a proud Canadian. And I think we're blowing it, we're really blowing it as a country. And that's sorry if I got on a soapbox and going on a little rant there. But I think we have what the world is looking for. And we have an opportunity to be a world leader and a world superpower and one of the wealthiest countries in the world. To be honest.
Erwin  
We're really lucky. I don't know if people need to understand we are really lucky. You know, what we don't have like you said, we have lots of resources. You know, we we don't have we don't have pipelines. And the one that we're building, I heard it I read inflation caused the project to go up 70,070%. Well, good, great investment.
Russell  
We potentially do. But but we have a problem with a pipeline. But we have no problem shipping a tanker across the ocean and putting our oceans at risk. You can shipping a tanker of oil from Europe, Saudi Arabia, wherever and sending it up to St. Lawrence or not will go to St. Lawrence will go to Eastern Canada to the refineries out there. We have no problem with that. The funniest one I ever saw was when they actually shipped some oil to Western Canada to put it on a boat to send it to eastern Canada. Anyways, I'm getting off to be honest forever, though. Yeah, like and I'm just working on a little bit of an op ed piece. New video on that. Oh, no, the whole thing is that, you know, I ran into we got what the world needs. Let's not be afraid. Let's let's step into our power.
Erwin  
And this is part of your announcement that you're entering the race to be an MP.
Russell  
No, I have. I probably have we're
Erwin  
better than buying Bitcoin man. I don't know.
Russell  
I have too many skeletons in my closet. I don't want them no. All I gotta say is thank goodness. There was no such thing as social media when I was in high school or when I was in my university days in bartending. Got the Patricia hotel in Saskatoon. And, and party in my face off during I turned a four year degree into a five year party. Sorry mom and dad if you're hearing but.
Erwin  
You can be campaign manager for Karina she runs for MP. There you go.
Russell  
Yeah, she's the saint, like honest to goodness is St. Green.
Erwin  
Some of that? Do some of that in Ottawa. Yep.
Russell  
But I think I think one of the things that we do need and no, I'm not I wasn't dismissing what you're saying, I think we do need more real people in politics as opposed to career politicians. It's like if somebody is, if somebody is the only thing they've ever done has been a politician all their all their life, I don't think they have good perspective of somebody who's had to make payroll, and somebody who is sitting there going, Oh, my goodness, my tenants have nicer appliances than I do, because I had to replace all four rental properties. And oh, by the way, my wife comes with me, when are you gonna we're gonna if we're gonna replace our stove that's on its last leg. And all those kinds of things where you're sitting there at the gas station, and you're going, Okay, I got these four credit cards. But this one here is the renovation on 47th Street, this one here, oh, man, I don't know what's there. And you're sitting there going, I think I got enough room on this credit card to put on a tank of gas. The system's broken, right? We just have to have real people in politics, again, people that have been there done that, yeah.
Erwin  
What real person is gonna run and do it? awful job.
Russell  
No, I don't wish it upon anybody. And that's where I know, we complain. And we're entrepreneurs and we complain, but at the same time, I have 100% on empathy for what the boys are doing horrible job. And, you know, and that's why, and I might push a few buttons, which is totally okay. But I have a feeling, you're 17 listeners will probably lean a little bit more towards the a capitalistic side and a little bit more towards the conservative side of things. That's why I'm really gravitating towards the Pierre Paulo, poly, poly. Poly, yeah, I'm really gravitating towards his platform of what he's saying is, I believe in putting people to work, I believe in responsibly taking what we have as a country, to offer to the world to sell goods and services, not let people come in and just buy our stuff, but offer that to the world of what people have, I believe in taking care of our own needs first, right? And North America's needs to know.
Erwin  
He's gonna piss off some people with his reducing red tape. And I can see him trying to get rid of exclusionary zoning as well. And that's gonna piss off a lot of people. Oh, absolutely.
Russell  
But here's the thing is, in order to, and I'm very fiscally conservative in my beliefs, but I'm also quite, you know, liberal in my social part of what I believe socially. But I'm a realist that understand that you need money in order to cover the social programmes, I, I am so grateful that if I had something go along with my ear, and I needed some drops to it, I could go down to a clinic five minutes away, and when cost me anything, and to go see a doctor, and I can do that. I'm very gracious for that. But I'm also realistic to know that that costs money, and that has to come from somewhere, it doesn't come from nowhere. It comes from transfer payments from Alberta. 
Erwin  
Somewhere we have no talk transfer payments in the years, but we used to get a lot. The short memory of Canadians
Russell  
Coming again, coming again, well, good friends, just to the east of you, they get the lion's share of that. That's why even…
Erwin  
Shorter-term memory.
Russell  
Or when you always get me fired up, when I start cranking away here
Erwin  
I tend to get angry.
Russell  
I'm not, I'm not angry, and I'm not. I've said I'm passionate is really it isn't and I'm, I'm passionate for our country. And I'm passionate for the people that ever want to listen to me that are ever part of my tribe, in every part of my community or ever part of my group. I'm passionate fighting for our community. I'm passionate for, you know, providing top notch resources to pour into other people. Right. I'm very passionate about that. 
Erwin  
So are you passionate about masterminds? I have a note mastermind.
Russell  
Yes. Here's the thing for the last year I've been I've been told that I need to put one together and I said, Well, I don't know everybody in there dog is kind of doing this kind of the mastermind thing. And there's always a coach to Yep, exactly. So I'm sitting there going. So many people just keep saying Ross we need to you need to put one together. You have a great community, you have a great list of people. You need to really build this out. And I said, you know, I'm not 100% convinced before I'm going to pour into a project for literally a year to three. I want to make sure that I can make it worthwhile. So for the last year, I've been actually studying the mastermind model and I've been I've been through one two, I think I've through four different mastermind groups, some free, some extremely high paid. And I'm just trying to find the model that really would work that would deliver the most amount of value to people. And one of the biggest challenges I see with most, there's a few challenges I see with most mastermind programmes, and I want to solve them. The big challenge I see, number one is, most people put everybody into one group. So you literally could be sitting there with a person that is just buying the first place and somebody who has $20 million portfolio, right. And there's function to have that group of people in the same room. But at the same time, the person that's just buying the first is gonna, what am I gonna talk to the person that has 20 million, right? And the person that 20 million, what am I gonna talk? So I believe in having as a starting point of having them broken into really tight niche groups of like, people in the same aspirational targets, right? Having an one of my core philosophies, and my tagline is to, you know, help real estate investors start grow and scale their real estate investing portfolio of their dreams. So I'm saying they're gonna go, Well, what would I do was have a starting group, or growing group and a scaling group, right? And depending on where the thing comes out, is, you know, somebody has maybe it's the one to five Property Group, it's the five to 50 group, and it's 50 Plus or whatever. I haven't finalised that yet. So that's the starting point.
Erwin  
Is this you in the 50 Plus group?
Russell  
 Plus, but here's here's the thing. And that's, that's actually one of the bigger challenge on properties and age here. So yeah, so that's a challenge that I see out there right now is a lot of masterminds make it about the leader only. And everybody just kind of hides in the group. And they just watch the leader in Hollywood, all the leader does is just oh, here's my deals, and I'm doing this, this and this, this, that and the other and everybody just sits there go, wow, look at that one person, look at what they're doing. And they feel like they're moving forward, I'm going to make my masterminds, I'm going to be the least important person in the group. To be honest, I'm going to hire the experts, the less Hewitt's the Dan Sullivan's the top notch people to come in and teach. But more importantly, I want the participants to be the heroes of it. Each year, you're going to, you know, Erwin, you're going to lead the next group through and here's your assignment. And I will lead and help you facilitate to help you be a leader. But then you're going to share what you're doing down in your area and building your business. But then you're going to be the person on the hot seat, leading the community. And we're going to grow as a group, as opposed to just one person, right. And then the other one I see is a challenge a lot of time as a lot of masterminds are, I call them after thoughts, that people will sit there and they'll put it together. And it's an afterthought to everything else, they have gone the goal, and they don't know how to facilitate. And oh, by the way, it's just something they threw together. And it's a part time, you know, afterthought, as opposed to somebody who takes a year or three years, and that's their full time focus is every day, they wake up. And their mandate is how do I make sure this masterminds when, with the right team, the right facilitation, the right leadership, the right education, the right growing, all that kind of stuff. So those are kind of the three things that I'm leaning towards, and when I'm bringing mine out, and it's gonna be later this fall when I have kind of finalise it. And, you know, I still have more details, but the big thing I have to first do is determine if I'm going to make the commitment for the year to three years, because it's a big deal. It is a very big deal. It's like you literally almost have to put everything else aside, to be able to just pour into a group of people for an entire year. And that's, I've told myself as if I'm not prepared to do that, and make that commitment, I won't do it. Because it's a lot of work. It really isn't. Some people just sit there go, oh, well, you know, putting a podcast or a YouTube video or a coach or a mastermind or something like that. Oh, yeah. It's just all the time you think about all the money makes and all that stuff. It's a lot of work. It is a lot of work to do that, especially if, if you want to do it, right. No dates. Well, I'm leaning towards October. But I have to I'm very sorry, I'm, I'm being like I said for the last year, I've been thinking about it. And it's to the point where I'm now at the point right now where I'm talking to people to be who's not the house like I'm trying to reach out to, I don't want to just do it this all by myself. I want to have a core group of people that as a team, we do this together. And Erwin, you are going to be one of the people I'm going to be talking to about this down the road if you're interested. 
Erwin  
And you know, the likes of vegans aren't gonna like to like to know how involved it is. Yeah. And that's what I conference.
Russell  
Most people so what I would do is I would take that on for everybody but I would probably need a half a dozen of people that would be IT professionals and experts that can help contribute. I'm not looking for somebody to take it all on. But I'm looking for some cool people that are of servant's hearts, people that have the same values that I do, and people that really just want to pour into others. You know, like the likes of rich Danby, Thomas buyers, you know, people like that within the community that can help Michael bugs, like just just some really genuine, amazing people that have a servant's heart. So yeah,
Erwin  
Because we do more of that too many too many big projects people following. I don't want this.
Russell  
So what that means is, for me as I have to just I have to be a little more efficient with some of the projects I'm taking on like I'm, I'm starting to with, for example, in my Edmonton portfolio, I'm trying to hand off a lot more of the service to other and I'm actually just very soon to be probably, here's the thing, I have a lot of people coming to me all the time wanting to invest in projects, I recommend Canada, bar none 100% Invest in Canada. And in my personal opinion, the best place in Canada is Alberta. However, not everybody likes Canada, not everybody wants to invest in Alberta, for whatever reason, and I'm not going to argue with people, I have a lot of people coming to me that want to invest in the States. And I have yet to find a project that I would like to align with, and really align with and I finally found one with a person who I'm going to be doing a joint venture with, we're going to be probably going down into Texas, where he's moving his family down there. And he's going to be doing, you know, that furnished home model that we talked about that I was looking to do in Alberta. That's where I got the idea to do that, because he's taking that model from British Columbia. And he's taking it down into the Texas market into Austin Austin market, the suburbs of Austin. And these parts, we just about finalised our joint venture arrangement for doing that too. Right. Fantastic. So I'm just going to stay in my lane. He's going to stay in his lane. And we're going to see what we can do. Amazing. Yeah. So I believe energy is something that we need a lot of, with the amount of people that are going to be coming to North America plus, you know, you can say whatever you want about how many more people are going to be on the earth. I've seen forecasts that there might be two more 2 billion more people on planet Earth in the next 20 plus years. We're going to need energy, right in order to hold people in planet earth. Right? So I'm looking towards places that are world leaders and safe, reliable, inexpensive, proven energy sources.
Erwin  
Hopefully come someone comes out of Austin as well.
Russell  
Oh, there's an awful lot of friendly, they're moved to Austin right of late and they're moving from, you know, not to get played over again. But they've moved from the blue states to the red states, right? So long way of saying it is there's lots on the go. And every day, I'm pumped up and excited to hit the ground running each and every day. And I'm always honoured to have this conversation. I very rarely talk about what I'm up to, I really do I actually talk more about what my clients and my students and people that I pour into, I talk more about what they're up to, because they inspire me every day. Like last night, I had a conversation with the fellow who is he's on the pipeline. He's a welder by trade, he's welding on the pipelines. And he literally has an hour a day, between lights out and this that he can do stuff. And he's working like six weeks at a time. And then a little bit off. He closed in the last six months, he closed on nine rental nine properties in the last six months with an hour timeframe in between his 14 hour plus shifts, and he's taking on these projects. And and I'm just so proud of when they do that. And I tell him I go man, you get the most production of anybody I know out of the day, because you truly only have an hour to do it. He goes well, I have no other choice. It goes I'm fired up. So I have hundreds of stories like that.
Erwin  
You know, I think that person deserves more credit. They want one thing more than other people. Absolutely not just the time resources.
Russell  
But that's actually what I what I help people get clear on that's the first part we start working together is they get clear on their vision board. They get clear on their values, they get clear on their goals. And then they really I drill right down to a daily basis. What are the five things you're doing today, to drill up to your 12 month goals, your 90 day priorities, your values, your vision, so I really get people really focused on what they're doing. And a lot can happen in a short period of time if you're focused everyday on what you're doing.
Erwin  
Amazing. Russell, thanks for coming on the show.
Russell  
Oh, Erwin, we could go longer here my friend. 
Erwin  
Oh, I'm due for a haircut because I don't look good for my date with you next week. You too? Yes. I'm sure on the years.
Russell  
I'm tight, tight and tight. My brother Erwin once again, I know I mentioned this at the start but I just wanted to just thank you. You provide a incredible value for the real estate community by putting on an amazing platform for people to come on and just have little soap boxes to stand on every once in a while and and have this conversation and be just fired up. You're good for the community. And I'm from Saskatchewan, we have this old saying is use good people, right? We need more more Erwin's and Cherry's in this world, by the way,
Erwin  
You is used as a use good people junction for you, if you are some like that. We're not famous you like USE use
Russell  
We and not famous for grammar in Saskatchewan. But you know, when I meant use good people.
Erwin  
We try we try it. And there's a lot of challenges out there. And I can't stand the idea of people losing money and the markets and stuff and real estate, any market, crypto stock, Amazon don't care. I feel bad for people. But we try to shed light on some best practices on the show.
Russell  
Yeah. And sometimes during these times, it sheds the weak, and it gets an opportunity for people to gain the strength to be able to endure. And these are the gut check moments that people will sit there truly is. You know, one of the things I always will ask the question is and here's the thing is when I put it out to people, coaching clients, just consultations I have with people, it's the conversation of what if, right? And when when what if comes up most people gravitate towards? What if this doesn't work? What if I lose money? What if I fall flat on my face, they mostly gravitate towards the negative to then try to protect themselves of loss, right? I sit there and go that's a very valuable question to ask what if but what if you win? What if you do the work? And what if it works out? What if it? Do you fall flat on your face? You get to find out what you're made of? Right, you get to galvanise a team and come up from the ashes like the phoenix from the ashes. And you get to what if you fail, you actually get to prove what you're made of. But what if you win? What if it does, you get to actually prove what you're capable of, if you produce the win? So what if is a very powerful question? What if you lose, turn it into a positive? And how can you win? What if you win? What are you capable of? So both are very, very powerful questions. And I just want to maybe leave that with people here is ask the question, what if you win? What if you make this what if you have your vision board? And what have you accomplished every single thing on your vision board? What if you made a commitment? put a stake in the ground that you were going to bring Grant Cardone to Canada, and you put on a big giant deposit on a venue and all this kind of stuff. And you could sit there go, what if everything went wrong, but you could sit there and go, What if we win? What if we get 1500 people out? What could happen? Right? And I guarantee if you and Jerry focused on what would go wrong, you probably wouldn't have brought out that event. Every but every day you thought about it probably didn't. 
Erwin  
Oh, yeah. Oh, yeah. I would recommend anybody.
Russell  
What do you mean, we gotta wait another six figure check.
Erwin  
I'm getting butterflies Russell! I'll see you in four days. Five days. Good. Yes, sir.
Russell  
Yeah. Hey, man, if I give him a website out if anyone's interested, hey, where can folks follow you? simplest place is my website. My name Russell Wescott is the best place but grow my youtube channel out. I'm having a lot of fun putting some killer YouTube videos together. So my name Russell Wescott on YouTube, or I also have a podcast too. So and you want to know what the name of the podcast is? Yes. I'm just a big giant egomaniac and everything. So here's the story. Here's the long story behind it as I hired a very expensive consulting firm to come in. And we went on a on a retreat and we came out we brainstorm. We whiteboard for like, an entire weekend. And they came up with the name the Russell Wescott podcast. Oh, that's a joke. That was Karina and I go into Whistler and saying, Oh, I'm gonna do a podcast which we call it wants. Just call it your name. Good idea.
Erwin  
That's actually think about calling my YouTube channel that Erwin experience. But that's enough. Russell, thank you so much for doing this. You're a friend of mine. I can call your friend and I can get to see you next week.
Russell  
Yeah, honoured to help. 
Erwin 
All right, thanks, Russell.
Erwin  
Before you go if you're interested in learning more about an alternative means of cash flowing like hundreds of other real estate investors have already then sign up for my newsletter and you'll learn of the next free demonstration webinar I'll be delivering on the subject of stock hacking. It's much improved demonstration over the one that I gave to my cousin chubby at Thanksgiving dinner in 2019. He now averages 1% cash flow per week, and he's a musician by trade. As a real estate investor myself, I got into real estate for the cash flow but with the rising cost to operate a rental business, it's just not the same as it was five to 10 years ago when I started there. Forget the cash flow reduces your risk. The more you have, the more lumps you can absorb. And if you have none, or limited cash flow, you're going to be paying out your pocket like I did on a recent basement flood at my student rental in St. Catharines. Ontario. If you're interested in learning more but secure for free for my newsletter at www dot truth about real estate investing.ca. Enter your name and email address on the right side. We'll include in the newsletter when we announce our next free stock hacker demonstration. Find out for yourself with so many real estate investors are doing to diversify and increase our cash flow. And if you can't tell I love teaching and sharing this stuff.

To Follow Russell:
YouTube: https://www.youtube.com/c/RussellWestcott
Podcast: https://russellwestcott.com/category/podcast/
HELP US OUT!
Please help us reach new listeners on iTunes by leaving us a rating and review!
UPCOMING EVENTS
You are the average of the five people you spend the most time with! Build connections with empire builders and trailblazers at our iWIN events.
BEFORE YOU GO…
If you're interested in being a successful real estate investor like those who have been featured on this podcast and our hundreds of successful clients please let us know.
It is our honour to give back and educate others on how we build cash flowing real estate portfolios using all the best practices shared on this podcast, from the lessons of our hundreds of clients and of course our own experience in owning investment real estate.
If you didn't know already, we pride ourselves on being the best of the best real estate coaches, having the best property managers, contractors, handy people, cleaners, lawyers, accountants, everyone you need on your power team and we're happy to share them with our clients to ensure your success. 
New investor or seasoned veteran investor, we can help anyone by providing our award winning coaching services and this isn't all talk.
We have been awarded Realtor of the Year to Investors in 2015 by the Real Estate Investment Network, 2016 by the Canadian Real Estate Wealth Magazine and again in 2017 because no one told the judges no one is supposed to win the award twice but on merit, our peers deemed us as the best.  In 2018, we again won the same award by the Real Estate Investment Network.
Hopefully being the most decorated team of Realtors in Ontario will make you consider us for your first or next real estate investment.  Even if you don't invest in our areas, there's a good chance I know who would be ideal for you. 
I've been around for a while, some Realtors are talented at servicing investors there are many with great ethics.  The intersection of the two, talent and ethics is limited to a handful in each city or town.
Only work with the best is what my father always taught me.  If you're interested, drop us an email at iwin@infinitywealth.ca.
I hope to meet you at one of our meetups soon.
Again that's iwin@infinitywealth.ca
Sponsored by:
Infinity Wealth Investment Network – would you like to know how our investors returned 341.8% on positive cash flowing real estate over the last five years? On average, that was 68.4% per year.
Just imagine what winning in real estate could do for you.
If you would like to know how we did it, ask us how by calling 289-288-5019 or email us at iwin@infinitywealth.ca.
Don't delay, the top markets we focus in are trending upward in price, so you can pay today's price or tomorrow's price.
Till next time, just do it because I believe in you.
Erwin
Hamilton, St. Catharines and Toronto Land Development, Real Estate Investor, and soon to be builder.
W: erwinszeto.com
FB: https://www.facebook.com/erwin.szeto
IG: https://www.instagram.com/erwinszeto/
https://www.truthaboutrealestateinvesting.ca/wp-content/uploads/2022/06/Russell-Westcott.jpg
630
1200
Erwin Szeto
https://www.truthaboutrealestateinvesting.ca/wp-content/uploads/2017/06/TruthRectangleLogo.png
Erwin Szeto
2022-06-06 19:38:38
2022-06-06 19:38:43
7 Canadian Advantages; Fully Furnished, Middle Term Rentals, New Construction in Edmonton, Alberta with Best Selling Co-Author Russell Westcott