Burnt Out From Job/Covid, Bought 3 Houses, Airbnb Mid-Term Rentals With Red Glasses Emily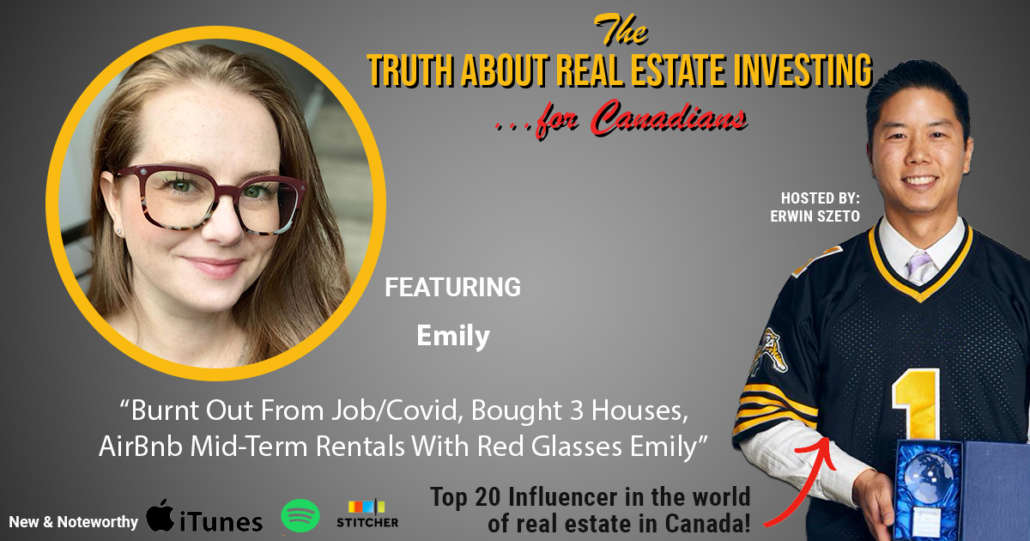 Have you travelled yet?
I'm writing this from the airport as we wait to board a plane to Vancouver with the kids. This is our first family trip since March 2020 to Florida and Disney before the world was shut down. 
We're flying using a pile of unused Aeroplan miles since there's no travelling to be done. If not for points, I don't know if we'd choose to fly for vacation with gas prices the way they are.
The plan is to explore the city as much as we can as the kids have shorter legs, hike a bit, Capilano Bridge, Deep Cove, eat lots of wild salmon sushi and meet up with a couple of investor friends for dinner.
I hope to check out some houses too, as we are that kind of real estate geeks. No matter the subject, in my experience, there are lessons to be learned, and you never know what will come out of a conversation.
I spoke to a friend who works for a large multinational consumer products company. I asked him about the challenges his company faces, and he shared how part of the problem is the massive swings in demand. 
For example, pregnancy tests were in heavy demand during the pandemic, but now the pendulum has swung hard the other way. Now, condoms and anti-nausea drugs for air/sea/travel sickness are in high demand since folks are dating and travelling again.
Planning for such demand shifts in business is not easy. This is on top of manufacturing shutdowns due to covid and the war in Ukraine. Fingers crossed, things will smooth out soon.  
On the real estate side, income or potential income properties are still moving. All of Cherry and I's properties fit those criteria by design. As someone who loses sleep over risky stuff, I've designed our portfolio to weather storms such as the downturn we're seeing now, which is about 15% off from the highs of February.
In a nutshell, we have always optimized our properties for rental income – either duplex, student rental or garden suite potential.
Have their prices declined from the peak? Absolutely but we have no plans to sell. Instead, we are refinancing to access otherwise dead capital. Two of the properties we bought in the dip of 2017 have since doubled in value in only five years. We plan to buy this dip again this year.
Our developer client even bought a couple of development opportunities.  Properties were all listed on MLS that can be severed and developed. It's like Christmas out there for the professional investors while many sit on the sidelines.
Will it go down further?
Likely, as I predict two more interest rate increases at least. But as I shared with one novice investor, if you plan to renovate or buy more than one property during the dip, you may want to book that soon vs waiting till the market starts rocking again. 
Everyone rushes back to start buying and renovating when rates hold and then go back down. When that is, is up to the Bank of Canada.
How much are they willing to sacrifice the economy vs controlling inflation? How bad will job losses be? 
I have no idea but what I do know is that interest rates will fall again once some of the supply chains and over-demand issues work themselves out as governments need to keep their interest expenses low on their debts, run deficits, and grow exports.
Burnt Out From Job/Covid, Bought 3 Houses, Airbnb Mid-Term Rentals With Red Glasses Emily
On to this week's show!
We have Emily and Coach Tammy Ditomaso on the show.
Emily is a new investor with three properties under her belt in under two years. Emily's early journey includes more involved renovations, inherited tenant who was in jail, rent arbitrage, middle term rentals and most importantly, a lot of financial success. Middle-term rentals fall between short-term and long-term rentals in some markets where short-term rentals are banned. 
Emily also happens to have a nice job for one of the big Canadian banks in HR and shares what skills and positions earn megabucks, pensions, benefits and work from home. 
Working from home is huge for real estate investors so they can get to new listings faster, early to offer and win more deals. 
Coach Tammy Ditomaso has been on my team of investor-focused, four-time Realtors of the Year Investors since 2015. She's also known as the Duplex Queen since she's helped a couple of dozen buy, renovate, rent and hold more duplexes west of the GTA than anyone, and her knowledge of local zoning is second to none.
Please enjoy the show!
This episode is brought to you by me! We don't have sponsors for this show, I only share with you services owned by my wife Cherry and I.  Real estate investing is a staple in my life and allowed me to build wealth and more importantly, achieve financial peace about the future knowing our retirement is taken care of and my kids will be able to afford a home when they grow up.  If you too are interested in my systematic strategy to implement the #1 investment strategy, the same one pretty much all my guests are doing themselves, then go visit www.infinitywealth.ca/events and register for our next FREE Online Training Class.  We will be back in person once legally allowed to do so but for now we are 100% virtual.
No need for you to reinvent the wheel, we have our system down pat. Again that's  www.infinitywealth.ca/events and register for the FREE Online Training Class.
This episode is also brought to you www.stockhackeracademy.ca where everyday real estate investors learn the best practices in stock investing to earn cash flow in about 15-30 mins per day from their mobile phones. After real estate, Stock Hacking is the next best hustle as you've heard from many past guests on this show. Among our students last year, 31 trades were shared with them. 30 were profitable for an over 96% success rate. I will be giving free demonstrations online, very similar to the one I gave my kid cousin, a full time musician and he just made 50% return in 2021.  Past of course does not predict the future but if you'd like a free demonstration go to www.stockhackeracademy.ca in the top right, click FREE Demo.  At the demonstration I'll have special bonuses. We do not advertise publicly for all my favourite listeners and I only have two more demos to give in the next few weeks.
Don't delay www.stockhackeracademy.ca, what I consider the future of side hustles with real estate so unaffordable for many.
We're hiring!
Just a friendly reminder that we are hiring more investment Realtors who want a full-time challenge to help our clients, regular everyday people, mostly from the GTA, invest in the top investment towns west of the GTA. 
This is for driven folks who want to multiply their current incomes.
APPLY HERE: https://www.infinitywealth.ca/hiring
To Listen:
Audio Transcript
Erwin  
Greetings, everyone. Welcome to the Truth About Real Estate Investing show. This intro is a little bit different in Vancouver, British Columbia right now and Have you travelled yet? I'm writing this from, like I said, thank Hoover. We're just packing up our hotel, getting ready to board a plane with the kids to go back to lovely Toronto. This is our first camping trip since March 2020. Somehow we miraculously we were in Florida for our wedding in Florida. Lovely wedding. We were at Disney. And we flew home in March 2020. Before COVID shut everything down. It was absolutely crazy. Because back then when we flew into the airport, like when we arrived, like the border staff, me be 30% or more mass, Bob more gloves. There was no plastic barriers or nothing. That didn't even save any of a COVID. There's no pamphlets and nothing. There's no like screaming. It was crazy. They asked if we were from China, or if we came from China or Hong Kong. How does that? Little did they know that most of the cases came from the US or across the US borders. We have a pile of unused Aeroplan miles since there's no travelling to be done, so if not for points, I don't know if we would have chosen to do this vacation with gas prices the way they are. Anyway, the plan was we executed on the plan was to explore the city. The kids have shorter legs so we didn't do anything crazy. I guess a couple of days or days I did my Apple Watch Tilbury walk 10,000 steps, so nothing too crazy. Yep, be the last sushi. We hosted a meetup of real estate investors and stock investors. Shout out to Kenny from Interactive Brokers, who came along as well should address Wescott who made the hour long trip show to call him who took an hour long flight, an hour long flight into visit us in downtown Vancouver, showing several competitors that was really cool to meet up with some investors from the west coast. A lot of them are investors love and morpc investors, almost all of them are talking to us just as cool. So it's super cool to be chatting with them. And just, you know, get to know people meeting some new people brought my kids along. So thanks for everyone who was cool with me having my kids along. Yeah, when this inflation thing going on. Just to provide some context is I think context is so important. Everyone talks about supply chain issues. So a neighbour might do work for a large multinational consumer products company. And I asked him about the challenges his company faces. And he shared that part of the problem is just the massive swings in the game, in terms of what products people are buying during the pandemic. So this is what he's taught me. During the pandemic pregnancy tests were in heavy demand. And now the pendulum has swung the other way. So what's the opposite of pregnancy test? He tells me condoms are now in high demand as people are travelling, people are socialising, again, in anti nausea drugs, because again, people are you know, they're travelling, so they need anti nausea pills, such as gravel, for air, sea sickness, travel, travel sickness. Yeah, because the world's opening up again. And so you know, if you've never run a business like this, I'm sure you can imagine this, how it's not easy to be planning for these sorts of things when manufacturing decisions have to be made, like six, nine months in advance. And this is on top of, you know, COVID, shutting down manufacturing facilities like China, the war in Ukraine, and fingers crossed that things move on the real estate side, income property is a potential income properties are still moving. If you have a quality property, for example, all legal duplexes are still selling all of cheryan is properties fit in quality income properties by design. For example, I shared with my buddies, there was a house that sold for $4 million in Toronto, it was a three storey semi gorgeous looking house. So $5 million 5.1 by 5.1, in September last year, and then just recently sold for just just over $4 million, so over four over 20% loss in value. And that could have very well been that person's down payment, right? If someone potentially 5% Well, that's the amount they would have lost on that property. So that's why this isn't stuff with the very best. And we'll talk more about that down meeting how largely law this was, I predicted how we could potentially see something similar to 2017. So price action that we're seeing right now is not that dissimilar to 2017. When we recover, I don't know, in a nutshell, for our investment strategy is that we've optimised all our properties for rental income. So we either switch to the basement, or we did student rental. And these properties often have gardens with potential and even if you don't rent these properties out, say my student rentals for example, they're very great locations for other demographics for families for see in yours, because we chosen properties that have fantastic location, right? I love properties with options, had their prices declined from the peak of like February of 2020. Absolutely. But we have no plans to sell our properties, cash flow, and instead of actually trying to refinance right now, things are gonna slow at the bank. Our appraisals were ordered completed months ago, hopefully not too long ago. The appraisals are still good. But for example, we bought two properties, we bought them in mid 2017. so late 2017. So after the prices were coming down, we probably didn't catch the bottom, we caught them on the way down on the way to the bottom. But you know what, no one can time the market. Those properties cash flow nicely, I've converted both into duplexes, and they doubled in value in just the last five years. Our plan is possibly divided up again, we'll see how things go. Lately further refinance. And for those who are like my professional investor, friends, like I'm a developer client, he's bought three properties in just this month alone. These are properties that were all listed listed on MLS, so anyone could have bought them, the plan for those are to be severed. So these are the white lots divided in half. And we're going to build on the half that has no property on it. So for professional investors out there, this is like Christmas. And while some others are sitting on the sidelines, totally cool. It's just used to make that choice, because no one knows what's going to happen. Everyone's asking, Will this market keep going down, likely, as I predict to more interest rate increases, at least. But as I shared with one knops investor, if your plan is to buy more than one property during this day, you may want to book something soon before the market starts rocking. And everyone starts rushing back to back in and booking contractors because contractors are on stream short supply these days with the hiring difficulties. And the great resignation. Also, when the market goes up is largely determined by the date the data is the question that I asked them, many people are asking is how much of the load sacrifice the economy versus controlling inflation? No one really has any answer. How bad will job losses be? I don't know. But what I do know is that interest rates will fall again, when some of the supply chain in over demand issues work themselves out. Many economists Kevin O'Leary even thinks a lobby that will be q4 of this year. So we're talking about October, November, December. And then the bigger challenge for governments and central banks is they need to control their interest expenses on their debts, because they're all running on really deficits, and it's the only way to grow exports is to keep the dollar cheap. 
Erwin  
Anyways, onto this week's show. We have Emily, I'm not sure if I'm supposed to share her last name but she goes by red glasses Emily and we have coach DiTomaso on the show as well. Tammy coaches Emily on my team. Emily is a newer investor. She already has three properties under her belt in just under two years. Emily's early journey includes more involved renovations, pretty fair sized renovations all six figure renovation she inherited a tenant who was in jail for adult, and this the show is the truth about real estate investing. So yes, it's not all sunshine and rainbows. We talked about rent arbitrage, which is a strategies that she's pulling off in her newer property. The first property is a new middle term rental. And more importantly, she's experienced a lot of things. As even with this downturn market, she's doing very well. So that's why we're glad to have her on to share that story. My policy is always there for people who are successful to learn from people who are consistently losing money. FYI, middle term rentals fall between short term and long term rentals. So it's not a few it's very common, it would be a couple of weeks or 30 days or more. But these are not long term rentals. So this particular strategy works well in markets where short term rentals are paid, such as vacation areas, that kind of Hornell certain condo buildings. And we happen to also have a very nice job at one of the big Canadian banks in HR. So I asked her to share about what skills what the markets like for jobs. What positions that are megabucks, including pensions benefits, work from home that it is working from home is huge for real estate investors. Some of my most successful clients have a lot of flexibility in the work schedule and I'm talking about years ago, right because they can get to do lists faster, and therefore they're easier to offer and win more deals. As mentioned on the show is also Tammy coaches, Emily, she has been online team of investor focused realtors, we are the fourth time Realtors of the year since 2015. She's also known as the duplex queen so she's helped a couple of dozen investors renovate rent, buy hold more duplexes with the GTA than likely anyone and her knowledge of local zoning is second to none. Please enjoy this show. 
Erwin  
Hi Emily, Hi Tammy!
Tammy  
Hi!
Emily  
Hello, how's it going?
Erwin  
Great. Let's start with you Emily. 
Emily  
Sure. 
Erwin  
What's keeping you busy these days?
Emily  
What's keeping me busy? Life? Yeah, I'm, I'm busier than I have been ever in my life right now. Okay, but, but I like it. So, yeah, I think I'm doing the good busy stuff versus the not good busy stuff.
Erwin  
Because you mentioned that you had burnout not that long ago, is usually a function of being busy.
Emily  
You know what that kind of, I think the I was busying myself with things that weren't filling the void that I realised that I had. So I was filling it with stuff. And I was keeping myself busy, but it was just, you know, nonsensical, just regular stuff that wasn't adding to my life. 
Erwin  
So it was the good stuff and was the bad stuff.
Emily  
Good stuff, man. Good stuff. So I was at the family things like I have two young kids. You know, I had a great job. We were renovating our house. I love renovating. I'm in real estate now. Yeah, what was I doing? I don't know what I was doing. Actually, when I look back, like, I wasn't really that busy comparatively. Like, I'm busy now. Like, I feel very busy now. But back then, like, I don't know what I was doing. Just yeah, I don't know. Not a good answer. Yeah. And I feel more fulfilled now than I was and, and what I realise now looking back, and I was just kind of, I was just spinning my wheels on things. You know, I had anxiety, I still have anxiety, but it's more managed now. And yeah, just not not spending the time doing things that really propelled me or grew me or developed me. But now I'm spending a lot more time doing those things. And I'm getting a lot more out of it. And I'm feeling a lot more fulfilled because of it.
Tammy  
 I don't know you before but no, no, you now you're so focused. So even if you're busy, but your focus were before you knew you want to go but like you said, spin your wheels. Yeah, got that goal in mind. So you're just knowing this where I want that we're gonna go what do we do? Try and try and try and trying and then once you, you know, yeah, and it's like, busy, but then more focused.
Emily  
Yeah. And that's what it is like, I'm more I'm more mindful about what I'm spending my time with these days. Whereas before it was just, you know, I didn't like sitting down I didn't like having nothing to do on a weekend or didn't like having nothing to do on a on a weeknight and I would just, you know, go shopping, or I would, I would start to paint things that didn't need painting. Or your, you know, research things on Pinterest. Hey, maybe we should rip our basement out just for fun, like, like, stuff like that, like that was just, it was just I think me just kind of run away from things or trying to find things to do that kept my mind off why I was miserable, to be honest. So yeah, if that makes sense. 
Erwin  
You can comment on my phone number one real estate investors is you know, when people go to like, you know, Mexico and do like the resort vacation, and I find almost every real estate real estate investor says I can't sit there for that long. Yeah, yeah. Yeah. And that this is
Emily  
definitely me. Yeah, I'm gonna go go go person, you know, but I'm finding I'm better at I hopefully better with how I'm I'm doing those gogogo things and what I'm doing with those things than I was before. All right, so she found
Erwin  
something that was productive. Yes. Droid. Yeah. Are you just enjoy being productive?
Emily  
Yeah, I definitely like being productive. For sure. Yeah, I found more of a purpose. I think that's kind of what I was really struggling with for a long, long time. You know, I did all the things that someone was supposed to do, right? I fit I went to school. I did. I did some travelling I you know, I lived in South Korea for a year, I got a got a job, I got a husband. You know, I planned a wedding for you know, a year and a half, you know, had had two kids like I was doing all the things that you're quote unquote, supposed to do with your life, right. But once those things were all done, then I just was like, so bored with my life. Like, I just wasn't really, I wasn't happy, even though I had all the things right, had all the things that someone could possibly want, right? But I was just miserable. Like, there was something inside me that I wanted more out of my life. What am I doing with my life? What am I doing with my time, and that's why it's because, and I was and that's why I think I was just kind of filling my time with all these random things that made no difference in my life. It's just kind of keeping me busy and keeping my mind busy. But like, at the end of the day, if I would ever sit still, I'd be like, none of this is working. This is not working for me anywhere like I what am I doing? And you know, and work was really stressful at the time. Like I was not enjoying work at all and very stressed. And I think during the pandemic as well, like I you know, we just weren't seeing people as much my health, like, I was gaining a lot of weight, like I wasn't eating properly. I wasn't taking care of myself, like things were just going downhill, you know, and I was very unhappy.
Erwin  
That's interesting, because I only know you from recently and I mean, never normally are unhealthy.
Emily  
Yeah, and I'm still struggling with that. So yeah, and you know, it got to the point where I just, there's a picture of myself that I took, we went to a park, I think it was like, middle of February in 2021. And we were taking selfies and I just I knew at that moment that I had to change, or else things were gonna get way worse for me. And if I didn't change things, something bad was gonna happen. So that was really the the week that I talked to a doctor and we're like, I need a break, I need to just kind of reset, I need to figure out what the heck I'm supposed to do with myself. And, yeah, so she put me on leave. And then I went on leave for about 10 weeks from work. It was such an amazing time for me, I had to just stop everything, like stop the madness, stop all these busy things that I was that was filling my void with, you know, just reset. And then I sought out a coach and, and she was amazing. And she kind of just helped me sort of just put everything on the table like what you know, what's wrong? What's going on? What do you want to do? What makes you happy? What makes you tick? What do you like about yourself? How do we find more about that person? So that was really helpful to kind of dig into that. And the first time you did an exercise? Yes, it was the first time is first time I did any kind of mindset work. First time that I really slowed myself down enough to actually start to listen to myself. And I think that was what I was missing for a long, long time. I was not listening to myself and not really even know what I was trying to listen for either. Right? Like I didn't have any idea what I was listening for. 
Erwin  
And yeah, despise your family. Yeah. Because listen to you some young, can you share how old you were when you when you did this mindset work? 3830 years old, took 30 years to do? Yeah. No, sorry. Ask yourself, what do you like to do? Exactly.
Emily  
Exactly. Exactly. And yeah, man, I wish I had started that way before. Right. But I just couldn't I guess there that that question wasn't there, you know, and they were maybe I didn't give myself the space or the opportunity to ask myself until that point. Yeah,
Erwin  
I think we're all guilty of it. Doing what we think we're supposed to do. Yeah, I did a lot of what my think my parents would be make them happy. Yeah. But I've been I've been partly selfish, too, and doing a lot of things I enjoy. So do you share what you do for a living? Or how long you've had the previous job?
Emily  
Yeah. So yeah, so I worked at, so I've been to HR for about 16 years, at a major FYI, in Toronto.
Erwin  
But everybody knows.
Emily  
Everybody knows. Yep. Yeah. And that was really my first job at a university. And I have a geography degree. And somehow, I'm an HR at a bank. So that that right there new almost tells you, I don't really know why I work at a bank, you know, if I have a geography degree, but that's what happens, right? You just kind of get a job and hope for the best and then it just sort of just moves on from there.
Erwin  
When did the job thing get bad? Um, is it always bad or it's more, you know, it's,
Emily  
it's funny, because like, me and my husband, he's very stable, stable guy, right? He, you know, he's very content with his job. He and I met at work, right. So we, we met there, and we've had similar jobs. And he and I function very differently in those jobs. You know, he's able to do a nine to five and shut up and just, you know, shut it off at five, no problem, I'm not able to do that. I, yeah. He's able to do that he's able to just compartmentalise and just, you know, segregate his his work and his personal life, I am just mentally not, I can't do that, like, I will think about work forever, you know, I will break I will bring it home with me, I will stress about it at night, I will lose sleep over it. Like I'm just, that's just how I function. Right. So, and I think that's just how I am in these roles. So these these are some of the roles I've had or have been very, very difficult. They've been very stressful, you know, I, I've managed a lot of money during my jobs, and it take on a lot personally, even though I should just really shut off. It's just a job, you know, this is not your life. But for some reason, it started to define me, and defined how I thought about myself, you know, so if I, if I had made a mistake, that means that I am a mistake, just myself, I'm you know, or it just became me, right. And there was no separation between work and who I was as a person so that those lines got really blurred pretty early on. And I think that's where things started to kind of get really hard for me. Yeah, I don't want to blame the job. But I think is just me how I reacted and how I functioned in those roles. And I was a high achiever, like, I want awards at work, and I've got lots of great bonuses, but it's just what I've maybe allowed work to do to me, 
Erwin  
Or you saying that you're dropping your husband.
Emily  
You know, at one point I thought I was and you know, maybe he's Yeah, he's he's actually who's more senior than I am, you know, he gets paid a lot more than I do. And and he's very, he's very stable with it. So I think, you know, he's calm, cool and collected or as I can just, you know, fly off the handle and freak out and get really stressed out and so like, I don't know, I don't know, I don't know what's better, but from a mental and mental health perspective. He's, he's much healthier than I am that standpoint. So yeah.
Erwin  
So the point of the show is not just talk about real estate, which we'll get to our poor listener. Sorry, guys. Part of the show is also understanding, easier, faster, better paths to making money. Yeah. So you have HR experience. Yeah. So I'm picking on you specifically compensation. Yeah. So I'm picking on you because because I find this fascinating before we were recording actually wish we recorded a bunch of it, because I'm probably gonna miss some of the questions. But you mentioned something that caught my attention was that multiple offers on people, on people you're trying to hire is a problem in your industry? Yes. Does it get better or worse? In the last few years,
Emily  
I've seen it get worse for sure. Like, there are some critical roles and skills that are an hot hot demand. And those seem to be getting more apparent. So technology is such a huge, huge skill set, you know, specific skills, and then Technology Operations, diverse employees, you know, 
Erwin  
if you're diverse, you get a unit pay bomb.
Emily  
Well, you're you're you are, you're on the list. But companies are looking for this. So yeah, I mean, like a candidate who is who has the skill set that a company is looking for, you will likely be in a multiple offer positions and why? Well, there are two houses. Yeah. And you can literally choose your employer, whoever has the best offer whoever's the best culture, whatever, whatever you're looking for in an employer is, and you're in a position to, you know, and play them off one another. Hey, you know, this company is offering me you know, a $50,000 signing bonus. What are you offering me?
Erwin  
This is fine. I find this fascinating. Like, Tim, you know, as we've talked about, we've talked about all the time investing yourself. Yeah. Never really thought as an individual as an investment. I always thought of people as like a business because, you know, people are the CEO of themselves. And, you know, are you a good CEO? Because if you're a good CEO, you're like, you're gonna make more money and stuff like that, but never thought of in the job. Yeah, job. Yeah. Oh, yeah. Yeah. That's wild. Because again, I don't care what it is, if you can make money efficiently, morally, ethically repeatable, yeah, then I think I'm all for it. And with many things that are falling off, like, I've seen lots of issues with private lending market collapses, African lions, for example. You know, in this market, I don't think anyone really wants to be private lending in it. Generally, I'm sure there's lots of good private lending deals that are out there. But generally, this is playing out the market getting into, and I see all these people getting out of E commerce, which is selling on Amazon as an example. We see stocks Shopify student killed, and that's a reflection of something Amazon's getting killed, as well as the stock price. So then, what are people's avenues to make money? Right, real estate stocks, whatever. Yeah. Right. And I find myself saying job more often than not, more often than ever before. Yeah. Because isn't that to me? It seems like, I don't I'm not nearly as close to this as you are. But and what I feel, in my opinion, is that this is the best time ever to be looking for a job. Yeah, yeah. Is this the best time ever?
Emily  
I think it is. Yeah, there's a war on talent. We say it all the time in the biz. Do you want to call it that, but we were talking about it all the time? You know, people are flagged as flight risk. Yes. Yes. That's on your profile? And yeah, and then we have to put retention strategies around you. And that could be a million different things. Sorry.
Erwin  
Okay. Okay. How does someone passively make themselves get flagged as a flight risk? I'm trying to help the listener here. Because, you know, potentially, you know, be offered more niceties, you're probably
Emily  
going to be, you're probably going to be going to your people manager and be like, Hey, let's talk about my salary. Hey, let's talk about some benefits that I hear my friends have down the street. Hey, let's talk about work life balance. You know, I want to be you know, you in a couple years, how can that, you know, how can we get there? Oh, well, this company seems to be offering me this, oh, hey, this company just called me the other day. And they're offering me this when you guys can offer me to stay.
Erwin  
So in the old days, like, I worked in corporate long time ago, some of those things would be seen as because there's different market then. Because if you look like you're a flight risk to like jump to someone else, then you might be a come a target of getting asked if when when layoffs came knock now. I mean, if sorry, was my was my observation correct back then. Or didn't really matter? I don't know. I mean, showing ambition is completely different. I can Yeah, I think that's the best thing you can do. Yeah.
Tammy  
I think it depends how you're, you know,
Erwin  
I want to be manager, I want to be great. They
Emily  
love to see that. If you have capabilities for that. If they also see you with that potential, then yeah, you're on you're on a great track. They'll want to keep you they love you, you know, especially if you want to stay with the company and they can see you as someone in a leadership position and helpful years. Yeah, they're gonna do everything they can to keep you
Erwin  
and just to clarify, leadership is a valuable job skill is compensated. Yes, it is. Yes. Just make sure if leadership capabilities So, yes, make sure everyone understands that.
Emily  
Yes, yes. Right. Yeah, that is a skill, a capability. You can have it. You're someone who's just born with it. Sometimes you can actually you can grow and you can learn it, you know if necessary, but some people just have it as a hard skill to find, especially in the in the higher echelons of of a company. And you can use it right.
Erwin  
All right. Any books you recommend? I'd like to I'd like the Simon cynics leaders eat last
Emily  
called no bucks. Really? I don't know. Persuasion. I thought that was kind of neat. Oh, she'll be Yeah. Yeah, there's that. Yeah. There's some really neat things out there. Yeah.
Erwin  
Good. Great. I think they were great was great. Yep. Yeah.
Emily  
I'm reading who not how I know people talk about all the time. But it's one of the books that we're chatting about now. Tomic habits. We're all talking about at work, actually, to both those were talking about at work. And it was really, it was really popular. People always talk about those wins. But we've had a couple of speakers at my new company talk about both of those. Kind of neat, so
Erwin  
yeah. Cool. And then can you talk about pensions? I know very
Emily  
little about pensions. But I have one. I know.
Erwin  
Crazy. So just to clarify, you have a pension? You don't work for government? Correct? Which is yes. not common. Oh,
Emily  
yeah. Because I mean, I've been in the corporate world, really just two companies at this point. But yeah, pension such a huge, huge thing. And that's always something that new recruits will always ask about. So in the FIA World, being a pension, or having a pension is is something that we always were very aware of. We know what the forecast is, when we retire. We know you know, the consequences if we retire early. So we're always we're always kind of up to speed with, with what a pension looks like. So that's it's a very common thing for everyone to know and understand.
Erwin  
So you're pretty financially secure. Yeah. You still want to be a landlord.
Tammy  
Yeah, why? Why did was wrong with me? I'm pretty manager. I'll take care of
Emily  
Yeah, I do a property manager. Yeah, I do try to outsource literally everything I can. Yeah. Who
Erwin  
the hell? Yes,
Emily  
exactly. Exactly. So
Erwin  
yeah. Dave. We won't share his full name. No, I
Emily  
use my contractors company. Oh, actually. Yeah. So that's worked out? Pretty well. Awesome. Yeah.
Tammy  
I think he only does his clients. Yes. Properties for property.
Erwin  
Management. Correct. Yeah. Understand? You bought a lot of property recently. You bought a lot? A couple million dollars.
Emily  
I want it to be more.
Erwin  
What's your mind value?
Emily  
after repair value?
Erwin  
Sure. Gosh, over 3 million.
Emily  
Um, yeah. Were you ever probably close to 3 million? Yeah.
Erwin  
It's been not even a year. Seven months? Yeah. Seven months. $3 million in property. They're all done in terms of they're all after reporting.
Emily  
What is done? What is done? One is almost done. Two are almost done. We just had some hiccups. But yeah, we're almost up. And what's the strategy? Couple different strategies. So the strategies kind of have kind of changed. Also, just as time has passed, I've I've gotten more ideas and talk to people. So the first one, what is or what is I guess it duplex conversion on the Hamilton mountain? So that was the first one that was in September 2021. And, yeah, that was that one was fun. So we finished that one contractor that we have, he wanted to do something a bit special, just to kind of showcase his skills and use it more of a showcase for his company to kind of show other investors in the neighbourhood. And you know, what they can do and stuff like that. So he threw in a bunch of free things. So that worked out in my favour, obviously. And so the upper unit
Tammy  
for him versus to me, he did it for us. You wanted to be part of our team
Emily  
know exactly what he did. Exactly. So he wanted to show it off for you guys and impress you guys. So this is Lee. Yeah. Yeah. So yeah, so
Erwin  
great. Just to pause you there. We intentionally don't share full names. Because we're not sure not sharing we keep we keep the best for our clients. So
Emily  
yes, yeah. So he he went all out in the upper unit just all out. We did vaulted ceilings. We did feature Well, it was
Erwin  
it wasn't a vaulted ceiling before No Oh, yeah, it was a solid vaulted ceiling. Oh, yeah. Actually, they're already there. We find out
Emily  
that was part of this renovation. Okay. So all of obviously you know, wainscotting trim work all sorts of cool stuff. So yeah, so that was upper unit lower unit you know, basic to two bedroom one bath, you know, legal of course illegal unit. Really nice. You know, it's yeah, it's good looking. It's actually a really spacious quite, you know, giant, giant bedrooms. We separated almost everything we could so I have two hot water heaters have two water metres. Split the hydro, obviously Yeah, yeah. So we did have a plans upstairs change, and then the plans upstairs change. So, you know, obviously the going in strategy was to just do you know, to long term tenants on in each unit. But there was just something not something but it was just in my gut, I was like, why, you know, this upper unit deserves more long term investment long term is bad, but, but like it just, I was not going to get the returns from it with just a long term. And so, you know, I talked a few people about this whole idea of midterm rentals. And I was like, Yeah, that's it. That's cool idea. Like that could this could work, you know, and but I'd have to furnish it. You know, something like, oh, man, I have time for that.
Tammy  
It's really tough on your head. I want to be busy personnel. Yes,
Emily  
it did. And, and of course, my, my family was like, You're crazy. What are you doing? But I loved it and got connected with a great designer. And she, you know, she met me on a Saturday, we had the thing furnished and designed within four weeks. And it was it was awesome. So she did really the whole thing. I did all the kitchen stuff on the bathroom stuff, but she did. Living room, all the bedrooms, and just the look and feel of the place. Yeah, so then I and then I put it on Airbnb, myself really had no idea what I was doing, to be honest. But I muddled through it. And within 24 hours, I had two bookings until mid July. Like it was craziness I hadn't I just did not. I had no really sorry.
Erwin  
timelines, when you put it on what was roughly what was the date when you put it on Airbnb? Why
Emily  
did he put it probably mid March? I think mid March, I put on Airbnb. And then end of April. Yeah. And then my first guests wanted to come in April 23. It was still not totally finished. Like I put it on Airbnb before it was finished. Like I knew that I still had some work to do, but I wanted to just see what the demand was like and any questions stuff. So like, I knew that, you know, I blocked the the calendar for Airbnb, because can do that can block dates and stuff. So I blocked it until like, early, early April. And yeah, she messaged me, and she's like, Can I come in for a month and a half? I was like, Sure. Yeah, let's do it. So she, she just moved in on the weekend on April 23. So and she's gonna be there until June 18.
Erwin  
How did you advertise it on Airbnb when it wasn't done.
Emily  
I had I had some pictures like I had some of the rooms finished so so my designer had finished the living room. And I had finished the kitchen and the bathroom was was pretty much finished. So we just didn't have the bedrooms finished. So I had kind of just showed her like the the unfurnished bedrooms, just the sizes of it all. I'd also put it up for a fairly good price too. So when she had messaged me, she's like, she's like, you know, I usually don't message anyone with no reviews. Me. And you know, your price just seems too good to be true. And that was like, in my head. I was like, really? Sure. Like, I'm making a lot of money doing this. And and you know, yes. That was high. Yeah.
Erwin  
And when you say your price, I thought high. And then we said no, that was giving.
Emily  
I know so got me thinking I'm like, maybe I don't know what I'm doing here. But, you know, she obviously wanted to pounce on it, because obviously, it was a crazy deal, which I now know. And now no more now. And so she was a bit sketched out. She's like, you know, I've been burned in the past, you know, can we maybe do maybe a virtual tour just to make sure you're not lying. And these aren't fake pictures. And so and so I showed her some more pictures and things and and she's like, Hey, let's just do it. Let's get booked. I'm like, Cool. So so she booked it for a month and a half through Airbnb to Airbnb. Yep. Okay. Yep.
Erwin  
All right. Awesome. detailed questions. Oh, yeah. Can you share what you're charging?
Emily  
Yeah, um, it's changed since then. So I have to remember what I so for her stay for a month and a half. I got $5,200
Erwin  
Sounds good. Yeah, I'd be good. You're good. Not her good.
Tammy  
But apparently to her that was like good. So yeah, okay,
Erwin  
let's work it then. Well,
Emily  
this is what I'm learning now. I've actually now passed over the my Airbnb management to Airbnb property management because when I did
Erwin  
Yes, your share or should we keep a secret I
Emily  
could share there on Instagram. Crumpton, Crompton elite property so I think that's what they call themselves I can I can we can put on the show notes later. But yeah, so I chatted with them because I you know, it was it was a good experience to kind of go through the whole Airbnb setup. Like I learned a lot during that, you know, it was good for me to had a lot of inquiries too. So she's the one who who booked first but I had a bunch of people just messaged me, hey, you know, can we book for a month can we book for three days can we book for you know, that kind of thing? And I was like I didn't I didn't really want to do the short stay didn't I just wasn't prepared for that. I didn't have my system set up yet. I I didn't have a cleaner. I didn't have a handyman. I didn't have any of that. But in my head. I was like, what if I had a longer term? Room guest for like a month and a half a midterm idea, I can kind of work on that, as you know, get prepared for that a bit more and a little faster. And so that's kind of what I had in my head. So I was like, I'm going to just figure this out as I as I kind of go through this. So that's why I spent more attention with her and kind of answered her questions. And I kind of, you know, I talked to the other guests coming in with the increase, but you know, they didn't work out for for whatever reason, but she worked out and she liked it. But, ya know, so back to the, I guess the property manager question, I think, yeah, it was good experience. But I but it's just so much work. It's just an incredible, incredible amount of work, you know? Yes, exactly. And, and I think you'll appreciate how
Erwin  
many inquiries many? Yeah, and they're all random,
Emily  
random questions about the room? Yeah, like, I see the room. I have four dogs, and I have four. I have four cars. And I'm like, Oh, well, that's not gonna work. Thanks for coming. But here's this is what I'm offering. I don't think it's maybe gonna work out.
Erwin  
It's been a long read, you know, they
Emily  
spent hours with this. Like, oh, please read the listing. I spent a lot of time doing this.
Erwin  
Are you in Kitchener? For a question.
Emily  
I know, just random stuff. So it was just taking up a lot of my time. And that's, you know, it's good experience. And I learned a lot doing it. But I'm like, I don't want to do this anymore. I don't want to manage these people. I don't, I don't have restaurant suggestions. Like, I'm like, oh, there's a piece of pizza down the street. You know, like, that's not what they're looking for. Right? And so I'm just what I just wasn't,
Erwin  
yeah. Did you like the cost of everything?
Emily  
Once the Jazz Festival, I have no idea. Is there a jazz festival? Like there's exactly, exactly. So I'm like, I'm just not meant for this. Like, I'm just not doing I'm good. But like design, I love designing it. I love setting it up. I love all that kind of stuff. But I'm like, I just don't have that the rest of it. I just, I just not get it. So. So then I outsource that. And I talked to them about it. We did I took them on a tour of the property and showed them my listing. They're just like, whoa, you were undercharging girl. So it was just you know, from my experience with my first
Erwin  
pay that even though the pay them? Yes, they raised your price.
Emily  
Yes, exactly. Exactly. They're gonna market it better. They're gonna do better photos. They're gonna do pricing strategies that I've never even thought were a thing. So teachers pay them for their when they book Yes. Yeah, exactly. So they so we do an 8020 split. I think that's negotiated. So you know, that might not be the case for everybody. But that's that's what we had agreed upon.
Erwin  
And that's off the top. That's sorry, is that after earpiece? But after every one Airbnb gets?
Emily  
Yeah, it would be after. I don't actually to be honest. But that's, I think the revenue we've decided that's an 8020 split for the revenue. So that helps.
Erwin  
No, I love the I love the Airbnb model, because you have their credit card. Yeah, even if they want to stay like you're still collecting a good rate.
Emily  
Yeah, so I mean, yeah, so this is just my my first venture into it. I have my my guests seeing right now. So she's there until June. And then they have another guest coming right after her for about for about 10 days. And that one snuck in because I was I was I was messing around with the settings, you know, on Airbnb, and somehow it went live. And then of course, this guy comes in, and you can't cancel an Airbnb, right? That's like a thing you cannot do, right? Because you can lose, you can lose your super host status, you can even get penalties like Bill is just an awful consequence. So this guy snuck in and he's in he's there over the July 1 weekend. Like me, you gotta get you got a good rate, they got a crazy rate. So anyway, so then, and then that was really what sold me on that I'm not I'm not good at this. This is not my thing. So I blocked the rest of the summer into I think I've blocked until October actually. And so between, between my two guests, there's a week gap. And that's when my property manager is going to come in, do their reset, figure out what else I need. And then they're going to start turning on my Airbnb bookings with their management in place. So
Erwin  
yeah, the property managers split does that include like housekeeping for example? Or is that on top
Emily  
that'd be on top? Well sometimes you can charge the guest housekeeping slightly so um, that's one things that I have learned you can you can charge extra things you can charge for extra guests you can charge for pets you can charge a cleaning fee so that's all true
Erwin  
pets of course we can as long term
Emily  
people can do pretty much whatever you want you know obviously they have to agree to it but that's what you're offering as the price and they see and that's in the book it or they don't book it that's that's how it works.
Erwin  
That it's an operating a puppy mill in my back condition from my other tenant nuts, of course, por tener Nice.
Emily  
Yeah, so um, yeah, but anything, you know, repairs, anything, you know, obviously, you know, product maintenance, that's all on top, that'd be Debbie obviously paying for all that. They would just bill me for all that kind of stuff. Is the basement rent base but is rented yes to a long term tenant a couple actually 1850 Plus utilities ticket number. Yep.
Erwin  
Is it bigger? How come you got so much?
Emily  
It's a good size. It's really good size.
Tammy  
Usually we're seeing about 1800. So it's West mountain plus mountain a little bit more, maybe. We're starting to see between 18 to 19. So she, you know, she just beat the numbers there. But that's gonna be pretty normal. What you're to see now. You're just getting, you're just getting it first.
Emily  
Yeah, I had higher expectations. So, of course, I was like, 15 Tommy's, like, Uh, huh. Yeah. Okay, good luck.
Tammy  
Did you try starting at 93?
Emily  
We tried 9095 which is actually to listen and it was crickets. So yeah. Which, which is fine. Even so my, my property manager for that one who threw the contractor? You know, she's like, Okay, we'll try it. Obviously. Sure. See anyone bites. You know, we'll see what happens. But she's like, Emily, no one's no one's messaged me. It's been a couple of weeks. Some like
Erwin  
000 inquiries. Yeah, not even weird one. Nope. I've got four dogs and four cars.
Emily  
To be honest, there might have been he just didn't necessarily. She probably just filter them out immediately. Yeah. Well, you
Erwin  
take 1000 Well,
Emily  
we had we had Tim Yeah, right. Yeah. And on our team, we did have some lowball offers to actually we had a couple of guys wanted 1800. And I was like, you know, no, I'm gonna say no to that guy. You know? They're like, Yeah, your best friends wouldn't get other parents house for the first time. I was like, Oh, this is gonna be cute. Do this be so fun. And then last, and they tried to lowball me. So I'm like, No, yeah, sorry. So yeah, 1850. We got a couple of really great tenants. So
Erwin  
tell us about the tenants that you're getting that you're attracting for middle term? What is their motivation?
Emily  
Yeah. And that was interesting, because that's, that was one of the first questions I had with you know, if I, you know, if I do this short term midterm idea, who exactly is my profile here, it was my avatar, you know, I guess it's a new name for it. And so when I chatted with people who have done midterm and are doing midterm, you know, there was a woman that I talked to she does midterms in Burlington, and and that she's helped a couple of people also do midterms and other I think Niagara area, and she said, you know, typically the demographic, you're you're looking for our travelling professionals, people that are between houses, for whatever reason, you know, the closing dates. Yeah. closing dates or closing dates Exactly. sold their home. Exactly. Yeah.
Tammy  
Divorced. Yeah, please feel they. Yep. Very true. Very sure. Yep.
Erwin  
I'm pretty sure everyone knows that, like a lot of construction things are being delayed. Yeah, exactly. It's, for example, they've already sold their home section
Tammy  
stays, they don't want to live in the dust insurance stays there. Their house burned down. There's a flood. You know, there's there's many different reasons that my guests that came in, because my guest, her son is going to McMaster I guess for some kind of summer course or something. So she wanted to she's from Sioux Sainte Marie, I think she told me, so she's coming down to help them with that. I don't know. There's some kind of story there. So he's with her. He I think is with her. Yeah, there's the two of them. There's a family of four. Okay, from what I understand the bedroom. Yeah, exactly. Three bedrooms that are six beds. So
Erwin  
yeah. So it's a segment of the market that's not addressed. Well, correct. Yeah.
Emily  
And they need, like the fact that I had had it up on Airbnb for 24 hours, and I had her instantly come in, I had five inquiries of just random questions like, hey, you know, we're, we're travelling Canada, and we need to stay somewhere and Hamilton is on our list. Can we stay there for a month? Like, there's just random things right that people need, they don't want to stay in hotel. They? This is a cool option for
Erwin  
doing the math like 5200 divided by 45 days. Yeah, that's 115. And 115. is not usually like, two three star hotel at best. Yeah, right. Right. Versus you get right.
Emily  
And that's, that's me way under charge. So apparently should have been closer to do under various because we're doing the math are 175 a day at minimum, apparently,
Tammy  
because we're comparing it to if you were to rent it to a family. Yeah, for a month. Yeah, they would be paying 2000 Yeah. 2100 to rent that floor. Exactly. And
Emily  
that's what I then that's what I was using, like, that was my, that was my basis for this. And maybe that's that's just a that was a wrong way of kind of looking at it. Like I was like, you know, if I was getting a long term tenant in my upper unit, I'd be like, you know, I think Max I probably get 20 to 23 Max, you know, plus utilities, but I was like if I can get more than that. Hey, cool. Like that was that was my mentality going through it? Right? And that's maybe why I was just under charging. I was like, if I could make a couple $100 You know, cash flow in a month cool. Like I'm in the money but that was just like the wrong way of thinking about and I can I could have just made way more money on this. So yeah, cuz I
Erwin  
think I'm 185 for two bedroom two bath in Ottawa. quick plug. I'm going to be in Ottawa June 7 for a meet up for anyone who's Ottawa, Ottawa anyways, but yeah, see at 185 versus you're charging 115 Right place looks a lot nicer Right? Exactly. One bathroom.
Emily  
Yeah, one bath. Yeah, it's gorgeous. Yeah. And so yeah, I did the whole air DNA thing I looked at my competitors you know and I just even on on Airbnb and VRBO like I, I looked as as a guest Hey, like, you know if I can you know, punch in my day today I want to I want to stay for 45 days or whatever, what am I? What are my options? And then I looked at mine looked at all the competitors. I'd like
Erwin  
to introduce you to Betty. I think I think she has three of the top 10 VRBO isn't on in Hamilton. Oh, whatever properties usually competes for one or two.
Emily  
Use my competitor then. So, so yeah, that's cool.
Erwin  
She's not in your area though, either. It wasn't a big city, right. Can you share some numbers? Well, what the house cost you? Yeah.
Emily  
721 on the buy.
Erwin  
Oh my god.
Tammy  
Okay, can I just add that that was not an OH MY GOD, though. At the moment. Well, we paid market
Erwin  
that's cheap. It is market was cheaper. Back?
Emily  
Yeah. At the time. I was like, oh, man, it's a lot of money. You know, but that's just what it was.
Erwin  
It's 75 Branford. Cheap. Okay. You got cheap on the market. Fine. Okay.
Emily  
It was 10 offers. I won.
Erwin  
Well, majors when the winning offer
Emily  
price, I wrote a letter. I wrote a letter to my delight on the letter. But yeah, letter.
Tammy  
I had nothing to do with that. That was all my idea. But yeah, if you wrote a letter it was
Erwin  
well, the individual can do whatever they want. As licenced professionals can't do everybody.
Emily  
Yeah, that was I was only those things
Tammy  
change. That's change. But yeah, no letter. Was this the house that had the pencil sharpener? Yeah. And the two we often talk about yes, indeed, Korean talks about that when you see a house that has one of those pencil sharpeners that are on the wall. Yeah. So Susan Sandler like our pencil sharpener.
Emily  
And it's that means that it's in good condition, because the the owner took care of it. And that was very evident. The place was in such great shape. And it was,
Tammy  
it's actually pretty an accurate, accurate and straight. Yes. Yeah, it's amazing. Like a workshop must
Tammy  
have been a working person that truly care. And they took the time to have the pencil sharpener. Exactly. Yeah,
Erwin  
exactly. Sorry. Because when I think pencil sharpener, I think of elementary school.
Emily  
Is one of those. Yeah, one of those brown ones from the 80s or whatever. Yeah. And then profile
Erwin  
who has that is someone who's usually good with their hands? Exactly.
Emily  
Like they're, they're a handyman, they're a woodworker. Whatever. Yeah, their skill is but there and that was evident. I mean, the house was in such amazing shape. So
Erwin  
yeah, how about cosmetically because something's gonna deal
Tammy  
old old everything old
Erwin  
bones just cosmetic Correct. Cosmetics needed?
Tammy  
Yeah, just outdated. Yeah.
Erwin  
Okay, so what would the retail value of the renovation be to bring this up to date and this week the basement without the deal? I mean, sure. Yes, but that the deal would retail because I need to set real expectations because that drives me bonkers for example, if like there's certain TV shows they give you heavily discounted prices Yeah, but you their price that's not reality. You can't do it yourself. You can't scale it
Emily  
Yeah, cuz I had to do the full conversion rates I had to do the and the upper so I really wasn't going to do too much in the upper unit. I clearly was not going to do a vaulted ceiling or feature film or a feature wall early or any kind of you know, woodwork or anything like that like I was I was trying to keep the floors you know, I was trying to keep all the trim like I was trying to keep as much as they possibly could come
Tammy  
in they're like we gotta change the trend like we don't have to do this or like I'm always on it because I don't need a contractor coming in and saying you have to change yeah, when there's certain things I know aren't going to change your rent because that was offensive but I was like an architect
Erwin  
comes and looks at our properties like you should do this. Yeah, I'm quiet bay window that won't get me any more round Exactly.
Emily  
Of course like that. And that was that was my mindset going in it was just going to be long term up long term debt like nothing special, which is going to be cool duplex conversion project, you know, in and out, whatever kind of simple thing but but it morphed into something different, obviously, because of various decisions, whatever. So
Erwin  
just to clarify, your future was very different than my future walls. It might just be a different paint colour. Woodworking to custom woodwork, very different features, very different feature walls.
Emily  
Very different. But I think like, you know, as the renovation when what actually happened. We probably should have been closer to 30. Probably. Right. But I only paid actually no more than that. It would probably illegal duplex. Yeah. Yeah, it'd be closer to 250 I think probably if I actually paid 250 Yeah, but it didn't pay that. I paid. I paid my legislator. But I think all in with all the taxes with all I did to run a bunch of Free, not free stuff, but a bunch of extra things that I wanted to do. I think I paid close to two to, I think, yeah to say probably about $50,000 with other deals that I got.
Erwin  
Yeah, even if you paid for retail, you're still under a million. And everything's even appraisers for reifies are appraising duplexes for a million. Can you share your appraisal?
Emily  
Yeah, that's a story. So yeah, so I was working with directly with a bank. I wasn't working with a broker at this point. So I was working directly with your employer or my employer, yeah, at the time, and just a mortgage broker that I had been familiar with, because he had helped us with our primary residence. So I just went back to him. And because we're getting we're getting deals, because we're gonna get an employee discounts.
Erwin  
Can you share what the employee discount is? Um,
Emily  
I don't know what the what the what the discount is. But like we was our rate on that one. I think we got 1.31. Was there? What was their interest rate when we when we bought it? Variable? 30 years? Five year term? Yeah, I think was 1.31.
Erwin  
Did anyone get anything less than 1.6? Ever? I don't think so. Okay, then what your rate is now?
Emily  
Yeah, it's got a couple times, hasn't it?
Erwin  
Yeah. So in other words, you should start with this house. Trying to save you, Emily.
Emily  
Right. Right. Right. What are we now? Yeah, it's gone up about point seven, five. Right. Since then. Just under two, I think we're at 1.9. Something I think last time it looked. Yeah.
Erwin  
Further plugs for working for the bank. Exactly. Process imagined easier to they know your employer and they have all your files is that Oh, yeah. No,
Emily  
it definitely helped. Because like, all of our investments are there, you know that that helps. Because they have access to everything, right? They just pull it by name. And they're there and all this right. So it's a lot easier
Erwin  
to do that easily. Yeah, there's no privacy. I'm sure you sign something, I'm sure you signed some
Emily  
stuff. And I sign anything. I don't know, if they didn't send anything. I mean, it just I did send them some other things. Like we have an employee share ownership programme, I decided that I'd send them that kind of stuff, because they don't have access to that stuff. But like any of my like, my end of my account, or maybe my investment accounts, all my you know, loan products, credit cards, they had access to all of that stuff. So that was just, they just pull up my name. There it all is. Yeah. So that that part was quite easy. Actually.
Erwin  
Everything was easy, even though it was like we're talking about refired talking about talking about
Emily  
it was not that easy. So from from that standpoint, it was easy, just like the the information but what I what I really struggled with with them is that they weren't investors. Like, and they were like, speaking Greek to them. Yeah, totally. And I, man, and that was I was just, I was upskilling, my mortgage broker, like, like, as the process, you know, went on, right. And, you know, he had some exposure with with investing. He's like, you know, you know, for friends, you know, it was my group of five friends and I, we invested in a property and I think it was, I think it was actually Hamilton, it was like, we had the worst tenants, we had to sell that place. It was an awful experience. So like, Are you sure you want to do this? Like, you know, this is what you want to do? And he was like, Yes, this is what I want to do. This is this is my thing now. And he was like, you know, that's a lot of debt you're taking on, you know? Really? Yeah. Oh, yeah. And this is, this is mortgage
Erwin  
brokers,
Emily  
Keystone, financial, financial advisor who has who can do mortgage stuff. So that's, that's what but I, I consider him a mortgage broker, but he was more of a financial advisor. advisor
Erwin  
doesn't like debt, that funds investment. Yes. It's hard. I
Emily  
didn't see that as good debt. He saw it as just bad debt.
Erwin  
At least he believes in whatever you're selling it, you
Emily  
know, he was repealed. He was looking out for me. He's like, Are you sure you want to do this? You know, I'm like, Uh, huh. Yep. And he said, Okay, so what are you doing with the property? And I'm like, Well, I'm converting it into two units. It's like, okay, okay. How much is that going to cost us? Like, yeah, we got it covered. Like, that's, that's just how it works. This is the process, but you know, I've crunched the numbers, I know what I'm likely going to get for the, the rents and you know, what we're expecting the refi is going to be at that point, the refi we thought was going to be close to like, high eights, maybe like low nines. We wait. Yeah,
Tammy  
we do the math to cover, you know, a procedure that's going to be covering the renovations. Yeah. And, you know, knowing what we're seeing for refi numbers then the purchase place. So inefficiencies,
Emily  
like I went in knowing that I was probably going to leave quite a bit of money in the deal. And that's just that was just what we knew was gonna happen. Yeah. And then at some point, we would refi maybe five, you know, four years down the road, five years, maybe refi that out, but I knew that I was gonna probably carry it a fairly good balance and I was using my HELOC for all of this too. Anyway, so yeah, so I really had to kind of just push forward even though he was you know, just he was just waving the red flags everywhere. You know, it's just like are you sure you want to do this and this is a lot of money and you're using your HELOC guy, you know, and but I was very confident and because I was like, No, I've listened to that podcast. I've talked to a lot of people like I have an investor focus realtor like I, this is what people do. And I'm going to also do it. So my,
Erwin  
your financial advisor would not like me, you're probably not. I've mentioned it on this podcast of our 17 listeners, none of them was taking me up on this challenge. If you're an A financial advisor, I would gladly stack my client performance against yours. Yeah. And I tell people, I'm not an expert, and our financial advisor actually got offended once when someone called me a financial advisor. Score and they're not all bad, like, you know, like, yeah, like, my friend Kathleen's, a financial advisor. She's an excellent financial advisor. But, you know, please Don't compare me to someone at the bank. Yeah, right. Selling mutual funds. Right. Exactly. That's exactly what they do actually make my clients a lot of money.
Emily  
Yeah. Mine. Yeah, mine doesn't. He tries to not make me any money, or just very stable, very safe. Nothing wrong with it, you retire when you're 65. And you make, you know, whatever you make,
Tammy  
kind of might be based on his own experiences. It's cool. Right?
Emily  
That is what happened. So yeah. But yeah, the the refi process was a nightmare with my bank. Oh, my gosh, it's horrible. So, you know, like, we hear all these regular process to get an appraisal? Yes, I know. I know. And it took them. It's a
Erwin  
third party appraiser that you blindly picked, like, not blindly but the bank has approved users. Yes. Right. That they trust. Yes. Right. They choose randomly. Which one? Yes, exactly. Most controls in place, which I agree with,
Emily  
and the process works right for them. From the bank's standpoint. Yeah, that process works. And I get it, I work at a bank, I get processes, I get what needs to happen. Like,
Erwin  
I get this from financial collapse, like the Americans. It's very
Emily  
safe, it's very secure, whatever. But, you know, I had in the market and has just exploded at this point, right? We, you know, we're we're seeing I was refiling. February, right. So like, the, the numbers, the numbers are just like, ludicrous. Right? And, and so, you know, every, every week I would chat with Tani be like, hey, like, what are people getting? At this point? What are things selling for, and we would just see these listings coming in, like 1.2, like, 1.1, where we're just like, you know, and my, my expected refi was close to more like, when we were doing this, you know, back in November and December, I like high eights, you know, you know, low nines, cool. And then we're just seeing all these crazy numbers coming in. And we're like, and I, you know, I was like, holy moly, this can really work out for me, right. And so, of course, that and so, I decided to put together a five page appraisal packet for my appraiser. So I put together prepared this, this whole Canva thing you did
Erwin  
on Canva. To see Yeah,
Emily  
yeah. So I had a really fun time with it. I really enjoyed doing it. So yeah, I did the whole thing.
Erwin  
We see it. Of course, they produce for them.
Emily  
I put a video of it on Instagram. Yes. But I can as
Tammy  
it shared the team, or when I guess
Erwin  
Instagram, so just just simply mentioning, red glasses. Rei. Glasses are Yeah. Okay. So continue. Yeah.
Emily  
And so and then I was I was so I put in, you know, in the last page, I put in what my expected rents were going to be and I had put in comparables in the neighbourhood. And then I put what I expected, the refi should be, it was like, This is what I want. So I put in 1.15 was my goal. And I know that it was a delicious and I know it was a bit crazy. But I'm like, I'm going to try, you know, what's the worst that can happen? And then they came back at 925. And I was like, man, I was just so disappointed. And I'd waited. It took them forever to do it. Like my big. They just couldn't get their act together the appraiser. Like you didn't like me to didn't they didn't want to listen to me. Like I had emailed them this thing. I was very nice to them. And I tried to give them everything they could possibly want. You know, they had the place themselves. There's there was no one there. Like it was just an empty property. And it was so I mean, I mean, I tried to make it super simple as possible. Whatever, and I get their processes to like I get I get the whole works. But yeah, mine 25. I was just like, Oh, I'm like no, like, there's just no way it's 925. There's no way it's February at this point. It's just like, what are you going? What do you be comparing it to like, it would just be it like an unrenovated single family home? What this is a legal duplex. It's stunning. You sometimes. Yeah, like so just really disappointed. So then I'm like, Nope, we're appealing this immediately. Wrong person. Yeah, yeah, I need a new person. And just the wrong person a mess with me. Yeah. I was like, no, no, it's not happening. And I just wouldn't there was just no way I was gonna accept that and I was I was then done now talking to other other financial institutions at this point. I was like, Maybe I should talk to and I was getting and then I had I was starting not know starting to talk to other mortgage brokers. Maybe I should talk to Scotia about this. Maybe I should talk to you know, maybe I don't be lender, like, you know, I need my I need this refi like, there's no way I'm gonna accept when I'm 25. So I was just I was, you know, maybe a bit French.
Erwin  
Point is end of the day. It's still human being that does that does that? Yeah. Oh, yeah. My experience. I literally had someone from Mississauga come to Hamilton. He knew everything. And he's talking to me about how to invest in Hamilton. And he was telling me that I forget, please. He didn't recognise that I had a zoning verification from the city to indicate my properties were illegal. He said that was not good enough. What I know Yeah, but he's in Mississauga. He knows everything. He knows everything. So I think he pays my duplexes at 600 in the sixes, right. And that was just a year ago. Oh, and ever since then, he has been taken off the list or the bank. Yeah. Because I have no one. No one. But the bank respects me, and it took them off their list. So it's really gonna hurt that guy's business. Really smart. No
Tammy  
problem. We had an appraiser to where he didn't know he did ask for the zoning for K verification. He wanted that that great. But his comps were against other duplexes and a second he walked in the door. He said, I hate these duplexes. Oh, like, yeah, you're just gonna go grey? Yeah. Yeah. That's exactly what he said. I
Erwin  
was so easy to find them though. Your search criteria
Tammy  
sounded jealous to me. But yeah, yeah, there's something there. That's for sure. Beard.
Tammy  
And it affected the number that came in. Yeah. So we did another one in Quebec. But what so you go on? Yeah,
Emily  
same I do. And so so that came in? And they're like, Okay, yeah, 925? Are you? Are you good with that? I was like, no, like, did you not read my appraisal packet? Like, I'm not good at this. This is very low. And I'm like, No, I'm not gonna accept it. Let's appeal it immediately. And they're like, Okay, so I'm not entirely sure what happened behind the scenes, but it took, but apparently what the story that I got was that it was a junior appraiser at the company that had handled that first appraisal. And my appeal was heard, I resent the the candidate documents and, and apparently it was hit, it was handed to a more senior appraiser at about the same company. And I got 1.13 4.1.
Erwin  
So almost a million dollar Delta. A million, almost a million dollar delta between the appraisal prices 100 100 to 200. Sorry, yeah, that's how good my math is.
Emily  
Like your wife is, uh,
Erwin  
yeah, that's why she does that.
Emily  
Let me do the math quickly. Here.
Erwin  
Also, I have I've seen another appraiser appraisal 209,000. That's a lot more. Yep. I've seen another appraisal on one of my clients that had that property in the Maritimes. And the appraiser actually use an oceanfront property to compare against an interior property. Great. And then so her appraisal was completely over inflated and she overpaid for it. So yeah. Wow. Trust no one.
Tammy  
Trust no one. trust
Tammy  
their own homework verify, please, at least fair surround yourself, people I know they're doing.
Erwin  
Here's part of the challenge, though, is that we even though we pay for the appraisal, we don't often see the comparables used. Yeah, this was only found out because there was a lawsuit.
Emily  
Oh, interesting. Yeah. Yeah. Yeah. So like, I don't know what they use. But hopefully they used I mean, they clearly use something more comparable than the first I use
Erwin  
Junior than they probably use the wrong comparables. They probably just use regular single family home. Yeah, exactly. Yeah. But I made a lot mistake. So even those
Tammy  
those are selling single family homes with two kitchens.
Emily  
It makes no sense. It makes no sense. I don't know what the guy was.
Erwin  
February, we saw we were seeing stuff for like, 1.3.
Tammy  
Yeah, we've seen 1.1 1.2 1.3 for legal duplexes
Erwin  
for actual transactions. We're not gonna see that for appraisal. Yeah, yes. Sorry. Yeah, exactly. So
Tammy  
we weren't there. People get coming in around that million dollar mark on an appraisal. Yeah. So when you just came back at that, it was like, There's no way did you not see the feature? Why not?
Tammy  
Look at the property. What exactly?
Erwin  
You know, what a vaulted ceiling is?
Emily  
engineer do this. Yeah.
Erwin  
So then how much of your money were you able to take out?
Emily  
So I only I think I have about 85,000 left in the property. So I think I calculated at I pulled out 80% of my capital. I think that's what the my spreadsheet told me or told me.
Erwin  
And then what are your projected rents?
Emily  
For Airbnb?
Erwin  
What was it on the Canva? Was it an honest,
Emily  
what did I put on my camera? That's good question. I think I had a good question. Actually. I can remember what it probably a little higher. Yeah, it's probably I probably put in like 2400 Plus utilities for the upper unit and they probably put in like 1900 Probably for the lower unit. I think that's what I what I put
Tammy  
Yeah, maybe you put 2000 You were trying for 2000 GG or wherever.
Erwin  
Yeah. Oh, and then who's insuring your Airbnb? Because we don't have any clients doing this.
Emily  
Yeah. But it's just my so I told them that I was doing an Airbnb. I told them the strategy for both I'm doing the long term in the basement and then an Airbnb in the in the upper unit. And my insurance was actually the same, like they really wasn't that different at all. So as deja Den is my insurance company, I have a great contract. I've sent many people to her. She's great. So yeah, they didn't seem to have any issues with it.
Erwin  
So what is market rent? Then? What would I know?
Emily  
What's the upper unit?
Erwin  
Sure. Let's try that.
Emily  
I don't know. I don't know. I never tried. So 2022. So yeah.
Erwin  
22 If it was a regular rental,
Tammy  
so we're pretty much running our numbers right now at 22. Up. We have started to see higher than that. And 18 down for sure. Right. But you got 1850 Yeah, we start to see a little higher on that, too. So
Erwin  
for Kieran Yeah. And then what do you think you're gonna get? For the upstairs as Yeah. As a midterm? Yeah.
Emily  
It's so now I'm worried converting it into an actual short term. No longer midterm anymore? Oh, yeah. So because? Because I've hired this property management company. Yeah. I think we'll still maybe accept the long term, like more mid term, but they have to pay
Erwin  
the price. It's just harder for them to book isn't it? The navigate all the weekends and holidays? Yeah, exactly. It's
Emily  
exactly. And we want to make sure that we're that we're strategically pricing those weekends, especially those long, those long weekend weekends. And that's really that's what's key. So, yeah, I mean, we're looking like, we should be closer to $200 a night at this point. So sure, lower tenant
Tammy  
know your what you're doing upstairs, was there any issues with
Emily  
so this is the other thing that's so funny. It was actually the reverse, but I was worried about to be honest, I was worried about my my Airbnb not being happy with my lower unit. Because the lower unit has two dogs. Oh, exactly. And when they first moved in, the dogs were unsettled, unsettled, as we say. So quite noisy. And you know, it's older home, their age back, it was just like the dogs were sitting beside you, when you were sitting in the upper unit, I was that loud. And so that's what I was really worried about. I'm like, if I'm reading this short term upstairs, this people are paying a lot of money, you know, per night, and they're going to be listening to these review dogs. I was quite stressed. So we've dealt with that. The lower unit tenants do understand that, you know, there might be an issue there and but but apparently is because you know that dogs just moved into a brand new home there. You know, they were alone. During those couple of times that I was there and they were they were unhappy so they're working on it. And I think the dogs are happier now and and ourselves.
Erwin  
So any tips is I have a situation where my properties? Yeah.
Emily  
the only the only thing that I heard is that they were trying CBD oil with the with the dogs for anxiety, dog version of that.
Erwin  
I don't know. We're not that's folks. We're not recommending.
Tammy  
That's what I was told. So I don't know if that's working. But that is what I was told was happening there.
Erwin  
So yeah. Why are you doing all this?
Emily  
Real estate you mean?
Erwin  
Sure anything?
Emily  
Um,
Erwin  
get yourself a promotion as well. Like, I'm sure all these things kind of tie together. Yeah.
Emily  
Yeah, I know. It's funny. Um,
Tammy  
she likes working with me. Do you like Right? Yeah.
Emily  
I talked to Tammy where that I talked to my mom. So you know,
Erwin  
oh, another person to call you, Mom?
Emily  
Oh, boy. I want to be work optional, I think. Yeah. I think it's what I want. I want more control of my life.
Erwin  
All right. You pheromone too. Because before we were recording, we're talking about working from home, pre pandemic, how much were you allowed to work from home?
Emily  
Maybe once a week, and that had to be approved.
Erwin  
So that in reality half injection work from home then you have two kids like
Emily  
I was working. I was I got I got the one approved one day approved before pandemic so
Erwin  
so like flat approval every week. I can work from home one day. Yeah. Yeah, exactly.
Emily  
And then now and then now. Now the question is like, I have to get approved even go into the office now. Just very strange.
Erwin  
That's weird.
Emily  
Yeah, there's just yeah, there's timing. Long story. There's a lot of red tape. But June is when they expect us to go. Well, I shouldn't say that. They invite us to go back starting June. And they would like to see us twice a week wording
Erwin  
because I remember I remember Tim Ferriss, she wrote about that and four hour workweek was to try to negotiate working from home. So that you could do you could have more time to you know, so you don't have to commute. You have other things so you can actually have time to focus on whatever it is you're interested in. Yeah. And Rui, one of our longtime clients. What made him successful was because he was he was mobile it and most of his work didn't start till after 5pm Because you just wait for the company to employees to be gone so they can mess with it. Yeah. So he was always free during the day to go look at properties with us. So he was always there first thing, right? Yeah, he had that advantage over everyone else when a nine to five he was was there first when a property was listed and we get properties? Oh, wow. Right, because we were the first offer and then back then like the rule that rule old rule of thumb was first offers your best offer. Here's your first offer. We're here. And then we got so many properties that way. I remember one agent said on the on the following Monday, she said, I wish to take your offer and so many showings. So many so many people trying to book showings this
Tammy  
when they stopped holding offers were like vultures, vultures. 
Emily
That's how I got the St. Catharines. Property.
Erwin  
Yeah, got it. So but my point is that, you know, again, there's always been all this rhetoric out there, like Be your own boss, be your own boss. Yeah. Now you have all this flexibility now?
Emily  
Yeah, I certainly do have flexibility, historic levels of flexibility, flexibility 
Erwin  
100% and all invited back.
Emily  
Back. Exactly. But you know, yeah, it's one of those things. It's like, you know, I don't I don't want to fail at everything kind of thing. Like, like, I really I do have to budget my time properly, you know, to for me to do a good job at work. I have to I have to be mentally there. I can't I can't be on the phone. I can't be looking at properties. Like I'll try to really compartmentalise my time and structure my time where I'm you know, you know, at lunch, I tried to go to the gym now, you know, you know, maybe we'll take one or two calls, you know, very quick calls for contractors or talk to Tammy or whatever, but I, but for me, to, for me to do what I feel I need to do at work, I really have to be mentally at work. You know, regardless of where my physical body is, like, I have to, you know, whether it's I'm at home, or I'm at the work, I have to mentally be there. So, yes, I have flexibility. But I still have to have rules for myself, I guess. 
Erwin  
Yeah, I did a little bit differently. Because we had core hours at work. You had to be you're supposed to be in the office 10 to three. So and then if again, if I didn't have an appointment, a meeting or something like that, I would do real estate stuff, but I track my time. And then I'd make up that time later in the day or during that week. Yep. All right. To me, again, morally and ethically. You're paying for my time I'm here. Yeah, right. Right. I will use your fax machine. Yeah, and print some stuff on your printer.
Emily  
I had to buy a printer during the pandemic, sadly. So I never, that was my real adult moment.
Erwin  
I worked in paper.
Emily  
No, we were not allowed to print anything at home from work. 
Erwin  
That makes sense. 
Emily  
Yeah. Yeah, it's payment, but it's a huge pain. Oh, yeah. Everything? No, there is our paper bill has I mean, it's almost non existent now at work. Because no one prints anything. Which is great. 
Erwin  
Actually, it's great for the trees, from the eyes, talks about the other investment properties, and we're close to running out of time.
Emily  
Okay, so the second property that we bought after that the big one was another duplex, right. That wasn't text seven or something like that. No, no. Yeah. Yeah. So we did a another bought another conversion. single family home on Hamilton. 
Tammy  
And that street actually. Same Street. Mountain ones West Street, second Mohawk project. Yes.
Erwin  
And two minute drive to each other.
Tammy  
Well, yeah. It's just funny that yeah, we got to keep her property straight since we're on the same Yeah.
Emily  
Really quick Mohawk. Oh, yeah. That's the last one. Yeah. You know, it's tough problem to have been. That one I actually said problem. Yeah, exactly. It's not first world problem. Yeah, you're right. Yeah, it's not preserved. Exactly. But that one, I actually got my parents to buy. So I'm the active partner. So we're kind of doing a JV although we haven't signed any JV papers X. I have to figure that out. But, but I got them in the game. And I'm very happy that we did. So I so yeah, they're the they're the money partners. And they're 100% they 100% mortgage 100%, Reno, 100%. Everything. And I have just managed the entire thing. Right? So another conversion project. But we had this one. And this one was just sitting on the market. It was sitting there for like 20 days. 25 days off. Sorry, that's an eternity. Hey, no, especially for a very beautiful, beautiful home. Huge lot. 50 by 150. 
Tammy  
Whichyou know why it was sitting? Yeah, because they had the bedrooms, the way they had it all set up. We're all in the basement. So I think that was part of Yeah, see, when you went in there was the living room and a dining room and a kitchen, a bathroom and an office. Yeah, it could have been a bedroom. 
Erwin  
Okay, but let's that didn't stage it properly.
Emily  
No. No. Because they had renovated it that way. 
Tammy  
It was slipped like that. They remember we thought it was so nice.
Erwin  
Especially renovated for maximum sold price. Yeah. 
Tammy  
All in the basement. So four bedrooms in the basement and bathroom. And I we think that maybe people can wrap their head around for some reason. Yeah. 
Erwin  
So that they are on them. Usually I would have bought that all day. So dummies.
Emily  
So so that so not investor looked at that. And we're just like, that's, you know, but I actually know
Tammy  
some investors that looked at it. Yeah, that's true. I don't know. 
Emily  
Why didn't you? Oh, yeah. I did that. And yeah, so some people looked at it, and we looked at it and went like, cool, it's a beautiful, beautiful home. I mean, it was like turnkey. It's stunning, right giant property. Garden suite potential. We're putting in a one inch waterline actually just for future garden suite.
Tammy  
I drool over turnkey. Yeah. It was funny with this one. And we didn't know at the time, but when they were ready to start the renovation, we found out that the basement ceiling was all fire rated drywall or like what what? Yes, it was like they knew that. They didn't, we didn't know. 
Emily  
And it was insulated to So Japan fire rated very well and insulated.
Erwin  
We didn't even tell you that when they were selling the house.
Tammy  
No, I don't know if they knew
Emily  
they didn't think that that was important. Before. Terrible marketers. Yeah, it's not good. Yeah. So we pounce on that one. So we paid 784 for that one. Deal. Yep. And so it's going to be to have that wasn't
Tammy  
that was yeah, we've got it down in price a bit. Yeah, we did. And yeah. You have to imagine that's when the prices will start to go up. Sorry.
Emily  
About that in November. 
Erwin  
I think well, you're the only offer. It's 20 days on market at that point. Yeah. Yeah. Really? Yep. This is what month is this? November? Yep. November. And there's no other offers no. Weird. Yep. So if people can't find deals on the room,
Emily  
Some people can't. So yeah, so that's another conversion. We're almost done that one. We had a couple of delays. Alexa, can I say yeah, Elektra, Elektra has kind of pushed us out a bit. And then we're trying to get the city has has cause a bit of delay, because we're trying to get the one inch water service, because we want to do a garden suite in the future. So that has caused a bit of delay as well. And then the window the egress window. Hopefully that they do, I think that was supposed to be in this week. So hopefully, that I had to check in with supply chain issue. I do labour issues. All of the above the above, probably. So there's there's a few delays with that one, but we're arbitraging that one. So that's the kind of cool thing with this. So my same Airbnb company that I'm using for my faux hawk. To manage my my Airbnb, we're going to rent these two units out to them at market rents. And then they're going to put Airbnbs and both of the units. Oh, cool. Yeah. So it's pretty neat.
Erwin  
So they go there. They're going to pay market rent. Yes. For the duplex. Yes. Free individual units. Yes. And they're going to rent them out. Correct? Yep. And they're gonna cover the maintenance.
Emily  
Correct. Everything that covers snow, grass, there's no property management fee. There's no tenant placement fee. 
Erwin  
They pay all the utilities can be posted up. This goes. Yeah. That's exciting. Interesting. It's really cool. 
Emily  
That's a cool model. Yeah. So my parents love the idea of it. They're like, ooh, this sounds great. And the place gets cleaned all the time. Right, which is really cool. 
Tammy  
So, third one sounds boring. Now. I know. Third one. Yeah. 
Tammy  
My think happens when that was a cool story really is very interesting story. Yeah, that's cool story.
Emily  
So tell the quick, but yes, yes. So super quick. had been on the market on an offer for a little while. The upper unit? Sorry. So at St. Catharines. It's illegal duplex in St. Catharines. It was owner tenant occupied. So the tenant, we found out was in jail.
Tammy  
And currently at that moment when we were looking at the house,
Emily  
yeah, currently in jail. The owner, the tenant, tenant was in jail. He had signed in and 11 though. And so so the owner was okay, great time to sell. And I think I think there might have been a split slash divorce I think also happening just from what I some things that I gathered, so great opportunity, CSI. Yeah, I did some investigating. And anyways, so that that scared some people off that this whole jail concept. Right. You know, who knows that this comes back? Yeah. In case comes back, he doesn't move out and kiss you. Because so we had bought it also November. Remember? It was pretty close. Yep. Yeah. So his, an 11 said his his move date was December 31. And that's when he was supposed to, that's when his tendency was supposed to end. And so this is a serious criminal or I looked him up, also. And I think it was, I shouldn't say just a DUI, but it was a DUI. That's it? Well, I think it was a multiple offence. So situation. 
Erwin  
So this isn't like violent criminal or so. Well, exactly.
Emily  
But I had to google that. And the terrible thing is terrible thing. And but that malicious people and the property was in the property wasn't involved, which is what my main concern was, you know, if there was some kind of crime on the property, you know, that's a different strategy. I've just noticed volved DUI. Well, yeah, but I didn't know what it was DUI until the until that point, but you know, it's but that's when I found out as DUI I was like, Okay, this guy's he made some poor choices, obviously. But you know, he signed it an 11 It was cool. We're good. I think I'm gonna I think there's no issue here. So we we bought it with a condition I wanted to do an inspection to so heat the so we offered about five grand over asking it Put in the condition to put it financing. I think we had all conditions we had financing we had only offer there was someone coming in, but there they were scared away by the jail thing. 
Erwin  
So we looked like bloody gloves around the property
Emily  
Or some property was the property was in rough shape to I'll say that too. So I needed a lot of work. And it was. So yeah, so we Yeah, had the inspector in Spectre found a few things that weren't weren't super duper. 
Tammy  
And then during that conditional period, you were talking a lot with the paralegal. Yes, I was talking to apparently because we that was our that was our opportunity to do some extra. Yeah, homework.
Emily  
Exactly. And I just wanted to double check, like, what do I need to do here? Do we need to file the n 11? You know, what we actually found actually, with an 11 was done, incorrectly incorrectly. So we hadn't we had a wrong and 11 when they put the wrong unit number on the 11, which I'm like, how is that even possible? But they did the owner did it? Yes. And maybe the paralegal they used I don't know what happened. And so we identified that during due diligence, were like, you know, we can't accept this. Obviously, we don't have we don't have a valid and 11. So they went back to the jail and got a new and 11 with the right unit number. Right? Yep, yep. 
Tammy  
And then we changed our when we were going to firm up and remove our conditions, got a price reduction and decided we wanted to just make it fake it. So we locked it in originally, that we were going to take the tenant that was never going to actually be there, because they were going to be out of jail and have moved out. But we were taking that on.
Emily  
Yeah, because they originally wanted like at any a November close or December close. And this was, you know, and then so I'm like, okay, you know, I could probably deal with that, you know, if I want I wanted the deal, right? And like, I can probably take that on he mean, he's in jail, we have an n 11. He's probably not gonna be a problem. But then because we had the N 11 issue that we found. And we had some of the issues that came up on the inspection. We're like, no, and we're in a power position at this point, because I had accepted our offer. And I was like, No, we shaved off 15,000 offer off our price that we had offered. And we pushed out the offer the closing date to June 6, which is when he was supposed to be
Tammy  
We were gone that he was going to meet they were going to come back and say maybe he signed that under duress when he was in jail too. So we didn't want to have any issues. So yeah, so we gotta
Erwin  
Wait. You got you haven't tied up. You haven't closed yet?
Emily  
No, no, close and close. June January. Sorry. They say June. Jan six. Sorry, John. I'm sorry.
Erwin  
Yeah. They stopped.
Emily  
And it was theirs. So we were just in a position of power there. And and clearly this guy this owner wanted out of this property. Yep. So here 9490. Haley. So he accepted that 490 Yeah, with illegal duplex and St. Catharines. Which is, you know, work. We made it work.
Erwin  
And we want one of these 490.
Emily  
And so we're actually just basically gutting it this probably spent a bit more than I should have maybe the renovations to be honest now that I kind of think about it. I think it'd be probably kept should have kept some of it. But the stuff I said to keep this stuff you said the tapes, I should have listened to me. And so I am likely going to flip it. I think at this point, I think so we are little 
Tammy  
Selfish plugs.
Emily  
Yeah, that's a listing on Yeah. Yeah. So we're gonna
Tammy  
It's gonna be beautiful. Yeah. Also maybe musical duplex and St. Catharines with newly renovated
Erwin  
Not convict tenants,
Emily  
Ya know? And yeah, and we all knew plumbing all New electrical, like the thing is like, I mean, the mic is just awesome. It's a really good unit get commitment property. So we're going to be probably doing that maybe exclusively. Maybe we'll think about it. The best strategies for that one.
Erwin  
Yeah. So we friends of ours. Steel,
Tammy  
Maybe these podcast listeners,
Emily  
If you want it. It's gonna come in about a month or so. Well, it depends when this airs, but nobody listens to this. Nobody listens. I might listen to my accent. I won't listen to this. No, no way.
Erwin  
So Emily, you jumped in with two feet? Yeah. $12 million. With the properties. Massive renovations? Yeah. That's not easy for any people. I have trouble convincing lots of people to invest in anything. Anything even like investing $25,000 into like a into a into a passive land development deal. You've been pouring in. Can I add some money for renovations?
Tammy  
When I first had our conversation, our first conversation she had reached out to Mike Ferreira said I see Tammy on your Instagram. What's it like working with her? So she called me
Erwin  
And she was actually did you know Mike at this time? No,
Emily  
No, I just on Instagram. I don't know how I found him. But I just found him through the network. I think he squeezes way. He's everywhere.
Tammy  
And you had called me and we had the best conversation. I love talking to you. She was so driven, so focused, so ready your energy. She's like I've been pre approved. I went to this broker. I'm all ready to go on They're super excited to go out. But she was currently out looking and talking with another realtor. So we had to cut her ties in a sense. And I said, you know, that's good for you to explore that and so on and went out and then when you you ended up you actually didn't call me at first you ended up just breaking those ties with her all the rage channels then called Zed kit that's completely done so we can move forward. And I remember when I found out your person was so just because I'm like, You're exactly who I was. I your energy just made me so excited. You were ready and focused right from the beginning and you have not stopped since continue to sleep in like that. So super excited to work with you too. Yeah.
Erwin  
Well, I have a realtor. They're so so sad for them. You're Homewrecker to me.
Emily  
They were also investor focused, but not not the focus. I needed.
Erwin  
Everyone's investor focus these days. Yeah. When I started in 2010, there was no one investor focus.
Tammy  
But some people just connect and you know, because I'm not, you know, maybe I'm not well connect with everybody there, you know, and it just me, but it was you. So when you were talking about how she is. That's how I knew right from the very beginning. The connections
Erwin  
Are nice and all, but I'm a pragmatic purpose person. I want talent on my team. Yeah. All right. Well, you you work in HR. No, no, you don't work in HR. But you know, you find looking for talented people on my team. I don't care if we don't jive on religion or something or politics. I could care less. Yeah. If you're talented, and you can help me make money. We're best friends.
Emily  
People are your biggest asset. You know, for an employer, your people are people will run your business. If you don't have the right people. Your business is not is going to suffer.
Erwin  
That's a good place to end it. My stomach growling the client? Yeah, so yeah,
Emily  
We have how many properties? Five? Yeah,
Tammy  
I'm gonna go check that smaller properties. Yeah.
Erwin  
What are the chances? Any good ones? I'll dumpers.
Emily  
There's one. Interesting one.
Erwin  
Five to see.
Tammy  
I hope they're bad. We'll go.
Erwin  
These are different companies are finding excited. Yeah. So different is a actually it gives some context. Today's April 29. Yeah. And, you know, three months ago, were there 3.5 properties to see No,
Tammy  
No. Yeah. beginning of this year. Yeah, there were, I think four to choose from in one of my searches. And two of them, and I'm looking at them for duplex conversions. And two of them one work. Yeah, right. Well, these two are Yeah, so there was two
Erwin  
Wow, five properties of Il for that could be duplex conversions.
Tammy  
There was four at the time and two of them weren't good. Now what I mean, by properties,
Emily  
Changed my strategy. I think a little I'm not looking for duplex conversions anymore. I need I need more units to make money. Looking at Maltese. Now we're looking at Maltese,
Erwin  
How big three.
Emily  
I eventually eventually we'll get to the higher ones. But at this point, I want to try to test out the three and the four if we can.
Erwin  
Fabulous. Okay, I'm gonna keep you from it. Thank you Emily, thank you Tammy.
Tammy 
Thanks. 
Erwin
Thanks for coming on.
Emily
Thanks for having me. 
Erwin 
Before you go if you're interested in learning more about an alternative means of cash flowing like hundreds of other real estate investors have already, then sign up for my newsletter and you'll learn of the next free demonstration webinar I'll be delivering on the subject of stock hacking. It's much improved demonstration over the one that I gave to my cousin chubby at Thanksgiving dinner in 2019. He now averages 1% cash flow per week, and he's a musician by trade. As a real estate investor myself, I got into real estate for the cash flow. But with the rising costs to operate a rental business, it's just not the same as it was five to 10 years ago when I started there. Forget the cash flow reduces your risk. The more you have, the more lumps you can absorb. And if you have none, or limited cash flow, you're going to be paying out of your pocket like I did on a recent basement flood at my student rental in St. Catharines. Ontario. If you're interested in learning more, but stir for free for my newsletter at www dot truth about real estate investing.ca. Enter your name and email address on the right side. We'll include in the newsletter when we announce our next free stock hacker demonstration. Find out for yourself what so many real estate investors are doing to diversify and increase our cash flow. And if you can't tell I love teaching and sharing this stuff.

To Follow Emily:
Instagram: https://www.instagram.com/redglassesrei/
HELP US OUT!
Please help us reach new listeners on iTunes by leaving us a rating and review!
UPCOMING EVENTS
You are the average of the five people you spend the most time with! Build connections with empire builders and trailblazers at our iWIN events.
BEFORE YOU GO…
If you're interested in being a successful real estate investor like those who have been featured on this podcast and our hundreds of successful clients please let us know.
It is our honour to give back and educate others on how we build cash flowing real estate portfolios using all the best practices shared on this podcast, from the lessons of our hundreds of clients and of course our own experience in owning investment real estate.
If you didn't know already, we pride ourselves on being the best of the best real estate coaches, having the best property managers, contractors, handy people, cleaners, lawyers, accountants, everyone you need on your power team and we're happy to share them with our clients to ensure your success. 
New investor or seasoned veteran investor, we can help anyone by providing our award winning coaching services and this isn't all talk.
We have been awarded Realtor of the Year to Investors in 2015 by the Real Estate Investment Network, 2016 by the Canadian Real Estate Wealth Magazine and again in 2017 because no one told the judges no one is supposed to win the award twice but on merit, our peers deemed us as the best.  In 2018, we again won the same award by the Real Estate Investment Network.
Hopefully being the most decorated team of Realtors in Ontario will make you consider us for your first or next real estate investment.  Even if you don't invest in our areas, there's a good chance I know who would be ideal for you. 
I've been around for a while, some Realtors are talented at servicing investors there are many with great ethics.  The intersection of the two, talent and ethics is limited to a handful in each city or town.
Only work with the best is what my father always taught me.  If you're interested, drop us an email at iwin@infinitywealth.ca.
I hope to meet you at one of our meetups soon.
Again that's iwin@infinitywealth.ca
Sponsored by:
Infinity Wealth Investment Network – would you like to know how our investors returned 341.8% on positive cash flowing real estate over the last five years? On average, that was 68.4% per year.
Just imagine what winning in real estate could do for you.
If you would like to know how we did it, ask us how by calling 289-288-5019 or email us at iwin@infinitywealth.ca.
Don't delay, the top markets we focus in are trending upward in price, so you can pay today's price or tomorrow's price.
Till next time, just do it because I believe in you.
Erwin
Hamilton, St. Catharines and Toronto Land Development, Real Estate Investor, and soon to be builder.
W: erwinszeto.com
FB: https://www.facebook.com/erwin.szeto
IG: https://www.instagram.com/erwinszeto/
https://www.truthaboutrealestateinvesting.ca/wp-content/uploads/2022/05/Emily.jpg
630
1200
Erwin Szeto
https://www.truthaboutrealestateinvesting.ca/wp-content/uploads/2017/06/TruthRectangleLogo.png
Erwin Szeto
2022-05-30 16:39:05
2022-05-30 20:11:27
Burnt Out From Job/Covid, Bought 3 Houses, Airbnb Mid-Term Rentals With Red Glasses Emily