50/50 Joint Venture With Dad, 12 Properties in 15 Years, 21% ROI in 5 Months Stock Hacking With Matt Spada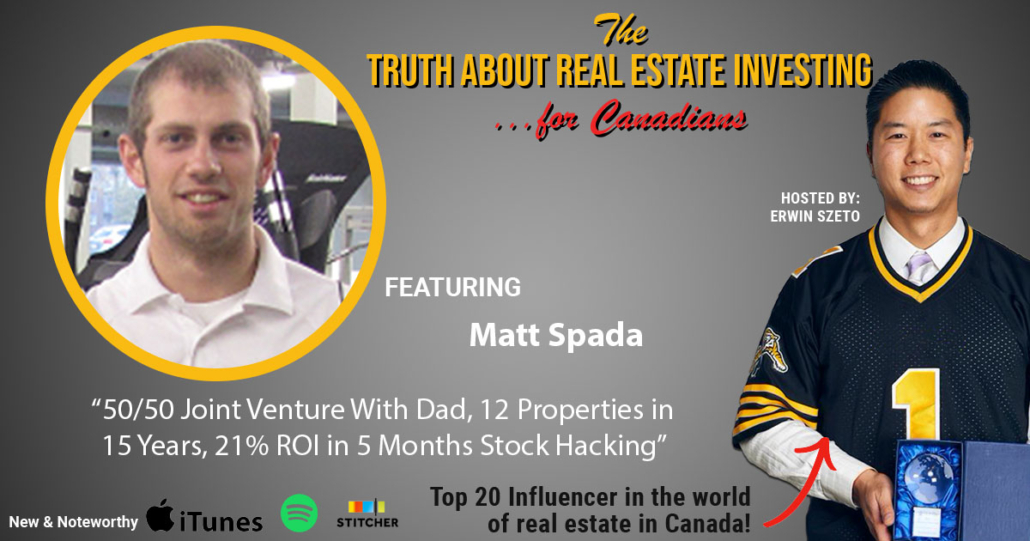 Did you know many Canadians are struggling to get into the real estate market right now?
It sucks, and I feel bad for the younger generation or anyone who can't get in.
One just needs to check on the net worth of tenants vs homeowners to know that the path to avoid poverty is to be a homeowner. 
The exemption from paying gains on the sale of one's home is one of the few tax savings we receive as Canadians, so why not take advantage of it.
 

 

View this post on Instagram

 
In a low-interest rate environment combined with governments worldwide creating more and more money from thin air, economic theory dictates to protect yourself from inflation is to hold hard assets.
An ideal hard asset is self-liquidating, as in it pays for itself. 
Such as investing in real estate, the rent from the tenant covers all the expenses and mortgage payments, then in 20-30 years, the house is paid off, and one owns a cash producing asset free and clear.
Not bad, eh?
Many of you already know this and got it right. 
Sadly, many did not, and it's not your fault if you didn't. Schools don't teach investing, and banks would rather sell you mutual funds than see you buy cash-producing assets. 
I don't blame the banks; selling mutual funds is how they make money.
There was even a sarcastic billboard in downtown Toronto that went up with the question, "Can't afford a home? Have you tried finding richer parents?"
While there is some truth to the billboard, yes, many first-time buyers and buyers, in general, are getting help from their parents for down payments and even credit.
I hear it all the time from the mortgage agents and brokers we work with BEFORE the pandemic happened.
For anyone who's been following me for a while, you know we've predicted real estate prices would go up on land-based housing for years…  
No one expected prices to go up 20% over a 12 month period!
However, I'm still offering on houses, and we offered on one last weekend. 
I wrote the offer myself while Cherry and the kids enjoyed a hot and sunny day in the pool, which sucked for me as I missed the fun.
But such is an investor's life…  Delaying short-term gratification for long-term, intergenerational gains.  
My preferred investment strategy still allows me to cash flow even in today's market.
My team will share how to execute the #1 investment strategy, completely free, virtually from the comfort of home. 
We'll get back in person free training once allowed to, but for now, we're on Zoom and look forward to helping more every day, hard-working Canadians get ahead in life.
If you're on my email newsletter, then you're good and will be notified of our next event.
If you're not, well, that's just silly.  Go to www.investortraining.ca, type your name and email, click submit, and you'll be on your path to financial peace. 
We've helped hundreds of investors already create six-figure side hustles, and we're looking forward to helping thousands more.
Just ask my friend Matt Spada, our guest this week, how the journey has helped him.
It all started when his dad said to him, "If you ever want to get ahead in life, invest in real estate," and handed him a book when he was 18 years old. That was 15 years ago.
Soon after, they shot out of a cannon buying a lot of property over a short period of time.
50/50 Joint Venture With Dad, 12 Properties in 15 Years, 21% ROI in 5 Months Stock Hacking With Matt Spada
I remember meeting Matt at a Rock Star VIP dinner event (remember having dinner in a restaurant with friends?).
I remember him sharing how he was concerned about paying the double land transfer tax for a house in north Toronto.
That was 11 years ago, and thankfully they did the deal. I'm sure the house has tripled in value. 
Funny how investing in real estate can change lives.
11 Years later, Matt Spada is no longer the 23 year old I met in 2010.  He's now a business owner, father of two, owner of as many as 12 properties, now holding seven houses.  
Matt also took our Stock Hacker Academy program this past fall and shares he's really enjoying it, which is awesome because I love hearing client success stories.
Matt and his dad Gino are gym owners.  I'm quite confident they could beat me up without breaking a sweat. 😂
Anyways, here is the story about how a 19-year-old Matt Spada got started investing in real estate.
I hope you enjoy the show.

HELP US OUT!
Please help us reach new listeners on iTunes by leaving us a rating and review!
UPCOMING EVENTS
You are the average of the five people you spend the most time with! Build connections with empire builders and trailblazers at our iWIN events.
BEFORE YOU GO…
If you're interested in being a successful real estate investor like those who have been featured on this podcast and our hundreds of successful clients please let us know.
It is our honour to give back and educate others on how we build cash flowing real estate portfolios using all the best practices shared on this podcast, from the lessons of our hundreds of clients and of course our own experience in owning investment real estate.
If you didn't know already, we pride ourselves on being the best of the best real estate coaches, having the best property managers, contractors, handy people, cleaners, lawyers, accountants, everyone you need on your power team and we're happy to share them with our clients to ensure your success. 
New investor or seasoned veteran investor, we can help anyone by providing our award winning coaching services and this isn't all talk.
We have been awarded Realtor of the Year to Investors in 2015 by the Real Estate Investment Network, 2016 by the Canadian Real Estate Wealth Magazine and again in 2017 because no one told the judges no one is supposed to win the award twice but on merit, our peers deemed us as the best.  In 2018, we again won the same award by the Real Estate Investment Network.
Hopefully being the most decorated team of Realtors in Ontario will make you consider us for your first or next real estate investment.  Even if you don't invest in our areas, there's a good chance I know who would be ideal for you. 
I've been around for a while, some Realtors are talented at servicing investors there are many with great ethics.  The intersection of the two, talent and ethics is limited to a handful in each city or town.
Only work with the best is what my father always taught me.  If you're interested, drop us an email at iwin@infinitywealth.ca.
I hope to meet you at one of our meetups soon.
Again that's iwin@infinitywealth.ca
NO MORE Confusion
After all the Youtube videos, books, and forum posts, you're probably still left with questions. Starting in real estate is a tricky thing.
Frustrated beginners often ask how a legal basement suite conversion actually works. Most of the time we can only give general answers. But now, we get to dive in.
At this in-depth, free class you'll learn how to take your first steps as a real estate investor.
Nothing is held back. Everything from analyzing basement suite conversion deals, to renting out your first property at a profit, and even how to refinance and do it all again!
More secrets you'll uncover are:
Profiting in a HOT market…
Municipal bylaws to watch out for…
Mortgage terms that favour refinancing…
AND one barely used tactic for higher appraisals…
If you're frustrated, unsure of how to get started, this is for you.
 Sign up now for the Invitation List and be one of the first to get an invite to the next class.
Sponsored by:
Infinity Wealth Investment Network – would you like to know how our investors returned 341.8% on positive cash flowing real estate over the last five years? On average, that was 68.4% per year.
Just imagine what winning in real estate could do for you.
If you would like to know how we did it, ask us how by calling 289-288-5019 or email us at meaghan@infinitywealth.ca.
Don't delay, the top markets we focus in are trending upward in price, so you can pay today's price or tomorrow's price.
Till next time, just do it because I believe in you.
Erwin
Hamilton, St. Catharines and Toronto Land Development, Real Estate Investor, and soon to be builder.
W: erwinszeto.com
FB: https://www.facebook.com/erwin.szeto
IG: https://www.instagram.com/erwinszeto/
https://www.truthaboutrealestateinvesting.ca/wp-content/uploads/2021/06/Matt-Spada.jpg
630
1200
Erwin Szeto
https://www.truthaboutrealestateinvesting.ca/wp-content/uploads/2017/06/TruthRectangleLogo.png
Erwin Szeto
2021-06-11 14:09:46
2021-06-11 14:09:51
50/50 Joint Venture With Dad, 12 Properties in 15 Years, 21% ROI in 5 Months Stock Hacking With Matt Spada