How To Invest in Laneway Housing With Lanescape.ca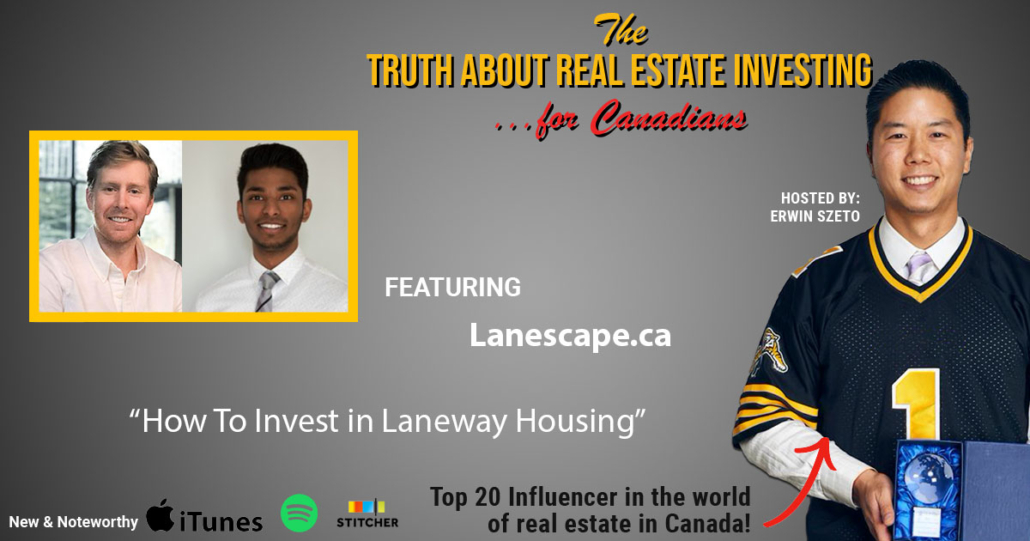 Greetings, my fellow Wealth Hackers!!
Hope your week's off to a good start. I know mine is.
My golf game is improving :). Last week I trimmed 16 and 18 strokes off previous rounds of golf at respective golf courses!!
Tracking results and using consistent rules of play make tracking more effective, and there is an old saying in business: What gets measured gets done.
So whatever you deem important in life, you should check on it at regular intervals: Eg. how many times you spend time with the kids each week, date nights, net worth, monthly cash flow, vacation weeks etc, are all important metrics to the wealth hacker.
On one evening after dinner, I took the kids for an evening stroll around the pond behind the house, and we made it our thing to see what wildlife we could find.
This spring so far with the kids, we've found a pair of beavers, frogs, and more recently, baby geese and ducklings, a turtle and this week, a nesting snapping turtle laying eggs!!
I don't know about you, but this is the first time I've witnessed a turtle laying eggs less than 200 yards from my house nonetheless.
Anyways, she laid around 30 eggs next to a walking path. The next morning, the kids and I installed two orange cones next to the nest to protect the eggs, so no one steps on the nest.
I used long golf tees to pin down the cones so they don't blow away and ordered some reflective driveway markers for a longer term solution, after googling and finding out the baby turtles need 60 days to incubate.
I also scolded a lady for getting too close to the nesting mom. She got within two feet to get a better look. The turtle mom tucked her head into her shell, which turtles do when they feel threatened.
I like doing this with the kids, enjoying the outdoors, teaching them about wildlife, and just as importantly, respecting living things. Except for mosquitos, I'm nobody's food source, lol.
As if the turtle sighting wasn't exciting enough, my friend and client Kaush Nanubhai texted me that we could book our second covid shot, and I did.
The big day is July 14th, and I couldn't be more excited about putting the Coronavirus behind me.
As someone who enjoys doing research, reading charts, etc., the most recent stats out of the UK in how new covid case to hospitalization rates are dropping, even as the fourth wave begins thanks to the Delta variant, I can tell vaccinations work.
The Delta variant is the one that ravaged India, so no thank you for my family and me.
As for me, I won't hide at home. My kids will go back to school in person this fall.
But, knowing our borders are open and how many have avoided or paid the fine to skip the quarantine hotel, variants will continue to come into Canada, so my choice is for Cherry and me to protect ourselves.
Thank goodness science will protect us from bad government, but thank you, government, for the free vaccine 😛
I almost forgot, I also gave a 30-minute presentation to 60 grade 8 students on investing as part of the financial literacy segment of their math class hosted by my award-winning teacher friend Ms. Horst.
She wins awards every year for being leading edge for her use of technology in the classroom. For example, school projects are submitted online as (private) blog posts using Google Chromebooks she convinced the school board to invest in.
The world needs more teachers like Ms. Horst.
Anyways, after getting the OK to be unfiltered about all the money printing going on, stuff not covered in the mainstream media, I think I did alright.
I hear some students took as many as six pages of notes, and one student even reached out asking if I would be their mentor.
As always, it is my honour to give back to the community what I have learnt, so if you're an educator out there, grade eight and above, I'd be happy to present to your students too. Just ask.
I know I wish I'd known this stuff sooner… As I told the students, my net worth would be 4-5 times higher than it is now if I'd started my journey at their age.
How To Invest in Laneway Housing With Lanescape.ca
On to this week's show!!
We have Architects and innovators of laneway housing, Ryan Fernandes and Craig Race from lanescape.ca.
Young Ryan reached out via my website to let me know he's been a long time listener, more recently, an investor.
He shared about what he's got going on workwise designing laneway homes which are like laneway garages repurposed into apartments or a new build tiny house on a laneway behind the house.
The progressive Toronto government makes laneway housing attractive investments; hence we have Ryan and Craig here on today's show to share how the investment works.
Ryan and Craig have 50 laneway houses at various stages under their belt, and they're here to share hard and soft costs, rents, tenant profiles, and where to find such opportunities.
Hopefully, the next phase will be garden suites so we investors may create much more housing supply to improve housing affordability.
For free property reviews and resources: www.lanescape.ca
I hope you enjoy the show!
We're hiring!
If you're a licensed realtor that wants to work primarily with investors, we'd love to talk to you.
We're adding a full-time realtor to our team to help us cover Hamilton, Niagara, KWC and Brantford.
No cold calling necessary here. Leads are provided. And you'll have all the training you need to become a top agent. New agents on our team often make six figures in their first year, and there's no cap!
This might be a good fit for you if:
You live west of Toronto

You're ready to travel to find good deals

You want to be on a team of realtors that genuinely work together

And you don't like losing.
APPLY HERE: https://www.infinitywealth.ca/hiring

HELP US OUT!
Please help us reach new listeners on iTunes by leaving us a rating and review!
UPCOMING EVENTS
You are the average of the five people you spend the most time with! Build connections with empire builders and trailblazers at our iWIN events.
BEFORE YOU GO…
If you're interested in being a successful real estate investor like those who have been featured on this podcast and our hundreds of successful clients please let us know.
It is our honour to give back and educate others on how we build cash flowing real estate portfolios using all the best practices shared on this podcast, from the lessons of our hundreds of clients and of course our own experience in owning investment real estate.
If you didn't know already, we pride ourselves on being the best of the best real estate coaches, having the best property managers, contractors, handy people, cleaners, lawyers, accountants, everyone you need on your power team and we're happy to share them with our clients to ensure your success.
New investor or seasoned veteran investor, we can help anyone by providing our award winning coaching services and this isn't all talk.
We have been awarded Realtor of the Year to Investors in 2015 by the Real Estate Investment Network, 2016 by the Canadian Real Estate Wealth Magazine and again in 2017 because no one told the judges no one is supposed to win the award twice but on merit, our peers deemed us as the best. In 2018, we again won the same award by the Real Estate Investment Network.
Hopefully being the most decorated team of Realtors in Ontario will make you consider us for your first or next real estate investment. Even if you don't invest in our areas, there's a good chance I know who would be ideal for you.
I've been around for a while, some Realtors are talented at servicing investors there are many with great ethics. The intersection of the two, talent and ethics is limited to a handful in each city or town.
Only work with the best is what my father always taught me. If you're interested, drop us an email at iwin@infinitywealth.ca.
I hope to meet you at one of our meetups soon.
Again that's iwin@infinitywealth.ca
NO MORE Confusion
After all the Youtube videos, books, and forum posts, you're probably still left with questions. Starting in real estate is a tricky thing.
Frustrated beginners often ask how a legal basement suite conversion actually works. Most of the time we can only give general answers. But now, we get to dive in.
At this in-depth, free class you'll learn how to take your first steps as a real estate investor.
Nothing is held back. Everything from analyzing basement suite conversion deals, to renting out your first property at a profit, and even how to refinance and do it all again!
More secrets you'll uncover are:
Profiting in a HOT market…
Municipal bylaws to watch out for…
Mortgage terms that favour refinancing…
AND one barely used tactic for higher appraisals…
If you're frustrated, unsure of how to get started, this is for you.
Sign up now for the Invitation List and be one of the first to get an invite to the next class.
Sponsored by:
Infinity Wealth Investment Network – would you like to know how our investors returned 341.8% on positive cash flowing real estate over the last five years? On average, that was 68.4% per year.
Just imagine what winning in real estate could do for you.
If you would like to know how we did it, ask us how by calling 289-288-5019 or email us at meaghan@infinitywealth.ca.
Don't delay, the top markets we focus in are trending upward in price, so you can pay today's price or tomorrow's price.
Till next time, just do it because I believe in you.
Erwin
Hamilton, St. Catharines and Toronto Land Development, Real Estate Investor, and soon to be builder.
W: erwinszeto.com
FB: https://www.facebook.com/erwin.szeto
IG: https://www.instagram.com/erwinszeto/
https://www.truthaboutrealestateinvesting.ca/wp-content/uploads/2021/06/Lanescape.ca_.jpg
630
1200
Erwin Szeto
https://www.truthaboutrealestateinvesting.ca/wp-content/uploads/2017/06/TruthRectangleLogo.png
Erwin Szeto
2021-06-18 14:33:41
2021-06-18 14:33:46
How To Invest in Laneway Housing With Lanescape.ca