70+ Properties In Only 15 Hours Per Week With Susan White-Livermore
Hello Fellow Real Estate Investors! Don't you love summer vacation?
Normally our mastermind takes the summer off but two months off is too much, so instead we planned an overnight getaway at Blue Mountain Village. We rented three bedroom suites in the village, went hiking, shared a skateboard/flight of 14 beers, actually masterminded, talked about life, shared embarrassing stories, and of course what we are up to professionally. The beauty of the mastermind is we each get inspired and help from each other in seeing what other investors are up to and what is possible. How folks structure deals for development, or financing tips when all lenders are saying no.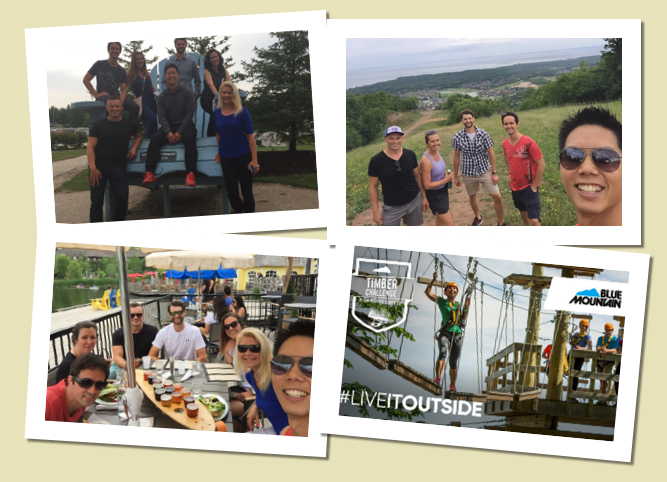 Remember to have an agenda for networking/masterminding as well. Personally, I'm looking to turn my focus towards development so I had lots of questions around that subject and as also lead generation.
If you don't already belong to one, I suggest you do. I belong to three of them (two I simply host for the benefit of the attendees).  My team at Titan Investment Real Estate will be making more master mind groups available to clients come the fall season so if that's of interest to you, do keep an eye out.
70+ Properties In Only 15 Hours Per Week With Susan White-Livermore
Susan is a veteran investor who started in 2006, the perfect time, right before the Financial/credit crisis of 07/08.  She's done flips, legal basement suites, 30-40 rent to owns, student rentals, owned interest in over 70+ properties, and currently holds over 30 properties.
We talk about raising capital and credit from investment partners for joint venturing, her forecast and equity splits for investment partners, her strategy for the "infinity house" as in "infinite returns", favourite books she recommends, and how she develops talent so she may delegate and limit her active work to only 15 hours a week.
You will want to have a listen to how she does what we all want. She makes more money while limiting investment of time so she may spend more time raising her family.
Sponsored by:
TitanInvestmentRealEstate.com – would you like to know how our investors returned 341.8% on positive cash flowing real estate over the last five years? On average, that was 68.4% per year, just imagine what winning in real estate could do for you. If you would like to know how we did it, ask us how by calling 289-288-5019 or email us at admin@mrhamilton.ca. Don't delay, the top markets we focus in are trending upward in price, so you can pay today's price or tomorrow's price.
HaltonREI.ca – This episode is brought to you by my networking group, the Halton REI. We meet in Oakville (part of the Halton Region), but mainly invest in the top investment towns west of Halton: Brantford, Hamilton, Niagara Region.
We regularly feature the top speakers from our industry. The vast majority of our attendees are seasoned investors, so you will want to spend more time around these folks, as you are the average of the five people you spend the most time with. Your net worth is your network, so choose how you spend your time wisely.
Knowledge is power. Every meeting we share the latest in market rents, prices in the top neighbourhoods, and strategies for investment. We share the best property available as our Best Buy Property of the Month. We share the best tips and tricks for you to implement immediately to your investment businesses to fast track YOU on your journey to financial freedom. It's up to you if you'd like to be on said journey.
To get on the invite list please register at https://www.truthaboutrealestateinvesting.ca/meeting/ and you will receive an invite to the next Halton REI meeting once announced.
But don't listen to me, here's what members of our community are saying about the Halton REI!!
Show Notes:
The Science 
Of 
Getting Rich Kindle Edition by Wallace Wattles
YOU, TOO, CAN BE PROSPEROUS by ROBERT RUSSELL
Think and Grow Rich by Napoleon Hill
WORKING WITH THE LAW by RAYMOND HOLLIWELL
To reach out to Susan:
youtube channel: https://www.youtube.com/channel/UCHh7SU
Till next time, Just do it because I believe in you.
Erwin
Hamilton, St. Catharines, Toronto, Land Development, soon to be builder and Real Estate Investor
https://www.truthaboutrealestateinvesting.ca/wp-content/uploads/2018/07/Screen-Shot-2018-07-18-at-8.35.53-PM.png
793
1448
Erwin Szeto
https://www.truthaboutrealestateinvesting.ca/wp-content/uploads/2017/06/TruthRectangleLogo.png
Erwin Szeto
2018-07-19 01:13:28
2018-07-19 13:36:11
70+ Properties In Only 15 Hours Per Week With Susan White-Livermore