The Mothers of Real Estate (M.O.R.E.) With Monika, Gillian and Rachel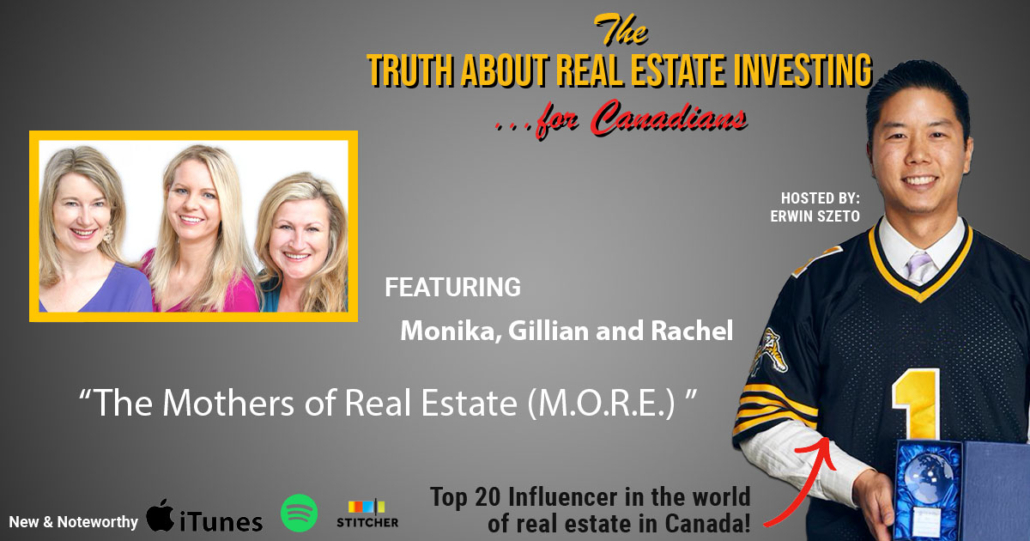 Welcome, Wealth Hackers!
Happy Belated Fathers Day to all the great fathers out there and the mothers pulling double duty; I don't know how you do it.
A quick word on children and making the world a better place, here's a quote from Saifedeine Ammous' book, "The Bitcoin Standard":
"A society in which individuals bequeath their children more than what they received from their parents is a civilized society;
It is a place where life is improving, and people live with a purpose of making the next generation's lives better" ~ Saifedean Ammous.
That's pretty cool, eh?
That's what great about you… You're here investing in yourself to get educated, get inspired to invest in real estate, stock hacking, whole life insurance, new businesses to get ahead in life and provide better futures for your families.
For many of the rich, the more you make, the more you give. Warren Buffet just announced a $4.1 billion donation of Berkshire Hathaway shares to charity.
Note, he'd rather donate the money than let it go to the government via tax because, in my experience, a well-operated charity with low overhead costs is infinitely more effective than the government.
But first things first, you have to be rich with assets to have the option to choose where your money goes.
Cherry and I plan to leave eight figures to the Hamilton Basket Brigade, the charity we operate with next to no overhead costs as almost everything is donated and no one is on a payroll.
The eight figures of capital will form a charitable foundation meaning the capital is not spent but rather invested. The proceeds from the investing, specifically stock hacking, will provide the operating budget for the charity.
The Hamilton Basket Brigade will then spend the budget on clothing, shoes, backpacks, food, whatever the children of Hamilton need. That will be our contribution to the next generation and all future generations.
We will also teach our kids to be grateful for all they have and the importance of giving to the less fortunate. Hopefully, they will go on to grow the charity and continue to improve society for future generations.
That is our mission, and if it's not them, it will be someone else because it must be done. We can't rely on the government or even other charities; the WE Charity scandal should be enough to make anyone skeptical.
As the reopening of Canada and Ontario continues, we plan to run events in person again once we are legally able to.
Cherry and I thankfully have both our covid shots.
Right now, I'm fully vaccinated and grateful. Not gonna lie, I cried a bit, maybe a lot after my 2nd shot. It's such a relief knowing my personal pandemic is over, and I'm not at risk to our clients, our staff, my family, etc…
I have the same vaccines in me as the Chancellor of Germany Angela Merkel: AstraZeneca and Moderna. If it's good enough for the leader of the fourth largest economy in the world and largest in the European Union, it's good enough for me.
I took the first shots available to me at the shortest interval possible of exactly eight weeks. I have no interest in being hospitalized by whatever variants are coming into our country knowing our borders are pretty open.
My friend's mom was even on a plane from Mexico full of folks connecting from their country of origin which has banned direct flights to Canada because that country is where one of the worst variants was discovered that crushed their medical system.
All the adults in my family have double shots now, and I can't wait to host my niece for a sleepover party this weekend.
The kids are all beyond excited, and it will be fun to entertain the family at what I call "A cottage experience," which is our home only 40 mins from the city.
Life is getting back to normal, and I can't wait to enjoy a normal summer. I hope the same for all of you out there as well, a safe and enjoyable summer!
The Mothers of Real Estate (M.O.R.E.) With Monika, Gillian and Rachel
On to this week's show!!
Fresh off the golf course from a golf lesson, we have The Mothers of Real Estate.
If you are watching on our Truth About Real Estate Investing YouTube channel, please pardon our attires as these moms are busy having ten kids in total between the three of them and running real estate empires.
We came directly from golf to record this episode, so we're dressed casually, lol.
Gillian Irving shouldn't need any introduction. She's returning now for the third time on the show as a successful student rentals investor, cryptocurrency investor, small business owner and mom to four kids.
Monika Jazyk prefers buy and hold and, more recently, passively investing her capital into storage and industrial warehousing to be less hands-on and more time at home to be with her four kids.
Rachel Oliver has also been on the show before, and we mastermind together. She and her husband Neil Oliver own the largest rent to own business in Canada with a 90% successful buyout rate by the tenants for a truly win-win-win business model for her, her investor partners, and the tenant.
We discuss if now is the right time to buy real estate, what their parents taught them about money, if there are barriers to mothers investing and what they are teaching their kids about investing and life.
Please enjoy the show as it was a fun one to record 🙂
We're hiring!
Just a friendly reminder that we are hiring for more investment Realtors who want a full-time challenge to help our clients, regular everyday people, mostly from the GTA, invest in the top investment towns west of the GTA.
This is for driven folks who want to multiply their current incomes a couple of times as James and Tammy have.
APPLY HERE: https://www.infinitywealth.ca/hiring

HELP US OUT!
Please help us reach new listeners on iTunes by leaving us a rating and review!
To follow the Mothers of Real Estate (MORE)
Web: https://mothersofrealestate.com/
50% Discount Code for their course: IWIN
UPCOMING EVENTS
You are the average of the five people you spend the most time with! Build connections with empire builders and trailblazers at our iWIN events.
BEFORE YOU GO…
If you're interested in being a successful real estate investor like those who have been featured on this podcast and our hundreds of successful clients please let us know.
It is our honour to give back and educate others on how we build cash flowing real estate portfolios using all the best practices shared on this podcast, from the lessons of our hundreds of clients and of course our own experience in owning investment real estate.
If you didn't know already, we pride ourselves on being the best of the best real estate coaches, having the best property managers, contractors, handy people, cleaners, lawyers, accountants, everyone you need on your power team and we're happy to share them with our clients to ensure your success.
New investor or seasoned veteran investor, we can help anyone by providing our award winning coaching services and this isn't all talk.
We have been awarded Realtor of the Year to Investors in 2015 by the Real Estate Investment Network, 2016 by the Canadian Real Estate Wealth Magazine and again in 2017 because no one told the judges no one is supposed to win the award twice but on merit, our peers deemed us as the best. In 2018, we again won the same award by the Real Estate Investment Network.
Hopefully being the most decorated team of Realtors in Ontario will make you consider us for your first or next real estate investment. Even if you don't invest in our areas, there's a good chance I know who would be ideal for you.
I've been around for a while, some Realtors are talented at servicing investors there are many with great ethics. The intersection of the two, talent and ethics is limited to a handful in each city or town.
Only work with the best is what my father always taught me. If you're interested, drop us an email at iwin@infinitywealth.ca.
I hope to meet you at one of our meetups soon.
Again that's iwin@infinitywealth.ca
NO MORE Confusion
After all the Youtube videos, books, and forum posts, you're probably still left with questions. Starting in real estate is a tricky thing.
Frustrated beginners often ask how a legal basement suite conversion actually works. Most of the time we can only give general answers. But now, we get to dive in.
At this in-depth, free class you'll learn how to take your first steps as a real estate investor.
Nothing is held back. Everything from analyzing basement suite conversion deals, to renting out your first property at a profit, and even how to refinance and do it all again!
More secrets you'll uncover are:
Profiting in a HOT market…
Municipal bylaws to watch out for…
Mortgage terms that favour refinancing…
AND one barely used tactic for higher appraisals…
If you're frustrated, unsure of how to get started, this is for you.
Sign up now for the Invitation List and be one of the first to get an invite to the next class.
Sponsored by:
Infinity Wealth Investment Network – would you like to know how our investors returned 341.8% on positive cash flowing real estate over the last five years? On average, that was 68.4% per year.
Just imagine what winning in real estate could do for you.
If you would like to know how we did it, ask us how by calling 289-288-5019 or email us at meaghan@infinitywealth.ca.
Don't delay, the top markets we focus in are trending upward in price, so you can pay today's price or tomorrow's price.
Till next time, just do it because I believe in you.
Erwin
Hamilton, St. Catharines and Toronto Land Development, Real Estate Investor, and soon to be builder.
W: erwinszeto.com
FB: https://www.facebook.com/erwin.szeto
IG: https://www.instagram.com/erwinszeto/
https://www.truthaboutrealestateinvesting.ca/wp-content/uploads/2021/06/Monika-Gillian-and-Rachel.jpg
630
1200
Erwin Szeto
https://www.truthaboutrealestateinvesting.ca/wp-content/uploads/2017/06/TruthRectangleLogo.png
Erwin Szeto
2021-07-01 13:03:52
2021-07-02 13:38:23
The Mothers of Real Estate (M.O.R.E.) With Monika, Gillian and Rachel