Starting Out in 2006 With Mid-Term Rentals To Closing on 1,700 Acres of Land to Develop with Victor Menasce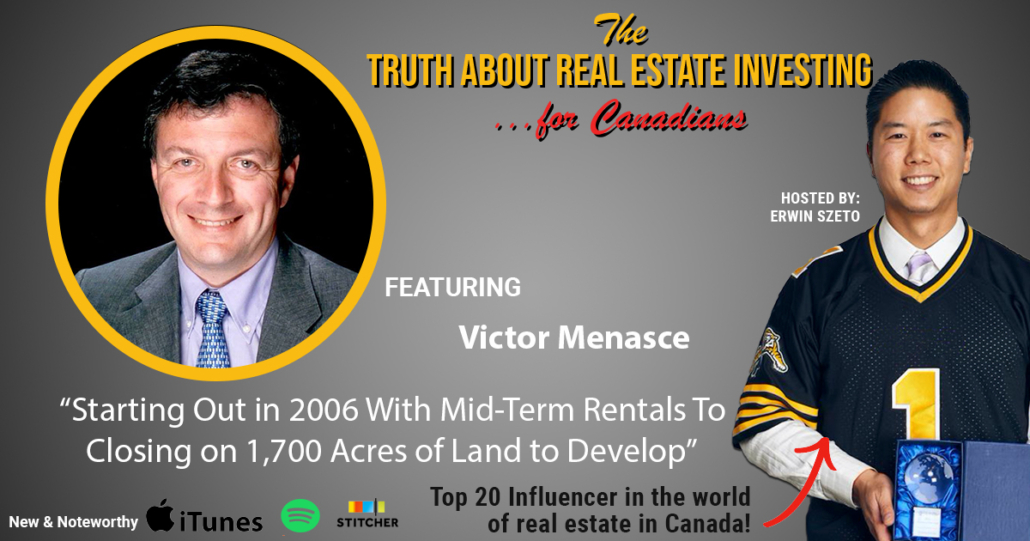 Welcome to the Truth About Real Estate Investing Show!
We have a pretty amazing guest today in Victor Menasce, who's quite big time.
For example, he just closed on a 1,700-acre property with a 20-30 year plan to build thousands of houses, but he didn't start there.
We rewind to Ottawa, 2006, when Victor side hustled operating mid-term rentals and dove in deeper during the financial crisis of 2008 by building a team in Philadelphia, Penn, US and buying up a lot of distressed properties.
View this post on Instagram
Victor shares a lot today about how to scale up a real estate portfolio and how novices can get started interning/volunteering on development projects to gain invaluable experience for a smoother transition from side hustle developer to full-timer.
There's Victor's strategy of "buy on the line, move the line" for investing in gentrifying locations.
We've been practising the same strategy in our local markets; I just didn't know there was a name for it.
In Hamilton, the old rules were to stay south of Main St. and West of James St….
As a rule breaker, we didn't listen, knowing affordability would cause the areas we targeted to appreciate, and it worked out incredibly well.
If you, too, are looking to build a team in the areas east and west of the GTA where properties actually cash flow, then don't miss out on our Street Smart Tours!
New to 2023, we'll be operating tours of income properties in Oshawa, followed by a mastermind lunch for which I'll also be in attendance.
This an excellent opportunity for investors of any level, especially novices, to see how the FOUR-time Realtors of the Year to investors service their clients, enabling them to build intergenerational wealth.
Make sure you're on our email newsletter along with 10,000+ other hard-working Canadian investors available at www.truthaboutrealestateinvesting.ca.
I hope to see you in 2023 at one of our iWIN Real Estate meetups and/or Street Smart Tours.
Like Victor says, there are going to be some great deals available in the near future. Learn what a deal looks like and work with an award-winning team that produces successful, multi-millionaire investor clients.
BTW, Victor is also the President of OREIO, and if you're in Ottawa, you want to check them out.
In my experience, the value and quality of the group can't be beaten; hence I'm a paying member as well.
Please enjoy the show!
This episode is brought to you by me! We don't have sponsors for this show. I only share with you services owned by my wife Cherry and me. Real estate investing is a staple in my life and allowed me to build wealth and, more importantly, achieve financial peace about the future, knowing our retirement is taken care of and my kids will be able to afford a home when they grow up. If you, too, are interested in my systematic strategy to implement the #1 investment strategy, the same one pretty much all my guests are doing themselves, then go visit www.infinitywealth.ca/events and register for our next FREE Online Training Class. We will be back in person once legally allowed to do so, but for now, we are 100% virtual.
No need for you to reinvent the wheel; we have our system down pat. Again that's www.infinitywealth.ca/events and register for the FREE Online Training Class.
This episode is also brought to you by www.stockhackeracademy.ca, where everyday real estate investors learn the best practices in stock investing to earn cash flow in about 15-30 mins per day from their mobile phones. After real estate, Stock Hacking is the next best hustle, as you've heard from many past guests on this show. Among our students last year, 31 trades were shared with them. 30 were profitable for an over 96% success rate and 12% return on capital. I will be giving free demonstrations online, very similar to the one I gave my kid cousin, a full-time musician who just made a 50% return in 2021. Past, of course, does not predict the future, but if you'd like a free demonstration, go to www.stockhackeracademy.ca in the top right and click FREE Demo. At the demonstration, I'll have special bonuses. We do not advertise publicly for all my favourite listeners, and I only have two more demos to give in the next few weeks.
Don't delay www.stockhackeracademy.ca, what I consider the future of side hustles with real estate so unaffordable for many.
To Listen:
Audio Transcript
**Transcripts are auto-generated.
Erwin
Hello, welcome to the truth about real estate investing show. It's Erwin Szeto and we have a pretty amazing guest today in Victor Menasce who was quite big time. For example, he just closed him in his group Western capital, they just closed on a 1700 acre property that's 1700 acre property with the plan over 23 years to build 1000s of houses, but he didn't start there. In our discussion with the victor we do rewind back to Ottawa 22,006. When Victor started out his side hustle operating midterm rentals. Then he dove deeper into real estate investing when he found the opportunity during the financial crisis of 2008. By building a team in Philadelphia, Pennsylvania, us in buying up a lot of distressed properties. Victor shares a lot about how to scale up a real estate portfolio con novices can start to get started by interning slash volunteering on divan projects to gain invaluable experience for a smoother transition from side hustler side hustle developer to full timer for those who followed me for a while you know, I like to go slow and I do not like risk so hence I think it's brilliant path for men need to take before they go full time is to learn from pros who are actually full time themselves and successful in doing so. There's also Victor strategy of buy on the line move the line for investing in gentrifying locations, we've been practising the same strategy in our local markets, I just don't didn't know there was a name for it. So for example, in Hamilton, the old rules were to to invest South Main Street and West of James Street, myself being a rule breaker. We didn't we didn't always listen to those knowing that affordability would cause areas that were outside of the ideal areas to appreciate. And that has worked out quite nicely. If you two are looking to build out a team in the areas east and west of GTA where property is actually cashflow, then don't miss out on our street smart tours new 2023 will be operating tours of income properties in Oshawa, followed by a mastermind lunch for which I'll be in attendance as well. This is a wonderful opportunity for investors of any level especially novices to see how we the four time Realtors of the year at I win real estate to investors service to our clients, enabling them to build multiple intergenerational wealth, we have over 400 clients and among our clients, we have close to 50 clients who have generated a million dollars or more in net worth increases. So make sure you're on our email newsletter of along with the 10,000 plus other hardworking Canadians. And that's available at www dot truth about real estate investing.ca. Let me slow down WWW dot truth about real estate investing.ca. That's my website for this podcast. On the right side, you can put in your name and email address and you'll be put on our newsletter, I hope to see some of you in 2023. At one of our island real estate meetups or at our street smart tours, like I mentioned, we generally do Hamilton on the west and we do our show on the east. Like Victor, our guest says there are going to be some great great deals available in the near future. Learn what a deal looks like and work with an award winning team of professionals who produce successful multimillionaire investors like ourselves, by the way pitchers also the president of Oreo. And if you're in the Ottawa area, you want to check them out. In my experience, the value and quality of the group at Oreo can't be beat. Hence, I'm a paying member as well. Please enjoy the show. Victor, what's keeping you busy these days?
Victor
Oh, my goodness, we are so busy with projects, projects that we started before market conditions changed. And it's been very interesting to see how the marketplace has changed. It's forced us to pivot it's forced us to pause a few projects that made sense a year ago and now don't make sense in the current macroeconomic environment. But it's important to be agile. And so that's been a lesson that we knew and felt like we had to relearn it again. Okay, that's a lot there.
Erwin
To me, it's a lot because I've seen lots of people attempt to pivot and pause. Anyways, there's a lot to get into. Okay, but I'm gonna I want to come back to this, because I want the listeners to understand where you're coming from. Okay, so you're pretty successful. So let's see, let's start. Where do you go to school?
Victor
So, so interesting. So my family background. My parents, both professionals. My dad was a dentist had his dental practice on Park Avenue and 73rd in Manhattan. My mom was the second woman in history to graduate in architecture from Cornell so she worked as an architect in Manhattan on some landmark buildings, and then they decided that it wasn't a good place to raise a family. So we moved to Halifax, Nova Scotia, of all places.
Erwin
Oh my god, that couldn't be more different. Absolutely.
Victor
So I grew up in small town, Halifax, went to Dalhousie University did my electrical engineering degree at Dalhousie and knew that I wanted to be doing microprocessor design in fact, for my fourth year project ended up designing a small eight bit microprocessor and that gave me the entree to get into the into Bell northern research in Ottawa in their microprocessor development team and That was the launch of my electrical engineering career, which I did for close to 20. Some years, right? Wait, is that Nortel? Yep. Bell northern research was the r&d wing of Nortel. And I was loaned to many different organisations I was loaned to Motorola to work on their microprocessors. And we ended up doing some partnerships with IBM and Hewlett Packard and all kinds of different processor based things. And that was when I was at Nortel. And then after I left Nortel joined tender semiconductor, which was a private company at the time. We were designing chipsets that were used for embedded applications. And again, microprocessor system design, and had chips designed into all kinds of applications all over the world cellular base stations, you know, I've got a chip in the Patriot missile, I've got chips all over seatback displays, and in most Airbus aircraft, all kinds of weird and wonderful applications. And that was most of my electrical career was in microprocessor design. And then I rose through the ranks into senior executive roles, did five m&a deals, did one IPO did one startup which was acquired, and actually to start ups, both of which were acquired. And then I think it was about my 18th trip to Tokyo, and a year and a half, we were building a new cellular network with the number four carrier in Japan called Wilcom. And it was just burning me out physically, emotionally, to be doing that, that 12 hour time zone trip every few days. And I simply decided to be to take a left turn in my career and move into the world of real estate investing on a full time basis. What year is that? And how old were you? That would have been 2009? Oh, interesting
Erwin
timing. Yes, absolutely. Sorry. Quick question. A few quick questions, because that was a mouthful, you just, yeah. Because you probably just ploughed through like 2030 years of career there. Yeah, I imagine you were friends with Terry Matthews, then to
Victor
Terry was the chairman of our company, he was the chairman of tender semiconductor. So we got some exposure to him. And he had some very interesting philosophies about even when you're a private company, run it as if it was a public company, so that when you do go public, the transition is inconsequential. You don't have to change anything, you're already a public company, just by virtue of the way you operate. And so he taught me an awful lot about corporate governance, how to put that core executive team together. And it turns out that that team that you put together doesn't matter what the business is, that core team could be the same for a hotel for a semiconductor business. For a real estate business, for a restaurant, you need that same core team, the same functions exist in every single business, one of those functions, Well, number one, you need your executive team. So there's seven functions. Number two, you need the folks that are developing your corporate systems, your corporate governance. Number three, you need folks that are communicating with your existing customers. Number four, you need the technical folks, the folks that are actually executing the business, if it's a construction business, maybe it's your site supervisors, then you need a quality assurance function, you need the Treasury, these are the folks that are watching the purse strings, they're not deciding what your financial policy is, they're implementing the policy that's been set by the executive team. So it's your financial controller, or your CFO. And then finally, you need to a group of folks that are talking to prospective customers. So those are the seven functions, every single business needs those seven functions. And it's very rare, I would say it's impossible to find the skill set for all seven of those functions in a single individual. So you may have listeners who are thinking, well wait a minute, I'm running a real estate business, I'm a solopreneur, I'm just going to grow organically from one to two to three to four as my revenue grows. But my message is that you will get trapped in a low Earth orbit that you will never escape. Because you don't have the skills, you don't have the skills to perform all seven of those functions. And even if you did, there wouldn't be enough hours in the day, then you're probably thinking, Well, I'm trapped. How do I grow from one to two to three to four? I need seven people? How can I feed seven families, when I haven't figured out how to feed one? Well, I'm here to tell you, you gotta go bigger. It's the hardest thing to do are small projects. Because small projects don't generate enough profit to feed seven families or more. And you need to feed seven families or more to have a sustainable business. So you have to go bigger, otherwise, you'll get stuck, you'll get trapped and you'll never escape. This is awesome. Good. I'm
Erwin
glad. I'm excited. Hopefully we haven't lost a bunch of people. I want to go sideways with this
Victor
method to their madness. So think about it for a moment. If Imagine for a moment that you want to let's say redevelop an apartment complex. Okay. And let's say it's five doors. And let's say those five doors are going to generate, you know, a few 1000 A year of positive cash flow. And you might get, you know, maybe 100, grand 200 grand worth of value creation in a short time period. That's not enough to really hire anybody. But what if you're doing 250 300 units? What if you take as part of that a developer fee? That is calculated as a percentage of your heart construction cost? And now you've got a developer fee? That could be I don't know, half 1,800,000? Do you think you can hire some skills for that amount of money? Absolutely. And that's just one project. And guess what? The effort to manage that 250 in a project is identical to the effort of managing that five unit project, just add a zero or two, or add a comma. But the effort from a management standpoint are virtually the same. So why would you put all of your time and attention on something that's small? And I get it, people will say, Well, I don't have the money. They look in their pants pockets. And they say, Well, you know, they rub their two nickels together and say, I don't have the money. So I'm just going after what I can afford. But I mean, if you did that, I mean, think about it for a moment, think what would happen, if everyone who aspired to be a doctor said, Well, gee, that's really hard. And boy, it takes a lot of money, and I don't have the money to do that. So I'm gonna go and be a nurse instead. It wouldn't make any sense. Now, no disrespect to nurses at all. But if you're aiming for one thing, why would you not aim for that one thing? Why would you go somewhere else? It's that simple. And clearly, there are proof points. People went for years and said, you can never break a four minute mile until Roger Bannister did it. And then within a year, how many people had broken a four minute mile? This is not a four minute mile, what we're talking about here, there are proof points are examples of people out there doing this. Okay, there isn't a university course that shows you how to do this, I get that. But you're not inventing anything new. The information is out there exposure to the right people as possible. And when you have that exposure, all of these things that seemed impossible or out of reach all of a sudden become normal.
Erwin
Okay, so Victor, for the listeners benefit, can you describe your portfolio at all, to paint them a picture of what you've done?
Victor
So well. So today, we're focused, we're probably 90% new construction, we're primarily focused in the United States. We do assisted living, new construction, multifamily apartments, storage, we have half a dozen storage projects currently underway. We do a fair bit of land development. Right now we have several 1000 acres currently, that we are going through various entitlement processes on and it's all about value creation, you can make a little bit of money, you can do the arbitrage thing and buy something for a few cents off and try and squeeze out a few nickels that way. But that, in my opinion is not the ticket. It's really about value creation. So you know, let's talk about picking asset class, anyone you want want to talk about land, you want to talk about assisted living, we talk about any of them, just in terms of how you want to be differentiated in the market, and how you create value, because that's really what it's about. It's about creating value solving a problem. That is an acute problem in a marketplace where people are willing to spend money to have that problem solved. That's all businesses. That's all real estate is if you're going into a market that's over supplied, you're wasting your time. So it's really about solving a problem. So pick an asset will run with it.
Erwin
Let's do multifamily, just because it's a term pretty popular topic. Have you ever Warrington, kind of associate with it?
Victor
Yeah, absolutely. So not all multifamily works. The nice thing about multifamily of course, is that in a market, that's a fairly tight market, meaning low vacancy. Generally speaking, market rents will come up to the point where it will justify new construction, you can often go into secondary and tertiary markets, where the rents on a per square foot basis. And when I talk about rent, I think through the lens of a developer, so I don't talk about 1000 bucks a month or 1500 bucks a month, I talk about dollars per square foot, because there's a ratio of what it cost me to build that thing in terms of dollars per square foot and how much I need to get back and rent in dollars per square foot in order for the math to work out. And that's a function of heart construction costs, land costs, development charges, all of the things that go together in creating that product. Today, the cost of construction is such that in most markets, you need a lot of dollars per square foot in rent. In order to justify that new construction. In the Toronto market. You're talking between four and $5 per square foot in Ottawa, between 350 and $4 a square foot in rent. So what does that mean? 1000 square foot apartment? Yeah. 3500 To $4,000 It's a lot of money. And people talk about is, you know, the lack of affordable housing? Well, yeah, but it doesn't matter who the owner is it cost so much to build, that doesn't matter who owns it. And whether you own it or rent it, the cost of ownership is identical. So it simply comes down to what does it cost to recover that initial investment in a reasonable timeframe. And that's what we do. So we want to go into markets where there's appreciable demand a shortage of supply. And, and the numbers work. We also want to see a certain amount of impedance for a new product coming into the market, so that it doesn't get over supplied too quickly. Because at the end of the day, you're making a commitment for 25 to 50 years. You want to know that, that those market conditions that you saw on day one are gonna persist for at least a good long time.
Erwin
Okay. Okay. Selfish question. Do you do New Brunswick? I only mentioned it because I see lots of people running that where?
Victor
Yeah, we do not do New Brunswick, because the incomes are very low. And yes, you can buy things inexpensively, but there isn't. And we've looked, many of the properties are very small, it's very hard to get economies of scale. So here's the thing in multifamily investing, if you are using fractional third party property management, meaning you are you are getting a slice of a property manager who may have a dozen other clients, how do you know you're getting sufficient mindshare from that individual. They're not on site, by definition. So the minimum that you need to hire an in house property manager full time, the minimum you need is 75, doors, something in the range of 125 to 150, doors is better. But the minimum is 75 doors. So if you're talking about a 30 unit building, you're in no man's land, you're in the same swamp with the folks that have a five Plex or a three Plex, you're dealing with third party management. So you've got to aggregate enough doors in a small radius so that you can hire that full time management. Otherwise, you're paying too much for property management, and then your numbers or your numbers don't work. So you know, it's economies of scale, making sure that you've got the economies of scale. The other thing of course, as well is in those smaller, smaller product, those tend to be not amenitized. It's a basic apartment, however many square feet and that's all whereas in a larger complex you can afford the amenities. And so what do we mean by amenities? We were talking about? charging for electric vehicles, we're talking about e commerce delivery lockers, both refrigerated and dry. We're talking about fitness facilities, maybe a pool, all of these things that become part of a lifestyle decision. Not just, you know, there's the place of stainless steel appliances.
Erwin
All right, and before we're recording we're talking about Grant Cardone seems to be doing these things as well the value so value added amenities. One
Victor
of the things I like about what grant does is he's in he's in markets in mostly in Florida. markets like Port St. Lucie. He's not in the hottest markets,
Erwin
which is interesting, because he said he needed a private jet to get to go look at properties. If they're all in Florida. Does he really need the private jet to get there supposed to be it's supposed to be a time saving device.
Victor
I know a number of folks that have a jet and especially if you're going into secondary markets. So for example, if he's going into Port St. Lucie, he's not going to fly into Miami or Fort Lauderdale. He's gonna fly into Melbourne or someplace like that. That's closer. So yeah, absolutely. It's a time saver. But, but what he's doing with his properties, and this is the part that's interesting is he's taking properties that would have been, let's say, a B, or B minus property. And he's improving them. He's adding amenities, he's spending half a million to a million on the swimming pool, and that whole complex, so he's giving people something that if they're downsizing from a single family home, they could never have amenities of that quality in their own house. So they're not feeling like they're taking a step backwards. By downsizing from a single family home, they're taking a step forward into moving into this apartment complex because there's amenities that they could have never had right at their fingertips. And so that's part of the attraction creates that value and that perception of value yet, when you look at the cost, add that on a per unit basis. It's actually remarkably
Erwin
low. Sounds smart.
Victor
It is smart. It's very smart. Very cool.
Erwin
And so so not a fan of New Brunswick. Where are you a friend a fan of in terms of towns, cities, will I even know that recognise these names?
Victor
Sure. Absolutely. So we're in Spokane, Washington. We are in Houston, Texas. We are in Lake Charles, Louisiana. Probably not a town you've heard of and I'll tell you why we're there in a moment. We're elsewhere in Ottawa, Canada. We stayed out of Ottawa for a long, long time. Because the market was too expensive. The rents were not high enough. And today they are. The numbers do work finally in Ottawa, so we are quite active here and it would have been natural.
Erwin
Oh sorry, just for the listeners benefit you live in Ottawa.
Victor
Hi Have an ROI. Absolutely. It would be natural for me to invest here. And yet we stayed away from it for a long, long time because the numbers didn't work. Yeah. So we like, you know, we'd like markets that have a strong influx of jobs, influx of population, high paying jobs, and a shortage of supply. So we go for that. We also would like to stay away from markets, where the regulatory environment heavily favours the tenant to the detriment of of the landlord.
Erwin
You are in Ottawa, you understand? Right? Yeah. Punitive to her. You are in Ottawa, you are in Ontario.
Victor
Yeah, yeah. But you know, so we stay away from New York, we stay away from Chicago, we stay away from San Francisco, places like that, that really are very unfriendly to landlords.
Erwin
Sorry, Victor, in your real estate business. What is your position? And then can you tell me about your we talked about earlier, but the seven positions to seven functional? Sorry, have a business? How many of them do you perform? How many people are on your team to perform these functions.
Victor
So our core team is actually fairly large. So we have five partners in the business. I'm a senior partner, and we're geographically distributed. Most of us are in the auto area, we have a team based in Utah. And that was a merger with a team that was based there, we had done a bunch of projects together, and then finally decided to merge the business. We have local partners in the major markets that were invested in. So and I think that's super important. So for example, in Houston, my partner is the gentleman who has not partner with us in every single project, but he's involved. In fact, his entire family's involved on several projects, this gentleman has built so far, about 10,000 units in his career, and he's someone who's never going to retire, he's just gonna keep doing it, because he loves it. And yet, he doesn't necessarily want to do the heavy lifting on everything. So it's actually a very good relationship. Because he gets to have his hand in more development projects, we get to learn from his experience, he brings a tremendous amount of experience to the table. He's built millions of square feet of concrete parking, and just all kinds of different assets. So tremendous wealth of knowledge and experience. And, and his son is involved in the business. So you know, on our average staff meeting, we meet every single day, five days a week, 915 Eastern time, every day 615 Pacific Time, we have about 12 people on the call, every single day. So we've got admin staff, we have a few interns, we have folks that are focused on marketing. So we all play different roles. We have a team that's focused on underwriting a team that's focused on due diligence, we have a team that's focused on investor relations and capital raising. So there's all these different aspects that map we have an in house CFO, super important. And actually, I want to spend a moment on this, because oftentimes, you'll hear people talk about, well, you know, they transition from doing their own bookkeeping to maybe hiring a bookkeeper? Well, yeah, that's a step forward. That's
Erwin
a big deal. That's a big step for a lot of people.
Victor
Well, it is, but you're still repeating the same fundamental mistakes, because what is a bookkeeper do bookkeeper runs behind the business, trying to document what the heck happened, and hopefully try to get it to reconcile at the end of the month, a financial controller drives the business, no check ever gets written by the business owner, the Financial Controller produces the check from the accounting system puts it in front of the business owner for signature, and everything. The books are correct by construction, you can reconcile the books any minute of the day, seven days a week, because it's all correct by construction. You're not ever having to reconcile the books. So Financial Controller implements the policy, and they're driving the business as opposed to scurrying around behind the business figuring out what happened. They both spend time in the accounting software. So looks from a distance, like they're doing the same thing, but it's vastly different.
Erwin
You mentioned in how CFO, and those people aren't cheap. And also when you said the handing off the bookkeeper. If you only have a book here, this still means the individual is still the CFO as well. And we're in the other hats as well.
Victor
Right? Yeah, absolutely. But again, like you
Erwin
said, like, Gee, I don't even know how many properties you need to afford a CFO, just the CFO.
Victor
There's ways you can get skills. We've been very successful in bringing in interns and integrating them into the business. And when we say interns, I'm not talking about getting someone on a four month webcam at a university. We're talking about folks that really have a very high set of skills, but they actually want to learn real estate. Okay, so they will contribute their skills to the business in exchange for learning how to do development, because I recognise that sitting behind a desk looking to Google for answers is not the path or you have to be in the trenches doing it every single day. It's like learning how to swim by reading a textbook. You can't do it you Gotta get in the water. Sorry, Victor, Are
Erwin
these like 2030 Somethings that just
Victor
No, no, we have, for example, one person is a practising lawyer. Okay, we have someone who's a full fledged CPA. Interesting. We're bringing in very, very high calibre skills in those types of roles. We've also had very good success, bringing people from the military, both Canada and US. In the US, they have a programme called Skills bridge, where the the army or the Air Force or whoever will pay for their salary for a period of time for them to train as part of their transition from armed services life to civilian life. And it's good for them, and it's good for the business. Same thing exists in Canada.
Erwin
I did I know that. That's pretty awesome.
Victor
It really is awesome, because they come with very high skills, very high skills, but they are lacking some of the practices that are normal in civilian in the civilian workforce. But, boy, they bring a tremendous amount of systems and processes and discipline. And we learn from them, too. It's wonderful.
Erwin
I sounds awesome. I think we have headcount for accountants give you some military counts.
Victor
Exactly.
Erwin
Exactly. So Victor, it sounds like you've really adopted well, your corporate experience your startup experience into into a real estate business. Now I'm trying to think of like the like the investor that has like three, five properties, how do they start towards getting closer to you? So for example, I've had guests on this podcast who are quite very successful, like, these are folks who, you know, were worth like, five 10 million, but they get stuck. Because there's not enough money being made to afford even like a chief operating officer type role, even like a Director of Operations type role slash pay, right. So they never, they're never able to shed that hat. You know, they still maintain that function, that now these investors are still in their top 1% note, like, totally, probably even top 1.1%. But I still see many people don't get to be on that level, where they can have much more expensive folks to handle these functions.
Victor
Well, it's a mindset issue, because they're trying to do it all themselves. Okay. So it's
Erwin
deposit there. I've been I've been Pooh poohing a lot of all this mindset stuff that's out there, because I see all these mindset coaches out there,
Victor
some of them. Absolutely. Yeah. So, okay, so what do you need to be successful? You need three things, right? You need the knowledge. So people will go out, they'll get a course they'll attend the workshop, and they say, awesome, I've got the knowledge, I'm all set. And that's not the ticket, you've got a third of what you need. Congratulations. And then like you said, you've got the mindset folks out there saying, Well, yeah, you've got the wrong mindset, you need to go get yourself some mindset. And so then you say, alright, I'll work on the emotional fortitude to figure out how to push through when things get difficult, and how to think creatively and be resourceful and all of those sorts of things. And that, too, is not enough. So what is the ticket, you've got to be immersed in the environment, where other people are doing what you want to do? Why is it that all the elite figure skaters in the world train here in Canada? It's not like they don't have ice in Japan. Right? Right. Right? They they train either Montreal or in Burlington, Ontario. Why do they train here, because they got to be training at that elite level with other people that will push them and challenge them. It's no different. So you know, when you hang out with other developers, things that seemed strange and out of reach all of a sudden become normal. So that's who I hang out with. That's who my mentors are. My mentors are folks that have done hundreds and have done billions of dollars worth of deals. And so you the few things happen, you figure out what is possible. Number one, you figure out how to solve problems when they arise. And then you figure out what those people are concerned with, so that you can actually have an intelligent conversation. If you walk up to somebody who's a billionaire, and you want to engage them in a manner that they're going to be interested in you. How do you do that? If you have don't have experience interacting at that level, they'll ask you what you do and and then five minutes later, they're off talking to somebody else. You've got to find a way to establish a rapport so that you can build those relationships. Because at the end of the day, it's about building those relationships. This is a team sport. And it you don't want to just look at someone who's a high net worth individual as someone with dollar signs on their forehead, because they don't want to be used don't use people nobody wants to be used. And people with money have their guard up because they know that there's folks that want to be close to them for one reason one reason only and that's because they have money so they're their guard is up They don't want to be used any more than you were i? So don't use people. So how do you how do you break through that? How do you develop a relationship, and it starts really at that personal level.
Erwin
So get away, be be a volunteer, be an intern, be a
Victor
volunteer, be an intern, collaborate with them on a charity, something that might be meaningful to them, there's so many different ways that you can develop a relationship with them. That's pretty cool. Now you don't necessarily need to, you know, if someone has is, let's say, a big brand, you don't need to necessarily develop that relationship with the figurehead. Look at who's in their inner circle, you probably going to find equally capable people in their immediate inner circle. They all know the same people, they might be easier to develop a relationship with, as really the first step. So for example, I'll pick a name. Imagine you wanted to develop a relationship with Oprah, that might be difficult, might be harder to get access to Oprah. Probably easier to get access to Stedman, her boyfriend, he knows all the same people travels in the same circles. Right? Right, right, right
Erwin
off ask, because I'm pretty sure that listeners thinking, how can they get in touch with you if they want to be an intern?
Victor
We're pretty full right now, with insurance. It's a request we get often, but so let's talk about what makes a good internship. Sure, because I think that that's valuable to talk about, we're running a real business with real deadlines, real priorities. And an internship is not a paid position. The deal is you get exposure to the business, in exchange for making a contribution to the business, but we've got to be able to count, if you take something on, we've got to be able to count on you to deliver if working with us, or whichever business it doesn't matter, ends up being your 10th priority, after the kids are put to bed and after everything else is done. That's when you take the leftovers and you put whatever energy is left into into the internship, that's not going to work. That's not going to work, it's got to be a commitment of a certain amount of hours. And on a regular basis. It can't be all give you two hours every two weeks, that's that's not going to do it, it's going to have to be on a regular basis. So that you can be part of the flow of the business doesn't mean it has to be a full time engagement. But you've got to be able to commit enough hours to be part of the flow. The business could be two hours a day. Or it could be one hour a day. But it's got to be every day so that when someone calls you can actually respond. I think those are those are the keys
Erwin
with all this work from home with all this work from home stuff now Oh, absolutely here than ever. Yeah. And I imagine you don't need someone to go down to Houston and go click rent or something.
Victor
No, no, no, no, no, not at all. I mean, you know, for example, we have someone, she works full time for the federal government. And she used we're working on a small apartment building. This is a guy out of Norfolk, Portsmouth, Virginia, a suburb of Norfolk, and he got some land to build what he thought originally it was going to be a few row houses. And we figured out that he could actually get higher density, it's going to be like a 12 unit apartment buildings. And that's the sort of thing that we would necessarily do ourselves that we wanted to help him. And so then he seemed to have some of the right attributes. So we actually handed this project the managing the this project off to one of our interns, and she's managing it fully. She's interacting with the architect, she's coming back to us and saying, Okay, here's what the city said they want, you know, this kind of exterior cladding materials, they want all this setback over here, they want all these different things, what do I do? So she's getting guidance from us, in terms of how to interact with the architect and how to get some of these problems sold into closure. And she's getting real life development experience, without having to go out and raise, you know, a few million dollars on her own and go build this building. But she's she's getting that hardcore hands on experience. And it's awesome. It's awesome. For her, we're getting a project done without having to do a lot of heavy lifting on it ourselves.
Erwin
That's pretty cool. I have like the occasional investor reach out and say like, I have like one, two properties in an area that's going to be developed, say someone has like one two properties across the street from the coast station. Right. And they're working on in the land assembly, but they're not developers. I think technically, they're a developer.
Victor
Right, right. Yeah. A lot of those types of situations. In fact, we opened a consulting division about two years ago, okay, this specifically for that, because we often find situations exactly like you described, where someone says, I've got a piece of dirt, it's in a great location, what can I do with it? Right, right. Now you can go hire a plan, or you can go hire a consultant who can help you get through the zoning process with the city, but they can't tell you whether that makes economic sense. They're not looking at it through the lens of a developer. We'll take it through our entire underwriting process as if it was our own project. will tell you It either makes sense or doesn't or here's what needs to change for it to make sense. Or, you know, here are your risks, you know, the city is never going to give you two curb cuts, you'll only get one. So are you going to need a traffic turning lane to get that volume of vehicles in and out? All of these different things that you don't necessarily think about? That can be impediments to a project? You might say, Okay, I've got utilities there, right? They're there in the street? Sure, there's utilities. But do you have the allocation? Will the city approve 200 More toilets going into that sewer pipe or not? You need to know. And most people just don't know how to get those answers quickly.
Erwin
We do. And then where can people find more information?
Victor
So we're companies why street capital.com Feel free to reach out to us. I'm Victor am at Wall Street capital.com. And I'm hosting the real estate espresso podcast. It's a daily show seven days a week, and it's on more than 20 different platforms. So wherever you listen to podcasts, you're sure to find the show. And it is literally your morning shot of what's new in the world of real estate investing. So we'd love to have you as a listener, and we can continue the dialogue that way.
Erwin
Victor, I have you for 15 more minutes. Sorry, just because I love where this is going. Oh boy, I don't know where to go next. I have so many questions. Sorry. When you when you started off as an investor, then did you go straight to something with scale, then you skipped the whole single family home? Exactly.
Victor
So where I started, my very first investment was 2006 in Ottawa, and I saw an opportunity. I've always taken a business, a business approach. What's a problem that needs to be solved. Otto is a bit of a unique city like Washington, DC, the nation's capital, where you have a number of folks coming in and out of the city on a medium term basis. The government tends to spend money in six month increments for whatever reason. So 12 month unfurnished lease is of no use to those folks. And they have a housing allowance. But a housing allowance is not going to get you into a sweet Hotel. That's too expensive. So there needs to be something in between. And back in 2006, I saw that opportunity. And I saw that there was a shortage. Airbnb didn't exist at the time, and found out what the number was the number was $1,600 a month was the housing allowance for a one bedroom apartment range between 60 and $1,800. Back in 2006, I said, Okay, can I deliver a decent quality turnkey product for that price point, which turned out to be about 35% More than the unfurnished lease? And did the business case make sense for me to spend the extra investment to deliver that turnkey product in exchange for that higher rent? And clearly the answer is yes. For about 1015 grand and furniture, I could get 35% more rent. So that made an awful lot of sense. So that's where I started.
Erwin
Okay, now, did you do one? Or do you do like 100 of these? No, I
Victor
did like half a dozen. And they were all within a four block radius of Parliament all within walking distance of Parliament. So we had military officers, contractors, senior folks in the post office, you know, sometimes even graduate students had a graduate student from Saudi Arabia paid for the whole thing upfront cash. I'm surprised it wasn't gold bars, but it was
Erwin
barrels of oil. That'd be acceptable. Yeah. And then, and then what from there.
Victor
So from there, of course, this funny thing happened in the states around 2008. That created an awful lot of opportunity. And so I really saw the opportunity to go south of the border. It looked to me like the opportunity of a lifetime. And it was, and, in retrospect, I made a tonne of mistakes. I went too small, I ended up partnering with the wrong people. I ended up forgetting everything I knew about business and thinking that I could scale small, small projects, small buildings, and made the same rookie mistake that probably a lot of your listeners have made themselves. So wasted a tremendous amount of time, in many respects, squandered that opportunity of a lifetime. Where I ultimately was successful, is found a couple of partners in Philadelphia, and we pioneered a strategy that I call it by on the line move for line. And what that line is, is that line that exists in virtually every city, where on one side of the line, you've got a hot, gentrified neighbourhood. And then on the other side, you go a couple blocks too far and you're in the hood. Now we don't have that quite so much in Canadian cities, because we're a bit more homogeneous. But in US cities, for sure you have that.
Erwin
We have that and I went to school in London. We had that we had Adelaide.
Victor
Absolutely. Absolutely. I mean, even Toronto, if you think about it at one time, the beaches was on the wrong side of the line. Crazy. I mean, today it's hot, hot, hot, so expensive
Erwin
now. Yeah, that's crazy.
Victor
But that it took a certain amount of redevelopment of that area for people to say Uh, oh, I can actually live here, now the line has moved. And when that transition happens, you get a great multiplier. So what is the strategy you buy on the wrong side of the line, not too deep, not too far, and redevelop on that line. And now the line is on the other side of your building. Now, if you just do one or two, the market doesn't notice they don't care. But if you put a little bit of scale behind it, maybe bring a few friends along, put a little bit of scale behind it. And all of a sudden, the market says, Oh, the line has moved. And now when you go to get appraisals, there's no comps for new product in the hood. So where are they going to get the comps from the great neighbourhood immediately next door, you might not get 100 cents on the dollar on your appraised value, maybe you only get 95 or 97 cents on the dollar. That's good. And now fantastic. That's good enough, because you bought the land at a deep discount. So that's where we started in Philadelphia. And over time, we probably bought, I don't know, 8590 properties within a 10 block radius. Our very first deal in Philadelphia, we bought 15 properties in one day, from the Philadelphia Housing Authority and an auction for $350,000.
Erwin
Victor, so did you find a partner first and the deal first,
Victor
we found the partner first. Okay. Because you see, at the end of the day, a good deal badly managed is no deal. So what is what is the differentiator in that it's not the deal? It's the manager. It's the people. Have you got the right team that can manage the stream of investment? If you don't have that? Why are you looking at deals? Right. And that's I think a mistake that a lot of people make is they start with a deal. It's never about the deal. And we were offered deals in the wake of 2008. That looked amazing. We were offered a beautiful property in Keystone mountain Colorado, the ski in ski out property, it made it as beautiful, huge discount, and said, Well, I'm not going to put a team together for one deal. Didn't make any sense. And we let we let it go. We didn't have the team in Keystone, Colorado. Right? So it starts with the team, I went down to Philadelphia, I saw what this these folks were doing. I saw literally a decade of investment work to be done in this one neighbourhood and said, Yeah, we can bring some more capital. And we can go attack this neighbourhood. And we did. We did a lot of land assembly we started of course back in those days in 2011 2012. It didn't make sense to build new because you buy things for a fraction of construction cost. So what did we do, we bought older buildings, turn of the century 1910 1920 construction, and we demolish the inside. And we put a new building on the inside the cap the old stone or brick, facade and structure. And so we're delivering new product in in a historic setting, which was kind of cool, because then you could all do all these neat things with exposed brick knishes and all kinds of cool things that you would never find in an older building a bit, you got rid of all of the mould and the lath and plaster and we got rid of the six foot ceiling height in the basements we would dig down two feet and underpin the foundations, we could underpin the foundations on a on a building for like 2030 grand. So you get a whole extra floor for a very, very small investment. Right. So we do all those sorts of things. And that was really how we started in Philadelphia. And from there, it was a small step to you know, some of these buildings were too far gone, we had to motion so we built new on those locations. So moving into new construction was a small step. And then getting going to the Zoning Board of appeal and getting additional density was a small step. And then doing land assemblies was a small step, and on and on. So every step of the way, we took one additional step in our development as real estate developers. And then we farmed the area. So when I take people on a tour of North Philly, we have to drive slow, because I'm pointing out well see this four Plex over here, we did that one. And then we did this, these nine units over here. Because if you drive too fast, you run out. So you know, we bought an awful lot. And we developed an awful lot within a very, very small radius. So what that allowed us to do is what I talked about at the beginning, which is we could get that critical mass, where we brought the property management function in house. And yes, it wasn't one building. But we had enough units within a five block radius, that we can effectively manage it as if it was one building.
Erwin
So Victor, have a lot of questions about partnerships. Sure. So I want to spend too much time on this partnership is a little bit a little partnership. So a little no vote. Sure. But the question that comes to mind is what did each party bring to the relationship to the partnership near a Philadelphia example?
Victor
So one of the partners had a very strong desire to be a property manager in Pennsylvania, you've got to be a broker. You need a broker's licence. He was the broker the broker of record on the brokerage and so we they basically built out that company with a property management division and construction division. And it really an investment division focusing on on new projects. The other partner had a tremendous amount of experience finding deals, and his expertise was cellular towers, believe it or not, so he would find assets that had cellular towers on them, separate the cellular tower, from the building, sell the cellular tower for profit, but then you would often get the building for either for free or for a deep discount. So we did that with a stadium, believe it or not
Erwin
a stadium for cheap.
Victor
I'll tell you the story. It's a cool story. So this is Skylands Park. It's an hour outside New York City to New Jersey, and it was built in 1993. For 11 and a half million dollars. It went bankrupt a year later with 26 million in debt. Don't ask me how they did that. But somehow that happened. The folks who bought it, owned it operated it. It was the New Jersey Cardinals and then the Sussex Skyhawks, they'd set league attendance records. This is all a minor league ball 4200 seat stadium, and 18 luxury boxes parking for 2000 cars, 46,000 square feet of buildings, batting cages, commercial kitchens, like a full on stadium. Okay, the husband died, they lost their team franchise. It's now 2010. This thing is bleeding cash. The wife doesn't know anything about baseball, she just wants to move to Florida to be close to her kids. So she hands it to a realtor who puts it on the MLS folds his arms and waits. Well, that's not how you sell a baseball stadium. I'm just saying. So we came across it, the only reason we came across it is because this stadium had a cell tower on it. The cell tower had revenue on it from Sprint, Verizon and T Mobile. And you look at the revenue from those three carriers, and it came to 50,000 a year. Now when you value a cell tower, you think of it about a 7% cap rate. So you take $50,000 divided by point 07. And you get $700,000 and change. So the value of the cell tower, in jest as a standalone piece, if you separate it from the stadium as an easement, the value of that cell tower was 700 grand. Okay, so they had this property listed for 2.2 million. It's at the bottom of the market. They got a cash offer for 1,000,005, which they rejected. They got a financed offer for 1,000,008 that they accepted, but their financing fell through a couple of years into this, they're now getting desperate. They want to sell this thing. We offer them 950,000 Cash, which they accepted. We knew we could sell the cell tower for 700 grand. So we got our basis on the stadium down to 250 grand, but it gets better. As soon as we had it under contract. We knew we didn't want to own a stadium. We're not baseball people. So we started looking at who would want a stadium where their former major league players who would want to do a spring training camp or you know, as a big parking lot. Can we set up a drive in movie like we thought all kinds of different, crazy ideas. And anyway, we came across a guy who was looking to restart the Can Am league because at that time, the draft in Major League Baseball was there reducing the number of rounds in the draft, so there'd be a lot of really good players that would never make it into the majors. So they wanted to grow minor league ball. Okay, fine. He said I might want to buy your stadium. But I need eight stadiums. In order to restart the league. You're one eight of my problem. I said, Okay. So would you like to take an option? Or how about a right of first refusal on the stadium, so you know, get a tied up, and then you figure out what other stadiums you need to go get a bet at least you have a piece of paper that you are at least connected to this stadium if you really want it. He said, Okay. He said, What would you want for right of first refusal? We said how about 250 grand? So he said, sure, but I want the interest on that. 250 grand How much do you want? 8%? Okay, done. So for 8% interest on $250,000 We bought a 4200 seat stadium on 28 acres of land and outside of New York City. And all because we had this there was a cell tower on this property, we would never have found it if it weren't for the fact that there was a cell tower on the property.
Erwin
And no one else needed to look for these things. No, the realtor didn't realise it even income generating asset on the property. Exactly. That's pretty cool story. Yeah,
Victor
it is. So to finish the story, we held it for about nine months. We had a college team that played 13 games they came in brought in new clay and levelled it out and it looked great. I mean, it wasn't laser level like the it like it would be in the majors, but it was good enough and eventually sold it about nine months later for, I think about 900 grand. So that's after we sold the cell tower on closing day. So we made a little tidy profit. We weren't greedy was a good deal. Good deal for them good deal for us
Erwin
thinking about it or send out the email of someone else. Someone else bought it suddenly got a pretty good deal. But yours this again?
Victor
Oh, gee, was I have to go back and look, it's been a while I think we got it under contract in 2013, I believe.
Erwin
Sounds like we got a pretty good measure that was an hour from Toronto or an hour from Ottawa. But that'd be worth. Absolutely. Okay. So what's, what's the law? What's the most recent partnership that you got into? Like, what was what was the you look, you were looking for just preface that most people I find, like, for example, my friend of mine is going to Orlando to buy an investment property. And they did look for versus you're saying, Go find a partner first. It's very different.
Victor
Well, the example I'm gonna give you is one where we actually found the deal first. And it just turned out that way, and this was one and by the way, we don't go hunting for deals. You've probably figured out by now we weren't looking for a stadium that came to us. And this, this next one is no different. This one came to us as well. This is a parcel of land. It's just on the edge of Colorado Springs. It's 17 183 acres. And it's called the Norris ranch. Mr. Norris, his father was the Marlboro Man and the cigarette commercials. Oh, cool. So the original Norris Ranch was 20,000 acres. It's a massive, massive property. And the remnants the last piece was eight parcels are seven parcels that comprise 17 183 acres all contiguous, and we got this under contract for 10,000 an acre. And at first we thought, we weren't really interested, we thought, wow, it's too big. It's too complex. It's to fill in the blank. We weren't interested in it. And then we thought about it took us a couple of weeks to wrap our minds around it. We said, yeah, we can do this, we did a little bit more research, we learned that we could get a zoning overlay and an annexation into the city. That would be legally binding, without having to do a full plan to use development where you have to map out every lamppost manhole cover and fire hydrant, we could just do a zoning overlay. And that will create a tremendous amount of value. So we got it under contract and basically went in immediately into the planning process. We wanted to do diligence, we had a lengthy due diligence period. And so we're making sure that there weren't issues that would stop us. There were, you know, no endangered species on the property or, you know, any of those sorts of things that could potentially stop the project. And then we continued to move forward with it, we had a couple of different pathways to raise the capital. And they did involve partnerships. We ended up choosing two partners, to actually three partners that were not initially on our radar. One of them is a gentleman, two guys that own 640 acres to the south of us. And so they were already active, developing in that market. And so we felt that having that local presence, that expertise would be valuable. One of those two guys, his father was the previous county commissioner, his wife is the current county commissioner. So we said, okay, these guys are pretty well connected politically, you know, this guy has all the candidates for mayor to his house for a barbecue, right? So we have that kind of connection. And so we invited them into the partnership. And then they brought another individual, very high net worth individual who had sold a defence company for a few 100 million dollars, who would also be interested in so we brought him in as a partner as well. So we've forged together that partnership, eventually, this is a multi year project. This is a project that is going to span economic cycles. Clearly, we already initiated the annexation petition. And eventually we know once the master plan is completed, we'll get the zoning overlay and utilities brought to the property and all of that, but we should see something in the range of about at least somewhere between a 20 to 40 times multiple on our investment just on the land just on the land. So it's a it's a fairly significant left.
Erwin
Okay, so where did these had this deal find you
Victor
as an individual who basically knew of Mr. Norris, but it was too big for him. So he brought it to one of our partners and said, you know, who might be able to do this. He knew he had something and he just didn't know what or how or and often turns out that way that people hear about something and they don't know what to do with it. So it's a matter of finding a home. We're in discussions right now on a property in a 1500 acre property right now. And we're not sure if it's us or if we need to find a home for it. But we know that it's going to have to be the right team. This is an act, the 1500 acre property is an active agricultural property. That's that's producing a very high value crop. So, you know, we're not farmers. So we'll see what happens with that one. But it's all about putting together those partnerships, those relationships, we're heading to, to New York and a couple in a couple of weeks to further that conversation and see if we can put together the right partnership on that one.
Erwin
Fascinating. All right, Victor, if the listener wants to help you out, how can they help you? How can I help you?
Victor
That's a great question. Yeah, we're always happy to talk about deals, you know, we're pretty full right now. So we don't have the capacity to take on a lot, that's for sure. But sometimes we can make an introduction or we know somebody that might be able to help. And, you know, just, we're love to develop relationships, love to have folks connect with us through the podcast. And we often speak at live events all over both Canada and the United States. So happy if we happen to be at the same event. Come on up, say hello, and love to connect.
Erwin
Amazing. And then Victor, I question. I was so immersed with everything you're up to? What's your outlook for the future? It's November 25. A lot of people are scared out there. Like you've mentioned you you've had to with even with your own portfolio had to pivot, you know, to put things on pause. What what do you see for the future?
Victor
Yeah, absolutely. I mean, we're definitely in a very uncertain environment. I mean, investors like certainty. And that's the one thing that you can't get right now is certainty. No one can tell you with any degree of confidence what interest rates will be in 24 months, they could be up or they could be down. That's why we put things on pause. Things that made sense a year ago, today's interest rates look marginal. And if they go higher, we'll be upside down. I can't take that risk. I wouldn't take that risk with my own money. And I certainly can't take that risk with investors money. So so we've had to put some things on pause. So I mean, virtually everything in multifamily apartments, new construction, virtually every not everything, but virtually everything almost has to has to be paused right now unless you can get really good financing terms. And we're working on that. And so if you can get a really solid rate, lock, long amortisation, permanent financing, you can still do deals in today's environment. But absent that, it's really, really hard. We're looking at some redevelopments. We're in discussions right now. And redevelopment of a building in the downtown core, was at one time an office building turn of the century building gorgeous, gorgeous art deco building, think, Empire State building type vintage, that would be redeveloped into apartments in the downtown core, it's literally right on top of the subway stop, amazing, amazing location, and the rents in that location would certainly support the redevelopment of that of that asset. So we you know, we look for those types of things. And think about all of the deals that have been done in the last 24 months, if they had a value added component to them. They were almost all financed with bridge debt, which would be variable interest rate, with the idea that once they got released up and stabilised, they would refinance into permanent financing. But those assumptions would have been, hopefully a cash out refinance an interest rate within the threes, maybe the high threes, if in the worst case, but now you're into the sixes and sevens. So not only are you not going to cash out refinance, you're gonna have to write a big check to get into permanent financing. So you're upside down, you're stuck. So how do you do that? Fear that sponsor that's upside down. What do you do? Do you go and do a capital call with your existing investors? Not happy about that? Do you sell the equity which is diluted to everyone? But what are you selling? You're gonna say, well, we screwed up this project. Come invest with me. I like it's a very weak value proposition. The number stank, because you're upside down. So what do you do? Do you just extend with your lender until you run out of oxygen? The bunch of them? Well, a bunch of them well, so there will be opportunities in the next six to 18 months to buy assets that we're partway through that repositioning. By the way, there were a lot of repositioning that failed in the last 24 months, they got delayed because of COVID or what have you, and they got into trouble. But then with rent growth, with market rents increasing in so many markets 1518 22% per year, that wallpapered over those mistakes, and so they came out on the other side and still survived, but they were, they would have been in real trouble if it weren't for that, that rent growth was stopped. So they're not gonna be able to play that trick a second time. So I think there will be opportunity. It's not yet. Not yet. So sit on cash, be prepared to be conservative in your underwriting, be prepared to negotiate hard, and don't be scared to walk away from a deal. It's the seller who has the problem, not you, the buyer, don't ever be a desperate and anxious buyer. Be a very patient buyer. That would be my advice.
Erwin
Now I need to go call my flipper client to get rid of some of these properties.
Victor
Yeah, flipping in today's environment would be a very risky proposition. Because think about it. I mean, a lot of people think about what is the deal? You know, they say I got 10% off, that's a deal or I got 30% off. That's a smoking deal. No, no. I mean, think back on what we've talked about here, about 1800 acres, almost 70 or 83 acres for 10 grand an acre. That's a deal. That's five cents on the dollar. That's a deal. I have way more upside than downside. That's what I'm talking about.
Erwin
I don't think you shared your email address vector.
Erwin
Better. Thanks so much for this. This has been awesome. I have like 23456 pages of notes. I imagine the listener probably will have twice as much. Thanks so much for doing this again. Where Can folks listen to your podcast?
Victor
So it's the real estate espresso podcast. It's like the Italian coffee spelled ESP R E S S O. And it's on virtually every podcast, listening platform, Apple, Spotify, Stitcher, pod bean 20, plus different platforms.
Erwin
You're regularly that the reo meetings in Ottawa so people can find you there as well.
Victor
So I also run the Ottawa real estate investors, organisation and president of that organisation, we have about 400 members we meet once a month, face to face, and it's a very active community in Ottawa. And if you happen to be within Ottawa, within a radius of Ottawa, we actually have a number of members from Toronto and from Montreal who commute once a month for those meetings. Because they get a lot of value. It's crazy cheap, it's $127 a year to join It's nuts. And there's no run a run to the back of the room, sales pitch or any of that stuff. It's just pure education. We bring in great speakers and give people the opportunity to rub shoulders with their fellow investors.
Erwin
And you have million dollar executives setting up projector equipment. See that myself? Because $127 a year there is no budget for staff for listeners benefit like literally the Victor and Christian are million dollar executives literally selling laptops and connecting cables and putting up projectors. It's true. It's true. Victor again, thank you so much for doing this. Wow, what a treat. Well hopefully listener enjoyed I'm sure the listener enjoyed and your emails gonna blow up. Apologies in advance.
Victor
Well, it's great to connect great to connect with you in Toronto a couple of weeks ago and have an awesome weekend.
Erwin
Yeah, I told you I get Christian crap for not give me a heads up because I didn't know you were coming and then this year front row thank you for the support Victor. Have a good weekend, my pleasure.
Erwin
Before you go if you're interested in learning more about an alternative means of cash flowing like hundreds of other real estate investors have already, then sign up for my newsletter and you'll learn of the next free demonstration webinar I'll be delivering on the subject of stock hacking. It's much improved demonstration over the one that I gave to my cousin chubby at Thanksgiving dinner in 2019. He now averages 1% cash flow per week, and he's a musician by trade. As a real estate investor myself, I got into real estate for the cash flow. But with the rising costs to operate a rental business, it's just not the same as it was five to 10 years ago when I started there are forgive the cash flow reduces your risk. The more you have, the more lumps you can absorb. And if you have none, or limited cash flow, you're going to be paying out of your pocket like I did on a recent basement flood at my student rental in St. Catharines. Ontario. If you're interested in learning more, but it's true for free for my newsletter at www dot truth about real estate investing.ca. Enter your name and email address on the right side. We'll include in the newsletter when we announce our next free stock hacker demonstration. Find out for yourself but so many real estate investors are doing to diversify and increase our cash flow. And if you can't tell I love teaching and sharing this stuff.

To Follow Victor:
LinkedIn: https://www.linkedin.com/in/vmenasce/?originalSubdomain=ca
Personal Website: http://www.victorjm.com/
Work Website: www.Ystreetcapital.com
OREIO: https://www.oreio.org/
HELP US OUT!
Please help us reach new listeners on iTunes by leaving us a rating and review!
UPCOMING EVENTS
You are the average of the five people you spend the most time with! Build connections with empire builders and trailblazers at our iWIN events.
BEFzORE YOU GO…
If you're interested in being a successful real estate investor like those who have been featured on this podcast and our hundreds of successful clients please let us know.
It is our honour to give back and educate others on how we build cash flowing real estate portfolios using all the best practices shared on this podcast, from the lessons of our hundreds of clients and of course our own experience in owning investment real estate.
If you didn't know already, we pride ourselves on being the best of the best real estate coaches, having the best property managers, contractors, handy people, cleaners, lawyers, accountants, everyone you need on your power team and we're happy to share them with our clients to ensure your success.
New investor or seasoned veteran investor, we can help anyone by providing our award winning coaching services and this isn't all talk.
We have been awarded Realtor of the Year to Investors in 2015 by the Real Estate Investment Network, 2016 by the Canadian Real Estate Wealth Magazine and again in 2017 because no one told the judges no one is supposed to win the award twice but on merit, our peers deemed us as the best. In 2018, we again won the same award by the Real Estate Investment Network.
Hopefully being the most decorated team of Realtors in Ontario will make you consider us for your first or next real estate investment. Even if you don't invest in our areas, there's a good chance I know who would be ideal for you.
I've been around for a while, some Realtors are talented at servicing investors there are many with great ethics. The intersection of the two, talent and ethics is limited to a handful in each city or town.
Only work with the best is what my father always taught me. If you're interested, drop us an email at iwin@infinitywealth.ca.
I hope to meet you at one of our meetups soon.
Again that's iwin@infinitywealth.ca
Sponsored by:
Infinity Wealth Investment Network – would you like to know how our investors returned 341.8% on positive cash flowing real estate over the last five years? On average, that was 68.4% per year.
Just imagine what winning in real estate could do for you.
If you would like to know how we did it, ask us how by calling 289-288-5019 or email us at iwin@infinitywealth.ca.
Don't delay, the top markets we focus in are trending upward in price, so you can pay today's price or tomorrow's price.
Till next time, just do it because I believe in you.
Erwin
Hamilton, St. Catharines and Toronto Land Development, Real Estate Investor, and soon to be builder.
W: erwinszeto.com
FB: https://www.facebook.com/erwin.szeto
IG: https://www.instagram.com/erwinszeto/
https://www.truthaboutrealestateinvesting.ca/wp-content/uploads/2022/12/Victor-Menasce.jpg
630
1200
Erwin Szeto
https://www.truthaboutrealestateinvesting.ca/wp-content/uploads/2017/06/TruthRectangleLogo.png
Erwin Szeto
2022-12-28 17:22:57
2023-06-16 17:09:34
Starting Out in 2006 With Mid-Term Rentals To Closing on 1,700 Acres of Land to Develop with Victor Menasce