Lessons In Commercial R.E. Through Crashes, Why Focus on Industrial & Nursing Facilities w. Shane Melanson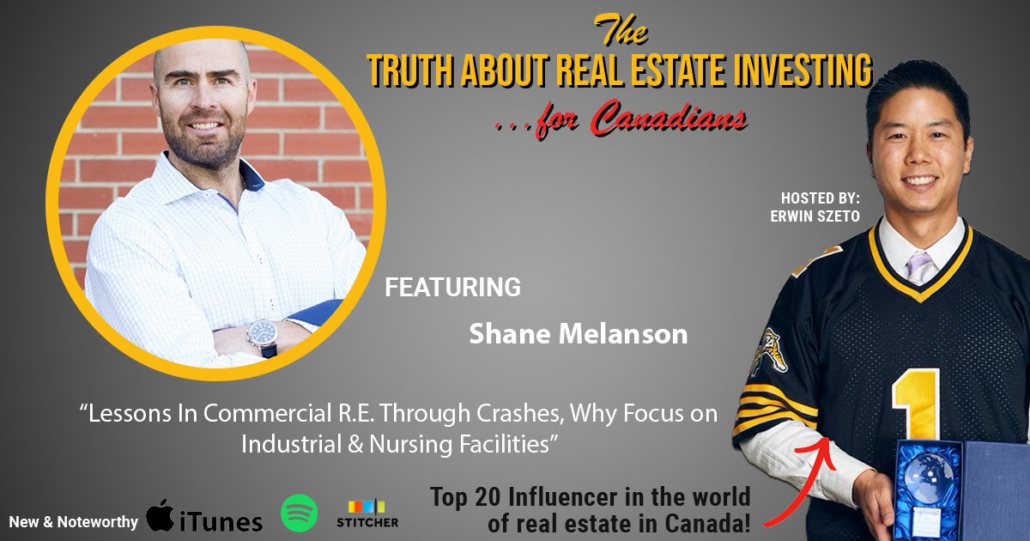 Greetings, Wealth Hackers!
Everyone enjoying the kids going back to (virtual) school after March break in April? 
Since we moved homes before the break started, my kids switched schools. Our new school is only 5 minutes away by walk vs. our kids took the bus when we lived in Burlington. 
The biggest downside of bussing kids to school is it limits my face-to-face interactions with their teachers.
 

 

View this post on Instagram

 
Now the kids are in virtual school anyways with new teachers and new classmates.  Their former teachers were happy to have our kids continue with their classes, but the kids chose to move on. 
They're doing quite well as they did before.  I have no idea why but I wonder if it's because we limit their screen time.  They do have a crappy tablet that they only use for audiobooks which they absolutely love. 
We play video games only on weekends but not for long. They also don't have the time between tutoring in Math and English 3X per week and Kickboxing 4X per week to watch any movies.
They're now in our pool that we've had open for 2-3 weeks, and I may jump in after recording this 😜
I'm learning how to be a pool owner. 
Yesterday, I taste-tested the water, then proceeded to dump two bags of salt in the pool.  I hope that does it as I don't have a fancy saltwater testing kit. I also don't want to taste-test the water again intentionally. Hopefully, the kids haven't grown another arm yet. LOL.
We cranked the gas heater to 85 degrees, so hopefully, I don't freeze to death.
Today is also 48 hours after I've had my Astra Zeneca vaccine, and today Justin Trudeau got his Astra Zeneca shot.  Hopefully, what's good enough for our Prime Minister and Chancellor Angela Merkel of Germany is good enough for a regular joe like me.
I've had zero side effects in my experience, and I set a personal record after riding my indoor Peloton bike for over 90 minutes last night. 
I'm feeling very grateful.
I know many are not so lucky with this virus, including my friends on the frontlines in the hospitals, and I've gotten several messages from friends disappointed in not being able to get an appointment.
I do believe we are in this together, and I'll do my part. I'll stay out of the hospital, heeding the warnings of ER doctors to avoid ER's. As if one ever needed advice on not doing stuff that would lead to going to the ER.
I tip 15% each time I order takeout. I'll tip the restaurant directly if ordering Uber Eats and the driver.
I'll continue my charity work and bring value to our investor community.
Speaking of value, we posted a video about my thoughts on the 2021 Federal Budget on my YouTube channel: The Truth About Real Estate Investing.
Why is it important to know?
Well, the Ontario Government in 2017 tanked the real estate market with their Fair Housing Plan. So, I want to know, as an investor, what's in the budget, which I summarize for the Canadian real estate investor.
For those who'd like to learn more in-depth about real estate, we have our May 15th monthly iWIN Meeting coming up. We have planned presentations on How to Buy A Foreign Vacation Property and How to Make The Interest Expense On Your Home Tax Deductible. 
Everyone on my email newsletter gets an invite, and it's available for sign-up at  www.truthaboutrealestateinvesting.ca.
Lessons In Commercial R.E. Through Crashes, Why Focus on Industrial & Nursing Facilities w. Shane Melanson
On to this week's show!
This week, we have returning guest Shane Melanson, one of the most active commercial real estate investors I know.
He's pretty big time, having bought 100's of apartment units. He's developed tens of thousands of square feet of commercial/industrial properties. He's now involved in skilled nursing facilities, like less urgent hospitals, so the operating costs are much less than hospitals. 
Shane is here today to share lessons from investing during a crash and the time it took to recover. He'll also share how he structures these multimillion-dollar development projects and the difference in getting commercial lending/mortgages in Canada vs the US.
We cover a ton of stuff, so for anyone who likes to geek out on commercial real estate, I hope you enjoy the show!

HELP US OUT!
Please help us reach new listeners on iTunes by leaving us a rating and review!
To Follow Shane: 
Web: https://shanemelanson.com/
UPCOMING EVENTS
You are the average of the five people you spend the most time with! Build connections with empire builders and trailblazers at our iWIN events.
BEFORE YOU GO…
If you're interested in being a successful real estate investor like those who have been featured on this podcast and our hundreds of successful clients please let us know.
It is our honour to give back and educate others on how we build cash flowing real estate portfolios using all the best practices shared on this podcast, from the lessons of our hundreds of clients and of course our own experience in owning investment real estate.
If you didn't know already, we pride ourselves on being the best of the best real estate coaches, having the best property managers, contractors, handy people, cleaners, lawyers, accountants, everyone you need on your power team and we're happy to share them with our clients to ensure your success. 
New investor or seasoned veteran investor, we can help anyone by providing our award winning coaching services and this isn't all talk.
We have been awarded Realtor of the Year to Investors in 2015 by the Real Estate Investment Network, 2016 by the Canadian Real Estate Wealth Magazine and again in 2017 because no one told the judges no one is supposed to win the award twice but on merit, our peers deemed us as the best.  In 2018, we again won the same award by the Real Estate Investment Network.
Hopefully being the most decorated team of Realtors in Ontario will make you consider us for your first or next real estate investment.  Even if you don't invest in our areas, there's a good chance I know who would be ideal for you. 
I've been around for a while, some Realtors are talented at servicing investors there are many with great ethics.  The intersection of the two, talent and ethics is limited to a handful in each city or town.
Only work with the best is what my father always taught me.  If you're interested, drop us an email at iwin@infinitywealth.ca.
I hope to meet you at one of our meetups soon.
Again that's iwin@infinitywealth.ca
NO MORE Confusion
After all the Youtube videos, books, and forum posts, you're probably still left with questions. Starting in real estate is a tricky thing.
Frustrated beginners often ask how a legal basement suite conversion actually works. Most of the time we can only give general answers. But now, we get to dive in.
At this in-depth, free class you'll learn how to take your first steps as a real estate investor.
Nothing is held back. Everything from analyzing basement suite conversion deals, to renting out your first property at a profit, and even how to refinance and do it all again!
More secrets you'll uncover are:
Profiting in a HOT market…
Municipal bylaws to watch out for…
Mortgage terms that favour refinancing…
AND one barely used tactic for higher appraisals…
If you're frustrated, unsure of how to get started, this is for you.
 Sign up now for the Invitation List and be one of the first to get an invite to the next class.
Sponsored by:
Infinity Wealth Investment Network – would you like to know how our investors returned 341.8% on positive cash flowing real estate over the last five years? On average, that was 68.4% per year.
Just imagine what winning in real estate could do for you.
If you would like to know how we did it, ask us how by calling 289-288-5019 or email us at meaghan@infinitywealth.ca.
Don't delay, the top markets we focus in are trending upward in price, so you can pay today's price or tomorrow's price.
Till next time, just do it because I believe in you.
Erwin
Hamilton, St. Catharines and Toronto Land Development, Real Estate Investor, and soon to be builder.
W: erwinszeto.com
FB: https://www.facebook.com/erwin.szeto
IG: https://www.instagram.com/erwinszeto/
https://www.truthaboutrealestateinvesting.ca/wp-content/uploads/2021/04/Shane.jpg
630
1200
Erwin Szeto
https://www.truthaboutrealestateinvesting.ca/wp-content/uploads/2017/06/TruthRectangleLogo.png
Erwin Szeto
2021-05-03 17:22:07
2021-05-03 17:22:11
Lessons In Commercial R.E. Through Crashes, Why Focus on Industrial & Nursing Facilities w. Shane Melanson