Leaving Corporate By Investing in Condos, Then Duplex Conversions, Then Apartment Building Conversions, Six Figure Side Hustle Stock Hacking With Martin Kuev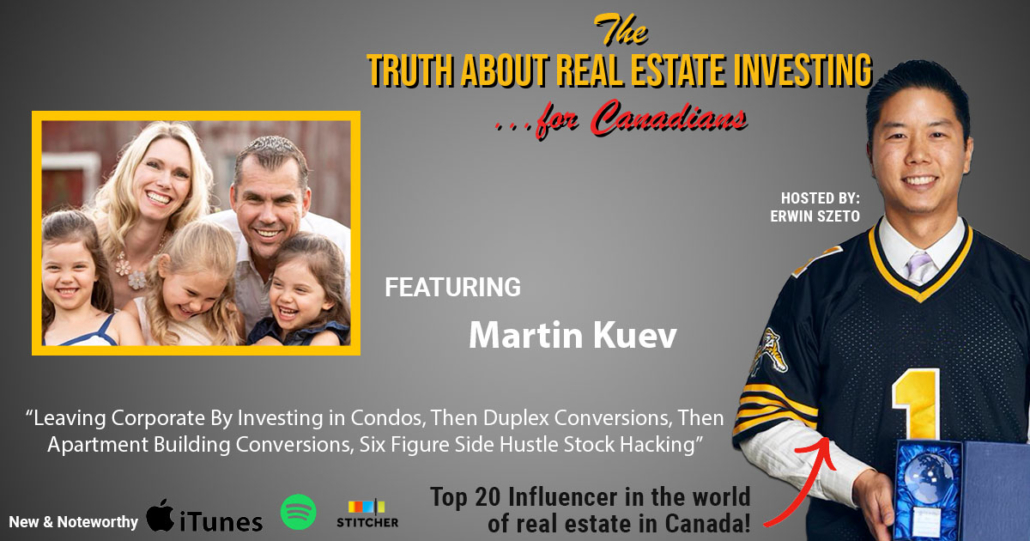 Happy New Year My Fellow Wealth Hackers!!
I hope you all had great and safe holidays!!
Hopefully, Santa was good to you all. My youngest, Bruce at age five already doesn't believe in Santa. Someone told him back in daycare but my daughter kinda does and asked why Santa stuff her stocking. 
We told her Santa is high risk for Coronavirus so it's not safe for him to come to our home.
View this post on Instagram
For Christmas, I wanted to get the family something nice as it's been a great year for wealth hackers, those who invest smartly and strategically in things like cash flowing real estate and stock hacking. 
Anyone can be a wealth hacker, we all start somewhere.
We have a certified financial planner coming up in a few weeks in Kathleen Van Den Berg.  I'd consider her smart money so I'll hold off giving any advice and let you hear from a certified professional.
I'm not a financial planner but I am a professional Realtor and real estate investor and we did just have a record year in helping everyday Canadians with their investment real estate outside the greater Toronto area with a heavy focus on cash flow. 
If you're read anything in the news or listened to the steady stream of successful wealth hackers on this show, then you know this was a great year for smart investors.
Building wealth is an open book test. The real test is who is reading the book.
Our government and the one in the US is planning for more record stimulus. Cash will be printed therefore cash in our savings accounts will be devalued.  Economic theory and best practice as has been proven for some time is to hold hard assets like real estate. Preferably cash flowing real estate so someone else pays the bills.
From a quick search of the Real Estate Board of Greater Vancouver, Nov 2020 prices for detached homes is up 28.6% from last year. Over the same time period, the Toronto Real Estate Board is reporting detached prices are up 13.3%. 
How's that for inflation that doesn't make the mainstream media. Living costs more than ever. Hopefully you the listener already owns hard assets or have plans to acquire more.
Knowing what a great small business owning real estate is, I started investing in real estate in 2005 and started in 2010 what became iWIN Real Estate to help every day, hard working Canadians build wealth. 
This is why we teach the number 1 investment strategy FOR FREE… exactly how our clients and ourselves invest in cash flowing real estate just outside the GTA. That's for beginners.
For those who want to continue deeper, we offer monthly iWIN meetings for a nominal fee and 100% of proceeds go to charity. Clients attend for free. 
We normally would do both in person but there's this virus going around so we'll host the meetings virtually for now. 
This January, Cherry is presenting on whole life insurance, something we just got for ourselves.
Together with insurance expert Jayson Lowe, they will explain the concept of infinite banking, how we can own insurance so our kids aren't overburdened with taxes when we pass on to them a ton of assets but also how we can leverage the whole life insurance to invest more assuming you have means to earn more than the paltry interest rate of 6%.
We'll also have Anna Scott, a professional real estate investor and Mortgage Agent sharing a behind-the-scenes look at real private lending deals and we have my lawyer Hussin Kadrati reviewing social media posts from people looking to raise capital and the possible implications by the Ontario Securities Commission. 
I know lots of people successfully raising capital over Facebook and Instagram, make sure you do it without getting in trouble!
If you're interested, you can get more details at www.investortraining.ca to get on my email list and you'll find out about all our events. 
Also, you will find the presentation I gave to almost 1,600 investors on how I personally invest for my kids so they don't have to go into crazy debt to go to university or buy their first home.
Cash-flowing real estate in my experience is for building wealth. For cash flow, I'm stock hacking and our students of the Stock Hacker Academy are just killing it.
In classic Canadian fashion, no one likes to brag on social media but my DM's are full of thanks and screen captures of their returns. 
One of my most conservative clients and past guest of this show, Nick Ditomaso has made 35% in nine months.  My cousin Chubby had his best month with $6,700 in returns. 
A business mentor of mine cleared $30,000 this month and another student of ours has what I call stock hacker problems. He made too much in his personal trading account and wants to open a corporate account to minimize his taxes going forward.
Cherry and I averaged 10% in December alone, far way more cash flow than our entire real estate portfolio!
The past students are calling this a game-changer and if you'd like to learn more, I'm giving free demonstrations in January. Simply go to www.stockhackeracademy.ca/demo to register.
As the way of the Wealth Hacker, my work funded my real estate purchases. 
My real estate investments were refinanced to invest in more houses.  My real estate equity gains funded my stock hacking bankroll.  My greatest source of cash flow is funded by "house money" and I'm not trying to impress but rather express what this newfound cash flow can do. 
My one week of cash flow last week paid for my Christmas present to the family and my mom. Both a Disney World and Disney Cruise vacation in 2022. 
For those who know me, I'm really frugal and this is the most we've ever spent on a vacation.  Flight of course will be paid for with my travel points because I'm still frugal but I'm able to convince myself the expense is ok as it's only one week's cash flow.
Leaving Corporate By Investing in Condos, Then Duplex Conversions, Then Apartment Building Conversions, Six Figure Side Hustle Stock Hacking With Martin Kuev
But enough about me, this week we have my old friend Martin Kuev on the show. 
Martin like many had a young family, a well-paying job in corporate, started a side hustle investing in condos and progressed into renovating single-family homes to create basement apartments, then again levelling up into serious apartment building renovations for highest and best values.
Definitely innovative stuff so I hope you enjoy this interview as much as I did.
We talk about life, the challenges of Martin leaving his executive corporate job just after having twins, Martin's new side hustle he learnt from the Stock Hacker Academy and earned him six figures in his first year, and we chat a bit about cryptocurrency as Martin's close friend is high up at Ethereum.
As I record this, the date is New Year and I'd like to take a moment to say farewell to the year 2020.
The pandemic changed our daily lives and will continue to do so in 2021. I am grateful to have my investopreneur community, our clients, students of Stock Hacker Academy and you the listener.
I was afraid like everyone else, we deferred a mortgage or two, I took a CERB payment which I've since paid back. 
But servicing this community kept me focussed. There was no time for us.
I had to find answers as to what was going on on the streets both real estate and stock market hence we had our emergency series of webinars (my apologies for the poor connection, my internet hasn't been the same since the pandemic started). 
Those webinars, the podcast, our iWIN meetings were my outlet for my focus and to share. To share with you the best practices and help you all be successful wealth hackers. That's always been my #1 goal.
The road was definitely rocky but with the vaccine here and being rolled out and how our investment behaved… I think that's the ultimate testament we are investing the right way and that only has me more optimistic for the future of our collective investing in 2021.
I know my clients are in real estate and stock hacking are optimizing their returns and I hope you are too!
To Listen:

HELP US OUT!
Help us reach new listeners on iTunes by leaving us a rating and review!
To Follow Martin: 
Web: www.mkproperties.ca
LinkedIn: https://www.linkedin.com/in/martinkuev/
Before you go, if you're interested in being a successful real estate investor like those who have been featured on this podcast and our hundreds of successful clients please let us know.
It is our honour to give back and educate others on how we build cash flowing real estate portfolios using all the best practices shared on this podcast, from the lessons of our hundreds of clients and of course our own experience in owning investment real estate.
If you didn't know already, we pride ourselves at being the best of the best real estate coaches, having the best property managers, contractors, handy people, cleaners, lawyers, accountants, everyone you need on your power team and we're happy to share them with our clients to ensure your success. 
New investor or seasoned veteran investor, we can help anyone by providing our award winning coaching services and this isn't all talk.
We have been awarded Realtor of the Year to Investors in 2015 by the Real Estate Investment Network, 2016 by the Canadian Real Estate Wealth Magazine and again in 2017 because no one told the judges no one is supposed to win the award twice but on merit, our peers deemed us as the best.  In 2018, we again won the same award by the Real Estate Investment Network.
Hopefully being the most decorated team of Realtors in Ontario will make you consider us for your first or next real estate investment.  Even if you don't invest in our areas, there's a good chance I know who would be ideal for you. 
I've been around for a while, some Realtors are talented at servicing investors there are many with great ethics.  The intersection of the two, talent and ethics is limited to a handful in each city or town.
Only work with the best is what my father always taught me.  If you're interested, drop us an email at iwin@infinitywealth.ca.
I hope to meet you at one of our meetups soon.
Again that's iwin@infinitywealth.ca
Looking to add another stream of income?
We just completed the long anticipated Stock Hacker Academy Live Introductory Course and it was awesome!
Stock Hacker Academy is the foundation that has helped Erwin, Cherry and many other Stock Hackers make thousands of $$ weekly and now they never have to worry about money again!
If you desire the same for yourself, click here to register now
NO MORE Confusion
After all the Youtube videos, books, and forum posts, you're probably still left with questions. Starting in real estate is a tricky thing.
Frustrated beginners often ask how a legal basement suite conversion actually works. Most of the time we can only give general answers. But now, we get to dive in.
At this in-depth, free class you'll learn how to take your first steps as a real estate investor.
Nothing is held back. Everything from analyzing basement suite conversion deals, to renting out your first property at a profit, and even how to refinance and do it all again!
More secrets you'll uncover are:
Profiting in a HOT market…
Municipal bylaws to watch out for…
Mortgage terms that favour refinancing…
AND one barely used tactic for higher appraisals…
If you're frustrated, unsure of how to get started, this is for you.
 Sign up now for the Invitation List and be one of the first to get an invite to the next class.
Sponsored by:
Infinity Wealth Investment Network – would you like to know how our investors returned 341.8% on positive cash flowing real estate over the last five years? On average, that was 68.4% per year.
Just imagine what winning in real estate could do for you.
If you would like to know how we did it, ask us how by calling 289-288-5019 or email us at meaghan@infinitywealth.ca.
Don't delay, the top markets we focus in are trending upward in price, so you can pay today's price or tomorrow's price.
Till next time, just do it because I believe in you.
Erwin
Hamilton, St. Catharines and Toronto Land Development, Real Estate Investor, and soon to be builder.
W: erwinszeto.com
FB: https://www.facebook.com/erwin.szeto
IG: https://www.instagram.com/erwinszeto/

https://www.truthaboutrealestateinvesting.ca/wp-content/uploads/2021/01/Martin-Kuev.jpg
630
1200
Erwin Szeto
https://www.truthaboutrealestateinvesting.ca/wp-content/uploads/2017/06/TruthRectangleLogo.png
Erwin Szeto
2021-01-05 15:59:56
2021-01-06 15:28:25
Leaving Corporate By Investing in Condos, Then Duplex Conversions, Then Apartment Building Conversions, Six Figure Side Hustle Stock Hacking With Martin Kuev