Starting Investing While In School, Growing Portfolio to 10+ Properties, Surviving the Lockdown, 57% ROI Stock Hacking With John Beddome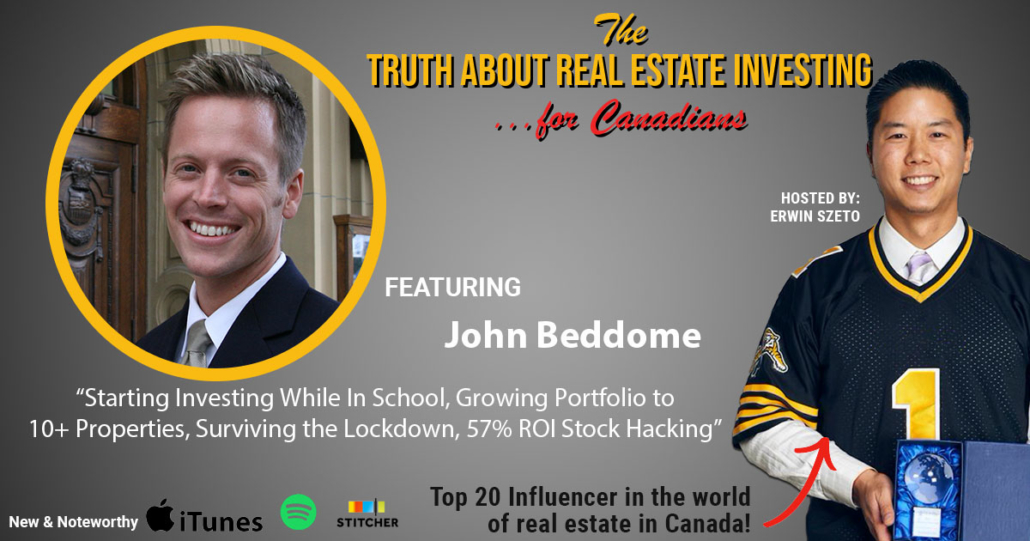 Happy New Year My Fellow Wealth Hackers!!
How's your health and fitness?
Mine took a bit of a holiday since…. March… maybe a lot longer with that. 
With my gym being closed on and off, playing golf in the summer, sitting on my butt in my home office working and making some good cash flow stock hacking, my fitness definitely took a back seat so I joined an eight week muscle building challenge.
So, starting next week I'll be lifting weights four times a week, following a balanced meal plan for muscle growth, hopefully getting lots of sleep… 
View this post on Instagram

Then my gym was shut down… call it quits right?
Nah, I rented a bunch of equipment from Dan and Rachael, owners of Radix gym, filled out a questionnaire, had a body scan done now they'll customize a workout program and meal plan for my weak stomach and fasting schedule. I'm such a pain in the butt!
One thing I did do well during this ongoing pandemic was I kept the fat off by intermittent fasting. 
In the mornings, I only have coffee and water then I'll snack around 10 or 11 am, eat a big lunch and a good sized dinner. My weight is the same and based on the body scan results, my recommended fat loss is 1.1 pounds.  Not bad.
If you too are looking to improve your health and fitness, I encourage you to do so. Covid has taught us a lot about our health. Age we can't control but we can control our fitness and what we eat.
That's health covered.
Only this morning did I realize I hadn't spent much time making education plans for 2021 after watching a youtube on a guy who is part of THREE big ticket masterminds. I thought to myself I need to keep up, I'm such a slacker… 
Then, I reminded myself I have a Realtor coach, real estate investing coach, I have three Stock Hacking coaches including best selling author of Get Rich With Options, Lee Lowell, our partner in delivering Stock Hacker Academy.
I just finished a level 2 advanced option traders course and also renewed my membership with my two masterminds, one for real estate investing and a separate 7 figure entrepreneur mastermind group.
Cherry and I have lots of organization systems plans for 2021 as well. 
As always, continuous improvement and continued education is a core value of ours. Judging by the interviews of successful investopreneurs on this show, they share the same value.
Starting Investing While In School, Growing Portfolio to 10+ Properties, Surviving the Lockdown, 57% ROI Stock Hacking With John Beddome
Speaking of successful investopreneurs, we have an old friend on this show in John Beddome. 
John owns over 10 investment properties including single-family duplex conversions, small apartment buildings, he's well known in the investment real estate community as a Realtor in Barrie, Ontario and surrounding areas. 
I first met John at a real estate networking group about ten years ago because he loves to learn and network just like I do.  
Last year, John took the beta version of Stock Hacker Academy and in 2020, his return at the time of recording was 57%.
If you would like to see a free demonstration of Stock Hacking via Zoom, I'll do doing one or two of them this January.
As many past guests have shared, this skill is a game changer hence I'm on a mission to share this knowledge with as many people as possible, no different than real estate. 
This is new in 2021. 2020 did a pretty good job letting us know what the best investments are. Real Estate for building wealth, Stock Hacking for cash flow. You need both!
If you're not sure which one is best for you that's OK, we offer free training on both.
For Stock Hacking for those who want more cash flow in their lives go to www.stockhackeracademy.ca/demo 
For a free investment training, 90 minute class via Zoom, please register at www.investortraining.ca
Everyone needs both, I do both and many successful folks do both. 
Check it out, they cost you nothing but what you learn could be a game changer no different than real estate investing and Stock Hacking has been for our guest, my friend John Beddome.
To Listen:

HELP US OUT!
Help us reach new listeners on iTunes by leaving us a rating and review!
To Follow John: 
Web: https://investedinyou.ca/
Instagram: https://www.instagram.com/johnbeddome.investedinyou/
Tik Tok: still waiting
Facebook: https://www.facebook.com/beddome
Before you go, if you're interested in being a successful real estate investor like those who have been featured on this podcast and our hundreds of successful clients please let us know.
It is our honour to give back and educate others on how we build cash flowing real estate portfolios using all the best practices shared on this podcast, from the lessons of our hundreds of clients and of course our own experience in owning investment real estate.
If you didn't know already, we pride ourselves at being the best of the best real estate coaches, having the best property managers, contractors, handy people, cleaners, lawyers, accountants, everyone you need on your power team and we're happy to share them with our clients to ensure your success. 
New investor or seasoned veteran investor, we can help anyone by providing our award winning coaching services and this isn't all talk.
We have been awarded Realtor of the Year to Investors in 2015 by the Real Estate Investment Network, 2016 by the Canadian Real Estate Wealth Magazine and again in 2017 because no one told the judges no one is supposed to win the award twice but on merit, our peers deemed us as the best.  In 2018, we again won the same award by the Real Estate Investment Network.
Hopefully being the most decorated team of Realtors in Ontario will make you consider us for your first or next real estate investment.  Even if you don't invest in our areas, there's a good chance I know who would be ideal for you. 
I've been around for a while, some Realtors are talented at servicing investors there are many with great ethics.  The intersection of the two, talent and ethics is limited to a handful in each city or town.
Only work with the best is what my father always taught me.  If you're interested, drop us an email at iwin@infinitywealth.ca.
I hope to meet you at one of our meetups soon.
Again that's iwin@infinitywealth.ca
Looking to add another stream of income?
We just completed the long anticipated Stock Hacker Academy Live Introductory Course and it was awesome!
Stock Hacker Academy is the foundation that has helped Erwin, Cherry and many other Stock Hackers make thousands of $$ weekly and now they never have to worry about money again!
If you desire the same for yourself, click here to register now
NO MORE Confusion
After all the Youtube videos, books, and forum posts, you're probably still left with questions. Starting in real estate is a tricky thing.
Frustrated beginners often ask how a legal basement suite conversion actually works. Most of the time we can only give general answers. But now, we get to dive in.
At this in-depth, free class you'll learn how to take your first steps as a real estate investor.
Nothing is held back. Everything from analyzing basement suite conversion deals, to renting out your first property at a profit, and even how to refinance and do it all again!
More secrets you'll uncover are:
Profiting in a HOT market…
Municipal bylaws to watch out for…
Mortgage terms that favour refinancing…
AND one barely used tactic for higher appraisals…
If you're frustrated, unsure of how to get started, this is for you.
 Sign up now for the Invitation List and be one of the first to get an invite to the next class.
Sponsored by:
Infinity Wealth Investment Network – would you like to know how our investors returned 341.8% on positive cash flowing real estate over the last five years? On average, that was 68.4% per year.
Just imagine what winning in real estate could do for you.
If you would like to know how we did it, ask us how by calling 289-288-5019 or email us at meaghan@infinitywealth.ca.
Don't delay, the top markets we focus in are trending upward in price, so you can pay today's price or tomorrow's price.
Till next time, just do it because I believe in you.
Erwin
Hamilton, St. Catharines and Toronto Land Development, Real Estate Investor, and soon to be builder.
W: erwinszeto.com
FB: https://www.facebook.com/erwin.szeto
IG: https://www.instagram.com/erwinszeto/

https://www.truthaboutrealestateinvesting.ca/wp-content/uploads/2021/01/John-Beddome.jpg
630
1200
Erwin Szeto
https://www.truthaboutrealestateinvesting.ca/wp-content/uploads/2017/06/TruthRectangleLogo.png
Erwin Szeto
2021-01-08 16:07:51
2021-01-08 16:16:35
Starting Investing While In School, Growing Portfolio to 10+ Properties, Surviving the Lockdown, 57% ROI Stock Hacking With John Beddome