Leadership, Performance & Aliveness – Oliver Manalese
Hello Everyone investing in real estate!!
I have always wanted to give blood but my fear of needles held me back.
After the van attack in Toronto, I wanted to help outside of donating money, and one very important way to help the victims is to give blood. I'm always looking to push limits and test fears, so Team Titan member Tammy Ditomaso and I did on Friday. Like anything, things gets easier with practice. Whether it's giving blood or real estate investing, and it wasn't so bad.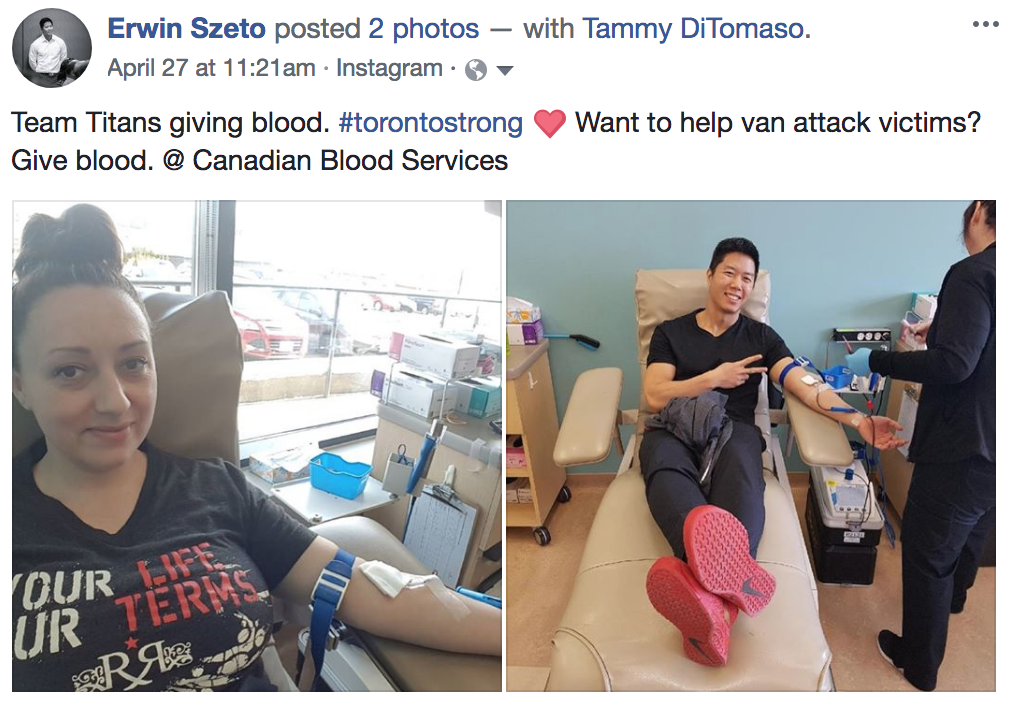 The funny part is the questions they have to ask. I know I'm different, but it's a different thing to explain how weird you are, talking out loud to strangers. While signing in to give blood, the conversations goes like this:
Nurse: Have you had breakfast?
Me: No, I had a fatty coffee, I fast in the mornings (after speaking, I realize I should have just said "yes")
Nurse: You really should eat something before giving blood, this is taxing on the body
Me: I train MMA, I can handle it, I fight adult men all the time (I say MMA thinking it is a more widely known term than Brazillian Jiu Jitsu but whatever, I didn't properly think through this conversation)
Nurse: Please have a juice box, what flavour would you like? (I'm sure they offer juice boxes to all the wannabe tough guys)
Me: I'll have apple. <I sip my first juice box since high school>
The whole thing was quite painless compared to the other things I do. I still don't like needles, but like anything, it gets easier with experience.
Leadership, Performance & Aliveness with Oliver Manalese
If you've heard our previous interview, you know listening to Oliver Manalese will expand your mind. Today's interview is no different. He was co-owner of Rent Busters, a leading Rent To Own company and he gave it all up to pursue more fulfilling work as a personal performance coach. We talk about business, investing, how he was a catalyst for a mutual friend (a successful real estate investor) who ended their divorce and got back together with his wife, making his kids the happiest kids in the world. The stuff that really matters. This same friend is travelling the world with the whole family including Trinidad, Croatia, Australia, Thailand, more places than I can count.
Pretty cool, eh?
If you're interested in what Oliver offers, he's hosting an Upcoming Workshop Reinvention Roadmap – June 16-17
Promo Code – erwinsguest to save 33%
Show Notes:
Here is us at Crossfit cheering on team member Tim Hong:
Bro down: From
Urbandictionary.com
 "Bro's Getting their bro on, doing bro things. exp. Beer bongs, Fist pounding, popping collars, saying bro, saying dude."
To connect with Oliver:
Oliver is also the host of The Oliver Manalese Show available on Apple Podcasts.
For Oliver's Podcast, Videos, or to Book a Complimentary Consultation
Facebook
Instagram
@olivermanalese
Sponsored by:
This episode is brought to you by my networking group, the Halton REI. We meet in Oakville (part of the Halton Region), but mainly invest in the top investment towns west of Halton: Brantford, Hamilton, Niagara Region.
We regularly feature the top speakers from our industry. The vast majority of our attendees are seasoned investors, so you will want to spend more time around these folks, as you are the average of the five people you spend the most time with. Your net worth is your network, so choose how you spend your time wisely.
Knowledge is power. Every meeting we share the latest in market rents, prices in the top neighbourhoods, and strategies for investment. We share the best property available as our Best Buy Property of the Month. We share the best tips and tricks for you to implement immediately to your investment businesses to fast track YOU on your journey to financial freedom. It's up to you if you'd like to be on said journey.
But don't listen to me, here's what members of our community are saying about the Halton REI!!
Until next time, Just do it, I believe in you.
Erwin
Hamilton, St. Catharines, Toronto, Land Development and Real Estate Investor
https://www.truthaboutrealestateinvesting.ca/wp-content/uploads/2018/05/FullSizeRender-4.jpg
960
1280
Erwin Szeto
https://www.truthaboutrealestateinvesting.ca/wp-content/uploads/2017/06/TruthRectangleLogo.png
Erwin Szeto
2018-05-02 18:02:24
2018-05-04 15:34:16
Leadership, Performance & Aliveness – Oliver Manalese