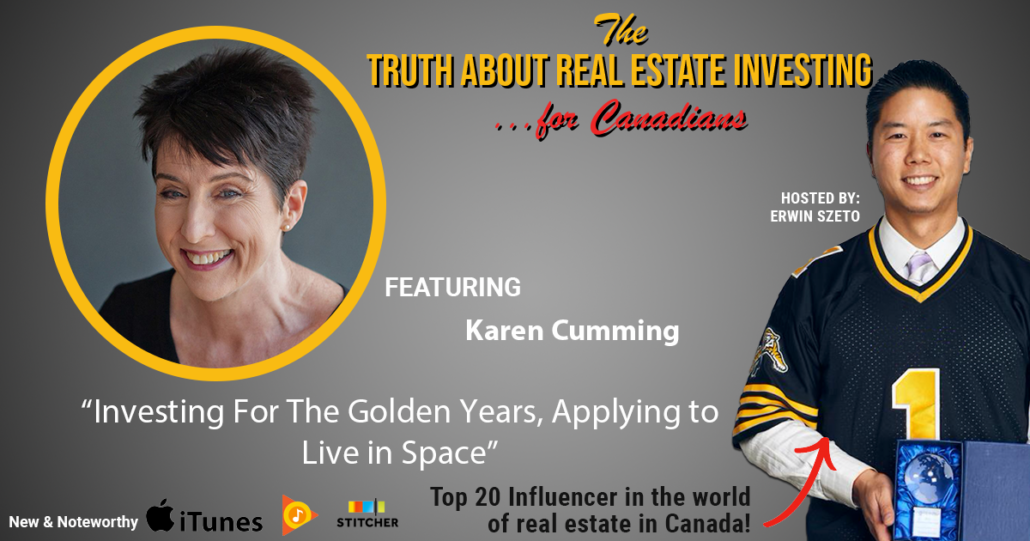 This is a real estate podcast so I guess I should talk about real estate once in a while 😊
Cherry and I purchased the biggest real estate deal we've ever done. A commercial office condo in Oakville that will be home to our businesses in Accounting, real estate and Stock Hacking to meet with clients, host meetings; teach, network and coach current and future wealth hackers.  We're playing with names such as the iWIN Hub. A coming together, one stop shop of awesomeness in the most effective ways to invest.
Commercial office space is a different investment.  We got a great deal on our space, it's over 4,000 square feet and as we duplex most of our investments, we have doctor tenants who currently rent half the space to help cover our mortgage.  As this is the biggest investment we've ever made, it's also the largest and most expensive long term mortgage we've taken on.
Like all investments, we are excited, overwhelmed, and scared.  Yes scared. It's not like our regular residential real estate where we renovate to suite basements or make ready for university students and the rents cover all our expenses leaving us with cash flow.
In this case our businesses have to generate additional income to cover the majority of the mortgage payments plus all the operating costs of a commercial space.
Plan B if we fail is a sizeable negative cash flow if we had to rent out the space.  The combined rent would not come close to covering just the mortgage. Plus we would likely have to redo our already expensive mortgage for a more expensive mortgage if we the owner did not occupy the space.
Like any and all investments we've done such as the Wealth Hacker Conference, the ugly house with bad electrical and leaking basement I didn't have inspected, bought firm without Cherry knowing.  And the next Wealth Hacker Conference this coming November 2020, we move forward in fear. Our vision of helping 10,000 Canadians become millionaires by investing in real estate and stock hacking is bigger than our fear.
My goal of leaving $10,000,000 to the Hamilton Basket Brigade is bigger than my fear so we push forward through fear.  That same $10,000,000 we leave to our registered charity will be invested via stock hacking to provide a 10% yield of cash flow to provide the poor children of Hamilton warm clothing, food and toys each holiday.  10% of 10,000,000 is one million dollars. So what if we are afraid? The outcome is bigger than our fear and we don't 10X without this risk.
The great thing is I know we're not alone. I have an unbelievable partner in my wife Cherry, my team at iWIN Real Estate.  Cherry's team as her Accounting practice. We have all our clients, students of Stock Hacker Academy, attendees of the Wealth Hacker Conference who hopefully will tell a family member or friend about this podcast if they want to take control of their financial future.
Or if they are beyond the interest stage and want to learn more, we are currently offering FREE training classes on the #1 investment strategy.  The same strategy that's been discussed a million times on this podcast and practised dozens of times by our clients, my team and myself personally.  These classes are newer so they will be free for now but we will be charging soon so please don't delay, we sold each and every class in less than 48 hours.  The first two were an hour and three hours each… all the Feb classes are sold out so don't delay. 
Go to https://www.investortraining.ca/freeclass
Investing For The Golden Years, Applying to Live in Space with Karen Cumming
This week's guest is friend, real estate client, Stock Hacker, iWIN Member Karen Cumming
You may remember Karen Cumming from the decade she spent as a television reporter at CH-tv – a station based in Hamilton that also serves Niagara and the GTA.  Years before that, she worked as a radio newscaster and talk show producer everywhere from Hamilton to Toronto to Montreal with CHUM Radio and Corus.  
There's a good chance you may have heard her name thanks to something that has nothing to do with media, though, and everything to do with space. A project, in fact, that is literally "out of this world".
Karen is one of what's known as "The Mars 100" – 100 people from around the world who have made it to the final round of astronaut selection in a legitimate mission to colonise the red planet with a company out of the Netherlands known as Mars One. 
Long before her space adventures, Karen became involved in real estate investing back in 2008.  You remember – the year the markets tanked. The year "the experts" would have said no one should be putting their money into property.
Despite all of that, she bought a single family home in the Old South neighbourhood of London, Ontario.  Soon after, she joined the Real Estate Investment Network – "REIN" – in order to learn what she needed to know about becoming a successful landlord.  Almost twelve years later, she now also owns a freehold townhouse on Hamilton mountain, and a single family home in the lower city of Hamilton… and is one of the original members if iWIN.
Today, Karen is a freelance journalist, health promoter and teacher who writes about mindful living, meditation and self-care at karencumming.com.
Here's where things really get interesting.  Karen has an extra special reason for investing in real estate now, thanks to a life experience she recently went through.
She has seen the inside of Ontario's long-term care system up close and personal, and understands more clearly than ever the need to be financially proactive and prepared for the final stage of life. 
Earlier this year, she and her sister Pat guided their mother Verna through that system, and were stunned to realise how little they knew about how it works.
They felt ill-informed and ill-equipped to make the decisions that had to be made.  And they knew that they weren't alone. Thousands of baby boomers across Ontario are in the same boat.
In the end, they decided to write a book designed to help other families on their own journey with an elderly parent.    
It's called "The Indispensable Survival Guide to Ontario's Long-Term Care System" – now available on Amazon.ca, chapters.indigo.ca, Kindle, Kobo and Smashwords.
Karen …. Welcome to the podcast.
To Listen:

To follow Karen:
The Indispensable Survival Guide to Ontario's Long-Term Care System: Practical tips to help you and your family be proactive and prepared by Amazon.ca
Learn more: https://www.amazon.ca/dp/022882091X/ref=cm_sw_em_r_mt_dp_U_aIcrEbGXS5VHH
NO MORE Confusion
After all the Youtube videos, books, and forum posts, you're probably still left with questions. Starting in real estate is a tricky thing.
Frustrated beginners often ask how a legal basement suite conversion actually works. Most of the time we can only give general answers. But now, we get to dive in.
At this in-depth, free class you'll learn how to take your first steps as a real estate investor.
Nothing is held back. Everything from analyzing basement suite conversion deals, to renting out your first property at a profit, and even how to refinance and do it all again!
More secrets you'll uncover are:
Profiting in a HOT market…

Municipal bylaws to watch out for…

Mortgage terms that favour refinancing…

AND one barely used tactic for higher appraisals…
If you're frustrated, unsure of how to get started, this is for you.
 Sign up now for the Invitation List and be one of the first to get an invite to the next class.
Sponsored by:
infinitywealth.ca – would you like to know how our investors returned 341.8% on positive cash flowing real estate over the last five years? On average, that was 68.4% per year, just imagine what winning in real estate could do for you. If you would like to know how we did it, ask us how by calling 289-288-5019 or email us at meaghan@infinitywealth.ca. Don't delay, the top markets we focus in are trending upward in price, so you can pay today's price or tomorrow's price.
Till next time, just do it because I believe in you.
Erwin
Hamilton, St. Catharines and Toronto Land Development, Real Estate Investor, and soon to be builder.
W: erwinszeto.com
FB: https://www.facebook.com/erwin.szeto
IG: https://www.instagram.com/erwinszeto/

https://www.truthaboutrealestateinvesting.ca/wp-content/uploads/2020/02/Karen-Cumming.png
630
1200
Erwin Szeto
https://www.truthaboutrealestateinvesting.ca/wp-content/uploads/2017/06/TruthRectangleLogo.png
Erwin Szeto
2020-02-17 07:30:00
2020-02-14 15:18:19
Investing For The Golden Years, Applying to Live in Space with Karen Cumming