Full Time Investing in a Dozen Properties Per Year and Updates with Ryan Carr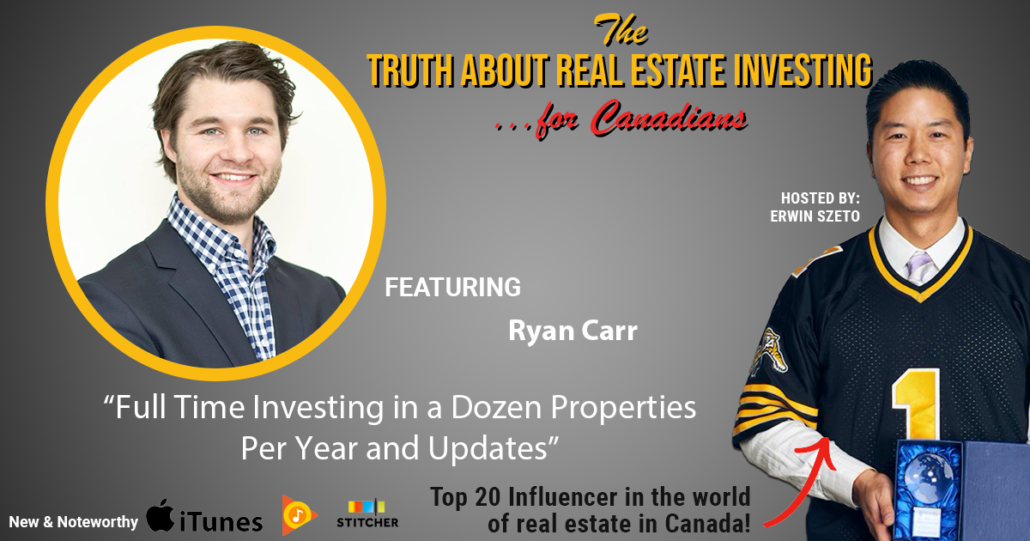 Hello Wealth Hackers!
Happy (belated) family day and for my fellow Ontarians, happy strike and PA days.  I do have to start off by saying thank you to my public schools and teachers.  We have more labour peace when I was going to school and because of it, I know how to ski.  My parents didn't ski so it was our public school that took us skiing and organized our lessons.  I mention it because I'm just getting back from a four-day week that included yet another PA and family day at a friend's cottage in Huntsville. 
I'm not a fan of winter cold but enjoy sports and being outdoors.  More importantly I want my kids active and knowing how to ski so they can ski with friends when they are older.  Cherry my wife signed the kids up for lessons and they both did great. Cherry got lessons too as this is I think her third time on skis.
Learning to ski as an adult is way harder. With our largest mass, gravity pulls us down the hill faster and higher center of gravity makes balance harder and the falls much worse.  
OK, warning, proud parent moment.  My oldest Robin was phenomenal. By the 2nd day she was skiing down entire runs independently.  By the third day, she was learning how to do parallel turns and we rode the "red" chair lift together a few times  which was significant as it went to the more challenging runs and away from the beginner hill where all beginners were learning to ski.
While riding the chair lift together, we had some time to chat, I explained to Robin how proud of her I was.  She was proud that she's better than her mother, I explained she's better than I was at her age but she needed context.  Robin had three, one hour long private lessons in three days. Mom and dad never had the same privilege. None of her grandparents ski nor took us skiing so I learned in group classes at an older age on school trips.  I asked her if she thought group classes or private lessons are better and which cost more. She replied with the correct answer, I told her it's the same with her private swim lessons and I let her know how her parents didn't have the same opportunity which is why she's the better skier.
Stock Hacking update.  For those who have followed the podcast for a while you know I've been stock hacking since September but didn't have much in funds or time to focus on trading till after the conference so since the conference has ended, I am averaging around 11% in the last 11 weeks.  That is gross and not annualized and that is cash money. I can spend these returns. Understandably I am extremely happy with these results and am inspired by the students of the Stock Hacker Academy. Stay tuned for the next course offering! 
I'd like to say thank you the fans of this podcast for attending our Free Training Classes on the #1 Real Estate Investment Strategy. We just had our fourth sold out class and it's only mid February.  I'm especially honoured by the attendees who made it all the way from Ottawa, Ontario to attend the class. FYI that's a five hour drive. Another young lady choose to fly in. Sometimes I forget to appreciate the vast amount of knowledge and quality delivered in those free 90 minutes and it was great to meet fans of this podcast in person.  For now these classes are free and I personally attend them so if you want to come by say hi, learn the #1 investment strategy that is practiced by all the top investors I know including today's guest then you'll want to sign up at https://www.investortraining.ca/freeclass
Full Time Investing in a Dozen Properties Per Year and Updates with Ryan Carr
Speaking of #1 Investment strategies, this week's guest has done plenty of basement apartments, probably a few dozen over the last few years. 
Ryan Carr is a full time real estate investor who's big on the math of real estate. What folks may not know is the way he runs his business is highly calculated hence I wanted Ryan on the show to share: from leaving his job as a mechanic to be a full time investor, to hiring several full time staff, to scaling up his business to around a dozen or more property acquisitions per year.  Properties including multi-family, in fill development, tiny homes, coach houses, and vertically split duplexes.
Ryan has a great business I think many could model how to build and scale their own businesses so without further ado, I give you Ryan Carr.
To Listen:

To follow Ryan:
R.W. Carr Investment on Facenbook: https://www.facebook.com/rwcarrinvestment
R.W. Carr Investment website: http://www.rwcarrinvestment.com/
R.W. Carr Investment on Instagram: https://www.instagram.com/rwcarrinvestmentco/?hl=en
NO MORE Confusion
After all the Youtube videos, books, and forum posts, you're probably still left with questions. Starting in real estate is a tricky thing.
Frustrated beginners often ask how a legal basement suite conversion actually works. Most of the time we can only give general answers. But now, we get to dive in.
At this in-depth, free class you'll learn how to take your first steps as a real estate investor.
Nothing is held back. Everything from analyzing basement suite conversion deals, to renting out your first property at a profit, and even how to refinance and do it all again!
More secrets you'll uncover are:
Profiting in a HOT market…

Municipal bylaws to watch out for…

Mortgage terms that favour refinancing…

AND one barely used tactic for higher appraisals…
If you're frustrated, unsure of how to get started, this is for you.
 Sign up now for the Invitation List and be one of the first to get an invite to the next class.
Sponsored by:
Infinity Wealth Investment Network – would you like to know how our investors returned 341.8% on positive cash flowing real estate over the last five years? On average, that was 68.4% per year, just imagine what winning in real estate could do for you. If you would like to know how we did it, ask us how by calling 289-288-5019 or email us at meaghan@infinitywealth.ca. Don't delay, the top markets we focus in are trending upward in price, so you can pay today's price or tomorrow's price.
Till next time, just do it because I believe in you.
Erwin
Hamilton, St. Catharines and Toronto Land Development, Real Estate Investor, and soon to be builder.
W: erwinszeto.com
FB: https://www.facebook.com/erwin.szeto
IG: https://www.instagram.com/erwinszeto/

https://www.truthaboutrealestateinvesting.ca/wp-content/uploads/2020/02/Ryan-Carr.png
630
1200
Erwin Szeto
https://www.truthaboutrealestateinvesting.ca/wp-content/uploads/2017/06/TruthRectangleLogo.png
Erwin Szeto
2020-02-24 07:30:00
2020-02-21 14:40:40
Full Time Investing in a Dozen Properties Per Year and Updates with Ryan Carr