Ecommerce vs Real Estate vs Stock Hacking with Chris the Captain Hook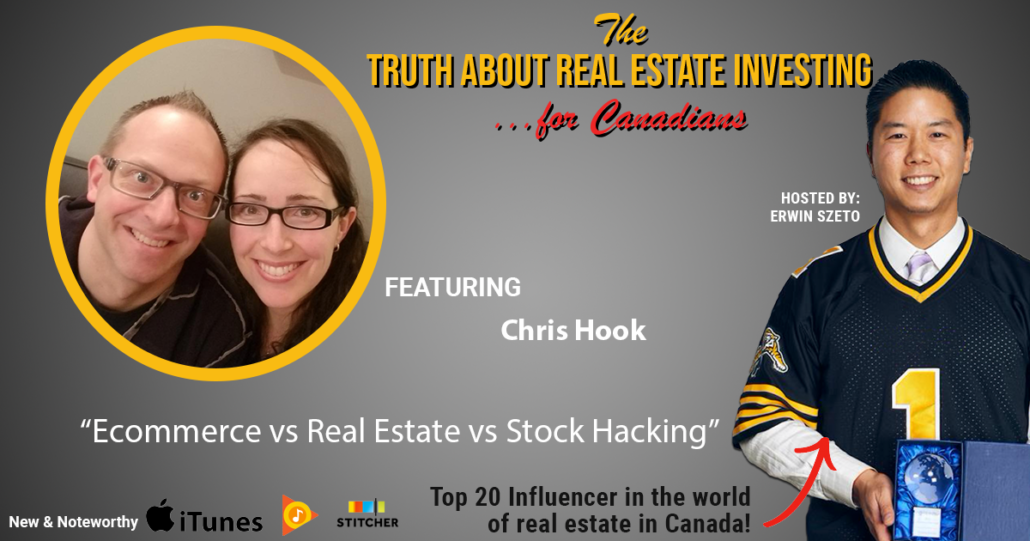 Hello Wealth Hackers!!
Tonight is date night!! Yes, tonight Cherry and I will have our schedule date night tonight and I've planned for us to become Marvel Avengers to save the galaxy from whatever galactic evil is trying to destroy earth.  In virtual reality 😊 No I'm not crazy, not more than usual. If you're not familiar with virtual reality games, we're going to Rec Room, a Chucky Cheese for adults with games, food and drink. 
For this particular game in virtual reality, we wear a headset with a display and earphones to immerse us inside a game as if we're in this virtual world.  I just watched the trailer and it looks like we get outfitted with Black Panther suits and fight Ultron along side all my favourites: Hulk, Spiderman, Iron Man, etc…
What's funny about super heroes is they are all reluctant heroes.  At some point, the all gave up their responsibilities that come with great power. As you know, I adore super heroes, of course I have no power but one day a switch went off in side me I had to stop playing small in order to help more people. 
It's partly what drives me to make this world a better place through educating every day Canadians to take control of their financial futures. And of course to fight my arch nemesis: child poverty and hunger via our registered charity the Hamilton Basket Brigade.  It's not easy but someone has to do it.
If anyone out there is looking for a romantic partner, this is how supportive my wife Cherry is of me.  Tonight at 6:30pm at the Mississauga Library, we have another sold out free training class with 85 registered to learn about #1 investment strategy of basement apartments. 
We practice it. It's the highest return on investment strategy there is. My team and I have implemented dozens of them ever since they were made legal and likely to have done more of them in our target investment neighbourhoods than anyone else.
Cherry is so supportive, she's coming with me while I give my portion of the presentation then we may go on our date night.  Cherry values date night over gifts so this is really important to her but she's willing to make this sacrifice for my business.  Pretty cool eh!
If you'd like to be at the next free training event on the highest ROI strategy please going our invite list at https://www.investortraining.ca/freeclass.
Ecommerce vs Real Estate vs Stock Hacking with Chris the Captain Hook
Today's guest is Chris "The Captain" Hook, our friend and client since he met him back in 2012 when started investing in real estate.  His journey in Real Estate Investing began by being fear stricken at purchasing a Stoney Creek Townhouse for $214,000 because it would only cash flow $100-$200.  Fast forward to today and this same townhouse is selling for $399,000.
The moral of the story, don't be stricken by fear as it will cost you. Since then Chris has tried several different real estate investment strategies, such as: RTO, flipping, regular buy and hold, legal second suites and student rentals.  His current portfolio consists of 2 legal duplexes and 1 in the final stages of being converted.
Real Estate has allowed his wife to stay home and raise the kids, while trying to start a business of her own. As he looks to continue to grow his portfolio through joint ventures and one day getting involved in a development opportunity, he is also looking at alternate ways to generate income with the ultimate goal of being able to leave his corporate job so that he can spend more time with his family, travel more and play more golf.  Some of the other methods of generating income are through options hacking, launching an EComm business and getting his real estate license.
To Listen:

To follow or Connect with Chris:
Facebook: https://www.facebook.com/chris.hook.14203
NO MORE Confusion
After all the Youtube videos, books, and forum posts, you're probably still left with questions. Starting in real estate is a tricky thing.
Frustrated beginners often ask how a legal basement suite conversion actually works. Most of the time we can only give general answers. But now, we get to dive in.
At this in-depth, free class you'll learn how to take your first steps as a real estate investor.
Nothing is held back. Everything from analyzing basement suite conversion deals, to renting out your first property at a profit, and even how to refinance and do it all again!
More secrets you'll uncover are:
Profiting in a HOT market…

Municipal bylaws to watch out for…

Mortgage terms that favour refinancing…

AND one barely used tactic for higher appraisals…
If you're frustrated, unsure of how to get started, this is for you.
 Sign up now for the Invitation List and be one of the first to get an invite to the next class.
Sponsored by:
infinitywealth.ca – would you like to know how our investors returned 341.8% on positive cash flowing real estate over the last five years? On average, that was 68.4% per year, just imagine what winning in real estate could do for you. If you would like to know how we did it, ask us how by calling 289-288-5019 or email us at meaghan@infinitywealth.ca. Don't delay, the top markets we focus in are trending upward in price, so you can pay today's price or tomorrow's price.
Till next time, just do it because I believe in you.
Erwin
Hamilton, St. Catharines and Toronto Land Development, Real Estate Investor, and soon to be builder.
W: erwinszeto.com
FB: https://www.facebook.com/erwin.szeto
IG: https://www.instagram.com/erwinszeto/

https://www.truthaboutrealestateinvesting.ca/wp-content/uploads/2020/02/Chris-Hook.png
630
1200
Erwin Szeto
https://www.truthaboutrealestateinvesting.ca/wp-content/uploads/2017/06/TruthRectangleLogo.png
Erwin Szeto
2020-02-10 07:30:00
2020-02-14 03:05:27
Ecommerce vs Real Estate vs Stock Hacking with Chris the Captain Hook