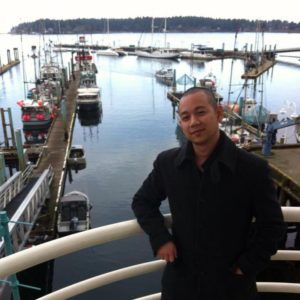 Immigrating and Investing in Canada with Christopher Tan
Welcome to this week's episode of the Truth About Real Estate Investing for Canadians where it is my pleasure to deliver to you lessons and stories of inspiration to assist you in your journey to financial freedom. This week we have Rock Star investor Chris Tan who was born in the Philippines, moved to Canada in 2010 with little money, yet he bought his first investment property before his 2nd anniversary of immigrating to Canada. Chris and his wife, Alou, even bought their 2nd investment property before buying a home or a car for themselves.
No car? Then how did he get from his home in Mississauga, ON to Kitchener, ON? Chris and his wife would rent a car for each trip to view properties in Kitchener, ON.  After closing on the house, Chris and his wife would rent a car to clean the property and sleep over in the vacant house for tenant showings the next day. They did this each week for a few months as the house did not rent right away and they did it again when they bought their 2nd investment property.  At no time did they ever complain. No one even knew they didn't own a car until Chris asked Mike, his Rock Star coach, advice about buying his first car.
I'm inspired by Chris and Alou's story because they had every excuse in the world to not try to get ahead in life through investing in real estate. They just arrived in Canada, they didn't own their home or a car, yet they got things done. No complaints, no excuses, just get it done.
I am honoured and humbled to share their story with you.
In this episode we discuss:
Searching for the right real estate training
A reminder how lucky we are to be Canadians
Lessons from multi-level marketing
Close to $1,000 in car rental fees as part of Chris' investing
The Marshmallow Test: delayed satisfaction
Chris' worst case scenario
Rent to own investing in Kitchener, Ontario
The importance of one-on-one Coaching with Coach Mike Desormeaux (Mike@rockstarbrokerage.com) and how it made all the difference
Advice for those just starting out
If you'd like to reach out to Chris, here's his email catanrto (at) gmail.com
Podcast available here:
On itunes: https://itunes.apple.com/ca/podcast/truth-about-real-estate-investing…/id1100488294
On Stitcher: http://www.stitcher.com/s?fid=87335&refid=stpr
Or direct:

Download as an MP3 by right clicking here and choosing "save as"
https://www.truthaboutrealestateinvesting.ca/wp-content/uploads/2017/06/ggg-300x300.jpg
300
300
truthaboutrealestateinvesting_urdkth
https://www.truthaboutrealestateinvesting.ca/wp-content/uploads/2017/06/TruthRectangleLogo.png
truthaboutrealestateinvesting_urdkth
2017-06-19 22:28:11
2017-06-19 22:29:47
Immigrating and Investing in Canada with Christopher Tan