Haste & Hustle: Making Entrepreneurship Accessible Via Events and Living Like a Rock Star w/ Shauna Arnott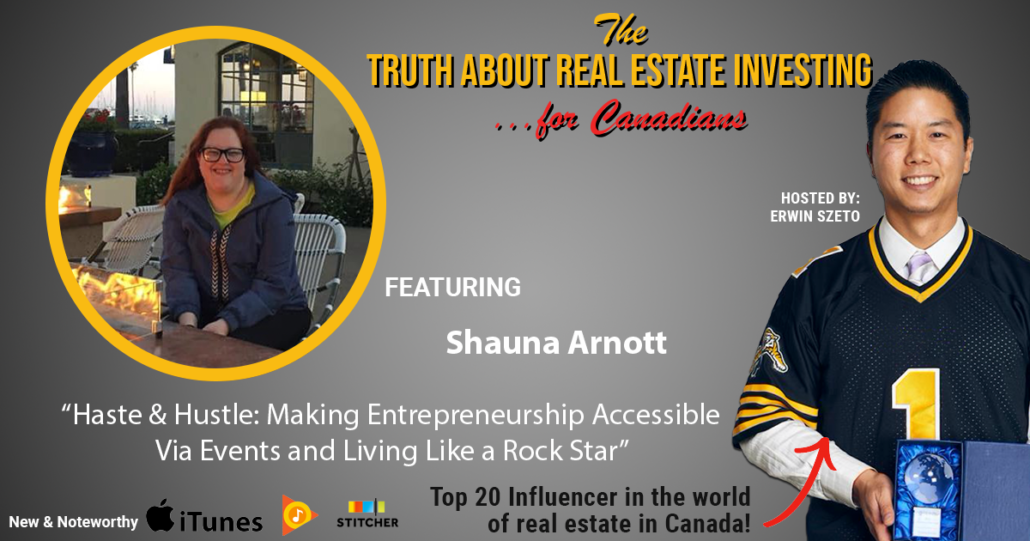 Hello Wealth Hackers and welcome to another episode of the truth about real estate investing.
You may already know this about me, I'm not the most eloquent or well spoken person. It's always hard for me to explain what it is I do.
Then yesterday, a gentleman messaged me and told me his story how his family is in debt from his wife losing her job when she was pregnant with their son and how he's on a mission to learn about investing in real estate. 
His question is, how does he come up with a downpayment for an investment property? 
To many of you, this is a no brainer. Almost everyone I know I using a home equity line of credit, or they've refinanced their home for their first down payment or more. After they ran out of equity in their homes for down payments, they either went the joint venture route, partnering with friends or family. Or they waited for the market to do its thing, tenants to pay down mortgages and, voila, more equity to refinance for more down payments and more investment properties.
If this is not an option for you, then invest in yourself and look for opportunities in your current employment to add value. For me personally, I studied sales because that is the easiest way to create value. If you are revenue generating in your business, you are invaluable. Same if you save your company money or you can raise money, hence why you see many company CFO's as the 2nd highest paid. What also happens is the company's top sales people make more money than the president does.
In my last job, my boss was a workaholic and a genius, so no way I could fill her shoes. I focused on Sales training and investing in real estate when I was not working my day job. 
On to my unwanted tenant… No, not the one who vandalized my AirBnb house before it became an AirBnb – but skunks!
Yes, the black furred rodents with the white stripe down their back.
My nanny alerted me to seeing five of them in our backyard. They were likely attracted to my vegetable garden and kick ass sweet peppers. I sprinted to the backyard only to see a tail disappear under my shed. I've been documenting what I call, Skunk vs DIY Skunk removal. Thank you to all who have sent me home remedies. So far I have filled the space under my shed with water. I have played for the skunks "Old Macdonald Had a Farm" on loop with my old iPhone to annoy the crap out of them, because I know it works on me when taking the kids on road trips. I've dusted the area at the opening of their hole with flour to track if they are in there or not, then it immediately rained.
I've even gone on to mark the territory, but didn't record that video.
View this post on Instagram
Anyways, the video is all there on my instagram @erwinszeto for you to laugh at me.
Yes, I know I should just hire a pest relocation professional, and I would for any of my tenants, but this is my home and as of right now it gets the least $$ allocated to it because it's not an asset! It's a liability!! All you fellow, wealth hacking, frugal investors know what I'm talking about.
Haste & Hustle: Making Entrepreneurship Accessible Via Events and Living Like a Rock Star w/ Shauna Arnott
On to this week's guest!!
She is not a real estate investor yet, but she really wants to be, so please don't hate on her or my podcast. She has many dynamo investors as best friends, such as guests of this show Ian Szabo and Dion Beg, and maybe one day guest Brian Scrone, who is a what I call a centurian investor, having owned over 100 investment properties in Florida.  
Why I brought Shauna on this show is because she is one of the most fascinating people I've ever met. It is my belief that life is all about experiences, and Shauna at whatever her age she is, has 10X the life experiences of most.
One week she's having lunch and planning a women's conference with the Dutchess of York, the next week she flies to California for a meeting and charity concert with Maclemore, then it's off to India for another major event planning session. Shauna has hosted Gary V in front of 3,000 in Toronto, she's hosting Sir Richard Branson in the next 12 months, and expanding her events to Californation. But even more crazy, Shauna is going to 10X as she plans my event to host Grant Cardone! 🙂
Funny enough, we investors all hustle and grind so we may one day travel more. Shauna's Haste and Hustle is so she can one day afford a down payment on an investment property and here is her story.
To Listen:

To follow up Shauna:
Website: https://www.hasteandhustle.com/
Instagram: https://www.instagram.com/hasteandhustle
Facebook:  https://www.facebook.com/groups/hasteandhustlers/

Do you have questions on wealth hacking? The shortest path to financial success or questions on investing in: houses, basement suites, coach houses, syndicated mortgages, private equities, public equities, sandwich leases, lease to own, student rentals, AirBnb, wholesaling, off market deals, house construction.  I'll admit when I don't know and will dial a friend for an answer.  
If you have a question, we don't have any fancy means to receive questions so if you enjoy the show and want to leave a five star review on iTunes, your question will definitely make its way to me and I'll answer your question on a future episode of this podcast.
I'm also grateful for all your positive comments and fans of this show. It is my view that life would be a bit better for everyone if we all could make and save a bit more money at the end of the month and if you make a lot more then your family and community would benefit even more and nothing would make me happier.  Till next time, my name is Erwin and I am a wealth hacker bringing you the truth about real estate investing for Canadians.
Sponsored by:

TitanInvestmentRealEstate.com – would you like to know how our investors returned 341.8% on positive cash flowing real estate over the last five years? On average, that was 68.4% per year, just imagine what winning in real estate could do for you. If you would like to know how we did it, ask us how by calling 289-288-5019 or email us at admin@mrhamilton.ca. Don't delay, the top markets we focus in are trending upward in price, so you can pay today's price or tomorrow's price.
Till next time, just do it because I believe in you.
Erwin
Hamilton, St. Catharines, Toronto, Land Development, soon to be builder and Real Estate Investor
W: erwinzeto.com
FB: https://www.facebook.com/erwin.szeto
IG: https://www.instagram.com/erwinszeto/

https://www.truthaboutrealestateinvesting.ca/wp-content/uploads/2019/07/Shauna-Arnott.png
630
1200
Erwin Szeto
https://www.truthaboutrealestateinvesting.ca/wp-content/uploads/2017/06/TruthRectangleLogo.png
Erwin Szeto
2019-07-22 16:47:24
2019-07-22 16:47:26
Haste & Hustle: Making Entrepreneurship Accessible Via Events and Living Like a Rock Star w/ Shauna Arnott