The Future of Marketing: Search Engine Optimization w/ John Vuong
Hello Real Estate Investors!!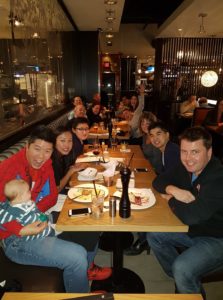 This past Friday, the Mr Hamilton/Halton REI/Titan Realty Investment Group (yes we have another new brand, more on that another time) team finally found time in our collective schedules to celebrate a successful 2017 over dinner at Milestones and a somewhat friendly, trash talk filled, bowling competition. In the picture at dinner, I'm holding baby Owen. He goes everywhere with Jay and Erika Spencer, so don't be surprised when Owen makes an appearance on a St. Catharines investment property tour or your private one on one showing.
Bowling really sucked
.  For me at least, as I started each game with scores in the 30s for the first five frames. We were playing for big stakes, as there were bragging rights on the line, so I was trying anything and everything to improve.  As we all know, the definition of insanity is doing the same thing over and over while expecting different results (I think most of us investors have been there, wanting to invest but taking forever to actually take action). I'm trying different bowling balls, more spin, starting my approach from the left or right. Nothing was working until I really simplified my approach with three really short steps and that worked for the next 10 frames where I striked or spared half of the frames. Yay!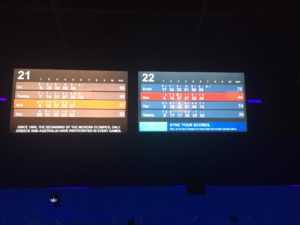 I actually led for a bit after being one of the worst in the first two games. The point I'm making is no one always wins and not all tests are successful. Investing is no different. I've tried day trading, investing in stocks and bonds, small cap, blue chip, tech stocks, mutual funds, online poker etc… Am I a failure? Maybe, but I didn't give up and that it's how I arrived at real estate. Nothing has come close to the returns of our real estate. Other than real estate, I invest in some private equity in land development north of Toronto. Haha! I can't wait for my review with Certified Financial Planner Kathleen Van De Berg to see what a professional thinks of being a little concentrated in real estate.  In the end, I'm all about results, and not too concerned what other experts think…. unless they make greater returns with low risk somewhere else, then I'm all ears!!! That's actually a great segue into this week's podcast! SEO! High return with less investment.
---
The Future of Marketing: Search Engine Optimization w/ John Vuong
I was talking to one of my fellow students at Brazilian Jiu Jitsu class who is still a University student. He's in electrical engineering, I'm rhyming off unsolicited advice on fields of study to make money. I recommended learning about SEO (search engine optimization) and Block Chain as that's the future right?
Why is SEO a big deal? Search engine optimization may be the reason you found me or one of my websites, but I'm merely a student of the subject. That's why I sought out a teacher in Hamilton real estate investor, and client of ours, John Vuong. He's an ultra successful entrepreneur because his firm, Local SEO Search, is providing tons of value to small and medium sized businesses in driving traffic to their websites and landing pages to translate into more sales. John's time is really expensive too, so he doesn't even see the houses he's buying. He has that kind of track record and success rate with his real estate team. John was kind enough to spare us an hour of his time to share his story here and give us advice on how we can all grow our businesses with search engine optimization.
Who is John Vuong? He's a 15 year veteran of Sales and internet marketing, a hard worker, and has a track record of being a top performer in every work position he's held before a business opportunity presented itself and John took action in starting a new business in 2013: Local Seo Search Inc. He too attended the best University in Canada, which happens to be the same as my alma matter, the University of Western Ontario. He's a young dad and recently started his own charity, providing school materials to local schools for underprivileged kids.
So without further ado, I give you Hamilton real estate investor and SEO expert, John Vuong.
Notes:
Local SEO Search Inc: https://www.localseosearch.ca/
John's email: John@localseosearch.ca
Till next time, Just do it, I believe in you.
Erwin
Hamilton, St. Catharines, Toronto Real Estate, Land Development Investor
https://www.truthaboutrealestateinvesting.ca/wp-content/uploads/2018/01/john.jpg
283
283
Erwin Szeto
https://www.truthaboutrealestateinvesting.ca/wp-content/uploads/2017/06/TruthRectangleLogo.png
Erwin Szeto
2018-01-24 19:45:53
2018-01-24 22:42:46
The Future of Marketing: Search Engine Optimization w/ John Vuong