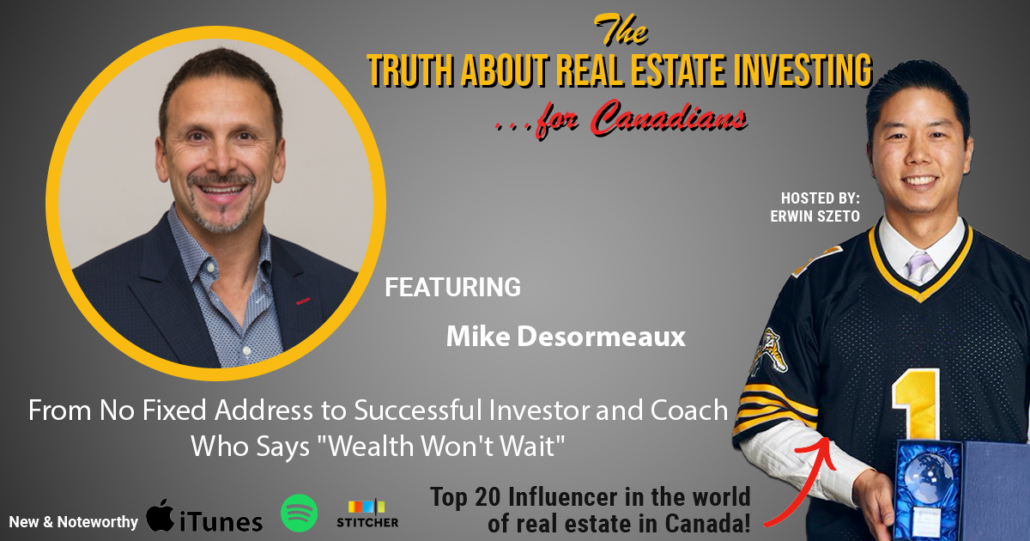 I hope everyone is well and enjoying the nice fall weather we're having.
We are getting ready for Halloween in my household. But my kids don't have costumes yet, so I'm guessing we'll recycle last year's costumes. 
As for me, I ordered mine on Amazon last year, and it arrived after Oct 31st. It's a tracksuit and shirt for Cobra Kai, inspired by the Karate Kid movie with Daniel Larusso and Mr. Miyagi. 
It's totally cool! 
I wore my yellow and black jumpsuit with a huge red cobra on the back to my kickboxing class on Saturday. Quite a less common thing to do, but no one said anything, LOL.
Speaking of doing uncommon things, Cherry and I closed on a turnkey duplex on the Hamilton Mountain. The property backs onto a shopping plaza that includes a Walmart Super Centre, LCBO, Tim Hortons, a bank, Bulk Barn, the list goes on.  
The location is incredible, and it's newly renovated. The permit for the basement reno only closed two weeks ago.
The main floor is three bedrooms with refinished floors, a new kitchen, new appliances and new ensuite laundry. 
Our asking price is $2,400 per month plus hydro, and we have already signed a young couple to a lease.
The basement is also fully renovated, with two bedrooms and one bathroom, separate ensuite laundry, renovated with permits. Our asking is $1,800 monthly plus hydro.
My wife, Cherry, and I have to pay higher interest rates because of how our portfolio is structured via a B lender, specifically 4% interest plus 1% lender fee for a total of 5% for 12 months. After 12 months, we will shop around for a cheaper rate.
When we offered on the property, we were projecting negative 2,000 cash flow over the year, but thanks to rents going up, we will be slightly positive, and the market value of our duplex went up about $70,000 already.  
We paid $850,000, and my down payment was 20% plus closing costs. Therefore my return on my investment is almost 40%. Not bad – 40% ROI on day 1 of my investment, completely passive and turnkey! Yes, we got lucky, but we took the risk.
We received a flood of applications, and just this week, two properties like mine were for sale. Between those two properties, they received a combined 44 offers.  
I know some view real estate as an investment, but I also view my detached bungalow as a small business, and my customers are tenants and potential home buyers. 
It looks like there is much demand for my product from both tenants and home buyers, making my detached bungalow a winning business.
No, I don't make much cash flow, but I have my stock hacking and Realtor business for cash flow.  
I know many folks out there busting their butts for the 1% rule, where one month rent = 1% of the purchase price in places like Alberta or New Brunswick…
My rules include being only a 1-hour drive from my properties, so it's a reasonable distance for when we check on our properties from time to time.  
Plus, I prefer the economic benefits of investing closer to the economic center of Canada, which is Toronto. Call me lazy, but our investing has an extensive history of providing solid returns.  
I remember my friends who focussed on cash flow investing in towns you've never heard of in Ontario or Alberta, regretting their decision due to lack of price appreciation and even price regression for those who bought during the oil boom in Alberta.
My properties are in  Hamilton, Ontario… I like being in the business of owning investment properties that have massive demand.  High demand, low supply – It's a winning formula in business and investment.
From No Fixed Address to Successful Investor and Coach Who Says "Wealth Won't Wait" With Mike Desormeaux
On to this week's show!
We have a special treat in my old friend Mike Desormeaux who I met back in 2010 when I joined Rock Star Real Estate.  
Mike is modest, but from my recollection, he's been the top agent and coach at Rock Star in terms of unit volume, and his clients love him.
Mike wasn't always successful though, he comes from some serious humble beginnings, from living across from the train junction yard to living out of his car. Then, he discovered real estate investing, and life from there changed forever.
Today, Mike is a successful investor and author of Wealth Won't Wait, a book about creating income during uncertain times.  
Funny enough, Mike always wanted to write this book and did so during the uncertain times of the early pandemic.
Mike is an awesome guy, and he's got a bunch of crazy real estate stories to share… stuff you can't make up. For those who think Realtors have it easy, here's a behind-the-scenes on the hustle and risks some take on to do the right thing.
Enjoy the show!
We're hiring!
Just a friendly reminder that we are hiring more investment Realtors who want a full-time challenge to help our clients, regular everyday people, mostly from the GTA, invest in the top investment towns west of the GTA. 
This is for driven folks who want to multiply their current incomes.
APPLY HERE: https://www.infinitywealth.ca/hiring

To Follow Mike:
Mike's book is on Amazon, physical, kindle versions and audible.
Link: https://www.amazon.ca/WEALTH-WONT-WAIT-FREEDOM-ABUNDANCE/dp/1777393108
Instagram: https://www.instagram.com/mdsoldit/?hl=en
HELP US OUT!
Please help us reach new listeners on iTunes by leaving us a rating and review!
UPCOMING EVENTS
You are the average of the five people you spend the most time with! Build connections with empire builders and trailblazers at our iWIN events.
BEFORE YOU GO…
If you're interested in being a successful real estate investor like those who have been featured on this podcast and our hundreds of successful clients please let us know.
It is our honour to give back and educate others on how we build cash flowing real estate portfolios using all the best practices shared on this podcast, from the lessons of our hundreds of clients and of course our own experience in owning investment real estate.
If you didn't know already, we pride ourselves on being the best of the best real estate coaches, having the best property managers, contractors, handy people, cleaners, lawyers, accountants, everyone you need on your power team and we're happy to share them with our clients to ensure your success. 
New investor or seasoned veteran investor, we can help anyone by providing our award winning coaching services and this isn't all talk.
We have been awarded Realtor of the Year to Investors in 2015 by the Real Estate Investment Network, 2016 by the Canadian Real Estate Wealth Magazine and again in 2017 because no one told the judges no one is supposed to win the award twice but on merit, our peers deemed us as the best.  In 2018, we again won the same award by the Real Estate Investment Network.
Hopefully being the most decorated team of Realtors in Ontario will make you consider us for your first or next real estate investment.  Even if you don't invest in our areas, there's a good chance I know who would be ideal for you. 
I've been around for a while, some Realtors are talented at servicing investors there are many with great ethics.  The intersection of the two, talent and ethics is limited to a handful in each city or town.
Only work with the best is what my father always taught me.  If you're interested, drop us an email at iwin@infinitywealth.ca.
I hope to meet you at one of our meetups soon.
Again that's iwin@infinitywealth.ca
NO MORE Confusion
After all the Youtube videos, books, and forum posts, you're probably still left with questions. Starting in real estate is a tricky thing.
Frustrated beginners often ask how a legal basement suite conversion actually works. Most of the time we can only give general answers. But now, we get to dive in.
At this in-depth, free class you'll learn how to take your first steps as a real estate investor.
Nothing is held back. Everything from analyzing basement suite conversion deals, to renting out your first property at a profit, and even how to refinance and do it all again!
More secrets you'll uncover are:
Profiting in a HOT market…
Municipal bylaws to watch out for…
Mortgage terms that favour refinancing…
AND one barely used tactic for higher appraisals…
If you're frustrated, unsure of how to get started, this is for you.
 Sign up now for the Invitation List and be one of the first to get an invite to the next class.
Sponsored by:
Infinity Wealth Investment Network – would you like to know how our investors returned 341.8% on positive cash flowing real estate over the last five years? On average, that was 68.4% per year.
Just imagine what winning in real estate could do for you.
If you would like to know how we did it, ask us how by calling 289-288-5019 or email us at meaghan@infinitywealth.ca.
Don't delay, the top markets we focus in are trending upward in price, so you can pay today's price or tomorrow's price.
Till next time, just do it because I believe in you.
Erwin
Hamilton, St. Catharines and Toronto Land Development, Real Estate Investor, and soon to be builder.
W: erwinszeto.com
FB: https://www.facebook.com/erwin.szeto
IG: https://www.instagram.com/erwinszeto/
https://www.truthaboutrealestateinvesting.ca/wp-content/uploads/2021/10/Mike-Desormeaux.jpg
630
1200
Erwin Szeto
https://www.truthaboutrealestateinvesting.ca/wp-content/uploads/2017/06/TruthRectangleLogo.png
Erwin Szeto
2021-10-11 15:52:45
2021-10-11 15:52:48
From No Fixed Address to Successful Investor and Coach Who Says "Wealth Won't Wait" With Mike Desormeaux