Financial Planning Wealth Hacker Style with Kathleen van den Berg, MBA, CFP, CLU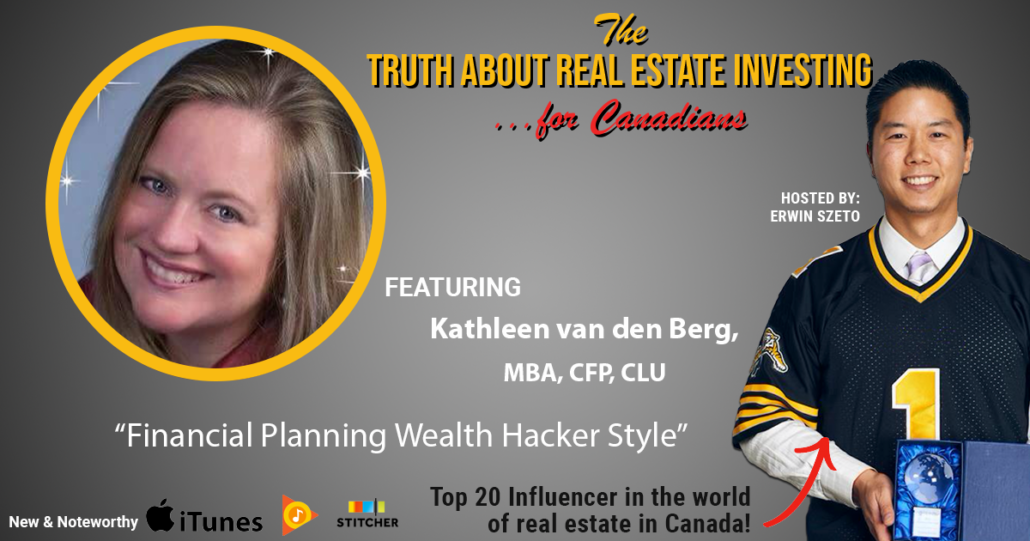 How is your perspective on life?
I generally prefer to keep things light on this show, but I'm going to take some liberties this week and stray from the normal.
A very good friend was participating in a charity 50km bike ride on Sunday and his friend suddenly passed while on the ride, likely due to heart attack. My friend was the last person to see him alive and he's obviously upset by this.
In times like these, life is put into perspective. I question what I'm doing all the time and today I ask, is what I'm doing right now what I want to be doing? Do I spend enough time with the people I care about? How do I improve how I spend my time? I know for you listeners who are commuting while you listen, many would like to commute a little less. My commute was over an hour each way on a train to work downtown and it drove me nuts every evening when all I wanted to do was get home.  
Please do make sure you design a life you want and don't wait for something terrible to happen to get started, like Tom Sullivan shared on his show. He didn't get started building his retirement fund of ten investment properties until he got cancer. Our award winning joint venturer of the year client, Justin Chung, didn't start building his empire until his dad was really sick.
If you were to pass today, is your family set up in a position to continue without you financially? I had a client pass just two years ago, leaving behind his wife and two kids, the elder of which just graduated university with plans to go to Dentistry school. When I first learned of his passing (now don't judge me, I have a personality of a critical thinker), my first thought was, "thank God they have real estate." Two investment properties that had appreciated significantly, over six figures of equity each, and return cash flow over $1,000 each house, each month.  It's not an enormous sum of money, but those are quality assets that give the family one less thing to worry about as they attract great tenants and the rents keep going up. Give it another five to ten years and this widow will be a real estate millionaire and will be better off than most widows.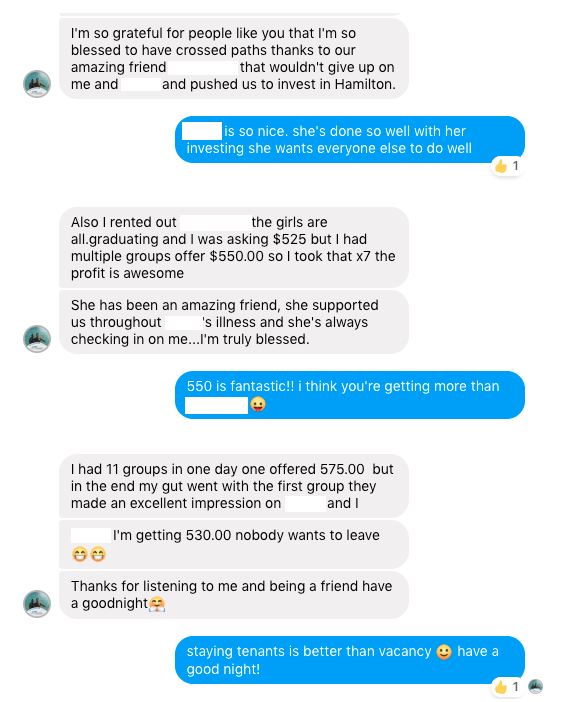 What is the lesson?  I ask myself that question every time something bad happens. In times of sudden passing like a heart attack, I ask myself if I lead a lifestyle conducive to someone living a long and healthy life. To share in my learnings from being the son of a doctor and the patient of a high performance Naturopath, I limit my salt and sugar intake, I don't eat much fast or processed food, I have 4 or 5 workouts planned this week and I sweat a lot in those workouts. My workouts are so hard, I have doubts every time if I can finish.  I'm lucky as I've found exercise that I enjoy doing for fun in Brazillian Jiu Jitsu and Crossfit. I get plenty of sleep most nights.
I'll also take a moment to constructively criticize the celebration and acceptance of dad bod, how being overweight is socially acceptable.  It is socially acceptable, no one is judging, I'll just counter with a question, "Is the lifestyle and diet that leads to being overweight the one that provides one with high energy to conquer the day's work and workouts? Does having a dad bod predict a long and healthy life?" You all know the answer. I'm no health or nutrition expert, so I'll leave it there. I do have the occasional glass of wine or dessert, but my body fat % is well under 10%, I have visible abs and have for over four years. I am 40 years old. This is my dad bod and this will be my kids' context for a lifestyle to follow.
Speaking of stuff I'm no expert at, as a critical review of this show informed me, and I quote: "Erwin does not know the nuances of RESP's", and it's true, I don't. I chase enough shiny stuff already as I'm preparing to start option trading in the near future and I'm car shopping for a new BMW today.  That's not the important work I do… the work I pride myself on is helping everyday, local investors become millionaires and multi millionaires and learning from multi-multi millionaires. Fun fact for the day is none of them told me RESP's was the key to their success.
Quick side note: if you have criticisms or there is a gap in wealth building knowledge you would like filled by an expert, please drop me an email.  I have an extensive network of the best of the best experts who I can request a favour to have on the show.
Financial Planning Wealth Hacker Style with Kathleen van den Berg, MBA, CFP, CLU
Back to the show 🙂 To be clear, my financial position and goals are different than most. I'm looking for 30% returns from my investments. My overriding principle is the investment you do is better than the investment you don't. If I never lost 40-60% of my stock portfolio during the last major recession, I would never have given my full focus to real estate and the money I lost in stocks is pennies compared to the money I've made as a real estate investor.
Anyways, enough from me.
As someone not qualified to speak to RESP's and retirement planning, I had my friend Kathleen van den Berg come on the show, who has a lot of letters behind her name and is qualified. The Truth About Real Estate Investing show continues to bring you experts in investing.
Kathleen has her Masters in Business Administration, her CFP – Certified Financial Planner and CLU – Chartered Life Underwriter, the Canadian wealth transfer and estate planning designation. She also owns 10 investment real estate properties.
Kathleen is here to explain the three buckets of assets everyone needs and which order to fill them, and has even more controversial opinions to share on RESP's, LOL. Note that Kathleen does fee-based financial planning and is one of the rare CFP's to do so, to ensure she can provide you unbiased financial advice unlike mutual fund sales people, so we are really lucky to have Kathleen on the show so we may all learn.
If you are already on my email list, you will receive my type notes from the interview. If you would like to receive my personal notes from interviewing guests, simply go to www.truthaboutrealestateinvesting.ca and enter your name and email on the right.
Without further ado, I give you Kathleen van den Berg, MBA, CFP, CLU and RESP expert. 😉
To Listen:

To follow up with Kathleen:
Facebook: https://www.facebook.com/groups/DurhamMoneyMatters/
Web: http://www.kavwealthstrategies.com/
LinkedIn: https://www.linkedin.com/in/kathleen-van-den-berg-mba-cfp-clu-7b20b258/
If you enjoyed the show and would like to learn more about investing in real estate then you do not want to miss my Top 10 Tips On Real Estate. It's FREE to Download!!
I've interviewed many of the leading authorities in real estate, including Best Selling Authors like Julie Broad, Don R Campbell, Russell Westcott, and Tom Karadza. My super star investors include folks who acquire two properties per month or have transacted on over 100 properties. I have learned a thing or two in my own investing and distilled it down to 10, you-can-not-ignore, tips if you want to be a successful investor.
To download the report go to www.truthaboutrealestateinvesting.ca/book
Sponsored by:

TitanInvestmentRealEstate.com – would you like to know how our investors returned 341.8% on positive cash flowing real estate over the last five years? On average, that was 68.4% per year, just imagine what winning in real estate could do for you. If you would like to know how we did it, ask us how by calling 289-288-5019 or email us at admin@mrhamilton.ca. Don't delay, the top markets we focus in are trending upward in price, so you can pay today's price or tomorrow's price.
Till next time, just do it because I believe in you.
Erwin
Hamilton, St. Catharines, Toronto, Land Development, soon to be builder and Real Estate Investor
W: erwinzeto.com
FB: https://www.facebook.com/erwin.szeto
IG: https://www.instagram.com/erwinszeto/

https://www.truthaboutrealestateinvesting.ca/wp-content/uploads/2019/05/Kathleen-van-den-Berg-1.png
630
1200
Erwin Szeto
https://www.truthaboutrealestateinvesting.ca/wp-content/uploads/2017/06/TruthRectangleLogo.png
Erwin Szeto
2019-05-13 22:54:37
2019-05-13 22:54:40
Financial Planning Wealth Hacker Style with Kathleen van den Berg, MBA, CFP, CLU