Failing Grades, Fighting at School to Top 10 in Class, 11 Properties at Age 27 With Antonio Yong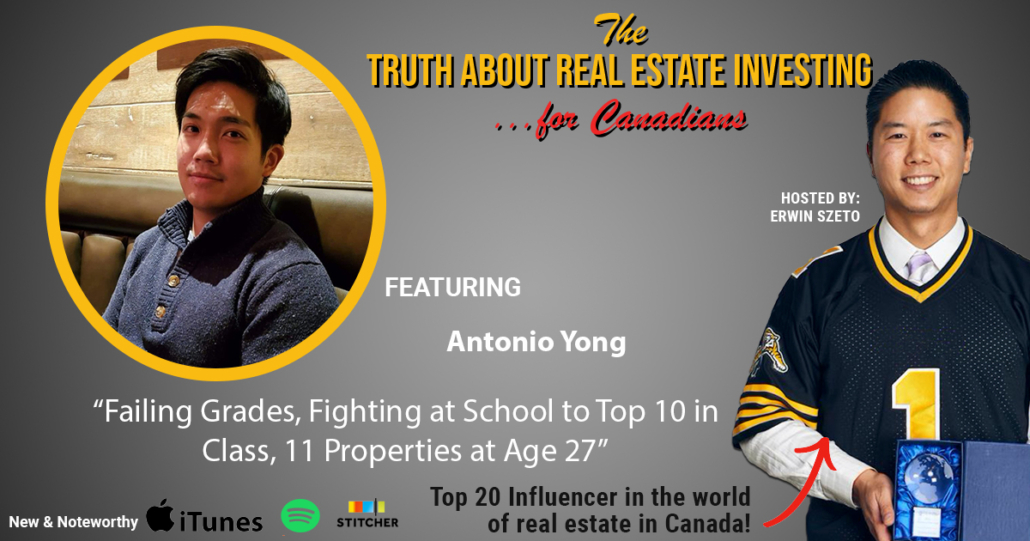 Happy Anniversary to my wonderful wife, Cherry Chan, my life, business, and investment partner!
 It hasn't always been easy; relationships are not easy but oh so important for long-term happiness and success.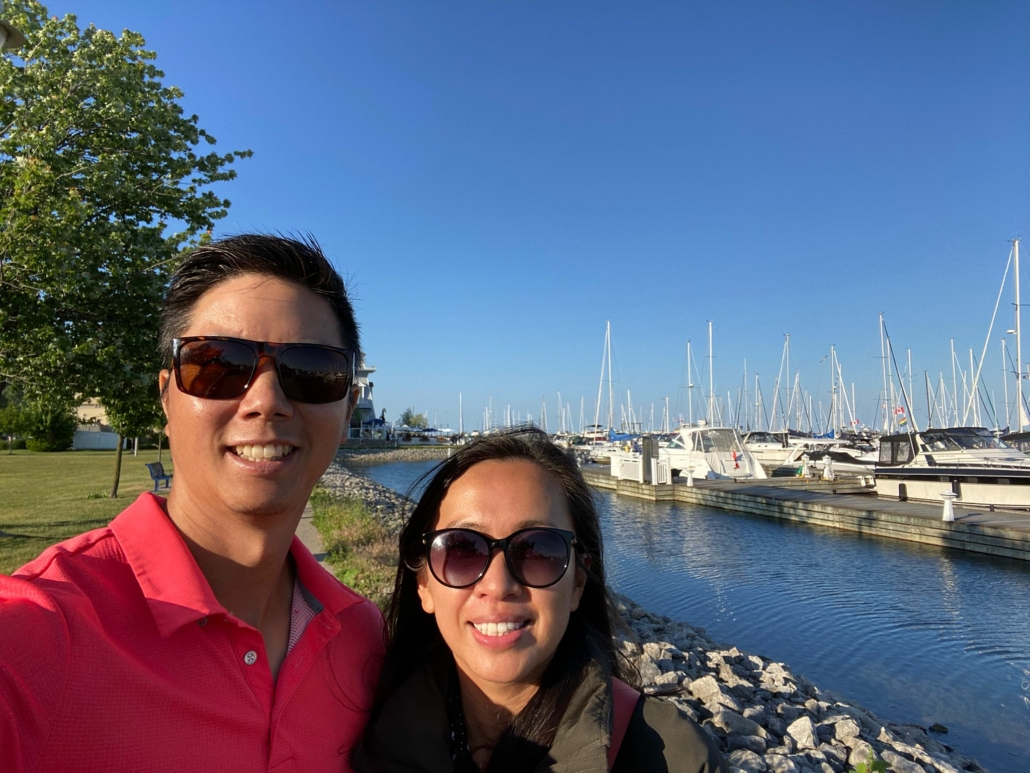 One thing that's worked out well is we share so many values, including how we raise our kids to prepare them for all the things I worry about ten years from now when they're grown up.
For example, our kids will switch martial arts later this summer from kickboxing to Brazilian Jiu-Jitsu.  If you've watched UFC, you know those two styles are among the most important.
This week we signed up the kids for more golf lessons as, in my experience, golf is a vital skill for business.  The networking opportunities from golfing are among the best I've seen and even better for the good golfers. 
Plus, it's an activity that takes a long time that we can do as a family, so I look forward to the kids opening up and talking to us while golfing.
It's well known that Tiger Wood's favourite memories of his dad were when it was just two of them playing golf together.  That's something Cherry and I focus on with our kids: building memories.  
Collecting things like houses is just a means to an end to invest for the long-term and provide us with our financial freedoms because as great as it is to be a business owner, we don't have a pension. 
Statistically, among those without pensions, two-thirds will never retire—the opposite of financial freedom.
Speaking of financial freedom, we have a young investor as today's guest Antonio Yong who's 27 years old and already owned 11 properties.
Failing Grades, Fighting at School to Top 10 in Class, 11 Properties at Age 27 With Antonio Yong
Antonio had a broken childhood as the child of hard-working, blue-collar immigrant parents who were busy working 60-hour weeks to put food on the table.  
His story of how he turned it around is full of lessons for anyone wanting to turn their fortunes or with troubled teenagers.
And did Antonio ever turn it around, graduating from university top 10 in his class, getting the top co-op placements and great jobs after school.
As he's a student of some of the greatest investors out there: Warren Buffet, Ray Dalio; he's in private equity for the Ontario Teachers' Pension learning from some of the best investors out there and currently works for one of the big five Canadian Banks on Bay Street.
Like myself, Antonio is not loyal to real estate; he's an investor who prefers real estate for highest returns and best investment thesis.  
This is a pretty cool episode, and if you know any troubled younger people, you may want to share this with them.
Please enjoy the show!
This episode is brought to you by me! We don't have sponsors for this show, I only share with you services owned by my wife Cherry and I.  Real estate investing is a staple in my life and allowed me to build wealth and more importantly, achieve financial peace about the future knowing our retirement is taken care of and my kids will be able to afford a home when they grow up.  If you too are interested in my systematic strategy to implement the #1 investment strategy, the same one pretty much all my guests are doing themselves, then go visit www.infinitywealth.ca/events and register for our next FREE Online Training Class.  We will be back in person once legally allowed to do so but for now we are 100% virtual.
No need for you to reinvent the wheel, we have our system down pat. Again that's  www.infinitywealth.ca/events and register for the FREE Online Training Class.
This episode is also brought to you www.stockhackeracademy.ca where everyday real estate investors learn the best practices in stock investing to earn cash flow in about 15-30 mins per day from their mobile phones. After real estate, Stock Hacking is the next best hustle as you've heard from many past guests on this show. Among our students last year, 31 trades were shared with them. 30 were profitable for an over 96% success rate and 12% return on capital. I will be giving free demonstrations online, very similar to the one I gave my kid cousin, a full time musician and he just made 50% return in 2021.  Past of course does not predict the future but if you'd like a free demonstration go to www.stockhackeracademy.ca in the top right, click FREE Demo.  At the demonstration I'll have special bonuses. We do not advertise publicly for all my favourite listeners and I only have two more demos to give in the next few weeks.
Don't delay www.stockhackeracademy.ca, what I consider the future of side hustles with real estate so unaffordable for many.
We're hiring!
Just a friendly reminder that we are hiring more investment Realtors who want a full-time challenge to help our clients, regular everyday people, mostly from the GTA, invest in the top investment towns west of the GTA. 
This is for driven folks who want to multiply their current incomes.
APPLY HERE: https://www.infinitywealth.ca/hiring
To Listen:
Audio Transcript
**Transcripts are auto-generated.
Erwin  
Greetings my fellow wealth hackers. Welcome to another episode The truth about real estate investing show. Today's show is titled failing grades fighting at school, but ended up graduating university in the top 10 in class, and 11 properties at the age of 21. Sorry, 27. With Antonio young before we get to Antonio a little wish my wife happy anniversary, her birthday is coming up. But right now, it's happy anniversary to my wonderful wife, cherry Chan, who is my life in business and investment partner. It hasn't always been easy. I think most people know relationships are not easy, but they're also important for long term happiness and success. One thing that's worked out well for us is we share so many values, including how we raise our kids, we both are planners and want to prepare them for all things. I tend to lean towards what I'm worried about, for like 10 years from now, when they're all growing up, for example, my kids are switching from martial arts later this summer next month, actually from kickboxing to Brazilian jujitsu. For anyone who's watched UFC, mixed martial arts, you know, those are pretty much the top two styles among that are the most important. It's almost interchangeable, which is more important, but my plan is for kids to have both. Hence, again, they're switching, they're switching to Brazilian Jiu Jitsu, which is, in my opinion, the most effective martial art for self defence anyways. And also this week, we signed up the kids for more golf lessons, as in my experience, golf is an important skill for business. It's funny, they don't teach that business school, I think they should. Don't ever hire me to teach anything to business people. This is just my own experience. The networking opportunities from golfing are among the best I've seen. And even better for good golfers. Plus, it's an activity that takes a long time that we can do as a family. So I look forward to the kids when they don't want to hang out with us. And talk to us that bill even when they get older, they'll open up to us because there'll be stuck with us for four hours. So they better talk to us while we're golfing. It's well known and documented that Tiger Woods his favourite memories of his dad were when it was just the two of them playing golf together. That's something that Terry and I focus on, is building memories. collecting things like houses is more of a means to an end. We teach our kids about that as well, to invest for the long term and provide us our financial freedoms. Because as great as it is to be a business owner, we don't have pensions, and statistically those without pensions about over two thirds of about two thirds P folks without pensions will never retire, which is basically the opposite of financial freedom, not what I'm looking for. Speaking of financial freedom, we have a young investor, today's guest Antonio young, he's 27 years old, and he's already owned 11 properties. He doesn't own the law currently, as he's rotating his capital from Ontario to Alberta. He's here to share about that, and also about his broken childhood, as he was the child of hard working blue collar immigrant parents. Both of his parents worked 60 hours a week, just to put food on the table. His story of how he turned it around, as is full of lessons for anyone out there wanting to turn around their own fortunes or for those for those of you who are parents with troubled teenagers, and did Antonio ever, ever turn it around? He got around better, better folks. His parents switched schools and got them about better kids were focuses more around academics versus violence. Antonio actually ended up graduating for a really good school, Laurie's business programme in the top 10 in his class, and he got top club placements, which are highly competitive, and great jobs and offerings after school is a student of some of the greatest investors out there. Warren Buffett Ray Dalio. He's been in private equity for the Ontario teachers pension, learning from some of the best investors out there, and currently works for one of the big five teaming banks on Bay Street. Like myself, Antonio is not loyal to real estate. He's an investor who happens to refer real estate for highest returns and best investments. This is a pretty cool episode. In my opinion. It's been quite a journey for young Antonio. And if you know me troubled younger people, you may want to share this episode with them. Please enjoy the show. Hello, Antonio,
Antonio  
what's keeping you busy these days? Just just work. Right now what I'm doing is I just ran a marathon on May 1. That was really, really tough for me. And then now I might my next fitness goal is I'm looking to get to 10% body fat. And so that's what I'm working on right now. And then I also have a business partner named Kathie Lee. And right now we're in progress of discussing with lawyers and different folks on how to build a
Erwin  
REIT fantastic, and you're gonna do all this before breakfast. It's a tough pile mine but I'll try. Alright, a lot to unpack there. Look, listen and oh, how old are you?
Antonio  
I am 27 I just turned 27, seven days ago, and you have how many properties? For me, I bought and acquired 11 properties. So I actually sold maybe 12 properties. I sold six properties in the last two years. And then what I've been buying is in over in Alberta, so I have six properties in total right now. Awesome. And what's your strategy? I'm Alberta, my strategy out in our Mirta was, so my strategy in Ontario was always the first strategy, because that makes more return than anything that I can ever find. And Alberta is a little bit trickier because I don't know contractors there. And working with contractors is the hardest piece because managing them and then managing them from a distance is a little bit harder. So my strategy was just to buy under market value properties that don't need too much renovations. And then really just rent them out because it cash flows in unvented.
Erwin  
That's pretty crazy. And sorry, when you're Bert, what kind of properties reboring single family homes, apartment buildings.
Antonio  
The properties I was burning was more so duplexes, I had some triplexes
Erwin  
sorry, really already duplexes, and triplexes when you got them when you turn them into. I didn't
Antonio  
turn those into I was looking into that strategy, actually, in Kitchener. And then I was like, these numbers don't make sense anymore to do them. So mine was really just buy things. And then some I had to cut, and then some more just lipstick renovations. Right, right. My strategy was always if I can buy low enough, there's value here. And sometimes you can even burn things without doing major renovations.
Erwin  
That's actually a really good point that you bring up. And I think, especially novices needs to understand that to do a conversion is extremely expensive and time intensive. And obviously, if it goes through government for it, yeah.
Antonio  
Well, I was I was talking to a lot of novice investors. And I'm actually really scared because I'm going to these real estate networking events. And I'm asking them for their numbers. And I'm like, Hey, where are you investing in this specific market? I'm not going to name the market, Ontario. It's not Yeah, somewhere in Ontario, like in the suburbs. And like far out in the suburbs, and they're just
Antonio  
so far, like tertiary or like, we're talking about a five hour drive. Oh, my, okay. You can probably guess it now. But I was asking that was like Aubrey
Antonio  
was asking them, I was like, what's the fundamentals there? What's the different thing? They were kind of telling me? Hey, I'm investing there because this person is investing there. And the numbers work in the cash flow. But in my mind, I'm like, Oh, the fundamentals, like you got to invest based on fundamentals. They were telling me the numbers, and they were like, Yeah, I'm gonna buy this property for about 300k. I'm gonna put 100k in renovations, and the ARV is going to be 375. I'm like, Wait, so you're putting in all this money, and you're actually gonna lose money. It's like a negative or, right? Because you're putting a 400k. Like, all together, I think a property is only worth 375. And that's when I got really, really scared. And I was like, I need to get at it. Ontario, and invest in Alberta.
Erwin  
Yeah, I know. A lot of people are struggling with it or properties in Sudbury. Yeah. Like, like you mentioned, contractors and then as far away so they're managing from distance. Yeah, that's Yeah. And you know, the funny thing is, so there's gonna be some people who are upset that we're talking about Sunbury people are losing money there was called The Truth about real estate investing. Hopefully people understood that when they read the title of the show, we don't pull
Antonio  
punches. I'll be transparent and stuff because I always desire the truth. Because as an investor, it's like, once we have the truth, we can figure out the optimal solution. Yeah, that's why I really liked the name, the truth of real estate investing.
Erwin  
Yeah, like this is kind of like a like a pocket mastermind here. We're just trying to share best practices and also things that don't work and so that people can, you know, learn from it and make better investments better because there's a lot of trap investments out there. It just made headlines that pick alliances for those who don't know, there's a Real Estate Group company that you know, that completely collapsed and, and surprise surprise, one appraisal company got almost all their business.
Antonio  
Actually, I was actually looking at their businesses in one of the the conferences they were in, just like they're offering me 15% returns almost guaranteed. I was like, almost guaranteed. Yeah, almost guaranteed. And I was like, Oh, maybe I should invest with these guys. It seems so passive, but I'm glad I didn't feel sorry for anyone that did because I feel like there are some questionable
Erwin  
people. There the findings of the investigations have not been good. And I feel terrible for people I understand. Some people put their life savings into it. So and that money's gone. Not only the 15% didn't happen, but that money's gone. There's their their investments gone. Yeah,
Antonio  
they just don't know what's what's gonna happen with all those properties? Because from my understanding, they owned a lot of properties in that market. And if they put that in a small market, like a smaller market like Saskatoon, simply that's where they are, it's gonna flood the market and tank everything. Right?
Erwin  
So you're smart, you actually look at fundamentals. And not just what a lot of people are doing.
Antonio  
Show you a book. My idol is actually Warren Buffett. So I've read like all the shareholder letters of Warren Buffett when I was in university, and that's where I learned how to invest. And recently because things have been dropping, I needed to educate my mind again, and read all his shareholders again. So there's this thing called the essays of Warren Buffett, and it's all his shareholder letters in here. You can read it and see how one of the smartest investors of our time thought.
Erwin  
So once you write about, is it more theory? Because I thought I would think that more shareholders reports, it's more like tactical for that time. It's like being more time sensitive stuff, or is it is that when he's writing more evergreen,
Antonio  
it's more so of he's writing for like every year. So based on a what he's seeing from those years. And Warren Buffett is the thing with him is he will invest where the returns make the most sense. There's a period of time when Warren Buffett was like, I can't outperform the market. I'm just gonna invest in bonds. Yeah, because bonds were giving like 10 I think 10 to 12%. Yes, please. Please, like, Oh, by these all day, the thing is, even though it was like written about that time in that specific periods, I remember
Erwin  
the year during the year, he was just talking about 10 11%. On bonus, and
Antonio  
in the 1980s. Because I think interests were fed fund rate was like 22% in the US around that time.
Erwin  
And in your recently important, like, I to me, I'm agnostic to investing that people think I'm just a real estate bowl. No, I will do what will make me the most money. That's where That's where my money flows. Yes. If bonds are paying today, 11 or 12%. Better imagine I'd have a bunch of it. Yeah.
Antonio  
As long as our interest rates were continuing to go up. Yes. Aaron, I think that's the thing that a lot of real estate investors don't understand, is like, they're like, Hey, real estate, my uncle or someone told me that real estate is the best asset class. Sometimes we bought just keep buying and buying and buying. But like you said, if bonds return 10 or 12%?
Erwin  
Yeah, basically the risk free? Yeah, exactly. As risk free as you can get interest rates that high might not be the best investment at that time. Yeah, exactly. I definitely want to have some because I think getting some cash flow. Yeah. That's fascinating. So Antonio, you have an interesting background. I don't know how to say it. But I'll say it. You're Chinese, but your name is Antonio. You're but you're Peruvian.
Antonio  
This is complicated. Yeah. I always tell people I'm like I have the opportunity to learn three most spoken languages in the world. Spanish and Mandarin. And I was like, I barely know English. Like, you can probably like anyone could probably speak more than me and other ones. Oh, so your parents speak Mandarin, as well. My parents were born in Guangzhou in China. So they speak Cantonese. But they also Mandarin.
Erwin  
Okay. For folks who don't know Guangzhou is, is part of Southern China in southern China is generally Cantonese speaking. But yeah, if you want to get further ahead in my speaking Mandarin is important. Yeah, sorry, continue. And so we had the end up in Peru, it's pretty far apart,
Antonio  
China and Peru. So I think at that time, my mom and my dad, other parents were like, You need to get out of China because it's communist. Even if you build something for yourself. Like, it can be taken away at any time. So what they were seeking was freedom. So for them, it was just like they had some relatives over in Peru. So they flew over to Peru. And I don't know if that was much better, because once they like in Peru, they opened up a restaurant and they didn't make money off of the restaurant. And there was a lot of robberies in Peru. So people would go into your restaurant, rob you. And then I remember my mom calling the cops or she was telling me she was calling the cops. And then once you call the cops, the cops actually come in and they rob you as well. And they don't do anything. So in there in Peru is actually like a tighter community. So it's like you bond together with all your neighbours and everything so that they help you out instead of police enforcement.
Erwin  
That's crazy. Yeah, I have a friend who's Peruvian and explained to me that their gun culture because it is so high crime is so high. I believe he told me that gun owners ship on private citizens, not only like an ownership of concealed gun ownership was, like among the highest in the world for assault for self protection. Yeah. Well, if the cops are not protecting you, you need something to do. Yeah. Well, he told me his mom carried a gun in her purse. Yeah.
Antonio  
It was a scary time there. I had a lot of cousins in Peru and they lived there until they were like 16 to 18. And, yeah, when they got here, they look like thugs. They're not like that anymore. But yeah, well, it's crazy.
Erwin  
They stick out like a sore thumb and in a dangerous environment. high crime. Yeah. Right. So you came to Canada, but I hear I've heard all these bad things about Canada lately that we're we're turning to communists and also freedom. So that's so you're gonna you're gonna go back to Peru now. Right?
Antonio  
I got I do have my citizenship there. So I have Canada and Peru. So I just need to renew and I can go back over there. Where I don't know exactly how that works. Because in my mind, I'm like, if I was born there,
Erwin  
I should be able to get back. Do you want to go back?
Antonio  
There was a lot of corruption there. But I want to go because they told me that the food is really good. And I want to go to my check.
Erwin  
Not to live there. That's badass. You run marathons during probably good enough shape to do it. Then you can do the height. You can do the you can do the Inca Trail. Yeah, I understand that trail. But yeah, I've heard that if you're not in good shape. It's much tougher to do the to do the Machu Picchu. That's cool. And then your parents are in Canada now.
Antonio  
Yeah, they're they're in Canada. They've been here for about 25 years. 26 years actually now. And yeah, they don't still don't speak a lick of English. Wow. Yeah. Where they live. They live in Scarborough.
Erwin  
That's where that's where we grew up as well. So we were we were we started in were specific Ontario. Shepherd in East Side. Forget Exactly. Yep. Okay. Yeah. Sorry, certainly in French. Yeah. We weren't far from you know, my dad's office was brilliant Shepherd. Okay. But you know how it is like when our parents didn't know didn't have guidance on where to buy. So our first home was, you know, next to a lot of high rise government housing. Oh, so my brother got jacked for his the Optimus Prime. And the school wouldn't do anything about it. So. So we moved
Antonio  
a couple of times over in Scarborough, too. So. Yeah, so a good thing you move away from here. Hopefully no one pulled a gun on you. Good. Someone did pull a knife. Not a gun, though. Prefer the
Erwin  
knife for that gun. So it sounds like it's an improvement over Peru.
Antonio  
Well, if they didn't have a knife or gun, I'd be like, Okay, well, we'll fight for it. But the moment they pick, pull out a weapon, I'm like, okay, okay. I know who's the boss? Here's my money. How much money are we talking? Well, like that was? That was when I was in grade 11. And the robbers were smart here. They're like, okay, the people have Chinese New Years, and you get red pockets for Chinese New Year. Yeah. So I'm carrying cash around. So they're specifically targeting Chinese people for Chinese New Year's. And I had about 150 bucks in grade 11 At that time, and I was like, that's a lot of money. Right. And yeah, I in my mind, I was contemplating, do I fight these guys for it or not?
Erwin  
So you get into a bunch of fights. God, I gotta call my dad after this and tell him thank God we moved on to Scarborough. I wasn't actually in Scarborough when I was younger, though. I was in near Woodbine station. Sorry, Woodbine, which station.
Antonio  
Woodbine station was close to there's probably like a 15 minute walk around there. Okay.
Erwin  
Is it near the mall? Is that nearby mall Mall? Like near the horse track? A horse? No, no, not not near? Yeah. Okay. You wrote in before we did this call, so you didn't have the easiest childhood.
Antonio  
So what happened? Well, it was just like, I'm sure if you can relate for like immigrants, it's just like, the parents are working all the time in order to survive. And then for me, it was just like, running around as like a little kid. It's no one to guide me or figure anything out. And a lot of times, it'd be wearing like me down clothes with like, holes. And like, I'd be wearing I remember I was wearing boots that were for females. And it got made fun of that funnel for that. So for me, it was just like, I was really, like, reserved, and I didn't want to talk to people because as like, a MBA made fun of all the time. Like, I'm just going to do my own thing. And then afterwards, I just, I didn't know my ABCs until like, grade two. And every time people would go around and sing their ABCs I'd be like ABCD and then I'd mumbled the rest. But I'd be so embarrassed that every time that song came up, I just like sent shivers down my spine where you know, like if a teacher calls up on you, and then you don't know what Answer. That was the feeling that I got. And for me, it was just like, I feel like I was scared all the time because it was just like, man, people are like, geniuses out here like, how do they know their ABCs? How do they know how to behave as a human being? So I was thrown into ESL. And when you're thrown into ESL, you're like, is your English is your second language, which was mine, for there is just
Erwin  
to clarify, folks because I went to ESL too. So just to clarify for listener for people who didn't who spoke English as a second language, public schools. Well, my understand my experience, public schools have separate programming for folks who didn't speak English, that well, it's extra schooling that we have to do. So. Yeah. Sorry, continuing, Antonio. Yeah. So
Antonio  
for when I was put into easy as l programmes you actually labelled by the other kids, where they're like, Oh, that guy's weird. He doesn't speak English. He's part of another programme. And so, for me, it was just like, I wanted to accelerate something, right? Because I was like, I'm doing terribly at school. So what I found out was like, I'm stronger, and I'm faster than most of these kids. So what I started to do was a people made fun of me, I started punching them in the face. And I was like, cool, this is a much cooler, this is much better than trying to learn math and English and geography and things because I was like, that's not relevant. It's like, it's not gonna get me ahead in life or anything. So at a very young age, it just started punching people in the face. And then our school was, we weren't in the best school, we probably ranked, like if you ranked each way to score, like, there was probably 1370 schools, we were ranked as 1340. So we're like the lowest ranked school. And because since we were great, one to five, we didn't get a lot of fundings. So you get a lot of problem, children in this neighbourhood. So all of us was like, really good teachers probably don't want to work there. So we're just like punching each other in the face, which was just like, that was cool. It was just like, no one really cared. No one said anything. And then it's just like, everyone wants to fight each other. And so we tried to fight to see who was the top. And then if you beat up the wrong person, their brother's, like two or three years older, they'd come after you. So we, although I punched people in the face, I also got my ass kicked. Yeah. And that was from raid one to six.
Erwin  
So when did this turnaround, because he has other difficulties. Like, for example, you mentioned you mentioned in your in your bio that you got lost in gaming.
Antonio  
Yeah, let's turn it round, which was really good for me was in grade seven, when we actually moved up to Scarborough, because what happened was, where school was one to five. So we got into, we started to emerge schools. And when you have kids that are just problem children, there's another rise that's up top. So you had grade six and sevens like they started carrying weapons, because like, if you couldn't beat someone up, you'd have to use like a tool. So talking about 11 and 12 year olds, yeah. So then, for me, it was just like, this is getting scary. But at the time, I didn't know it was just like, as a kid, you're like, Oh, we're just playing. Like, that's what we thought. And so afterwards, I moved over. And I heard afterwards, like my three closest friends, once one became a drug dealer, one got a national arrest warrant for murdering someone. And then the other one became like a teenage dad. So those were my three closest friends. And after I moved here, we're in a school, which was predominantly Asian. And so the cool thing to do here was to study for me is just like, if I was a very angry child, so if someone looked at me the wrong way, I was just like, Okay, I'm gonna beat this guy up. But quickly, if you try to beat someone up, or you hit someone, you just get detention, or you'd be labelled as, oh, this person's that angry kid, that weird problem child. So that no longer became cool. And then because I was so far behind on my studies, I was just like, Okay, I got to excel in something again. So I shifted towards video games. And I played this game called Maplestory, which thought a lot about entrepreneurship, as oh, let's just call Hang on. What's it called? As most people are heard of it? Yeah. It's like online PC game. And it's kind of like, you can think of it as like World of Warcraft, where there's its own economy, its own different thing. And it's like its own little world. Yeah, it was a very popular game at my time. But you can, you can buy things for low and sell them for high, which was a really useful skill that I learned.
Erwin  
When is this actually like a, like a good learning tool? It was a good, great learning tool for me. Okay, so this is a description on the website. Yeah. Live it up in Maplestory. The original sidescrolling That's an acronym at Don't know what it means MMO RPG
what is what is an MMO RPG? I just didn't know what it was a kangaroo. Remember, multi
Erwin  
is like multiplayer role playing game? Is this actually a good tool? Like would you recommend it to like your kid nephews and nieces to do this to learn about life and money. I see cartoon characters walking around with humongous swords.
Antonio  
This game actually taught me a lot because it was just like, you can't imagine that you're living life, but you're in like a virtual world, right? But you still want to get to the top, you didn't want the best items, you want the best tools, you want to kill the big bosses and stuff. So if you were competitive that in the game, you had to figure out strategies in different ways in order to get there. So it's very simple problem solve,
Erwin  
right? Yeah. I don't know if it's underrated. But I'll just say, I believe it's a very underrated skill is to get the problem solve. Sorry, continue.
Antonio  
So I would recommend it to people that to play these role playing games, rather than the shooting games that we have. Because in shooting games, you there's literally nothing you learned, except for how to shoot people. But this game was just like it had his own economy and everything there. So I really enjoyed it. It's not as popular now. But it was one of the top games back in the days.
Erwin  
So had its own economy as in like, you could start a business or you find stuff and sell it like Yeah,
Antonio  
yeah, you could sell anything. The objective was you kill monsters in the game, these monsters would drop weapons and loot. And then you would try to get the best items and everything and level things. So it was just like, kind of like life where it's just like, you level up your fitness, your mindset, your wealth, spiritual, all of these different things. But they're just different stats.
Erwin  
Right memory. I just add to that. I think generally, I keep the two kids away from my kids, because I don't think there's that many redeeming qualities. But those like things like, like those games that teach you to grind. Yeah, right. I think that's a redeeming quality. So understand that the more you grind, more returns, you get? Yeah, right. I
Antonio  
actually, for me, I felt like I actually learned more out of that game than in school, because school didn't really teach much relevant things. And then for me, it was just like, school. Yeah, I was there. Like 6am might start waking up and start grinding all the way to 1212. And for me, I kept trying to think of ways to accelerate improve. So there were millions of people playing this game. But I had ranked to one of the top players like the server just because it was grinding so hard.
Erwin  
Interesting. Yeah. Did you find ways to be more efficient?
Antonio  
Yes. Because there was just like, there's different ways where you're just like, how do you kill a boss? Right? How do you make alliances with different people so that you can take down monsters together? What's the best weapons and different things that cost the least amount of money. And so once you figure out all these small tips and things, you can put them all together, and you can have a massive advantage over.
Erwin  
Now my concern with video games is also I've seen too many young people, they fail to progress, the next step, they get lost, they become lost in the games. How did you avoid that?
Antonio  
It's like the modern danger. So for me, I was playing from grade seven all the way till grade 11, I was addicted. And so for me how I started to get away from it was I was just, I knew in the back of my mind, I was just like, I'm not going to be successful doing this. And because for me, there was something always in the back of my mind where I was like, I need to be wealthy, because I saw my parents. And I was like, there, these guys are working all the time. They had no time for me, I don't blame them, because I probably would have done the same thing. And then I was like, I want to be there for my kids. I want to be there. So I can take them to soccer practice, teach them and do other things. So I was like, I need to get wealthy. So I started to opt out of Maplestory and rebuild myself where I was just like, not wanting to play the game of life. And so that's when I started looking into, okay, what's the formula that is going to make me successful. So I listen to my parents, I'm like, start working really hard in school, get a good job, and then save money, and eventually you'll have a good life. So that's the formula that the only formula I knew. And that's the formula that I followed.
Erwin  
And this is what changed because these are the things your parents taught you don't get to 11 properties.
Antonio  
So for me, it was just like, I started to grind harder in grade 11 and 12 for school because I was so far behind and every one because I just never did homework or anything. So then I started to grind harder. And I was just like, Okay, I'm actually good at school, I can do things in different things in school. So then for me, I started to get good grades. And I was like, Oh, this is actually possible. And so far there is actually I went to a school, where Laurier for business that one of my friends were going to, and before I was actually, I didn't want to go to university because I did a calculation where I was like, Okay, I'm gonna make more money as a electrician than going to university. Yes. And so my friend was like, Hey, I'm going to university, it's good to go to university, why don't you come with me? So I went to the same university as him. And then afterwards, I was just like, Okay, I'm gonna change my life, because I'm in a new place. Now. I'm no longer at home. And I'm with all these new people. So for me, I just worked really hard in school. So hang on,
Antonio  
let's try one second. Antonio, did you have a mentor this time, or you're just this is all just you talking to yourself? It's just me talking to myself. Okay. Okay. I didn't read a single book until second year university, like a single real book, like a self development or something like that. Okay. And for me, it just like, I feel like, I'm lucky. I'm very lucky. I know. I mean, relatively lucky. Most people have not gone down the right path. Yeah,
Antonio  
I think for me, it was an overly energetic kid. So for all my relatives, and all my family and stuff, they never saw anything in me. They were just like, Oh, this guy's a troublemaker. He's gotta be like a gangster. One day, I was banned from all my uncles and aunts house, because every time we go to their house, we break stuff, because we had cousins that were like, 10 years older than us. And we just like, I want to take him down. If I take him down, I'm gonna get better at fighting, which is applicable to my fighting in school. So that was practice for me. And you could never beat them, even if you had like five kids on them. But if you rally five kids, things will break. So for me, like no one ever saw anything. And he was just like me, this troubled kid that was playing video games all the time.
Erwin  
You're marksman good, because you've gone to Lauria coop, which is not an easy programme to get into.
Antonio  
Yeah, for me, it was just like I was getting, I was hanging around the right crowd of people were my friends. They ended up getting into med school and some of the hardest programmes in university.
Erwin  
So these, these are the friends that you went to, you went to Laurier with, like, from high school to Laurier, or people you met from high
Antonio  
school when I was getting my act back together, because I was so far behind in school. So a lot of them were actually tutoring me. And so for me, it was like free.
Erwin  
So the kindness of their heart. Yeah, it's just like your we played,
Antonio  
we played Maplestory together, so I'd help them in the game. And then they'd helped me in school. That was the trade off. And yeah, for me, it was just like, I didn't have much family that knew what they were doing. But I had really good friends
Erwin  
that put me in the right path. And there's really good friends followed you. And you have really good friends in Laurier, because you did incredibly well in school, it seems.
Antonio  
Yeah, there was one friend that actually applied to university for me, because he's like, Antonio, let's go to the same school. And I was like, I want to be an electrician. I don't know, I don't want to apply for things. So he applied for university. For me, we got into Laurier together. And he's a really hard worker, which I always admired. And he was also very intelligent as well. So together, we were just like, hey, let's do really well, in school together. Both of us actually graduated, near the top of our class, I graduated at the top in finance, in my class amongst 330 people.
Erwin  
So let's I mean, the top 10% or so,
Antonio  
there was a I graduated top of finance in my class, but I graduated the top 10 within 330 people. So top for finance. I didn't know how many people there were in finance, but I'd say top 3% super smart
Erwin  
guy. What got you. And you're in your co op placement you told me was because you said private equity before we're recording. Yeah. Which is a usually a highly touted spot.
Antonio  
Yeah. What did you learn? What did you learn from being in private equity? So I actually had the opportunity to work in one of the top private equity shops in Toronto, which was in there. And what I learned was these guys made the same returns as Warren Buffett, which was one of the people who
Erwin  
What do you mean, they take on a bunch of risk, like private equity is very different than what Warren Buffett buys.
Antonio  
But the thing is, the return was Warren Buffett's return all time was around 20% year over year, and then these, this firm was all So 20% return year over year, so incredibly smart people, and then they were buying in private equity, you don't buy like things on the s&p 500, or the stock market, you buy private deals. So what they do is they buy a distressed company where they feel like they can add value to it. And then they actually go into this company, fix it out with consultants or anyone that they hire, lay off any of the access, they can. And then they they either refinance or sell this business or keep it in their portfolio, it's very similar to real estate in the burst strategy, where you buy under market value, you generate the value in that property, which ever way like evicting tenants or doing strategic renovations, and then you can refinance it, sell it or hold it. So exact same model. And the birth strategy was actually the most basic form of the private equity model. And it was actually taken from the private equity firms.
Erwin  
So before we go into more real estate, even a fresh grad, and private equity usually makes quite a bit of money to show the listener what what kind of range that would be for entry level at a private equity firm.
Antonio  
So usually, you can't get into private equity right out of graduation. And the thing was, even if I had graduated, I'd have to go into investment bankers, investment banking. So all of the people that I work with actually went into investment banking over in the States. But typically, what they would make would be around 100 to 150k. Us, yeah,
Erwin  
how many hours? Do they have to work a week?
Antonio  
70 on the best possible week, if there's like live deals, or they're doing a lot of work, they're probably clocking close to 95 to 100 hours. That's not much right. Not much in the when you account for the hours you have
Erwin  
to work. So is that the path you went? What did you do them out of university? Where do you go for work?
Antonio  
So for me, I actually worked in a new department of RBC, whereas more so of like venture capital. And so at the time, it was this new department where there was only 30 people. And now there's more than 400 people. But yeah, I ended up going over there. How's that worked out? It's working out really well. I'm actually, I got promoted to senior manager this year. And so now I'm leading the operations of one of the partnerships for a prop tech company.
Erwin  
So prop tech meeting, it's a real estate based technology.
Antonio  
Yeah. It's like kinda like how sigma. But we're not ranked as high as them yet. But the plan is we will
Erwin  
cool crossing is pretty popular. Yeah. Fantastic. And so tell us what you're doing investing wise now. So you say you're focusing on Alberta? We see. We're cities, Edmonton, in trends as well. So
Antonio  
Let's wrestle, let's cut. No, I actually don't know who he is. What? Yeah, you know, all the heavy hitters. I know all the people that are starting now. Who would you rather know? Would you rather know? I would rather know. I'd rather know both. Right, because I like giving back to like, the younger investors and stuff. And anyone that has hustlers
Erwin  
investors younger than you, your 20s then your investors, the newer investors, okay, okay. So they can be like 45, but they're new to investing.
Antonio  
If they ever asked me and they reach out on Instagram, and I see the hustle, I actually groomed them through the cycle without any costs. And I probably shouldn't say that. So now people are gonna reach out to me, what's your Instagram not working? We'll find you. A, so it's a and then Y O U? N G. So it's young, the word young and then money, and then underscore,
Erwin  
the underscore? Was there already a Young Money?
Antonio  
I'm actually really stupid. So I actually created an Instagram account. I lost the password for that. So I couldn't create that at a young money anymore. And then I had to put an underscore.
Erwin  
Okay, so you're because that's a common practice for like scamming accounts, is to just add just to tweet something right. But you had to tweet something because you couldn't get your account back. Yeah, I should probably change it so people won't think I'm a scammer. So a Young Money underscore,
Antonio  
in Young is spelt like young as a young age. Yeah. And it's a play on words, because my last name is like y o n g. So it's young. So I changed it to young. So what are you doing in Edmonton? Single Family, still single family burrs. When I was my intention of going to Edmonton was we actually were raising capital. So we actually had committed capital. And the idea was, I flew out there this year in March, and I stayed there for about two months. And I was one Looking through multifamily, so we were looking to acquire things from 15 units all the way to 30 units. But the thing is, we just couldn't make the numbers work on a lot of these deals. Even those Edmonton, like commercial Realtors would tell us it's a six cap, I'd run the numbers and I'm like, this is a forecast.
Erwin  
And what numbers don't jive? Yeah.
Antonio  
I was like, Okay, well, these don't work. But we have committed capital. And Kathy and I business partner, we don't want to close on a bad deal. So even though I spent two months over there, I flew back empty handed with no multifamily buildings.
Erwin  
Choosing no deal is still a decision. There's nothing wrong with that.
Antonio  
Yeah. So we ended up, what we found out was that duplexes and fourplexes the cap rates or the returns on those was so much better than these multi families. And what people the misconception people make is like, a multifamily is you get higher returns and stuff, that's not the case, you can make a high, much higher return on your money for like smaller, like assets, like it's easier to generate, it's easier to double your money if you have $1. Right? It's harder to double your money if you have a billion dollars. So the higher level you go, you actually work with more sophisticated people. Right. So then the returns actually become less.
Erwin  
And Tony, do you know Jason Mattern? If you don't, I'm gonna connect you. Okay, I'm going to connect you after this. I appreciate that. He's my realtor friend and Edmonton. So he does lots of duplex for like six bucks, eight bucks. New construction. Yeah. To me, it sounds like a brilliant model. Because I'd be doing that here. If I could do a new construction, small Maltese. I do it all day and fall lambaste?
Antonio  
Yeah. Well, I actually bought about four properties over there was they came in empty handed with Maltese, but it was like these smaller Maltese actually make a tonne of sense. So I bought four properties. So I was like, I gotta leave with something.
Erwin  
These properties part of the REIT or this read something completely separate.
Antonio  
The REIT is something that can still early days, but Kathy and I are talking about things just like we want to do bigger things, because what happens is, we can generate like 1,000%, or infinite return on I mean, like, these small group properties, but compounding, like $1, right? In the grand scheme of things, if that goes up, 10,000%. That's still not material. But if we can do bigger things, the absolute dollar amount is actually more and it's a material impact on are
Erwin  
pretty cool. Oh, I wanted to ask, so not many people who go to school for business to end up in real estate. Yeah. How did how did you find your way to real estate?
Antonio  
Well, it was just like I was telling you before, and I was following the formula. Whereas like, Hey, do really well in school, get a good job. And you're going to be wealthy, you're going to make it like people are going to love you afterwards. And so for me, I was just like, I'm doing the getting the good marks and doing the getting the good jobs. And I was finally there. And I started computing on like Excel sheet, hey, when am I going to be wealthy and stuff? And the the answer was just like too long, 50s or 60s. And I was like, I don't want to wait that long. And so there was a period of time where I was just like, my reality and expectations, just like shattered. And I was sitting at home and I felt really depressed at that time. So I was just like, I don't know what to do with life or anything. Because it was just like, what the game plan I was following was not the right game plan. So it was like I was following a map of Toronto, but I was in New York. And so for me is shattered to break that into reality. So after three months of being sad, I just went like how do I become wealthy? And the book that came out Rich Dad, Poor Dad, that book who gave it to you who gave it to you?
Erwin  
I just searched on the internet and bought it. What do you mean what did you search you search rich that poor dad and search what
Antonio  
I researched how to become wealthy being recommended for that. And so I was like, Okay, let me buy this book. And at the time was just like, anyone in like, I had a negative perception of real estate where you're like talking about flippers and you know, people talking about zero money down on things as just like, oh, this is just like all scammers. But once I understand the industry, I was just like, Man, this generates higher returns than anything that I've ever seen before. Yeah, and then so after that, I started reaching out to everyone I knew about real estate. Most people in the GTA were investing in condos. And I was like, This is not what you're not buying land. And, and you know, buy like this negative cashflow three $400 a month. So for me it was just like, I'm trying to help these guys with their portfolios.
Erwin  
Oh don't ya don't document these people. When you're like
Antonio  
21 year old trying to argue with people, they're just like, dude, this guy's crazy, like, yeah, that's funny, I'm making my condo. They're like, Get out of my face and then Okay, what else do I know about real estate and I was giving up because I talked to like five people went to lunch and dinner with them. And I was just like, well, if I buy this, I'm gonna, it's gonna be working even harder at my job. And so I went over to Kitchener with a guy that I had night classes with. And he was seven years older than me. And I'll never forget this got his kindness, because he had three or four properties at the time. And for me, I was just like, I was talking to him about real estate is like, I want to get in and different things. But I don't have money right now like, different things. And he's like, hey, it's only a we can do a deal together. Right? And I was like, how I only have 15k. And he's like, Listen, I have another friend that we can loop in, he's interested in real estate as well. And we could put a 5% down on a house with some renovations, and we'll split it three ways. It will work and I was just like, but like, what value do I bring to this guy. I'm like, I don't live in Kitchener, or Cambridge at that time. I still don't because it's an hour drive away from me. He does. He knows real estate. And he has the money to do it all himself. And I was just like, I don't bring any value. So in my head going on either this guy scamming me. And so, but I believed in his character, because I had followed his journey for so long, that I was like, This person is a kind person. And for me, I went with my gut. Whereas just like, if I lose everything, I could probably make it back. Right. And it would be like a lesson learned. So we bought a place in Cambridge together. And this was a duplex. And we split it three ways. And that was the greatest learning experience of my like thing because they pulled the trigger. And even though the closing date was thing, I still had the logical mind where it's just like, I don't understand all these things. thing. And I was just like, I told them, I was like, I want to back out of this deal, because I beat and they're like, listen, Antonio, like, this is a really good deal or blessing you with this, okay? Just just stay in this. Like, what will hold your hand will guide you through it. And at that time, I was just like, okay, and then we bought the property and then six months afterwards, I was still having cold feet is like I was like, oh my god these these guys. I don't really no, though. Ya helping me out. But afterwards, like, he was my first mentor. And honestly, one of the people that I always go in chat with him, and anything he ever needs there for him. You want to shout them out? Danfa topless. That's his name. I don't know Dan. He smells last name. FOTOPOUL. O S was impossible Greek names. I took me a long time to pronounce it. And so I have heard this duplex. You said right. How did it work out? It worked out well. While we actually Airbnb, the front and crazy. We are being deed, something five years ago. And then afterwards, we had a grandma in the back. And we didn't have the heart to kick her out. And so we just kept her there. And we said, hey, we're going to Airbnb, the front. Are you okay with it? She was okay with it. So we actually, this place was really close to the Cambridge mill, which a lot of people go to for their wedding. And so then we had a lot of guests from the US and different things come into our Airbnb, and we actually did really, really well. But the thing was, we didn't understand the optimization or anything for this Airbnb. So every year, it was just like there was more and more competition for Airbnb s. So the first year we made 3x of our rent. Then the second year, we made 2x of our rent. And then the third year was just like, hey, it, long term rental makes the same amount of money. Because we weren't improving. We didn't have the mindset to scale it into business. So yeah, that's what we ended up selling the
Antonio  
place to. Well, how long did you hold it? We have held it for about four years. Can you share? Actually, I usually ask my guests about their numbers on their first deal.
Antonio  
You know them I don't know the numbers for this one. Would you pay for it? We paid about 320 for it. What do you rent two for? We rented it for rents a little bit hard because your air b&b? Yeah. So in the another unit, we rented it out for what 1k. And then to the grandma, and then the front was, we made like 4.5k for Airbnb and long term rent would have been like 1.5. So,
Erwin  
three 3x two, Airbnb. Yeah.
Antonio  
who manage the Airbnb. Does this work? One of my other partners, his name was Tyler. And he is a realtor. And so he got his VA to manage it for us.
Antonio  
Yes. Do you still have to go in and clean and stuff? We got a cleaner to clean for it. Got it. And the VA the VA coordinated all that? Yeah. Fantastic. And then what you sell for? We sold it for 685. Oh, my God. Yeah. So what was your return? We had a very high return on that, because we only invested about I think in total, we probably only each one of us invested about like 16k Well, initially, we invested 12. And then we spent some money on maintenance and buying furniture furniture. Yeah. Yeah. CMS is 16k each. Yeah. Those 48k Yeah. For an over 300 grand returns. Yeah, we did well on that one. Why sell? Just one turn. You wanted to turn money over? Our partners were
Antonio  
in different stages of their life. And then we also didn't believe in the Ontario market anymore. Oh, sorry. Was this recent that you sold it? Yeah. So we sold it last year? Yeah. Returns look great on paper. But if you consider the market going up, all those years that we've held it?
Antonio  
Yeah. Yeah. Cuz I know when we illustrate. Yeah. Okay. So can you share what your numbers are looking like in Edmonton? Yeah, we I can share the most recent project that we bought. Yeah. Tell us. Tell us about it. It's an Edmonton is it? Can you name a neighbourhood? Yeah. So this was summer Lea. So this is I would say summer Lee. Summer. Yeah. Summer. Liesa. Summer and then we l e a one word? Yeah. Okay. Summer, late summer, Leah and admins.
Apologies to the Edmonton investors on this summer for more for mispronouncing no hate. We
Erwin  
love everyone. All right. Sorry, summer Lea, Edmonton, Canada. Yeah. What kind of house? What kind of property is it?
Antonio  
This one was, and I don't, I'm not going to know the numbers as well as my partner on this one. Because this one was actually I was guiding someone where they wanted to get into real estate. And then they were like, I gave them a really good deal where it was just like, hey, I don't have time to get in to the real estate because I'm working full time. And I'm doing a tonne of things as like, I'm willing to contribute half the capital, and you contribute half the capital. If you're willing to contribute the work, I'll guide you through the deal. And who's doing the mortgage? He was getting the mortgage. But I know that number is very high level. It's so we bought it for about 370,000. And this is a duplex. How old is it? Out the health the construction of the home? So this is a bill 1982 1982 syllable 40 years. Yeah,
Erwin  
this is a bungalow or it's like a side by side duplex.
Antonio  
It's up and down duplex. Okay. Yeah. And high level numbers, rents. Current rents are we're renting the top for about 1750. And then the bottom we're renting. The tenant just moved. But before Previously, she was renting for 1200. Those are pretty good numbers. Yeah. But this place is we would say that it was a kind of like a unicorn deal. Okay. Yeah. Because what happened was, I think that the seller needed to sell this place. So he listed on the market. And his offer date was actually April 14, which was right after the interest rate announcement of 50 basis points.
Erwin  
Sorry, hang on, you have to understand. A lot of people don't pay attention to what's going on in the world or economics. So yeah, yes, these things happen. Yes, I do. So I'm really I'm really picky. I'm timing. So Sorry, continue April 14, right. Which was like ever. Anyone who pays attention knew the market would go soft
Antonio  
that day. And so what happened was these guys listed it extremely low. So we knew they needed to sell it. Right. And it wasn't like people were listening. There's offer extremely low in Edmonton it wasn't like Ontario is more of a balanced market. So, the property we, the comps we got to was this property was worth 430,000. That's what we arrived at for our comps and our realtor told us that this was actually a really good neighbourhood. So every day couldn't even find comps, like the single families are selling for, like 490 in the neighbourhood. And so, but this was a smaller house than everything else that was selling, it was kind of the worst house in the best, like a really good street. And so I told my partner is like, let's hit them with a really low number, see how they react because interest rates just went up. So we told our realtor, we're like, hey, let's hit them with 370. And they're like, dude, I'm not gonna put in that offer for you. Like, that's just, you're literally spitting on their face. I was like, put it in interest rates are up, we put in the offer. And there was like, 20 people that viewed this place, and no one put in a good offer. So the seller actually accepted our offer. So we're like,
Antonio  
What is wrong with this place? Yeah, what's wrong with our realtor? Yeah, I was like, what, what's wrong? the selling side, not
Antonio  
yours. They accepted. I'm like, Okay, we're like, Okay, this place is probably going to fall apart. Like the foundation's probably screwed. Like, we're like thinking of all the worst case scenario. Home Inspector goes wrong. Someone died in it. And they tell us places really clean. And I was like, What is going on here? So we, we close it. And we've we've had it for about a month now. And it's a great property. Yeah, that one we're actually like, there is a person that reached out to us that does Airbnb arbitrage. And he's like, Hey, man, like if you let me Airbnb arbitrage to play a premium for this, and I was like, Oh, great. We don't have to pay for property management and you know, manage all of it. You'll be a great tenant. Okay. Sure. Someone in Edmonton or someone? Yeah, in Edmonton. Okay. Yeah, cuz it goes. Yeah, the key thing for me in Amazon was building relationships. So I built relationships with a lot of people that just did a lot of things in Edmonton
Erwin  
in real school. Yeah. I just met a gentleman on the weekend. Who has 100. Airbnb doesn't own any of the property. So same business model. Yeah. And he's doing extremely well. So I hope to have him on the podcast soon. Yeah, he's out of Nova Scotia. Oh, nice. But yeah, let's let's strategy that everyone's walking towards now. I know. But all these municipalities are cracking down. Yeah. But the thing
Antonio  
is, we have to keep in mind it's like, once everyone flocks to one market, or one strategy, like it compresses margins and profitability goes down.
Erwin  
Yeah. I posted about on Facebook yesterday, someone says I do middle term rentals. And I'm like, and you're gonna have a whole bunch of competition soon. It's all the short term is being regulated out. Yeah. All right. Like you said, you take away one thing you can't do. So this specifically, this was London, Ontario, you can't do under 30 days now. So now the market for over 30 Day rentals is gonna go off the supply of
Antonio  
it was crazy. It was just like, even for me it was just like the people on during markets. I was started investing in Cambridge in Kitchener. No one was there. Like you can pick up things and then I was just like, Okay, now it's really hot. So then I was like, Okay, I'll go to Branford now. Then bought in Bradford, then people start flooding that market. Then I went to London, Ontario. And I was like, okay, that and then I started going to Windsor. And I was like, I don't believe in the fundamentals here. And then I just couldn't and I were to tell burdens that.
Erwin  
All right. So you're a smart guy. What do you what do you like about Alberta in Edmonton? Economic fundamental wise.
Antonio  
Well, the thing is, if I told you that Edmonton and Toronto had the same house price, average house price, at one point, would you believe me? 1.0 a year? What year? Well, you were talking 1916 eight months? Yeah. So they had the same house price? No way.
Erwin  
Physical blip somehow. Yeah.
Antonio  
So what happened was, Edmonton stayed stagnant. But the GTA went up 3x. So I was like, okay, something's not bad enough here. So then I knew why that was because of oil and gas. So I was talking to a lot of my oil and gas friends in the finance industry. And they were saying that oil and gas is people are under estimating it like people are still going to use oil and gas because demand is going up every year. So I was like, okay, Alberta. There should be a good play here. And then I was also looking at incomes. So Alberta actually has the highest income out of any province in Canada. So it's like, okay, well, you have high income here. And then the prospect is really high. And then also, what you're getting is housing affordability. Everyone's actually moving over to Alberta, because they're the top growth province, because the housing is affordable. And they're starting to diversify away to renewable energies, and also tech. So I was like, Okay, well, they're not only reliant on oil and gas anymore because they've been burned so many times why Edmonton is because people think that Calgary is actually the capital city of Alberta, but it's actually Edmonton. So there's a lot of government employers there. And so even when things dip on oil and gas, Edmonton is the fastest city in Alberta to actually recover. So I was like, this is very, very solid. And then I went there, and I was just like, hey, this is a really good market. And when I went there, I flew out there last year, and I bought a duplex there because I wanted to test the market to see if my thinking was right. It was a very scary time, because no one was there. Like there was no one that was buying there. Maybe Calgary but not me. And so I was like, okay, things make sense. But maybe I'm wrong somewhere. So I bought that property held it. And then the reason why I flew out was because people started to, like, things started to go up again, like things started to go up. And when I was there every week, like the market would be shifting upwards. Right now Edmonton and Alberta. They're holding strong for their things. So year over year, sales activity is up like 3%, whereas the rest of Canada in May is like down like 22%. And in the GTA, it's actually down. I think 70% or 60%
Erwin  
capacity. So would you ever move out there to live? Honestly, like I do. The winters are great. The winters are not great. Because before we were recording, your work is virtual. Your work allows you to be anywhere, right?
Antonio  
Yeah. So it's virtual right now. And they have hired people from Alberta because there's a lot of tech talent there. So for me, it's just like, I would live in Calgary. Like that's beautiful over there. Even though they have some harsh winters. Right maintenance is like
Antonio  
it's like a London, Ontario but just bigger. So colder. I imagine. I went to school in London, so we didn't plug in cars for winter.
Antonio  
Yeah, they actually have pickaxes to get rid of the ice over there on their cars.
Erwin  
I'm not touching my current pitter axe. So yeah. Is that something you're considering as well moving out to Alberta Calgary.
Antonio  
So for me like I my family is all in on Ontario. So I want to one of the key things is I want to be there for my family and stuff. So I never actually move over to Alberta. Unless I can move all of them out there. But for me, I've built enough relationships and Power team that I can manage from a distance. Yeah,
Erwin  
fantastic. I hear about people moving to Alberta, but I don't know anyone personally does because the weather's harsh. The winters are harsh.
Antonio  
Yeah. Well, the U haul stat is in 2021 It showed that Alberta had the highest one way destination moves. Yeah.
Erwin  
It's crazy. So there's a lot of inflow of people over there. Yeah, I don't know. But when I when I hear U haul I hear that I think do it yourselfers so then that means if it's a do it yourselfer no different than a do it yourself renovation that these are people generally have a lower scale of income disposable income All right, so that's how I imagined going out there like I I'm completely open to seeing other data to show me tell me that sort of higher income people moving out there. Yeah. And also I wonder where immigrants are going well well immigrants from China in India, which tend to be our main sources of immigrants will they go to
Antonio  
you know, what n n u haul is like the people I've seen that are using U haul is just people that don't trust movers in the moving industry is really things but it's a lot of people that just do a u haul truck. It's it's not lower income people. It's just like, they're actually more sophisticated than people that actually hire cars because they want the control for themselves. They don't want their they want to manage the movers that put their things into the truck and they want to move things properly. That's what I see. But you might be right that there's a certain cohort that does do that.
Erwin  
They're young though. Wait till you're 30 and see how your friends move. I don't think any of my friends use u hauls they all use hard hard movers probably like premium people like to move as well. No, no, it's It's brutal. It's because we're old. We don't want to lift shit.
Erwin  
Young hustlers like you who run marathons for fun? will be like, Oh, it's a good workout. And some beer. Yeah, that doesn't convince me to do anything pizza and beer. Pay me to eat pizza and beer.
Erwin  
I will, I've had the benefit of being in the market a long time. So, Antonio, thanks so much for doing this. Any final thoughts you want to leave, leave the listener with?
Antonio  
I think the final thought is, there's two things where I live my life is just like, be kind to others. Don't be a jerk, and just work really, really hard to get good results. That's one of the things the second thing is always be questioning everything. And figure out the truth for yourself. Because the truth is sometimes hard, but it will lead you to the optimal solution.
Erwin  
I noticed that in your in what you've shared, is that you you ask a lot of questions. And I wish a lot more people ask questions because I feel like people who didn't ask questions are the people that are hurting right now in anything crypto stock, condos, pre con, anything? They didn't ask enough questions. They didn't ask questions like, What happens if the market falls apart? Yeah. What happens if at the assume ownership of this property and rent it myself? Yeah, right. And all those people that are having challenges these days, so Yeah, wonderful advice. I'm naturally inquisitive. Not as inquisitive as you. But it's get me out of a lot of trouble. Thank you, Antonio. Again for doing this Oh, and then you have a Facebook as well. Hey, see this Malabar properties kill. Let's say that right? Yeah, you did. Now where is the money tree? Oh, yeah. Malabar properties on Facebook, these search and find it and a Young Money underscore on Instagram. Yeah. Antonio, thank you again for doing this. Congratulations, all your young success. I have a feeling you're gonna be very successful in life. And good luck with read.
Antonio  
Yeah, thank you so much for having me on. Erwin. I am a big fan of your podcast. And this is one of the things that I definitely wanted to cross off my bucket list to actually be one of the ones that are speaking on it. So thank you.
Erwin  
Thank you. Thank you for listening. Before you go if you're interested in learning more about an alternative means of cash flowing by hundreds of other real estate investors have already then sign up for my newsletter and you'll learn of the next free demonstration webinar I'll be delivering on the subject of stock hacking. It's much improved demonstration over the one that I gave to my cousin chubby at Thanksgiving dinner in 2019. He now averages 1% cash flow per week, and he's a musician by trade. As a real estate investor myself, I got into real estate for the cash flow. But with the rising costs to operate a rental business, it's just not the same as it was five to 10 years ago when I started there. Forgive the cash flow reduces your risk. The more you have, the more lumps you can absorb. And if you have none, or limited cash flow, you're going to be paying out of your pocket like I did on a recent basement flood at my student rental in St. Catharines. Ontario. If you're interested in learning more, but it's true for free for my newsletter at www dot truth about real estate investing.ca. Enter your name and email address on the right side. We'll include in the newsletter when we announce our next free stock hacker demonstration. Find out for yourself with so many real estate investors are doing to diversify and increase our cash flow. And if you can't tell me I love teaching and sharing this stuff.

To Follow Antonio Yong:
IG: https://www.instagram.com/ayoungmoney_/
FB: https://www.facebook.com/MalabarPropertiesCo
HELP US OUT!
Please help us reach new listeners on iTunes by leaving us a rating and review!
UPCOMING EVENTS
You are the average of the five people you spend the most time with! Build connections with empire builders and trailblazers at our iWIN events.
BEFORE YOU GO…
If you're interested in being a successful real estate investor like those who have been featured on this podcast and our hundreds of successful clients please let us know.
It is our honour to give back and educate others on how we build cash flowing real estate portfolios using all the best practices shared on this podcast, from the lessons of our hundreds of clients and of course our own experience in owning investment real estate.
If you didn't know already, we pride ourselves on being the best of the best real estate coaches, having the best property managers, contractors, handy people, cleaners, lawyers, accountants, everyone you need on your power team and we're happy to share them with our clients to ensure your success. 
New investor or seasoned veteran investor, we can help anyone by providing our award winning coaching services and this isn't all talk.
We have been awarded Realtor of the Year to Investors in 2015 by the Real Estate Investment Network, 2016 by the Canadian Real Estate Wealth Magazine and again in 2017 because no one told the judges no one is supposed to win the award twice but on merit, our peers deemed us as the best.  In 2018, we again won the same award by the Real Estate Investment Network.
Hopefully being the most decorated team of Realtors in Ontario will make you consider us for your first or next real estate investment.  Even if you don't invest in our areas, there's a good chance I know who would be ideal for you. 
I've been around for a while, some Realtors are talented at servicing investors there are many with great ethics.  The intersection of the two, talent and ethics is limited to a handful in each city or town.
Only work with the best is what my father always taught me.  If you're interested, drop us an email at iwin@infinitywealth.ca.
I hope to meet you at one of our meetups soon.
Again that's iwin@infinitywealth.ca
Sponsored by:
Infinity Wealth Investment Network – would you like to know how our investors returned 341.8% on positive cash flowing real estate over the last five years? On average, that was 68.4% per year.
Just imagine what winning in real estate could do for you.
If you would like to know how we did it, ask us how by calling 289-288-5019 or email us at iwin@infinitywealth.ca.
Don't delay, the top markets we focus in are trending upward in price, so you can pay today's price or tomorrow's price.
Till next time, just do it because I believe in you.
Erwin
Hamilton, St. Catharines and Toronto Land Development, Real Estate Investor, and soon to be builder.
W: erwinszeto.com
FB: https://www.facebook.com/erwin.szeto
IG: https://www.instagram.com/erwinszeto/
https://www.truthaboutrealestateinvesting.ca/wp-content/uploads/2022/07/Antonio-Yong.jpg
630
1200
Erwin Szeto
https://www.truthaboutrealestateinvesting.ca/wp-content/uploads/2017/06/TruthRectangleLogo.png
Erwin Szeto
2022-07-18 15:13:40
2022-07-18 15:13:44
Failing Grades, Fighting at School to Top 10 in Class, 11 Properties at Age 27 With Antonio Yong