Dos and Don'ts From a Real Estate Investor/Lawyer Hussein Kudrati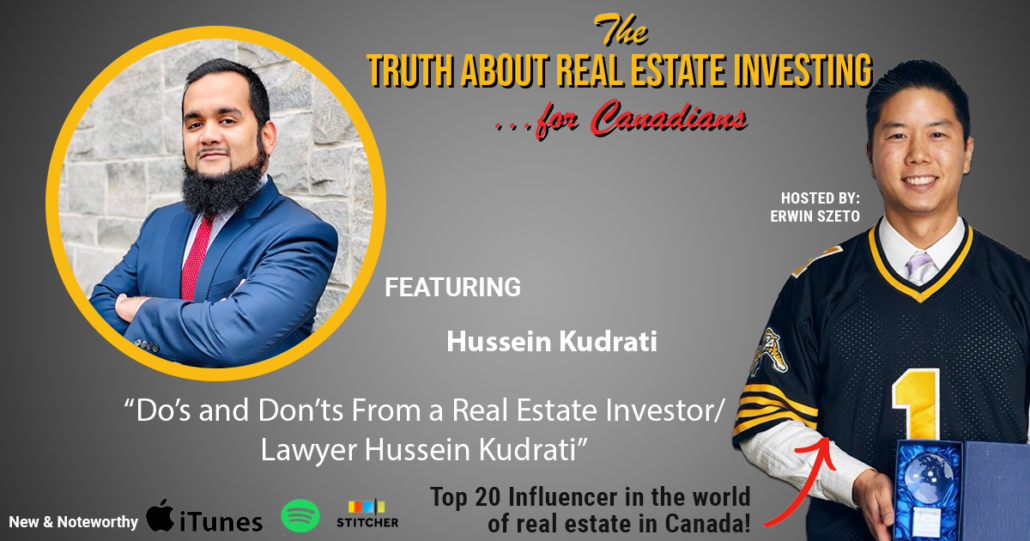 How's your summer? Making the most of it?
As Jessie Itzler, our keynote speaker for the Wealth Hacker Conference says, "Summer Hard"! 
No one includes September as part of summer, so we really only have 8-9 weeks of summer to enjoy and create memories… Especially after two years of locked-down summers.
When was the last time you saw your mom? For me, it's been since 2019, as the lockdowns in China are tough, but she finally made her way back from Hong Kong to stay with us for a while.  
I haven't seen her for over three years, and my parents aren't getting any younger, so we'll be looking to enjoy this season.
 

 

View this post on Instagram

 
Couple of weeks back, the kids were at a week-long overnight camp while Cherry and I were at a friend's cottage. It was a whole week without kids, so we caught up on sleep and worked less, but yeah, we still worked while on vacation; such is the life of an entrepreneur…
And some of it's fun; I met up with a bunch of Belleville investors, including HGTV's own Stephen Phillips, for a round of golf and a tour of Belleville for investment properties.
Why Belleville? Much of who I consider the smart money in the Durham region are investing in Belleville; hence I'm doing some R&D: rip off and duplicate. 
For example, our clients picked up a large bungalow on a good-sized lot for $400,000, i.e. prices we paid in Hamilton back in 2016; hence opportunities for cash flow are greater.  
My whole team of investor coaches: James, Tammy, Jamil, Chris, Tim, and Stephen went. Stephen is local to Belleville, so he hosted us in fine style, a private dinner in the country made with local ingredients, we drank local wine, and nothing beat the company.
I know I had a blast!
After seeing the opportunities in Belleville, we'll run another tour soon, so if you're an east-of-the-GTA investor, you need to put this town on your list!  
This current environment is the best opportunity to buy since the crash in 2017, where prices doubled almost five years later.
No one knows what the next five years hold, but all the smart money I know and follow is bullish in the long-term and cautious in the immediate term.
Speaking of smart money, we have one of our lawyers, Hussein Kudrati, on the show who is an active entrepreneur, real estate investor, stock investor and comes from several generations of successful entrepreneurs, real estate and stock investors.  
Dos and Don'ts From a Real Estate Investor/Lawyer Hussein Kudrati
Hussein is a trusted advisor to Cherry and me since he understands the problems faced by families with assets; hence he prepared our wills for us and handled our most recent refinancing of now five properties.  
That's right… We're freeing up capital and improving our cash flow to be ready to take advantage of these dips in the market.
Hussein knows a good investment when he sees one; hence he was one of the first to sponsor Cherry and I's Wealth Hacker Conference.  
If you, too, are interested in sponsoring, please reach out to us by responding to any email you receive from us.
Hussein and I discuss several topics, including what investments he likes and absolutely refuses to assist clients with (yup, those investments are just that bad), how someone as successful as himself wants to raise humble children, and investing in physical gold.
As always, it's fascinating to pick Hussein's brain, so please do enjoy the show!
This episode is brought to you by me! We don't have sponsors for this show, I only share with you services owned by my wife Cherry and I.  Real estate investing is a staple in my life and allowed me to build wealth and more importantly, achieve financial peace about the future knowing our retirement is taken care of and my kids will be able to afford a home when they grow up.  If you too are interested in my systematic strategy to implement the #1 investment strategy, the same one pretty much all my guests are doing themselves, then go visit www.infinitywealth.ca/events and register for our next FREE Online Training Class.  We will be back in person once legally allowed to do so but for now we are 100% virtual.
No need for you to reinvent the wheel, we have our system down pat. Again that's  www.infinitywealth.ca/events and register for the FREE Online Training Class.
This episode is also brought to you www.stockhackeracademy.ca where everyday real estate investors learn the best practices in stock investing to earn cash flow in about 15-30 mins per day from their mobile phones. After real estate, Stock Hacking is the next best hustle as you've heard from many past guests on this show. Among our students last year, 31 trades were shared with them. 30 were profitable for an over 96% success rate and 12% return on capital. I will be giving free demonstrations online, very similar to the one I gave my kid cousin, a full time musician and he just made 50% return in 2021.  Past of course does not predict the future but if you'd like a free demonstration go to www.stockhackeracademy.ca in the top right, click FREE Demo.  At the demonstration I'll have special bonuses. We do not advertise publicly for all my favourite listeners and I only have two more demos to give in the next few weeks.
Don't delay www.stockhackeracademy.ca, what I consider the future of side hustles with real estate so unaffordable for many.
We're hiring!
Just a friendly reminder that we are hiring more investment Realtors who want a full-time challenge to help our clients, regular everyday people, mostly from the GTA, invest in the top investment towns west of the GTA. 
This is for driven folks who want to multiply their current incomes.
APPLY HERE: https://www.infinitywealth.ca/hiring
To Listen:
Audio Transcript
**Transcripts are auto-generated.

Erwin  
Hello and welcome to another episode of The Truth about real estate investing show. How's your summer going? Are you making the most out of it as just the answer? Our keynote speaker for the wealth hacker conference says summer hard because no one includes the timber as part of summer. Technically it is. But people go back to work in school and some separate September so it's not for many part of their summer. So anyway, there's really only eight, nine weeks of summer to enjoy and create those memories, especially after those last two years of lockdowns. When was the last time you saw your mom. For me it was as it was 2019 as lockdowns in China in Hong Kong are tough. But finally she made her way back from Hong Kong to stay with us for and with no return date. I haven't spent mom in over three years and my parents aren't getting any younger. So we'll be looking forward to enjoying the next couple of months with my mom and making memories. So yeah, summer hard out there. This week. Our kids were at the cottage sorry, not on a cottage. They were at an overnight week long overnight camp, while cherry and I are at Cata cottage at a friend's cottage so we had a blast. We had a whole week without the kids, which was weird. We did miss them of course. But we talked about opportunity to catch up on sleep. We were working less working less but still yeah still working while on vacation, such as the life of an entrepreneur. And some of its fun. I got to meet up with a bunch of Belleville investors, including HGTV zone Stephen Phillips for around a golf and a tour of Belleville for investment properties duplexing and other development opportunities. Why Belleville because much of who I consider smart money in the Durham Region are making the trip to Belleville to invest. Hence we're doing some r&d rip off and duplicate that research and development. For example, clients of ours picked up a large bungalow on a good sized lot for $400,000. Those are prices that we paid in Hamilton back in like 2015 2016. Hence opportunities for cash flow are greater. Even though the prices are what we used to see you like 567 years ago, the rents are quite high. So again, great mix of more affordability and greater cash flow potential. My whole investor team of coaches we all make the trip out. James Tammy Jamil, Kristen, Tim and of course Steven Steven HGTV Phillips hosted us. Steven is of course local to Belleville, so he host us and find style. We had a country's private dinner country style private dinner made with local ingredients and we drink local wine and nothing beat the company I had I had a blast and after seeing the opportunities in Belleville, there's nothing more than joy in life than that great company and around, especially with like minded investors who you know are action takers and wanting more out of life are driven. And also of course, investment opportunities. So we'll run out another tour soon. So if you're east of the Greater Toronto Area, you need to put this town on your list. Come check it out. Likely it's new to you. Towns are only 50,000 people. So unlikely any of your listeners are live to live in Belleville. So if you're new to town, you definitely want to get in touch with someone who knows the area and knows contractors and knows property managers and knows what what the opportunities are. You definitely want to reach out to our team, especially since we have Steven Phillips on the team. He has been featured in or made appearances. I think this term whatever he's been on HGTV like 2426 times anyways. But in this current environment, this is the best I've seen in the market in terms of opportunity to buy and cashflow since the crash of 2017. And for those who remember studied history in 2017, you know in the summer of 2017, and that was probably near the bottom. And since then prices doubled almost five years later, what the next five years health have in store for us I have no idea nobody knows. But all the smart money I know and I follow are bullish long term and of course cautious in the immediate term. Speaking of smart money, we have one of our lawyers who think of droughty on the show who is an active entrepreneur, real estate investor stock investor, who comes from several successful generations of entrepreneurs real estate and stock investors, who seems is a trusted adviser to Chennai since he understands the problems faced by families like our own who, who have assets and businesses just to care about preparing futures for hence he helped us prepare wills will wills whatever.
Erwin  
He's helped us with our family, family, future estate planning whatnot. And he's handled most of our recent real estate transactions including the refinancing of now five properties we refinance finance three and then we just now we just refinance two more. That is right. We are free of capital, improving our cash flow positions, ready to take advantage of these these dips in the market, both stock and real estate and crypto. We've seen it as a good investment when he sees one hand sees he was one of the first to sponsor cherry nice wealth hacker conference. If you too are interested in sponsoring, please reach out to us by responding to any of the email has received from us, or just reach out to me over social media, Hussein and I discussed several topics, including what investments he likes, and absolutely refuses to assist clients with. Yeah, those investments are just that bad. He won't accept your money to help you to help you with them how someone as successful as himself wants to raise humble children, investing in physical gold of Ghana. And of course, we're talking about real estate investing and stock investing. As always, it's fascinating to see his brain so please enjoy the show. Having seen your own horror, you are excellent. What's keeping you busy these days?
Hussein  
Not enough golf. That's for sure.
Erwin  
Not enough. We were just out yesterday, last this week. Yep. What's enough? What is enough,
Hussein  
I'd like to be playing twice a week, twice a week. But in all seriousness, works, keeping me pretty busy. And I welcomed the new addition to my family a few months ago. So that's also keeping me busy. Being a father of two now is its own unique challenge that I'm really enjoying at this time.
Erwin  
You seem surprisingly awake for having a newborn at home. I have
Hussein  
a wonderfully supportive wife and very caring parents.
Erwin  
Are your parents doing? They're enjoying
Hussein  
their loving grandparent life? You know, they say nothing better. Right.
Erwin  
Can I ask how long they've been retired for? Are they technically Would you consider them retired?
Hussein  
Yeah, I would say they've been retired. I'd say that they've been fully retired for the last five years, I would say, Okay, I mean, they still have their interests and their ventures that they do from time to time. Right. But it's now more passive, you would say, more philanthropical if you will. Right. But fundamentally, their focus and their time commitment is largely dedicated to being grandparents now. That's pretty cool. Yeah, I mean, there's nothing I mean, as you know, especially from our cultures, the influence of a parent on the next generation is the grandparent to the grandchild, is the best way to inculcate them with the values, the traditions, the morals, the ethics, that you want them to have, right. And for me, I'm very fortunate that my parents have graciously agreed to assist with those objectives. It also allows me to have free time to pursue still things that I enjoy. While not they completely abdicate my responsibilities. But I really enjoy the ability to focus on building my law, practice networking, and building my connections within this community. Because, in truth, I've only been in this community for the last six years, which is not the longest time and especially when you had zero connections coming to this community. It's always a work in progress this early to keep building your network and your connections, not just from a professional perspective, but just from a personal because it does take a village to live life event. And I want to build those relationships, I want to have those networks. And I want to create a stability and a foundation that if my children want to stay in this area, they don't have to start from scratch, and they have the advantages of you know, parents are established in the community.
Erwin  
That's funny, because you could choose any community that you choose this bunch of crazies.
Hussein  
Honestly, I truly love it here. I think the quality of life that's offered here, as long as you make smart choices, and you still have to work hard, it's not handed to you. But the quality of life here to practice, whatever career you want, whatever religion you want, whatever lifestyle you want. I think it's something that as Canadians, I think, our generation and the generation coming up, takes it a little bit for granted. Like the quality of life we can have the freedoms we enjoy, are not appreciated. And I want to make sure that at least I do my part to instil that and like, for example, not to get political, but the recent election, right. I wasn't thrilled with the choices available, or federal provincial election that just came. I wasn't thrilled with the choices available to anyone was based on the voter turnout. But I appreciate the opportunity to still have a say. And so I insisted on taking my daughter with me. She's still below five unvaccinated right now, but I still wanted to take her with me to you know, to experience that to know that it's an important step to take, you know, and it's a privilege to be able to exercise your world.
Erwin  
Did you explain your daughter who you voted for? And why?
Hussein  
No, because it's my job is to teach the importance of voting not to influence our political ideologies. That is something I want her to form for herself.
Erwin  
I know but even to educate, you need to say something. These are the three main parties as far as their platform,
Hussein  
there will come a time when eventually I would hope that she would take the time to be informed actually read the platform's not just go with what the talking heads are saying. And actually make an informed decision and vote for your interest because we see this happen it In the US, and almost everywhere in our where people have the privilege to vote, they go with the talking heads they don't actually vote with. How does this make my family's life better? Which policies advance? Us? No one thinks like that. It's too much black and white. And the reality is platforms are grey. And you have to identify,
Erwin  
yeah, and it can be largely lies to you Sure.
Hussein  
I mean, politicians say one thing to another. We all know that to be true, but at least when you're voting these vote with something otherwise, what's the point? Yeah.
Erwin  
Nachi. I usually ask other people that are there. It's a Tim Ferriss model, right? Yeah. You as someone who that's who's smart, and well read on the subject, if you have similar values to them, like, for sure. Oh, yeah, I had the toughest time trying to at least try to give like the Coles notes to my kids. We rode our bikes to go vote. Chair and I insist on voting because that ensures our right to complain about what happens. Because my thing is, if you don't vote, you don't have the right to complain. So yeah, I rode my bicycle with the kids and just trying to Coles notes, because they have no idea what that what's going on when we the NDP or what they stand for whatever. Anyways, that's funny. Anyways, I want to go back to your parents for just another moment, just because we don't have much opportunity to have people on the show who are on the other side of hustle, right? We're your parents worked hard.
Hussein  
Yeah. My parents, my grandparents and my great grandparents, like they worked hard. And they all sacrificed to some degree for their quality of life, because they wanted to set up future generations. And this is when I talk about importing values, it's that you could focus on having everything for today, or you could focus on this much is good enough, because I want to leave a legacy for tomorrow. And that's a choice that everyone has to make where that boundary lies. But I know that like I was fortunate to be privileged enough that my forefathers and foremothers were disciplined enough and motivated enough that they maybe did not enjoy all the day could enjoy. But they took enjoyment in the thought that my future generations will have more options. And I think that's what we all want for our kids is that they should have more options. And that they should be able to pursue with hard work, what they enjoy, versus doing something simply for the necessity that this provides me a paycheck to put something on the table. And I think that's the motivation, right? It's about and I find that, you know, today's when I'm when people say like, what's your advice, and I'm like, work for your passion, right? Because often I find if you work for your passion, not everyone, but you will be able to get to a point where the money will flow, as long as the idea is solid, and your passion is solid. Because hard work is almost always rewarded. I find, especially in this country, too, I still maintain that if you work hard, and you are committed, disciplined, educate yourself, which is all part of hard work, you will get somewhere and the financial rewards will come. But also plan for tomorrow, save right? Like Canadians right now have record saving simply because property prices are still at ridiculous highs. But my question is, is where would your savings be if you took out your real estate value from there, and you have to have a hedge, like we've seen the softening in the real estate market, to some degree in some areas, and people are understandably stressed. And it shouldn't be that so much of your wealth is tied up to real estate. Because while it's a great tool for wealth generation and everything else, liquidity is also important. How are you taking advantage of opportunities? How are you also going to be positioned in the event that life throws you some curveballs, whatever they may be, you have to have some liquidity and you don't want to have to sell properties. Like imagine if you had bought a property in 2019. You did you've done really well, you're still up, but it's gonna sting. And I find it hard to believe anyone who tells me otherwise, that if you didn't sell in February, and you have to sell in April, or may you know that you've left money on the table from the peak right? So you never want to be in a position to be forced to sell it should be that it's a choice. It's you want to be the master of your own destiny.
Erwin  
And I want to say that this this correction or having as came faster and harder than I expected.
Hussein  
I think then a lot of people expected right because I mean, and it's also surprising to me to some degree because the rate increases what telegraph people have been talking about it coming coming coming but for some reason it still caught people off guard
Erwin  
well I asked to add to that the run up was caught me off guard to how hard and fast and hard in the run up was was well for like December for January, February. Yeah, I mean, that was crazy. Because it was it was predict all the economists were saying you know, the trigger point for this tick box trickle down will be the first interest rate increase. Alright, so my teens followed and we've known
Hussein  
it's interesting again, I mean, you know, who has seen them real estate market do as well as it did during COVID? Two, right, people would have thought people have been hesitant uncertainty around it, but it didn't stop anything. You know, it ran on steroids
Erwin  
when people were just bored. I have all this time for a side hustle. Now. This is an income property.
Hussein  
Exactly. I think investors are a big reason that the property prices got driven up so much, because I don't think it's first time homebuyers are buying it right. They're the ones kind of suffering right big time or this market.
Erwin  
I feel so bad for them so much political rhetoric and was around supporting and making, you know, making programmes available for the first time homebuyers benefit. You know, like, like waving the land transfer tax in Toronto, being able to use your RRSPs and stuff like that for to borrow for your first home. And they're Yeah, they're the ones getting whacked. And this because we were discussing on the golf course, like what your experience is. So for example, we had a guest on just few weeks ago, who does mostly regular real estate with regular agents, regular real estate, people buying and selling homes. In his experience, there's lots of trouble closing, appraisals are coming in low. So then homebuyers who bought near the peak around the peak, they don't have enough downpayment to cover. So So closings are being pushed, some people are walking away trying to walk by or some buyers are walking away. And our experience here of working with our clients is extremely different. Every time we're together. We're talking economics and what we're seeing in the market. And our caution, right, like, for example, in this market, like our criteria, our investment criteria is so different as and we want multiple exit strategies and multiple ways to improve a property. So I prefer example, in this market, I want to be able to be able to basement suite, and ideally garden suite as well. Right? Unfortunately, we're picking up the pieces for another investor who is working with someone else who doesn't have a good read on the market realtor that doesn't have agreed on the market. They bought a property in April, May, that had no exits, the sort of vanilla single family home, can't speak the basement, can curtain suite, and they were paid for it. Anyways, my point is, what are you seeing in the market in terms of like closings appraisals? And then also I had to ask, start with that sort of that?
Hussein  
Well, I mean, we have a couple of clients that who are selling, who already bought and now are selling after the fact that bridge, and their buyers are potentially going to walk away, or have at least indicated that they may have trouble closing one of them sent a letter asking for a $60,000 price reduction. When I mean, our client basically told them, you know, wow, I can't say this in polite company, their response. But that was their response, then I have another one that basically is the trying their to get an extension to the deal, because they're to bring in foreign money from their parents abroad to help bridge the appraisal gap.
Erwin  
And these investors are these regular homebuyer and my understanding
Hussein  
is these actually like buying principal residences, regular homebuyers, or just, you know, caught with their pants down a little bit, right, because in both cases, their appraisals came substantially lower than what they bought the properties for. So they're panicking, understandably so. And my clients, the knock on effect is there as well, right. Like, I've already had to connect my clients in preparation with litigators, because you also have to move fast, because you have an obligation of mitigating your damages, and so on and so forth. So you got to make sure that you're set up to have that success. So that, you know, when this goes before a judge has it, may you have done everything, right, I want to basically create, like, you know, the perfect platform for them to recoup and mitigate whatever stress that they have in their life. So that's the one side but for the most part, I would say that my clients have been okay. And that they're, in fact, I see a number of them taking this opportunity to identify deals and are actually quite aggressively purchasing, some of whom are mutual friends, you know, who have done very well for themselves during this market. So it's all about identifying where the opportunity lies. And the conviction of your business model, like, you know, and most of our clients is barriers or investor oriented, and they're okay, because they just have had to adjust their numbers, make sure that thing deals make sense. And as long as they're doing that, they're going to be okay, because you have to remember this right. One, based on the immigration numbers coming into Canada,
Erwin  
we just set a record for this quarter for the highest immigration ever
Hussein  
in new units coming online. Or just the correlation is just not there. There's far more people coming in to put pressure on the market. Investors have been in the game for Few years now have done exceptionally well. They've got a lot of equity. So they've got a lot of firepower. Even with rising interest rates, they have a lot of firepower and those who know how to use jayvees. Effectively. Again, there's a lot of people who've learned how to use these tools in manners that can move them along. So I don't see prices falling, because I think the pressures are there. Now certain areas, maybe because they're just not desirable. But I think core fundamental locations, as long as the location is good, I think the opportunity is there again, do your own analysis, do your own risk tolerance, run your numbers, I am in no position advising somebody, I'm not saying go buy right now or anything. I'm not saying go sell anything. I'm saying analyse your situation. And be I always tell people be nimble. You can't be static and flat footed, in investing in any area, whether it's real estate, stocks, whatever you're investing in business, you have to be nimble, you have to adjust, right? Like if you if you own a canning line, for example, even that, like you got to be able to know like, how is the tech changing? How can I get more efficient, right? Because if you have to pay higher salaries as wages across the board have been going up, you got to recoup that somewhere else, because fundamentally, nobody wants to be hurting their margins. And you don't want to be fast, because when you pass on cost to your customer, there's always addressed that they might go and start looking for somewhere cheaper. Yes, you hope that your quality of service, your history of relationship matters. But if someone's willing to do something for cheaper, money often talks
Erwin  
often talks to winning earlier points about being nimble, a mutual friends of ours are doing the same thing, we're talking about being a bit picky in terms of what you're buying. So for example, I was talking about, I want multiple options to add value to my property, we have mutual friends who are doing several and built, right, so the buying a double wide lot, the severing it down the middle, basically, to create now to lots and then building on the now empty lot. Right in that deal was not available six months ago,
Hussein  
because they were going for the numbers would make sense, right. And now with a reduction in pricing, the numbers start to slowly make sense. But again, it's important, it's important to make sure that you get the right help talk to experts. And make sure when you're getting into the game for new investors, get your performance evaluated. And then after you go evaluated, get it evaluated again. Because the worst thing is in your first one, if you get burned and you lose your savings, yeah, it'll set you back. So make sure you take the time, pay, you know, take people out to lunch, you know, whatever it takes, but get them to give you the time to actually intelligibly review that pro forma for you.
Erwin  
For listeners benefit Hussein and I are available if you're a member at rattlesnake or a joke, I'm talking about the premium golf golf courses. I just I just I forgot where I was going oh, and like to your point about protecting your your savings, your investment capital, I cannot believe the things that people putting money into. And you've seen, you've seen some crazy pooled investment funds that people are putting their money into without, I'll say it actually there's a there's an article on the Globe and Mail just about two, three weeks ago about how all these investors are investing on stories rather than any sort of the businesses are the leaders ability to execute on their vision and performance.
Hussein  
So and I see this very respectfully, I don't mean it insultingly at all, but I call it the lemming mentality. They're just following along. Because that's what everybody else is doing. They've heard Oh, well, my uncle did this, my arm did this. And my friend did this. And whatever it is, and they just go into keep going in and in and in and into these ventures. They don't understand the project, they don't understand the rate of return, they don't understand who is actually the person driving it. And they don't understand the fees that they're paying on the capital. I've seen some of these proposals from some of the bigger name players out there. And they have like acquisition fee development fee, like they have a fee for literally everything. And I will say that if you have the capital, right that these people need, because ultimately they need your money. Yes, they aggregating it together with other people for you providing them a need to negotiate, negotiate for yourself the best deal you possibly can. And also have a firm understanding. Your question always should be how do I get my money back? Even if you don't get a return? Right? But at least make sure you get your principal back. You and I have both seen stories where people have lost their principals forget their actual return that they were hoping to make. But they're not even getting back 100% of their principal. And in a real estate investment with the way the market has been for the last four years. That's inexcusable.
Erwin  
How does it happened?
Hussein  
Right and that because you didn't do the due diligence, you just trusted what other people are saying. Remember, nobody looks after your money. The way you would look after your money. So take the time to ask the questions. And again, like this might seem like I'm trying to generate business for myself, but having a lawyer review like these agreements, what's it going to cost? Maybe anywhere from 350 to seven or 50 bucks. But when you're investing 50,000 100,000 200,000, what is that value compared to what? That peace of mind that someone who is experienced and seasoned is telling you this is worthwhile? This is worth doing? Or no, don't do this. Because I can't tell you the number of times LPS jayvees. I've had to tell clients, mortgages, private mortgages, we have to actually review and I showed the clients it because they're like, Oh, well, look at this. I'm getting speaking to private mortgage, I'm getting 7%. Unbelievable. And I'm like, Yeah, you're getting 7%, which have been 4% in fees. So what is your actual rate? It's 11%. And they're like, Oh, I didn't know that. And unlike read it understand what you actually paying, always understand the bottom line, and then make a decision. If you're then okay with it, at least you've made that informed decision, right? So therefore, there is no surprises, you might still be okay with the return, then that's fine. But know that this is what is actually costing you. This is what your money is worth. And this is what you get and how much they're making on your money. Always understand that everyone has a right to make money, everyone's in this to make money. But understand the ratio, how much are they making? versus how much are you making on your money? Keep that in mind? It's still your money? Yes, they identified a project, yes, they had an idea. But it's still your money or
Erwin  
activity for recording. And we're not going to name names, we're talking about a large syndicated mortgage that pulled a lot of money together. And they're paying fixed interest rates to the investors. And what the, what the developer was doing was they had to develop land, right, and to bring it ready to shovel a shovel ready, and maybe even build some stuff on it, I find a lot of people do not have enough context, like the saying is, it's all relative, right? And how bring it to investment terms is every investment relative to another. So for example, in the syndicated mortgages, these pooled funds for developments, like it was paying like 8% a year. And then if everything went, Well, you get another 4% per year on the backend. But then for me, judging the risk of what the development was doing that return, if everything went well did not make sense to me,
Hussein  
can this and that's the other thing, like the rate of return has to be relative to the risk, your money's assuming development has inherent risk is 8%. Sufficient for the amount of risk your money is taking? You know, and because developers like especially smaller ones, who don't have a tracker, so that's a thing always check track record. And relating to that, for the small ones, if something goes wrong, they're going to be delayed paying you out? Where are they going to get the money to keep paying you these returns, the risk of them going under is lower. So you have to think about what can you get upfront from them? Can you get a lending fee? Like, you know, is that available to you think about what options are available to you to structure it to make it in your favour.
Erwin  
And then I don't think enough people understand like my money secured on where the second mortgage on the property was a second mortgage mean, there's that question to ask. And then the question I ask is, even if things go sideways, how long it's going to take to get your money back. If you can get your money back
Hussein  
and understand LTV, understand how LTV is being calculated, and make sure you're not being fooled in the way the LTV is being calculated, right.
Erwin  
And from my experience from these deals have gone sideways, the appraisals were done, appraisers were done based on finished value versus current value, current appraised value. And so then LTV was loan to value was completely inflated. Exactly right. So but again, I don't think beginners know enough to merely make this analysis. And that's why I like talking to you. Because there's a bunch of lawyers who won't give opinions on an investment. Sometimes they don't have the context. Like for example, if they're new grad, they won't have the context to say I've seen lots of these deals go sideways, right versus you see lots of stuff go sideways.
Hussein  
Unfortunately, I wouldn't say lots I've seen enough that I know not just from my legal capacity, but just from being informed and be informed I care I care about. It's like a hobby, right? Everyone has a hobby. For me Finance News, how markets work, how the economy is performing. It's like a nerdy interest for me, right? Because, one, I'm actively involved in this space, not an interest in stuff because I mean, that's for as you know, for personal or religious reasons that's out of context, but from just in how to invest in ways that you know, generate returns because ultimately, the way my ancestors left things better for future generations. That's what I want to work hard and make things better for my kids and my grandkids and you know, and leave something for them that's built in a way that solid and how do I do that? If I'm not informed? I don't erect not just what I'm working hard for. But what's been done privileged enough to have been left behind by people that come before me I have an obligation to safeguard and grow. And that only comes from being informed.
Erwin  
Then an interesting about your story and journey is that you have the benefit of, of coming from multiple generations of investors, entrepreneurs, business builders. On this show, I think we rarely have someone who's beyond a second generation investor, and as reading psychology and money in the book explained how, like, for example, RSPs are not that LOLed Rs, what do you remember when RRSPs or 401k? Is became a thing? 70s 80s?
Hussein  
I would have to assume maybe 60s.
Erwin  
Right. So my point is that the concept of saving for retirement is not that old. Really? No. Right, let alone investing.
Hussein  
But the concept of retirement itself is quite new
Erwin  
people died younger back then. So they didn't have to worry about the
Hussein  
worth. I mean, think about it, right? Like, I mean, the old farmer types, given that we see them, right, the 8085 90. And they're still going in tilling the fields. And you know, they still care, right?
Erwin  
I point is, and I don't know, oh, you told me, I'm always thinking about the future. I like a little bit of neurotic about these things. Like, like, for example, I have a nanny. And my plan is to keep her until I need a nanny is my boy, right when I'm at I'm not telling fields. But I've planned for these things like financially my investments plan. Yeah. I don't find enough people are planning for use it tomorrow. But really, we mean, yeah. I mean, 3055 generations down the road. Yeah. Are we anomalies? I think probably not amongst your clientele.
Hussein  
Even then, like I see there's a mix. I wouldn't say we're anomalies. I think there are lots of people who are genuinely trying to create financial freedom, wealth, freedom, however you want to call it for multigenerational, and they're working in their own way towards it. But I think there's a lot of what is a social media age, and I don't want to sound like an old grandfather on this, you know, back in my day, because you're young. But having seen that I find is a great desire for instant gratification. There's this great desire that I mean, x on this deal that said, I'm going on a vacation to Bali, I made x on this deal. I'm gonna get myself my luxury sportscar. And it's like, okay, you got all your vacation to wherever you got your luxury sports car, you got your fancy watch, you got all these beautiful things you've gone and bought, what have you actually left in the bank that if tomorrow, God forbid, you got hit by a bus, and you couldn't work anymore? And you need care? What do you have left? Can you afford it? What is your quality of life going to be? If suddenly you cannot work and you cannot do anything? And people don't actually want to stop. They say it's more but they say oh, it's negative thinking, oh, you know, you're manifesting failure. I'm like, It's not that it's a in my view. It's only by the grace of God, or whatever you believe in, or if you don't believe in anything, whatever. But it's luck, that you have health, that you have opportunity that you're in Canada, like, it's all so much of our life is luck. And I'm like, we can't just apply luck to 100% there's already so much luck in what we do and where we are. That you have a responsibility to wonder and ask yourself, what is that luck changes? What does my life look like? And I motivate myself by saying that even if my luck changes, my parents, my wife, my kids, my grandkids, they're gonna be okay. And myself too. You have to look out for yourself you can't always be about others to you know, you have to look out for yourself, will I be okay? Will I be able to get whatever care I need? If something happens to me, will I be able to still have the quality of life to pursue the interests that I want to pursue? And all of that costs money and it's only getting more expensive? So if you're going and spending every there's a time and a place I'm not saying don't enjoy luxuries, and don't have a good life at all. Go see the world go by yourself whatever you want. But make sure you're still planning and being proportional in what you're doing. And I just find this too much off. Oh, well the next deal I'll save but that next deal I'll save never seems to come
Erwin  
for an exercise just to understand our clientele and business. I was going down my client list especially are our clients had been with us since for like over 10 years and whatnot. And funny observation they made was how much our clientele is just like in the book, The Millionaire Next Door. Our clients are frugal people. They don't dress with Flash. They don't drive cars that almost none of our cars have premium vehicles as in like, you know, Acura Lexus Tadelakt, right. Almost none of them do. And even if they do, often they probably bought it used. And again, looking at them, you never know they're, they're real estate millionaires. But again, yeah, a lot of them are very frugal and And the reason I share this is because those with SEC financial success to people who aren't sort of posting on social media, how much flash and dash they have. That's true by rich clientele are they be sharing was nothing on social media about how successful they are financially? Like it's interesting. Why do you need to you don't need to.
Hussein  
But I always ask myself when I see it, I'm like, What is this person trying to show me? Right? And I'm not going to form judgement and pass it. But I always ask myself that question. Regardless, when people post on social media, I see the physical of the obvious of what they're trying to show. But I always ask myself and within myself, what are you actually trying to show me? Right? And each have their own, everyone has to live their life and how they want to do it. But personally, it's I find it very curious.
Erwin  
For example, I have lots of clients will come on the show, because of that private, and like, Oh, I'm not special, blah, blah, like, I'm like, look around yourself, and tell me who's richer in your inner circle? Right? For example, if a client is a teacher, a retired teacher, like, do you know when teachers are at a higher net worth than yourself, and they don't want to share, right, and my point to them is, you're not gonna inspire anyone if you don't share. So that's my point. My observation of law in human behaviour is people won't do things unless they think it's a it's low risk, and they think they can do it. So literally, actually, now that I remember this, that's the kind of same kind of talking about the retired teacher, another client of mine, I was telling him how her about her successes, and he's like, I know her, how come I'm not like successful, I need to try harder. And he did. Right. So he was inspired by the actions of another person. Right? The whole the whole term of social proof. You know, when you hit the when you drive the ball, 260 yards be like, Okay, I maybe can do that, too. Right? It's humanly possible for Hussein, maybe it's humanly possible for myself, you know, me, for sure. Alright.
Hussein  
It's always possible if we apply, and people often, but not everyone knows what's possible. They put limitations, they put your hand brakes on their own ambition. And I just find that some very skilled, very talented people if they just had some discipline, right, like, it's what we talked about offline, where I don't recall again, who said it, but there was some very successful US investor who said that if you put $500 a month into an index fun, but how many people do like, I guarantee you that in our generation, the next generation, if you told someone, you put $500 away a month, then you'll be a multimillionaire in 20 years, how many of them do you think would have the discipline to do that, I would venture the percentage would be quite small, because they won't be willing to sacrifice at $500 a month right now. Because they might mean a night out less a meal out last night, the newest sunglasses, that's more important. Even if you could guarantee that, that in 20 years, you'd be a millionaire, if you did that.
Erwin  
I mean, it's forced on my kids. Give me your login.
Hussein  
A lot of successful immigrant parents, who literally when the kids have started working very successful, great kids, but they but they literally require their kids to give them $500 A month, some frame is paying back for their education or their pet, what the parents are doing is they're doing exactly that investing $500 in an index fund for them. The number is different, whatever it may be, but I know a lot of immigrant parents, especially who do that for their kids out there starting out professionally to keep them discipline. Plus, there's also like some family planning and all that like family law benefits and all that to that kind of structure as well. So it's like, you can kill many birds with thinking like that.
Erwin  
So what was the diversification
Hussein  
but this is only a small amount of the portfolio. It's not diverse.
Erwin  
So you and I have been talking about gold offline, we're actually we're talking another thing that we talked about a lot. Now we have some pretty cool conversations. And we were talking about that, that gold discovery, for example, in Uganda, which is hopefully positive news for all those involved, understand a Chinese company that invested $200 million to help find that gold, but I'm sure everything's gonna work out. Well, the poor people will get their own gold and everything like that. Anyways. But the headline was 31 million tonnes of gold ore discovered in Uganda, right? And then which made me dig deeper. Because it's hard to find, how much would actually braille to repeal the protests? And I think the number was 31,000 tonnes? I think. So that 1% Yeah, what about 1% of the autodiscovery will be will be converted into actual gold. And why this is interesting to me is because as someone who just likes to geek out about economics and hard assets, I went looking for that news article news item because Michael Saylor mentioned it, Michael, Sylar being the CEO of not sure if he's the founder, CEO of MicroStrategy. So one of the biggest had coined celebrities out there out there. He called that equal to that. That finding, because based on Google, I don't know if it's accurate. But the first result from Google, when I Googled how much gold is there in the world is about 20s. I don't know what the date 27 million tonnes of processed gold existence in the world. So then 31 million tonnes would sound like we're basically doubling the supply. And that's when he said, right, basically, this new discovery basically doubles the gold supply. So folks, don't please quote me on this, go ahead and look it up yourself. So that's why I was digging into it. But in fact, it's a 1% change.
Hussein  
Yeah, that's the thing, right? is similar to what I mentioned earlier in this conversation about the social media and people posting and you, you take your take the obvious as what they're saying. And then you ask yourself, what are they actually saying, right? It's the same thing. Everyone has a narrative that they're trying to push. And if you just go with the narrative they want you to take, sometimes they could be fine, that could be great and awesome. But it could also mean that you're missing the point of what's in your interest. Because you're basically just accepting someone else's narrative, and then adopting it into your life, and then you percolate it down. And sometimes this can be very, very damaging, right? It's
Erwin  
because my understanding of gold would be incorrect. If my understanding was the same as Michael sailors versus 1% is not the end of the world. It's not gonna change, not gonna change the hardness or overall value of gold.
Hussein  
No. And that's the fundamental thing about gold is people just keep talking about gold is just like this jewellery item, right? Like this luxury item. But gold has so much functional use in industry, that people just and that's where the when people say like, Oh, why are you so bullish on gold? And why do you like gold so much? It's because it has functional use. And especially as we go towards electric vehicles, and all these other things, in my opinion, again, do your own research goal is going to play a factor in that to
Erwin  
you things can be needed for the production. It's a fantastic
Hussein  
conductor, one of the very best existed like back in the day, McLaren used to use gold in their vehicles.
Erwin  
No G. Like the f1. Like
Hussein  
no like they're the road supercars.
Erwin  
Like, but yeah, it's it's dropping weight, how much gold,
Hussein  
not not a lot, but because of this conductivity, right at those temperatures at those speeds, those heat, and I eventually they're going to need to do that. And especially when you think about it, right, right now we use cobalt for batteries and things like that those are at this time, or more unstable sources, more volatile countries, gold is going to have more opportunity. And not just that in aerospace gold is used so much in planes and things like that. In defence systems gold is used, like, and then obviously it's appealing jewellery and all that is, has been there forever. And again, though, thing ask is, and again, someone can much smarter than me who's listening gear will correct me but from my understanding, almost nothing you can point to that has been a symbol of value and status, since as far back as history records, like it was value, like what else? Like I mean, animal skins, like no doesn't have value today, right?
Erwin  
That's not good for world culture.
Hussein  
That's what I'm saying. Right? Like, gold is retain value, despite the world changing immeasurably dozens of dozens of times over 100 years, right? Like different systems, different countries, different cultures, different, different. Everything in gold has always retained value. Okay, if you own gold, you were successful and rich, no matter what time you lived it.
Erwin  
Right. So you said the word you said was retained. That's why all your heard. So your your your gold investment is probably the right where the investment is you're trying to store wealth, of course. Right. And so that's your primary objective for gold. Exactly. Okay. And another conversation we
Hussein  
had and it's and it's fantastically efficient at transitioning wealth to the next generation. It is heavy, though, if you have a lot of it. But how do you show ownership it's much easier to slide it down.
Erwin  
Hopefully no accountants are listening. And American conversation, you mentioned how it can be used as collateral. I've never actually I don't have any personal experience or know many people with experiences using it as collateral for for like, can you give me any
Hussein  
you can borrow, you can borrow against gold, right? On a small scale, like bigger institutions do do it. But think of in a small scale, right? When people have like how does a pawn shop or you give them gold? They'll give you cash you give them but you pay them back to cash. You take your gold back, right? They're bigger institutions, same thing. You deposit gold at certain financial institutions, they'll be willing to do lend against it.
Erwin  
What What would the minimum be? And that's something we can discuss offline. Oh, yeah, it's significant.
Hussein  
We'll dive into that. As an offline discussion, no
Erwin  
one ever heard of these things. It's funny because like, when you talk to people who have experience with with wealth, you learn all these other opportunities. Like, for example, I never knew what whole life insurance was before, because that wasn't the crowds I was rolling with. Right. And partly real estate, is one of
Hussein  
the best tools is Yuming. It fits your other values and everything. But from an estate planning tool, it's absolutely one of the best tools for crossing wealth down. And in fact, like whole life insurance is how the Rockefellers, the Kennedys and others actually transition their wealth.
Erwin  
Don't talk about it, though, at least in my circles, yeah. Remember to worry about the leaves, how they're playing and not playing. They're playing golf really great right now, I'm sure. Before we started recording, we talked about other investments you do outside of real estate, and you've been yourself and your family and looking for trends. Any trends you want to share right now?
Hussein  
It's not about like,
Erwin  
Should we be storing guns, the Trudeau Government is gonna take them away.
Hussein  
It's not about so much transit, just thought about how do you analyse an investment, right? And I say that you can either do what everybody else is doing for the last 12 months and say, Okay, well, I'm going to do that,
Erwin  
because a lot of those things aren't working right now.
Hussein  
Or, or you can think, how do I move this to wait, what do people need? What do people need to live? And where are they going to want to go 20 years from now? How are they going to want to go there basically be the creator of trends, especially if you have fun. Again, I'm not saying this is put 100% of your investment into it, be strategic, have you conservative investments, but also don't put everything into what everyone else is doing? Put some allocate, my personal belief is 15%, to taking a little bit more risk, informed risk as we've been, it's been a theme throughout this conversation, but think about what people are going to need what's going to matter in this world, in your opinion, and from do your research. 20 years from now, because you can put your money in, in this 20 years from now, think about how much it's going to be because for example, the example I give is, what was Mississauga 20 years from now, it was really started to build up. But how much of it was farmland and things like that. But if people saw that, you know, Canada's got a population problem, they're going to have people coming in Toronto only so much. This is the corridor to Niagara Falls, this is a logical place where things should develop, if you had the vision and started buying land in Mississauga, right? Instead of just keeping on buying in the city of Toronto, right? If you were an investor, and you had some money, and you decided to move your money to Mississauga, today, where would you be? Right?
Erwin  
Where will you be loaded?
Hussein  
Exactly? Where's the opportunity? Right? And again, there's still that same opportunity, you need to think about where Will people live? Where will people move? Are you willing to? And also you will take the risk, right? Because, I mean, there's this whole concept of is the urban boundary going to move? Yes or No? Everyone can have their own school of thought duck for one, or I guess moving.
Erwin  
But
Hussein  
imagine before he won, right? Like, if you in late 2021, early 2022. If you started buying up land along projected errors, or whether expected urban boundary may move, right now, it was a risk. What if he didn't win? What if he doesn't follow through? What if you were you thought it was going to move it doesn't move there and moves down the road? You might get burned? And with anything they risk, this risk? But if you it doesn't move, usually turn up? Why can't even you know, I'm not going to speculate on here, I have an idea of what multiple that means your property value change,
Erwin  
right? So you'd have a large piece of the land or your doesn't have to be it doesn't have to be you can reopen to like, you know, a single family home on King Street where the LRT might go through.
Hussein  
Why not? Like it's everyone has to play to their scale, right. And this opportunity for small players opportunity for medium sized players opportunity for big players. opportunity exists. It's all about your risk tolerance and what you're willing to do with it. Right? And identify opportunity. Investing doesn't have to be sexy. To me sexy is making money. So yeah, right. Next year, you know, it's not about the flash, it's not about showing the lifestyle or showing your asset off. You know, like, if that was the case, everyone would just have beachfront property in Miami and everything else wouldn't be done. You know what I mean? So it's about what are the returns How does your bank balance look? Right? And again, like, keep working till your bank balance looks like a phone number and I don't mean 911 So
Erwin  
401111 If you're what the memory I forget the what the city number is if you need the city, what are you looking at these days?
Hussein  
Honestly, I like resources. I like commodities a lot. I like resources,
Erwin  
in particular commodities because like oil is pretty High and gas is pretty high and coming down. I
Hussein  
mean, we it is interesting with export controls going on. I think copper is an interesting space to be in, I think nickel, cobalt lithium, these are markets that are again, quite interesting to invest in.
Erwin  
So you're buying futures are you buying? Are you buying real estate in those areas where they're being mined?
Hussein  
It's a combination. It's a combination of actually identifying opportunity, right. And then the other thing is anything waterfront, I'm interested in anything because water is going to be, in my opinion, one of the most sought after commodities, clean drinking water is in short supply, and it's going to be needed. And especially in Canada, if you can get a property with riparian rights, you can use the water, there's a lot of opportunity there. And then make and they're not making more often either made me when people say manmade lakes and developments. I'm not talking about that what
Erwin  
I got one that's gonna make me make me a lot of money. I got to drink it. God, that's a terrible idea. Colleges, thankfully, colleges,
Hussein  
if it's called riparian rights, but even just even without it, right waterfront properties are limited right? Now they're going to have depth they're going to flow. Again, if you're looking for something in quick returns, don't ask me for real estate buy, because I don't look at my real estate for quick returns. I look at my real estate a minimum 10 year horizon, because that's because, honestly, I'm busy. I don't have time to be keeping up yearly. If I have a 10 year horizon, I commit to the plan, I have to be careful conviction. And then I see through I can't tell you the amount of times you see people oh my god, I got this 10 year plan, but oh my god, the markets dipped two months into it. Gotta sell gotta sell. I'm like, what was your 10 year plan, you clearly have no conviction in your plan. You have to believe in it. Like when people react. It's the same with anything, right? Like, if people are reacting to the market and not their plan. I'm like, your plan was worthless. So yeah. That's That's it. And again, I don't mean any of this out of arrogance, or you know, I'm better than anyone. I've made mistakes, like, you know, as I'm sure a lot of others have,
Erwin  
I've made plenty but But ultimately, I live in a lot of fear.
Hussein  
Ultimately, why like to come on here is, you know, if you don't share your experiences, how are people going to learn and avoid the mistakes you made? I feel like one of the decent things you can do as a human being is be willing to share that I'm not perfect. I've screwed up lots and lots of times. But I'm still here, I'm still standing and I'm still striving to be better. And if someone as flawed as myself can do it. So can you
Erwin  
we talked about cogs briefly. Are you seeing anything in the cottage market coming across your desk? No one's coming in being very quiet. Oh, no one's even off. No one's even buying a
Hussein  
very for me and you and I'm sure other other lawyers may have more. But I've just not been See I've seen like maybe like three college deals this month, which is lower than average for me, but and to our sales that were forced by family dynamic more than anything else,
Erwin  
right, like an estate sale or divorce. Well,
Hussein  
just I think just not vanilla. Not getting along. The the decision was to sell the generational asset. Got it. And then one was just someone deciding that you know that meats had a decent year in their business and they wanted a cottage for their family. So they decided to buy one. And they took a good opportunity got a good deal and negotiated themselves a private deal, which is quite quite impressive. Like I really respect to that hustle going in knocking door to door to cottages they like saying, Hey, are you interested in selling and finally getting a deal? What month was this? In May?
Erwin  
There wasn't really keen on a particular location. They wanted
Hussein  
to be in the corner this like they they 100% wanted to be on stony Lake, and that's what they want to.
Erwin  
Cool. Yeah, I guess I've just heard anecdotal stories about some softness in the college market. But again, anecdotal, very limited data points.
Hussein  
Yeah. I mean, I'm sure there will be but ultimately, waterfront property, it's solid, and effective. There's opportunity, I would say do your due diligence, make sure it's the right, it is a draw opportunity. I'd encourage you to execute right now.
Erwin  
And then people can bring you opportunities to review for sure what stage can they bring you an opportunity to review
Hussein  
at any at any stage, right? And honestly, depending on the relationship I have of where you're coming through, you know, it's quite inexpensive. Like, you'd be surprised that it's actually very reasonable to actually just, you know, get on the phone with me for 1015 20 minutes and just say, Hey, these are my thoughts. You don't have to you can take it or leave it but it just do not have another data point to add to your calculation or analysis.
Erwin  
Right. So what's the downside? So if there's inter, if there's a tick tock influencer, touting out a new REIT that is formed, and I want to bounce it off you I can do that. Absolutely. All right. But the dance really well. I'm sure they can build condos like no tomorrow.
Hussein  
I
Erwin  
I make that up. I'm
Hussein  
Joe Granick. I was feeling I should have a better social media presence and I think about two things. One Who the heck is going to want to see my ugly face. And the other thing I think about is This, I can't move to see my life. So I'm like, I anger moves. I'm not funny. And I'm ugly
Erwin  
social media and for me, are you to go the other approach to just show your fancy cars or something?
Hussein  
Yeah, that's me, though.
Erwin  
We've seen it. Well, thank you for doing this. Any any final thoughts you want to share? Do you spend a lot of time for loss for sizing? I say that, right?
Hussein  
Honestly, it's very simple. It's be truly yourself. Have a vision, trust your plan. And ask questions from everybody you meet. You never know where they might be. But ask questions. Because you might be shocked at the answers you receive, and how much knowledge you can gain. Always be asking questions,
Erwin  
asking questions, how are banks these days on lending, on executing on lending,
Hussein  
I'm not a mortgage broker. But this experience, they're very slow. So make sure you give yourself enough time to close to get instructions, be thoughtful, and get advice from the experts on whether you need to do fixed or variable in this evolving rapidly changing market and ask what programmes have available don't go with what the first thing they're trying to pitch, you see what's available. And unless you're very happy, or you have established relationship, shopping around, go see foods hungry for your business. It sounds a bit mercenary, but it is the beauty of a volatile market is people are hungry for your business, because it's not as easy because at one point, it was so easy that they were motivated to fight for your business to struggle for your business. But as the market is evolving and changing, the balance of power is shifting to the consumer now versus the institutional side. So you can push you can say like, Hey, what can you do for me? Right? Because remember, these guys still have to lend out X amount of dollars, they still have their numbers, their quarters, they need to add,
Erwin  
and you expect service levels to stay at these levels. Because Because for recording, while simple, well, simple is laid out 30 minutes and who was it in the States was a Morgan Stanley, which major bank just laid off JP Morgan, JP Morgan was a 600 and 1000. I believe in mortgage people. And you think that we might see some of this in Canada as well.
Hussein  
That's what I'm that from? Like, am I very active on Twitter to get news, I find it to be quite reliable source.
Erwin  
Twitter killed me on the provincial election? I thought Ford was going down for sure. No, I think that's part of it as part of who was on Twitter, as certain political leanings on Twitter or a not on Twitter, or whatever, and whatever, it doesn't matter. And my point is that, you know, there's
Hussein  
an expectation that there's going to be some kind of, it almost seems like there's very few people who don't believe we're going to go into recession. Some people say we're already there. Some people say will be a technical recession, whatever the case may be, and generally, layoffs, and recessions go hand in hand. I hope no, because I don't want anyone to suffer. We've already come back come out of two years of a lot of turmoil and uncertainty, which sucks? Well, a lot of families have struggled one way or another. I don't wish that for anyone. But if you asked him my honest expectation, I think there will be a short recession that will follow layoffs and going to question will service levels improve? Honestly, I'm not optimistic. Because ultimately, in my view, financial institutions don't care about customer service. They care about shareholder service. And if they're not paying wages, that means more on their bottom line. I hope I'm wrong. But my own personal experience of banking and stuff. I do have a very good small business advisor right now who I'm happy with. It's no reflection on her. But having said that, the overall like at the branch level, the service you get is horrific. And a lot of it is just the training that good people like some of this new stuff may young but if you get no training, how are you going to know how to do your job? Right. And because it's such a high turnover, banks are not investing in training in any meaningful way. Again, my opinion my experience if you've had different Daniela me, I'm just honestly sharing my opinion,
Erwin  
but you see what I'm going through with my with my refi. Yeah.
Hussein  
I mean, it's been a joke, quite frankly.
Erwin  
I think we're on a fourth revision. Yes. Yeah. Unless there's context like we were ready this, like everything was was to be done. We've had to send it back like either us either. Yeah, I think we've sent about four times as in there's mistakes in the file, like very, very bad mistakes. And most of them are in the are in my favour, so they won't even go through anyways. So it makes no sense to allow these mistakes to go through by a four four revisions. And we're almost there. We're almost there. And then the feedback that we're getting is also that they're short staffed behind the back office, so to hear that there's gonna be layoffs when they're already short staffed. Oh, man. Things piling up worse for servers because the people that are are are trying to work overwhelmed.
Hussein  
Honestly, like sometimes like we get the exception where they get instructions to us pretty quick. But for the most part, like, especially if you're going to be lender, give yourself a time, really give yourself time. Because you don't want to be stuck where especially with people needing to use those funds to sell, buy whatever is going on. You don't want to end up paying that like it's it's painful, it's very stressful if you cannot close because your mortgage funds didn't come through or whatever right?
Erwin  
Initiative ratio of the lenders that aren't closing on time. This is a specific
Hussein  
B lender, I won't name them. But from my own experience, and I'm not talking about like one or two deals I'm talking about having done about 15 to 20 deals with them in the last few months. Plus talking about the fact that having spoken to other counsel about this specific be lender 70% of their deals are closing on the day of closing.
Erwin  
Oh my God, that's hard. That's gone up a lot since we last talked
Hussein  
there. This is one specific one. All right, that just is very problematic.
Erwin  
Is it an appetite for lending? Or is it honestly,
Hussein  
I find there's I think there's systems and processes in this space. Like they're very good in commercial space. They're brilliant they so that's it's odd that they suck. And there's no other word for it in the residential space. They're terrible and have been for a long time. And it's just gotten worse,
Erwin  
right? Because the demand is only getting greater for be landing in this environment, they
Hussein  
don't review the file, you can send the file three, four days before they don't review it till the afternoon after closing. They want to slam and they don't pay attention to Nikki and half of it is asking for documents you've already submitted. And then they just go radio silent. So maybe at the end, it could just be a staffing issue could be whatever, right. But to me, it's unacceptable. If a client has done everything in their possible power, there'll be no mistakes anywhere along the chain. And you cannot find on time for a simple residential deal. There's nothing complicated to it, nothing unusual. Some of it is owner occupied principal residence. What's the issue? Why can you not close it? To me? It's ridiculous.
Erwin  
And can you comment on the level of risk you're seeing in terms of private mortgages these days, honestly, I'm
Hussein  
seeing a lot less. I'm seeing a lot less and less deals, I'm seeing a lot less deals, but they're still there. It's still going and I know some private lenders is just not lending. Look, I know clients, we used to use private lender x a private lender, why? And they just seem like until the fall, we're just not issuing any new deals. So I've seen that also that that avenue of capitalist right up that avenues capital is dried up for certain clients, they've had to go to other private lenders. And I'm seeing the private lenders and are trying to get more upfront fees. And I'm seeing the LTV go down like before you it wasn't uncommon, you could push up to 85. Now I'm seeing 7075 isn't one of the sweet spot.
Erwin  
And then how many of these at the end of these terms at the end of private mortgages? How many you seen are being discharged cleanly?
Hussein  
Well, I mean, all of these are new, right? So it's hard to tell like speak to me in a year but invite me back and we can evaluate this question but for the most part like my clients that have had to borrow private money have been able to pay back and you know, it's been clean and it's been good
Erwin  
just as someone who's paranoid in this the last five years and like no, this isn't the market want to Linden I don't know what this is going to end. Now finally, I'm right. Finally, finally gravy trains ended. This is a hard thing to do. I did not want to would not have want to have funds landed out in. Right? You're saying thanks so much for doing this. Appreciate that. You want to hang out with me when you can hang out with much cooler people and much more successful people funnier people than I.
Hussein  
Not at all. It's a pleasure always to be with you or when thanks for having me on the show. And I'm sure we'll get out on the golf course sooner rather than later. Hopefully,
Erwin  
it's going to be cheering once you thanks to see no worries.
Erwin  
Before you go if you're interested in learning more about an alternative means of cash flowing like hundreds of other real estate investors have already, then sign up for my newsletter and you'll learn of the next free demonstration webinar I'll be delivering on the subject of stock hacking. It's much improved demonstration over the one that I gave to my cousin chubby at Thanksgiving dinner in 2019. He now averages 1% cash flow per week, and he's a musician by trade. As a real estate investor myself, I got into real estate for the cash flow but with the rising costs to operate a rental business, it's just not the same as it was five to 10 years ago when I started there are forgive the cash flow reduces your risk. The more you have, the more lumps you can absorb. And if you have none, or limited cash flow, you're going to be paying out of your pocket like it did on a recent basement flood at my student rental in St. Catharines. Ontario, if you're interested in learning more, but it's true for free for my newsletter at www dot Truth about real estate investing.ca Enter your name and email address on the right side. We'll include in the newsletter when we announce our next free stock hacker demonstration. Find out for yourself but so many real estate investors are doing to diversify and increase our cash flow. And if you can't tell I love teaching and sharing this stuff.

To Follow Hussein:
Instagram: https://www.instagram.com/hsklawfirm/?hl=en
HELP US OUT!
Please help us reach new listeners on iTunes by leaving us a rating and review!
UPCOMING EVENTS
You are the average of the five people you spend the most time with! Build connections with empire builders and trailblazers at our iWIN events.
BEFORE YOU GO…
If you're interested in being a successful real estate investor like those who have been featured on this podcast and our hundreds of successful clients please let us know.
It is our honour to give back and educate others on how we build cash flowing real estate portfolios using all the best practices shared on this podcast, from the lessons of our hundreds of clients and of course our own experience in owning investment real estate.
If you didn't know already, we pride ourselves on being the best of the best real estate coaches, having the best property managers, contractors, handy people, cleaners, lawyers, accountants, everyone you need on your power team and we're happy to share them with our clients to ensure your success. 
New investor or seasoned veteran investor, we can help anyone by providing our award winning coaching services and this isn't all talk.
We have been awarded Realtor of the Year to Investors in 2015 by the Real Estate Investment Network, 2016 by the Canadian Real Estate Wealth Magazine and again in 2017 because no one told the judges no one is supposed to win the award twice but on merit, our peers deemed us as the best.  In 2018, we again won the same award by the Real Estate Investment Network.
Hopefully being the most decorated team of Realtors in Ontario will make you consider us for your first or next real estate investment.  Even if you don't invest in our areas, there's a good chance I know who would be ideal for you. 
I've been around for a while, some Realtors are talented at servicing investors there are many with great ethics.  The intersection of the two, talent and ethics is limited to a handful in each city or town.
Only work with the best is what my father always taught me.  If you're interested, drop us an email at iwin@infinitywealth.ca.
I hope to meet you at one of our meetups soon.
Again that's iwin@infinitywealth.ca
Sponsored by:
Infinity Wealth Investment Network – would you like to know how our investors returned 341.8% on positive cash flowing real estate over the last five years? On average, that was 68.4% per year.
Just imagine what winning in real estate could do for you.
If you would like to know how we did it, ask us how by calling 289-288-5019 or email us at iwin@infinitywealth.ca.
Don't delay, the top markets we focus in are trending upward in price, so you can pay today's price or tomorrow's price.
Till next time, just do it because I believe in you.
Erwin
Hamilton, St. Catharines and Toronto Land Development, Real Estate Investor, and soon to be builder.
W: erwinszeto.com
FB: https://www.facebook.com/erwin.szeto
IG: https://www.instagram.com/erwinszeto/
https://www.truthaboutrealestateinvesting.ca/wp-content/uploads/2022/07/Hussein-Kudrati.jpg
630
1200
Erwin Szeto
https://www.truthaboutrealestateinvesting.ca/wp-content/uploads/2017/06/TruthRectangleLogo.png
Erwin Szeto
2022-07-25 17:48:17
2022-07-25 17:51:40
Dos and Don'ts From a Real Estate Investor/Lawyer Hussein Kudrati