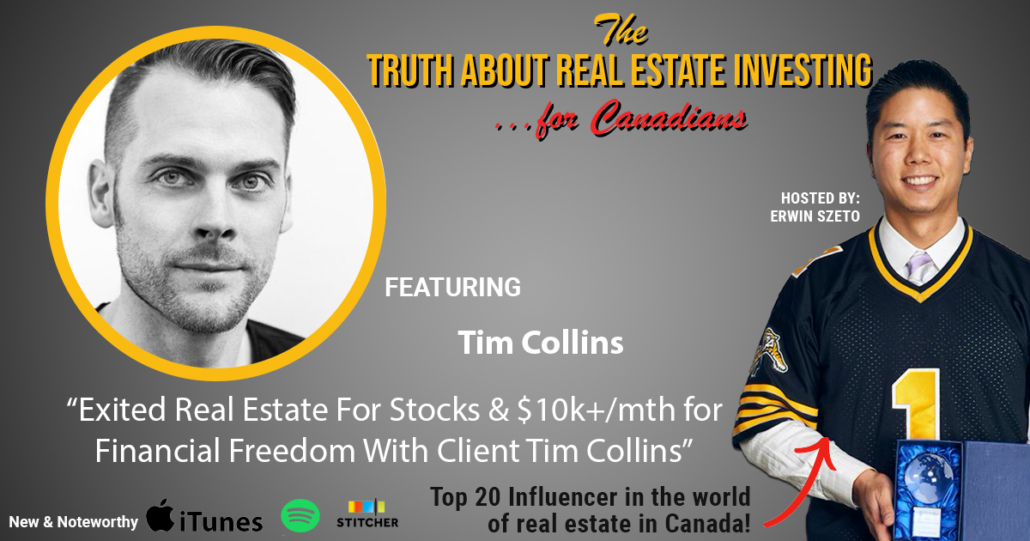 What I really enjoy about this podcast is learning about all the different paths to one's financial goals.
I love reading books about entrepreneurship and investing for that reason however, most of those authors I'll never get to speak to hence I'm grateful for my friendship with my mentors like Tom and Nick Karadza for real estate and Derek Foster for stocks.
 

 

View this post on Instagram

 
By having expert mentors, they're great for distilling down all the information they're reading, e.g. Derek Foster being retired and, with his passion for stocks, has the time to read quarterly and annual reports of companies he wants to invest in, including Warren Buffet's to get an understanding of what the greatest business leaders are seeing in the economy and market.
What's even better is he's kind enough to share what he's buying and selling, and even though he doesn't move the market as Warren Buffet does, Derek is positive on the year, with 60% cash while the stock market is down close to 20% in 2022.
He's beating me as well, and my policy is to learn from winners with track history who have achieved what I want. In this case, financial freedom.  That's the same reason we asked Derek to speak at the Wealth Hacker Conference, as Cherry and I are merely architects; we plan, design and oversee our own investments and for our clients.
Derek is Canada's youngest retiree for almost 20 years and is our stock hacking expert.
Our conference also features experts in insurance, crypto/blockchain, real estate, cash flow management, and how to access the maximum number of mortgages for income properties.  All in one day. I can't recommend enough that you bring your team with you: your investment partner, typically your spouse, and any friends and family who's shown interest in investing and getting ahead in life. 
If you know the children's game broken telephone, you know it's best to receive information directly from the source.
If you've been around for a while, you know the importance of community in going far in any endeavour. For you, our 17 listeners, we have a discount code "truth" for the best price but don't delay as the price only goes up the closer we get to the event.  Saturday, Nov 12th, Toronto Congress Centre next to Pearson Airport. Live and in-person only!
Link to discounted tickets: https://www.eventbrite.ca/e/wealth-hacker-conference-toronto-tickets-329788334787?discount=TRUTH
Exited Real Estate For Stocks & $10k+/mth for Financial Freedom With Client Tim Collins
On to this week's show!
Full disclosure, Tim Collins is one of our longest-time clients hence he's bought and held properties for several years in order to get rich slowly.
He's also taken our Stock Hacker Academy courses. He's switched careers a couple of times from high-paid tech executive to now a Real Estate Agent.  Moved his family from Orangeville, Ontario, to Nanaimo, BC, for warmer weather and a view of the ocean.
Tim is open-minded, successful, wants more out of life and is now financially free and has the option to retire early thanks to his now $10,000+ passive dividend income each month from his stock portfolio. Tim's mental health is likely better than that of most investors these days.
From my experience working with investors every day, many of you want passive cash flow hence I'm excited to bring you this episode to learn how Tim escaped the 9-5 rat race and golden handcuffs by building wealth in real estate and then pivoting to stocks for greater yields and passivity.
We're all on this journey of learning together, and what better way than to learn from folks who have what we want!
Announcement regarding Stock Hacker Academy, we've completely revamped the course to make it more comprehensive and added numerous modules to aid those new to the stock market.  Plus several value-adds we will announce at the Wealth Hacker Conference.
As always, we believe in and practise continuous improvement, and I'm beyond excited to share with our community the absolute best version of our beginner course at the lowest price anyone will ever see and only available for purchase at the conference.  Just another bonus for those in attendance!
Please enjoy the show!
This episode is brought to you by me! We don't have sponsors for this show. I only share with you services owned by my wife Cherry and me.  Real estate investing is a staple in my life and allowed me to build wealth and, more importantly, achieve financial peace about the future, knowing our retirement is taken care of and my kids will be able to afford a home when they grow up.  If you, too, are interested in my systematic strategy to implement the #1 investment strategy, the same one pretty much all my guests are doing themselves, then go visit www.infinitywealth.ca/events and register for our next FREE Online Training Class.  We will be back in person once legally allowed to do so, but for now, we are 100% virtual.
No need for you to reinvent the wheel; we have our system down pat. Again that's  www.infinitywealth.ca/events and register for the FREE Online Training Class.
This episode is also brought to you by www.stockhackeracademy.ca, where everyday real estate investors learn the best practices in stock investing to earn cash flow in about 15-30 mins per day from their mobile phones. After real estate, Stock Hacking is the next best hustle, as you've heard from many past guests on this show. Among our students last year, 31 trades were shared with them. 30 were profitable for an over 96% success rate and 12% return on capital. I will be giving free demonstrations online, very similar to the one I gave my kid cousin, a full-time musician who just made a 50% return in 2021.  Past, of course, does not predict the future, but if you'd like a free demonstration, go to www.stockhackeracademy.ca in the top right and click FREE Demo.  At the demonstration, I'll have special bonuses. We do not advertise publicly for all my favourite listeners, and I only have two more demos to give in the next few weeks.
Don't delay www.stockhackeracademy.ca, what I consider the future of side hustles with real estate so unaffordable for many.
We're hiring!
Just a friendly reminder that we are hiring more investment Realtors who want a full-time challenge to help our clients, regular everyday people, mostly from the GTA, invest in the top investment towns west of the GTA. 
This is for driven folks who want to multiply their current incomes.
APPLY HERE: https://www.infinitywealth.ca/hiring
To Listen:
Audio Transcript
**Transcripts are auto-generated.

Erwin  
Greetings, and welcome to another episode The truth about real estate investing show. And on this show, what I really enjoy about doing this podcast is learning about all the different ways all the different paths to one's financial goals. I love reading books about entrepreneurship and investing for that reason. However, most the authors I'll never get to speak to never get to meet. Hence, I'm grateful for my friendships with my mentors like Tommy krejza for real estate and Derek foster for stocks by having expert mentors that are great for distilling down all information that they're reading. For example, Derrick foster being retired and with his passion for stocks has the time to read quarterly and annual reports of companies he wants to invest in, including Warren Buffett to get an understanding of what the greatest business leaders out there are seeing in the economy and the market and for opportunity, of course, and also, you know, when to cut losses, what's even better is Derek's time to share but he's buying and selling with me. Because we're friends, please pretend we're friends like to think we're friends, though Warren Buffett moves the market. Anytime there's an announcement, we understand there's information available on when he's entered a company such as like occidental oil, you know, he really moves the market doesn't move the market like that. But however, Derek is positive on the year in terms of his investment portfolio, year to date, while being 6% cash and compare that to the overall stock market, which is down close to around 20%. Year to date in 2022. Derek's beating me as well. And My policy is to learn from winners with track history who have achieved what I want. In this case, I want financial freedom and you know, finished work little less. That's the same reason why we asked Derek to speak at the wealth hack conference. As Charlie and I are merely architects we plan, design and oversee our own investments and for our clients. Derrick cover is an expert in the area of stocks. He as he is Canada's youngest retiree for almost 20 years, and is our stock hacking expert. Our conference also features experts in insurance, crypto, currency blockchain, that's one category, real estate, cash flow management, specific to accounting for real estate, how to access the maximum number of mortgages, real income properties, all the really important things that any sort of professional investor needs. Side Hustle investors as well. Anything a professional investor wants to know side hustlers shouldn't likely want to know it as well. All this all in one day. I can't recommend enough that you bring your team with you, your team as in like your investment partner, typically your spouse or your significant other. Any friends and family who've shown interest in investing, like include any adult children, anyone who's interested in getting ahead and who's open minded and wants to get ahead in life. If you know that children's game broken telephone, you know, it's best to receive information directly from the source such as our expert speakers. If you've been around for a while, then you know the importance of community as well. Because if you want to go far in the Endeavour, you need a community to do it with you. And it takes a you know the whole saying it takes a village to raise a child, it takes a village to raise a successful investors in my experience. For you 17 listeners, we have a special discount code, which is truth, it's a five letter word for the best price available. Please do not delay as the price will only go up between now and to the event on Saturday, November 12. Toronto Congress Centre next to Pearson Airport at Saturday, all day roughly, you know expect to shop for nine expect to leave around 530 ish. Of course VIPs will stay a little bit later for the meet and greet with our keynote speaker. And this is live and personally there will be no option to do this virtually getting the discount code is truth five letter word. And also in the show notes I've included a link because in my experience, a lot of people have trouble finding where to input the discount code. So I've included the link that goes directly to the discounted tickets for you 17 listeners, it's all in the show notes. So if you're on my email list, you get the show notes. Also, if you just go to our website truth about real estate investing.ca You go to this episode, you'll see the link there as well, including all the show notes for this episode, including how to reach out to our deaths. So onto this week's show. Full disclosure, Tim Collins is one of our longest time clients. Hence he's bought and held real estate investment properties for several years in order to get rich slowly. He's also taking our stock hacker Academy courses. He switched careers a couple times from when I first met him somewhere around 2012 ish. He was a high paid tech executive working downtown Toronto living in Orangeville. So he can understand is a bit of a commute. He's now pivoted, he's switched careers a couple times. He's now a real estate agent. He's also moved his family from Orangeville, Ontario to now Nanaimo BC, which is on Vancouver Island. It's it's a short ferry away from Vancouver, the city of Vancouver for the for warmer weather and better view of the ocean. Yeah, better view
Erwin  
view from Orangeville Ontario. Tim is obviously open minded, he's successful, he wants more in life more out of life. And now he's financially free to do whatever he wants and he has the option to retire even. He's He's also a successful realtor. So he still likes doing that. So technically he's not retired but he has the option to retire. Absolutely. Thanks to his now 10,000 Plus passive dividend income each month, more than $10,000 Each month of dividend income. I'm not an accountant. But dividend income is generally more tax optimised than actually it's usually the most tax optimised source of income typically tends mental health is likely better than most investors these days as well. Tim has exited all his real estate. So interest rates mean pretty much nothing to him. For his own investment portfolio, from my experience working with investors every day, many of you want passive cash flow. Hence, I'm excited to bring you this episode to learn how Tim escaped the nine to five rat race. They call it those golden handcuffs via building wealth and real estate, then pivoting to stocks for greater yields, and passivity. We're all on this journey of learning together, and what better way to learn than from folks who have what we want. quick announcement regarding stock hacker Academy, we've completely revamped the course to make it more comprehensive and added numerous modules to aid those who are new to the stock market. So this is more beginner friendly than ever. Plus, we've added several value adds that we will announce at the wealth hacker conference. As always, we believe in and practice continuous improvement. I am beyond excited to share with our community, the absolute best version of our beginner programme at the lowest possible price that anyone will ever see. It's only available after we announce it at the wealth hacker conference. Just another bonus for those of you in attendance. So without further ado, I bring you two columns. Please enjoy the show. Hey, Tim, longtime no talk. What's keeping you busy these days?
Tim  
Well, my kids are back in school, which is brilliant news. Everybody's excited about that happening. But yeah, just you know, the usual looking after the family, helping people buy and sell houses, as you know, in the old real estate game, although things have slowed down a little bit. There's still there's always lots to do there. Yeah, reading, learning. living my life
Erwin  
can be easy. Okay. I know you don't feel like you said a lot. But I feel there's a lot to unpack there. Let's start off with where you live. What city do you live in? You are Canadian, even though you don't sound like the average Canadian.
Tim  
Yes. Yeah, that's a longer story. But I grew up in grew up in England, currently living in Canada. I was born in Canada, only for the first year of my life, and then grew up in England and then came back in my early 20s. But yeah, now I live on Vancouver Island in a place called Nanaimo, which I ended up here through a real estate investor attending a real estate investing course years ago, at the time, I was living in the GTA, and I just thought, you know, lifestyle wise, for me at the time just seemed like a great move. And I'm still, I'm still loving it. Eight years later, or nine years later, however long that is.
Erwin  
And that was quite affordable. Isn't not? It is yeah,
Tim  
it was. It was when I came. Yeah, I think by in terms of by national average standards, people often think of Vancouver as being the most expensive real estate in Canada, which is probably still true. A Vancouver Island, less business here and less sort of going on economy wise tends to be a little bit cheaper. I don't know what our average house price is at the moment. 900,000 Maybe. But yeah, you can still get a nice, single family home, often with views of the ocean because much of the MIMO is on a hill kind of looking at the piece of Ocean between us and the mainland. So yeah, I still think there's affordable options. And with the recent pullback in real estate prices, I think there's there's opportunities for people to to get involved once again. Yeah.
Erwin  
How far do you think you guys are off the peak?
Tim  
Maybe 15%? Yeah, yeah, I think pretty typical numbers. I would say, I don't know if I'm sort of biassed, because I'm a realtor and I live here. But there does tend to be a constant influx of interest in Vancouver Island, because when people retire from the East Coast, or Alberta, for instance, and they want to escape, you know, the frigid winters a lot of people look at Vancouver and said, right, I want to I want to live there because the winters are obviously a bit more less harsh. And some of the nice and you know,
Erwin  
you're being modest. I imagine that you some of the best for the Hawaii of Canada. Yeah, exactly. I think that's probably the right analogy is you likely have the best weather in Canada.
Tim  
I think so. Yeah. I mean, some people think that it rains too much in the winter for them. But again, I grew up in England. So for me, this is pretty close. Pretty close to that where I'm currently living. I'm very fortunate in that I can walk probably about 300 metres, some of which is down some steps, but and then I'm on the beach and the beach is because there's about 300 steps down to the beach. It's absolutely deserted. But it's you could be in a different country. It is absolutely stunning to go there and go for a swim every day in the summer. We go down there so
Erwin  
amazing. And then working folks reach out to you should they be interested in investing or moving to Nanaimo? Yeah,
Tim  
you can just I mean, on Facebook and Instagram, it's just Tim JP Collins, or if you want to find out more, I just check. My email address is just Tim at Tim collins.ca.
Erwin  
Fantastic. And folks, I'll have the Tim's social media coordinates in the in the show notes. Some people are driving your email. It's just a podcast for yourself. You know, people aren't done a cup typically listening and taking notes. They're usually this is the second thing that they're doing well listening for 17 listeners. I mean,
Tim  
interestingly, part of the origin story for living here is that I used to work. I used to live in Orangeville. And I used to work at Yun and the 401. And I would drive that road every day down, you know, along Highway nine, I think it is down the 400 along the 401 an hour anyway, yeah, like an hour and a half each day, probably in the winter even more, and I sat there one day in the car and got the calculator on my phone. And I always justified it by like, Oh, I'm listening to audiobooks and podcasts. I'm learning so much. But I got the calculator on my phone. I was that right? Three hours a day, five days a week, 52 weeks a year. And it was a 20 year career or something that ended up being years of my life. So I just can't do this anymore. That was a big part of the reason for the move. Now. You know, when I first came here, I was commuting about 10 minutes, and now I work from home. So
Erwin  
even better. So what was your day? Like? Then? What time did you leave the house? And did you see your kids in the morning?
Tim  
Yeah, I didn't see my kids when they were young. So I would leave at probably six and I would get home at six or seven at night. So a good 12 hours away from home my company worked for at the time were completely against remote work. And my wife famously reminds me to this day, you know, there was days where it was snowing outside in Orangeville. If you if you know that area is snowbelt particularly
Erwin  
bad. Your ski hills in Orangeville. Yeah,
Tim  
I live in ski hill and then hopefully Valley, so I bought a Subaru with winter tires, which means you can go pretty much anywhere. But I would go to work when these days I wouldn't. I wouldn't go to the end of the road. And I would drive that journey in horrific blizzards in winter conditions and just the obligation to I have to be there because they really want me in the office. And then you get to the office and you sit around and drink coffee all day and talk about non relevant things. But yeah, that was just that was the life right? You just felt like you had to be there. And it's all part of the journey, so to speak. But I can't today, I will no way I would want to be in that situation again.
Erwin  
Right. And around that time was when he got really motivated around real estate investing. Am I wrong? All right.
Tim  
Yeah, that's right. I mean, it's all part of part of that story of like dissatisfaction with that commute. And I started having some issues with anxiety around that time, and just being mega stressed out with work and the travel. And, you know, ultimately, I've put myself in some in some handcuffs in terms of I had this house, my kids were in private school, I got a couple of cars, I needed that salary to sustain my life. And I started thinking, we're going to talk about other ways, which I've achieved it now. But back then I was thinking right real estate, I'm going to buy a house or rent it out. And through that rental income. There'll be a generate some some money to replace my salary. So yeah, that's when I think I literally went on Google one day and typed in real estate investing and ended up finding Julie Broad, who's a mutual friend of ours. She happens to be in Nanaimo. That's why I moved in an IMO because I came out here and fell in love with it. But yeah, I got super motivated to take action and control my own destiny and just say, right, I'm gonna learn as much as I can about this. i That's how I found you and your Meetup. Julie connected this. Yeah. Thank you, Julie. But yeah, she connected us. I started coming to your Saturday morning sessions in Oakville. And that's kind of how that was, you know how it all got got rolling, you know?
Erwin  
And then you bought a couple houses, bought some houses. Yeah, that's funny. He's bought a couple of houses. So I remember
Tim  
the first time we went on, I think it was I remember in my head it was West Fourth Street near Mohawk College. We looked at this house and I think I paid 274 or 270,000. I said to and always said he was like, Would you do this? You know, like, yeah, it seems like a good opportunity is close to the college and we kind of talked about it and so that was the first one of many that I got involved in her.
Erwin  
I started justifies right there. I don't know if you know, but actually tried to buy it from the person you sold it from afterwards. Oh, really? In hindsight, I regret not buying it from you. Because I was actually trying to end up trying to own that section. The four houses those four houses on at the corner. Yeah, but that's funny. You asked me what I buy it. I wish I owned it now. Because I was trying to play Monopoly and control a quarter. Oh, yeah. Yeah. All right. Continue.
Tim  
Yeah, but I mean, it sounds very romanticised. In hindsight, by the time I got loads of stories about, you know, student Nightmares From Hell, where I'd go in and they wouldn't have taken the garbage out for a couple of weeks and cockroaches and exterminators and people not paying rent and drugs and balls everywhere. And it was just Yeah, it's a lot of work. And at the time, when I was knee deep in, you know, with rubber gloves on picking up other people's garbage and pulling hair out of drains and all those terrible things. I just thought I gotta do this. I got to work hard. I've got to get it done. And so I would go around my Hamilton houses and be my own property manager for a while. And then at some point during the evolution, I realised I can't keep buying houses and trying to find joint venture partners. and do all the property management and so started outsourcing elements of it to other people. But yeah, that was in terms of capital growth, buying real estate was was how I did that. There's no secret to that. And I still probably remains the best way. Or one of the best ways to make money over time. It's the kind of the get rich slow scheme, right. So another place they bought in Orangeville, in probably 2010, paid around 200,000 For that sold out for 650 reasonably, and that was like a semi detached house and went in and same thing like bread the carpets out ourselves painted the walls, but in flooring and did whatever we could to rent out and maintain it. And yeah, I mean, lots of people listening to your podcast know how this stuff works? Yeah, it's been a sort of great journey of, of building those things up and then offloading them as well. You know,
Erwin  
for two really quick update on the student rental market. A lot of landlords got out during the pandemic. Yeah. So there's like, no supply. Right. So bedrooms master for mediocre hosts. Yeah. are renting for 800 a room?
Tim  
Very nice Mohawk.
Erwin  
I don't know the numbers, but they have this exact same issue. Yeah, there's nothing to rent. And they already there's nothing to rent, let alone student rentals. So rents have gone through the roof. Yeah, so the product rents are probably up around 30%.
Tim  
Yeah. Which makes sense. So those landlords probably have to suffer through two years of nothing. Oh, yeah. Yeah, to get
Erwin  
payback time. Yeah. So Yeah, crazy, crazy pendulum swings
Tim  
is funny how it changes. I mean, there's, I'm sure there's people who bought houses and 20 years ago, and they're just sitting on them. And, you know, they don't need it yet. But you know, one of the a lot of the bold moves I've made in my life have been as a result of conversations with my wife, she normally gets there before me mentally, where she's like, just go for it, we'll work it out. And, you know, part of that was, when we lived in Ontario, and I bought some of the student rentals houses, I started doing joint ventures with people where they would, you know, qualify for the mortgage, and I would take care of the investment. And all of a sudden, I decided we wanted to move to the West Coast, I said, we can't move because I got at that point, 10 or 12, houses, some of them with other people, we can't possibly leave all this stuff behind. And anyway, stuff my wife is like, well just sell them or tell the people you move in and see if they're okay with you coming back, you know, once in a while to check on them and manage them remotely through a property manager. And so I say that because I find I speak to a lot of people about their lives. And they often say, Well, I can't move because of X. And X might be a business that you're running or family that you have, or whatever it is. And if those things are making you happy, then power to you stay where you are, but I didn't let that hold me back. And some of the people said, Yeah, I don't mind you having a property manager. And you know, dialling it in, so to speak. And some people decided they didn't want to be in those investments anymore. So luckily, thank goodness that we were in a bull market housing wise, during that time and prices have gone up, we sold them they got they made a bit of money. Not as much as we would have expected if we held on to it. But yeah, that was what I wanted to do in my life. And so we just made the move and got on with it.
Erwin  
Can you share about your drag patrol experience? Positive or negative? Yeah, hated it.
Tim  
Yeah, I had some great, some great ones and some more challenging ones, I would say that, ultimately, it was beneficial to kind of get me where I am today. It's another one of those things where it was, you know, I studied it a lot in terms of how do I meet people? How do I start conversations around real estate about investing in real estate, learning my market becoming an expert in the area? Yeah, I think like many things in business is just setting out very strong expectations at the start, this is my responsibilities. Those are your responsibilities. This is how we're gonna we're gonna work in one of my joint ventures who I did a few deals with was very disappointed when I said, what he said you can move no problem. And then eventually when I said I want to sell he said, Well, I wanted to keep it for even longer. I said, well, great, you know, you're welcome to buy me out, but it's time to move on. So again, clear plans in terms of exit, how do you move on, etc. I think it can be very beneficial, but it's not something done lightly. You need to understand you need to know your contract inside out. You need to know your market. You need to know what you're up to and what you do if things go wrong, because often they will so so for
Erwin  
someone who's getting into joint ventures for example, do you have like maybe like three tips? Like you mentioned know your market? How would someone demonstrate they know their market or their strategy? For example?
Tim  
Yeah, I think you know, if you're if your market is where you live, then it's probably easier because you can know them know what's going on. In my case, my market was twofold. It was Hamilton and slash St. Catharines slash welland but it was also student rentals as a niche within that so then you can get very specific around what are the rents at the moment and what's you know, what's happening after the pandemic with landlords and our students to renting houses and start to have a story around that whole area. And then you just going to know more than other people talk to the property managers told To the realtor's build up your knowledge and off you go. The other thing I would say is don't do joint ventures with family or friends. Because you know, some people are able to do that. But as soon as you sign a contract, your relationship changes from a friendly one or a family one to a business one. And people are going to be saying, where's the money if things go wrong, or if there's a roof needs to be replaced, and you don't have money in the bank, and you have to do it split the capital expenditure, difficult conversations will arise. So if you can find find people who are known to you, but they're not like, in your close circle of friends or family, that's often good. A lot of the time people start with friends and family because it's obviously easier to ask, you know, a dad, you want to do this thing on me. Great, but I wouldn't deal with my dad because I love him, but it would change our relationship. And he'd be saying, how's the house going? Naturally? We need new dishwasher. Oh, dear, that's gonna cut into the projections.
Erwin  
discussion to have the family barbecue.
Tim  
Yeah, exactly. So I don't know. It's just, you know, being very conscious around how you get into it. And for me, it was learning areas in the community where I could speak to people about real estate, through hockey teams, through sports teams, there's lots of places where you can start conversations and meet people. But most likely lots of things in sales. It's you know, lots of coffee dates, lots of conversations, building up my repertoire of expertise, doing some on my own initially before I asked other people, so then you have some stories to tell.
Erwin  
Very, very right. Before we were recording, I mentioned something about private lending. My thing is, I generally don't like private lending for myself, but just imagine the conversation should you have lent to somebody? Yeah. And then the deals going sideways. So you'd like to have flipper flippers or having real challenges right now. And then the conversation after that, like, Hey, where's my money? Yeah. Oh, you don't have any money? So I guess I'll be taking the house from you then. Your friendship be after that.
Tim  
I mean, it's, it's difficult, right? Very difficult,
Erwin  
especially if you like their home like ya know, split secure mortgages on their principal on people's principal residence. Oh, I guess your home is now my house now. That's a lovely conversation I do not want to have it's, I stay out of it. So Tim shows called trust by real estate investing, not here, blow smoke up your ass. As I mentioned, before, we were recording, you're in a position that many people want the way I phrased it, because I don't want put words in your mouth way I phrased it was you could give up everything that you're doing actively move working. If you're a realtor, successful realtor, like you give that up, give up anything you're doing actively. And you'll be I consider extremely comfortable financially. Would that be right?
Tim  
Yeah. I mean, that's kind of long been the goal is to have I mean, people talk about real estate as passive income. It's not really
Erwin  
me owning Enbridge shares is passive, I call that I'll say that's my baseline for passive. It's very different than being a landlord of one property.
Tim  
Yeah, I wouldn't say it's always passive mentally, because people get a bit funny about checking stock prices and looking at their portfolio too much. But, but you'd have to do anything. Because there's no you don't have to phone anybody or unclog any toilets or anything like that. It's just it just happens on its own. So then it becomes it does become a mental game of like, can you detach from having to check it regularly. And we can talk a bit about the market and stuff and how I used to wake up and before I went to bed, I'd be looking at the futures and I'd wake up and look at the pre market and then look at the post market and all this stuff in between. So I've kind of evolved from that as well, in terms of just what's comfortable for me. And one of the interesting things I learned was that different people have different tolerance levels for risk. And different people have different tolerance levels for like how much they want to be involved in, in making money. One thing I remember this interview I heard on a YouTube video, I think, but this seasoned professional investor basically said, like, the things that make you the most money are not the things that give you the most peace of mind. So choose what do you want most of peace of mind or the most money? Good that I love that? Yeah, peace of
Erwin  
mind is inversely related to money,
Tim  
or money. So people who want very stable, wake up and know how much money they all the time then maybe they're in GICs are very low. I mean, at the moment, you're, you're a melting ice cube in that respect, because it because of inflation, but you know, that's the baseline. And then obviously, at the high end, you've got things like crypto or very volatile things or, you know, things which, you know, stops or SPACs or whatever the, you know, that sort of stuff is so, yeah, there's something for everybody. It's just knowing, knowing where you want to be and where you want to get to.
Erwin  
I love it. Because I was literally talking to a friend who's one of the most successful crypto investors. I know, at the dinner table. Someone actually asked him like, what's the price of Aetherium right now? So you actually don't even know I haven't checked in a month and a half. Even though his investment is highly volatile. He's not checking in checking the month and a half. Yeah, it's crazy. Yeah, crazy. No, but your point is actually very healthy. And then I also before we're Recording is not talked about balance. Yeah. Right. for periods of time, if for if you want to get ahead in life, you will have times of complete imbalance. Yeah, you've actually laid that out a couple of times already, and just sharing what you shared so far. Yeah.
Tim  
I mean, it's, it's absolutely true in terms of I mean, if you look at the fire movement, or, and for people who don't know, this, you know, financially independent, retire early,
Erwin  
that's you. Yeah,
Tim  
I mean, I can qualify for that, although I'm not, I still enjoy what I love real estate as a job, if you will, from a realtor point of view. But that whole mantra is about like, in that case, like extreme frugality, maybe, which I haven't necessarily done, but they some people do extreme frugality, save loads of money, save 70 or 80% of their income so that when they're 45, instead of 65, they can choose to stop working. In my case, it wasn't necessarily the extreme frugality route was just, you know, doubling down on efforts with regard to investing in real estate, I never have the net worth, I've got, I didn't really create that through my job income, although I had salaries in the six figures all the time, that money just gets spent, you know, the more you make more you spend, it's very hard to stop the creep have a bigger house or a newer car, and all those kinds of things are very counterculture, you have to be very uncommon, as David Goggins would say, you have to be very uncommon to not fall into the trap of trying to kind of grow into income growth. And so for me, yeah, it was kind of like this very, we can talk about the brass tacks of it. But at the very hard work of building up the real estate portfolio, it doesn't escape me that like, a huge part of building up my nest egg was on the basis that the real estate market has been trending in the right direction, when I started working with you was around 2010, you could have bought any house anyway, and sold it 10 years later and doubled your money, at least, if not more, right? And so, but even then we were even back in 2010, we're talking about right? The people who do best in, you know, that time real estate, who the people who come before us were people who took action, they said, right, this is what we're gonna do, we're gonna go for it. There's lots of people who came to your sessions, and they said, Oh, I don't know. And, you know, think about it. And I'd say, you know, $250,000, for a single family home that you can rent out for three grand a month seems expensive.
Erwin  
I want a cheaper.
Tim  
I mean, you know, I remember people talk about it, and it relates to housing and the stock market and everything, it's time in the market, not timing the market. And that remains to be true to this day. Because until you actually get some skin in the game and start to work and do stuff, you don't have any exposure to the upside, which will ultimately come back again. I mean, as human history repeats itself, which it seems to be pretty good at doing, things continue to go up over time. This is obviously blood sweat. And we're kind of going through one at the moment. There's lots of times where things slow down. But you know, it was COVID, it was the 2008 mortgage crisis at the moment, we've got inflation going on and wars, and they'll always be something. But if you consistently sort of work during that time, then then you can you can build stuff up.
Erwin  
So Tim, you mentioned time in the market. So my understanding is you have nothing in the market right now in terms of real estate.
Tim  
Yeah, and and it wasn't,
Erwin  
I'd love to market.
Tim  
Grand Design, I didn't have this grand design. actually weirdly, a lot of it was just like, if you think about like 10 years from when I started, a lot of it was I signed a five year mortgage here renewed, I signed another five year mortgage commitment. And that just came up in the last year or two. And I just thought I don't want to do this again. And this was with no foresight to rising interest rates on mortgages. So they're gonna do this again, I looked at the numbers, I was like, this house has done pretty well, I'm just gonna sell it and take the money in many cases, because those houses were in Ontario, and I'm not. So I just thought, right, now's a good time to sell, you know, the, there's no mortgage penalty to just sell this at the moment. And so I just started doing that, and kind of putting money in the bank, essentially, with a view to, you know, getting some more ideas. I had a condo in Nanaimo, which did very well. And then, you know, decided to sell that one. And then you're homeless. So homeless now. Yeah. And then the house we lived in, we did some renovations to it, we decided we wanted to live in a different part of town basically, and have slightly more space. And so again, it was just kind of like, well, the housing markets, good time to sell or sell it. Now, some people might think what I'm doing at the moment is a risky move. I don't because I feel like it gives me maximum flexibility. So I sold all the houses I had and kind of effectively liquidated all of those went to went to cash. And I'm renting my house that I live in now. If I were to buy this house, it would cost about 1.6 million. It's a block away from the ocean. It's a beautiful house. I managed to get I think a reasonable rent price for a couple of years commitment, but I think you know, and then after that people might say well, I want certainty. I want to own my primary residence and great I don't really care and in two years time when this is up people though I extend it, or I'll have the beautiful opportunity to experience something new and go and find somewhere else. So,
Erwin  
but you have that flexibility because you're pretty wealthy?
Tim  
Well, I don't know about that. But yeah, I took that, you know, I took the funds that I had from those sales, and then started to look around for like, how do I, I'm still, you know, still have that dream of, you know, the, the cross hairs on my spreadsheet of my passive income is greater than my expenses. That's all I was really trying to get to. And I use, you know, it's pretty boring and takes a bit of time. But I log every expense that we have as a family into this app on my phone. I categorise it. And that was our call. Let me just my phone up. It's just called spending, actually, the apps just called spending, and it's like a little, it looks like a little wallet. But yeah, so I sit down my wife, we got a budget, there's how much for rent and utilities and kids sports and going out for dinner and groceries and all that stuff. We have a category for everything. So we know what our budget is, I love all the spending, we sit down every couple of weeks and say right, where are we versus x Oh, we can afford to go out for dinner because we've, we haven't really used that budget enough, or we're a little bit high on fill in the blank, we need to figure it out. We've actually got it down to be of a bit of an art now. But one of the cool things about that app is that it draws a graph for you. So I put it in my passive income, I put in my expenses. And the axes have now crossed, meaning that the passive income is higher than the expenses are which, which, again, back to the fire thing is kind of the definition of being financially independent, because you could stop other sources of income and still pay all your bills, we actually have quite a high burn rate, if you will, at the moment as a family because you know, my kids are two my kids are teenagers, they're in loads of sports, we want to travel and things are expensive. Life's expensive at the moment. Right? So yeah, so that's kind of I went from having the houses and really wanting to get, you know, my ultimate goal in 2010. When I started all this was like how do I, how do I replace my income. So it's taken me 12 years, but now I've replaced my income, or I've got enough money to pay the bills. And that we can talk more about how I do that. But ultimately, through one of the courses I took with you, which was around options trading, again, talking about the sort of amount of hands on they wanted to have, I found that I didn't want to have that much hands on stuff. But I loved the model, I love the model of like, generating premium from positions in the market, whether you're selling naked puts or doing cover calls. That concept was something I really enjoyed. So I learned how to do that, and did that for for a year sort of solidly through various ups and downs, and had some sort of moderate success, but it took my time away. And so through that I then came across some of these funds, ETFs and closed end funds and various other things which use a covered call strategy. And most of these are available through Bank of Montreal, for instance, as a bunch of these. And there's various other companies in Canada that do them as well. But they take positions on companies and dividend paying companies and they sell chemicals on them. Yeah, boring stuff. You know, it's Derek foster stuff is toothpaste and toilet roll. And, you know, like we were talking about earlier Enbridge, all the blue chip stuff, basically, and they sell cover calls against those positions, and they manage it, and they pay you a little fee, but the percentage return you get is net of those fees. And yeah, I just was opened up to this whole world of, Wow, I could just put my money into these. And you know, they're they're broadly going to track the s&p 500 and the NASDAQ and the Dow Jones and stuff based on what category they're in, I don't have to think about it. And I'd have to look at it. And they just, it's like this weird magic thing happens where on the 15th of the month, they just put money in my account. And I can either buy more shares, and you know, drip is what they call it dividend reinvestment programme, I can either do that, or I can take the money out and pay my bills with it or, or go on holiday or do whatever I want to do. So I like that. And a lot of the community that I have found through that are people who are already retired. And like you, yeah, and so yeah. And so yeah, I just I'm like I could, this is great. I can just keep growing it and putting stuff in I can take some out. At the moment. I'm not touching it because I'm still doing well with being a realtor and paying the bills that way. But knowing having that peace of mind and knowing I don't have to is worth his weight in gold, because that's what I've been trying to I've been trying to climb that mountain for a long time.
Erwin  
So Tim, you've shared me in private what what you've invested. Can you share how much you're getting a month in passive income?
Tim  
Yeah, I mean, we talked about, you know, north of $10,000 a month in passive income. Yeah, for the listeners
Erwin  
better for Tim and I talked about what he what he's wanting to share, because originally we were gonna say five figures but as to abstract, it can be 90,000 it can be 10,000 but different. There's just why Have over 10,000 So yeah, let's say 10 to 15 grand a month. Fantastic. Thank you. So a very tasty six figure passive income. Yeah. And passive by your standards, which I think you probably have the highest standards in terms of passivity, right? Because you know, lots of real estate investors say the farm buildings are passive. Yeah. Well, a friend of mine has tenants protesting outside his father in law's place of work. Yeah, for peace of mind.
Tim  
I mean, because of the, you know, the apps we use and the technology is amazing. Now, you can trade stuff on your phone, or again, you can like with any with all these brokerages, you can just turn on the reinvesting programme. So when your shares get paid out, whatever your dividend is $100, or go and buy you 10 more shares in the company. And that will just rinse and repeat. And by the wonder of compound interest, if you make a 10% return your money doubles every seven years, which is absolutely crazy, right with just how it works. And so I was recently went to the UK for three weeks on holiday, the longest hole I've had in years. And on the middle week, we went to this little island called Lanza rotting, which is owned by the Spanish I suppose. But off the coast of northwest Africa is in a bit of a weird spot, the Canary Islands, and I remember sat on a sat on the lounge one day and I pulled up the app on my phone, I was like, Oh, the dividends just came in and dropped a few $1,000 in my account. And I was like no, I'm gonna reinvest that. But it's that's you know, is the sort of passive side of dividends is a is a beautiful thing, which I know you've talked about before with Derrick Foster, and some of the companies you can buy directly and get dividends. And then there's these other funds where you can buy the ETF and because they use covered calls, they get a little enhanced amount of dividend.
Erwin  
And we realised but yes, tax optimise
Tim  
tax optimised, obviously covered calls and options trading in general is benefits from volatility. So like in the current market, we've got them, no doubt their premiums are pretty good. So but yeah, it's kind of one of those, for me, it's like a long term buy and hold, set it and forget it, I don't need to look at it, it just you check your account once every couple of weeks. And there's there's money in there. Because it just, it just works like they pay when they say they're gonna pay, you know, chasing people for rent, like these big, multinational companies, and they just put up the money in your account, you don't do anything. So I don't know what could be more passive than that. Like I said, the only non passive part of it is for people who get a little bit in their head about checking their portfolio, and what's the portfolio value, and oh, my god, the market is down 2% today, so I've lost this much money. Well, no, you haven't because it's unrealized. So you just, you know, I was reading this book the other day, by a guy called Andrew Hallam. And he was basically saying that the best investors in this study who did the study, but the best investors are either dead, or they've lost their login details for their account. And what that means is, is that, you know, human interaction as it relates to tinkering with your portfolio is going to make you do worse, not better. If you're buying like an index fund, like a vfv, or something which tracks the s&p 500. You just like, buy it, and then don't touch it again. Whereas people want to think that they can beat the market or tinker around too much. And they just end up making mistakes. And that's kind of one of the odd things for me as a previous real estate investor, you don't get rewarded really for taking action in trading. In the method, I'm doing it you get rewarded for patients, you get rewarded for doing nothing like them. Just don't, don't touch anything. Just collect the dividends, reinvest them, spend them, do whatever you want, but then start trading in and out of things because they're having a bad day or a bad week.
Erwin  
Well, it's a bad year right now, but your, your doesn't bother you?
Tim  
No, I mean, actually, like dividend investing is ideal for a bear market. Because whilst everybody else is like, Oh, my God, my portfolio is down 20%. Well, mine might be down a bit, but I'm getting paid every month. So then when I take that bunch of money and buy shares, and actually buy more shares at a cheaper price, because the market is down, so when it eventually recovers, then happy days. So actually, I mean, you know, I can't remember the name of the person who said it. But some old wise man said that, if you're young, and you're still in the building phase of your investment portfolio, you should get down on your hands and knees and pray for a bear market. Because it's the best possible opportunity to build wealth. You're not gonna build wealth with like 2021 highs, because you're buying at the at the top you wanted to be like, I mean, look at the people who bought at the crash of 2020. If you're somebody who bought the bottom of that valley, by some kind of miracle, and just sat on it, you'd be, you know, double, triple your money or whatever it is.
Erwin  
You're laughing. Yeah. So I don't know if I told you but I'm incredibly proud of you. Thank you,
Tim  
you and my mom.
Erwin  
I haven't shared this with you, but we're always changing stock hacker Academy, when we're doing even more things within it, to try to encourage people to have your kind of your kind of results. Right? I don't know how to explain it. Yeah. Well unveil it on number 12. Yeah, it just again, understand your journey or gave us ideas on things what we should highlight more in the course and spend more time on it. Okay. So for example, Derek, Derek is involvement is greater than ever. And also, Derek's actually positive on the year if you can imagine that. Yeah, it means invest in retired 20 years successfully. And I'm really excited to see to share with with our community the new product that comes out number 12, that we announced in November 12. Yeah. So actually, you have a podcast or on anxiety. And you talked about anxiety earlier? Is that part of the reason why you wanted something in investment? That gives maximum peace of mind? Yeah,
Tim  
absolutely. Like, I know, my own mind in terms of worrying and trust me, like, I don't even look at the news on my phone, or on my computer, I don't have Facebook or Instagram on my phone anymore, because I don't realise that those things trigger me as a person. And of course, everybody's different. But I think that peace of mind is worth for me not having to check those things. And knowing that I could literally like, you know, go on a silent meditation retreat for six months and come back and everything would be fine. Makes me feel really good. I'm still there's still things I want to achieve in financial terms and things I want to achieve in life. But I'm sort of acutely aware of the fact that we only have one life in terms of amount of time to spend or put things to put attention on. And at the moment, my kids require a lot of my attention. So it's nice to be able to give it to them. And and so yeah, through my podcast, the anxiety podcast, I talk about financial stuff on there sometimes but but yeah, for a style is definitely something that fits well with with me in terms of not having to be plugged in. Because if you look at CNBC or any of the financial websites, they are, there's red tickers and crazy things going on and flashing lights, and it's designed to make us scared like the the fear and greed index is a real thing and angry to make you Yeah, the trigger. And we yeah, we know that the financial experts are correct 43% of the time, so you'd actually be better off flipping a coin to decide what the future is going to be like than asking a financial expert on TV. So yeah, based on all those things, it's kind of like, what's the point of looking like for to have somebody's opinion on whether inflation is going to get better or worse, or the stock market's going to crash worse than ever, or this is the bottom is gonna bounce and go up. Like, it's just all completely irrelevant. If you've got dividend money coming in, you're reinvesting it or spending it, you're in things because you know, we're going to be around for the long term, like, you just don't need to, you don't need to engage in that.
Erwin  
So you're just for kind of an extra anxiety, I'd imagine a lot of people have anxiety did a lack of money. But it's funny, like, we have to be able to tolerate a lot of anxiety, being professional investors, in order to get to where you are, which is like no anxiety.
Tim  
You never really escape it completely. I think it's a human emotion. Weirdly, when I started the podcast, I feel like anxiety was a much more stigmatised word. But after the pandemic, everybody seems to relate to it in some way, in terms of like, uncertainty around the future. But yeah, I think, I think it's definitely finding something that people without a lot of money are more anxious around me and their basic needs, you know, they might think of retirement as like a luxury that they can't get to. But that's just when the work comes in. You know, that's when you just start putting away wherever you can, and start building up the snowball wherever you can, and getting it rolling. And if that includes looking a bit harder or working on, you know, purchasing a house, and again, some appreciation that way. That's the way it goes. You know, sometimes you're not opposed
Erwin  
to people taking on more in order to get ahead. But back at some point,
Tim  
yeah, I think there's times in your life when you need to sprint based on your age and your circumstances, there's things I wouldn't do to get ahead. Now I might have done in the past, but you know, people are often talking about, I'm going to take a look at home equity line of credit, not quite as good these days, because interest rates are bonkers. But people historically might have taken a home equity line of credit invested it, you know, borrow that 3% invest in something making 10% and then arbitrage money that way. It's nice not to have to do that. It's just weird being at this stage in my life, where it's the first time I've ever not had a mortgage or a car payment or any commitment beyond just you know, basic living expenses, that's probably the best feeling to have is that I could save money based on our expenses or at the moment, we just don't need to at the moment, but if I had to sort of tighten the belt a little bit, for whatever reason, we could do that. I mean, there's even with dividend paying stocks, you know, in extreme circumstances, they do sometimes reduce the dividend a little bit or stopped paying him for a couple of months but it seems to take very, I mean, there's lots of in a dividend aristocrats or companies have been paying dividends monthly for 50 years. As you know, so if you think of everything we've been through, it's going to take quite a lot to upset that applecart.
Erwin  
If something really bad happened if like one of our banks stopped paying dividends, from
Tim  
Canada with all banks and utilities, companies and stuff is extremely strong. And then obviously a lot of these funds will then invest in like the NASDAQ or tech companies as well. Tech companies are obviously recent, all time lows at the moment. So it's good to undertake some up but yeah, that's the the other thing about the mindset is, is that you get into this mindset, like Green Days are kind of nice in terms of the market, because we're all is happy and things are going up. And then red days is like well, this is an opportunity to in a dividend paying stock world. As the price drops, the yield gets higher, assuming the dividends stays the same. So ones where they've you know, there's there's a fund in Canada called ei t, which is a canoe fund has been around since 1997. It pays 10 cents per share per month. And it's it goes through lots of periods of time where it costs you around $12. So you're gonna get 10% per thing that's been paying out 10% since 1997. Seems pretty good. Right? And they hold if you look at what they hold on hold like Bell Canada, and Ambridge isn't Johnson? Yeah, they actually don't have a very light on tech actually, which is why they consistently do well. But yeah, they're basically very much in the staples in the staples game. So that is an example.
Erwin  
It doesn't move much. But but but it because it pays. Yeah.
Tim  
And again, it's a mindset change from growth investing where you buy Tesla, and it goes from 200 to 1000. And or
Erwin  
even buy houses argue that this is a bit of a growth strategy. Yeah,
Tim  
the dividend stocks, a lot of them are just like flatline. Price wise. They go up and down with the with the turns, whacked the banks have been whacked lately. Yeah, but you have to in order to look at the real return, you got to factor in the dividend return. And if you factor in 10% a year and compounded over time, then they may not make quite as much as the growth model as in just investing in the s&p 500. But it's pretty close. And it's way less stressful. So if you made like nine and a half percent instead of 10 and a half percent, but you get there's something psychological about getting paid every month, because we're so culture to get wages and salaries and all this stuff from our whole lives, see him money get dropped into your account every month for me, it just makes me feel good. Versus riding the growth train, which might make you more money in the long term. But it's just a personal preference, right? You can't put a price on mental health and how you feel about things.
Erwin  
Tim, apologies for being nosy, but probably about two of our 17 listeners will want to know how much does one need to invest to, to generate 1210 to 15,000 and passive income a month get accounted for you want to see it?
Tim  
Well, if you think about the $4 million, right? I mean, if you think about percentage returns, then my portfolio maybe averages 10 or 11%. So you can reverse engineer them out from there. Some of these very safe and steady. I think he it is like pretty much a golden goose as it relates to the type of thing I'm talking about the canoe Fund is a great example. But if you buy the right time, like I did, it pays 10%. And a lot of people would think that's like a lot of old school people think 10% is a very aggressive, great return. The other beautiful thing about dividends depending on your province is they're taxed extremely efficiently. If you live in, you know, Ontario, British Columbia, for instance, you can make like 100 grand of eligible dividend income and pay by a small amount of tax on it as it relates to, you know, employment income. So there's things like that as well. And if you share it with your spouse, and there's all sorts of other cool stuff to check out, but But yeah, if you could build a portfolio around 10%, then there's lots of opportunities to do that with things which will consistently pay out. There's also once the payout 15% and 20%. And getting aggressive. Yes. There are some there are some crypto ones which are a bit newer, and they pay a dividend. And you also hold crypto as well. And they've bought some of those they've dropped a bit and they reduce the dividend but you just again, you just sit on it and wait. And that will go through its own evolutionary cycle and
Erwin  
come back. Right, folks, this is financial advice,
Tim  
financial advice. And as we talked about earlier, like there's things I've done in my investing career where I've done some some mortgage lending, and it hasn't worked out and I've lost money. Now everything you think is going to be the holy grail in terms of getting that passive income goes completely away. But I just you know, I just set it to the side as a learning experience and move on and try and find something else. And the way I'm doing at the moment may change and may alter as well. It's just based on the world and the ability to make money. I think investing in large companies that have been around for for decades and decades seems to be a pretty steady road to just build things up. So there's some
Erwin  
way stock hacking follows this very similar model to the funds that you're investing in. Yeah, boring stocks, sell cover calls. And you know, I can I try to target like 10% returns. But But 10% is much better tax wise, when versus people who are lending for 10%. Like knowing what you know, now, would you ever lend your money again? No, especially your tax rate?
Tim  
Yeah. But it's also just because for peace of mind, like I just don't need I don't need to do that. And anybody phoned me up, I don't have to phone anybody else up. I mean, that's
Erwin  
you control your money? Yeah, you could push buttons, it will be cash in your bank account.
Tim  
Yeah. And like I said, most of you know, I don't do the when I first started, I did the drip thing, which is just as soon as you get paid out X amount of shares, or buy as many as it can, that you got paid in the dividend in the same company. Now I just, I get it all paid in cash. And then I just sit there and look at my portfolio and say, right, where do I want to top up percentages to make sure I have, it's kind of like, diversity within diversity, because the funds themselves hold a bunch of companies. Some of the funds hold a bunch of other funds inside them. So they're, it's pretty universal diversified. And then I'm diversified myself in terms of like, I'd like to have not too much with any one particular provider and kind of spread out that way. So yeah, I don't foresee any large changes, there are people and I know of people who are in where we're at, at the moment, they say, right, when real estate comes down, again, they're gonna get aggressive and start buying a bunch of properties. I just don't, I don't want to do that. Because I just like the easy life, to be honest. And I just like the the peace of mind is more valuable to me than trying to double my money again, again, as we talked earlier, I'm still working and bringing revenue in. So at the moment, I just reinvest in my, my dividends anyway. So it is continuing to grow just by virtue of leaving it alone.
Erwin  
So gonna have the benefit of having private conversations from you, but you have the option that work as much as you want, and not work as much as you want, right? Yeah,
Tim  
yeah, yeah, I'm a realtor. So I can, you know, during the two years of the pandemic, I was extremely busy, like a lot of realtors, and a built up a really nice base of clients. So now I just spend a lot of time taking care of them, and following up with them and making sure they're taken care of and catching up with them. And, you know, I feel very fortunate with the job because it's a lot of hopping around to see people for a cup of tea, or going out for a coffee or something. And I built my realtor business through prospecting, like crazy as well. So it's the same kind of model where I spent a long, you know, I'd sit down for three hours a day in front of my computer, I would run Google ads, and I would just cold call, and phone people. And I pull up lists from the phone numbers from the internet. And I would go knock on people's doors or their houses and just hustle hard, seven days a week for 18 months to build up a bit of a base. And then it's kind of like, you know, like all these things, it's kind of like launching a rocket or taking an aeroplane taking off, most of your fuel is used to get started. And then once you're started is like right now I can, some days only work for a few hours, because I'm just going to phone a few key customers maybe have a meeting and then I'm like, I'm good, it's fine. Now historically, I would have beat myself up and said, you need to do eight hours because at some point, somebody in history said nine to five, Monday to Friday, that's the industrial thing to do. But now with the passive income working for me as well, I just think that, you know, if I've got the opportunity to hang out with the kids, or, you know, sometimes I just stop at lunchtime, and I go and work out in my gym. And that's good. I can invest in myself then, which is important. So I love the freedom that it gives me to do those sorts of things. And I just feel very fortunate that I started in the moment in history when I did, and I worked out well. We have lots of I have lots of stories about opportunities I missed out on you know, I worked for a tech company, in my younger years that ended up getting acquired and I it turns out, I left like eight months before they got acquired and lost all my share options, which again would have been a nice big chunk of money. So you know, not everything works out. But I think if you keep trying and putting in the effort in then you kind of get there. So
Erwin  
amazing. Yeah. All right. Tim, we're over time can ask you any final thoughts you want to share?
Tim  
I think my final my you know, the the thing that I'm sort of most conscious of at the moment is just how we spend time in our lives. And making sure you invest in the things which are really important to you. And if you're at the stage where you're still in the accumulation phase, and that's, you know, listen to podcasts, reading books, get involved in communities where people are aggressively learning skills and trying to do things I think is a great place to spend it. That's where I did and as I said to you offline before we started recording, I've always been the kind of person I like right real estate invest in student rentals. Let's go now just like read all the books and take all the courses and meet all the people and you know, just I don't know what it is my competitive upbringing environment that I want to learn as much as I possibly can to exploit this opportunity when
Erwin  
Never a competitive hockey player. Right? Yeah, exactly. being competitive.
Tim  
Yeah. And then yeah, and then I get, you know, I conquer that thing, whatever it happens to be, and I get there and I think I'm gonna do something different. So get stuck in and don't be afraid to change. You know, I've gone from working in sales for a tech company and I started the anxiety podcast, I started coaching people life coach style stuff didn't quite jive with that. So I kept the podcast, but went back to work for a real estate company, then I became a realtor. And so lots of my friends like you all over the place. And I'm like, Well, yeah, because I'm trying to improve my life. And I'm not gonna be satisfied with just, you know, this, isn't it? And I'm not just going to do this to get a pension. I'm going to change me. We're afraid to change.
Erwin  
Pretty cool. Don't be afraid to change. Sam, thanks so much for doing this. Thank you for being open and honest, show us culture has been a real estate investing. That's why SEO again, and again, I'm so proud of you for your success.
Tim  
Yeah, thank you. I you know, I attribute a lot of it. So relationships like ours, but we've just been continuing to keep in touch and all the help you gave me at the start. And yeah, it's been good so far.
Erwin  
Amazing. All right, thank you again.
Erwin  
Before you go, if you're interested in learning more about an alternative means of cash flowing like hundreds of other real estate investors have already, then sign up for my newsletter and you'll learn of the next free demonstration webinar I'll be delivering on the subject of stock hacking. It's much improved demonstration over the one that I gave to my cousin chubby at Thanksgiving dinner in 2019. He now averages 1% cash flow per week, and he's a musician by trade. As a real estate investor myself, I got into real estate for the cash flow. But with the rising costs to operate a rental business, it's just not the same as it was five to 10 years ago when I started there. Forgive the cash flow reduces your risk. The more you have, the more lumps you can absorb. And if you have none, or limited cash flow, you're going to be paying out of your pocket like it did on a recent basement flood at my student rental in St. Catharines. Ontario. If you're interested in learning more, but it's true for free for my newsletter at www dot truth about real estate investing.ca. Enter your name and email address on the right side. We'll include in the newsletter when we announce our next free stock hacker demonstration. Find out for yourself what so many real estate investors are doing to diversify and increase our cash flow. And if you can't tell I love teaching and sharing this stuff.

To Follow Tim Collins:
Website: https://www.timjpcollins.com/
Facebook: https://www.facebook.com/timjpcollins
LinkedIn: https://www.linkedin.com/in/timjpcollins/?originalSubdomain=ca
Instagram: https://www.instagram.com/timjpcollins/
HELP US OUT!
Please help us reach new listeners on iTunes by leaving us a rating and review!
UPCOMING EVENTS
You are the average of the five people you spend the most time with! Build connections with empire builders and trailblazers at our iWIN events.
BEFORE YOU GO…
If you're interested in being a successful real estate investor like those who have been featured on this podcast and our hundreds of successful clients please let us know.
It is our honour to give back and educate others on how we build cash flowing real estate portfolios using all the best practices shared on this podcast, from the lessons of our hundreds of clients and of course our own experience in owning investment real estate.
If you didn't know already, we pride ourselves on being the best of the best real estate coaches, having the best property managers, contractors, handy people, cleaners, lawyers, accountants, everyone you need on your power team and we're happy to share them with our clients to ensure your success. 
New investor or seasoned veteran investor, we can help anyone by providing our award winning coaching services and this isn't all talk.
We have been awarded Realtor of the Year to Investors in 2015 by the Real Estate Investment Network, 2016 by the Canadian Real Estate Wealth Magazine and again in 2017 because no one told the judges no one is supposed to win the award twice but on merit, our peers deemed us as the best.  In 2018, we again won the same award by the Real Estate Investment Network.
Hopefully being the most decorated team of Realtors in Ontario will make you consider us for your first or next real estate investment.  Even if you don't invest in our areas, there's a good chance I know who would be ideal for you. 
I've been around for a while, some Realtors are talented at servicing investors there are many with great ethics.  The intersection of the two, talent and ethics is limited to a handful in each city or town.
Only work with the best is what my father always taught me.  If you're interested, drop us an email at iwin@infinitywealth.ca.
I hope to meet you at one of our meetups soon.
Again that's iwin@infinitywealth.ca
Sponsored by:
Infinity Wealth Investment Network – would you like to know how our investors returned 341.8% on positive cash flowing real estate over the last five years? On average, that was 68.4% per year.
Just imagine what winning in real estate could do for you.
If you would like to know how we did it, ask us how by calling 289-288-5019 or email us at iwin@infinitywealth.ca.
Don't delay, the top markets we focus in are trending upward in price, so you can pay today's price or tomorrow's price.
Till next time, just do it because I believe in you.
Erwin
Hamilton, St. Catharines and Toronto Land Development, Real Estate Investor, and soon to be builder.
W: erwinszeto.com
FB: https://www.facebook.com/erwin.szeto
IG: https://www.instagram.com/erwinszeto/
https://www.truthaboutrealestateinvesting.ca/wp-content/uploads/2022/09/Tim-Collins.jpg
630
1200
Erwin Szeto
https://www.truthaboutrealestateinvesting.ca/wp-content/uploads/2017/06/TruthRectangleLogo.png
Erwin Szeto
2022-09-26 19:56:00
2022-09-26 19:56:03
Exited Real Estate For Stocks & $10k+/mth for Financial Freedom With Client Tim Collins