Building in Florida, Investing in Glamping in Ontario With Andrew Hines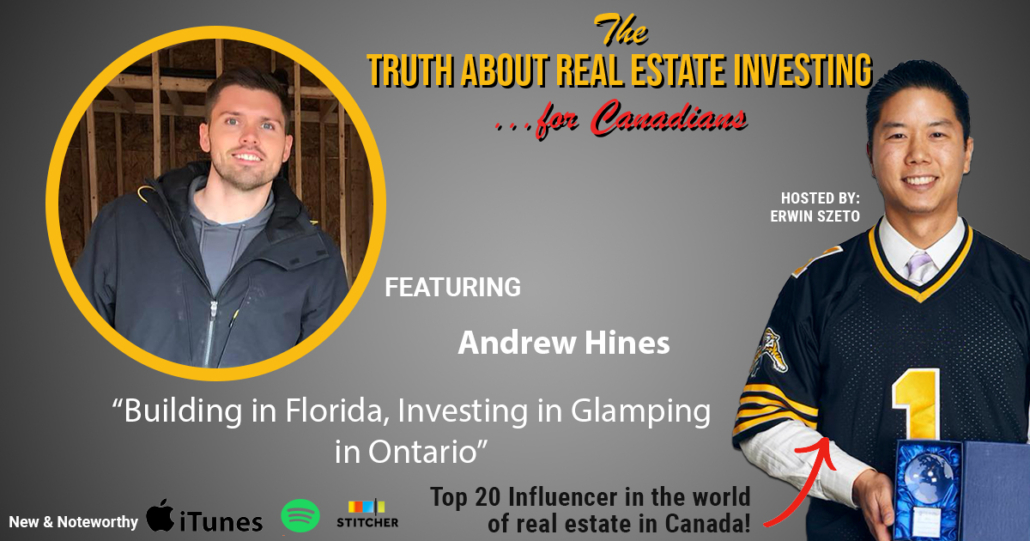 Hello, back to school and back to routine, hahaha.
On top of that, welcome to another episode of the Truth About Real Estate Show, where we're on this journey together for the most efficient path to our financial goals.
 

 

View this post on Instagram

 
A quick note on financial goals: everyone is different, and that's totally cool. Much like fitness routines, some want to be competitive bodybuilders, some want to garden.  Whatever one's fitness program is, it's better to do something, anything at all, than to do nothing.
I believe the same for investing; we all have different goals however, just like fitness, in my experience with investing and having 500 clients, including 45 self-made millionaire investors, the speed and efficiency one can arrive at their goal can improve with education.
What this downturn in the markets has shown me is how, sadly, many made uneducated decisions: more cash flow management, renovations, speculative purchases, and overleveraging.  This current market will sadly flush out the weaker investors and investments, while in my experience, we're hearing from our clients they are buying and readying to buy in this dip.
Who knows if our timing is right, but my research is telling me this could be 2008 all over again: the best buying opportunity of our generation.
Only time will tell.
I'm trying something new with my morning routine. I'm coming into the office early while it's quiet to get my non-urgent, important work done, for example, producing this podcast, completing the new book I'm writing, preparing for our iWIN Meeting on September 17th, a condensed economic update as part of my preparation for the Nov 12th Wealth Hacker Conference.
The Wealth Hacker Conference is a summary of Cherry and I's journey as entrepreneurs and investors to the present. 
I used to be all about making tons of money, owning a 100 property portfolio, but my ambitions tempered once we got married and had kids hence we're always looking for ways to grow our businesses, investment portfolio, and cash flow streams hence we have leading experts speaking to real estate, stock hacking, cryptocurrency while balancing happiness and raising kids. 
Cherry's talk will focus on cash flow management as it's a subject that's extremely important in this current market and will likely save many small businesses and real estate investors from losing their shirts, as many have in the past 2.5 years.
That's the IQ side. 
On the EQ or emotional quotient side, it's been too long since our close community of investors has been together.
I literally almost shed tears at Seth's multifamily conference in May as I haven't seen so many of you for two or more years.  Thankfully I get invited to some smaller private, in-person events, but that's hardly inclusive to our wider community, and based on who's already bought tickets or sponsorship, pretty much all the who's who are going to be there.
If you're from out of town, start making plans for your road trip now, e.g. my friends coming from Ottawa all carpool and the networking on the road trip alone is worth coming.
Speaking of road trips, I drove our Model Y Tesla two hours up north for a golf tournament. Thank goodness it was the best ball as I was more terrible than usual, having not swung a club for over two weeks.  Joining me on the road trip were good friends Hussein Kudrati, the real estate lawyer and Kevin Hyunh of Empire Mortgages.  
From my experience at iWIN real estate, we're seeing the best deals I can recall over the last 12 months. 
Hussein and Kevin shared their experiences and noticed the same: great deals. 
Yes, the real estate market could continue to decline as fear is high as we're not seeing much competition from regular home buyers. We are, of course, being more conservative with cash flow forecasts, stress testing higher interest rates and longer lead times for permits and renovations.
One positive I'm hearing is with so many big players postponing projects, there will be more contractors available for work. Prices haven't gone down, but at least renos can get done.

How long does that last? I doubt even 12 months, but we will see.
Building in Florida, Investing in Glamping in Ontario With Andrew Hines
On to this week's show!
Our guest Andrew Hines I believe, needs little to no introduction.
He graduated from the top Business School in Canada based on my biased opinion of also graduating from the same school. 
Andrew is one of the good ones, having shared his losses investing in Ohio early in his investor journey; he's built townhouse complexes and invested in high-end student rentals. 
Currently, he's more focused on diversification by developing and building in Florida plus a start-up, 90-acre, high-end campground.
We talk about economics, where the market is going and when/where Andrew thinks there will be opportunities.
Have your pens and notepads ready!
 Please enjoy the show!
This episode is brought to you by me! We don't have sponsors for this show, I only share with you services owned by my wife Cherry and me.  Real estate investing is a staple in my life and allowed me to build wealth and, more importantly, achieve financial peace about the future, knowing our retirement is taken care of and my kids will be able to afford a home when they grow up.  If you, too, are interested in my systematic strategy to implement the #1 investment strategy, the same one pretty much all my guests are doing themselves, then go visit www.infinitywealth.ca/events and register for our next FREE Online Training Class.  We will be back in person once legally allowed to do so, but for now, we are 100% virtual.
No need for you to reinvent the wheel; we have our system down pat. Again that's  www.infinitywealth.ca/events and register for the FREE Online Training Class.
This episode is also brought to you by www.stockhackeracademy.ca, where everyday real estate investors learn the best practices in stock investing to earn cash flow in about 15-30 mins per day from their mobile phones. After real estate, Stock Hacking is the next best hustle, as you've heard from many past guests on this show. Among our students last year, 31 trades were shared with them. 30 were profitable for an over 96% success rate and 12% return on capital. I will be giving free demonstrations online, very similar to the one I gave my kid cousin, a full-time musician who just made a 50% return in 2021.  Past, of course, does not predict the future, but if you'd like a free demonstration, go to www.stockhackeracademy.ca in the top right and click FREE Demo.  At the demonstration, I'll have special bonuses. We do not advertise publicly for all my favourite listeners, and I only have two more demos to give in the next few weeks.
Don't delay www.stockhackeracademy.ca, what I consider the future of side hustles with real estate so unaffordable for many.
We're hiring!
Just a friendly reminder that we are hiring more investment Realtors who want a full-time challenge to help our clients, regular everyday people, mostly from the GTA, invest in the top investment towns west of the GTA. 
This is for driven folks who want to multiply their current incomes.
APPLY HERE: https://www.infinitywealth.ca/hiring
To Listen:
Audio Transcript
**Transcripts are auto-generated.

Erwin  
Hello, welcome back to back to school and back to routine. On top of that welcome to another episode of The Truth about real estate investing show where we're here on this journey together for the most efficient path to our financial goals. I believe the same for investing that we all have different goals hence no different than like fitness. In my experience with investing and having 500 clients, including 45 self made millionaire investor clients, the speed and efficiency one can arrive at their goal can improve with education. What this downturn in the market is showing me is how sadly, how many made I made good decisions around math cashflow management, renovations, speculative purchases and being over leveraged. It's really sad out there. Fortunately, that's not our clients experience them just speaking to other stories I'm hearing about from other groups of the current market will sadly flush out the weaker investors and investments in while in my experience we're hearing from our clients that they are ready to buy in getting ready to buy in this dip. Just this past weekend at the meeting, I was sharing an MLS listing how this is the first time I can recall in a really long time where the pictures in the listing show a property in the middle of a renovation, for example, the kitchen is no longer there previous kitchens and taken out. So you just see patched drywall, and the bathroom, for example. There's no toilet, the walls haven't been painted yet, the tile shower has not been grounded yet. And then doing some for some context. Unfortunately, the seller purchased earlier in the spring, near the peak. And they're renovating and looks like they ran out of money. So now they're actually listing the property for a couple 100,000 less than they purchased it for. So these are not my clients. But yeah, like I mentioned, some of the weaker investors will be flushed out in this market. It's really sad. It's really sad. For ourselves though we don't know if our timings gonna be perfect. We have no idea. But from the research from doing a lot of reading, this could be 2008 all over again, I don't think this will be bad as bad as 2008 Real Estate this can be the best buying opportunity of our generation. Only time will tell I my crystal balls is as good as yours. On a personal note, I'm trying something new with my morning routine. I'm sharing kids, this helps anyone can walk into their office early before anyone else does. While it's quiet to get my non urgent important work done. For example, I'm recording this podcast, I completed a new book and I'm writing. I've been prepping for all these presentations at the give including the one meeting that does pass on September 17, I had to work on a condensed economic update, which will form part of my presentation for the November 12 wealth hacker conference. Then uncovering some really interesting stuff, I think actually caught our government and some lies that are published on their own website. And I'll be sharing these sorts of things at the wealth hacker conference. For those who don't know, the conference is a summary of China's journey as entrepreneurs and investors to the present. When I first started, I used to be all about making tonnes of money. Before I own a couple properties. I actually had a goal of owning having 100 property portfolio but my ambitions have since tempered you know after we got married and had kids parties changed, but we are always looking for efficient means to grow our businesses our investment portfolio and add to our cash flow streams. Hence we have leading experts on all the topics that you the listener interested plus I'm personally interested in well, we have someone who retired from stock investing. He's a faculty member of soccer academy and Derek Foster. We have a cryptocurrency expert coming on it but also we have Jesse it sir, because he he's at a point where he's all about balance, Jesse is worth over 200 million, so he's very rarely rich. But once you achieve a certain point of wealth and success, focus on it's a change towards balancing happiness, raising your kids time with their parents, because our parents won't be here forever. I think we all know that cherries talk will focus more on cash flow management as a subject that's extremely important in this current market, and will likely save many small businesses and real estate investors from losing their shirts. Now she probably helped some into prosperity as well. But yeah, many small businesses and entrepreneur, real estate investors lost their shirts in the last two and half years. Again, that's not our clients experience. This is what we're seeing out there in the community. So that's the IQ side on the EQ or emotional quotient side. It's been too long since our community of investors has been together. I literally want to shed tears that sets multifamily conference in May, as I haven't seen so many of you in for two or more years. Thankfully, I get invited to some of the smaller private in person events, but that's hardly inclusive, like the smaller events might be 30 people at the most, usually the more like 235 But here's an invite to the to be more inclusive to our wider community. And based on who's already bought tickets and our sponsors, pretty much all the who's who's gonna be there. If you're from out of town, please start making your plans for the road trip now. I plan a road trip like connect with others in your community, in your local community. For example, why Friends from Ottawa give me a large, pretty large contingent. We're all going to somebody's going to carpool. And you know, just do the journey together, meet up at the Big Apple together.
Erwin  
keep that conversation going on real estate and whatever else you're interested in building wall. Speaking of road trips, I drove our model wide Tesla, two hours north for a golf tournament. This is a buddy's golf tournament. Thank goodness it was basketball as I was terrible, more terrible than usual, having not swung a club for over two weeks. Joining me on that road trip was good friends who St. droughty, the real estate lawyer and Kevin Hayden of empire mortgages. From my experience in real estate, we're seeing the best deals I can recall over the last 12 months. But you know, I like lots of data. So Kevin, and Kevin and Hussein being in the same industry as us, they shared their experience. And they're also seeing great deals. Some even mentioned, they're seeing prices back from like 2019. There are some sellers who are that motivated, they're willing to give up the the appreciation from the last three years. Yes, the real estate market could continue to decline, as fear is at a high. And right now we're not seeing much competition from regular homebuyers. It's the more ambitious types like investors who are ready to get an earlier again, I think the market will keep continue going down. But again, I could be wrong. No one has a crystal ball. And we of course, in evaluating deals, being more conservative with our cash flow forecasts, or stress, testing higher interest rates, and expecting longer, longer lead times for permits and renovations. On the positive I'm hearing is that with so many big players postponing projects, like big players, like no other condo developers, there will be there'll be more contractors available for work. Actually, that came out in the last unemployment report. When August is unemployment number came out of 5.4. The largest industry for lost jobs was actually construction. So unfortunate for them. Fortunate for us that we might have more labour available to do our own rentals. How long does that last? I don't for very long, maybe 12 months, but we will see onto this week's show. Our guest Andrew Hines, I believe leads little little to no introduction. He graduated from the top one of the top business schools in Canada based on my biassed opinion of also graduating from the same school. And here's one of the good ones that's out there. Having shared his losses early on investing in Ohio early on in his investor journey he has since built townhouse complexes. He's invested in high end student rentals. Currently he's focused on diversification by developing and building in Florida plus a start up 90 acre high in glamping. campground, of course, I think most of you know Andrew for him also from having one of the top podcasts in the Keene real estate investor space. We of course talk economics, we talked about where the markets going, when and where Andrew thinks there will be opportunities. So have those pens and notepads ready. This is a good one. Please enjoy the show. And your thanks for coming in. Thanks for having me. Let's get you busy these days.
Andrew  
A lot of things my baby boy number one eight months old, almost nine now. So yeah, that's that's been a change, we'll say. And, you know, we've got a lot lots happened actually, since the last time I was on here. I think it's been what a couple years now bring about long. I think it was like, right, like, started 2021. So anyways, yeah, and we headed down to Florida since then, and, you know, got into investing down there and also picked up a campground and that's had that's had a lot of, you know, learning experiences included, and been something I think we'll probably talk a little bit more about today. And we'll
Erwin  
definitely talk about both those things. Just Just so we're clear that they're mutually exclusive. But campground is not in Florida,
Andrew  
campgrounds. Tober. Mari and then yeah, the Florida is an entirely different endeavour. Yeah,
Erwin  
yeah. It's just those those two items keep coming up in our community. Florida, generally, us investing Florida seems to be by far the most popular destination for us investing and recreational, recreational short term rental is like Yeah,
Andrew  
yeah, so I don't take any credit for the sort of short term rental side of things. With the Florida side of things. I feel like this always happens to me. Anytime I talk about something a lot, a whole bunch of investors end up in the same area. So I used to talk about well, and all the time, and then all of a sudden, well, it exploded. I was you know, early on, I'm like, There's no way I could have any impact on these things. And I'm not tooting my own horn, but when enough investors because it doesn't take that many to drive prices up in a market or to create a little bit of a movement towards the market. So I started talking about Cape Coral last year, and now actually have like a little community of people I know, says, you know, other people thought, yeah, we're gonna get into Florida. Hey, you know, we're looking at St. Petersburg, we're looking at Tampa, Sarasota. And oh, Andrew, how do the numbers work where you are? And then I tell them the numbers are like, Okay, we're coming down there. Yeah. So it's funny, you know, community is really what it comes to. It's not it's not me, per se, but the community like people talk to each other. And the word gets out when there's things that make sense. Yeah. And I think southwest Florida when we can dive into the numbers or what have you makes a tonne of sense. And a lot of the economics haven't made a tonne of sense. So I think when you have something like that all it takes is some chatter for and people flocked to it.
Erwin  
It's gonna be we would talk forever on how you got to Florida. We'll touch on some of the things but yeah, the whole time for sure. X and
Andrew  
yeah, high level we can go over all of it. I mean, I think it's not for the faint of heart, no one's gonna go invest internationally, you know, if they weren't compelled for a very sincere reason to do so.
Erwin  
Alright, you just said a mouthful person. My intention is I don't mean to put words in your mouth but how glad Are you that you started a lot of this stuff before you had had your first child?
Andrew  
I wish I had done so much more
Erwin  
is the funny thing is like for my experience, like for example, the majority of our clients, they don't come start investing in real estate till their kids are a bit older. Like eight, nine years old, or in high school or after university
Andrew  
that'd be easier. Yeah, I mean with with a newborn. I say this to people because I had no idea I thought everyone was being dramatic when they would tell me the horror stories. Tell me the horror stories of having a kid and how Oh, you'll have no time enjoy your sleep where you can I'm like you're being dramatic. Could you stop you know, let's just take it easy. No, like the like the old nice dead. And this is like a new version in Jordan and I say the same thing like the oldest died and now we have you know the current current version, which I mean, love them. He's so much fun. We just had to accept that like that life doesn't exist anymore. And now it's you know, Andrew and Jordan 2.0. And, but we're we're changing in a positive way. Like I mean, I Speaking for myself, like just really reaching out to people are really getting help building my team. Like these are things that I could coast by before and not do these things. It became a make or break scenario. Like I had to do it or I was done.
Erwin  
So I apologise for the hardcore real estate nerds like myself for listening, which is like dying to get into Florida. chemtron investor Yeah, but remember, we you and I use the golf a lot together. Every almost every week, almost every week. For example, when someone can't make a tee time like they can't the last minute the first people aren't calling are people like yourself the old view? Single you are not single, the people who didn't have kids. First People I call savvy call people like you, like Charles like Steve for before he had a kid. Yo, we needed me to force like I'm there. That's the no did you?
Andrew  
Yeah. Well, I mean, I think that there's room for that to come back. But I think as you know, yeah, like having a nanny, like we had a nanny over the summer. She's left now we're trying to, you know, sort that out again. And, you know, just everything in between a personal assistant and a nanny. And, you know, building out my team with my businesses like those are all things that can maybe help me get back on the golf course a little more often. So looking forward to that, because my game, sir, sure did suffer this year.
Erwin  
Actually, you're just sharing now with your journey. And now being a father is a wonderful analogy for this life and business in general. You can't do it by yourself.
Andrew  
No, you can fool yourself for a while, which I did. And I did have some help. But it didn't have the kind of help I needed. And you hit that breaking point. Like, I think we all acknowledged procrastination is sort of the signal like I must be doing something wrong. If I'm procrastinating on this. It's like your body, your mind is telling you you got to do to adjust here. And I think the next stage is like this point of despair, where it's just like, what's the point, I have no hope of catching up on all the stuff I have to do, which I was sort of getting to, even before before we had the baby. So then baby comes along. I'm like, wow, okay, well, things have to change. There's no no way they could stay the same, which I think was a really positive thing. So I can thank my son for that when he's a little older and can understand. But yeah, that that helped me, you know, push along. And you know, I hired my full time video editor full time assistant, both of them in March. And I've brought on an operations manager for my construction company. I'm now using a general contractor in Florida. These are things I wouldn't have done before, I would have general contractor than myself, you know, try to try to do everything and then you know, burnout. And you can't grow that way. And I think even with our campground, which we'll talk about more like the team building, the amount of people that are in that organisation, the amount of help, and that's been a learning experience, seeing just what can be outsourced? And how if you set the pieces up, right things can manage themselves, you have to have oversight, but you don't need to be involved on a day to day.
Erwin  
Right. Okay, so I hope people are taking note, did you set a lot of really important points, oversight? And then you didn't mention it, but I know you're good at math.
Andrew  
Yeah, I like back of the envelope. Simple math, right. Things need to make simple sense.
Erwin  
Yeah. And so you're managing your numbers, which is a great, so while you're scaling up, so this is a really good segue as we get into real estate while you're scaling up, you're still watching everything and I think that's been something that's been missed by a lot of investors that we were talking about. Recording is many people missed on their numbers. And I'm talking about like overlap. For sure over leverage buying on the way up paying too much interest. You know, And yeah, it will
Andrew  
a lot of people aren't cognizant of the ability to lose, right? I've lost, I lost back in 2012. I think a lot of people, you know, pie in the sky, like, you know, hey, look how good I'm doing. But the market was doing good. It wasn't necessarily us it would did good. I always took a very clear look back on my projects and said, Well, if the market hadn't gone up while I was doing that deal, would I still have been happy with that deal? Would I still have made money? And the answer wasn't always yes. But the market saved me just like I saved a lot of people. And I've spent a lot of time pondering these things, I slowed down on my investing come like 2017, because the numbers started making less sense to me around here. And that's when I started thinking, well, we'll wait for this market to kind of cool off. But then it was obviously taking too long. So I started looking, okay, well, maybe Florida, maybe there's other markets I can look at, I didn't really want to go up to Sudbury and I was kind of battling my own challenges with no time. So was I going to take on distance investing, when I wasn't really you know, delegating properly. So people, you know, long way of saying, you know, people weren't really focusing on the fact that the deals didn't really make as much sense anymore. They were counting on things to go up, they were counting on being able to have breakeven cash flow and low interest rates forever, which was never really that reasonable. So I was, you know, for me, I was thinking, let's go find markets that haven't been gone up by like crazy amounts, where the numbers are close to working, and it see what we can do. And that sort of led me to Florida and then also into the Airbnb side of things where, you know, you've got stuff that can generate a lot more than a typical rental.
Erwin  
Okay. Apologies. Gonna put a bit of a caution on this. I think for newbies, they need to focus on something preferably closer to home.
Andrew  
Yeah, for sure. Like me put it this way, like to hire a GC is a huge risk, I think across the board. Most new investors who hire a general contractor are probably going to get burned in some way. Because you don't know how to ask the right questions. You don't know how to vet these people in you probably are a little bit optimistic and want to trust when you shouldn't. You know, I think that that's something that people do. I did it early on, I wanted to trust the property manager I worked with in Ohio back in 2012. And the guy stole my money, he took my money, a lot of my house to be destroyed, and did it in a way where he act like the victim, like, you know, hey, you know, we're just doing our thing, like getting things done. I'm like, Yeah, but how about that money? You have? Oh, yeah, I can send that to you. It was one of those. Oh, I'll send that to you. Yeah, no problem. Call him again. The next week, can you send that to me? He owed me like 1000s and 1000s of dollars. And he said, Yeah, I'll send it right over, never sent it. And eventually, after like months and months of that, Oh, this guy is actually just screwing me and pretending that he's going to pay me like keeping things positive, I'd never witnessed that, you know, Service with a smile, we'll call it or disservice with a smile. So I saw what people are capable of. And I've seen it in the contracting world, like, people are capable of some pretty nasty stuff and just sort of place your trust in a general contractor knowing that I would say there's a good number of them out there that are willing to take all your money and not not do a good job. And that's totally fine with them. I really started to focus on how do I find people who would have something to lose if they treated me that way. You know, the old way was I'll do so much business with you, I'll make them want to treat me well, because they know I'm going to do business with them with them long term. And the newer way was like coming into Florida. This is too new. I don't know anybody here, I'm not even from here. Like I mean, I'm assuming most contractors, dollar signs light up in their eyes when they see somebody in that situation. Fortunately, I was coming in with some good experience and lessons learned. So I went to the RIA in Fort Myers, Florida. So on Gulf Coast, which is right next to Cape Coral, where I ultimately decided to invest, I wanted to find community, because I think community is so important. So then all of a sudden, I'm speaking with people who have been in this area for 10 years, and everybody talks in the investing world, everybody talks. So if you've got people who are doing good business, and that and you know, they've been able to do joint ventures for 10 plus years, and nobody's talking trash about them, they're still you know, they're still coming to meetings. Now, all of a sudden, I think I've got a much better starting point to start interacting with people because they got something to lose. That's the big thing. When I go to new markets now I'm looking for do these people have something to lose if they if they do something sideways? new investors don't think like that, because new investors just want to trust that hey, this GC says they can do this. People talk people, people promise. I would say in the contracting business. 99% of promises are not fulfilled on time anyway, they might be fulfilled, but they're not fulfilled or not fulfilled on time. We'll have a forming contractor. Tell us Oh, we'll be there on Friday. Don't show up. Oh, okay. Something came up. We'll be there on Tuesday. They don't show up. Hope Thursday's the day. Thursday happens. Oh, well, we're all off today. Well, hang on. You said you'd be here on Thursday. You're on vacation. You know that type of thing happens. And without experience. People just don't know that this has come didn't budget for didn't budget for it. So you know, it started with the student rentals for me to GC my own stuff. I only had two to four months to do an entire renovation with an addition. And you know, getting anything done in four months is where the general contractors almost unthinkable. So we would do you know, partial guts, build an addition and close it and have students move in within a four month period. And so getting into that, that's why I had to GC I wouldn't have been able to do those projects otherwise. And still to this day, I don't think I could have done them in the timeframe we did, unless I had my own employees working for me full time doing my own work, and some some subs, but I mean, at that time, I had probably 50% internal workforce. And then 50% sub
Erwin  
I know you mentioned before, can you share how many employees you had at that time? Or
Andrew  
just like four four or five like so like main carpenter site, super a couple of general labourers, and then another site super on a different site. But yeah, now I, now I'm about to have two in that. And then I have subcontract with my assistant is subcontracted my video editor subcontracted, but they are full time for me. Got it? Yeah. So but you have four or five employees on the tools? Yeah, probably three on the tools. Plus subs. Yeah,
Erwin  
got it. And it's a, I think there's more interesting to talk about here, just want to end the point with generally people who scale have in house staff, it has staff is so critical. Yeah. To keep the cost under control and schedule on control. It's
Andrew  
tough, though, because like, then you'll also see people who make a really good relationship with a general contractor and crush a lot of business. But you got to acknowledge that that general contractor is making a lot of money, like they're building in a profit margin for themselves. And if that works for you, and it works for them great. In a market that's going up in value constantly, that tends to work better. In this current market, I think we're gonna see more people shift to this model with, you know, hiring your own staff, keeping them busy, like not Petia is a good example. He's got his own full time crew that works on all his projects. So he knows, people aren't going to say, Hey, I will be there tomorrow. No, you're there today, or you're not getting paid. So that's very different in the employee relationship. That's why things get done fast. Because downtime is huge. Like you've got, you know, between one trade and the next people say, hey, I'll be there on Monday. Well, you say, well, this trade is finishing up Friday. So you'd be here Monday, they say Monday, but then they don't show up until Wednesday. Now you've got two more days that the house was just sitting, if it's your own employees, and they're capable. Now all of a sudden, you're moving a lot faster, less interest payments. However, you know, of course, the issue is you need to have enough business to keep these people busy. And people didn't
Erwin  
understand that. Yeah, like I literally, I think we both literally know people who will take on projects, just to keep their stuff busy. Yeah. Yeah, I think risky. But I think Matt's
Andrew  
actually offering his services out to other people, because I think he kind of scaled down a bit of his operation. So now he's actually contracting for other people now keep his people busy, right, until, you know, things kind of come back around, which I mean, that's another discussion we can have when you know when where's the bottom? Where's the bottom? If they keep raising interest rates? We're not going to find that bottom for quite some time. But we'll see. But anyway, so in the meantime, yeah, you know, he knows he's got good people. He wants to keep him busy.
Erwin  
He's smart. No, he's a smart guy. You need to have him back on the mat if you're listening, but you're not.
Andrew  
He's absolutely not listening. But you know, somebody can tell somebody will tell him tell him that. Yeah, yeah, definitely. He's always a great conversation.
Erwin  
But again, a smart like, there's lots of people still need renter contractors, and actually, it's a part of a bigger story is people who do renovations, they're still in short supply, even though there's all these projects, like, for example, talk about Matt. Yeah, he's pausing his own investing, yeah, to service other people as a contractor. And so my point is, contractors are still busy, even though there's tonnes of projects being put on hold or not even happening,
Andrew  
but a lot of people are mid project. And I think what we're really gonna see is it's going to take like a year before you start to see a lot of developers didn't do a new start, like they had something that was early in the in the stages, and they just decided, hey, you know, we're ready to go for permits. But let's just wait. And I think that that's going to be a very common thing to see in the next couple of years unless these interest rate hikes level off or start to reverse. Because building expense has not gone down directly. Not yet. Anyway, maybe it's true and labour, material and labour. I mean, maybe, maybe we'll see once you know, a bunch of people get laid off. Now you've got all the sudden more supply relative to your demand. And maybe now we start to see it's easier to get a contractor. It's easier to get employees. And I'd be awesome. That'd be kind of cool. Yeah.
Erwin  
Like I wouldn't mind starting to do some flipping through. Well, I
Andrew  
mean, we're getting to a point like this whole market is changing. And now there's a lot of people who will cry over the Spilt Milk and the money that they've they've in their head unrealized losses, versus looking at Holy crap, what an opportunity to buy a whole bunch of cheap real estate and cost average and do really well yes, the interest rates are higher, but the prices are going to come down relative and rents are on their way up. So there's a huge opportunity coming, and one that I don't think we'll pretty much ever see again in our lifetime, which I think real estate is going on the other side of all this, the next boom period is going to take real estate out of the reach of the average Canadian completely.
Erwin  
I'm glad you say it because when I see it, I don't believe it.
Andrew  
I 100% think that you're already looking at affordability people can't afford, you know, even their gas bills anymore. Like we're going to a renter state and, you know, do you want to be the owner? Or do you want to be a renter, like, you know, build up your rentals. Now, the challenge will be for anybody buying something fundamental that can weather the storm, you know, the interest rates can survive a 10% interest rate. Because it seems like that's the direction we're heading. I mean, to undo the damage they've done with all this money printing and the fact that they're still printing it. You know, when will be the right level of interest rate hikes, I didn't think they would go this far. I didn't think that they were willing to do something so ruthless when they were so generous before Oh, here it takes her to do all this. We just want to protect you will drop interest rates,
Erwin  
we'll have appraisers that are going to come in because they shouldn't come in.
Andrew  
It just it's just crazy how they just flipped a switch. And now Now they're out now we're going to be responsible. Like there's literally that quote of Justin Trudeau saying you'll forgive me if I don't think about fiscal policy. Like exact quote, you'll forgive me he last. You'll forgive me if I don't think about fiscal policy. We're going very much the other way now. So who knows where we go, how far down it goes. But I think that the, you know, there's never a right or wrong time to know there's probably a wrong time. There's no right time to buy in this process. I think it has to be fundamentals, you're going to find even if the market averages, you know, at point A, you could still buy something significantly below average, for a number that makes a lot of sense will cashflow even if rates go up further. That's I think that's where people's heads need to be at
Erwin  
the sad thing that was that the best the vestments that our clients are transacting on, take a lot of capital. Like, for example, the opportunity that we're seeing that we didn't see we've almost never seen is single family to triplex conversion opportunities. That takes a lot of cap, you know, a tonne of capital. So that's said the best opportunities are for those who have deeper pockets. People who prepare deeper
Andrew  
pockets can raise the money, yeah, more experience, for sure. Able to do those projects. But I mean to go in take all that time, especially when it's so hard to get contractors. Now you're looking at a project like that a year turnaround, probably in a year. Where's that value gonna be? I mean, I think we can reasonably assume the rents will be pretty good. But will that work for you know, if you have to leave a few $100,000 in the deal? Is that okay? I think for lots of people it is, especially in our networks. But there's a lot of people that that eliminates from that game.
Erwin  
Thankfully, we're looking at some for example, where they have they have garages, two car garages that are hooked up hooked up for utilities. So we're just we're like, we never saw these opportunities, like six months ago. Yeah. Or like there'd be like 50 offers on? Yeah, I'm exaggerating, it'd be like six to 12 to 18 offers. But again, it takes a deep pocketed investor to be able to do these things, which is kind of sad for me, because I always I'm always pushing for the logo. I just want to see
Andrew  
the newbies. Yeah, when people buy the camera. Yeah, I don't think there is an easy way to start from scratch. I mean, like, I know, a lot of people have listened to the podcast and when things were going up that worked. But now I feel like getting in and working for somebody, like just get into the industry somehow even part time work outside of your full time job. If you can volunteer. Come work for somebody like you and get coffee and just learn
Erwin  
for buddy up. Yeah, buddy. split everything. Split the mortgage. Split the work. Yeah, right. I ain't gonna wind up. I ain't going to Saskatoon to invest.
Andrew  
Yeah, that's always how I felt. I didn't want to do the distance. I mean, of course, Florida. I mean, but I kind of want to go there. I want to go down there. So I'm looking for excuses. So that you know that kind of works, but and Tomori to Okay, yeah,
Erwin  
you're saying to me things because we're going in different directions. Too many notes. Too many to me. opportunities for learning here. Let's start with Florida. Cuz you mentioned it first. Yeah, it does. I've seen your numbers. It's I can't believe how cheap land is the start off of there. Why is the land so cheap? It's not
Andrew  
as cheap as it was when I started. Well, yeah, so So may 2020. I started I don't know, when I started buying, I think was right around the end of May 2021. I started closing on lots and they were like, anywhere from 23,000 up to 31,000. US saw us figures. Now lots are closer to like 45 in the areas that have been looking. And even
Erwin  
with everything's coming down. Oh, yeah. Yeah. foreign markets strong. Yeah, I
Andrew  
mean, because North port and Fort Myers are in the top 10, two of the top 10 fastest growing cities in the US. So that area, like although the the interest rate pressures, you know, obviously to bring values down. The in migration is pushing it the other way. So that market hasn't been hit like Ontario has. So
Erwin  
just to add to that, though, the insider information I'm getting a lot of people bring cash,
Andrew  
tonnes of cash. Yeah. 50% was with as of the last Remita meeting I went to it was 50% cash investors. I don't know what it is now. But like over this boom period, 50% cash investors. Well, people serve cash buyers, sorry. And that means something different in the EU in the US in general, because when you say I'm buying cash, you can't go get a mortgage. Like you can't actually close with a mortgage whereas here you just don't put their financing clause in and then you can still you can still add them or if they don't do that they're
Erwin  
if they have the cash but it'd be interesting context is often I have the financial means.
Andrew  
cash offer I have the financial means yes. Yeah, it's literally cash. Yeah, literally cash. Yeah. So their real estate board was was saying 50% cash. So yeah, that's big, a lot of money coming in. They're easy. Yeah. And, and the biggest thing was relative price point, we talked about the lots for cheap. Well, the houses were cheap too, compared to here. Like if you think about what you get, comparatively. And I just looked at that. And I like we love Naples, which is about 50 minutes away. And we spent a lot of time there for last seven, eight years, every every winter, we're down there. And so you know, I started going to the races just to see what was going on. I saw people flipping and doing things for low margin. And I'm like, I'm just not going to do that at a distance. That's not, that's not my skill set. And with my available time, they're not going to do that. So your risk tolerance. Yeah. And but then I heard a guy that I ended up partnering on a deal with Dave, he was speaking on stage, he's like, hey, you know, I build new construction. And here are our numbers. And the numbers didn't look fantastic. But they look decent. And I just looked at what was the completed product? Why can we build for I'm like, I need to get a foot in the door with construction down here. And so I use it as an opportunity. I funded the deal. I actually completely self funded the entire deal at this point. No mortgage so far. And I don't think we're going to be it's it just didn't work out that way. But it was an opportunity. He introduced me to the builder. I said, Hey, you know what, I'm going to have to do this on my own too. So I am going to be dealing with Sherry, who he introduced me to, and we're gonna build more together. And I'm treating this as part of a business strategy that I'm building out in Florida. Is that cool with you said yes, that's cool. We have great relationships, he and I and I still use them as my realtor down there when you know, I'm looking for stuff buying stuff, asking him what I should build, you know, Hey, what should I build Dave? What's gonna sell well, so he's, he's available for all that stuff. And yeah, that's gone. That's gone really well. So I kind of lost track of what what direction we were going with this. So feel free to direct me what you want to know,
Erwin  
ideas and what you're investing in. Like? Yeah, it's square footage cost per square foot. So
Andrew  
the first one I'm building which were drywall now pool is dug. We're gonna be done.
Erwin  
You're renting it out. You're gonna rent it out.
Andrew  
This one I'm gonna sell. Oh, first one. First ones for sale. Yeah, spec. Spec builds spec builds. Yeah. Sorry, just
Erwin  
for the listeners benefit spec build is when you build it first. And then you sell it.
Andrew  
Yeah, exactly. So I guess I'm technically more of a developer on the deal than the builder. Because I've hired a builder, although you could call me the builder because I own a lot. So I hired the GC. And they did all the permitting everything. I spent a lot of time obviously getting to know what their operation and all that. But also Dave helped with that, you know, create a new connection. And yeah, so we've got 18 180 square foot, plus a three car garage. It's four bed, two bath. There's also an outdoor kitchen, there's about a 250 square foot area for the outdoor kitchen on the patio. And then there's a covered lanai. So that's that's a covered patio, but then there's a cover Lanai, which is not covered, it's the screened in area, with a pool, and all of that, I think my all in cost, including the lot, we're going to be around 420,000 And that one,
Erwin  
so we'll buy a bachelor condo, GTA for that.
Andrew  
So it wouldn't be that number anymore. But that was based on what I could buy the lot for and what my building costs were when I started. But initially, when this was a concept, we were looking at maybe 499 list price, which wouldn't have been a huge profit would have been a very small profit, that spec went up to 599. As of like, by the time I broke ground, that was what we were expecting we would list for, and now we're sort of back down to thinking we'll list it for you know, 580, something like that, at this point. Now, you know, granted, there's another two months, but there's a good good buffer in there based on what I paid for what I'll be into it for. So I have another one going not too far from that like within a kilometre, or I guess mile we'll talk miles This is Florida. And that one is downs, even bigger 2150 square foot. I think 2130 Actually, outdoor kitchen This one also has a hot tub and three car garage. I'm trying to stick with three car garage and everything just because I mean envy like I want a three car garage. Let's all build it until I finally get one. Okay,
Erwin  
all kidding aside, it's an investment you'd like. You think you have your investor cap on.
Andrew  
No matter what I mean, triple growth car garage is going to be a selling feature. Right, right.
Erwin  
That's the want people to think that they need to the way they invest is how they would want to live.
Andrew  
Oh yeah. No, and I am calculated. I do like to think of things like hey, would I live in that? So I go after a consumer that would think similarly to me in certain ways. But yeah, I'm setting these up for families. The big thing is like the general contractor I'm working with it had set models they were already building and I am working with those models. So the big benefit there is Lee Times weightless. They know what they're building, they order their trusses early. They order all the materials in that day and the mechanicals they need early. They're soft costs and the saw in the process for for generating permit packages, it's all very simple because they've done it so many times. So I'm very much okay with that. Of course, some people you know, I want a custom house, that's super unique. Yeah, that's not what I'm doing. And that would cost more to do. Yeah, this is kind of working within their parameters. But that works well for me. So I'm going to do my own things that are going to make these really awesome for the ones that I keep Airbnb, like, the second one I was talking about, I'm keeping that I did things that I wouldn't have done if it was just resale like putting in the hot tub. I don't think that necessarily I'll make that back. But maybe it would
Erwin  
be hot for vacation rentals. Yeah, certainly
Andrew  
means especially like, if you think Florida and like January and February. It's not it's not as hot at night and stuff like hot tub would be awesome. Like anytime we go to Florida in the winter, where we want the hot tub. So putting that in was was big, but you know, just certain other things, I'm going to put in a bunch of palm trees in the back to just you know, make it go for Airbnb, and wouldn't do that if I was just selling it. So there'll be different things like that, that I do. So the bigger one, that one down will be in for closer to 450. And I think the values cost us 450. Yeah, yeah, the value on that one, probably somewhere around six or over six. So not actually as good of a profit margin if I were to flip it, but for me, I wanted you know, a nice big one that would work really well for Airbnb. And that'll be kind of the starting point for Airbnb down there. And, and then we'll go from there. But my plan is, you know, keep one sell one, keep one sell one, I bought 10 lots, and just keep sort of buying. I'm going to build a few more before I buy. Because I mean, maybe those prices come down a bit. And there's no rush like now they're plentifully available, whereas before they were a little harder to get. So we'll, we'll keep that moving
Erwin  
so many questions. Okay, what made this location make sense for you?
Andrew  
Well, Gulf coast here at great sunsets, you're within an hour Well, probably 45 minutes from from my lats to like great beaches like Fort Myers Beach, which is like, you know, world class beach. And I think the Gulf Coast in Florida is just better for
Erwin  
Strong's convention centres.
Andrew  
Cape Coral is more of my friend calls it the Simcoe of Florida like oh, it's a very it's very much a value play. Like it's among the it's like your, you know, bang for your buck, call it and I think from a vacation standpoint, as well is people get to go down warm climate that's below the where they call it the frost line, you don't get frost down that far in Florida, typically ever. And so you get all the warmth, you get to be in southwest Florida, at a price that otherwise you can't really get in southwest Florida, especially being that close to water. Cape Coral is really unique because it's the Canal City. There's canals running everywhere. Not every law has a canal and my lats don't I'm avoiding that. But there's a lot of people who will have their their boat right out back from their house. And so they can take the saltwater canal through the city and get it out to the Gulf Coast. So it dumps onto a river that runs between Fort Myers and Cape Coral, and then they can go right out into the Gulf
Erwin  
a bit of a geek I can't imagine the infrastructure cost to have it took a while.
Andrew  
Another thing that's great about roads are expensive enough, it is the weird thing about kypros I feel like they thought the city was gonna be so much bigger than it was back when they they originally sort of organised it and put in all these roads and lots because the whole northwest part is like very very scattered like there's one house on a street and then you'll have a whole bunch of vacant lots on either side in every new house going in is really nice, you know, nice house more expensive houses. It's a very very up and coming area. But all throughout Cape Coral, you'll find just a vacant lot here vacant lot there. Don't like you're not like here No, I think for the longest time it was fairly stagnant. People weren't really building much that's geared up more in the last few years. And I think as values were coming up it was kind of helping things a bit. But you know, it's the chance to get into a place where there's no HOA like there's no homeowner's association where you're when you're restricted on what you can do we're going to be a condo board right basically yeah similar to a land condo or like a common element condo where they can tell you how you can use your property and what you know what you can and can't do so for it's like an Airbnb or is paradise down there because you can actually Airbnb your property whereas like in Naples say like everything is a gated community of mine it's like one small pocketed area and in all those gated communities you can't even rent out your place well not all but some of them you're not even allowed to rent your place so let alone Airbnb it or long term rental anything like that. It just to
Erwin  
clarify for the listeners benefit. These organisations determine how you can operate your property or even how you live Yeah, I like to have like no pets
Andrew  
like you can't have no pets or you can't have a trailer in your driveway and you You can be put away to be put away. What what colour? Are you going to paint your house? We need to approve it before you do it like things like that. Like they're trying to dictate everything that you as entrepreneurs love being told what to do. Yeah. So I mean, it's like the same reason I avoid condos, I would avoid HOAs these condos, it's like there's a loud slamming coming from your door, my wife's condo. She sold it now. But they, the neighbours were all saying that the door kept slamming, we're like, Well, there's one small problem. No one's been in the condo for three weeks. So this couldn't have been us. But you get into things like that with condos. So
Erwin  
but all condos are do that with the negative pressure in the hallways like the doors? Oh, yeah,
Andrew  
exactly. It was just silly. It was just silliness. So, you know, just just getting away from all that you've already got the municipality telling you what you can and can't do, let alone you know, let's not go go there. So I really like it. For those reasons. I think that there's a huge value play from an Airbnb standpoint. And then if that doesn't work, I mean, rents are being pushed up. And the price point makes a lot of sense for the actual value of the house. So I've got some exits, I can sell them, I can rent them long term. I mean, they're not going to be cash cows long term with the interest rates. But you know, there's a play there. There's there's several ways to write to sort of quote unquote, exit as needed
Erwin  
if needed. It sounds like you've taught business before. All this lingo I don't even know about US News and people.
Andrew  
I don't know. Like, I don't know how much of it was was, you know, formal education or just experience like going through? Like, I think I've always been a bit of a critical thinker. Even as a kid, my mom told me, like, yeah, I just see a sit in there, like just often space thinking. I think I've always sort of done that just kind of evaluate things critically ask a lot of questions. And what if What would I do it right. And the negative to that is it's caused me to be very slow at taking action in recent years.
Erwin  
Think of all the condo speculators right now trying to figure out how to get other cars there,
Andrew  
which I was our contract. I was purely saying, don't do that, from the start of the podcasts. I'm like to go speculate on on condos in Toronto. Sure. It seems great. grass is always greener, what happens when that changes, you have no exit. If you have no cash flow, imagine being in a place where you have no cash flow, and it's worth less than you paid for it. That's just a lose lose scenario. One you never want to find yourself in. So just I think that these are the discussions with the podcast that people really enjoy hearing, like breaking ideas down and saying why is something inherently just not a great investment relative to another investment? Not to say that somebody with 1000 properties, couldn't pick up a few pre constructions in Toronto and do really well. It's just, you know, can you afford to lose? And will you care if you lose? You know, those are two important questions to ask yourself, which I think a lot of people don't. People don't ask themselves, they would care. But they don't ask themselves that question. I just want I want to get into a couple of contests. I see people making money. Yes, that works until it doesn't work. And some people won in spite of themselves. But it was a risky position. And it is. But for some people that makes sense. And some some it doesn't. And there's there's no hard and fast rule. That's good. That's bad. For some, it's all relative to whoever's in. Yeah,
Erwin  
I don't want to beat up on condos. But here's a current example is people with cancelled condo projects, right? Versus I bought a house like I personally like to buy when I can see in touch. You don't want to buy a concept. Yeah, buy paper. Yeah, I don't want that's just me. And then for example, I bought in 2020, versus people who bought bought a condo, and now they can't close. So sorry, the price is cancelled. So yeah,
Andrew  
so pre construction, and those agreements probably gave the builder an out, we could we could choose not to build this. And if we do then then that's that
Erwin  
attending. So one friend has agreement. He's gonna get paid interest, okay, on percent on his deposit. 6%. But he lost on how much equity appreciation? Yeah, during that time. You know,
Andrew  
I mean, he was he was still would have been up if it was Bill. Oh, yeah. Yeah,
Erwin  
I told like we did the math, but the builder wanted more money to close. So even with the extra money, they would have made sense. Yeah. But he backed out. And then so like all so with the terms opportunity costs, I made equity gains on my properties. Yeah, he's what he's got his money back with 6% interest.
Andrew  
At the end of the day, though, like, we're all seeing our real estate values come down to three now, right? So it's the ability to not care about that. That is going to be the proof of whether you were doing it right or not.
Erwin  
I care about everything. Like, I have a basement rented for 1200 bucks right now, like 1800 a day. So I still care. No, not hurting,
Andrew  
like care. Like, you have to care in the sense that it adjusts your strategy, but not in the sense that you're going to lose sleep over it
Erwin  
or gently funding your doctor tenant. No. Hey, you said you were gonna buy a place when you moved in this role of your short term thing, because my rent would be $100 higher if they laughed, they laughed.
Andrew  
Sounds like it might be a time to do an N 13 Rescue renovation and
Erwin  
it was too late. It doesn't mean anything. Sorry. I digress. Any other final thoughts on Florida you're liking it. You think you're gonna go through with all 10 all 10 Lots, build and sell Oh, well. I
Andrew  
actually have a One coaching student that I made that wanted to be brought into the fold on what I was doing in Florida. So I brought him on, he's actually buying one of mine that are ready to go for permit, because it's already had the survey done. So one of them will be gone. I'll keep building and, you know, until the numbers change, why not? Where else is going to make as much sense? You know, I guess that's rhetorical that for me, like, I think that that just, you know, people are still going there, you know, whereas this market is going to keep dropping for quite some time. Who knows? Like, I hope not. But in Florida, I think, yes, there will be pressure downward, but it won't, it won't be hit as as extremely, because they only recovered their 2008, high about two years ago. So like, you know, we had a drastically different economic climate here in Canada than they've had there. And to them, they were they were screaming, hey, this is unsustainable, look how high you know who can afford $300,000 for a house, I'm like, you don't know.
Erwin  
Like many Canadians in urban Canada,
Andrew  
like coming from where I'm coming from, I have a good perspective on this. Not to say that, you know, things should be that much higher. But specifically, from property managers down there, I've heard them scream, you know, how can people afford to pay more, and I don't know how they will. But they'll find a way. Like, it's all supply and demand. If people need a place, there will be you know, maybe families move together. And you know, two families live in one, but you're gonna have it, it'll happen and it is happening, the rents are going up significantly. So these are just conversations from year and a half, two years ago, there was nothing
Erwin  
there. Again, they're getting strong population moving in, and moving away from other
Andrew  
families like so you're gonna see all kinds of new industry popping up in there in that area, Southwest Florida specifically, and other areas, too, but I'm not really focused on the other areas.
Erwin  
I think most people know if they're listening to this podcast, generally know, the world's pretty effed up and a lot of places very much. So pretty much all of those millionaires are going to somewhere where it's not effed up. Yeah.
Andrew  
And I don't think like the USA or in general is that place but I mean, where is that place anymore? Like, third world maybe go to the go to the third world less organised.
Erwin  
You want to go? I don't know. No, no personal safety. My wife's never going to agree to any of that. The only reason that private island on the whole island yourself I don't know like and I feel it's the thing that is also that I still conservative, I was lucky as messed up as we have things are here. And it's messed up this world is this is way more messed up than the rest of the world. Yeah,
Andrew  
it's like a competition who can be more messed up like everybody's fighting for it at once. Justin Trudeau raises up the ante and then Joe Biden does similar. And here we are right back.
Erwin  
Like, like throwing lip matches at China like geez guy.
Andrew  
Yeah, it's an interesting, interesting world, to say the least. And it's that all you know, I think that all contributed to my being a little bit slower to take action in the last few years, just like trying to spot where are things going, you know, what's actually going to happen. And so far, I've been right about way too much about all this in the economic direction. I'd love to see, you know, opportunity turned around. And I again, I do think there's a lot opportunity coming up right now.
Erwin  
But from the outside view, will you're right here, you can tell me if my view is correct. You're still buying hard assets and assets that will produce
Andrew  
Yeah, yeah, just you know, it's got to pass that fundamental test, right, like back people used to do 1% rule. And then that went away for a while. Well, that's obviously coming back. And, you know, maybe we can up that to a 2% rule, who knows how crazy things get. But that'll be all stuff that we have to remain aware of, like, can we find deals like that, and, and I think with more opportunity, like more properties on the market, you're gonna have more opportunity to have sellers who are in a situation where they got to sell, and there's a number that works for them, that could really work for you as a buyer. And those are the deals that we as investors need to be keeping our eyes out for.
Erwin  
We think we're seeing that right now. Time will tell it's
Andrew  
without question. If you have more property sitting for longer, there are going to be people with personal situations that just they can't wait. And those are, those are opportunities, because you can do them a real solid by by getting them out of the deal they need to get out of for a number that works for them, but it also really works for you.
Erwin  
And I just like to add to that people, some people will say we're bad people, but the seller needs the Quiddity
Andrew  
Yeah, sell it right. You're making them an offer and they have the right to refuse it. So but if it works for them, they'll accept it.
Erwin  
Yeah. Would you prefer no liquidity? Yeah. Would they prefer the bank ticket back? Oh, you want the bank to take the property but we're the bad guy. Yeah, exactly.
Andrew  
Yeah, the whole thing with the wholesaling thing I always had like I always felt a little bad for the seller So Michael, you get it for so much less but some of them are perfectly happy with so much less I don't agree with ever like misleading them or anything like that. But I mean, if you're transparent with them, and they say hey, yeah, that works. I can do that. Yeah, then you have a deal.
Erwin  
My experience is a lot of those sellers just hate Realtors I don't blame them. So they refuse to work with a realtor. They're generally refusing the best exit
Andrew  
possible. Oh, yeah. Like the ones who take the wholesale deal. They take less money knowing but I think A lot of them, it might not be a hate, but it's like, well, we just don't want people coming through here. We don't want to go through that. I think that's a big pain point for people. Oh, really like three months listed with people coming through here all the time. Like, I don't want to do that. Look at how messy this house is. You mean, you'll just give me this number and we can be done with this. Okay. Yeah. Amen to that. They don't know what I can do. They haven't called
Erwin  
anyone. Seriously haven't just we can help them a lot better than anybody else can.
Andrew  
Yeah. And no doubt. There's always other opportunities, other ways to proceed. And you're right, they probably don't know.
Erwin  
Excellent. So we talked about one 2%. That actually leads me to more aggressive strategies, like short term rental. So that kind of brings us to what's Wait, what's the, what's the campground called?
Andrew  
So the campground is Maple Ridge family camp. And that's in Miller, Lake Ontario, about 20 minutes south of Tobermory, and torn was beautiful. Yeah. And I spent a lot of time up there. So my mother in law has a cottage in just north of sobble. So we would go up to Tobermory as like a little day trip, and we would go to Lions Head and the Grotto, which are all you know, within a 40 minute drive of where we were. And so when this opportunity came up, where we're like 20 minutes between all those places, I'm like, wow, this is this is pretty much the most central you could be on the Bruce Peninsula, in the middle of all the things people want to go see. And we knew Airbnb was a big thing. Like there were cottages up and Saville getting like $1,200 a night on like weekends and high season during during the lockdowns. So, knowing that I wanted to get into Airbnb, but I wanted to do it in a way that I could scale. Like, there was actually a, you know, a possibility of, you know, generating a million dollars in revenue. And when the campground came up, initially, I was hesitant. But I did see that the opportunity to scale was there. So what we did is we actually came in, and we had a bunch of seasonals, 25, seasonal renters that had trailers on the site, and
Erwin  
started just to slow it down. They rented the spot. Yeah. So they pay for parking, they basically
Andrew  
pay for parking and utilities, so to speak. Yeah, so they have a connection desk, or Yeah, we have 14 of our 25 had sanitary connection, but get this, the owner was actually pumping out the tanks of the other 11. So they had like a tank on the ground that hold like 300 gallons of sewage. And he would come around with his little honey waggon on the back of his lawnmower, and he would pump them out and put them into the mains sanitary drain. So we obviously looked at this for like, there's just no way, like, that's not happening. And so we had to give the the rough news to the, you know, the existing tenants, they, you know, their contract didn't get renewed. So the previous owner didn't renew them specifically at our request, because we didn't know exactly what we were going to do. But we ultimately gave them the news that we're not renewing and we we asked them to, to leave so to speak. It was unfortunate and obviously it was news that they didn't want but they were paying less than $2,000 per site per year. And those numbers were so far from making any sense at all. We just couldn't keep that it would just wouldn't work. So yeah, that finally did all unfold. We got everybody off sort of you know, mid May and then we we you know we're renovating we bought some trailers some of the people leaving just said hey, you can buy our trailer we were able to make use of one of those in our glamping facility and then we've got how many did you buy and how many were of use Ah, if we probably bought like five five from people leaving and out of those like some of them will make good employee accommodations for next year but they were not at the calibre that we would have needed to to rent out on Airbnb. So what we did to start is we went in with glamping tents so we had platforms built we put 230 square foot tents with queen sized beds in them and we had our management team deck them out and Pauline has great vision she you know she could moonlight as a designer I guess she started does with us and she so she decorated them and made it all work and we got those listed at the end of June. We were full for for July on those you know renting around 200 bucks a night and
Erwin  
just take a pause there like if hotel doesn't give you a Twitter night
Andrew  
that would be the next one okay, but these are like an experience like people want to go there to like Instagram shot like we'll have people like go do yoga poses and post reels and tag us. You know there are people who want an experience so even going into the fall now as weather gets cold we figured our trailers would start booking up more because they have heat and no people are still booking the tents even into October people are booking the tents. I'm like, Do you know how cold it gets the camp and October heated? Not the tents.
Erwin  
Oh, but when it was heated sorry.
Andrew  
The trailers are heated.
Erwin  
Okay,
Andrew  
we've got right now I think we have four or five trailers for rent on Airbnb and they do have heat sources. And the tents are not they're not but you know got extra blankets, it's still really cool. But, you know, camping in October, you gotta be ready for that. So, yeah, that's sort of how that progressed. And, you know, the hardest thing has been manpower, you know, we spent a lot of time making the site look better cleaner, you know, getting rid of extra brush, you know, prepping sites, merging sites, there might have been two sites that really small we merge them together. And our tent glamping is phenomenal, like the sites are completely treat in, you know, the, just check out our stuff for anybody watching or listening to get away glamp and see how nice these these 10 sites are. So it was a combination of, you know, being so secluded, and then having a really unique experience has done well for us. Plus, our location is right in the middle of all these prime things that people want to go to. So that that part's worked out really well, we had a good solid year, but we started late. So we're looking forward to next year, having a proper run out will be advertising through the winter. We'll be looking forward to having people you know, tenting with us in May, whereas this year, we didn't have any glamping rentals pretty much until the last week of June. And that was very minimal. Yeah, he's it's been a roller coaster, but we're finding our bearings. Like it was just such a such a learning experience so much to know. But you look at full on business, it's a full on business, while you're doing it up. Yeah, so we still have that traditional camping part. But then, you know, we're our focuses and growing the glamping. Because traditional camping, you know, you just you get a lot of people who are just looking for a cheap place to stay, it's cheaper than that cheap. And you can do that doesn't really fit that well with our clientele. You know, I'd say with our camp, our prime clientele is families who want to go for an experience. But the reputation of the site over previous years was a good place to go to do group camping for parties. And that is just in complete opposition to families and they don't they don't mix well. It's like oil and water. So what we're transitioning away from is the group camping we don't really want that on our site, because it just attracts people who want to get a bunch of friends together, drink, make noise. And these are things we had to learn. We thought hey, group camping, that's kind of cool people tent on bigger site. Now that's not so great for us. But you know, we have wild campsites that are secluded for people who want to do the traditional camping. And then we have a lot of pull through RV sites. So people can come in stay for a few days. We have a sewage dump area. So when they leave,
Erwin  
does anyone have experience running a campground? No, but I mean, they're all learning on the fly.
Andrew  
So Zach, in our ownership group, he was family they do RVing. So he kind of had some perspective with that, okay, as a consumer, as a consumer, showed Zach, but yeah, shout out to Zach. He's listening. Yeah, he's not listening.
Erwin  
He's enjoying his vacation wherever he is. Zach's been
Andrew  
travelling the world for the last eight months, but our management team does. So our management team have been managing trailer parks and campaigns for, you know, I think 20 years, so you're not flying blind? No, no, they've been they've been huge. And then we've empowered them to hire as they see fit. And then we've also brought in help where needed, but next year, a big change will be we're actually going to be providing guest or employee accommodations and bringing people in from out of town because it's hard to find people in that area because every available unit isn't for rent, everyone's Airbnb, everything out there. So it's actually hard to find started when
Erwin  
you said Oh, play accommodations originally, I thought you meant your own. But you're, you're gonna be accommodating. You're kinda like a motel.
Andrew  
Yeah, exactly. So we're giving like we're gonna give employees a trailer to stay in so that they'll still use our main showers but they can use the trailer to stay in Cook, do all that stuff and you know that'll allow us to bring people in who want an experience we can get people and once we do that we have we have just unlimited opportunity with things like workaway.com and you'll get people who want to travel and go to a cool place and work you know we'll be able to accommodate them and hopefully get a little bit more help for next year. Yes provide internet we have internet at the clubhouse so like they wouldn't have it in their trailer but they would have it we have really good cell phone signal on ourselves. So people can Yeah, you can use your you know I have like 50 gigabytes with bells so I mean I'm sure people have good cell phone package can just use that.
Erwin  
I hope none of our staff are listening to this. This was for their zoom background and like yeah, Dragon injuries aren't you are all these campsites are they all great? Like you mentioned trailer you mentioned tent you mentioned just like out in the woods campsite, they're all great. They're not perfect.
Andrew  
There's there's better and worse ones. I don't love our art pulled through trailer stuff. I mean, I think it's it's functionally good. I just don't think it looks that good. So we've talked about things we can do and you know, maybe we shut down because we have like, I think we have 20 of them in a row you know, shut down 10 of them for everything except for the long weekends and that way people can book to side by side and now we can you know set up a picnic table in between. So we're always looking at how can we make this cater to families better give people a better experience and repel those who just want a cheap place to stay or why come party because that's just not you know, I'm sure there are campgrounds out there cater to that. But I just not what we want to cater to.
Erwin  
It seems to be general thing, like, for example, that we're disrupting the short not that long ago. And like they're they're trying to clamp down on numbers, like, for example, limiting how many overnight guests you're allowed. Yeah. Right. So it's, it's a problem everywhere.
Andrew  
Yeah, if you're in this hospitality thing, Airbnb or camps, you know, volume hurts you like getting a lot of people in like, it just creates logistical and operational like problems. So it's actually much better to try and focus on people who want to experience value, at least in my, my perspective, it is, and we're looking forward to transitioning more that way.
Erwin  
That's exciting. That's pretty cool. Because I think a lot of people are looking at these opportunities.
Andrew  
Yeah, not not a simple, you know, simple project to take on, but we've got a good, you know, good diverse amount of experience with our ownership group. And it's, it's come really well into play. And then I've certainly learned a lot about delegating, you know, even better than I was, like, I was already decent at delegating some things. And now this year has forced me to be that much better. And I'm really actually happy to see how well it's worked.
Erwin  
How many people were on the management team were
Andrew  
to two main, two main managers, we have two more employees that are working sort of semi full time hours right now. And we have a bookkeeper that actually is working out of the Philippines, he's a CPA. So he and he's busy, like there's a lot of work to do on these books, a lot of transactions. And then of course, my assistant, she's helping out on on this, and then our ownership group is there's four of us. And we all sort of handle different things. I've sort of handle general oversight, specifically of the accounting and bookkeeping, and, and the management team. And then the other guys help handle acquisitions, certain operational problems, all oversight, none of us are, you know, full time on this, none of us are hands on site, although we have had, you know, you know, Mike goes up or Jake goes up, and they'll spend a day or two on the site, dealing with management, you know, helping out a little bit, things like that just to integrate, make sure that we're hearing them. And then we do a weekly Tuesday meeting where we go over what's happening, how do we kind of go what do you need from us? Which direction do we want to go? What do we need to be thinking about for next year? How do we adjust our marketing or our positioning in terms of who we're attracting? And a lot of these that came out of necessity, because we weren't doing that originally, like we do a management team like or an ownership meeting, but we wouldn't do a management meeting meeting and we really started to see there was a breakdown in communication. So doing that weekly meeting has been huge for us and just you know, now we're on the same page and they take care of everything for us they run they run our sales on site, we you know, I just check the bank account and I see the sales coming in it's July and August with the campgrounds fun like all the Airbnb payments, rolling in watching the account, you know, grow and then you gotta be prepared for the offseason when it doesn't any plans for what the winter by the bylaw. We are not allowed to have stays for more than seven out of 10 months, which is a weird way of putting it so so basically seven, that's how much you can operate. Yeah, I can't so so that's like eight and a half out of 12 months we're allowed to operate. So we're we'll be shutting down for for the winter. We'll be back open. You know, we'll we'll be starting operations again in April. And yeah, it's weird. Why would they say seven out of 10? Why wouldn't they say it out of 12.
Erwin  
But I've heard it with other recreational places, for example, like the boys and Innisfil. Jeez, I'm terrible. Anyway, they have to close them for one month because the policy there is if you're if you're open 12 months, people live there. So you need to invest in hospitals and schools. Yeah. Okay. But that's 11 or 12 months. They're like, obey your G You're really restricted.
Andrew  
Yeah, I mean, but if I interpret seven out of 10 That's, like I said, it's like eight out of eight and a half out of 12, whatever. But we could, you know, longterm look at you know, and we're thinking out loud, you know, there's tonnes of land there is the potential for severance and development. Yes, I think there is. We haven't really explored that. So that's certainly on on our mind, and then, you know, maybe go and get a bylaw amendment or a minor variance to allow us to do something in the winter any skiing or snowmobile trails and the snowmobile trails right in the area and money Yeah, so we are allowed you know, we can go into a site plan control and actually start building more structures on the site. We can go get an amendment to the bylaw that allow us to maybe maybe we you know put a little cross country ski facility there or you know, offer winter stays for you know, for people who want to do that kind of thing snowmobiling and what have you. These are potentials I don't know if that'd be pushing my business downhill which I would prefer to do. So yes, that's possibilities. We haven't gotten there yet. haven't felt we needed to add more. I want to stabilise what we do in the summer before we start thinking to
Erwin  
specialise the summer. Yeah, and then we're going to grow the summer part is it more trailers more tents?
Andrew  
Yeah, we're gonna keep acquiring more units. So the tents did really well. We have three more that we didn't even set up this year. So we'll be setting up the remainder of those will be acquiring more trailers. You know, the big thing for us has been finding finding trailers just Kijiji marketplace. And hopefully they're most So you're renovated on the inside, don't need too much. And you know, if we need to paint the outside, give it a theme, decorate it, you know, we'll hire a designer to help us make it really cool. And we just we want to make we want to focus on the memorable, you know, whatever, whatever that might look like, but something super unique, where people are going to Instagram it. They're gonna say, wow, look what I stayed in, like, I'll never forget this experience, right? It's not a hotel room. It's something that they'll remember.
Erwin  
That's pretty cool. We were organising any like real estate investor,
Andrew  
I was thinking about that. We don't really have the space as of right now inside we have lots of outdoor space
Erwin  
but even just to coordinate like these, yeah, 50 spots or
Andrew  
we're gonna do we're gonna not Yeah, so that's, that's something that we can definitely consider I was thinking about that we just never got to it this year. But, you know, as we we, you know, scale up and get this next year in the works. There's, there's so many places, that's the nice thing about it, it's just like endless opportunities to add value. We have we have 90 acres, some of that is like marshland but we've still got tonnes of space tonnes of sites where we can convert them into glamping where you know, a single tent site can generate $45 A night whereas glamping tents could do you know 200 plus 250 I mean, we may increase our prices even more for next year just based on the demand we had this year. So you know, just thinking in terms of an operational strain on our septic facility on our well on our management team, you know, we'd prefer to to focus on the value experience where people are paying more getting an experience and then you know, we can give our management a break we'll come back and we don't need to drive you know 1000 People through the site a day or we can we can do much less than that and you know keep our sanity get really good reviews and and grow the business more organically that way
Erwin  
are you doing to drive traffic on Airbnb are we've done really
Andrew  
well with our Instagram like our Instagram page, we ended up partnership with explorer Ontario and got like US government, right zip tourism is a tourism is a tourism website. I'm not sure if it's government, but I think we paid them like $500 for a partnership sponsorship. And they they promoted it. We had 16,000 comments on the post. We got so many bookings I'm sure we got between 20 and 5025 and 50 bookings out of that because they can't directly trace them you know, people go to Airbnb and booked but it was well worth it. We did it again with the airstream got a bunch of bookings on that those promotions were very, very lucrative for us. Good luck, good return we've got we've got our Google AdWords, you know, working away for us for the campground that's been, you know, steady and not not that we're spending a tonne. But we're getting very targeted, you know, people wanting to camp in our area. And we know that that's ideal, but there's so much more we can do. During the policy standpoint, I
Erwin  
should ask this earlier. Is it all on Airbnb or is it
Andrew  
so yeah, we're on Airbnb, we're on booking.com. And our preference is obviously to people to book direct at grotto. getaway.com. And yeah, they can see all our listings there and book and we're going to have for the upcoming season, we're going to have our new launchings coming up first on our website, so yes, they will be available on Airbnb, but we're going to do like special promos where people can book early through our website, because we want to start doing more that way. Because obviously there are certain limitations to working with Airbnb. And it's very expensive. But Airbnb has been good. I'm pretty sure we'll have our super host by the by March 1, I think October 1. And I think we have like, last time I checked like 130 reviews. Since it and we didn't even have retros until the end of June. Crazy. Yeah. So it's it's been interesting process tonnes to learn a little bit more intense than, you know, passive real estate. But,
Erwin  
but this is not passive. No, I
Andrew  
take it can be made more passive by having good teams though.
Erwin  
Can you share some numbers? The acquisition cost is this property,
Andrew  
New Year 1.5 million to acquire. And as far as revenue goes, I suppose cheaped a lot of people 2.9 Yeah, see, like, you know, revenue targets like I don't know how much I should say right now, but I you know, just out of respect for my partners, but we did well, we didn't do as well as we wanted to this year, but it's a startup here. And you know, treating it as a new business. So we're confident with a full season next year it's gonna you know, it's gonna be a profitable year. And I'm just gonna wasn't as well because we were delayed the delay. It hurt us the most right? And like if you think about Airbnb, and he photos, right, and you don't want photos with trees with no leaves, so you need trees with leaves, and you know, tents, trailers, you know, some of those things were it was just like, when's the ideal time to buy a campground if you're going to do this? There is no ideal time. Like no matter what, like you're gonna buy it mid season, no one's gonna sell you a campground mid season because that's when they're making money. Yeah, pipi price, peak price and they're making all their money. They want to wait until October until they've milked every last cent cent out of that campground then they want to sell it which is exactly what the owner who saw the task did smart. Hey, why would you? Why wouldn't you? Knowing that like we, you know, we did our best, but I mean, you don't really get leaves on the trees until mid May anyway, we should have been ready to take photos and it just didn't work work out there. That way, we didn't have enough help. So we're kind of acknowledging these things, seeing what we needed to change. And next year, we'll be ready or
Erwin  
injured. We were way over time, but you are a wealth of information. So I apologise.
Andrew  
Oh, cool. Yeah, I have no idea what time it is. But yes, before
Erwin  
we overtime for this, and then we're gonna get into chairs, YouTube after this. Final thoughts, General,
Andrew  
general thoughts on the market on anything? Yeah. Interesting times, I think like people who are thinking about getting started, I don't know how much of your audience that is. But never been more important than to focus on the fundamentals. It was always important. But now I think people are really starting to internalise how important that is, you can't expect your property to go up in value. In fact, why not invest with the expectation your property's gonna go down in value and still be alright with that, you know, maybe you can start looking for cash flow plays where you don't care if it goes down. 100 grand, you know, it was all relative to what you pay. But you know, you can you can still invest here, I still believe Ontario's a place you can invest in becoming more and more lucrative by the day. But you know, somebody, someone like me to go and go to Florida? I don't think that that's for everybody. I really don't I think that you have to have a certain skill set certain experience. And you got to be very diligent, and I was prepared for that. But I don't think new investors necessarily would be which I agree with you, you know, saying invest closer to home when you're starting down the road? Yeah, you can look at something like that more seasoned investors. Yeah, I know, tonnes of them reaching out to me wanting to do it, and they're probably ready. But not everybody is.
Erwin  
Because we're finding property we can we can buy for less than build costs. So that's a pretty
Andrew  
good guy. And that's gonna become more and more common. And I've always said, you know, buy for less than cost a replacement, because I mean, they're not making any more land. And if you can't build it for that price, the long term outlook on that property is probably pretty good
Erwin  
in labour and construction is scarce as well.
Andrew  
So it is like it's not getting cheaper to build things right now. And will it if demand comes down enough? Yes. But where we're at right now, I think that's a great strategy, buy for less than cost of replacement is a good strategy right now. Doesn't mean that's perfect doesn't mean every property that fits that bill is going to be a good one. But it's it's probably a good starting point. Yeah, no one rule is perfect. And not for everybody, even if it's perfect. For one. It's not it's not perfect for all,
Erwin  
like, you might want one 2% rule, but you're gonna buy a caregiver like Andrew.
Andrew  
Yeah, that was that was a different play. That was that was real estate adjacent, you know, as a business with real estate component, which, you know, the big thing was owning land and wanting to own a lot of land and check that box. And we're getting it to a point where, you know, it'll satisfy cash requirement too. And that'd be a great way of hanging on to a bunch of land
Erwin  
the dumbest question for you Sure. That's gonna ask him you on the way I'm gonna Jim Crow. Don't do that.
Andrew  
I don't think that is allowed. But I know that, you know, there's a lot of hunting out that way. You know, it's a very much a hunting culture, you know, especially in like the surrounding sobble area. I would assume this area too.
Erwin  
Because I'm just thinking like, if all hell goes a handbasket, you need to live somewhere off the land, but you can live off the land easier than I can live off
Andrew  
the land. grow some food
Erwin  
on your animal friends, you don't want to hurt them.
Andrew  
Yeah, I mean, like, have some chickens, maybe eat the eggs. I mean, I eat vegan but I mean, like, if it ever came to it, I would you know, but I don't feel like I need to so I don't, we're just
Erwin  
crazy, cuz you're a big guy. Alright, Andrew, thanks so much for doing this. Yeah, thank you had fun podcaster and yeah,
Andrew  
this is this is such a cool setup, man. It's cool. I'm looking forward to having you back on my podcast and we'll we'll dig into what you're doing. Can't wait.
Erwin  
Before you go if you're interested in learning more about an alternative means of cash flowing like hundreds of other real estate investors have already, then sign up for my newsletter and you'll learn of the next free demonstration webinar I'll be delivering on the subject of stock hacking. It's much improved demonstration over the one that I gave to my cousin chubby at Thanksgiving dinner in 2019. He now averages 1% cash flow per week, and he's a musician by trade. As a real estate investor myself, I got into real estate for the cash flow but with the rising costs to operate a rental business, it's just not the same as it was five to 10 years ago when I started there are forget the cash flow reduces your risk. The more you have, the more lumps you can absorb. And if you have none, or limited cash flow, you're going to be paying out of your pocket like it did on a recent basement flood at my student rental in St. Catharines. Ontario. If you're interested in learning more and register for free for my newsletter at www dot truth about real estate investing.ca. Enter your name and email address on the right side. We'll include in the newsletter when we announce our next free stock hacker demonstration. Find out for yourself but So many real estate investors are doing to diversify and increase our cash flow. And if you can't tell I love teaching and sharing this stuff

To Follow Andrew:
Website: https://youtu.be/j27DutOz8ic
Instagram: https://www.instagram.com/theandrewhines/
Grotto Getaway: https://www.airbnb.ca/users/461668746/listings
IG: https://www.instagram.com/thegrottogetawayglamp/
HELP US OUT!
Please help us reach new listeners on iTunes by leaving us a rating and review!
UPCOMING EVENTS
You are the average of the five people you spend the most time with! Build connections with empire builders and trailblazers at our iWIN events.
BEFORE YOU GO…
If you're interested in being a successful real estate investor like those who have been featured on this podcast and our hundreds of successful clients please let us know.
It is our honour to give back and educate others on how we build cash flowing real estate portfolios using all the best practices shared on this podcast, from the lessons of our hundreds of clients and of course our own experience in owning investment real estate.
If you didn't know already, we pride ourselves on being the best of the best real estate coaches, having the best property managers, contractors, handy people, cleaners, lawyers, accountants, everyone you need on your power team and we're happy to share them with our clients to ensure your success. 
New investor or seasoned veteran investor, we can help anyone by providing our award winning coaching services and this isn't all talk.
We have been awarded Realtor of the Year to Investors in 2015 by the Real Estate Investment Network, 2016 by the Canadian Real Estate Wealth Magazine and again in 2017 because no one told the judges no one is supposed to win the award twice but on merit, our peers deemed us as the best.  In 2018, we again won the same award by the Real Estate Investment Network.
Hopefully being the most decorated team of Realtors in Ontario will make you consider us for your first or next real estate investment.  Even if you don't invest in our areas, there's a good chance I know who would be ideal for you. 
I've been around for a while, some Realtors are talented at servicing investors there are many with great ethics.  The intersection of the two, talent and ethics is limited to a handful in each city or town.
Only work with the best is what my father always taught me.  If you're interested, drop us an email at iwin@infinitywealth.ca.
I hope to meet you at one of our meetups soon.
Again that's iwin@infinitywealth.ca
Sponsored by:
Infinity Wealth Investment Network – would you like to know how our investors returned 341.8% on positive cash flowing real estate over the last five years? On average, that was 68.4% per year.
Just imagine what winning in real estate could do for you.
If you would like to know how we did it, ask us how by calling 289-288-5019 or email us at iwin@infinitywealth.ca.
Don't delay, the top markets we focus in are trending upward in price, so you can pay today's price or tomorrow's price.
Till next time, just do it because I believe in you.
Erwin
Hamilton, St. Catharines and Toronto Land Development, Real Estate Investor, and soon to be builder.
W: erwinszeto.com
FB: https://www.facebook.com/erwin.szeto
IG: https://www.instagram.com/erwinszeto/
https://www.truthaboutrealestateinvesting.ca/wp-content/uploads/2022/09/Andrew-Hines.jpg
630
1200
Erwin Szeto
https://www.truthaboutrealestateinvesting.ca/wp-content/uploads/2017/06/TruthRectangleLogo.png
Erwin Szeto
2022-09-21 19:58:09
2022-09-21 20:06:54
Building in Florida, Investing in Glamping in Ontario With Andrew Hines